The editor-in-chief of Cahiers du Cinéma on Spielberg, politics, and the vitality of cinema.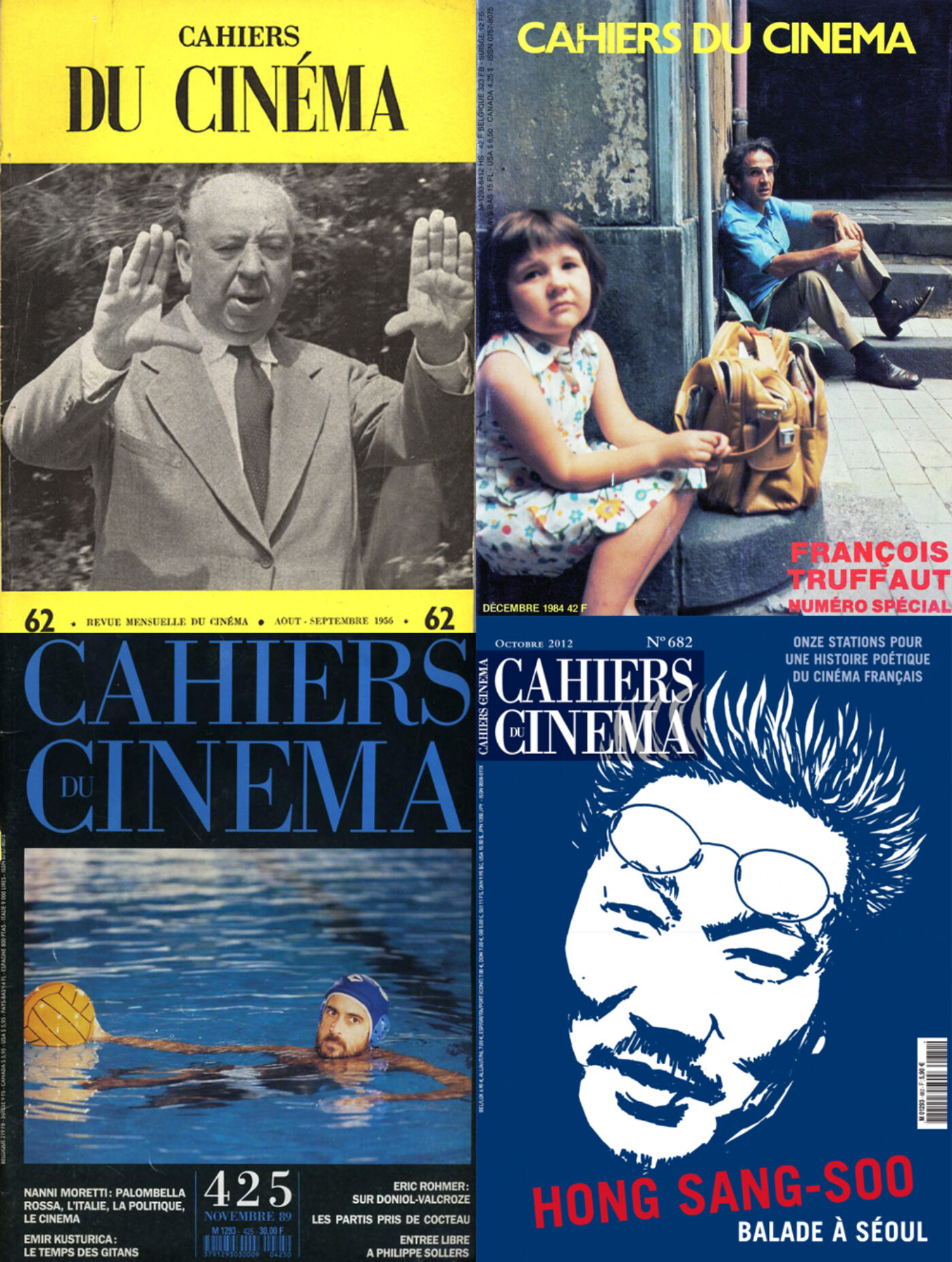 Stéphane Delorme has been the editor-in-chief of French film magazine Cahiers du Cinéma since 2009, a position previously occupied by André Bazin, Eric Rohmer, Jacques Rivette, and the late, great French critic Serge Daney, among others. Founded in Paris in 1951 by Bazin and critics Jacques Doniol-Valcroze and Joseph-Marie Lo Duca, Cahiers heralded the auteur theory, pioneered the transcribed interview, and served as a training ground for the French New Wave by publishing the critical writing of future filmmakers Rohmer, Rivette, Truffaut, Godard, and Chabrol. The magazine has appeared regularly since its launch over sixty years ago, going through a variety of phases and political orientations (including a radical Maoist turn in the early '70s), but never truly deviating from its initial mission: the in-depth analysis of cinema as a way of seeing the world and forming a moral position.
Under Delorme, Cahiers du Cinéma has published special issues on young French and American filmmakers; spotlighted overlooked directors of the past, such as Jean Grémillon; and connected hidden currents in film history with contemporary masterpieces, such as Leos Carax's Holy Motors. These enthusiasms will be highlighted in the upcoming Cahiers du Cinéma series at FIAF in New York, opening May 6 and running through the end of June, which I co-programmed with Delphine Selles-Alvarez in my role as Cahiers's New York correspondent. This program of underappreciated treasures and galvanizing recent films is being held on the occasion of the release of Cahiers's 700th issue, which features contributions from over a hundred international filmmakers, artists, writers, and philosophers.
This conversation with Stéphane began in a café in Paris in November 2013 and was updated by email over the last few weeks.
Nicholas Elliott I'd like to start by talking about your ambitions for what Cahiers du Cinéma can accomplish today. You recently wrote me that we should aim to write critical texts that could influence today's films and, through that, change the world, which surprised me by its ambition. What is your vision for the magazine?
Stéphane Delorme You're not beating around the bush! It's clear to me that Cahiers du Cinéma is not a periodical that simply comments on the films that get released, like the enormous number of opinions you can find online. From the very beginning, the Cahiers's discourse was "we write about films to make films later." Although founding editor André Bazin didn't make films, all the young people who wrote for Cahiers eventually did. So Cahiers is a very particular place where the ultimate goal was never to comment on a film, but to direct it. A Cahiers text allows a writer to remake a film and provides ideas for future films. So Cahiers du Cinéma has always been the promise of the cinema of the future; we're not commenting on current cinema but announcing what lies ahead. Our mission is to prepare the cinema of tomorrow. That's why I want to publish manifestos, which we started in April 2013 with a piece by actor/director Vincent Macaigne or my own text Lyricism!.
Your question also addresses something deeper. I want Cahiers du Cinéma to be not only a film periodical, but also the periodical of its era. I want us to be in accord with our era and also to try to change the era. That's ambitious, of course, and for the time being I think many readers are not aware of it because we're caught up with current releases. Some readers continue to find exactly what they always found in the magazine. They can see a film and go read what Cahiers thinks. But I'm trying to create new spaces in the magazine using other literary forms such as the manifesto, which deal not only with cinema but also the era. The world is lacking texts reflecting on our era. On our scale, within our field, and with our culture of cinephilia, we have a certain way of looking at things—of looking at images or the internet, for instance. On a larger scale, the modes of thought forming the works of art we see today, whether cinema or contemporary art and literature, make the era. I want Cahiers to be able to name these modes of thought and to do battle with some of them.
NE What do you want to battle?
SD I'm truly pained by the era's cynicism. Everything that's been done in Cahiers recently starts from the principle that we are not cynical. We're also not going to play clever and act like we understood something better than the next guy. A text's objective is to return to a certain naïveté, a candor, a belief in the film and the emotions that it provokes. That's why we decided to devote our 700th issue to emotion; we asked filmmakers, artists, actors, technicians, and philosophers to describe a cinema emotion—a specific moment in a film that deeply moved them and with which they now live. A moment that haunts them. Our goal was not simply to create a compendium of secret emotions, which would be beautiful in and of itself. The idea is more profound: it is to make emotion a central issue again.
At the moment, Cahiers's main line is to go toward films that provide powerful emotions and turn away from films that attempt to dominate their audience, which we showed with our negative response to Haneke's Amour. That was a powerful gesture: we put the titleAmour et Misanthropie (Love and Misanthropy) on the cover, while the entire rest of the press praised the film.
My call for lyricism in film was also a call to liberate emotions and stop being either cynical or overly modest. There's really a very French problem with modesty and timidity. The French have a complex about powerful emotions and ambitious forms. What can we do in France to change the smallness in which we are immersed? I find it so painful to witness the lack of ambition in art and literature, not just in cinema. In my view, it's everywhere, though of course there are exceptions. We salvage things in the name of exceptions. But after a while it's tiring to save the exceptions.
Today Cahiers du Cinéma is made based on principles drawn from the history of the magazine, and also in the name of something else, which doesn't necessarily come from our history, but which I think I brought to the magazine, though it's still informal. This would be an emotional principle, which would mean taking your emotions as a starting point: film a place or a person because you're emotionally connected to them. And if you don't have that, it's really not worth picking up a camera. Many young filmmakers starting out today lose sight of that essential core, without which nothing good can be made. That's my point of view, of course, which is a romantic one. My roots are in a romantic view of art.
NE I think the cinema you're talking about is more easily achieved in France—a cinema in which you can film the person you love, etcetera. But Cahiers today is not quintessentially French, it extends much further. How do we deal with that? And with Hollywood?
SD Cahiers is made in a French spirit, which includes the love of criticism, the Diderot-Baudelaire-Truffaut lineage. Critical thinking is different from the currently dominant Anglo-Saxon idea of the story. That's how I'll put it: the love of telling stories. That can be really interesting but the French tradition is more focused on criticism and analysis. And judgment. And the virulence that can come with judgment. Cahiers is part of that. It has traversed the century with that kind of thought and that's still where we're at. The magazine we make is critical: we can be critical about films or about the era. We have a score to settle with French cinema. French cinema has produced extraordinary films but we're in a fallow period now, despite certain filmmakers who stand out. French cinema has become formatted and is nearly a pastiche of itself. So there's something to be done today about French cinema—because Cahiers once did change French cinema, then global cinema, through a domino effect.
As for Hollywood, it is a ghost of itself, run by multinational corporations and businessmen, not real producers. They don't take risks. It took Alfonso Cuarón years to get Gravity made because no one in Hollywood wanted to give him the money. Predictably, it was a huge hit. That's the extent to which people in Hollywood were blind. It's crazy—Alfonso Cuarón is not just some guy who walked in off the street. Now of course there are a few Hollywood figures that stand out, like J.J. Abrams. Abrams is interesting on two levels. The first, which I completely connect with, is visible in Super 8. Super 8 is as autobiographical as a Philippe Garrel film. It seems exotic to us here in France because it's set in the American suburbs, but he lived that. I was in France at that age, in a little suburb, and I loved Spielberg's films just like Abrams did. When I was nine or ten I was scared there were aliens in the woods. I totally believed it. That was my reality as a child. I lived by the woods, I had the same BMX you see in ET. So the great realist filmmaker of the era was Spielberg. It wasn't the French filmmakers, it was this guy on the other side of the planet. I've always defended Spielberg because I think he made something really new that spoke to the entire world, to children all over the world. J.J. Abrams picks up from there, not in order to copy Spielberg, but because he also lived it. The second thing about Abrams is the body of work as a world, as an endless entity, which is closely linked to what is happening with TV series today, the fragmentation into episodes which are not necessarily pre-conceived but move forward telescopically. Which is a new way of conceiving fiction.
The problem today in making a film magazine is that few films really have the breadth to grapple with the era. We need filmmakers who really show us what we are living. Today we are permeated by the idea of a world in chaos. We see it every day in the newspapers or on our smart phones. we know there's a crisis, and we're totally immersed in that world. But strangely, the films we see are not immersed in that world. Granted, there was von Trier's Melancholia, which is a very important film, and Nanni Moretti's We Have a Pope, which came at exactly the right time, and Carax's Holy Motors.
NE But what's very difficult—and this is why I have such respect for your vision of change—is that all the films you've just cited are elegies. Carax is eulogizing celluloid. Moretti creates a Bartleby, someone who says, "No, I won't do it." Melancholia, like many other recent films, depicts the end of the world. None of these films offer other possibilities. Maybe the direction we're trying to go in by talking about lyricism and romanticism is: where is hope?
SD That's it!
NE Give us possibilities, don't just tell us about the state of the world but show us a way forward.
SD Absolutely. That's why we write manifestos, because this cinema we would like to see does not exist. So we're not just saying we want to see it, we're saying we need it. I wonder what sadistic urge has driven so many filmmakers to bask in either an ample, dark vision of existence or, more often, pathetic little stories that wind up with pathetic little fights. There's a real indulgence in defeat and cowardice and in dealing with exclusively negative feelings. I wrote about lyricism to ask filmmakers to show us they believe in something, that there's some hope. If people love other people, if they love actors or places, why don't they film what they love? Another possible life? We'd like to see it on screen. We are critics and we don't make films yet, but we ask for those films.
So we need to find the right words to criticize the films we see. But we're also looking for the words to get out of the impasse. We're trying to find solutions.
In the past, Cahiers always had an editorial line. Now everyone is scared to use the term "editorial line" because we're in such a period of consensus, everyone wants to agree with everyone else. I'd like to preserve the idea of a "line" because I think a magazine needs one. Nonetheless, I'd rather use the term "spirit" because what I'm looking for in contributors is a state of mind, how they see things—not just cinema, but how you behave in relation to a film. Do you look down at it or watch head on? Can you start with a blank slate every time a film begins? Do you have sensitivity? That's a word that's never used, but a critic must be sensitive. There are lots of intelligent critics who have theories about films and can take a film apart but are not sensitive to the image, for instance. There's a real lack of consideration for aesthetics nowadays.
Cinema doesn't require much—and this is really important. Hong Sang Soo and Garrel understand that simplicity. I mention this because there's such a cult of story, script, and characters that it's crucial to come back to something more sensitive today. That's what Lynch criticizes. Lynch's deconstruction is an attempt to work against the perceived need for a narrative to move forward through cause and effect. Or Terrence Malick, who is truly sensorial. Tree of Life is a strange miracle: nearly everyone thought the film was magnificent, though it's oddly constructed. Malick is fascinating because he pulled off a monumental bluff. By getting everyone to believe he was a genius, he succeeded in maintaining a DIY economy within the American system. He maintains an extreme flexibility within a very rigid system, which is why he's the American filmmaker Cahiers has talked about most in the last four years.
NE It's true that we've focused a lot of attention on older filmmakers. What about the younger generations?
SD The magazine keeps returning to the idea of generations, whether it's the new generation or previous generations. By doing issues about young New York DIY filmmakers or young French directors, we give people the idea that they are part of a generation and that they represent a generation. It gives them responsibility for their generation. I feel like I have responsibility for my generation—everyone does. I'm so disappointed by my generation, I feel like it's a total bust. I think we were too timid or else too scattered—which can also be good—or too quick to be undone. Maybe "undone" is too violent—too quick to withdraw.
Our generation is late blooming. The first features we praised in the issue on young French cinema were by people between thirty-five and forty, which is how old you and I are. In fact, our title was "Young French filmmakers, we're not dead," which was very ambiguous. I liked the ambiguity of that "we" because it meant we at Cahiers aren't dead and we're giving you, the young filmmakers, a platform. And you're saying "we're not dead," and we're all not dead, the young filmmakers and the young critics and the future filmmakers.Cahiers has always been made by young people. Even when André Bazin was editor-in-chief (and remember, he died young, at forty), he let very young people write in praise of Hitchcock, despite the fact he didn't care much for him, and the young had the power. I became editor-in-chief at thirty-five, which is young. It was our turn. I wanted to make the magazine with people from my generation because we had something to say about our era, the cinema, and our regrets—about what hadn't happened earlier.
The other thing I wanted to say about generations is that some of the freest filmmakers active today are older people: Coppola, Werner Herzog, Manoel de Oliveira, Terrence Malick, Abel Ferrara. Aside from Oliveira, who came of age in the eighteenth century (laughter), the other filmmakers are children of the sixties. Most of the children of the sixties have retained a freshness related to their adolescence and the extraordinary era they lived through in the sixties and seventies and the freedom of tone and thought, and also the hope that existed in that time. There was a feeling of renewal and that the world was headed toward revolution. These filmmakers had that freedom in them. When they thought about cinema, they started from the ground up and they're still as fresh. Few young filmmakers today have their freshness or their breadth.
NE It should be mentioned that in the US, whether you're a DIY filmmaker or you're operating at a larger level, very, very few filmmakers make a living from making feature films. Either they do advertising or they teach or they really struggle.
SD Our systems are totally opposite. The wild American system versus the highly structured French system, which can sometimes be suffocating.
NE Maybe an idealized way of seeing things is that in the US you don't make a movie to make a living or have a career but rather because you need to. That's my utopian thinking: it's so hard to make a film and the rewards are so few, you'd think you would put your all into it. Which is what's so strange when you see so many inconsequential films: you know how hard someone has struggled to make it and yet it remains timid. In the US, we have first features budgeted around a million dollars, maybe a little more, which are well written, well acted, rooted in a specific place to which you can tell the director has an authentic attachment. These are genuinely honest films, but they never take any real chances. The end is always a little open, a little optimistic, not sugarcoated, not quite Hollywood. There's something excessively safe.
SD I agree. These are the times we're living in. That's really what I want to answer you: the period we're living in is one of good behavior and consensus, in which people want approval from their friends and sometimes their elders and they don't really ask themselves what they personally have to say and what they personally could contribute that is new. It wasn't like that in the sixties. There were insane things no matter where you looked, whether it was a z-level Italian sword and sandal film or Paradjanov making Shadows of Forgotten Ancestors. It was wild!
NE Maybe that leads to the question we've been hovering around since the beginning of our conversation. In the sixties, cinema was the sexiest thing going. It was the central art of the time. Another thing that impressed me when you wrote me that we must change cinema to change the world is that, whether we like it or not, for the vast majority of people cinema today is just one entertainment choice among many others. When I talk to my friends in the theater or art world about a film by a major director—Garrel, Carax, Hong Sang Soo—I often can't even get into the film until I've spent ten minutes contextualizing the director, because no one has heard of him. And there was a time when it wasn't like that. How do you deal with that as someone who wants to change things but must do it through cinema? Ultimately, how do you keep believing?
SD Strangely, I don't think of cinema as a dying art. I just tell myself that another cinema is on the way. This is really peremptory, but let's say that cinema is weaker because our era is weaker. I think we're living in soft, self-satisfied, cynical times. And this will change. There is a promise of a cinema to come. When I was young, I read Serge Daney, and I was fascinated by what he wrote about the death of cinema, because it was such a romantic, melancholy idea, but very quickly it became one of the rare points on which I disagreed with him. I have too much faith in cinema to tell myself that it could stop. There are eras that come to an end, of course, but that's all.
NE Speaking of eras, we're calling for a future cinema, but are of course dealing with the cinema of today. What is the practical impact of Cahiers's praise on a film?
SD We're the only ones in France to be as selective as we are—as harsh. The monthlies, weeklies, and dailies tend to always support four or five films a week. We're harsher. And we're not harsh to be harsh. We're simply saying what we think. Part of the reason we seem harsh is because I've chosen to break with Cahiers's tradition and not have the writer who likes a film best write about it. We have a lot of writers: I can get up to fifteen opinions about any given film. I'll always be able to find someone to like a certain film a little more than the others do. So if we wanted, we could always find a way to not be too mean, even when a film is bad, so everyone is flattered, producers and directors don't get their feelings hurt, and we can partner with lots of films and distributors. I prefer to respect the general feeling among the editorial staff. If we're divided, then it's up to me to decide whether we're supporting the film or not. My decision isn't necessarily based on whether I like the film or not. It might relate to the Cahiers spirit, to the kind of film we're currently supporting. It could be about lyricism or DIY filmmaking, notions which we've put forward and which are like tools for the reader. If it's in the spirit we want to support I'm going to ask the editorial staff to support it. That's really significant in forming Cahiers's choices, which are widely discussed.
Regarding our impact, its obvious that there are certain auteur films in whose career we play a significant role. Our advantage is that as a monthly we come out early. We're the first to say what we think. We set the tone. Take certain small films—"small" because they have a limited release and low budget—like the Portuguese director Miguel Gomes's Tabu or the Israeli director Nadav Lapid's Policeman. We gave Policeman six pages. That issue of Cahiers came out three weeks before Policeman's release, so we were the first to cover it. The effect was immediate: every single other media outlet signed up to go to the press screenings. It snowballed and the film was supported by the media. Obviously we have an impact on French cinema, for instance with our issue about up and coming French directors—all the films we mentioned wound up finding an audience.
NE Distributors also pay attention to what we write, which is a real opportunity to participate in making the cinema of tomorrow, because we're helping—however modestly—to choose the films that will be seen by potential future filmmakers. For instance, if Portuguese director Joaquim Pinto's essay film What Now? Remind Me wasn't going to get distribution and we wrote about it and managed to help it get a release, I'm sure it would make some future filmmakers rethink their approach, because it's a film that really sticks out of the current landscape. It reminds me of the way Robert Kramer or Johan van der Keuken made films, films that always made me feel like it was possible to make movies. Like you could get a camera, go off with three people and be in contact with the world. Kramer, van der Keuken and Pinto are the opposite of the locked-in pitchable story. They are in the world.
SD Yes! That's really important. Miguel Gomes is important for the same reason, because he mixed documentary and fiction. His Our Beloved Month of August—which starts off as a documentary and goes into fiction—is very free. Cahiers tends to support filmmakers who are trying to return to the freedom of modernism, in which the important thing is what you're filming, not whether it's documentary or fiction, for example. You find that in Justine Triet's Age of Panic, which is half-documentary, half-fiction. Triet is one of several young French filmmakers who comes out of art school, like Virgil Vernier or Jean-Charles Hue, who don't put as much stock in the script and classic narrative. The essence of Cahiers du Cinéma is to separate the kinds of cinema we support and don't support. We're supporting an idea of cinema, a free and personal cinema that breaks with established genres. We don't support individuals. The auteur theory, which means supporting a director who has been identified as an auteur come hell or high water, is not our dogma. Take Claire Denis' Bastards. It's identifiable as her film. The auteur theory works, but the film doesn't. We have to be able to say why. But we've really shocked some of our readers by criticizing directors like Kaurismaki, Jarmusch, or Béla Tarr.
NE Béla Tarr was extreme: we published a dismissive capsule review of The Turin Horse while Jacques Rancière, one of France's leading philosophers, published a whole book about it. That nearly seems like provocation to me, because Bela Tarr is considered an important auteur by so many people within our spheres. Why did you make that choice?
SD I had written about the film at length in my Berlin festival report. If I hadn't seen it at Berlin, I would have written a longer review when the film came out to explain why it wasn't being supported by the magazine. But I also chose to run a capsule review because I found the film unbearably self-indulgent and formalistic. One of our major enemies is formalism—not just cynicism. When we're young, we put cinema before life. As we age, it's the opposite. I don't have much tolerance for formalist cinema anymore, for cinema watching cinema. We have the right to ask for more. You can't make a life with that. I expect a cinema that reflects our life or that is reflected in our life: I wouldn't have said that when I was twenty. Because I didn't understand that "our life" was "our whole life": our emotions, our fears, our desires, our childhood, our love. Perhaps Lynch teaches me more about life than the Dardenne brothers. And if you believe in the imagination, cinema is there to produce images that create us, guide us, regenerate us. That's what I think we're currently lacking: images, bodies, and situations with which we can live and that continue to live in us.
Béla Tarr is a prime example of someone self-indulgent, who admires himself filming, shows off his pretty pictures and idolizes his own form. So we needed to acknowledge that by doing a capsule review, to make people take notice. Whereas we made the cover storyFaust by Alexander Sokurov, who is sometimes compared to Béla Tarr. It's good to make these powerful gestures because it allows readers to think about the difference between the two directors.
The idea is always to be transitive. I'm always aware of the reader. When we have an editorial meeting, the only person we're taking about is the reader, though I don't know who he is or where.
NE You do have an idea of the ideal reader, who is someone very young. And potentially a future filmmaker.
SD Exactly. That's very important from a symbolic point of view. In fact it structures everything. I'm often addressing young people. I want a fifteen year-old to understand Cahiers. He may not understand everything, but he will eventually, and he may not necessarily agree with everything, but he'll feel that a space has been opened up for him. We also have a responsibility to give this young generation an example of considered thought. Our ideas must come from a deep place. We're not tweeting every five seconds. It's not like "communication," the flood of emails, the requests and re-requests. It doesn't take much to make you go crazy. I don't know how young people deal with it—or else their minds are a lot more flexible than mine. Yet I don't see this as irreversible. At the moment, we're intoxicated by communication but at a certain point, people will calm down. I think that people who communicate all day don't take the time and the step back required for thought.
NE In an ideal scenario, the movie theater is one of the few places where you do not communicate. You watch a film, and if it's a good film, it's an exchange, because the film is open and you think about it. But you don't communicate. Which is the difference between seeing a film in the theater and on DVD or the Internet. So maybe the movie theater can be a space for resistance.
SD Speaking of that, I was disappointed in Gravity, though the film is impressive, because it was a film that promised immobility and silence but that ultimately spends all its time filling the void with action, psychology, and plot twists. Yet it was sold as an experimental film about being alone in space. You're never given the metaphysical possibility of being in outer space. When Sandra Bullock is let go into space, you can feel a possibility for profound metaphysical anxiety. You wait for it, because it's so rare in a film, but it's all action and dialogue. And the dialogue brings everything back to earth.
See, I shifted right from the movie theater to Gravity because the last real promise I had of a major experience in a movie theater was Gravity. I do think the film is good, particularly in a Hollywood context, but I still left the theater dissatisfied. It was a golden opportunity for the entire planet to return to a sensorial and metaphysical cinema experience like 2001. And the most frustrating thing is that I think the film would have been even more successful if it had been crazier and people had experienced that anxiety of feeling metaphysically lost. The film needed to go further. But the decision-makers are ignorant fools. These people in Hollywood will never have a metaphysical experience. Didn't they look at the stars when they were six or seven and ask themselves where it all ended? They must have!
NE Why is Leos Carax's Holy Motors so important to us?
SD Holy Motors was our reunion with Leos Carax, the enfant maudit of French cinema. He was the promise of a new Godard in the eighties, but then he got a little lost. We were scared we would never be reunited with him. So we were very happy that he measured up, and especially that he measured up to the era. His film is about today. It's not like Jim Jarmusch, who keeps turning back to the eighties. For me, the essential thing was that he came back after years away and shook up all of French cinema. And the film was a box office success! He's showing that powerful, ambitious, slightly bizarre gestures attract an audience that is sick of seeing the same thing over and over. An audience tired of consensus and interchangeable films. It's as if he were saying, "Start over from here." That's what we tried to say in Cahiers, that after Holy Motors, it was like Year One for film again. Anything is possible, let's take advantage of it.
NE On the other hand, it's hard for me to imagine how to be influenced by Holy Motors aside from saying that anything is possible. Which is magnificent.
SD That's exactly it.
NE Influential filmmakers like Wong Kar-Wai or Terrence Malick can be copied. But how do you copy Holy Motors? You can't do anything like Holy Motors, which could be seen as a problem, but it actually gives you total freedom. The protagonist winds up in a suburban house with a family of monkeys. Limousines talk to each other. Anything is possible—within a single film. It's a world.
SD It's a world, not a narrative. Along with Apichatpong Weerasethakul's Uncle Boonmee Who Can Recall His Past Lives, Holy Motors has been the most important film for Cahiers in the past five years. It just goes to show that we're looking for poetic, mysterious, atypical films which open worlds to us and deal with the imagination.
I think the problem in American cinema today is that everything has to rest on the narrative and the action, and filmmakers no longer have enough belief in the power of images. Very few images remain fixed in our minds. The American curse, even among critics, is to see everything from the perspective of genre. Gravity doesn't escape the science fiction genre the way 2001 did. It's as if you had to serve up the science fiction to the audience that comes to the conventions every year. Films are categorized by genre and by target audience. What we're interested in is the exact opposite: what escapes genre and typology.
After Holy Motors, Cahiers did a "poetic history of French cinema" in eleven "stations". Carax's film led us to revisit the history of French cinema by looking at eleven films that could resonate poetically with Holy Motors. Carax's film engendered a way of thinking for us. There's so much functional cinema that we needed people to bring in some emptiness, space, mystery, and poetry.
Now I've called for a more emotional cinema. So what I'm looking for is emotional texts. In the past, I avoided that, largely out of reserve. Then I wrote a short piece on Garrel's L'Enfant Secret in the first person and I realized that was a potential way forward. Your piece about Garrel was also very personal. That's the direction I want to head in, to serve as an example.
NE If criticism is personal, cinema will be personal.
SD Exactly. I want our writing to be inventive, audacious, and personal.
NE Where does Cahiers situate itself politically? You talk about the times we're living in, but can we allow ourselves a clear political position?
SD Under the previous editor, the word "political" was used so much it practically became meaningless. In the 2000s, the political argument was worn thin. Additionally, I think we're lacking the great political films we could hope for in a troubled period like our own. Granted, there's Jia Zhang-Ke's Touch of Sin, but the film is so pessimistic. There's also Cronenberg's Cosmopolis. Ultimately I think the most honest contemporary film about politics is Lincoln, which asks what it means to be a politician who has power.
NE I totally agree. I don't love the film, but I was really impressed that a Steven Spielberg film about our most beloved political leader, released on Thanksgiving, shows Lincoln getting his hands dirty and what it means to be a politician. But in my eyes it's more of an observation, which doesn't give you any tools to deal with today's situation. In a way, it feeds into a contemporary American rejection of politicians by showing you that even a hero has to make compromises to get a horrific thing—slavery—abolished by other politicians. It's not an encouraging film.
SD It's realistic.
NE And I respect that. As far as politics go, I'm in a strange position as Cahiers' New York correspondent. My job is to analyze American films. I often find myself writing from a symptomatic perspective rather than a cinematic one because ultimately there isn't that much to say about cinema when you're writing about Judd Apatow. So I ask myself what do these big films tell us about the country and the period. There's a political aspect to describing how the country is reflected in these films. I always found it strange that when we write about American film—especially Hollywood film—we consider that the story told represents the United States. You would never look at a French film, whether it was a Garrel film or a more commercial venture, and say "This is France today."
SD I think it's because American cinema is more powerful. It has more breadth. Films like Lincoln are constantly reinventing the United States, asking what is the United States. That question is always there, in part because the US remains a young country.
NE I think the other thing is that when we respond to Hollywood cinema, we're not only dealing with the film as an object, but also films that millions of Americans will see. Whereas the French films we write about are seen by a much smaller number of people. So with American cinema, we're talking about not only what's being shown but also what people are identifying with. What does it mean that Americans—and people all around the world—identify with Seth Rogen and the kind of character he portrays? To me, that's a political question.
SD Actually I think that what prevents political issues from taking off in the magazine is the question of ethics. Ethics take up all the room. That's really important to me, and it's really in the Cahiers tradition. Things like "The tracking shot is a moral question." A lot of our capsule reviews attack films on ethical grounds. I'm not sure critics in the States take the same approach. Or maybe they do with Zero Dark Thirty or Django Unchained.
NE Those are issue films: slavery, CIA torture. But if I were to write the capsule review of Twelve Years a Slave, I would go in the ethical direction. There's a shot when a slave woman is being raped by a master and there's some kind of beautiful red moon in the background. I consider that obscene. McQueen has chosen to frame a certain way—
SD That's very Cahiers! That's the very foundation of what we do!
NE You're watching a vile action, which is at the heart of the movie, but somebody decided it would be beautiful to put a red moon in the background. So what do I do when I watch that? I think about the set designer! That's what Cahiers is for me, it's asking yourself those kinds of questions.

Translated from French by Nicholas Elliott
French Institute Alliance Française in New York City will host French Cinema's Secret Trove, curated by Cahiers du Cinéma, every Tuesday in May.