Contingent Encounter: Sreshta Rit Premnath Interviewed by Sohrab Mohebbi
Reminding us the artwork does not exist in a void.

Discover MFA Programs in Art and Writing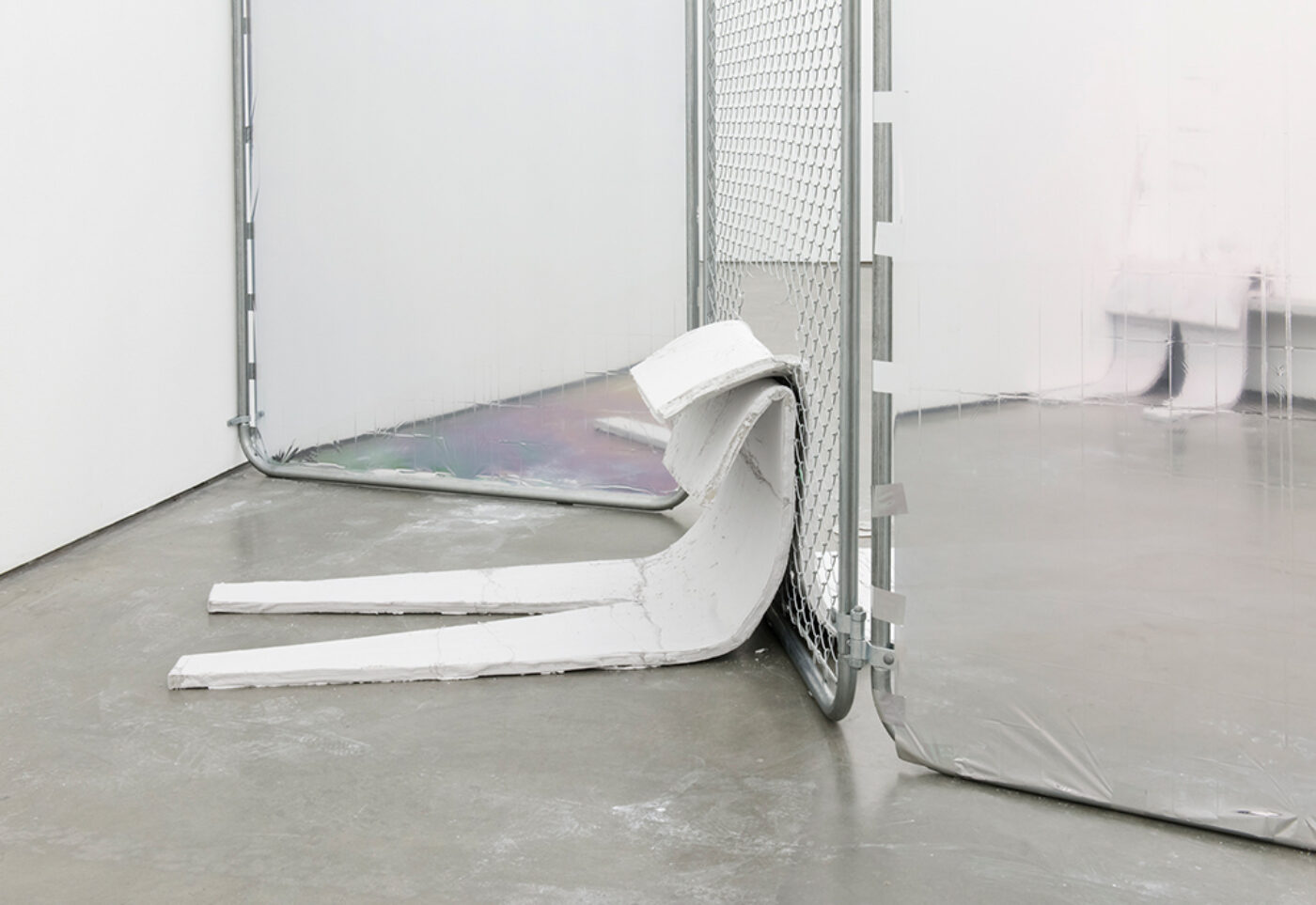 Some conversations continue for a long time, outlasting transitions, relocations, and flight lines. Artist Sreshta Rit Premnath and I first collaborated in 2011 when I was a curatorial fellow at the Queens Museum, working on an exhibition with Hassan Khan. Premnath asked us to contribute a conversation to Shifter, a publication he had founded in 2004 to highlight the intersection of art, philosophy, and politics. For his show, Khan refused to add the country of origin qualifier to the wall text and we managed to convince the museum director to leave it out, without much ado. Premnath and I have discussed the multiplicity of selves and the notion of a subject's unlocatability whenever we got together in the past years. His sculptures and installations, not unlike Shifter, resist classification. Operating across multiple mediums and formats, his work, doesn't end with one show or start anew with another but rather exists as a continuum. Premnath's investigations into photography's truth claims are paired with his questions about the accountability of structures, reminding us that art does not spring out of a void.
—Sohrab Mohebbi
Sohrab Mohebbi Your work seems to bring together the legacies of minimalism and conceptual art on the one hand, and those of the Pictures artists on the other, with your interest in image operations. You then triangulate this via an attention to the conditions on the ground which is missing in these schools.
Sreshta Rit Premnath There are three registers of meaning-making that I work through. One is an analytical engagement with language and modes of representation. The second is paying attention to power and how it gets articulated or made invisible. And the third is an investment in materials that exert their own force on the viewer. It's hard for me to separate those points in the triangle, even if they appear distinct.
For example, in my project Knot, Not, Nought, I referred to the work of Polish conceptualist Edward Krasiński who often used blue tape to circumscribe a gallery space. For him it was an indexical mark that drew attention to the space between the audience and the wall where artwork usually resided. But it's impossible for me to see that blue line without thinking about the demarcation of property, which was not a concern for Krasiński.
SM That's right, because he lived in Polish government housing.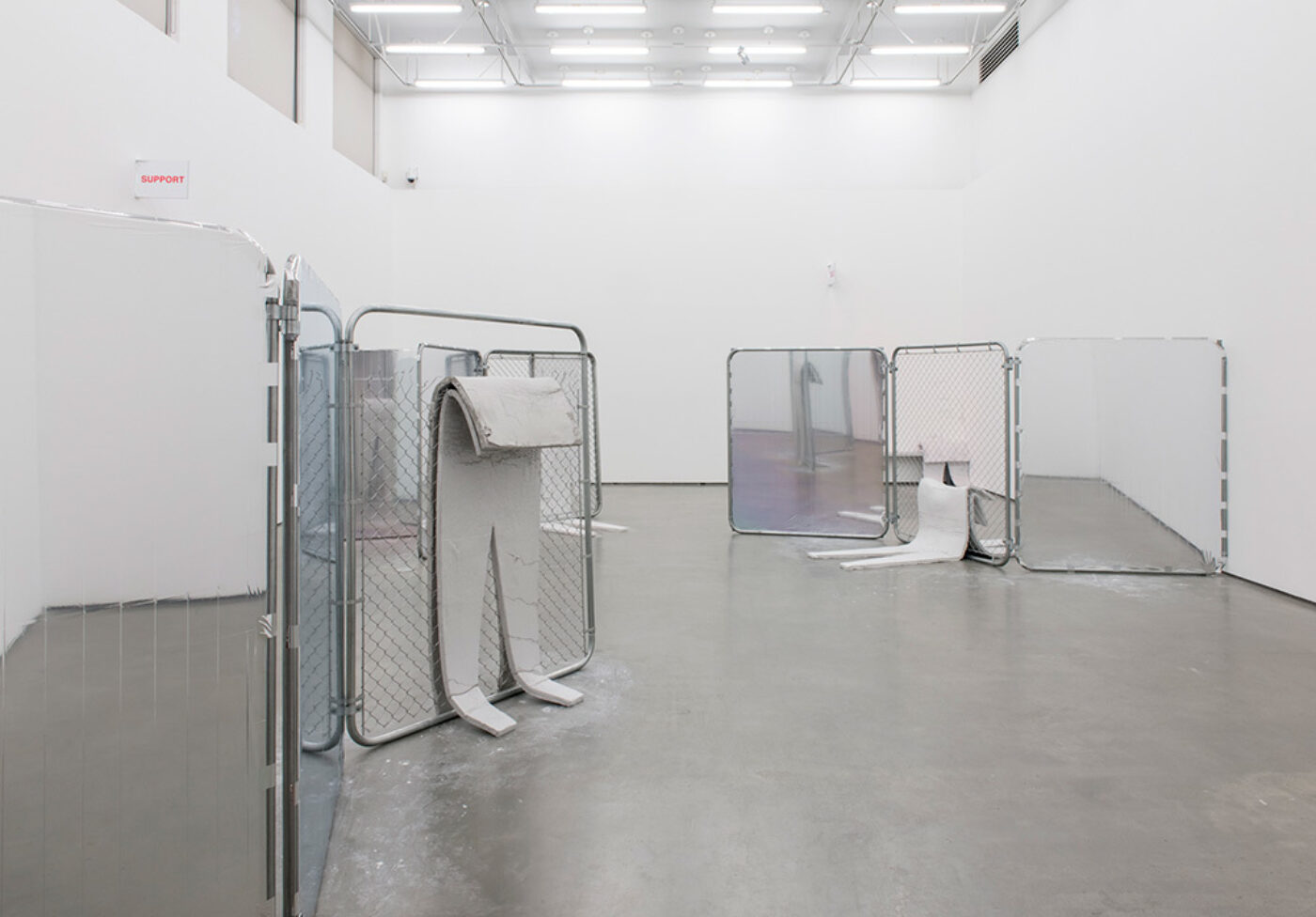 SPSimilarly, my engagement with photography is twofold. I use photographs to depict sites or individuals, but the way I treat the image surface foregrounds its materiality and slows down its reading. For example, in a recent installation, Those Who Wait, I used a photograph shot from my studio, showing the New York Bay bookended by the Metropolitan Detention Center and the Statue of Liberty. The print is torn and applied to corrugated plastic. The proximity of symbols of incarceration and liberty is important to me, but I deconstruct the photograph as a way to present an idea under erasure, because I'm skeptical about a photograph's truth claim.
SM You seem acutely aware that an artwork doesn't exist in a void. Your studio becomes part of the work as you're addressing these two institutions: the Statue of Liberty and a correctional facility. These spaces are not neutral. In your work, you speak to contingencies rather than an assumed universalism.
SP Exactly. I have never been able to access a universalist position. I'm always interested in how a contingent encounter with an image or material is framed, and how it can change in another context. As someone who has a hyphenated identity—Indian-American living in New York—I often ask myself what it means to comment on a particular political situation or to appropriate the gesture of another artist.
SM Right.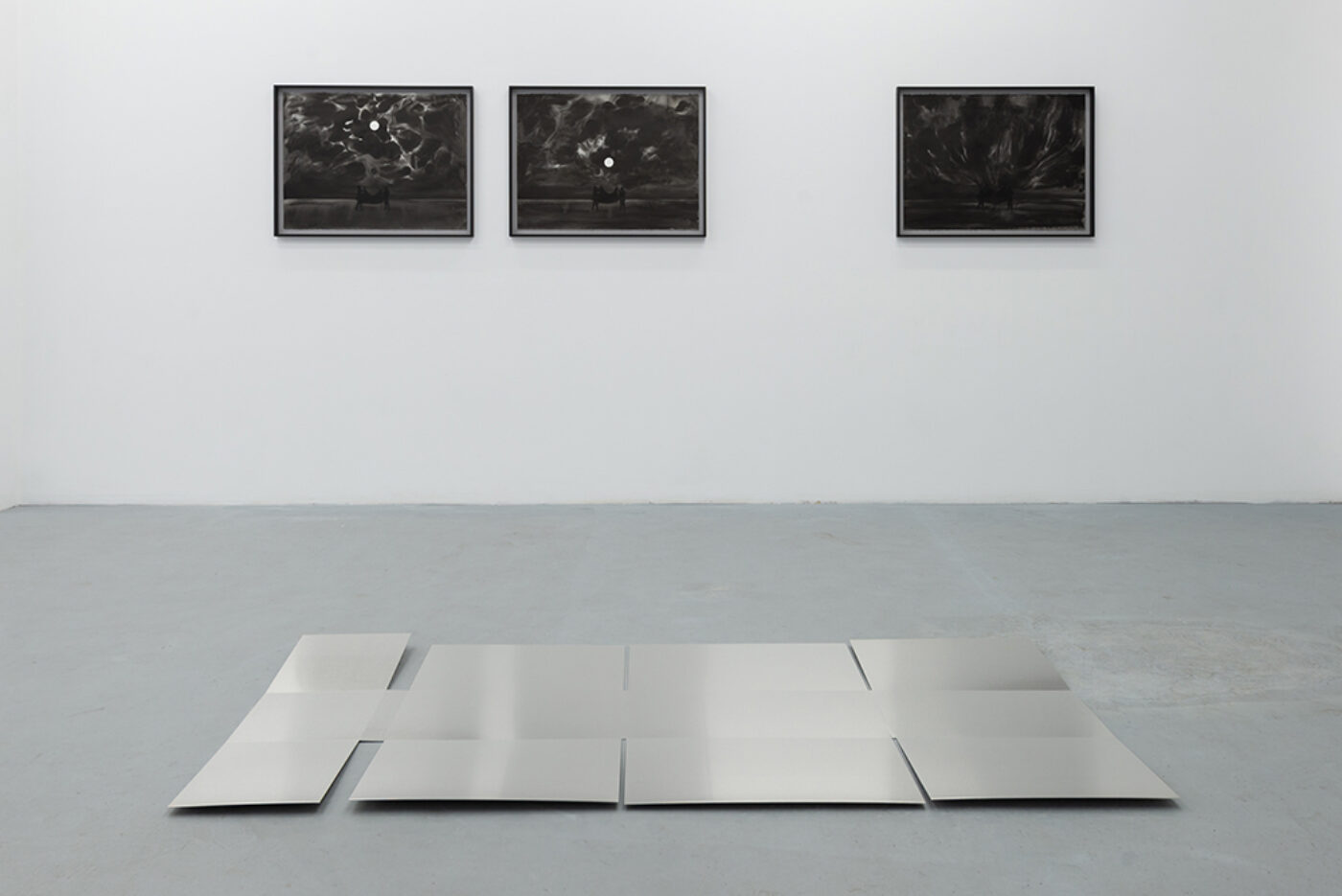 SP I am concerned with conceptually and materially situating my works in relation to the exhibition site but also in relation to each other. For example, the metal sculptures that resemble unfolded cardboard sheets are titled The Sky Below and measure six feet by two feet, approximately the dimensions of my body. There's a directness to their address; you immediately understand what the material is and what it depicts. On the other hand, the two-channel video Una Doble Vida, which was in the same show as the sculptures, is structured around a narrative. One channel is a sunset with the voice of a day laborer discussing the horizon as a metaphor for loss and longing. The second channel shows milk crates lit by the setting sun, the same crates that laborers use as provisional seats while waiting for work. The sculptures and the video use contrasting modes of address, yet they coexist in a space and speak to each other.
Some of my objects can move into other constellations. The metal sheets from The Sky Below are going to be shown in Turin alongside a series of sculptures titled Slump.
SM The constellations are malleable, or maybe modular. Do they contain and carry through a set of questions from one project to another?
SP If seen alone, some pieces may register as minimalist sculptures, but when placed within a particular constellation of objects they take on specific political content—like the pieces titled Slump, body-like forms cut from rubber sheets and coated with tar and sand. When I present them alongside work that relates to real-estate advertising, their abjectness is read through the housing crisis. When presented alone they feel more like Charles Ray's Plank Piece or the sculptures of Jannis Kounellis, where the abjectness is more metaphysical, in a sense.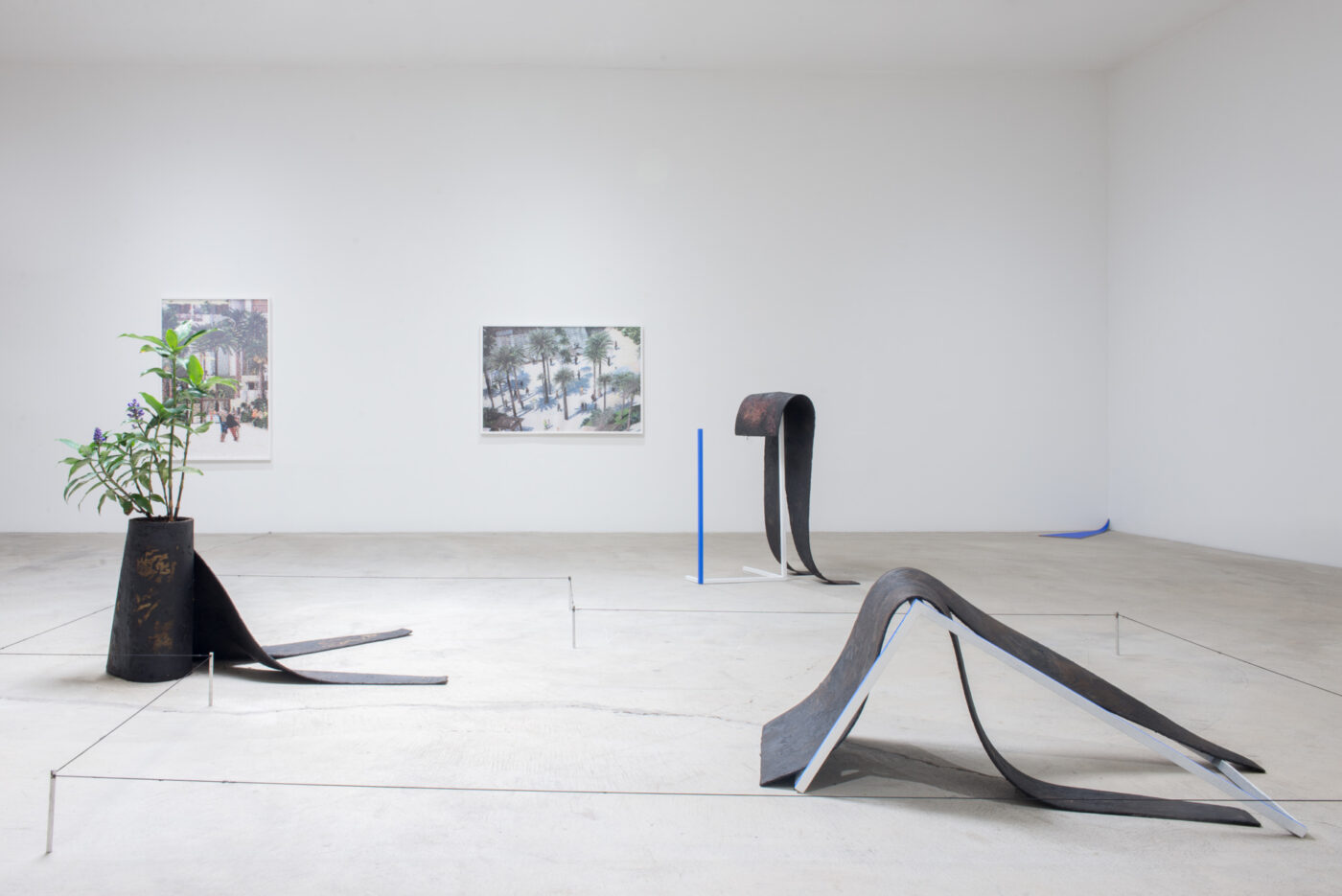 Similarly, The Sky Below came out of a deep engagement with Polish artist Koji Kamoji's work The Bottom of the Sky, sheets of reflective aluminum installed on a roof. Rather than thinking of the reflective metal as an ethereal pond I wanted the viewer to see what a homeless person lying on the street would see.
SM How do you make material choices, for instance, applying photographs on corrugated sheets?
SP I was thinking about temporary walls I had seen at construction sites in Bangalore. They often feature an architectural rendering of the project. A projection of what is to come, which also hides what is actually behind it—laborers hard at work. Corrugated plastic is used for temporary walls and roofs, and it's structurally sound. It can hold one image in the valleys and another on the hills of its wavy surface—like a low-tech lenticular print.
SMHow do you print on those? Is that something that you do yourself? I'm asking this to address the materiality of the work.
SP I print on large sheets of paper used for architectural plans, then I paste them on top of the corrugated sheets. I tear each image vertically so that you can see through both images, literally looking through the tears.
There's a question that Vilém Flusser asks in Towards a Philosophy of Photography. He posits that the photograph is a fourth-degree representation—the photograph codifies the technical image, which codifies text, which codifies an image, which codifies the world. But the photograph presents itself as if we already understand it. Flusser's question is, How do we decode a form of signification that appears as if it's not coded? One strategy to address this question is to return materiality to the photographic image. The corrugated prints allow you to look at the front and the back of an image, and that enables me to stage the deconstruction of a photograph.
SMIn a way, you use material to address what the image is not representing—what is absent. For instance, the metal sculptures not only reflect the body, but also point to its absence. The fossil in your work is a representation of something that is no longer there. What the material brings is what the image cannot contain as a form of representation. For me, that also relates to Flusser's notion that photographs seem unmediated although they are completely codified.
SP Absence is a central theme of everything I do. I sometimes use erasure or absenting to make something visible. At other times—like when using fossils in the series Swayambhu—I think of absence as being at the core of the material world. I did a project called Zero Knot which used the mathematical concept of a zero knot—an entangled line that resolves into a loop—as a metaphor for political or historical entanglements. An infinite series of distinct entanglements could all be disentangled into zero. This friction between the uniqueness and contingency of material presence and, at the same time, an all-pervading absence is important to me.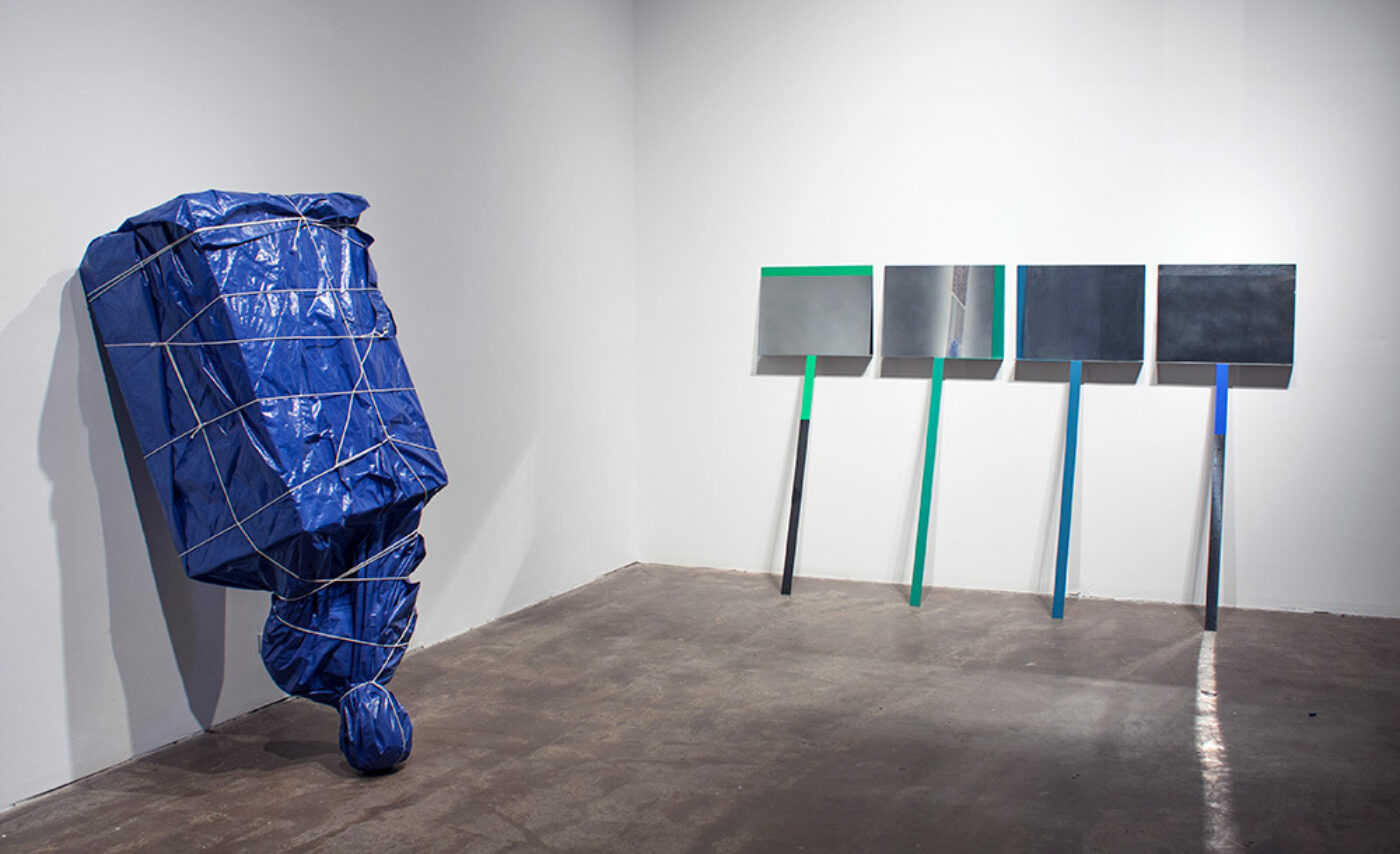 SM I also wanted to bring up Shifter, a publication project you've been doing for about fifteen years.
SPI started Shifter in 2004, when I was denied a visa to return from India to the US. It began as a PDF magazine shared online for free. It had thematic issues that brought together artists I knew in New York and in Cleveland, and artists I had recently met in India. I've always been resistant to identity categories, whether nationality, race, or gender. The word "shifter" refers to a linguistic element that is indexically dependent on the speaker and listener for its meaning—"I" and "you" for example. Over the years, I've collaborated with many people to co-edit the publication. Matthew Metzger and I did five issues, and Avi Alpert and I have co-produced three so far. Shifter has taken on curatorial projects and more recently engaged in multi-year discussions and event series culminating in a publication. Shifter 24: Learning & Unlearning was just launched at the New York Art Book Fair.
SM It's interesting that Shifter was a way to question how academia, the art world, and the media classify, categorize, and tokenize these positions. It's something that has been a concern of yours. Over the years, whenever we got together, that's all we talked about! I think with Shifter you're committed to the notion that we need to understand unlocatability.
SPI was always committed to that complexity. Because, as you know, I grew up in a cosmopolitan, urban place in India with a lot of different global cultural influences, which are all a part of me. I'm really resistant to making work that is a statement or that reifies an identity position. In my work, locating and ungrounding must coexist.
SM That reminds me of Issa Samb, the Senegalese artist who said, "The only form is lack of form." It resists any attempts that people make to determine what a work is. I guess that's also like the notion of a "shifter."
SP I haven't quite thought of it this way, but the seriality of Shifter and the project-based way in which I work on exhibitions allows for moments of formalization. Each is a statement, even if written under erasure.
SM How do you go about making an exhibition? When I was looking at your work it seemed like every project was conceived for a place.
SP I spend a lot of time in my studio experimenting with materials and messing around. But it's really hard for me to begin making work without knowing if there is a budget, where the space is, and so on. When I have a solo exhibition, I plan my studio time around it. I produce pieces meant to be part of the show, but they might end up not working out and will be moved into other projects. I often use exhibition titles and the titles of artworks to help direct material decisions.
SMSo you have a running list of these kinds of concerns?
SPWith the show coming up in Vancouver, I got thinking about the temporal equivalent to ownership and access to space—central concerns in my ongoing project Plot. Observing the migrant crisis and ICE detention centers in the US, it's easy to see how time is apportioned in the same way. People who have power have more control over their time. Governments and bureaucracy often use time as a weapon against people who are weak. So, the title Those Who Wait became the organizing principle for the show.
SM It seems to me that one of the most important features of biopolitical governmentality is to control spontaneity. Who can be spontaneous? Only certain people. Very few people can afford to make erratic or spontaneous decisions anymore.
SP In relation to spontaneity, there's another thing that shifted in my last two shows. I'm used to making work in my studio that has to be shipped to the exhibition. But there are logistical issues that affect the work. I have to make things in a modular way over longer periods of time. The work then returns to my studio until it gets shown elsewhere. With the last iteration of Those Who Wait in June, I decided to go to the gallery and produce a large-scale installation on site, and within a week. I'm doing the same for my show in Vancouver.
SM Do you see yourself as a post-studio artist? You do run a studio while also having metabolized how the work responds to the parameters of each space.
SP Absolutely. I've been thinking of my studio experiments as rehearsals for the performance of installing the exhibition. In my studio, I figure out a lot of material issues and come up with solutions, so when I get to the site, I know what needs to happen, but I will also remain open and respond to the space. The studio is like a tinkering shop and a rehearsal space.
Sohrab Mohebbi is a writer and curator at SculptureCenter, New York.