Spray Paint and 3-D: Kenny Scharf Interviewed by Marilyn Minter
The relationship of colors on and off the canvas.

Discover MFA Programs in Art and Writing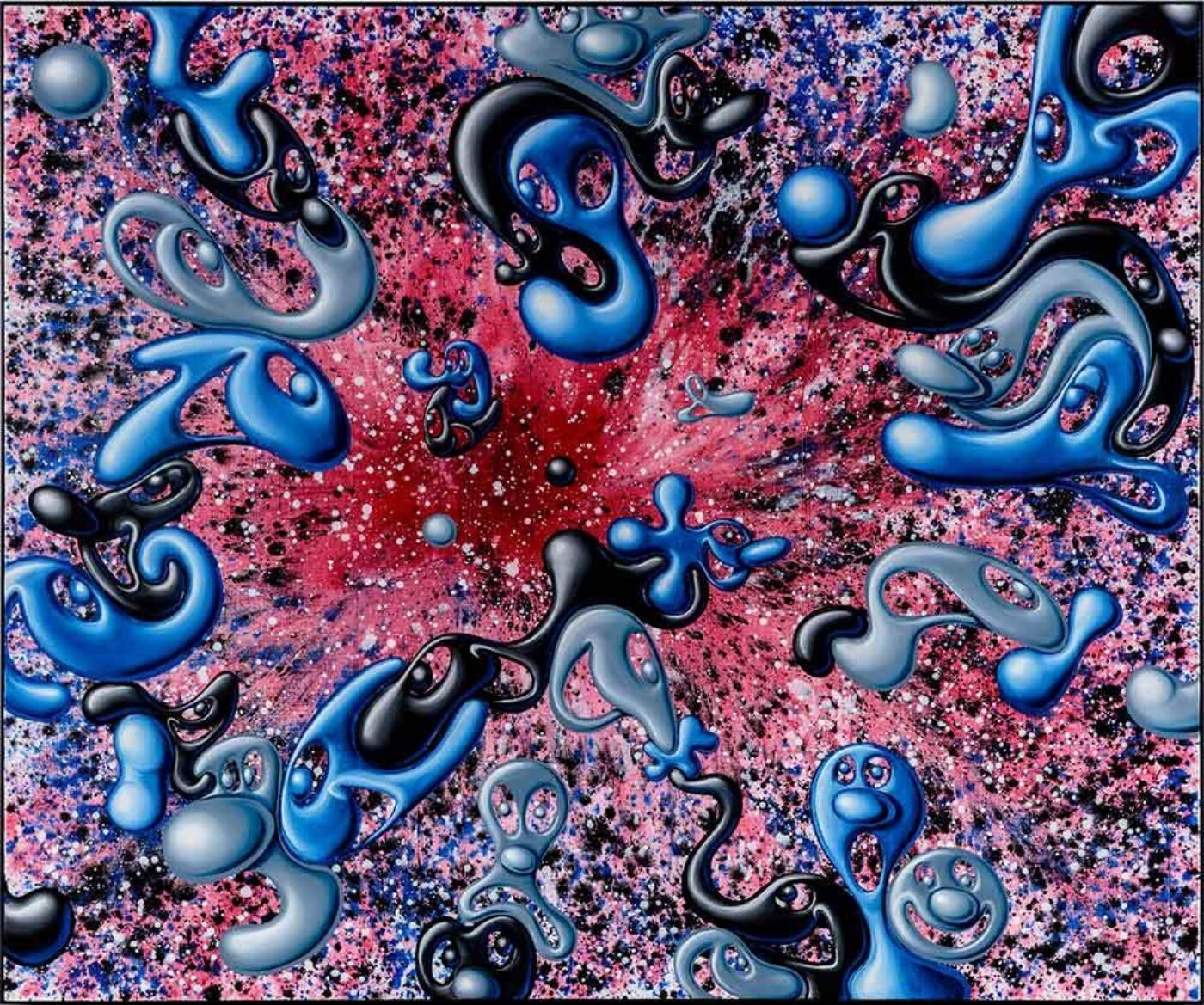 I've been a big fan of Kenny's work ever since I saw his first show at Tony Shafrazi's gallery in SoHo in 1985. It was an installation, really; not just a painting show. In retrospect, it was pretty funny to read in the New York Times a review saying that bringing graffiti (that was illegal), spontaneous, and "of the street" onto canvas was ridiculous. That review sounds ludicrous in hindsight, because graffiti has had a huge effect on art history. After the Shafrazi show, Kenny had recognition at the level enjoyed by friends Keith Haring and Jean-Michel Basquiat. They are both now enshrined in the canon of art history. I talked to Kenny about how unfair this is that he was in a way left out. And he said, "My problem is that they died, and I'm still alive." I agree, but art history has a way of righting itself eventually.
—Marilyn Minter
Marilyn Minter What was it like making a new Cosmic Cavern at TOTAH? How long did it take? Were you worried about using spray paint again in such close quarters?
Kenny Scharf It was super fun! It was just me and good coffee, good weed, good music, and my spray cans. I wear a mask, but it is a basement with no windows, so it would get pretty intense down there. I would just go crazy spraying and then basically run upstairs and outside and breathe and let it settle before going back downstairs to do it again! It took me two days. Spray paint is very quick and immediate. Sometimes it reminded me of being underwater, as I would seriously paint while trying to hold my breath (I had a mask, but it was still stinky). When I would run upstairs and outside, it really felt like I was coming up for air after a mesmerizing dreamlike underwater dive.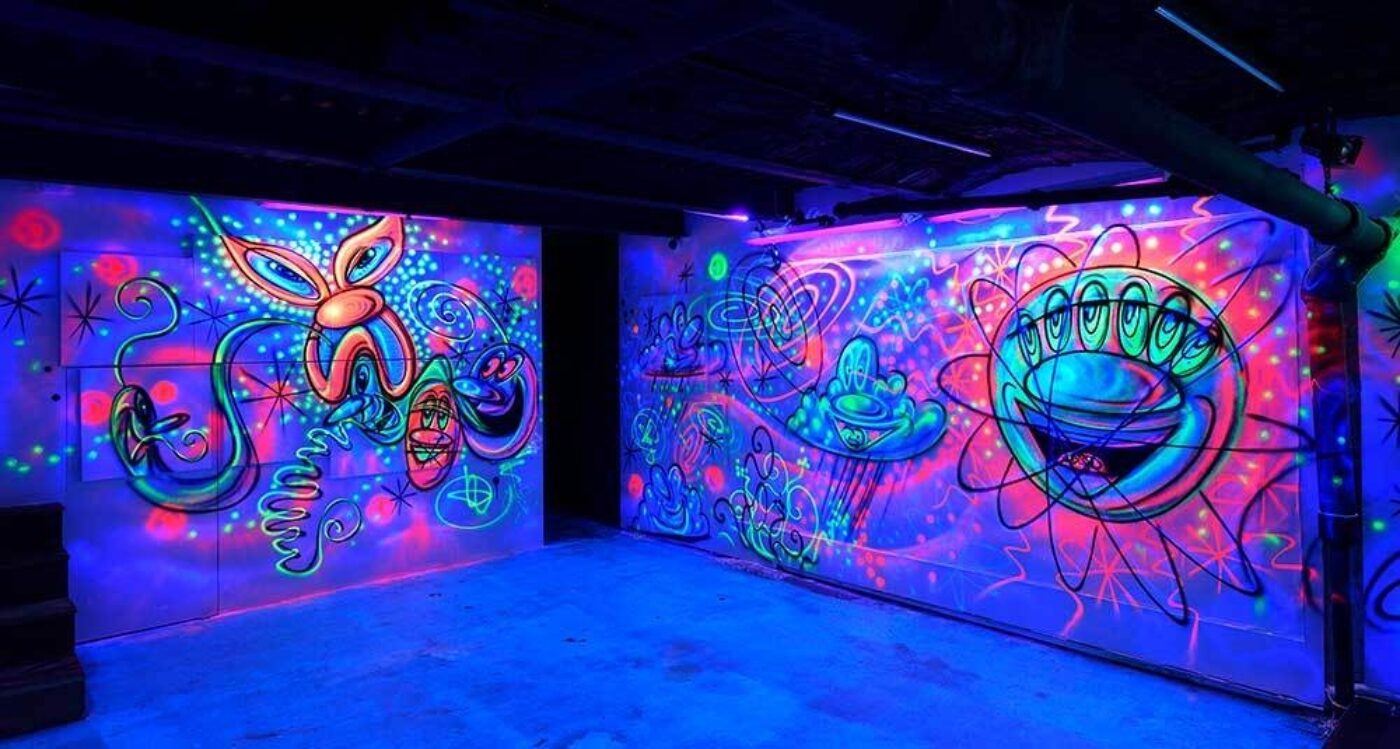 MM Tell me about the red, blue, and gray color theme in the paintings? Do you always have a color theme when you put together a body of work?
KS The color scheme was David Totah's idea, not mine. Normally if somebody, especially an art "dealer," makes a suggestion or request, I am likely to do the opposite. But David is not your average "dealer," and I really respect his thoughtfulness and sensitivity; so when he suggested that, I didn't reject it. I thought about it, and it seemed like a fun idea, so why not? And once into it, I became incredibly immersed in the qualities and relationships of those three colors, and the restrictions almost became liberating. It's also a great way to focus on the actual painting and paint. It's not as pared down as black and white, but that stripped-down quality really brings out other things that might not be noticed with brighter, contrasting colors. And I like the way it unified the whole floor. Also, the colors red and blue, like the title of the show, are the colors of blood. Our interior liquid life colors bring us deep inside literally and psychically.
MM What is the vision involved in making your three-dimensional work as opposed to your vision making paintings and drawings? What is the difference in thinking methods?
KS The transition from painting to sculpture and back to painting is pretty easy. Almost all of my paintings involve the rendering of three-dimensional objects; therefore, if I am creating an actual 3-D object or I'm painting a picture of one, I'm still seeing the 3-D object in my head before I begin. Some of my sculpture literally could be extracted from a painting. There's nothing quite like the 3-D object. It's almost like entering a painting and walking around inside of it.
MM One of my favorite gallery shows of all time was the Who's Afraid of Jasper Johns show at Tony Shafrazi superimposed on the wallpaper of Four Friends in 2008. What did you think of that show? Were you involved at all in what was going to be installed on "your" wallpaper?
KS I think you're referring to the Urs Fischer show where he used actual paintings (including mine) as backdrops for the finished displays. I wasn't involved or consulted. At first my reaction was disrespect that my art was used without my consent as a backdrop, and I wasn't quite clear about the reasons for the aesthetic and what the purpose or philosophy was behind the gesture. Obviously it did get quite a reaction, and many people like you enjoyed it. It also made the front page of the New York Times arts section.
MM Tell me about your favorite collaboration with another artist?
KS I don't do many collaborations with visual artists, but I've done walls with Keith Haring, prints with Ed Ruscha, installations with Dear Raindrop. I have also collaborated numerous times with performances and videos, and I've had especially great moments with the artist Ann Magnuson. I am most used to working solo. I find that collaborating can be very stimulating with the back and forth, push and pull. I love the experience of performance, stage work, and acting. It's a different type of energy working with other people and also in front of a live audience.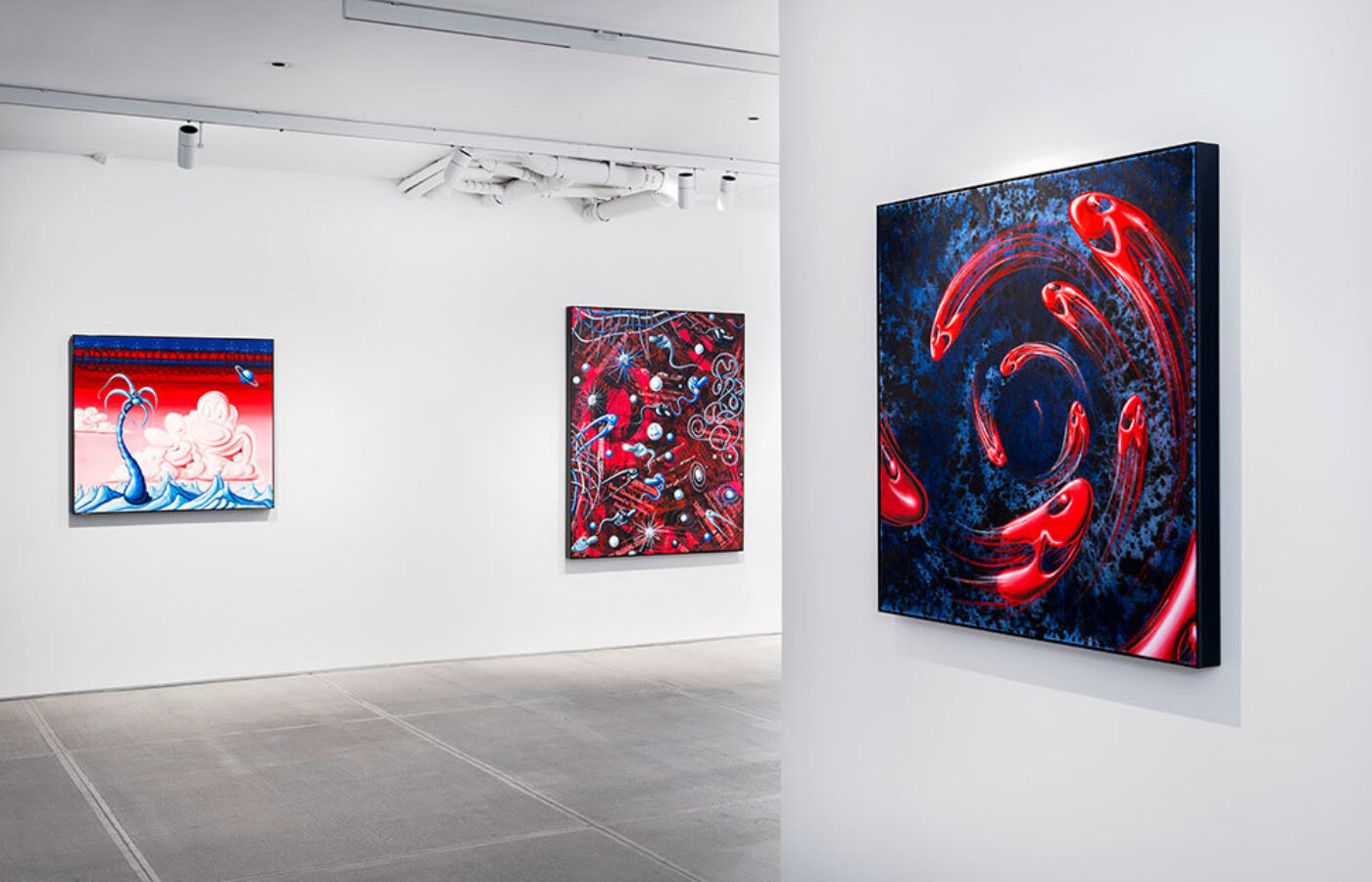 MM Your range of work seems constant and all-consuming. So what do you do for fun?
KS It's true I am sometimes a monster machine! I get so much joy and pleasure from making art, and it really is an addiction; but it is one that feeds me and keeps me happy. I do, however, love other things, especially swimming in the ocean, growing things in my garden, watching the sunset, and spending time with my two grandkids, Jet (seven) and Lua (four).
Kenny Scharf: blue blood is on view at TOTAH in New York City until July 28.
Marilyn Minter lives and works in New York. She has been the subject of numerous solo exhibitions including the San Francisco Museum of Modern Art in 2005; Center for Contemporary Art, Cincinnati, in 2009; La Conservera, Centro de Arte Contemporáneo, Ceutí/Murcia, Spain, in 2009; Museum of Contemporary Art, Cleveland, in 2010; and the Deichtorhallen in Hamburg in 2011. Her video Green Pink Caviar was exhibited in the lobby of the Museum of Modern Art in 2010 for over a year, and was also shown on digital billboards on Sunset Boulevard in L.A. and the Creative Time MTV billboard in Times Square. Minter's work has been included in numerous group exhibitions in museums all over the world. In 2006, Marilyn Minter was included in the Whitney Biennial, and in collaboration with Creative Time she installed billboards all over Chelsea in New York City. In 2015, Minter's retrospective, Pretty/Dirty, opened at the Contemporary Arts Museum, Houston, before traveling to the Museum of Contemporary Art, Denver, and on to the Orange County Museum of Art. Pretty/Dirty opened at the Brooklyn Museum in November 2016. Minter is represented by Salon 94, New York; Regen Projects, Los Angeles; and Baldwin Gallery, Aspen.