Spiritual Praxis: Tattfoo Tan Interviewed by Louis Bury
The art of learning new skills.

Discover MFA Programs in Art and Writing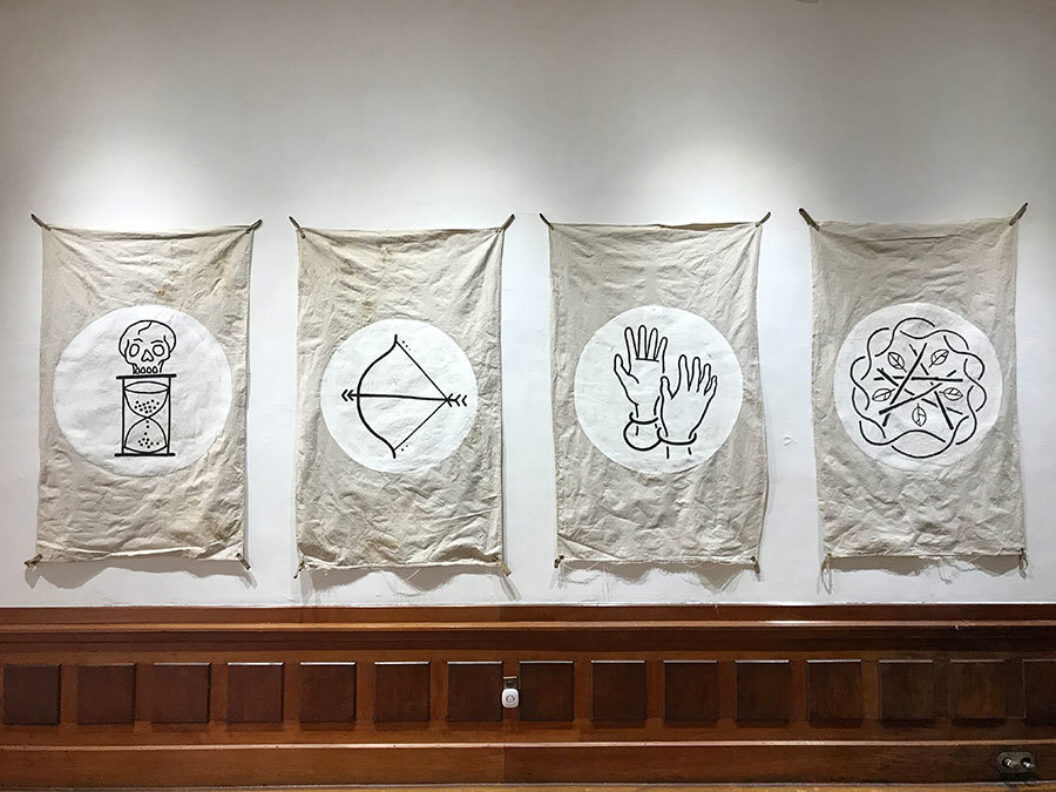 Through self-directed artistic research projects, Tattfoo Tan acquires, implements, and disseminates uncommon forms of ecological knowledge. For S.O.S., or Sustainable. Organic. Stewardship. (2009), Tan learned skills such as composting and urban farming, then taught those skills to others through artistic workshops and created artworks—including a cargo bicycle that served as a mobile classroom—to facilitate the process. NERTM, or New Earth Resiliency Training Module (2013), had a survivalist bent, encompassing skills such as knot tying and fire starting. His latest project, Heal the Man in order to Heal the Land (2019), takes a spiritual turn, assembling a syncretic mix of religious and philosophical practices, such as Shamanism and Advaita Vedanta, into a syllabus workbook, an installation at the Newhouse Center for Contemporary Art, and a public workshop series. Focused on the individual yet far from individualistic, Tan's work anticipates our planet's coming climate changes with a combination of calming introspection and bracing, can-do practicality.
—Louis Bury
Louis Bury What's the role of spirituality in your work?
Tattfoo Tan I understand spirituality as distinct from religion. Religion is a set of beliefs, associated with an ethnic or cultural group, that has been taught and processed through the years. Spirituality, on the other hand, is your own belief system, your own thoughts, emotions, and ideas about reality. Religion is more predetermined, whereas spirituality needs to be confirmed and reconfirmed for oneself.
LB Can you talk about how and why you draw upon different religious traditions?
TT Basically, I'm pointing a finger to the invisible connections between religions. A lot of religious traditions explore similar concepts using different language. For example, Buddhists might speak about an empty room's nothingness, while Vedics might speak about its fullness. Which is it, empty or full? Technically, the room has a lot of empty space, but it's also full of air, and of the possibility to be something else. These traditions are talking about something similar, but they look at it in a different way and use different language to describe it.
LB How do you understand the interplay of text and image in your written books and visual installations?
TT Artists often struggle to write text, but for me it's the reverse. I usually write the text first, which then serves as the guideline for the visual work. Almost like in the Bible, where God verbalizes ideas before materializing them.
LB When you're writing a text, are you anticipating how it might manifest in a material artwork or exhibition?
TT When I write, I only think about the concept that I'm trying to convey. Once the text is written, the rest of the process—applying for grants, making the material artwork—feels comparatively simple. There's no struggle.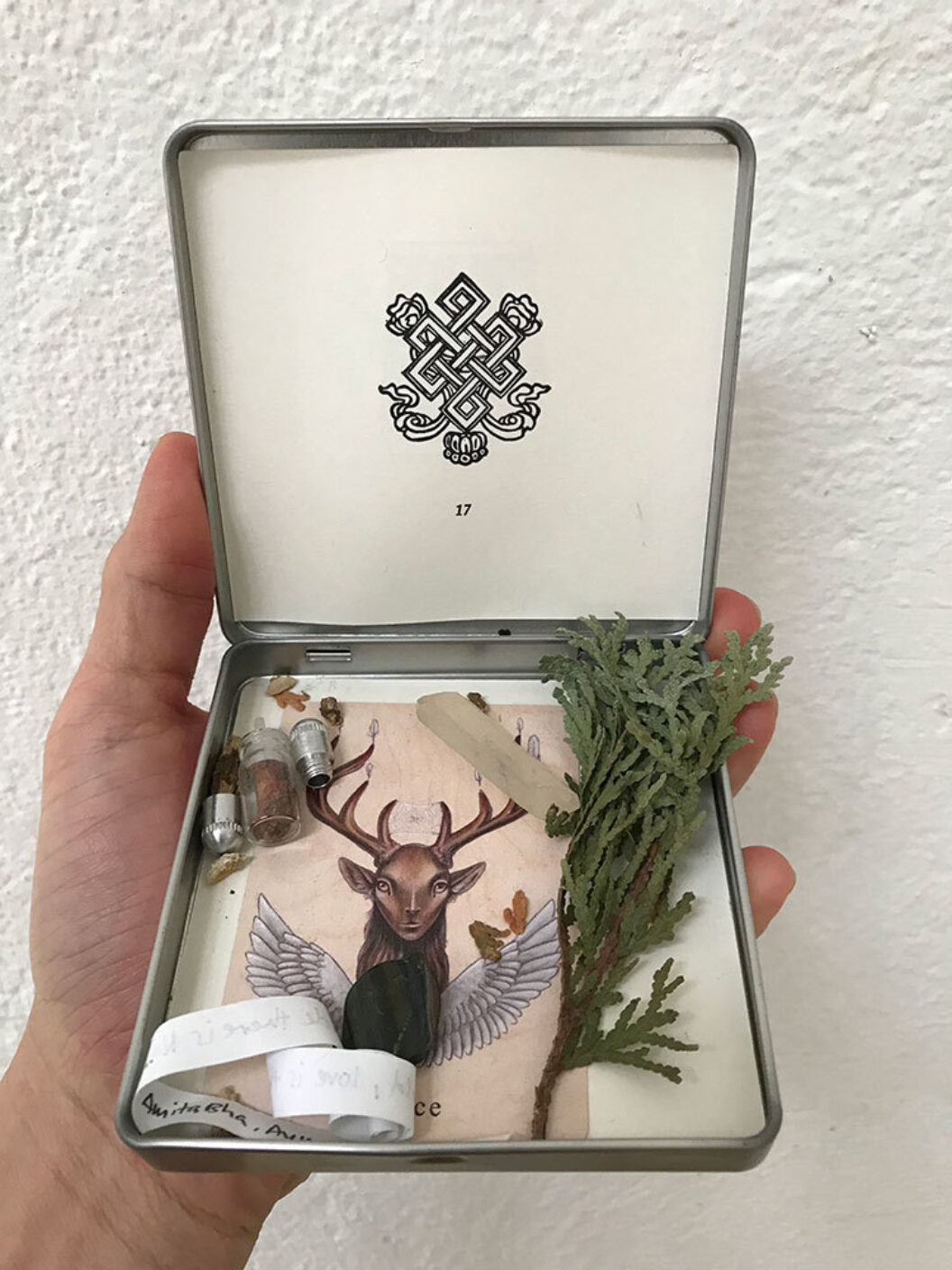 LB What's your writing process?
TT My art-making process is learn-practice-teach. First, I learn things that intrigue me. Then, I practice what I've learned in the studio. Finally, I teach it to embody the philosophy. When I follow this process, I usually end up with a syllabus book and an exhibition.
LB Your study is preparation for the writing, and your writing is preparation for the artwork.
TT Sometimes I find the spiritual knowledge too dogmatic, complex, or archaic. I try to make it simpler to understand, both for myself and for others, which is why this newest syllabus takes a workbook form. There are no heavy tags or difficult language.
LB The syllabus has a self-help tone, but without the genre's condescending prescriptiveness or New Age triteness.
TT Yes, self-help for myself. I'm discovering my own path—my own best life—and sharing it with others. It is re-New Age. The knowledge is not new, but remixed. Basically, I'm a spiritual DJ.
LB Yet the self-help emphasis points the way outward, toward the wider world, which is noteworthy given your work's ecological bent. In popular climate discourse, the individual human subject feels like a powerless consumer cog in a vast, self-eroding system.
TT When I give talks or workshops on climate change, the audience sometimes has a tough time grasping its spiritual dimension. People associate climate change with reusing and recycling materials, not with what they think and feel. Introspection can help us see the bigger picture.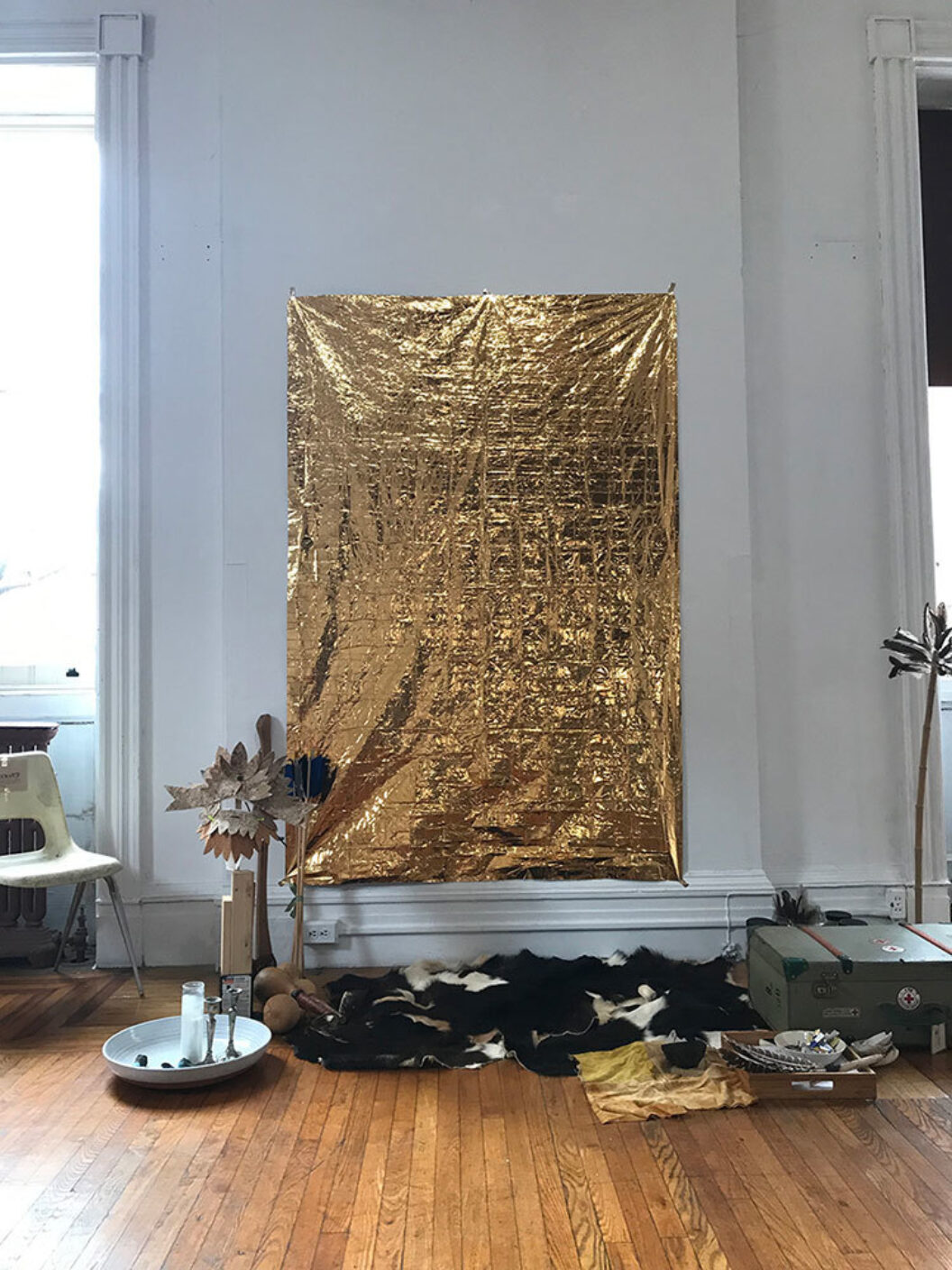 LB Your artistic courses of ecological study manage not to feel resigned or fatalistic, but also not to feel personally responsible for everything.
TT I think I went in this spiritual direction so as not to get burned out after acquiring so much survivalist knowledge. Climate change is happening, and we should take action to curb it. But you can get consumed by its magnitude and stress. Work on climate change, don't deny it; but everything happens as it is, in its due time.
LB What other spiritual insights from your recent course of study feel important to you?
TT Non-dualistic philosophy was new to me and important. I believe that the root cause of climate change is ignorance and fear, which can be remedied through non-dual understanding. Non-duality emphasizes that only the One exists, and that is your true self. Who We Are, the exhibition station containing a couple dozen differently sized empty vessels, each without a lid, is meant to symbolize this idea. The vessels are different shapes, sizes, and materials, just like human beings. Each vessel has particular capabilities based on its characteristics. But they all share the same air. There's a private consciousness that you and I each have, but there's also a consciousness all humanity shares, like the air inside and around the vessels.
LB Many stations in the installation—all of which use only found materials from your studio—have an interactive element. For example, at the NEPSK—Spiritual First Aid Kit station, visitors can search through a box of categorized, ruminative quotations and use a typewriter to transcribe a quote onto an index card.
TT NEPSK stands for "New Earth Personal Survival Kit." It was inspired by the Fluxus movement.
LB Yes, like the Portable Altar you made. It's knowledge that has utility.
TT The Spiritual First Aid Kit really works. When I was afraid, I'd search the "Fear" category and find comfort in a quote.
LB One thing I like is that visitors don't need art knowledge to understand your work. Whenever I spot an artistic allusion in your work, the allusion feels beside the point. You're not trying to claim a place in art history or self-differentiate for the art market.
TT I see art as a tool that I use to convey my message. It's not about art itself but the message. If my English was better, maybe I'd be a poet. If I was good at theater, maybe I'd act in plays. But I happen to be good at art.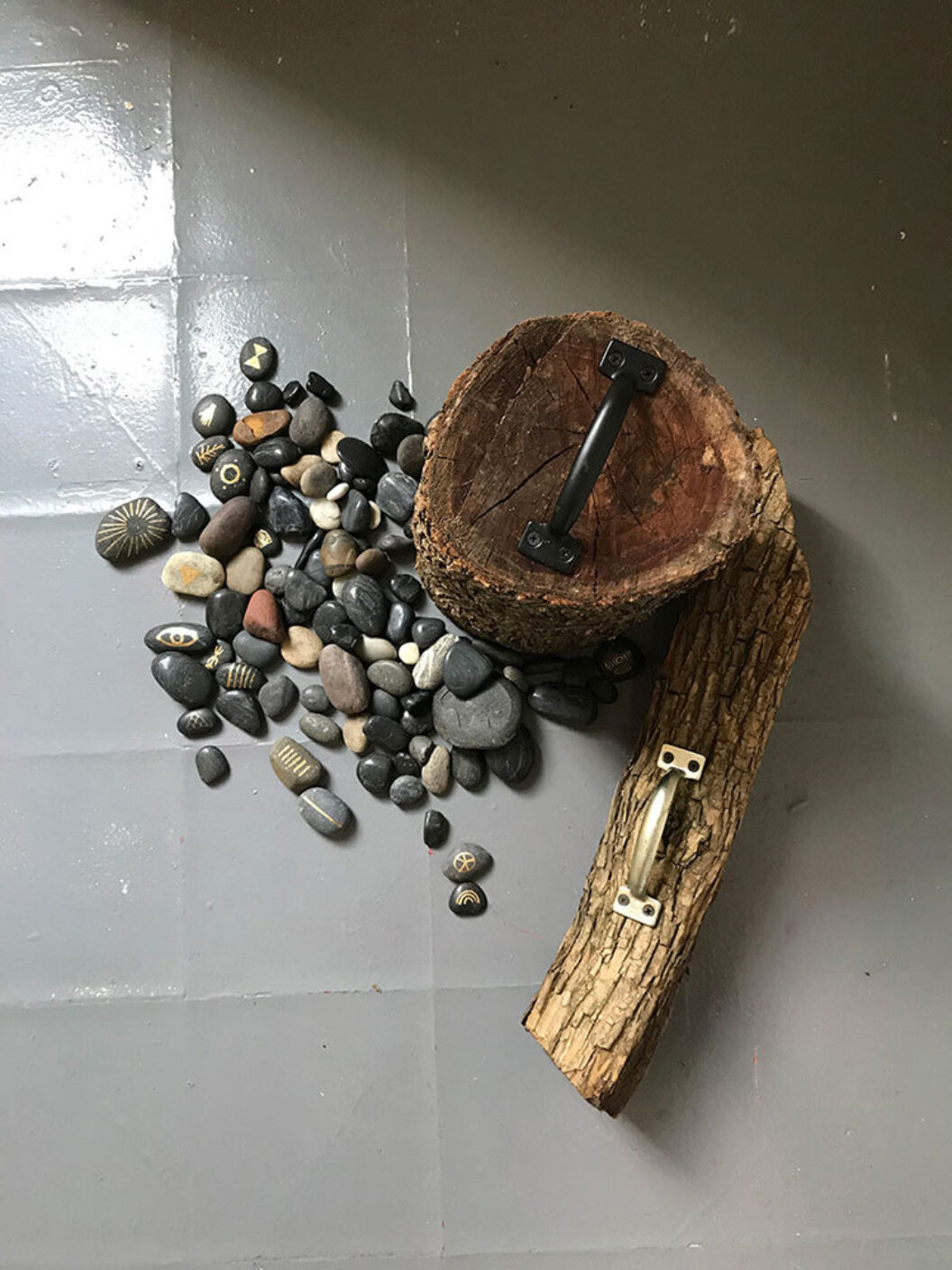 LB What does visual art do well as a communicative tool?
TT When I learned about art history, I discovered that the message you want to convey doesn't always have to be based on your skill. An artist who's a master craftsperson can become stuck in a particular method or medium even when another one might be appropriate for what they want to say or do. For me, I just need enough skill to convey what I want, and if I need more, I can hire others to do it.
LB Your emphasis on self-directed learning seems like a way of avoiding hyper-specialization, a capitalist labor phenomenon that extends beyond visual art.
TT In permaculture, the best place to plant things is the in-between. You can draw from both sides, the water and the land, the shade and the sun. My work is similarly situated.
LB How has your work evolved over time?
TT I see Heal the Man in order to Heal the Land as my magnum opus, the culmination of a trilogy. The first installment, NMS, or Nature Matching System (2006), was about eating healthy. The second, S.O.S., was about learning how to grow food and be a steward for the earth. The third, New Earth, of which Heal the Man is a part, was about re-wilding: rediscovering lost knowledge for both physical and spiritual survival. Now that I've completed the entire project, I'm unsure what's next for me.
LB It seems you'd be comfortable doing something other than making art, which is an unusual mindset for a successful mid-career artist.
TT I've had several shifts in my sense of self. There might be another one soon, maybe something to do with spirituality. I'm sure I'll always make art, just like I used to be a graphic designer and still do it for money, but maybe I won't be hanging out in galleries all the time. As I keep learning, I'll add other components to my practice. I'm open to wherever life brings me.
Tattfoo Tan: Heal the Man in order to Heal the Land is on view at the Newhouse Center for Contemporary Art at Snug Harbor Cultural Center & Botanical Garden until December 29. A group breath-work session with Ambrose Gage will take place on July 20 at 11:00 AM.
Louis Bury is the author of Exercises in Criticism (Dalkey Archive) and Assistant Professor of English at Hostos Community College, CUNY. He writes regularly about visual art for Hyperallergic, and his creative and critical work has been published in Bookforum, Brooklyn Rail, Los Angeles Review of Books, Boston Review, and The Believer.