Spirit of Inquiry: Eleanor Ray Interviewed by Paul Maziar
Small paintings of attuned attention.

Discover MFA Programs in Art and Writing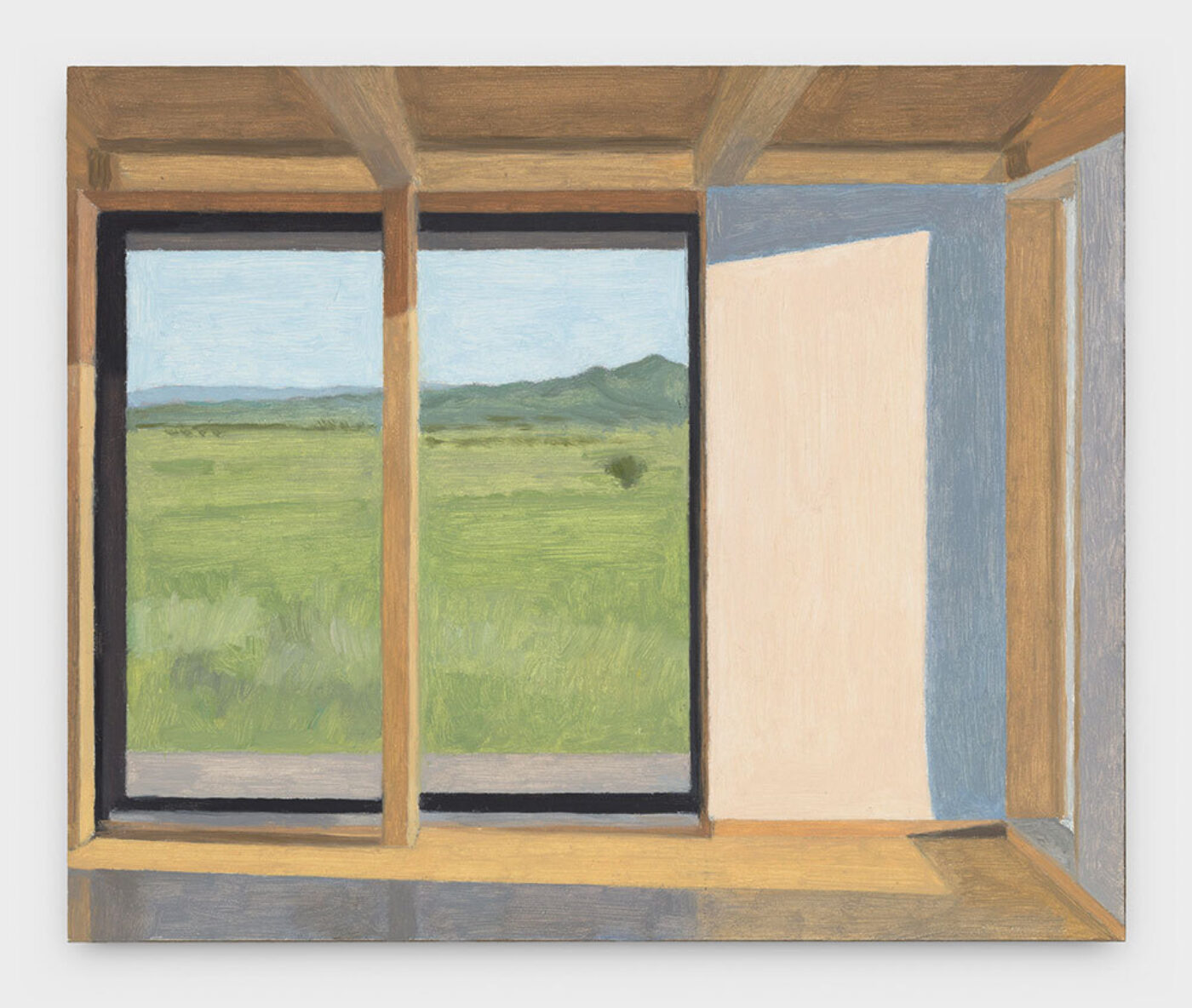 Eleanor Ray is a Brooklyn-based painter whose pictures suggest an embodied understanding of what she sees and experiences. In addition to being an artist, Ray is a student of the world: she observes and celebrates the beauty of birdlife, botany, and keeps a keen eye on history. While her compositions reference well-known sites and landscapes, their effect replaces homage or cultural recognition, taking her viewers out of their heads and into newly imagined spaces. Having struck up a dialogue with her a few years back, I've sensed shared affinities that I was eager to learn more about. Her peace-provoking depictions of land and space along with her curious eye to nature—especially during the last year—have made me, in turn, eager to learn about her creative life.
—Paul Maziar
Paul Maziar Eleanor, some of what I'd like to know about is how you got here and what keeps you going. When did you first begin making art?
Eleanor Ray In college, my first studio focus was photography. I liked working in the darkroom and making prints, seeing an image appear on the photo paper. As I looked at more painters, I noticed I was drawn to the feeling of double meaning in paintings, with the life of the paint interacting with the image or subject in different ways. That opened a window for me into painting as this exciting and generative terrain. Fantastic shows of Giorgio Morandi and Pierre Bonnard came to the Met then, and seeing their work helped convince me to focus on painting. Before that, my favorite painters as a kid were Johannes Vermeer and Claude Monet. Vermeer, with his use of the camera obscura, now seems to me like an especially interesting case of a painter working close to the photographic but also pointing to some important differences between painting and photography in the feeling of the time and duration an image contains, and in the mysterious status of the image relative to the place depicted, as a specific record and also not quite. I see this especially in his two landscapes, View of Delft (ca. 1659–61) and The Little Street (ca. 1657–58).
PM Mysterious is the word. I imagine how this kind of image-appearing might also happen in your painting process. Each of your pictures looks like you take them to the sharp periphery of verisimilitude, like the look of a dream. And soft tones enhance this dreamlike quality.
ER There's a certain satisfaction in painting something and then seeing it more clearly or in a different way. Seeing it again through the visual decisions made in painting.
PM Your paintings often invoke artists you admire. At the same time, there's so much feeling from them, making the referential aspect sort of disappear. Your work is more spiritual than it is academic or intellectual. I think that's important.
ER That's nice to hear. It reminds me of the feeling of some of those places, like Robert Smithson's Spiral Jetty (1970), where the name of the artist fades from your mind in the moment, and it becomes more anonymous. For me, painting specific art sites also has to do with identifying with the art, beyond admiring it or being directly influenced by it in a stylistic way. Seeing art in person is this heightened, conversational encounter. You bring your own focused attention to work that was thoughtfully made, and the time that went into it is compressed. Not all of these experiences lend themselves to being painted, but some do, for me.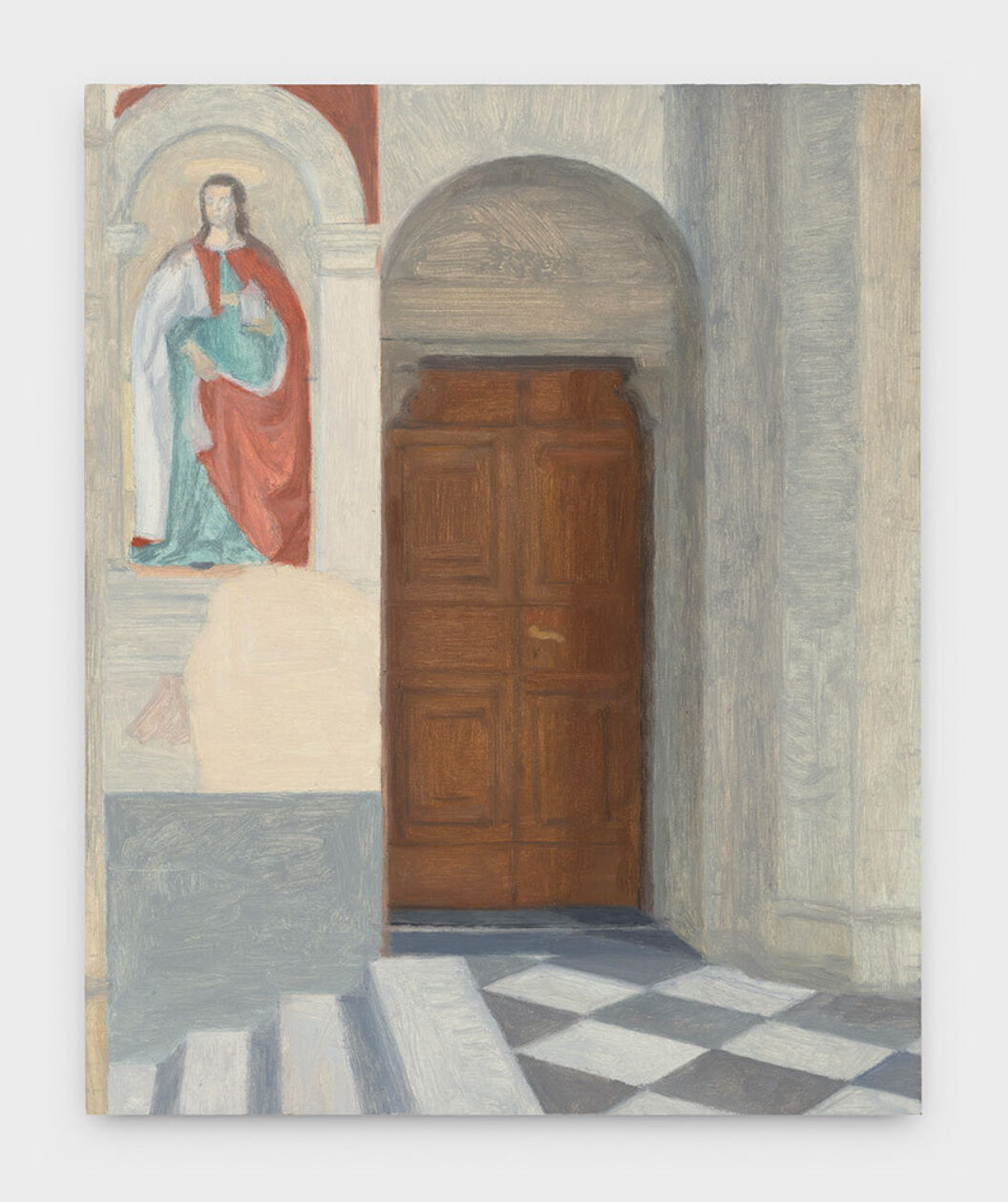 PM I'm thinking about paradoxes that, to me, your paintings convey. There's a deep "heart-of-things" feel in their diminutive scale, your palette, the sense of space in calm landscapes. But some of the subject matter—specifically the geometric architectural forms—conveys a deceptively cool content. In that, there's play between exterior and interior worlds, protean emotion and structural order. And then there's the vastness in your compositions that belies the diminutive size of your canvases.
ER I like that idea of paradoxes. Architectural structure and the grid against the organic curve of a horizon. I think so much of what we see is shaped by contrasts, on a small and large scale—simple contrasts of light and shadow, changes in weather and time of day, and then larger changes, like moving from one place to another and seeing the place you just came from in a new way. There's a paradox there, too, in that we see things in relation to each other but also in isolation, and things retain their discrete characters. That's something I notice in Piero della Francesca's work. Your question also reminds me of some of Ad Reinhardt's great aphoristic lines, like "The invisibility of art is visible," and "Limits in art are not limits."
PM Seeing your paintings in person for the first time at the Roosevelt Hotel in 2019, I was blown away by how small they are. This smaller format can be seen as a limitation that gives way to freedom. Freedom through constraint. And then scale brings us right back to the personal, the contemplative.
ER It's interesting to find out that the size of these paintings is often a surprise to people seeing them for the first time! I enjoy that kind of surprise myself when seeing a new painting in person. The fixed size of the surface can contain a scale that's more imaginative and open, and the relationship often isn't quite what I expected.
PM Right! It's the fact that the spaces of imagination are as you say, open, and also vast, maybe infinite. I've been thinking of Agnes Martin's notion of "innocence" in her grids. And this Smithson statement, regarding the inner life and the physical world: "There is no escape from the physical nor is there any escape from the mind. The two are in a constant collision course."
ER Ah, yes, I love both Martin's and Smithson's writings. They get at some related ideas with such different styles and tones. They both had an approach to abstraction that's not quite about purity, where imperfection is not seen as a flaw. Smithson wrote like a fiction writer, giving these ideas a dramatic flair, whereas Martin had a different plainness. As she said, "Perfection, of course, cannot be represented. The slightest indication of it is eagerly grasped by observers." Another paradox, of sorts! I also love her emphasis on responsiveness and attentiveness as inexhaustible sources, values.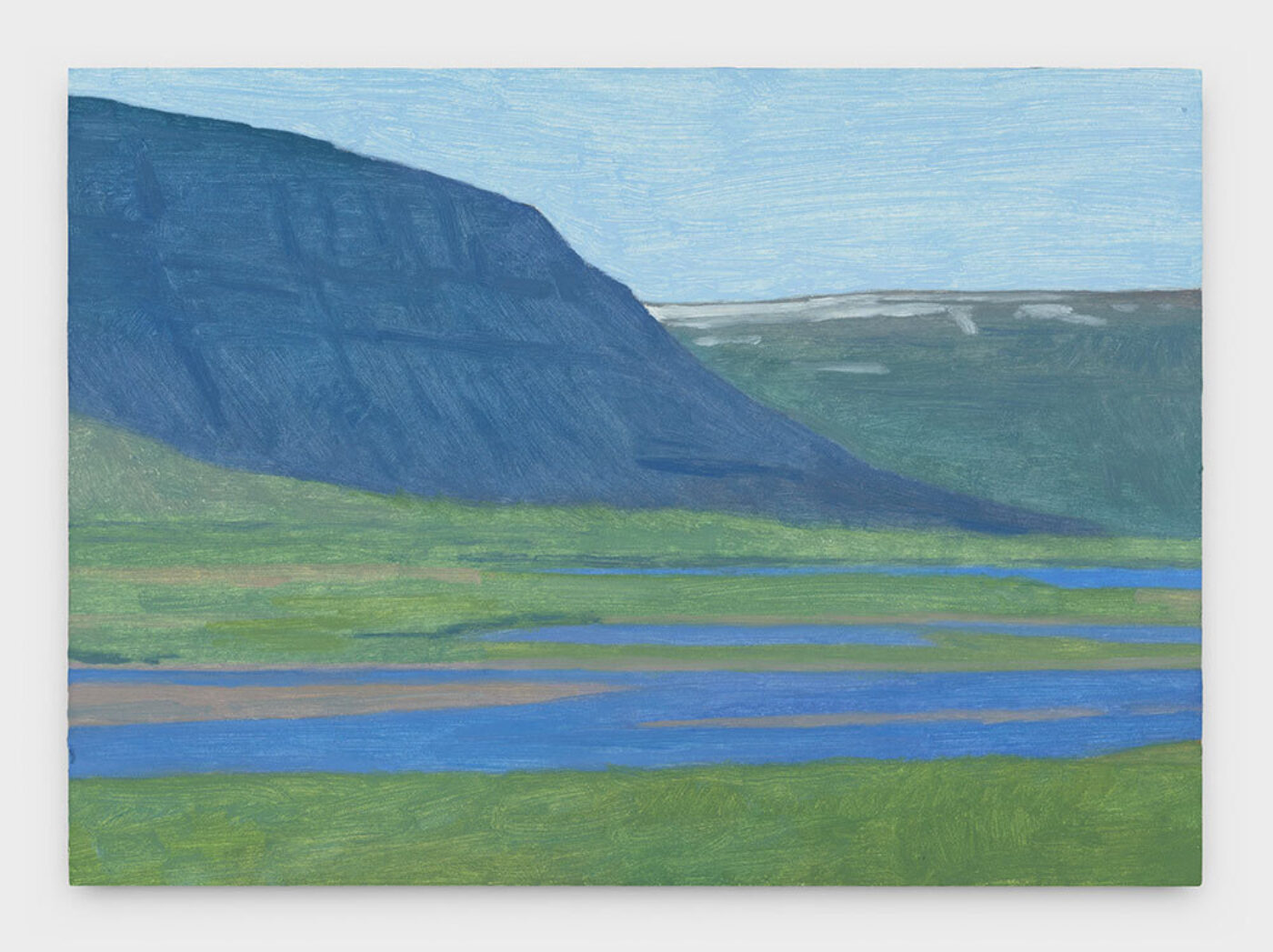 PM How do you register emotion in art as a viewer and a painter?
ER Internal scale, the individual handwriting of an artist, the amounts of different colors. Emotion can be more understated and slow in visual art than in other art forms, which is something I appreciate. You're given more room as a viewer to come to something in your own time, and there's room for abstract emotions. Awareness of beauty, an artist responding to beauty—that's an abstract emotion that comes through across time.
In some ways painting is the fastest art form to perceive, since a whole painting is visible in an instant; but in other ways it's unusually slow, and you can develop a relationship with a painting that you return to over time. And it can be mood dependent; we can be available to certain paintings at some times and not others.
PM This slowness aspect is so true. It reminds me of seeing Martin's massive grid paintings. From a few feet away, I couldn't "see" the painting. Going close up, I could catch its fine particularities but no longer had a clear sense of it as a whole. This floored me, brought a tear of recognition: You can't fully "see" someone else, not all at once. But through glimpses and attention, over time, knowing their particularities and nuances, the picture comes in.
ER Yes, there's an alternation between seeing the whole at once and seeing in time, seeing details. I've felt that especially strongly looking at some Jan van Eyck paintings, too.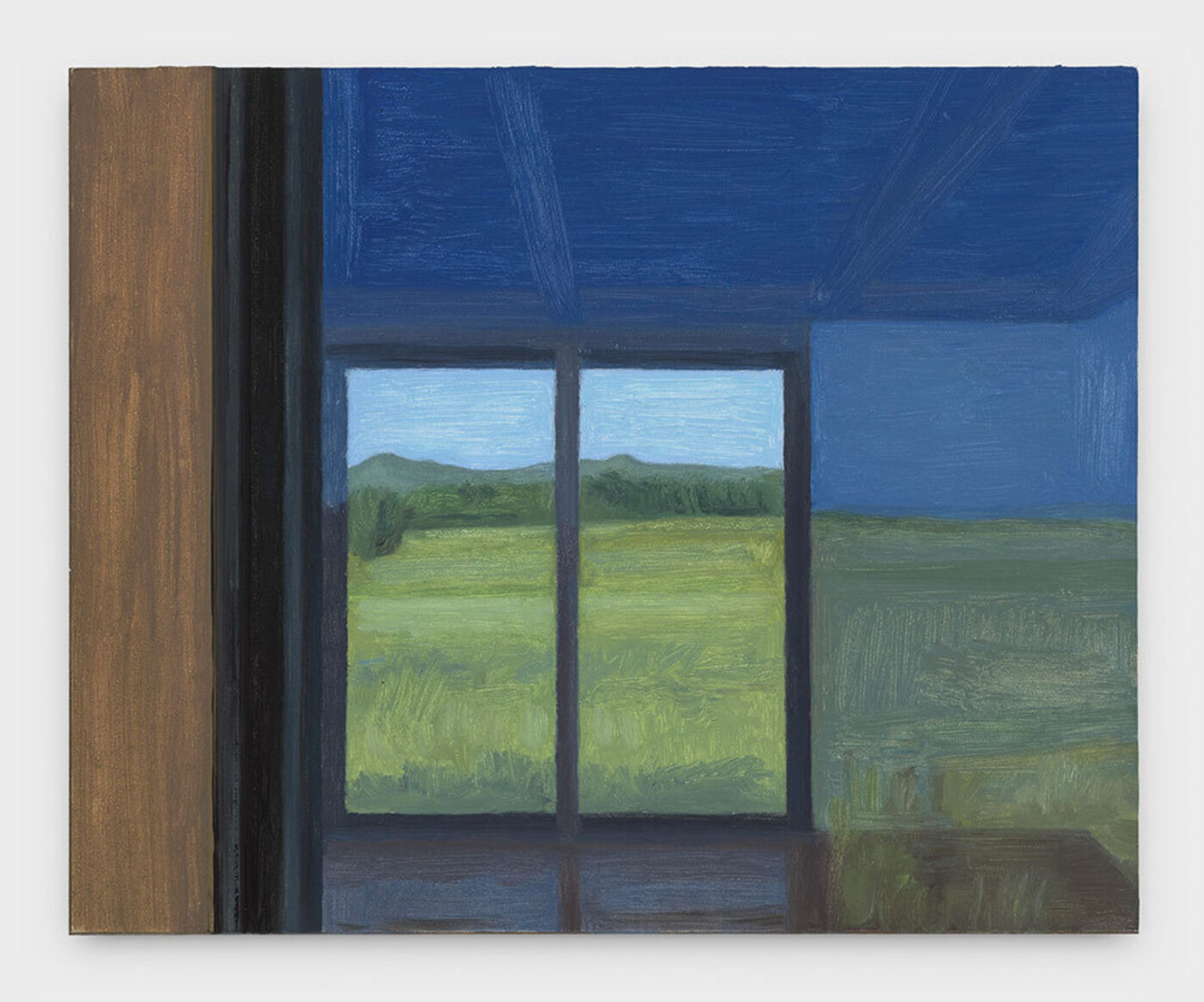 PM Can you tell me a bit about your relationship to nature? I'm thinking of the influence of place in your work and your delightful attention to and knowledge of birdlife and other animals.
ER My interest in nature is definitely expanding. There's so much complexity and variety around us all the time, and with a little attention you start to see more. There's an unlimited amount to learn, which is a great source of pleasure. As with looking at art, one thing leads to another. If you go to see a particular painting, you find yourself in an interesting church or town, and you find other paintings, notice other unexpected details. If you go out to look for an uncommon bird species, you might find yourself in a place you wouldn't have otherwise gone, in a new type of habitat, noticing different plants. And the more familiar you are with what's common or typical, the more surprised you can be by something unusual, and the more you notice contrasts between places and times of year. Everything comes to life. Birds in particular have such a compelling combination of aesthetic appeal—vividly saturated or subtle color, distinctive voices and songs—and interesting behavior, with movements across great distances. And they're everywhere, of course! It's this parallel world, and noticing a bird takes you out of yourself and your momentary worries, reminding you of a larger structure. I love the appearance of specific birds in historical paintings, as in the Villa di Livia frescoes (30–20 BCE), Pieter Bruegel the Elder's Hunters in the Snow (1565), Piero's Nativity (ca. 1470–75).
Eleanor Ray can be seen at Nicelle Beauchene Gallery in New York City until June 5.
Paul Maziar writes about art and books for various publications such as the Brooklyn Rail, Los Angeles Review of Books, Oregon ArtsWatch, L.A. Weekly, and RREALISM. A book of his art writings, One Foot in the Other World, was published by AC Books. To the Air, his poetry book in collaboration with artist Cynthia Lahti, was published by the Cooley Gallery at Reed College in 2020. He is a member of the Association Internationale des Critiques d'Art.