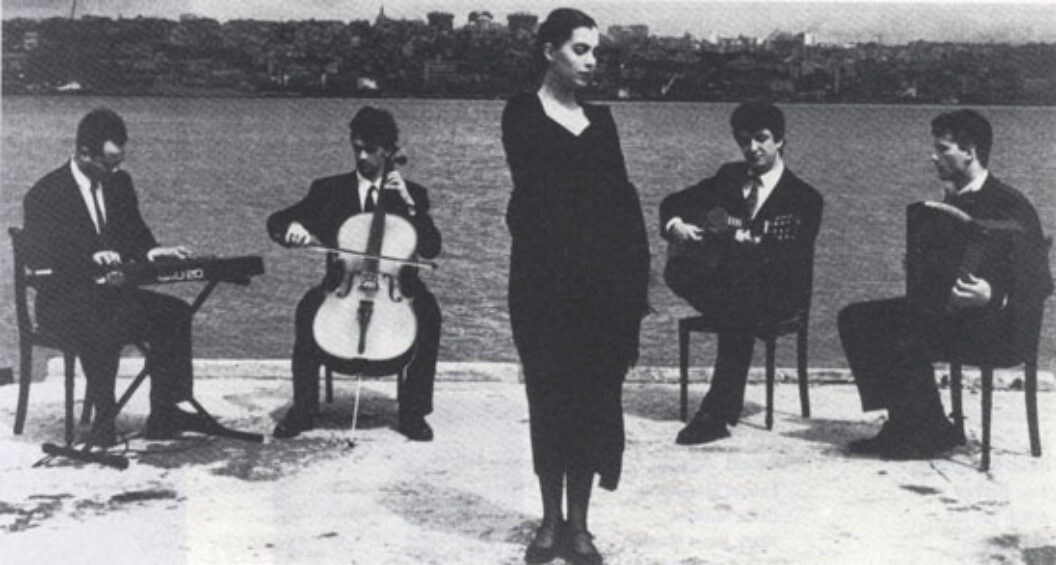 Last September 7, Portugal observed a three-minute silence to support Timor Loro Sae. I was outside Lisboa's Santa Apollonia station, waiting for a train to go to a Madredeus concert. Statues were muzzled in black, and people wore white—a striking contrast to the redness of the graphic photos from Timor on the newsstands. The city muted itself so that the world would bear the scream residing in the silence.
When Madredeus came onstage, in the bullfighting ring of Santarém, we observed another silence. My neighbors heard that I was alone, and offered me queijadas, sweet tarts, bought from the hawkers. We sat on wooden chairs on a dirt floor. I was already inside "music as real as life"—the aim of Madredeus's founder, Pedro Ayres Magalhães. He told me, "We want to offer an extraordinary expression of solitude, a way of acknowledging the solitude within each other."
This sharing of solitude seems eminently Portuguese. Since 1986, Madredeus has celebrated the Lusitanian soul, digging mirages out of the rural iconography but giving them a contemporary uplift in order to offer, according to Magalhães "a fantastic soundtrack of my country."
The band does not disavow its roots in fado—the songs of fate that elevate mournfulness to exhilarating heights. Fadista Amália Rodrigues declared that the best singers are without ambition, and therefore music inhabits them. Teresa Salgueiro of Madredeus manages this vessel-like delivery, but believes that destiny can be altered through creativity, "the highest human sport." Listening to "O Paz," "O Mar" and "O Silêncio," I met the music halfway, with my own notions about peace, the sea, and silence, maybe because Salgueiro's voice registers like essential haunting sound. It wastes no time on the skin as it heads straight for the nerves.
I got lost walking back to my hotel. The magpies filled the deserted streets with ominous shrieking. Suddenly an old lady appeared and insisted on guiding me. Señora, I asked, why are you out so late? She shrugged. Didn't I understand? Fate had meant for her to appear, so that I would not be afraid of being alone.
—Katherine Vaz
O Porto, Madredeus was released last summer on Blue Note Records.
Originally published in
Featuring interviews with Frank Stella, John Currin, Jim Crace, Frances Kiernan, Brian Boyd, Marsha Norman, and Arto Lindsay.