Soft Power. Hard Margins: Nyeema Morgan Interviewed by Norm Paris
Image-text works that analyze history and power.

Discover MFA Programs in Art and Writing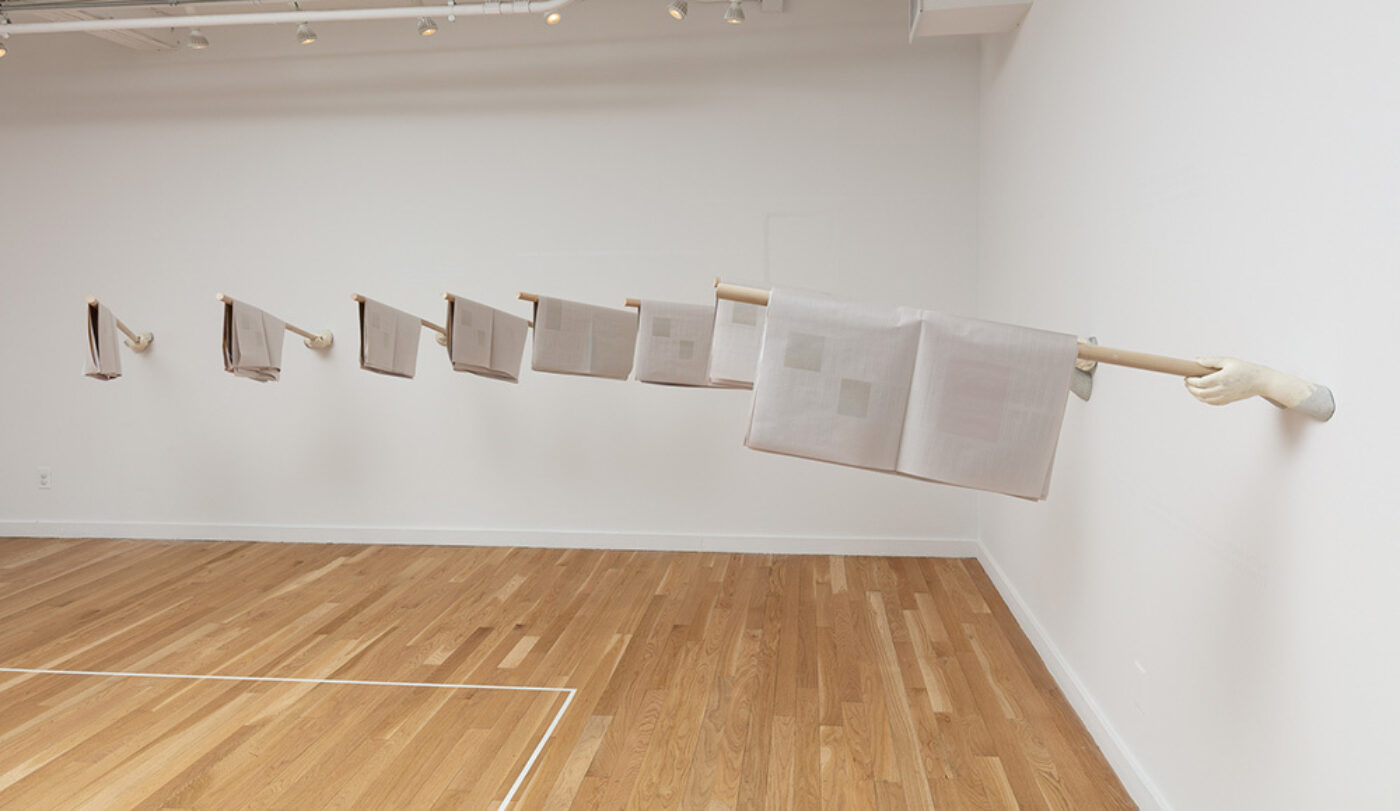 I have long admired Nyeema Morgan's work and its convergence of a slow material engagement with a nuanced literary and cultural critique. In her current exhibition at the Boulder Museum of Contemporary Art, THE STEM. THE FLOWER. THE ROOT. THE SEED., Morgan re-inspects art historical narratives and probes power relationships through sculpture, printmaking, and drawing. Bridging the distance between Morgan in her Chicago studio and my studio in New York City, our Zoom conversation touched upon freedom of expression, the power of text, meme culture, and her nuanced relationship to authority.
—Norm Paris
Norm Paris Your exhibition at the Boulder Museum of Contemporary Art intertwines several threads in your practice. How did the show come together?
Nyeema Morgan I'd been invited by curator Rose van Mierlo to present an exhibition of works in response to the centennial of Women's Suffrage, which is a complicated story. We know the right to vote wasn't granted to all women. I never shared in the joy of that triumphant story. But when Rose told me about the other two shows she organized, also related to the centennial, I knew she wanted to address the complex politics of that moment and its implications today. Right now we're in the midst of this ideological battle. There's a lot of political rhetoric used to conjure up the mythic tales of our American origin. I wanted to address that. So I was really excited to put forth works that were a continuation of ideas and questions related to power, agency, knowledge building, and history.
NP When you say "mythic tales," I assume you mean a fictional American history, or at least a sanitized one.
NM Partial and extremely biased. Some of the new work in the show, which is actually an offshoot of a larger body of those works, is called Soft Power. Hard Margins (2020). They're a series of plastic, classical frames, partially gilded. In the frames are obscured images of canonical works of art that can be seen through fractured text that's been cut out of frosted plexi. Art history is a subgenre of history. Through my fraught relationship to art history I can closely examine cultural intricacies and power structures that, outside the art world, are often too big for me to closely scrutinize. But the machinations of the art world are an extension of those of the world at large. In this new work I could continue to think about how history is instrumentalized, reinforcing ideas and beliefs about destiny, inheritance, and legacy—how these stories direct our lived performances.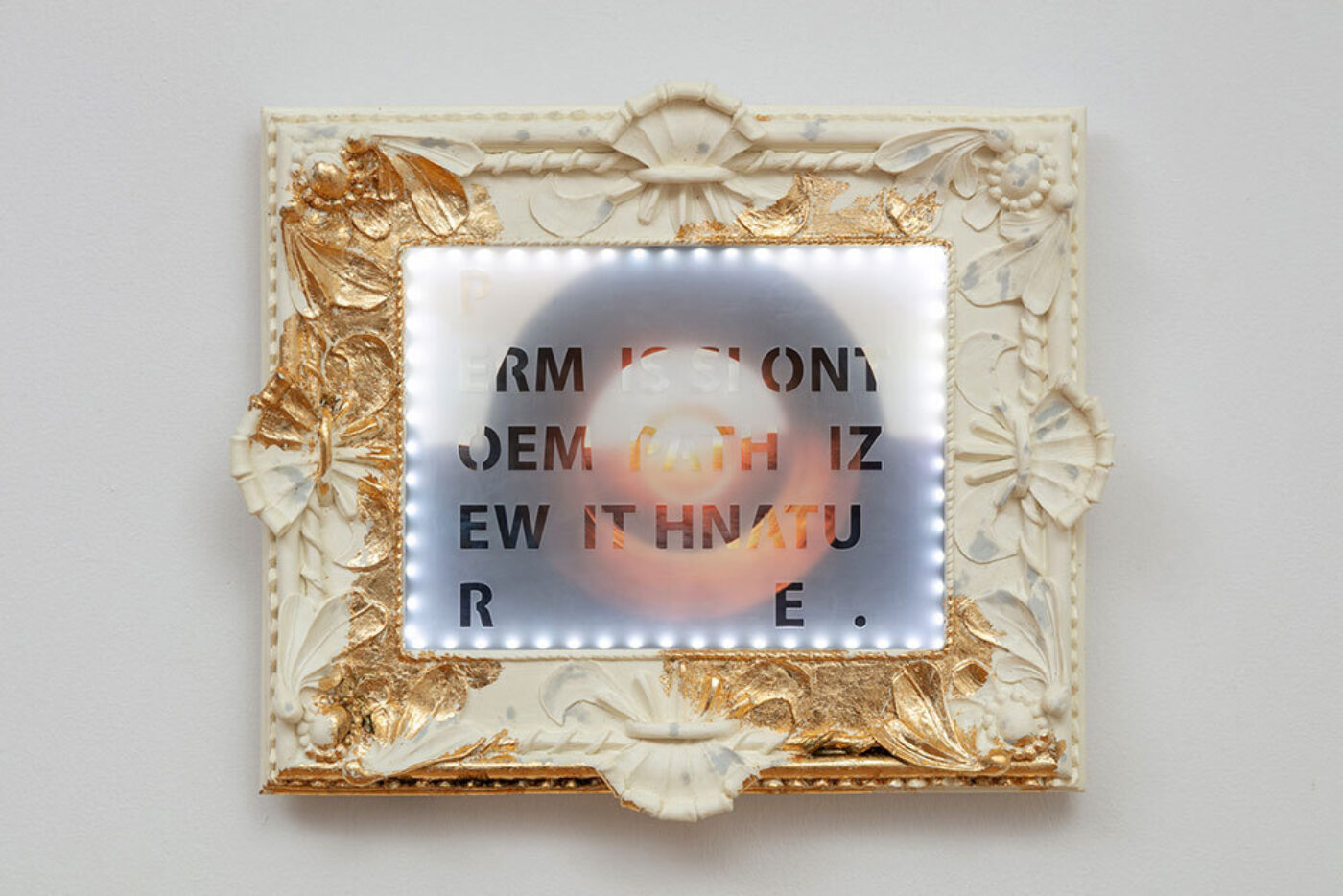 NP I was just thinking about power in relation to your work, especially given the context of the Trump presidency, misogyny, racist violence against BIPOC communities, the protests, and the manipulation of media. How do strategies of media manipulation intersect with power relationships in the show?
NM I use a lot of cultural images and text, the latter in typographical form because of its authoritative heft. I use these media because of our familiarity with them. But I do things that trouble their legibility, drawing attention to how, and the speed at which, we read and make meaning. It's important that there are moments in experiencing my work when the viewer second-guesses themself, is made self-conscious. Throughout the exhibition space there's also a series of works—The Flower (No. 4) (2020)—that consist of white vinyl text on the white walls which point to legibility as a subject in addition to the vague cultural stories about the lives of women that they speak about. Power isn't always explicit or easily discernible. Political power is not embodied in any singular individual. (Trump is an unabashed expression of the toxicity this country has bred from its beginning). In my work I'm often trying to engage with subtle ways that authority is reinforced. To do so requires a slow and focused examination.
NP There are two real ways that I get slowed down in Soft Power. Hard Margins. There's the overlay of text upon image: the transparency effect, which is a camouflaging of image within text and vice versa. And then there's the restructuring of words, prompting me to spend time decoding the message.
NM There is a lag. A hierarchical push and pull between image, text as image and lexicon, and the sculptural object. The viewer has to reconcile a shifting prioritization between these elements in the work.
NP I am struck by the dynamic interplay between the tactility of your materials and the linguistic subversions embedded within them. There is a way that you present text as authoritative, only to undermine it. Statements are cut apart and then cut away from plexiglass, deferring legibility. A narrator invokes the stories of women, but the light text is almost imperceptible on the white wall. Cast resin hands suspend newspapers on poles, which seem halfway between flags and those library-style holders of the current day's ink, but the print is inward-facing and cannot be read. Is there an ambivalence to authority embodied in these evasive gestures?
NM Yes. For my own survival, I was taught to question and examine authority. I had to be acutely aware of my surroundings and how I, and others, move within any given space. Being Black in America, to survive you have to have heightened perception. I was taught to recognize threats to my safety, mental and physical, from miles away—to be on the offensive rather than the defensive. It was never an option to accept the status quo. So, I'm particularly sensitive to how power is structured and wielded.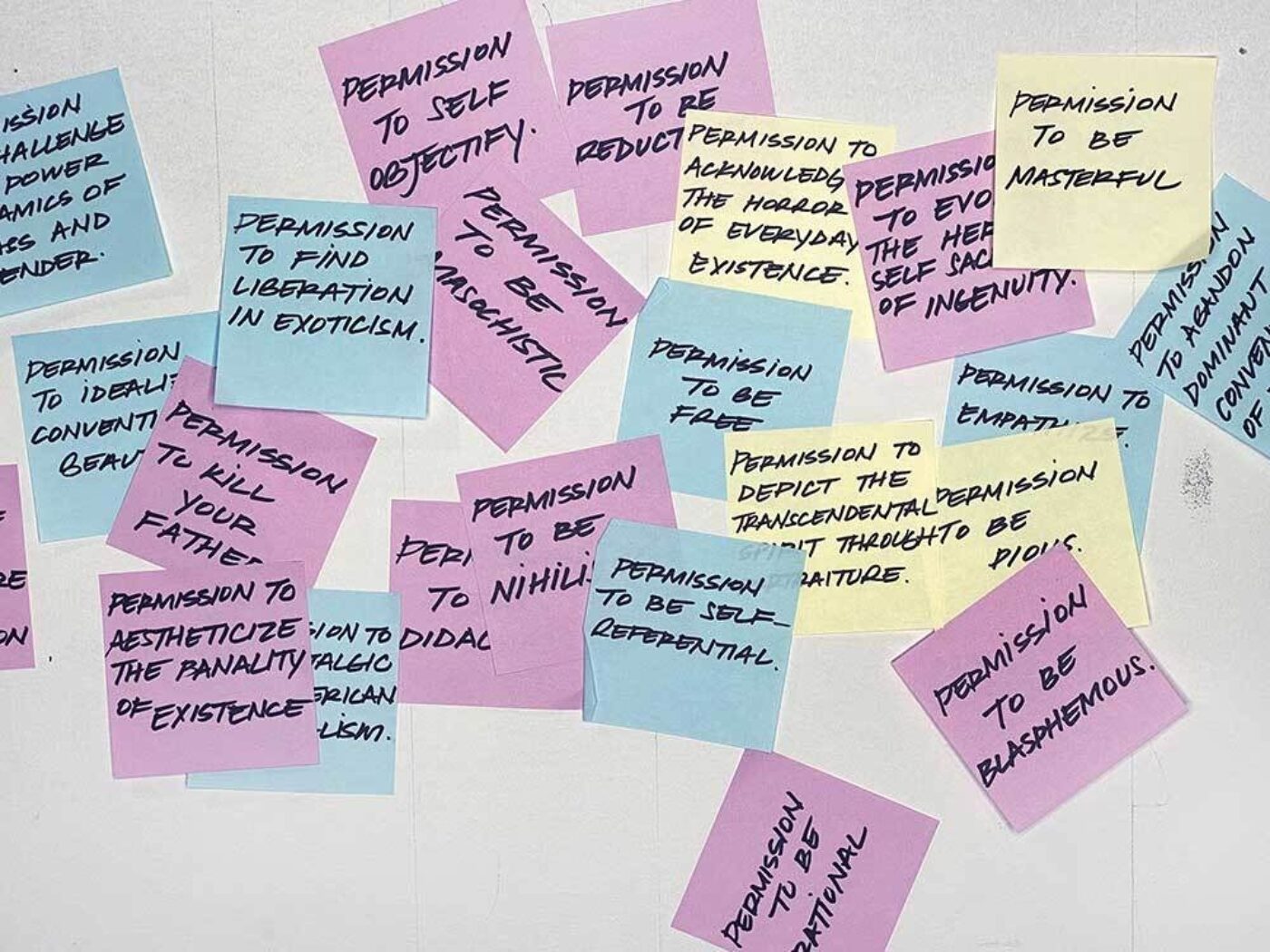 NP You start each iteration of Soft Power. Hard Margins. with the words "PERMISSION TO," and so it is ambiguous whether an "I" gives permission, or a "they" gives permission, or a system imbues permission. It could be any or all of those things. It becomes a question of agency.
NM In the essay "Power Relations within Existing Art Institutions," Adrian Piper writes that "freedom of expression is a permission granted by the state"; it's a sanctioned freedom only given to, as she states, a "legitimate subject of rights." Within American ideology, I and my ancestors are considered illegitimate. We were not, and are not as long as white supremacy scripts the conditions of our socially engaged lives, inheritors of this nation's "great" cultural legacy. In the art world, I have my heroes, such as Lorraine O'Grady, Charles Gaines, David Hammons; but their work isn't canonized the way Bruce Nauman, Pablo Picasso, and Andy Warhol have been—these ordained masters of artistic expression, champions of freedom. Because what possibly could be learned about freedom by those who aren't free? This fallacy that the experiences and insights of Black and Brown people are not universal is what inspired me to think about the permissive authority that canonical works give.
NP Your text employs different voices or several at once. I wonder if being exposed to different power relationships in different environments has influenced the shifting voice in your work.
NM In the "The one about…" texts it's that disembodied authoritative culture voice that wields an assertive but soft power. It's impatient and kind of flippant, making statements like, "The one about the woman whose baby was eaten by a dingo," or, "The one about the intrepid pilot lost at sea"—a reductivist storyteller without empathy toward the specific subject. Through that language all of these stories are presented in the same manner, whether we consider the subjects heroes or villains. The narrator is merely communicating information that puts the story, as a type of story, before the subject, thereby drawing attention to the function of these stories about women. They were all recalled from my own memory of their telling, a narration that varies for different people depending on who was doing the telling and in what context.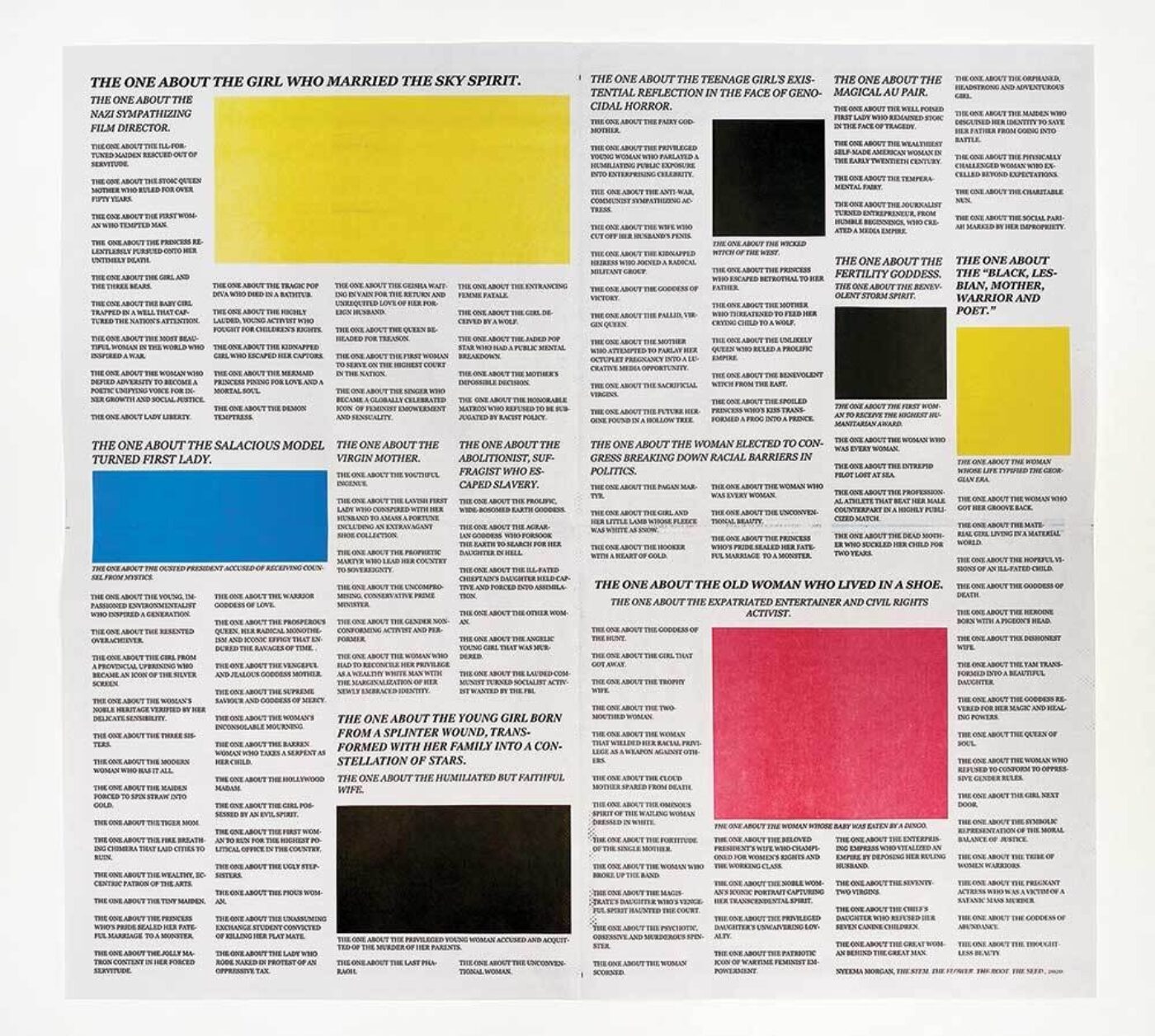 NP I thought about meme culture when I first saw your serial piece The Flower (No. 1) (2020) via Instagram. These story-statements about female characters endlessly scrolling across the screen, each beginning with "The one about.…" Both speaker and subject are unidentified; it reminds me of how artist and writer Hito Steyerl talks about a state of continuous falling and the confusion between objects and subjects that might occur when there isn't a ground to order things.
NM How we conceive of the self within this dialectic between the self and an other has ontological implications. That back and forth between object and subject is significant. We construct self-representations as avatars and consumable identity brands that interact and speak to each other in a virtual plane of reality. On the one hand, the boundlessness of that space allows for more inclusive social participation, but it also enables extreme isolation within these hermetic communities. There's a lot flowing underneath the surface of the work concerning authority and mythmaking, but also about digital culture and (re)production and how we transmit stories to either reinforce or resist power.
Nyeema Morgan: THE STEM. THE FLOWER. THE ROOT. THE SEED. is on view at the Boulder Museum of Contemporary Art in Boulder, Colorado, until January 17.
Norm Paris is an artist, curator, and teacher. He is a professor at Rhode Island School of Design and a founding member of the nonprofit gallery Tiger Strikes Asteroid New York. He is also a 2020 NYSCA/NYFA Artist Fellow.