Social Sculpture: Elias Sime Interviewed by Louis Bury
Creating a space between humans and machines.

Discover MFA Programs in Art and Writing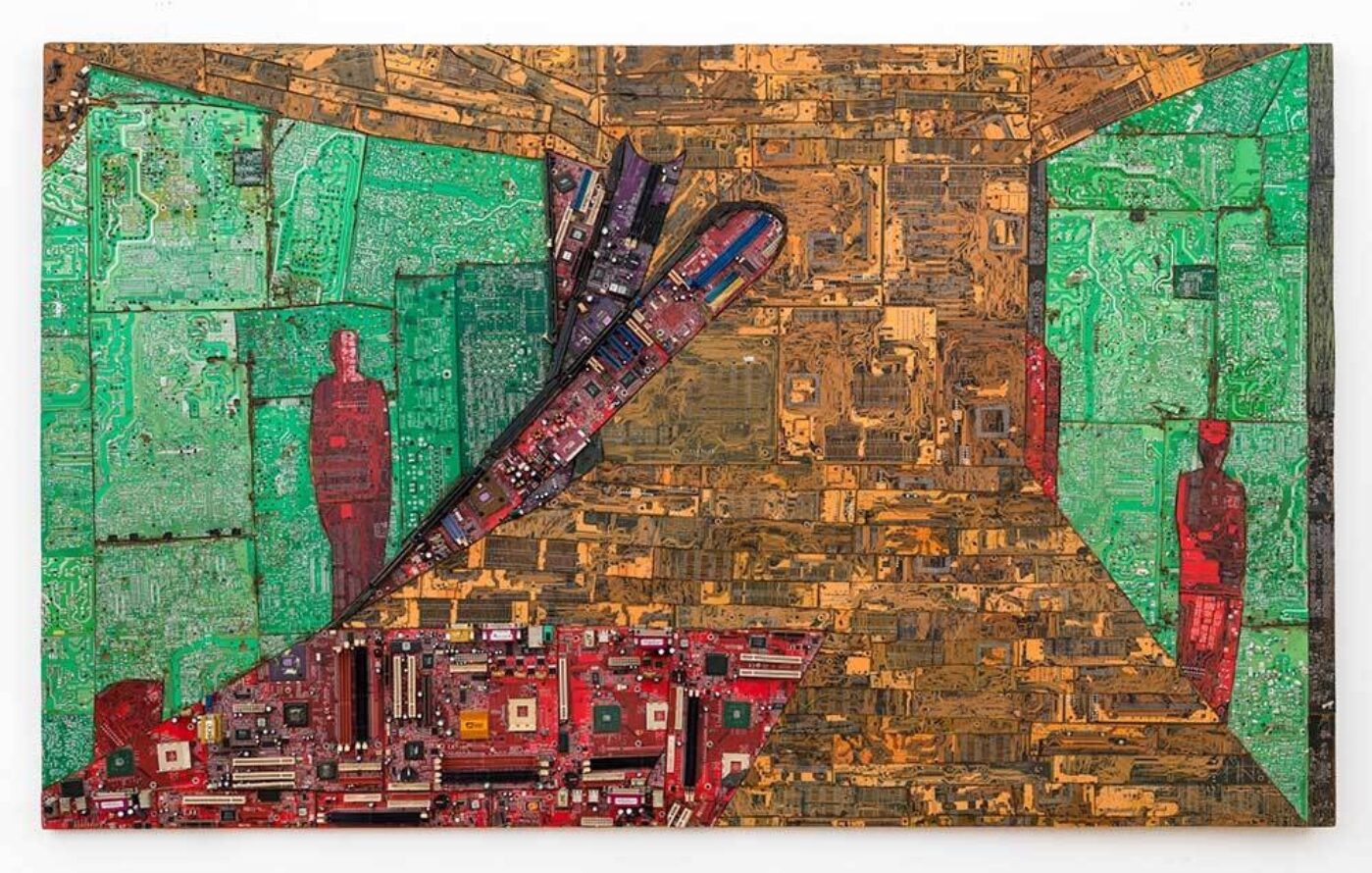 From a distance, Elias Sime's wall-hung assemblages appear as alluring pictorial abstractions that evoke, and sometimes contain, figuration. Brown shards of what look like Google Earth street views, interspersed with glossy black segments, call to mind an archipelago at night (Tightrope 3, 2009–14). A shadowy, gray-white composition seems a minimalist study in color gradation (Tightrope: Silent 1, 2019). Up close, however, these seemingly flat assemblages reveal textured, almost topographical depths. The brown shards that evoke bird's-eye streetscapes are actually reclaimed circuit boards, each one studded with batteries, diodes, and inductors. The gray-white composition is comprised entirely of keyboard keys; its color-field effects are the result of subtle differences in the individual keys' heights, griminess, and lettering densities.
Meeting Sime in person—as well as his longtime collaborator, the anthropologist Meskerem Assegued, who acted as translator for this interview—reveals yet another dimension to his art. While the work's use of repurposed e-waste might seem an impersonal critique of consumerist excess, Sime's warm and welcoming demeanor, along with the contents of his conversation, make apparent that impassioned humanism, rather than arid intellectualism, animates everything he does. This quality is particularly evident in his ZOMA project (2019–ongoing), a naturalistic contemporary art museum and elementary school that he and Assegued co-founded in Addis Ababa, Ethiopia. Curated by Tracy L. Adler, the Wellin Museum of Art's Sime survey, Tightrope, the first US museum survey of his work, captures the undercurrent of wonder and joy throughout Sime's oeuvre.
—Louis Bury
Louis Bury Can you talk about your use of electronic materials?
Elias Sime I believe that materials are important for sharing ideas. When people see electronic materials, they recognize them as familiar.
LB Yet many of your works' component parts come from the inside of electronic devices, which people don't usually see.
ES Looking at the inside of something can make us think about life in general. I dissect these electronic devices and present their insides so that they will be enticing and evoke a lot of feelings. Digital technology has attracted us, pulled us in. Yes, it can be helpful; but it can also be dangerous. We have to stop and think. I fear that body language is becoming less important in how we communicate. Where I grew up in Ethiopia, we would say that you understand things through another person's eyes. That's what's missing with text messaging and other forms of digital communication.
LB What role can art play in connecting us to our humanness?
ES There needs to be a space between us and our machines. They have practically become parts of our bodies. Without criticizing or dismissing these machines, we should stop and create a distance from them for the laughter and pleasure of face-to-face humanity. In the past, a father would play with his children a lot, but now it can be quite different because both parent and child are addicted to the machine.
LB In another interview, you mention your father's formative influence on you.
ES He and I used to have long, eye-to-eye discussions. As we talked, I'd touch his hand, his body. We'd wrestle. We'd share our feelings with each other. It takes time to develop this level of comfort together. I fear that we aren't sharing true, deep love when talking through a computer, and I think my art expresses that.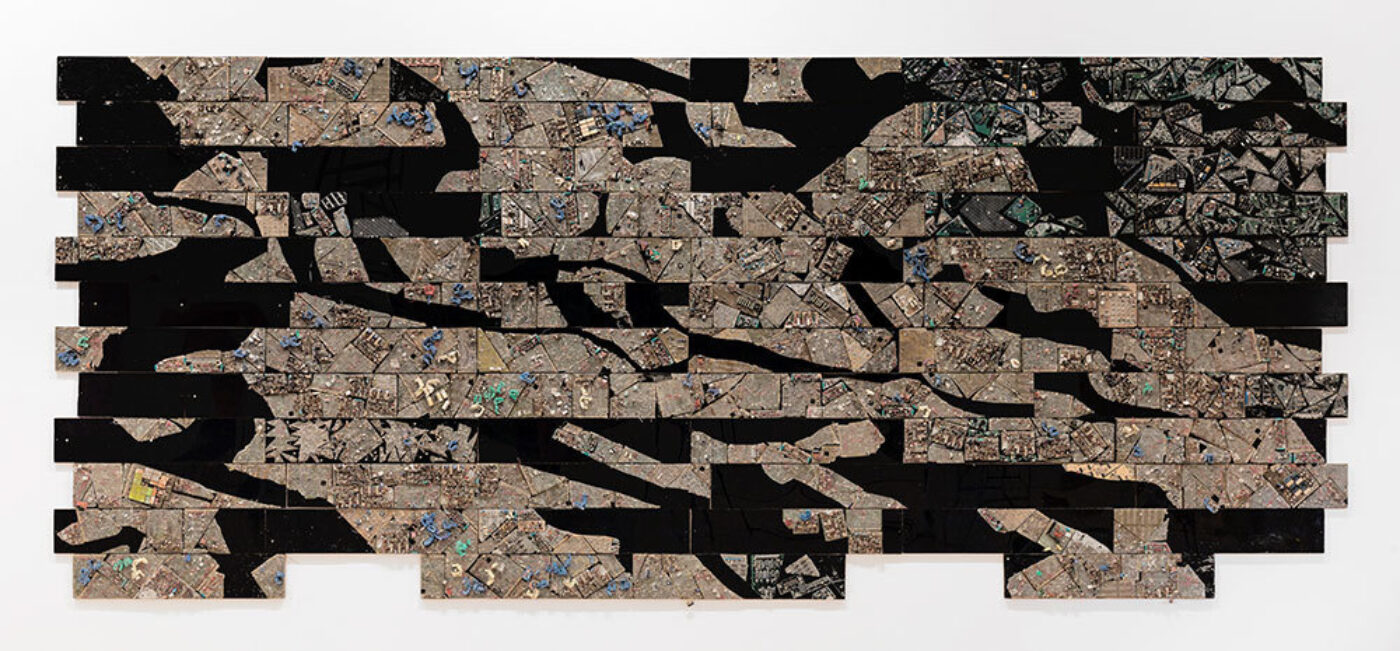 LB How does your work's aesthetic qualities—for example, its interplay between abstraction and figuration—factor into this?
ES I don't really think about those categories. I make art as I feel it at that moment. I don't usually see my completed works until they're in a gallery. The Tightrope series was made in small, puzzle-like sections that were packed away and only assembled later. So I don't know how to differentiate whether I'm doing abstract or figurative work. I think in terms of how I felt during the specific moment when I was making the work.
LB Yet the small sections fit together in a precise way; their arrangement is not haphazard. How do you design them to fit together as a larger gestalt?
ES The moment I come up with the idea for a work, I begin and finish the work in my head. Then I sketch it out on small scraps of paper. The biggest challenge is collecting the material. Making the art is easy; I was born an artist. But finding materials that can express your feelings is hard. I like materials that other people have touched. I like to think about the first time they touched it, the first time they saw it, the feelings they had on their way home from the store, their excitement to open the package and use the device.
LB "Puzzle-like" implies difficulty, but I'm struck by how you just described making the work as easy.
ES Some people have lots of energy, some have medium energy, and others have low energy. Puzzles are similar. For some people, they're easy; for others, they're quite difficult. Technology, too. If the world only contained people who understand everything fast, we wouldn't survive. It'd be too unbalanced.
LB What speed are you?
ES I don't consider myself a fast person, but I love my work and can overcome its challenges because of that. When I first saw my work in the Wellin exhibition, I thought about how hard it was to make and felt happy that I'd been able to finish it.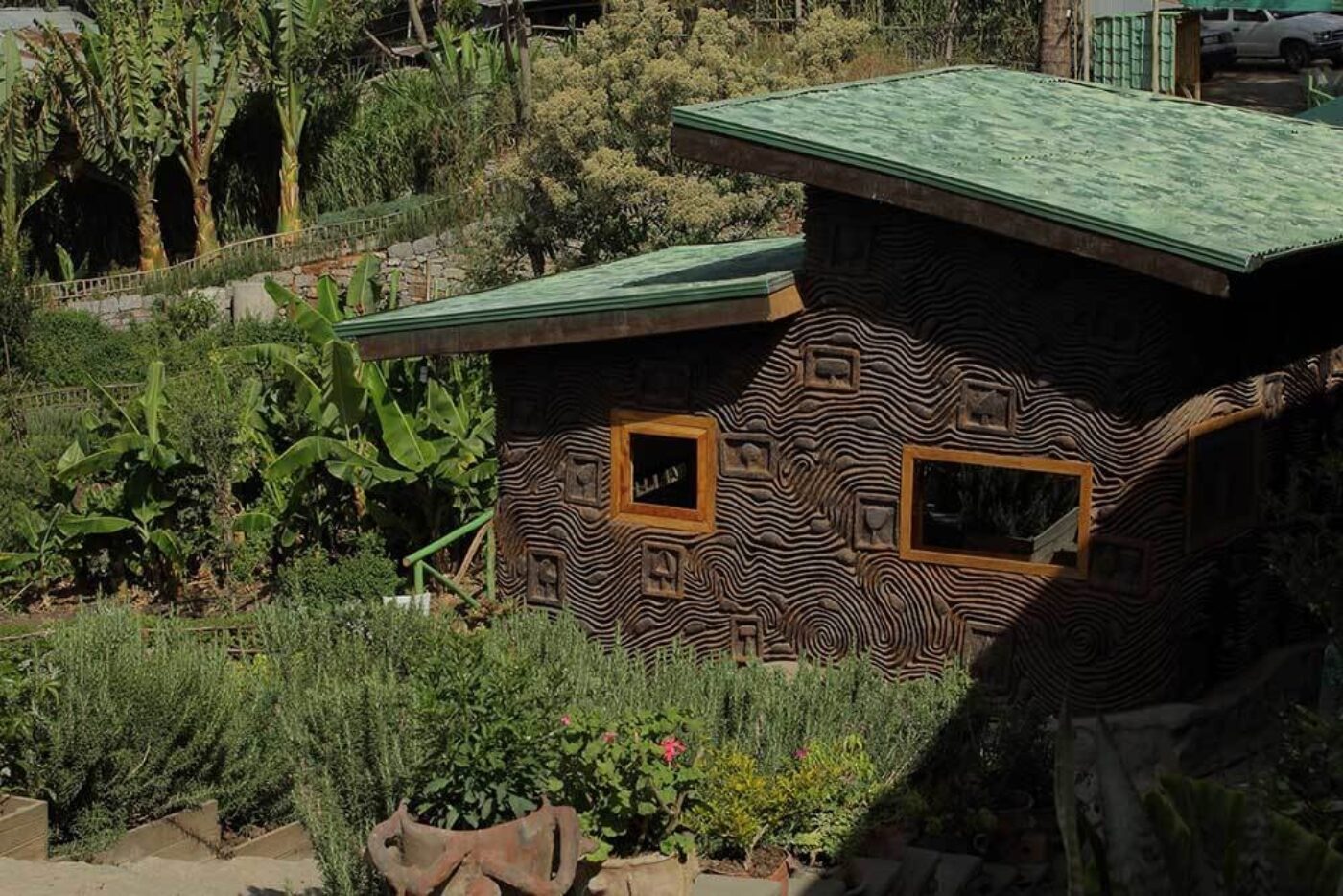 LB How do these concerns manifest in your ZOMA project?
ES Many people think that ZOMA was built just by me, but Meski [Meskerem Assegued] was the first to dream of it. I often say that one hand alone cannot make sound. Meski and I shared the dream, and it has grown fast. The prime minister, Abiy Ahmed, requested that we build another ZOMA in the Ethiopian Grand Palace, which we began work on this summer. Still, I believe this is just a beginning, an incubation.
LB Can you talk about your and Meski's collaboration? If you want to add any thoughts of your own here, Meski, that'd be welcome.
Meskerem Assegued I see ZOMA as a miracle. There is lots more still to come, but I didn't think it would grow this fast or reach this point. We poured all our money, energy, and resources into it. The prime minister visits almost every other day to look at and encourage it. He says it's his favorite spot in the palace. He's an impressive and peaceful person. We never thought Ethiopia would have someone like him.
ES The other big point is that ZOMA is not just ours. We have it on deed that when we pass away ZOMA cannot be sold or exchanged, even to our own families. ZOMA is connected to nature; nature is connected to us. We want to leave ZOMA behind so that it can belong to everybody.
LB What do you see as the role of art with respect to nature?
MA The premise behind ZOMA is about being human. Humans are part of nature. And nature is borderless. Our philosophy is that ZOMA doesn't belong to one or two people. It belongs to all. By all, we mean animals, plants, the wind, human creativity.
ES I don't think you can have art without nature. My art has lots of technology in it, but that technology poses questions about what constitutes nature.
LB What do you see as art's political role?
ES Art can do a lot, not just for conversations about nature, but also for conservation efforts. At ZOMA, for example, we didn't just create a landscape, but we also created political policies as a result of the museum's zoning considerations. It's a political question but also a question of humanity in general. Plants don't care about human divisiveness.
LB Who are important influences on your work?
ES Utopian thinking has been around for centuries. People both known and unknown have developed these ideas. We're here only because we stand on their shoulders. Even if we name someone well known, they relied on countless unknown people before them.
MA There's a huge amount of destruction in human history. But there's also voiceless action, as well as people with big names, who tried to counterbalance this destruction. Without them, we'd have been gone a long time ago.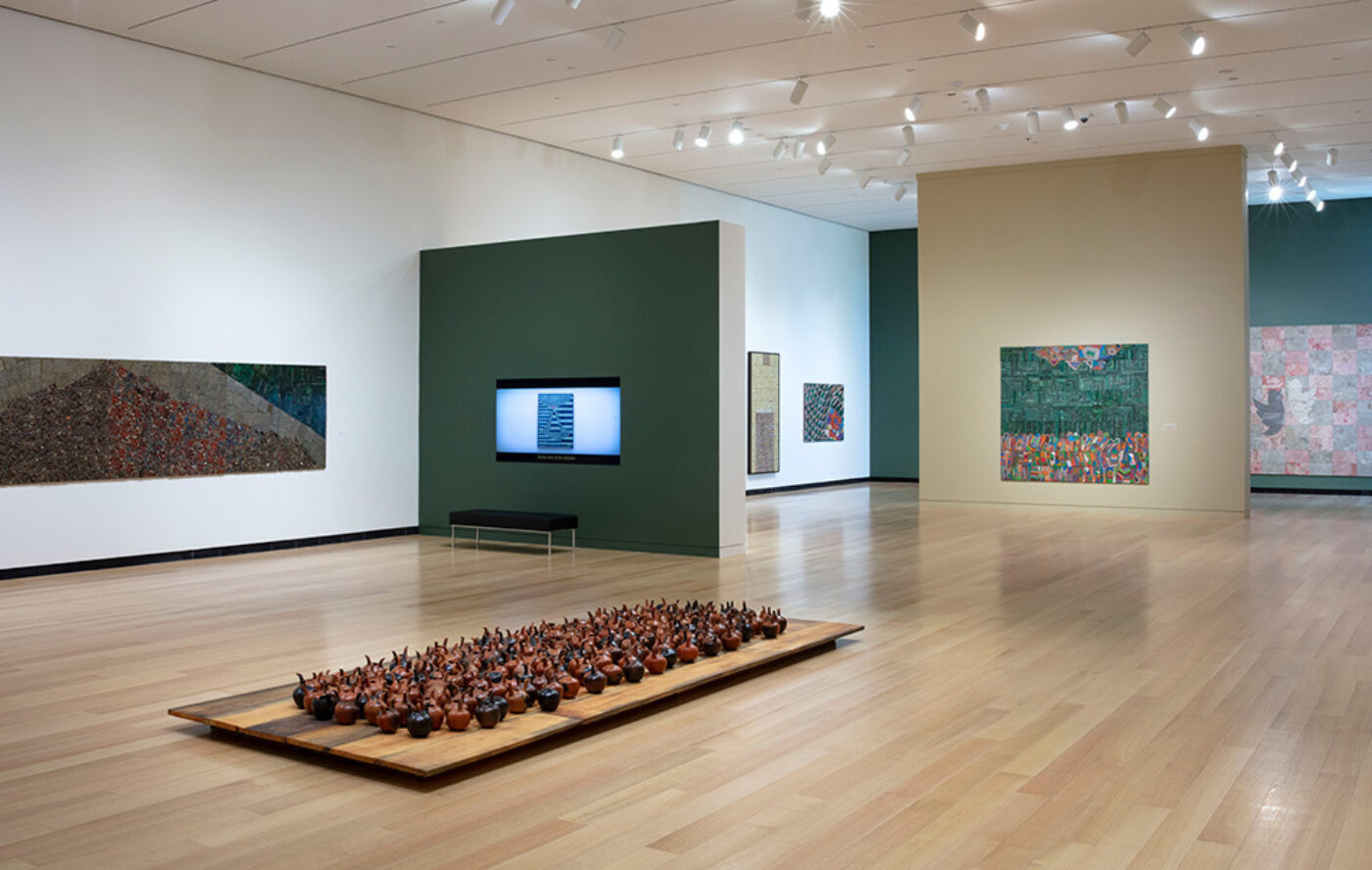 LB What do you see as art's reparative capacity?
ES Part of visual art's power is that it goes beyond language. I don't need to speak or be German to understand the work of a German artist. The early American statesman John Adams said that he practiced war and politics so that his children could study math and philosophy, and their children could study art.
LB Are you collectors in your personal lives?
MA We both are collectors, but Elias is a fanatic. Someone should do an exhibition of his collections; they're incredible.
ES The things I collect amaze me. For some people, they mean nothing. For me, they tell a lot of stories. I like collecting antiques, but I don't value them just because they're discarded or old. I look at their beauty. I think about their craftsmanship, sometimes to the point of forgetting about their practical function. I'm eager whenever I see new objects, but I've slowed down collecting these days. For a time, collecting was like an addiction for me.
Elias Sime: Tightrope is on view at the Wellin Museum of Art at Hamilton College in Clinton, NY, until December 8.
Louis Bury is the author of Exercises in Criticism (Dalkey Archive) and Assistant Professor of English at Hostos Community College, CUNY. He writes regularly about visual art for Hyperallergic, and his creative and critical work has been published in Bookforum, Brooklyn Rail, Los Angeles Review of Books, Boston Review, and The Believer.