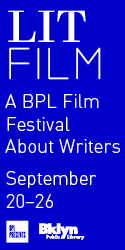 Because writing is also being with you
and the country,
near its monuments
and the urgencies of bread and love,
writing is not walking away,
it is rescuing oneself and rescuing you,
carrying you with me to the country to which you close your eyes
and because writing is that,
it's hard and everything else:
that doors close
and hands to be shaken are denied
forging iron in another way.

Because the country is not our home alone
because you look where you know
you won't see its bloodied corpse.
Because writing is not taking a flight
nor putting out the lights,
it is loving and forgiving, making good promises and condemning,
looking everywhere for ways
to smash my heart against yours
and broken-hearted not waiting tranquilly for the future
but going on to set new fires
because writing is loving you and carrying forward with everyone the, war.
Translated from the Spanish by Zoë Anglesey and Daniel Flores Ascencio.
Originally published in
Nicolas Echevarria, Pam Yates, art by James Nares and Tom Otterness, writing by Daisy Zamora, Kathy Acker, Glenn O'Brien, and more.