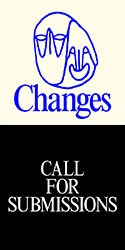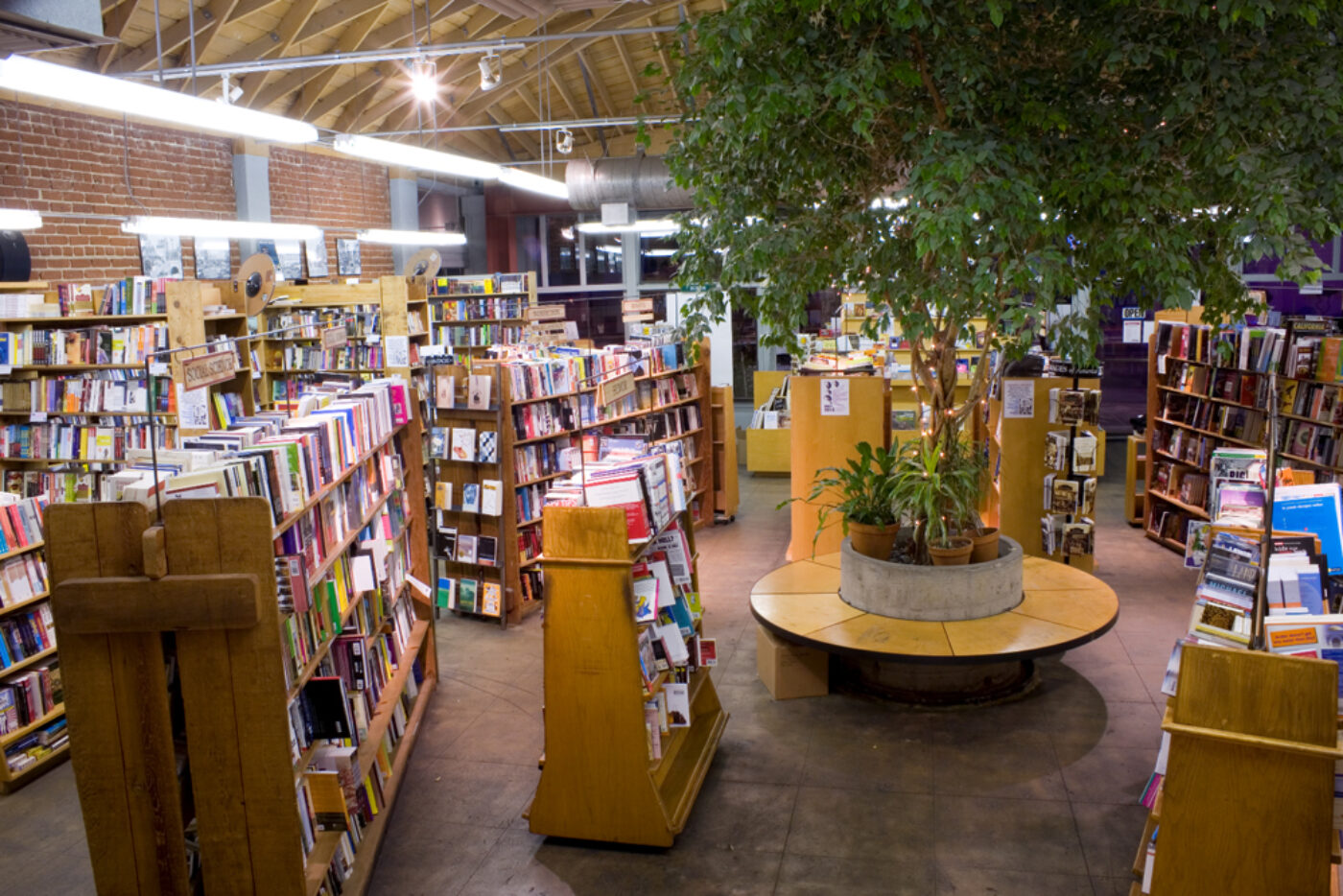 To celebrate California Bookstore Day we asked Amina Cain to interview a bookseller from her favorite neighborhood bookstore. She talked with Steve Salardino and Jenn Witte from Skylight Books in Los Angeles about everything from public restrooms to short stories and what it means to be a "literary city."
Tomorrow, even if you aren't in California, go support your local bookstore.
Amina Cain How long have each of you worked at Skylight?
Steve Salardino Since '96.
Jenn Witte I've been here for four years and sixteen days! (laughter)
AC And could you talk a little about what you do here?
JW Everything. I guess officially I'm consignment. I work a lot with self-published and local authors, zine makers—which do really well here—and I take care of the world literature section. I'm also the assistant manager.
SS I'm manager of the store, and my main job is to run it, but probably like in a lot of independent bookstores, everyone does everything, like spending time behind the counter as well as doing the things that make the place run. I started off as a part-time bookseller.
AC Did you study literature in graduate school, Steve?
SS Yeah, at CalArts. I did a writing program there.
AC So you're a writer, as well?
SS Yes.
AC Skylight is my favorite bookstore in Los Angeles, and that's why I wanted to talk to you for California Bookstore Day, but I'm curious to know what you both like or appreciate about the store.
SS One of the unique things about Skylight is that everyone who works here is really dedicated to it as a culturally unique and literary space. I believe in that romantic notion about bookstores. And also, I like books, and believe in them, and a book is one of my favorite types of artwork because it takes place completely in the reader's brain and it's one of the few places that does still exist in that way.
AC I like that the "book" is one of your favorite kinds of art.
SS With a film or painting, we're all looking at the same image. I look at Picasso, and you look at Picasso—we see it differently but we're seeing the same line. The image in a book is being created in your head by language, which is an abstract artwork in itself. It's almost manipulative from the inside out. That's what I like most about books and why I think bookstores are incredible.
JW I'm from a small town that was very isolated and we didn't have a bookstore, and now I've finally found and established myself in one, and it's just a constantly exciting experience. And really public.
SS "The third place," where people can gather that's not work or home. There aren't many of those places left. It's like a library almost.
JW I feel a responsibility for that. I like doing the research. We carry old guidebooks and stuff, and can like look at this trail map and help you find your way!
AC I want to ask if you think of L.A. as a literary city. People are forever saying it's not at all literary, and for me it's perhaps because I'm a writer and reader that I know lots of other writers and readers here, but as booksellers—who spend time in a bookstore every day—what's your take on this question?
JW I know this bookseller who just started his own publishing thing, and I'm excited for him and it's really brand new, and exciting, and not married to the traditions … I don't want to sound cheesy, but I was giving him a motivating speech, and I said, "All that stuff is behind you! You're looking out now onto the Pacific and it's completely wild and the most powerful force in the world." That's how I see literary culture in L.A.
AC I feel that too, that so much is possible here because it's not so circumscribed, or laid out—
JW And this is an exciting moment, people are making instant connections all the time, it's huge.
SS Something I didn't realize until I was in books was that there was a New York publishing idea. But we have a really rich literary history—we have hugely influential literary people from Los Angeles and California, like the beatniks. So it's always been kind of confusing to me, because when people say it's not literary, I'm like, "Compared to what?" Of course, I guess everybody has their scenes. But at the same time, I do feel that, as a writer, the literary scene in L.A. is so vast and spread out—that it doesn't have much of a center—so maybe that's why New York or San Francisco might be easier, because it's more condensed. You can easily get from one event to the next, whereas we have to spend an hour and a half on the freeway. I thought the Los Angeles Review of Books could be a kind of center…
AC It's definitely a nice addition.
SS And I do want that. I want some sort of, I don't know … In L.A. in the 90's when I would go to shows I always felt like there was a "scene." But I don't feel like there is one literary scene nowadays, and I think that's okay—
JW I think that's more exciting!
SS Yeah, I mean there are all the different genres out there, but it does make it harder to find things. If I wanted to go to something literary tonight I don't think I could just find an event, where I feel in New York I could.
JW All that sounds to me a little elitist, like a scene with an establishment. And maybe we're immune to that, maybe?
SS I don't want for it to be a separate scene or elitist, just easier to find, I guess. That's why bookstores are important too— they can be part of a center-space. But yeah, there's a ton of writers and readers here, and being the center of the movie industry, we also get lots of people from the industry who read.
JW That is a crazy thing here, that books have the potential to influence movies.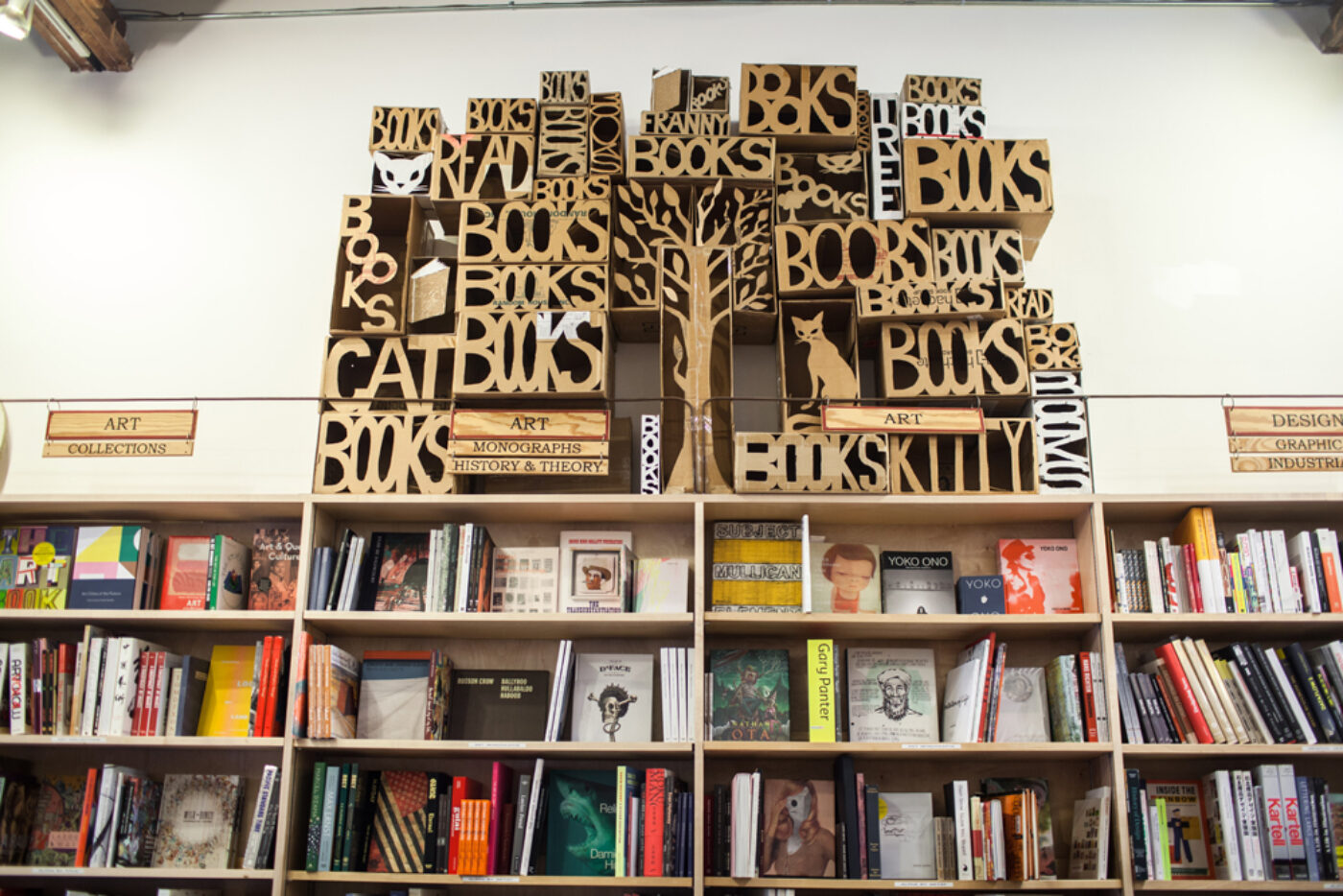 AC In general, what books do you most find yourself recommending? Are there any new publications or publishers you're especially excited about?
JW Usually when someone asks me something like that, I just go to one section and start to jump right in, which is another power of the bookstore—
AC You're with the books.
JW Yeah, I remember something physically, like where it is on the wall.
SS Lately, I'm very excited about Jane Gardam. Do you know her?
AC No.
SS She's published by Europa here. She's British and never caught on well in the U.S., but having read a short story from her collected works, I was really blown away by it, and I think it's really good stuff, classic but with really wonderful senses. It doesn't necessarily feel experimental or Postmodern but it's good Modernist writing. I think she's in her 80's and she's been publishing since the 70's. In this novel I'm reading of hers, A Long Way From Verona, the chapters are almost like stories as well.
Other books I recommend are The End of Vandalism by Tom Drury. It's fairly recent—I think it came out in the 90's, and was re-released in the 2000's. Mrs Bridge by Evan Connell is another one that people overlook, and I make sure people know about it because it's great. And yeah, I like short stories, and often people are looking for novels – they want to get lost in something – but I often recommend stories.
AC When Alice Munro won the Nobel Prize at the end of 2013 people said they felt there was a new respect for short stories. There seems to be a new interest in the novella form as well, partly thanks to publishers like Nouvella or the Art of the Novella series that Melville House puts out. Do you find that readers are more interested this year in novellas and short stories than they've been in the past—in terms of fiction—or is it still novels people flock to?
SS I think people are more open to the idea of short stories.
JW And maybe people are more willing to give novellas a shot because they take up less time.
SS Essays do really well, especially by someone like David Foster Wallace, but short stories are harder to sell for some reason. You would think Alice Munro would bring people around, but maybe it's, say, people who read the New Yorker who are more used to short stories. Lydia Davis also does really well.
JW But people do come in and ask, "Do you have a section for short stories?" And we don't, it's just by single author and it's alphabetical, so that can be where it all ends if they're not willing to look. I mean, we can recommend something but…
SS A lot of our bestsellers are books that have been around for a long time, like Joan Didion—
JW She's on our bestseller list at the moment.
SS The other big one would be The Wind-Up Bird Chronicle by Haruki Murakami. It's continually selling. It's one of those contemporary classics that will always sell out no matter what the trend is. And then us being a Los Angeles bookstore, John Fante's Ask The Dusthas always been one of our big ones. I think that's part of our job, and I like that because we can push Nathanael West or Bukowski. And we sell a lot of graphic novels! I think they work really terribly on computers [graphic novels], looking on a screen at a comic is like, the picture isn't moving, and you just want it to be moving then.
AC Jenn, we talked earlier about your work as a juror for the Best Translated Book Award. Is this something you guys do from time to time? Are you on other committees and juries for book prizes and awards?
SS I'm on the board for PEN. I mean, everyone who works here is involved in some activity—not necessarily book-related—but whether they're musicians or filmmakers or writers, they're all involved in a world of creativity. For me, I like being able to promote reading and writing.
JW I've just been volunteering as much as I can and using the bookstore as a third place in that way, for The Women's Center for Creative Work (WCCW), for instance.
AC Is Skylight doing something special for California Bookstore Day?
JW We're setting up a table for WCCW and having open submissions for artist's books. The artists will be selling them—they'll make some money and the rest will go to the WCCW. This open call for artist's books plus the WCCW members volunteering in the store we see as a template for a women's economy. The table will be located next to our Read Women 2014 display, which changes every day, though we try to keep it to current authors as much as we can.
AC Did you guys participate in Indies First, where authors came in to bookstores and sold their favorite books for a day?
JW Yes, and that will probably happen yearly.
AC How many authors came for the first one?
JW We had a lot of writers show interest, so we had to pare them down. We did 5 or 6 in shifts and they all wrote handwritten recommendations and stuck them around the store.
AC And for California Bookstore Day –
JW We're also going to have a table sponsored by Razorcake magazine and LA Zine Fest. They're sharing it and running shifts where they'll have zine makers sitting down to answer any questions, but mostly to have a sort of workshop, a time where you can read and see layouts and make photocopies. We're also having a Tarot reader.
AC That sounds fun.
JW That was something, figuring out what we wanted California Bookstore Day to be, because it's brand new and being L.A. we could have called up big names, but we wanted it to be about the store, not the big names.
AC I agree. While we were talking, a question formed in my mind about events and readings. What do they add to the space of a bookstore, to Skylight?
SS When people get to see one of their favorite authors, it's exciting. Ultimately, events don't make a lot in sales (unless it's a big event, and that's fantastic) so it's more about creating the space to have them. If we didn't, it'd just be like any other retail store.
JW It's a way for me to cheat, too! Because I witness these events and I don't get to read every book, but it teaches me more about a book by listening to that author. If their biggest fans are here, they definitely like to share their experience. And the readings are always free.
SS Also—back to the LA literary world—a lot of our readings are by local writers, for all kinds of books—even a launch for a children's book, for example, and that's kind of great.
AC I know several people who've had their book launches at Skylight.
SS Even more established writers like Dennis Cooper, who lived here for many years, would always do his events here, every time he'd put a book out. He's a community persona and literary figure, and that's perfect.
AC Outside of Skylight, what other California bookstores are you fond of?
JW I like Coalesce in Morro Bay and Bart's Books in Ojai. I also worked at Green Apple.
AC Oh yes, Green Apple is great.
JW It is, to me, the perfect bookstore. I grew up in a radio station with a lot of old jokes taped to the walls, and years and years of weirdos inhabiting it, and when I started working at Green Apple, I walked in and there were all these old jokes taped to the wall, layered and layered, and I felt welcomed there. They have a lot of fun, which is good for survival I think.
SS The ones that really come to mind are used bookstores. I used to leave here and then drive down to Counterpoint to buy something. That was a thing to do after work.
JW That's what I did with my last day off. I went to this new store called Battery Books.
AC Anything else you want to add about California Bookstore Day?
SC Sometimes when bookstores get together and try to appease many different types of people, the things we do get watered down and not super interesting to us. But California Bookstore Day is really cool across the board. The logo is beautiful, the products are great, like the A Heartbreaking Work of Staggering Genius totebag, and the writers are awesome. It's like Record Store Day, where you think, "Wow, I really would like this one-off record from Jack White." You can't get a wooden stencil of Don DeLillo anywhere else. I mean, I didn't do anything, but those guys at Green Apple and the NCIBA/SCIBA (Northern/Southern California Independent Bookstore Association) have done something really special.
JW Yeah, they set the bar high.
Amina Cain is the author of Creature (Dorothy, a publishing project, 2013) and I Go To Some Hollow (Les Figues Press, 2009). A recording of her story "Attached to a Self" was included in the group show A Diamond in the Mud at Literaturhaus Basel in Switzerland in 2008, and in summer 2010 her work was featured at LACE (Los Angeles Contemporary Exhibitions) as part of NOT CONTENT, a series of text projects curated by Les Figues. Writing has appeared in publications such as n+1, The Paris Review Daily, 3rd bed, Denver Quarterly, [out of nothing], Stolen Island, The Encyclopedia Project (F-K), and Two Serious Ladies; as a chaplet through Belladonna* and a chapbook in the PARROT Series; and is forthcoming in Puerto del Sol and the anthology The Force of What's Possible: Writers on Accessibility and the Avant-Garde (Nightboat Books). She lives in Los Angeles.