Skinscreen: Art and Poetry at the New Museum's Surround Audience Triennial by Alan Gilbert

Discover MFA Programs in Art and Writing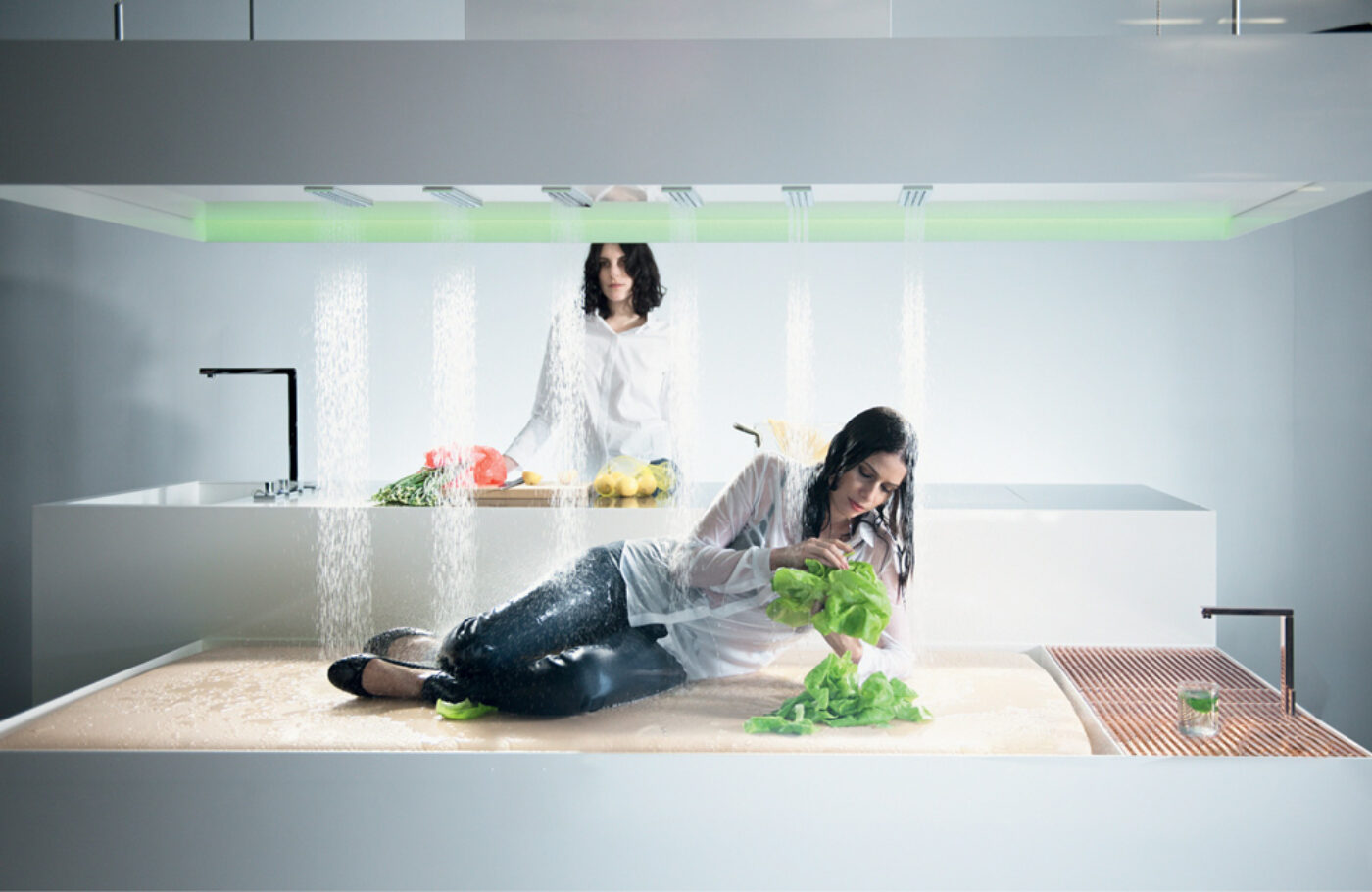 The artist collective/branding consultants/trend forecasters known as K-Hole came to prominence in late 2013 for identifying the fashion trend "normcore," in which cutting-edge style entails wearing nondescript clothes: faded and looser-fitting jeans (sometimes known as Mom jeans), sweatshirts and hoodies, T-shirts that don't flaunt logos and designer names. In other words, what so-called "regular" people supposedly wear. In fact, normcore wasn't really a trend at all (although New York Magazine seemed to take it fairly seriously), or was no more substantial a fashion trend than, say, pairing blue jeans with white Keds sneakers or 2015's suddenly ubiquitous nose piercing. A more cynical reading might propose that the degree to which the normcore style did exist was as a kind of camouflage for the shock troops of gentrification—i.e., young artists and "hipsters" moving into disenfranchised neighborhoods. Examples of people sporting normcore were much more likely to be photographed in Bushwick than Peoria. Yet that's the brilliance of the concept, or trope, or (in digitally saturated cultures) meme: it's an enticing canvas on which to project one's emotions and desires, which is what advertising—and not uncoincidentally, most art—seeks to do. So that when K-Hole conjures normcore, it tilts from artist to advertiser and back again.
In the earnest and handwringing wake of 9/11, the end of irony was loudly proclaimed, although it's unclear whether this ever quite occurred. The uniqueness of K-Hole is to be truly post-ironic, which means they neither celebrate nor explicitly critique the products, trends, and lifestyles they analyze, synthesize, and reprocess into corporate-looking reports in pdf form freely downloadable from their website. (The group has released four so far on topics that include visibility, patience, anxiety, and freedom—the last of these is where normcore appears.) More overtly political artists and critics will gnash their teeth about this, yet viruses (both good and bad) need hosts, and some of the most advanced art seeks to insert a story into the landscape, be they—both stories and landscapes—virtual or "real." Moreover, if capitalism is the domain under which most of the West works (or doesn't), and nearly everywhere else as well, and if for more than a century artists have sought to collapse the distinction between art and life as a radical aesthetic and political gesture, then isn't K-Hole just being more honest about this and resetting the discussion for 2015?
Another option is to argue for the autonomy of the art object, which isn't a fashionable position on the left, but might be worth reconsidering—that is, the ultimate intractability of the artwork, its own life as an object (put in the service of profit, no doubt, but there's always a remainder that escapes), as opposed to its easy relationalism, its utility. Besides, do audiences really need art for ethical (or worse, moral) uplift? Is it really such a bad thing to have an art that steps a bit out of this world, since there are more than enough opportunities to calculate political and ethical behaviors throughout everyday existence? Can there be one activity that eludes the increasingly asphyxiating squeeze of efficiency and rules and profitability (the last of these defined in the widest possible sense)? Can there be one domain of freedom left, while not remaining naïve about how unfree this freedom might be? At best, art can inform, although even better is art that disinforms dominant—read, repressive—ideologies and values, and does so in a vernacular engaged less with play than with absurdity and inversions. In a globalized art world, this vernacular frequently translates as internationalism, which is something different, and is a product of the pressures on artists to have their work translate across multiplying sites on the global biennial and art-fair circuit.
K-Hole created the advertising campaign for the New Museum in New York City's most recent iteration—its third so far—of its triennial exhibition of emerging artists. This one was entitled Surround Audience and was organized by New Museum curator (and former executive director of Rhizome) Lauren Cornell and artist Ryan Trecartin. For its offline and online ads, K-Hole developed an ovoid yellow figure that looks like a cross between a pharmaceutical pill and a Minion and put it on a beach, in a manhole, driving a car, etc., accompanied by slogans such as "NO PAST NO PRESENT NO PROBLEM," "I'LL TRIENNIAL ONCE," "IM NOT U," and "HATRED OF CAPITALISM." This cute little pill character—K-Hole's report #2 featured designer drugs—can also be downloaded to smartphones for use as an instant-messaging sticker. Along with designing the ad campaign, K-Hole is listed as a group of artists exhibiting in Surround Audience, again blurring the lines between art and advertising. This strategy was also taken up by another artist collective in the show, DIS, with its combo kitchen-bathroom that partially functions as a Dornbracht company showroom. Other artists in the exhibition branded themselves, or were branded, within the exhibition's larger media campaign—most notably writer and artist Juliana Huxtable, whose African American transgendered body signaled Surround Audience's techno-progressive demographics.
The title Surround Audience evokes the ceaseless ambient noise of the digital age: not only social media but the Internet at large as the general virtualization and modification of human experience, physical bodies, and social interactions. Not that this should be taken too literally, and to Cornell and Trecartin's credit, very little of the work in the exhibition was explicitly about the Internet, and social media was used relatively sparingly as a device or motif. To be the product of Internet culture but not make art that explicitly references it is a general definition of "post-Internet art," and Cornell helped facilitate a useful discussion of this concept while at Rhizome. Instead, one came away from Surround Audience with the impression that surfaces have gotten very, very thin and porous to their environment. Much, though of course not all, of the artwork reflected this. In fact, one of the most materially substantive works in the entire exhibition was Nadim Abbas's set of three quarantine units made with thick concrete and panes of glass, through which to view a single thin bed and shelves upon which small geometric items were neatly arranged. Portals with thick black rubber gloves attached were the only means of contact between internal and external worlds, as Roomba-like devices patrolled the perimeter.
Abbas's Chamber 664 "Kubrick," Chamber 665 "Spielberg," and Chamber 666 "Coppola"(2014–15) strikingly show just how vulnerable anyone might be, how susceptible to contagion, how close we ultimately are to each other, and how fragile the surfaces connecting us. At the same time, the works reference the power of political, institutional, and discursive regimes to isolate, to incarcerate, and to inter—regimes that, like the film directors invoked, construct reality around a set of images, narratives, and myths.
But throughout Surround Audience, this dynamic was generally flattened or emptied out. A number of works framed "empty" space, most overtly José Léon Cerrillo's slender steel sculptures freestanding in the gallery or climbing its walls. Stepping through them or moving around them, museumgoers were thrown into a rare cognizance of their own bodies. Viewers watched Donna Kukama experience a similar body awareness in a video of her standing still and applying red lipstick while a crowd in Kenya celebrating the Mau Mau Rebellion flows past her—a twentieth-century metaphor for the individual lost to and by history, which the exhibition updated for the new millennium and its avatars. Yet as history continues to collapse into the perpetually present moment, it's good to be reminded for a moment that there was a century—with its social revolutions—before the current one.
In keeping with the empty-frame motif, Tania Pérez Córdova's We focus on a woman facing sideways, Evening (2014) is a delicate open triangle affixed to a corner of the wall—a bit like a Richard Tuttle but with a small gold earring dangling from it. Kiluanji Kia Henda's black-and-white photographs feature a group of people assembling what could be Cerrillo's frames into empty cubes—Donald Judd's boxes without the volume—because in the age of social media, it's only the exterior that counts. These echoes between works (the cleansing bed in DIS's installation and Olga Balema's mattress-like plastic bags filled with water and decaying organic and inorganic materials) created the kinds of metaphors and associational logic for which poetry is famous. Oliver Laric captures this beautifully in his untitled video from 2014, as it fluidly interlaces and remixes brief visual samples from various animations. In fact, it turns out that poetry was central to Surround Audience's conception. As Brian Droitcour writes in an essay entitled "Liquid Poetry" for the exhibition catalogue:
In recent years the art world has rediscovered visual art's proximity to poetry—the affinity of these fields… . To think of poetry as liquid means to recognize the potential for poetic language in everyday speech, in the ambient media of television, radio, and the internet, as well as in the devices that have increased the portability of these media and the intimacy of contact with them; but, more importantly, it means seeing potential for poetry in the encounter between audience and text. In the context of art and the museum, liquid poetry isn't sculptural, like Concrete poetry can be. Rather, it has an ambient presence….
There's not much of a leap, if any at all, from "ambient presence" to "surround audience." And yet in this leap (more on poetry, and the anthology of contemporary poetry Droitcour edited for the exhibition, below), agency, that quickly fading buzzword of recent political art, feels in short supply. I wouldn't be the first to ask: Are we empowering the viewer and reader with all of this open-endedness, these interconnected networks, this ambience, this being surrounded by everything, or are we aestheticizing the subject as consumer?
Similarly, there wasn't much investigation in Surround Audience that went outside an artist's specific culture and history. The show may be international, but viewers wouldn't always know it. A rare exception was Shadi Habib Allah's captivating video of being smuggled among southern Egyptian Bedouins: its ethnographic approach felt like an exception in the expanse of work on display. But these are the tradeoffs that are made when the Internet writ large becomes the primary mode in which subjects are expressed—and the subject is collapsed into its immediate, virtually enhanced surroundings. For instance, Li Liao may have invoked Tehching Hsieh (or more recent Chinese performance artists such as Zhang Huan) in his durational performance contribution to Surround Audience, but it's unclear if his form of submission is ultimately in any way empowering (another one of those seemingly outmoded critical-political terms) or particularly revealing: on the New Museum's ground-floor gallery behind the bookstore and café, a uniform, work papers, and an iPad mini were the remains of Li's stint at a Foxconn factory inspecting iPad circuit boards during twelve-hour shifts. The wages he accrued over the course of forty-five days equaled the cost of the iPad mini he then bought and displayed.
Next to Li's contribution, Lisa Holzer (born in 1971, she would seem to be the oldest artist in the exhibition) was represented by a series of framed prints of text fragments and nail polish swatches signifying the "feminine" in the way that a subject or gender is hailed by language as ideology. This engagement with normative gender roles was part of the exhibition's relatively fluid approach to gender, which isn't a huge surprise given how central this concern is to Trecartin's work. If anything, the centerpiece of Surround Audience was Frank Benson's sculpture of Huxtable, a work that greeted visitors when the elevators opened to the show's start on the second floor, while a row of self-portrait and text prints by Huxtable ran along the wall to the right (another self-portrait served as the banner at the top of the exhibition's page on the New Museum website). Featuring breasts, a penis, dreads, and a shimmering dark-green finish, Juliana (2015) escapes easy classification in the way that much of the artwork on display eluded formal categories: pieces about sound that aren't sound art, projected videos that could just as easily be watched on smaller screens, installations that functioned more like skeletal sculptures—everything not so much appropriated as recontextualized.
In other words, Surround Audience wasn't the appropriative, collage-based aesthetic of the previous decade, and in this sense felt welcomingly contemporary, if not particularly futuristic. Perhaps the heaviest instance of this happened to be the piece with the most immediate historical resonance—and might also have been the most popular in the exhibition: Josh Kline's Freedom (2015). This ambitious installation featured four human-sized, militarized Teletubbies sporting small video screens at their abdomens. In the videos presented on each screen off-duty police officers with faces disguised by software programs read progressive political messages from social media feeds. The room's floor was designed to resemble the embedded diagonal lights of Zuccotti Park, and a projected video featured a digitized version of President Obama giving a more "radical" version of his 2009 inauguration address. Freedom both anthropomorphizes and virtualizes power, and—like the best poetry does—treats language as a set of signs to be contested (not simply rendered indeterminate or retyped), by having cops read literal messages of dissent, and by having Obama deliver a fictitious politically progressive speech. The whole installation surrounds its audience with images and figures ranging from childhood to adulthood within a society where the market—and the national security state—seek to monitor and extract profit from every moment of life, from the cradle to the grave. No wonder the art world romanticizes poetry's non-commodifiable quality, its fundamentally non-instrumental condition—even if some poetry (and poets) can of course be instrumentalized.
If anything, Kline's installation pointed a few years backward in reference and technology. Critics and audiences might have wanted to experience the exhibition as futuristic, yet there's very little that actually felt or functioned this way (including Daniel Steegmann Mangrané's virtual reality glasses that immersed the wearer in a rain forest), although Sophia Al-Maria's Sisters (2014) installation featuring three hanging screens came close. Ghostly, flickering images of young women dancing alone in their bedrooms blur skin and screen, presenting the mirror most people imagine social media to be as something that distorts as much as it reflects. On a small digital device propped on a shelf, a reclining woman sings in Arabic. Sampled from online media platforms, Al-Maria's female subjects merge with their ambient environment, anonymously inhabiting its contradictions: a freedom from the strictures of place and identity, and an absorption into a corporate-owned cloud with granular powers of surveillance and datamining. I don't feel the urge to walk in and out of Walmart every day to be validated as a human being, and yet there's an incredible pressure to participate in social media in order to be recognized as a subject, especially when entities like Facebook and Twitter make frequent posting essential to visibility, and social media is the fundamental tool for small-scale entrepreneurs, which the vast majority of artists—and writers, and a handful of poets—are.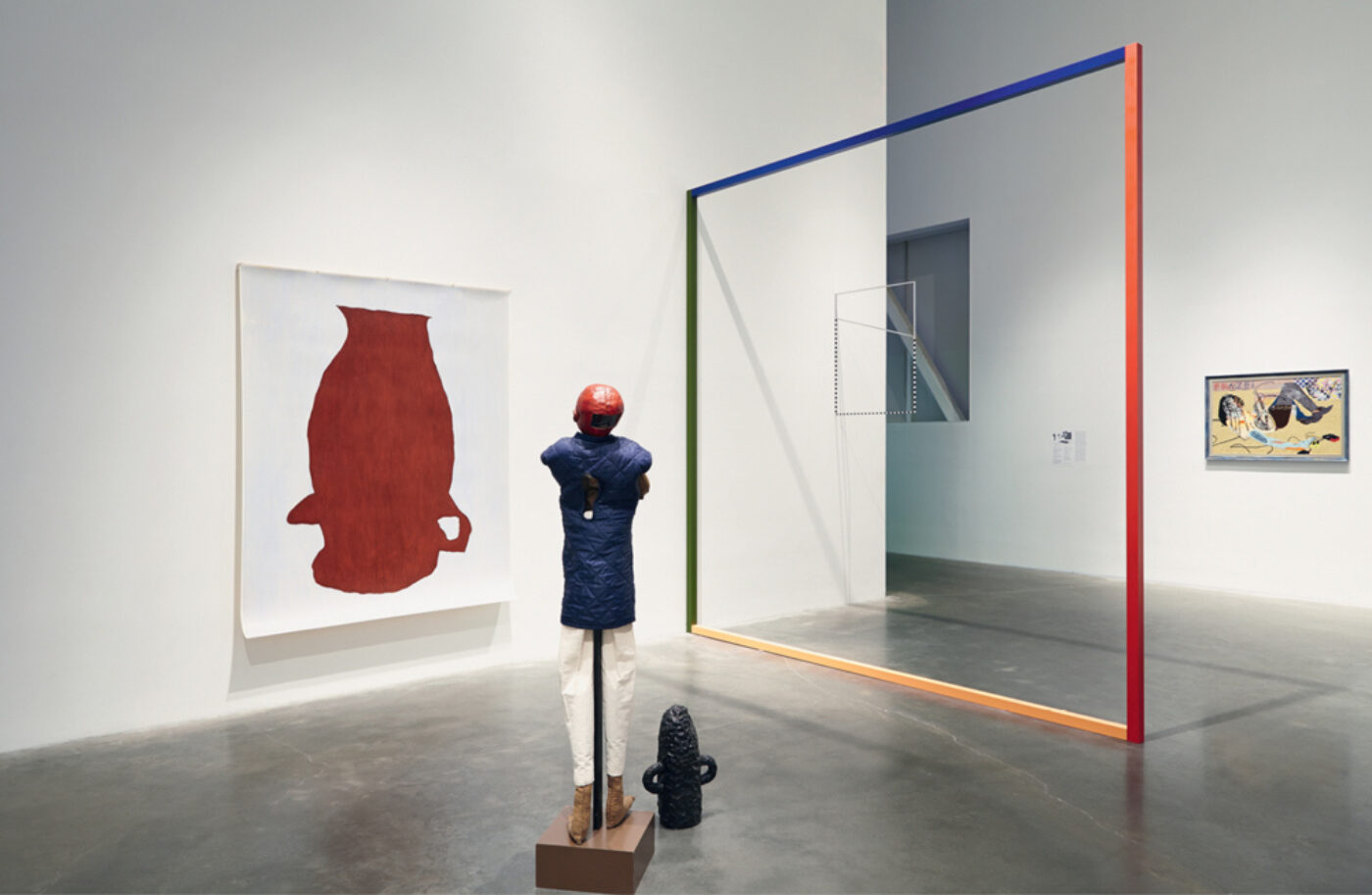 Al-Maria's Sisters both recognized and shattered this predicament in a way few other works in Surround Audience did. Another, and very different, exception is Eduardo Navarro's modest-looking installation, Timeless Alex (2015), which was among the most ambitious and perhaps even futuristic works in the show. It consisted of a large tortoise shell hanging from the wall next to a synthetic reptilian body suit with a tortoise helmet head; they were worn at one point by Navarro as part of a performance. Investigating alternative perceptual, temporal, and species modes, Timeless Alex steps away from the virtual and into the Anthropocene while resituating the human figure as one object, one consciousness, one agent among many in the world. In other words, is there a way to reconceive the human partially away from the digital? Navarro's contribution was striking in being one of the only examples in the exhibition to ask this question—and not a preposterous one given that Object-Oriented Ontology and the larger issue of the posthuman are sweeping through the art world. Whereas Surround Audiencepresents most of its subjects from the outside in, Navarro's work moves from the inside out. The sculpture quite literally has to be embodied, which in turn shapes it according to vast historical, evolutionary, and climatological forces.
As Droitcour mentions in his catalogue essay, over the past few years the art world has developed a strong infatuation with poetry, yet it's still a pleasant surprise that an anthology of poetry was published to accompany the exhibition. The Animated Reader: Poetry of "Surround Audience," edited by Droitcour, is, like the show, not particularly futuristic but certainly captures one strand of contemporary poetry. And like the show, it's international in scope, although, again, international frequently means echoing Western, usually "conceptual," forms, or text filtered through the voracious maw of corporate social media. I suspect a few different reasons (among many) for the art world's newfound enthusiasm for poetry: an awareness that the flattening of surfaces and quick associational leaps ubiquitous in a screen-centric, digital world are some of the primary formal and structural modes of poetry—and increasingly, of visual art; that poets themselves (such as the Museum of Modern Art's inaugural Poet Laureate, Kenneth Goldsmith) have increasingly embraced art-world discourse; that the breakdown of mediums and genres in contemporary art promotes more fluid interaction with a variety of artistic disciplines, including poetry. For instance, the initial scripts for Trecartin's video works resemble poems; both Trecartin and Droitcour have discussed this, and snippets of Trecartin's poem-scripts served as introductory wall texts to each floor of Surround Audience. The renewal of collaborative projects in the art world has extended to an embrace of poetry. And I don't think it's unreasonable to say that the hyper-commercialized and monetized art world admires—perhaps even a bit guiltily—the economic unrecuperability of poetry.
The Animated Reader also includes Facebook and Twitter posts, a couple of Kevin Killian's brilliant Amazon.com reviews, little drawings, and poetry produced for and by the Internet as part of its expanded—"liquid"—idea of poetry. In her foreword to the anthology, Cornell writes that the volume is "essential" to the exhibition and "echoes" its primary concerns: "self-representation, translation, identity, agency, and fluidity of form." Yet to its credit, the anthology does much more than echo: it extends the exhibition's concerns and covers neglected territory. For one thing, the poetry misbehaves much more than the art does. There's nothing in Surround Audience that's the equivalent of Lindsay Beebe's "GO FUCK THE BIGGEST ART DILDO EVER!!!! I'M / OVER IT!!!!" from her poem "I Don't Want To Make A Joke Of Art," or the excerpt from Kim Hyesoon's wild hybrid text I'm OK, I'm Pig! (translated by Don Mee Choi) with its lines: "qqqq the words that Pig utters You're Pig when you turn around to / look at your mummy being taken away // qqqq most of all, the squeals of our nation's pigs that don't know that / I'm Pig." Poetry gets the messy body and emotions and the emotionally messy body politics. Maybe that's why the only "actual" poetry on display in the exhibition—Steve Roggenbuck's YouTube poetry videos (2011–12)—was installed in the basement by the bathrooms. (However much currently glamorized by the art world, poetry is still the dirty bottom of artistic and literary genres.) Outside of work by and about Huxtable and a mesmerizing, digitally rendered stand-up comedy routine by Casey Jane Ellison, the body—that initially marked surface of otherness—has been mostly shed throughout the exhibition, even as questions around the visibility of subject positions in art and poetry have returned with a force perhaps not seen since the late 1980s and early 1990s. #blacklivesmatter
Moving from bodies to their ongoing disciplining and containment at work, The Animated Reader expands Li's experience at the Foxconn factory, as in Brandon Brown's post from December 2, 2010 at 8:53 a.m. reproduced in the anthology: "Thursday. Brown jacket, yellow shirt, blue tie, brown pants, brown shoes. First day at the new job. In the last week I read hundreds of pages, wrote poems about cats and Gmail, saw almost all of my friends, ate several kinds of fowl, and saw 'Alvin and The Chipmunks 2: The Squeakquel.' Jobs are jails, my friends. Jobs are jails." With debt, escalating real estate prices, and the maximization of profit by any means necessary, work has again come to resemble indentured servitude, or as Stefanie Sargnagel proclaims in a social media feed from May 16, 2013 (translated by Cory Tamler): "The worst part of capitalism is that you never get to sleep in." One could say much the same thing about the art and literary—including poetry—worlds, with their increasing professionalization that's less the fault of individuals than the system: one is forced to get up early and go to work to pay off college and MFA program debt. It's a vicious cycle of get-a-job entrapment for the benefit of a financial system that keeps the entire global economy afloat with its funny money.
Formally, the work in the exhibition and the anthology may be similar, relying on an idea of translation both literal and metaphorical, but the content frequently diverges. For one thing, as some of the above examples show, it's left to the poets to do most of the emoting and to explore a surface-depth relationship the triennial frequently—though not always—eschews. Sawako Nakayasu's contribution to The Animated Reader consists of three translations, or creative mistranslations, of the Japanese female Modernist poet Chika Sagawa that situate masks on top of masks (Sagawa's birth name was Aiko Kawasaki, and Nakayasu's versions are described as collaboratively "with" Sagawa's poetry and not "of" it) as a means to explore and complicate the (gendered) layers beneath, in language that reverberates with Navarro's Timeless Alex installation (and Al-Maria's Sisters as well):
Now I hang my shell out to dry.
My scaly skin is cold like metal.
No one knows this secret half-covering my face.
The night makes the bruised woman, freely twirling
her stolen expression, ecstatic.
Yet even this relatively direct investigation of surface and depth renders them amorphous. In both Surround Audience and The Animated Reader, images and language have trouble sticking to a world whose surfaces have been rendered slippery by human-computer interfaces, by the collapse of the natural-artificial divide in the face of the Anthropocene, by the borders blurred by transnational capital and displaced persons, by the collapse of traditional epistemological categories as a result of cultural influx (M. NourbeSe Philip: "I have no mother / tongue"), and so much more.
Relatedly, modes of transmission have become integral to the artwork or poem "itself," making it—and us—products of the network as much as producers of it. This may be one of the strongest aspects of both exhibition and anthology, as in Maryam Monalisa Gharavi's "Bio" poem composed from Twitter updates: "I placed a self on the internet and watched it spread." And yet Gharavi's piece also knows that not everything, and everyone, is quite this fluid, this liquid; or, more precisely, in the face of structural economic inequality, racism, and sexism, much of this fluidity takes place on "the surface," a surface that nevertheless has become reality, not as distracting spectacle but as the ingestion of a broken system—broken for everyone but an elite. And ultimately alienated from them as well. This isn't to propose something not of this moment. I happen to prefer K-Hole to much so-called political art. I happen to prefer the future. Maybe Surround Audience didn't include much performance—the art world's prior infatuation before poetry hit the scene (or maybe performance jumped the shark with Marina Abramovic's MoMA retrospective)—because the most important real-time performances of the past year were the protests responding to the police killings of unarmed African American men. Bodies in the street and on screens.
Alan Gilbert is a poet and critic who lives in Brooklyn.
Originally published in
Featuring interviews with Nari Ward, Jim O'Rourke, David Diao, Rachel Rose, Tonya Foster and John Keene, Alice Notley, Deana Lawson and Henry Taylor, Annie Baker, and more.