Skeuomorphisms: Abe's Penny
For the first installment of Skeuomorphisms (yes, we had to google it too), Paul Morris talks to Anna and Tess Knoebel about Abe's Penny, a micro-literary journal that subscribers receive in the form of a new postcard each week.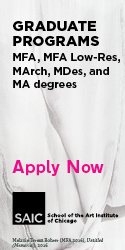 Skeumorphisms is an ongoing conversation series with innovative print publishers and edition makers who are committed to the art of making objects that are meant to be read and held and kept around for awhile—for the sake of nostalgia as much as for their craftsmanship.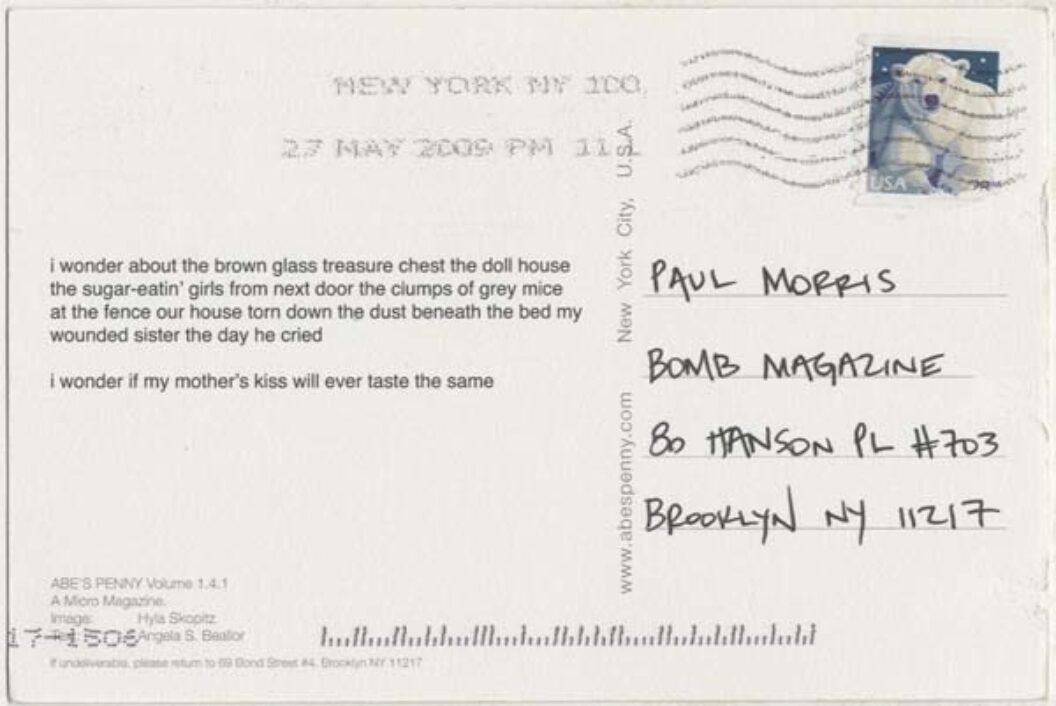 In these years of declining magazine sales, where publishers have cut editorial pages, reduced trim sizes, used cheaper paper, and shuttered their doors completely in favor of going digital, a new "micro-magazine" called Abe's Penny launched in 2009 as if to demonstrate just how lean a printed publication can be from the start. This subscription-based literary magazine falls somewhere on the spectrum between mail art and an actual periodical, serializing (very) short fiction and poetry on one side and pairing it with an artist's image on the flipside of a postcard, which is mailed to subscribers' homes weekly. A month's worth of postcards, four in all, constitute one complete issue.
It might seem like a disconnect, a literary journal that borrows from new media trends like status updating and tweeting while printing old-fashioned four-by-sixes. After all, postcards—with their roots in mass-produced disposable culture—are the peripatetic's stationery, perfect for careless scribblings and recaps of journeys. For the publishers of Abe's Penny, the medium is distinctly part of the message, from the ubiquitous penmanship of the handwritten address to the application of the adhesive stamp to the "killer" marks (those wavy lines that render the stamp unuseable again).
And then there are the stories. Impressionistic, fleeting, and often personal, they have included subjects like a father's mental decline, invitations to attend a garage-music festival, and the disembodied voice of a reincarnated fish talking to his past lover. Accompanying images are equally dreamlike and possess an archival quality: blurry, distressed, or dog-eared photo effects and the use of black-and-white candids give a voyeuristic sense that you're looking at a stranger's photo album. In this way, image and text conspire to channel the nostalgia of the printed postcards themselves. In fact, the entire curatorial undertaking and decision to publish on postcards feels like an exploration of the ephemeral nature of existence (punctuated by occasional tears resulting from mail-sorting machines).
While some of the writer/artist pairings are uneven—connections between the works can be difficult to divine—others complement each other so well that any given issue might be read three different ways: as text exclusively, as sequential works of art, or as an intentional dialogue between the two that conveys something wholly new. Not even the presence of the USPS-mandated barcode at the bottom of each card—a reminder of the pervasiveness of our digital age—can detract from the retro appeal of experiencing each issue unfold to become immediate artifacts of an analog culture that, although shrinking, is still expanding the idea of what constitutes a literary magazine.
Paul Morris You've just entered into your second year of publishing Abe's Penny. What has been the response in that time? What have you learned in 12 months—and after 12 issues—of publishing?
Anna Knoebel The response has been positive since day one, and I can recall only two people who took the time to tell us they didn't like the idea. Of course, plenty of people who aren't interested ignore us, but from subscribers and critics, we've received much encouragement and enthusiasm. We've learned more about printing, about paper quality, about which images will work on matte paper and which look sad, flat.
Tess Knoebel When we first developed the concept, I kept fretting about how we would find content. I was nervous to contact anyone since we have no budget to pay contributors. As it turns out, if you approach people with a great concept, they are, for the most part, willing to share their work with you. Photographers more so than writers, which is a curiosity I'm investigating on a profound level.
PM A postcard is an unexpected medium for publishing fiction and poetry. How did you come up with the idea in the first place for the postcard model?
AK We were brainstorming ways to make a new literary/art magazine, one that didn't overwhelm a reader with content. We're drawn to minimalism so "short and sweet" resonates. Also, we came up with the idea in 2004, when the marketplace was overrun with start-up publications, people publishing the work of up-and-coming artists and writers. We didn't want to add to the over-saturation by printing just another lit journal.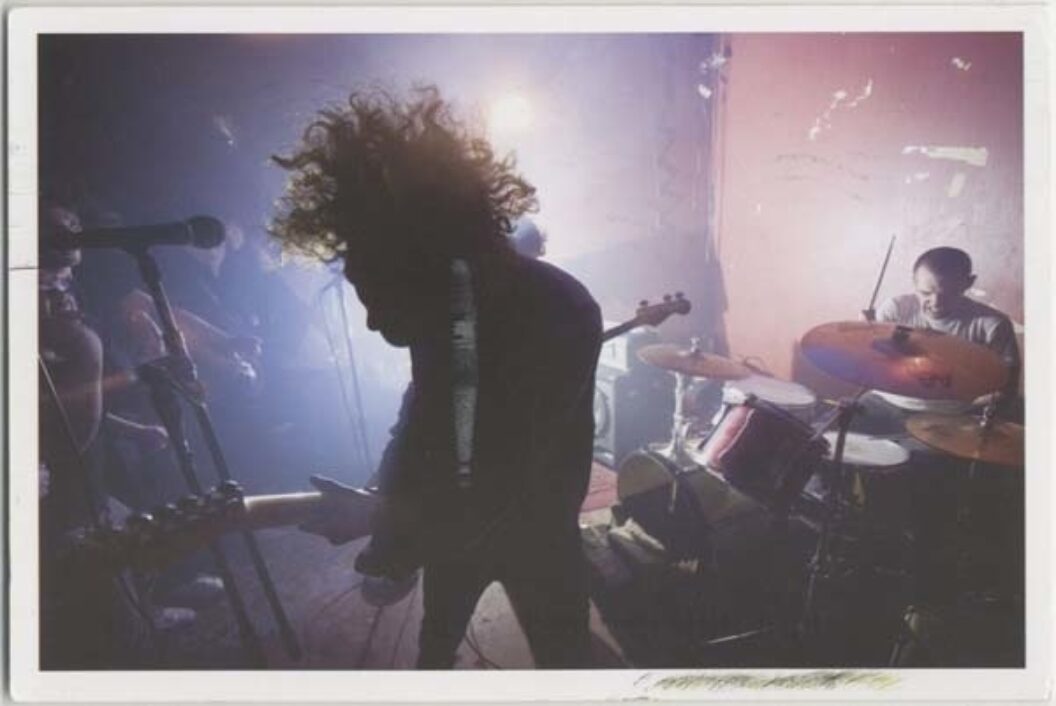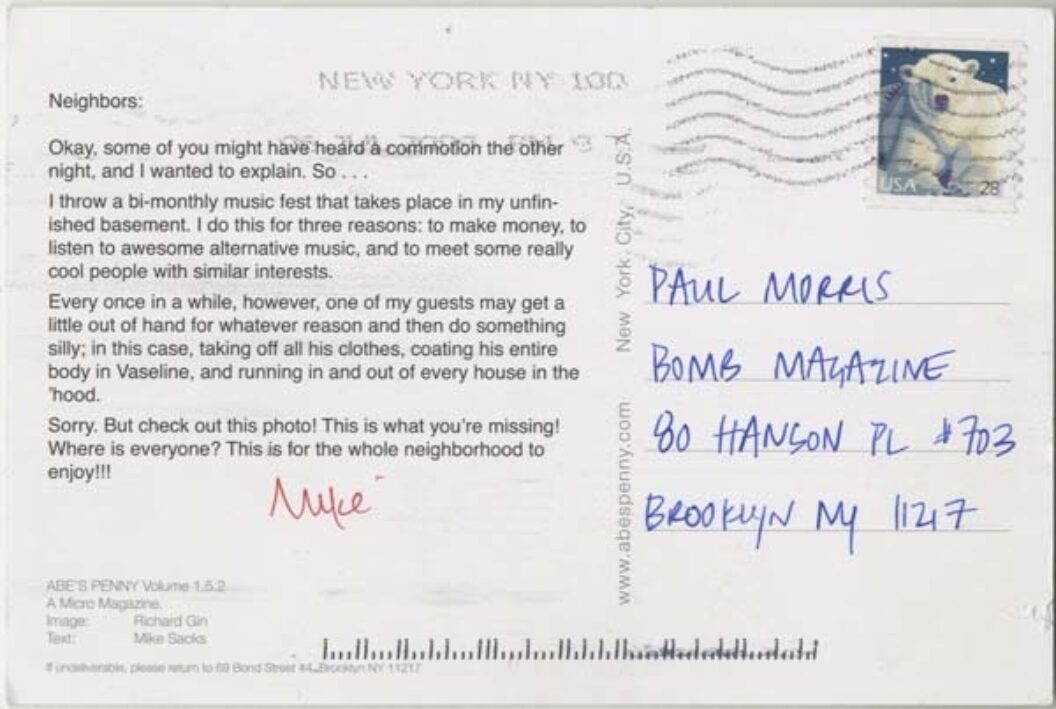 PM Your concept seems to borrow a bit from the current social media trends that believe brevity is key. But what you're doing is obviously much more sophisticated than a 140-character tweet. Can you speak a little about your curatorial process, how you approach selecting content, why you pair the writers and artists together?
TK It starts when I see someone's work that I like, same with Anna. We go over our list of possibilities together and then try to pair people whose work compliments each other. The process is most successful when we introduce writers to photographers and let them work together to hash out the details of the project. The contributors who work this way have responded really positively.
PM What is your submission process like? I'm curious to know if the text pieces are serialized before they arrive, or do you work with the writers to find the appropriate places to act as a cliffhanger for the next week's installment?
AK So far, the writers have chosen their cliffhangers. We actively solicit contributions. We're still a very small publication, not especially well-known. It will be a great day when a photographer or writer, when he plans out where to submit, thinks to submit to Abe's Penny before all other magazines.
TK We contact writers and photographers whose work we admire. We like the process between the writer and photographer to happen organically. We have had a few unsolicited submissions, some very good, some not so much.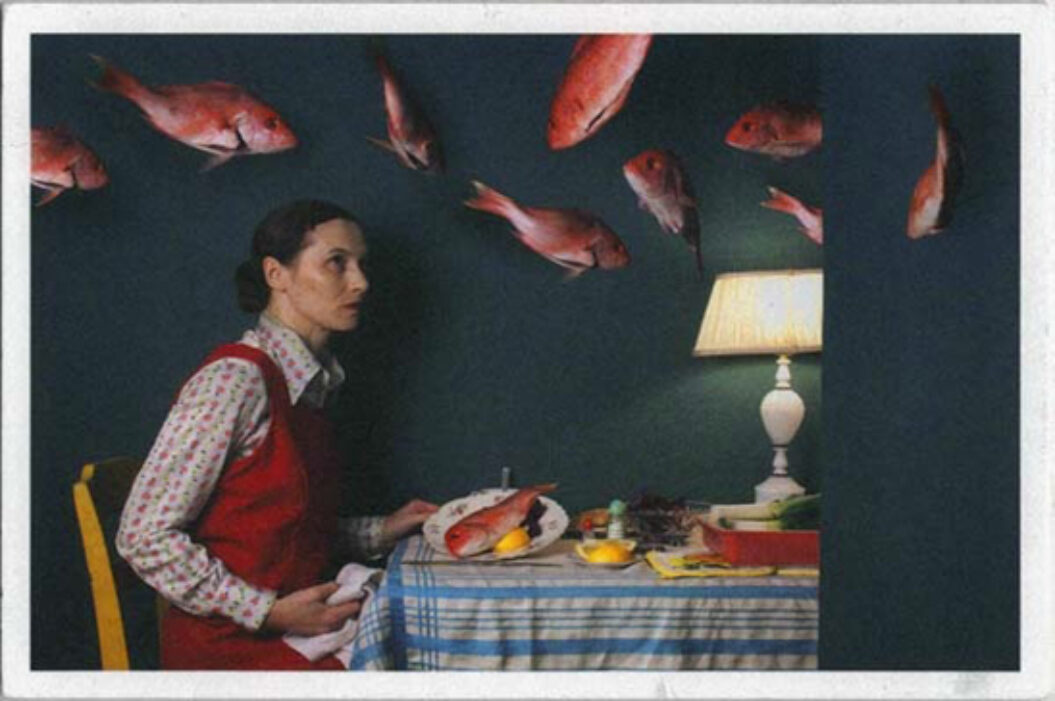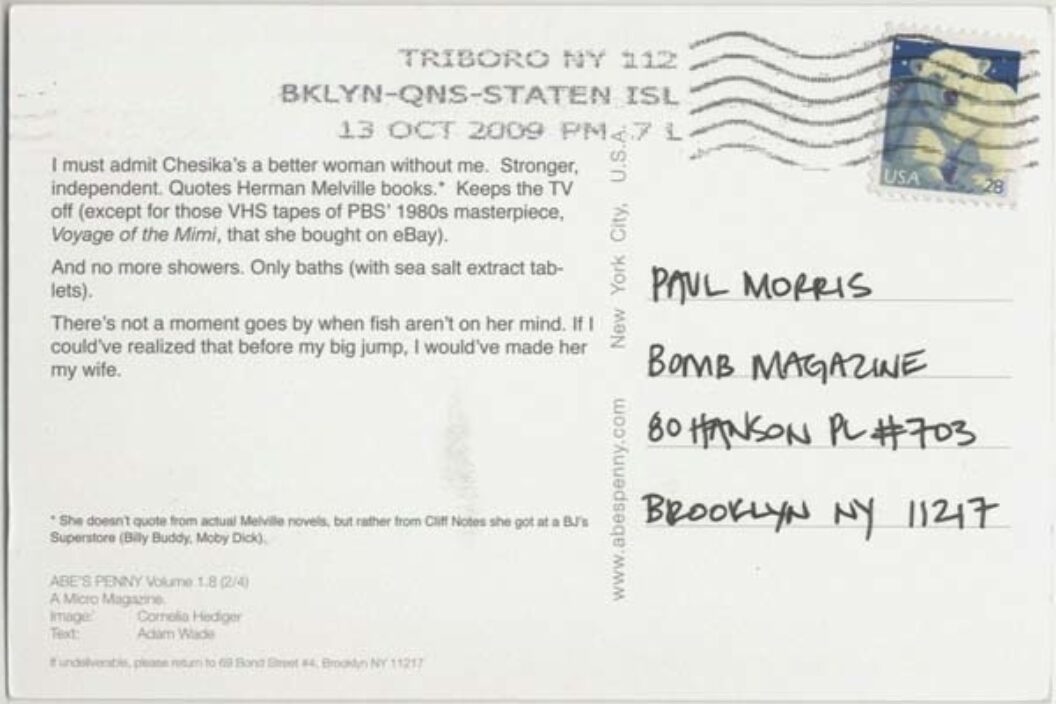 PM I'm struck by the sense of nostalgia that pervades a lot of the work. It's a very apt extension of the postcard's inherent charm. Do you find that you gravitate toward selecting work that is inspired by the medium itself?
AK It's probably more of a collective consciousness phenomenon. We've given our contributors almost total freedom with their submissions.
PM I love that each card that comprises an issue becomes instantly collectible. For me, part of the appeal is seeing my name appear in print alongside the USPS bar code and the wavy lines, knowing that my card is unlike any other card out there. That my own personal history becomes a part of the collaboration. Each issue can be read multiple ways, but when you add all the recipients into the mix of possible interpretations, then the number of meanings becomes exponential, potentially infinite. Did you have any awareness of the viral nature of the postcards when you launched Abe's Penny?
AK When a person takes time to enjoy the cards, to go back and read the previous ones each time a new card arrives, to appreciate the hand-written address and all of the possible interpretations—this is when Abe's Penny starts to make an impact we're proud of. I mean, that's why anyone does anything creative, I'd say.
TK It was important to me to have a human touch on each card, which is one of the reasons we hand write each address and hand place each stamp. We were aware of the effects of the postal service – that the stamps would be canceled and that the back of the cards would be littered with markings from the post office and the environment in which they travel. We were surprised that other people found those markings important, too. It's nice to know that our audience appreciates elements we consider vital.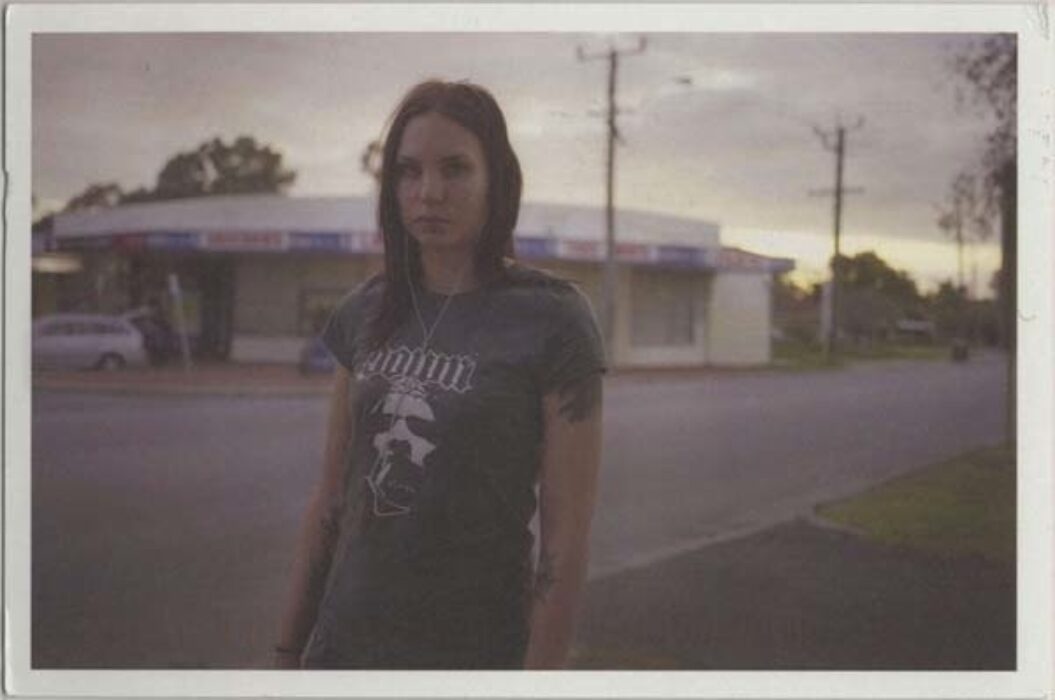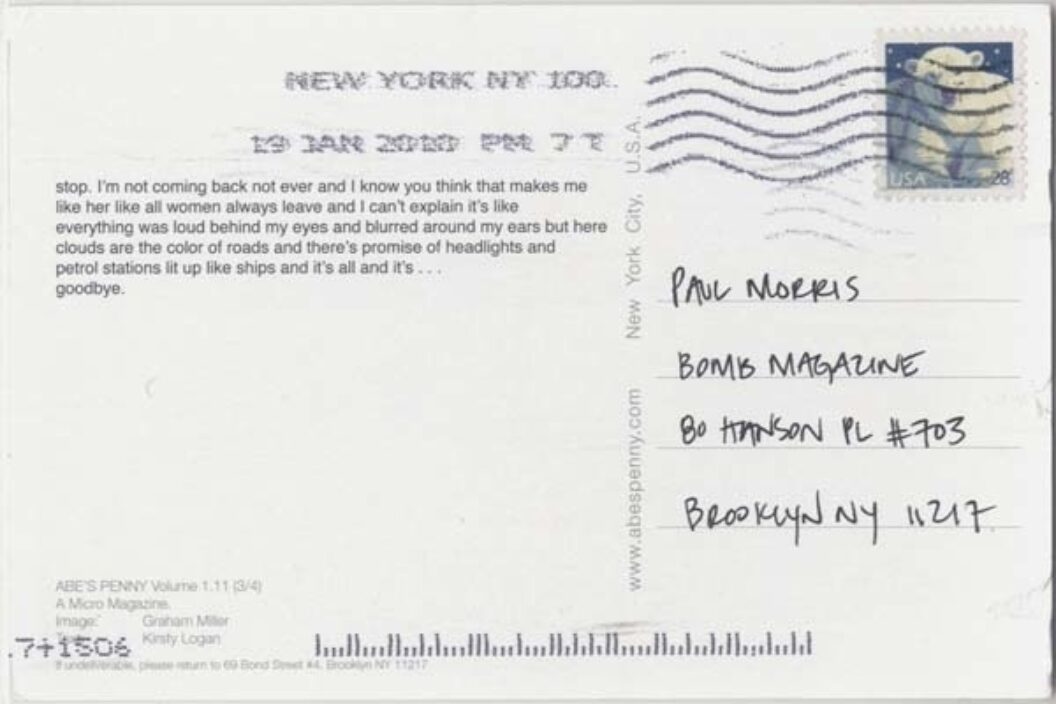 PM You don't ever go back to print on a postcard, do you? Why not?
TK Each issue is encapsulated in one specific time. If we went back to print, that element of 'a postcard in time' would be corrupted.
PM Do you have any plans to do a compilation book, or some sort of annual anthology that collects all the postcards together in book form? Perhaps illustrating what these cards look like once they've been sent through the channels of the United States Post Office could be interesting….
AK We've talked about making a book of the issues, but we've been extremely cautious where growing the business—adding projects—is concerned. We're launching Abe's Peanut, the Abe's Penny for kids, and that's our focus now.
TK If we were to do a book, it would include the cards from after their journey through the mail. I almost don't like to show people the issues pre-mailing, because they aren't finished yet. It's like trying to get someone to buy a dress with unfinished hems.
PM A book has a permanence to it that a postcard does not. Would a collection of these cards alter the philosophy behind Abe's Penny?
TK This in an idea that Anna and I have discussed frequently. I don't want to publish our anthology for the sole purpose of having an Abe's Penny book. I'm hoping to develop a concept that is in line with our original philosophy. And, honestly, at this point, 12 issues in, I'm not ready to sum up our "history" in an anthology.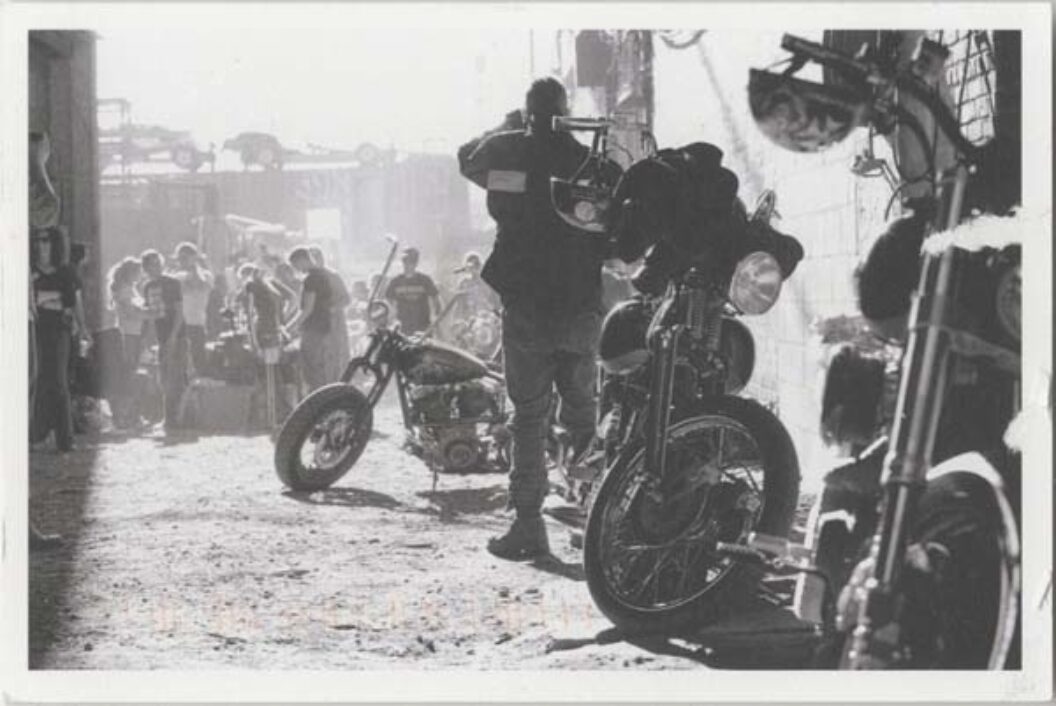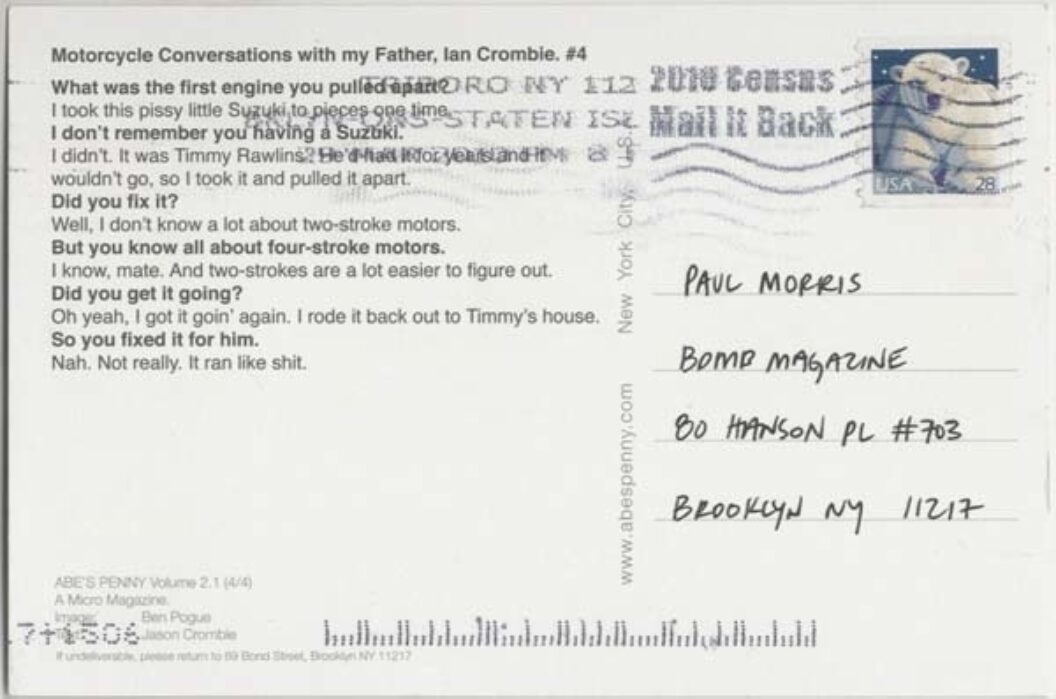 PM You have a website, but you remain primarily a print publisher. Do you have other plans to take your analog idea digital, perhaps via a kind of digital subscription service?
AK We're pro-object. People don't value information on the Internet. I don't know of anyone who mourns forgetting a web address. People mourn the loss of their books and papers. These postcards, if people value them, will last.
TK It's important to me that the project remains a physical one, but I also realize that there is an entire internet out there that could be an untapped outlet for Abe's Penny, and it's counterintuitive in our digital culture to not have a strong web presence. But then again, do I want one? I am not so sure. With Abe's Peanut—our version for kids—the project is also, first and foremost, a print concept, but it will be more interactive. Our audience will be able to participate in an internet community.
PM With all the free content that's online these days, what do you say to those people who say that $48 is a lot for only half a year's subscription?
AK You're paying for a collectible object, a little piece of history. $48 breaks down to $2 per week. That's less than one subway ride, if you live in New York. The issues have a longer lasting impact than one cocktail, but all over the city people are willing to spend more than $8 on one drink. It's a question of where you place value.
A 6-month subscription to Abe's Penny costs $48. Subscribe online at Abe's Penny.
Paul Morris is BOMB's general manager of digital media & marketing.