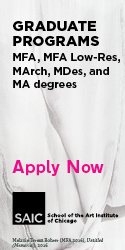 Detour
I drive two thousand miles to leave
you, and find your shadow,
spine whipped by wind,
in snow-filled valleys where hills
are hidden in white air and fields sleep.
You will yourself into this landscape
the way one can staunch the flow
of blood or simulate death.
My car window is a camera lens.
I watch a train
curve along tracks and
into a tunnel. The moon
spills across land so cold
the cattle moan.
My map is crumpled
and I read it like a letter.
Fifty miles before I reach
a new home. Relief comes in waves,
shock without a center.
At Land's End
I come, intrigued by a name,
to share the same latitude
with Portugal, at low tide
I jumped rocks across the breakwater.
The fish entangled in moss
and the gulls, I'd forgotten nothing,
though I say I'm new here.
The bay opens, turning away
from the land for luck.
If I rest at night, the water
pulls me under. Strange complicity,
the two of us and sometimes all
I want is sleep.
Floodplain
Every hundred years, floods
threaten the valley. We chant
Hossanah at the water's edge.
Purge us of bad marriages.
Take the sick and suicidal.
We have forgotten to couple
the animals. You say
We slept together too long.
Renew us with sin.
The night brings unexpected gifts.
We tire of staring at debris.
Patience is no triumph.
Stars appear, colliding with the open sky.
Beauty and the Beast
I, who believed too much in appearances,
saw only the beast.
He bought me for a rose,
the one my father stole for me.
I came to make amends
for the sins of my father,
exchanging my life for a flower.
I said nothing about the army,
the one that surrounded his palace.
Or my father's vow to win my freedom.
I returned but I said nothing.
I never pretended to love
the beast. I loved only the danger
and I escaped. I crushed
my promises, broken petals, and
the stamen snapped nearly in two.
The beast cried out and I left him
lying on the ground, endangered,
nearly forgotten, and I returned too late.
Pathos, not purity, led me to his garden.
Why did I wait til after death's threat
to offer him such a small gift, a kiss?
The Misunderstanding
Too much glass has been broken in this room.
Naked feet become a luxury.
New York is expensive that way.
Here, grey skies weigh more than water.
Like the East River, we are transient.
Like the Hudson, our names carry a history.
I brush glass from my plate,
keeping dinner warm for my new protagonist.
If we laugh at love's needs, mistaking fire
for air, words for food, then the city
is a place where the young congregate
to learn death's manners.
I have cleaned the mirror
and my lipstick is a coral invitation,
contrived, like the lights on the Empire State Building.
Only the roses he will wish he remembered,
the burgundy ones, will be more vivid.
He will come with his softest voice
and the arms that don't tug so hard.
We will spend the evening drinking Pinot Chardonnay
and speaking in the subjunctive.
If we sleep, all the Upper East Side will have drifted
under before us, except for the drunken couple
crossing the street, chic young devils, with halos
swingng high, as though lifted by their umbrellas,
slick as wings.
Your Name Travels Before You
for Roger Echo-Hawk
Half-breed Pawnee sleeps
alone. Blue fungus thrives
in the wind-bottle.
At dawn an eagle
attacked him for laughing
in the sweat bath.
Linda Bohe lived in Colorado and New York. With Phoebe MacAdams, she edited the magazine Atta Boy. She died in Denver in 1983.
Originally published in
Featuring interviews with Nan Goldin, Elizabeth LeCompte, Robert Duvall, P.M. Dawn, Jane Wilson, Louis Edwards, Craig Coleman, James Chance, Hal Hartley, and Constance Congdon.