Sitting with Discomfort: Christina Quarles Interviewed by Jareh Das
Paintings and installations that unfix the body.

Discover MFA Programs in Art and Writing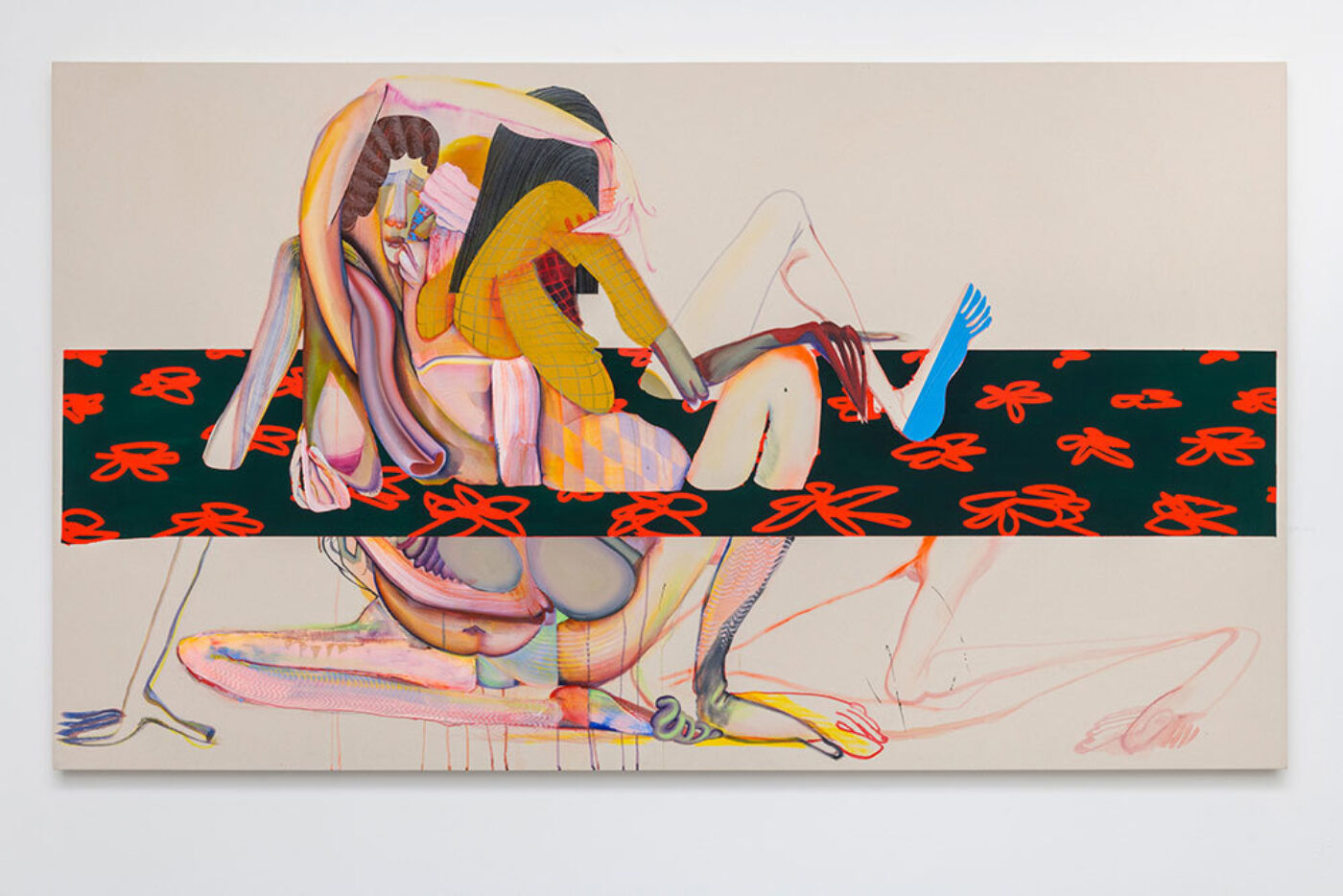 The abstract, line-drawn, and fragmented bodies in Christina Quarles's vibrant paintings are an exploration into non-normative bodily configurations which transgress historical classifications that have long failed to represent the complexities (and slipperiness) of how bodies inhabit multiple identities, selves, and forms.
Quarles begins this inquiry into upending bodily classifications and representations by turning her gaze to her identity as a queer cis woman, born to a Black father and white mother, who has spent her life being misrepresented as a result of not looking like what was prescribed to her multiracial identity. The result of this self-study extends to wider communities of individuals inhabiting non-conforming bodies, rendered by Quarles as vibrant, candy-hued figures in dynamic patterns using vinyl stencils and combs raked through thick paint. The resulting figures are contorted, fluid, genderless, and misbehaving; and they expand in installations from the confines of the body-as-wholesome, breaking out of the confinements of the frame.
—Jareh Das
Jareh Das The bodies in your paintings and drawings resist fixity. Bodies appear inside out, fragmented, and titles refuse convention. What sparked your interest in figurative representations?
Christina Quarles I grew up as an only child to a single mom and started drawing from an early age. It was a way for me to keep busy and visualize my thoughts through an observational language. I was confronted with my identity as a biracial individual since childhood, and my racial identity didn't fit into a typical categorization. I would always be asked by other kids on the playground: "What are you?" or "Where are you from?" I would go on to explain that my dad is Black and mom white, but this didn't register because of how I looked; or, rather, others didn't see the same identity presented in front of them. This led me to question what it means to inhabit a racialized body.
These questions stem from moving in a world that is perhaps less fixed now and an ability to occupy multiple spaces, but certainly in the 1990s when I was a little kid, this isn't how I was thinking about these issues. I was more just trying to reconcile this disconnect between how I felt and how other people saw me. I understood racism as something fixed or that fits into the norm, so I began to think of ways that open further questions about gender and sexuality. All of these experiences shaped my practice which comes down to wanting to represent my experiences and make sense of them.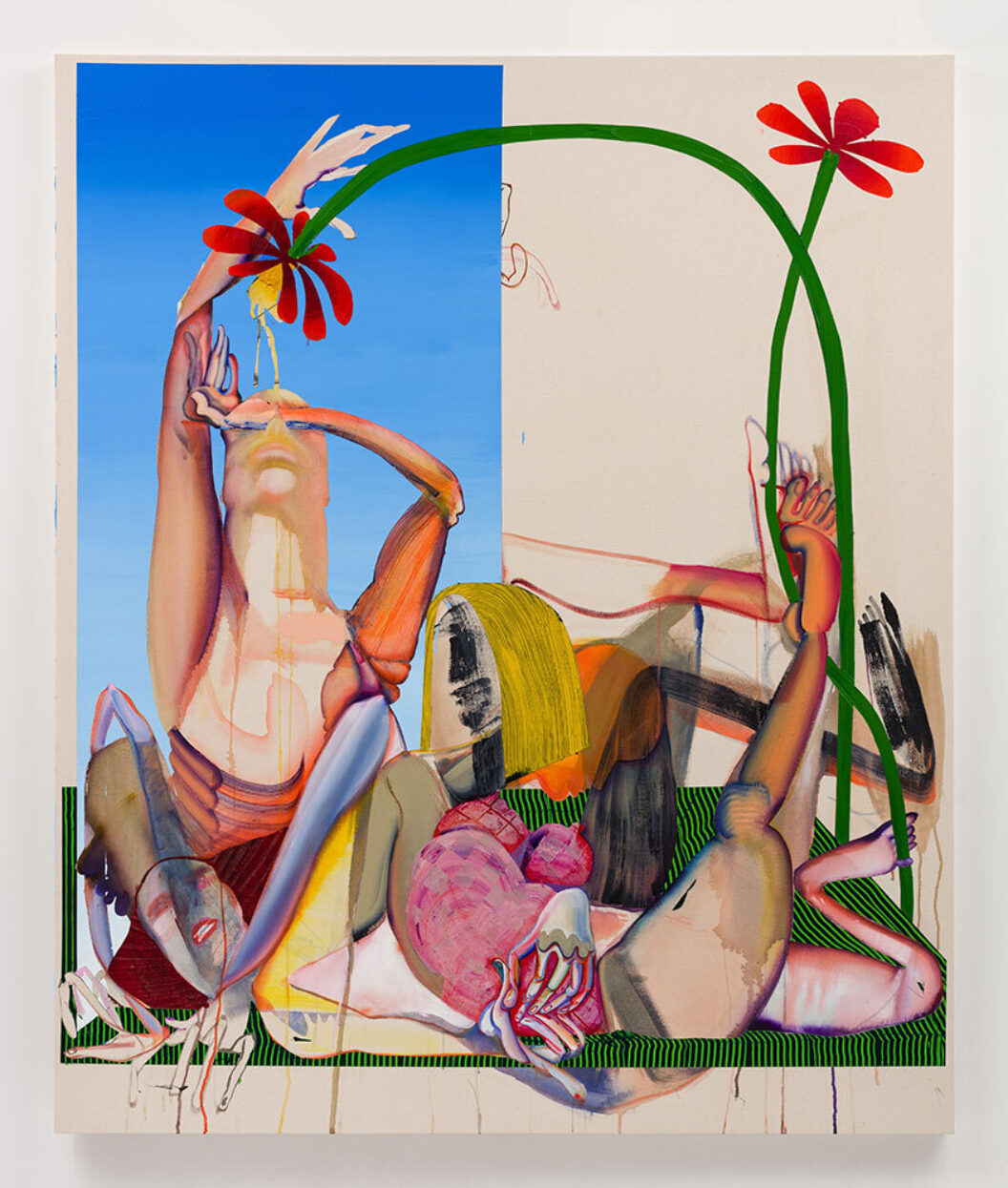 JD Los Angeles, where you grew up, no doubt impacted this formative thinking, right?
CQ Yes, I grew up in Los Angeles and went to a great public high school that was almost college-like with four hours of classes a day and a lot of freedom. I made art during high school, and afterward at college I moved on to studying philosophy and critical race theory alongside thinking through language. I found that language was a limiting way to approach multiple ways of being and thinking about identity. It was linear and an incredibly intense burden informing Westernized ways of seeing. This made me realize that painting was definitely what I wanted to do to explore these ideas. So going back to your initial question, I'm interested in representing the experience of living in a body or the experience of living within a racialized body, gendered body, queer body—all of these things that regardless if you're a person of color, or white, or man, or woman, or cisgender, or non-binary, you're living in a body that is gendered and racialized.
JD Do you think the term figurative painting is antiquated at present with bodies constantly in flux?
CQ The figures in my work are possibly individual bodies moving through time and space as well as through their perception of themselves. They also interact with their shadows. I use the medium of painting, with its historical connotations, to activate something that can go beyond fixity. I've found painting to be a really helpful medium just because it is so burdened by its history, its rules and expectations. This mirrors my experience of living in the body that I inhabit which at certain points I also deviate from in terms of the norm and the expectation of identity or the times when the whole system kind of shows itself up and falls apart. It is less important for me to describe race with skin pigmentation because that doesn't sum up my individual experience, and it's much more relevant to explain my experience of race through these boundaries, edges, and moments of fragmentation that can also dislocate the body. These are all my experiences of race in not having a specific skin color per se. Being somebody that identifies as a person of color, but looks white to white people, is a foundation to my understandings of my race because it allows me to move through the world in a very different way. But it is not the totality of my experience.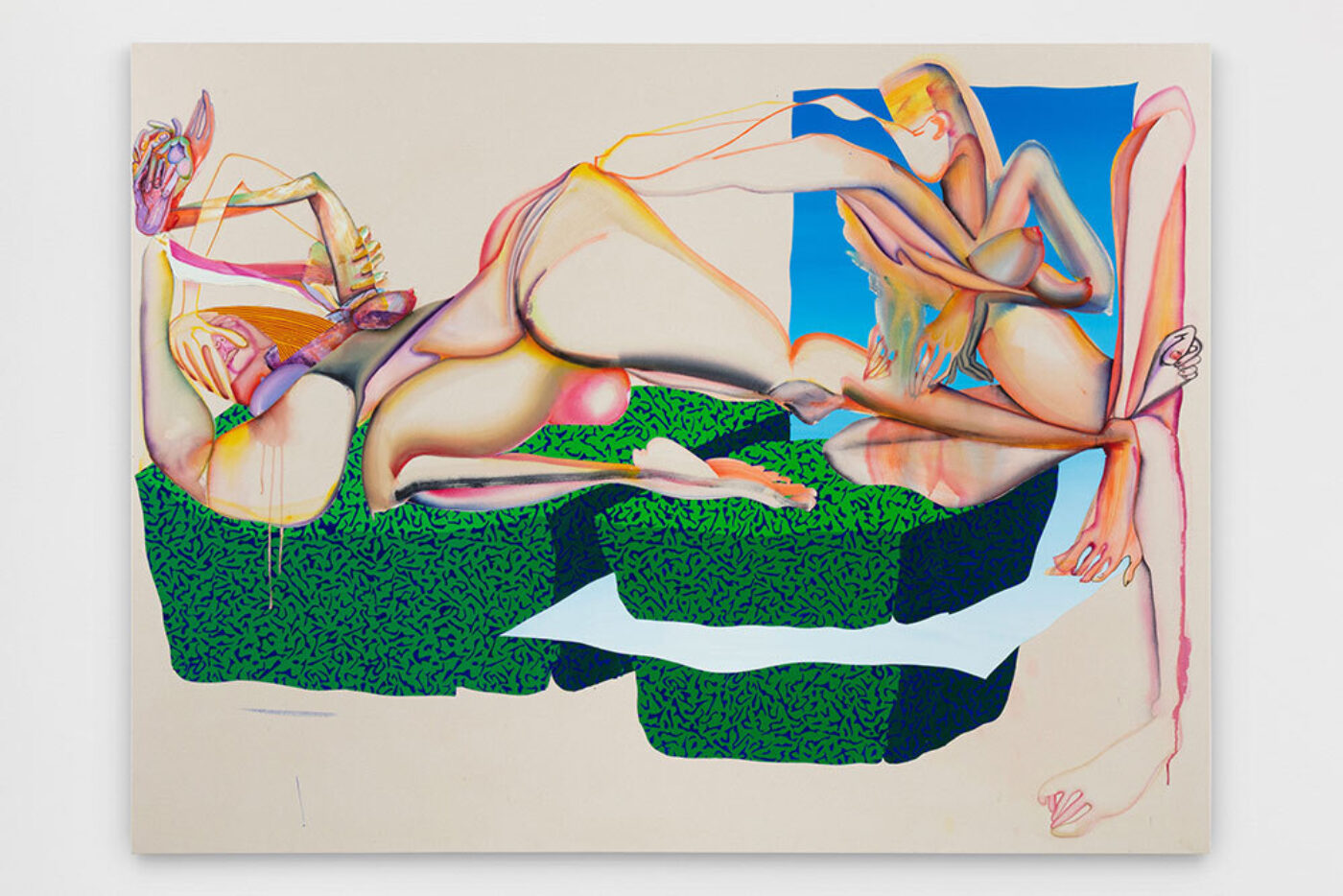 JD Titles such as For Whom Tha Son Sets Free (2019), Yew've Got Yer Gud Things, n' I've Got Mine (Split) (2018), and Grounded By Tha Side of Yew (2017) offer perhaps a coded way of speaking to a particular group and allowing access to the work. Is this correct?
CQ When I work with language for the titles, I incorporate written language into the drawings that relates to spoken vernacular so words are often spelt phonetically, or I'll play a lot with puns to present a double meaning. I also pair puns and phrases in a way that mimics rhyming or intentionally includes a misspelling to change the meaning. The language I use with the work turns into something that is completed by the imagination or a recollection. I feel that this opens the work up to the viewer's interpretation or memory of that word, which is very specific to whomever reads it, which is what I love about incorporating language into the paintings. The titles and phrases come from a wide range of references, from lyrics from pop music to poetry or philosophy, but oftentimes it's also television or advertisements from street signs, dollar shops, etc. I have an interest in interweaving vernacular from high and low culture to allow different access points, and I also use the titles for the paintings as a way to connect with the moment in which I painted it. I think a nice point to make is that our influences and references come from everywhere and everyday experiences in life.
JD In the more recent paintings Held Fast and Let Go Likewise (2020) and Oh Dear, Look Whut We've Dun to tha Blues (2020), bodies are more contorted. How does the line as a gesture offer up new ways of experimenting with form?
CQ When you practice over time, you don't have to think about how to paint, and this allows for an engagement that is via the subconscious manifested through technical action. I'm referring here to the idea of the figure which is something I have been working on for over twenty years, and I no longer approach this with rigidity or a narrow focus on what the figure could be and represent. I started exploring painting and went to grad school in an attempt to figure out how to paint, and it was my first introduction to expanding the line with paint and working on a different scale. It took moving away from that separation between the line and paint and integrating the two that allowed for me to create the work I make now that can capitalize on my familiarity with the gesture while using all the tools and colors and textures available in paint.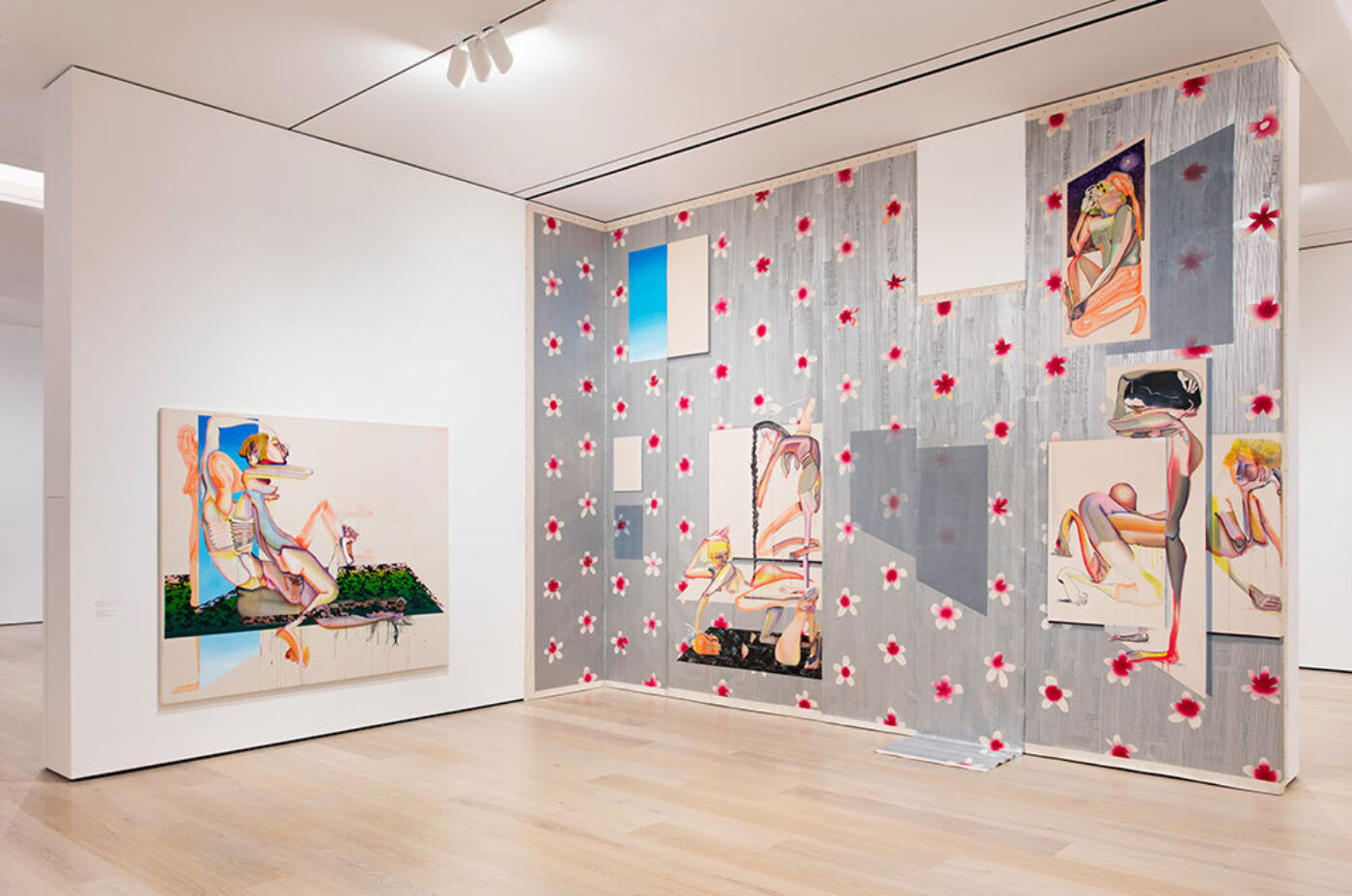 JD For Made in L.A. 2018 and other exhibitions you presented installations where paintings extend beyond the frame into architectural space. Can you explain your approach to reconfiguring these spaces?
CQ In grad school, I began to expand on the initial use of just the canvas frame and played around with stretching my paintings. Since then, I have always approached exhibitions as opportunities to expand beyond the frame and into the physical space. One of the first ways this manifested was in the installation presented for Kiss My Gender at the Hayward Gallery in London in 2019. This was my thesis (graduation) project, and I was exploring the fact that the figures did not always have to be contained by the frame; sometimes they could exceed the frame. This means using painting history, art history, history of the figure, but then it's also using the history of spaces and of the gallery. It involves thinking about the development of styles of hanging from the salon to techniques such as trompe l'oeil as ways to interrogate the space.
JD How have you engaged with revolt both in your practice and your lived experiences in the past year during the pandemic and ongoing violence against Black bodies in the United States?
CQ I think Audre Lorde says it so poetically: "For the master's tools will never dismantle the master's house." When you rebel, you are still using the master's tools. The act of rebellion establishes a binary: you rebel against. Rebellion is reactionary and, as such, poses the danger of reinforcing the very system the rebel opposes. The act of revolt, on the other hand, is an act of detanglement. To revolt requires a truly radical reimagining. I was speaking with a mentor of mine about the reaction of the art world and society more largely in the wake of the re-energized momentum behind BLM. We were talking about how there has been this level of reaction that feels almost knee-jerk, this desperation to figure out how to prove that you the institution or you the individual are good and anti-racist. This is solution-based thinking, not process-based thinking. When you use solution-based thinking, you are further entrenching yourself in the very capitalist framework that has been used to justify racial discrimination and violence against Black bodies in order to justify exploitative labor. A true revolt against this system requires anti-capitalist thinking, which entails an acknowledgement of process over product, of sitting with discomfort, of committing to a lifetime of assessment and reassessment, of innovation and imagination.
Christina Quarles: In Likeness is on view at South London Gallery until August 29; Christina Quarles is on view at the Museum of Contemporary Art Chicago until January 16, 2022.
Jareh Das is a curator, writer, and researcher based in Nigeria and the UK. She holds a PhD in Curating Art and Science from Royal Holloway, University of London, for her thesis, "Bearing Witness: On Pain in Performance Art" (2018).