Siri Does Not Understand the Love Child by Eskor Johnson
Eskor Johnson spends a day in the life of The Love Child.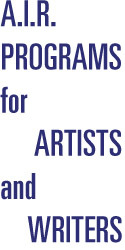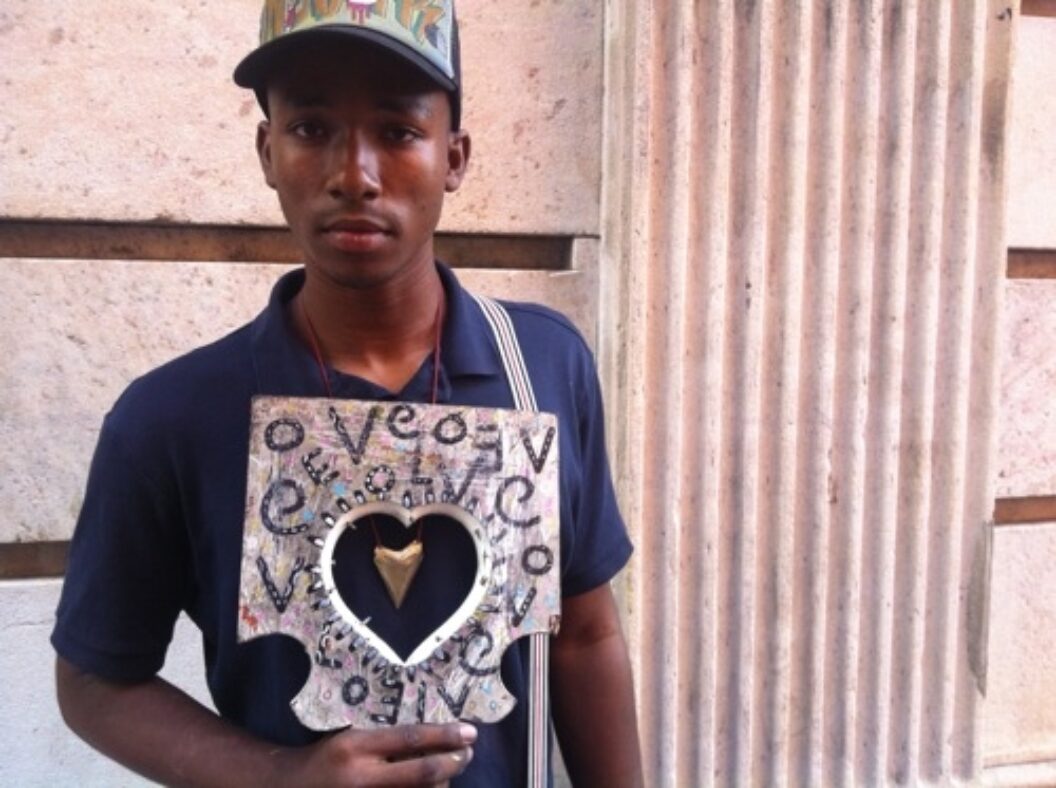 Let Them Eat Pasta
Twenty-three hours in the life of The Love Child, one for each year he's been alive and counting. Potentially twenty-four, had I not arrived an hour past our scheduled meeting time—a friend, Natalie, was baking me a lasagna—and had he been born earlier than January 11, 1989. To apologize I've brought along a piece for him in a Tupperware container and I've also brought Natalie, to redirect the blame. This is on Prince Street, at one of three locations The Love Child usually sets up shop. He likes the lasagna: "This is mad good," he says after a bite. "This is mad good."
Jay Michael Gittens: Grenadian born-and-raised until age ten, British Virgin Islands until fifteen, now New York; newly slim ("That's why I wear the suspenders. These pants don't fit me anymore.") and wearing it well; aka The Love Child, street artist and starer into space. Media: acrylic, oil (once, accidentally), canvas, wood, cloth, paper, paraphernalia.
It is windy today, enough to disturb some of the smaller pieces Jay has taped down to the concrete ledge he uses both as seating and showcase. The passers-by are a mix of New York everything, though they mostly have in common the sartorial sense it seems is requisite to walk around Soho. Jay is in red sneakers and blue jeans and blue polo, and cool snapback cap with New York graffitied on the front (the "O" is an eyeball). He is tall. Though he smiles often, when he is not his face falls into a haze-eyed stare that seems morose and bored. Perhaps this is a necessary symptom after entire days spent in the throng of so many people in transit, a near-overdose of temporary audiences. His laugh requires his whole body and goes Kee-hee-hee-hee-hee-hee, like Ernie from Sesame Street. There is paint on his hands and when he gives me back the Tupperware there are little dots of yellow on the lid. Jays leaves these traces most places he goes.
His setup today is of eighteen pieces, eleven of which are on paper, two on wide planks of wood, two much larger than the rest, three framed, one that is his first oil piece (accidentally) and one on a rough-edged section of brown paper that looks torn from a gift-wrapping roll. For those of you counting, there's some overlap going on here so the math doesn't quite add up. One of the two larger ones, for example, is also the one in oil and also framed. The frame Jay found somewhere and is made of metal and does not really match the pell-mell of color within its boundaries. To dry this painting Jay left it out on top of a phone booth overnight—it was neither rained on nor stolen. "I have another frame on top a phone booth," he adds. "Just like a big wooden joint." While Jay and I talk about his beginnings in photography and drawing, Natalie snaps pictures and inspects the paintings. So do some of the pedestrians who pause mid-stroll to look at whatever has caught their eye.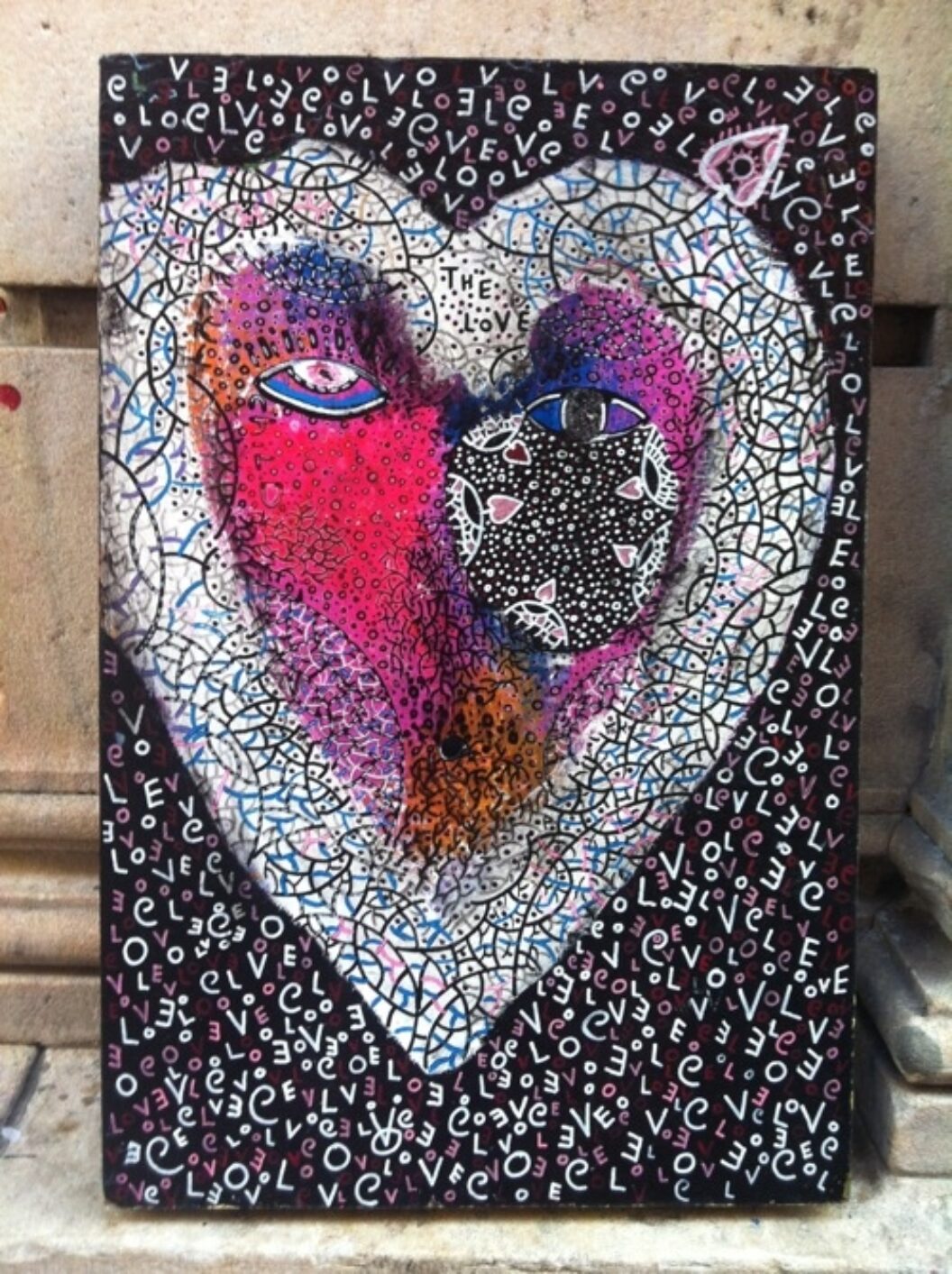 I hope you have had the childhood experience of repeating a word so often its meaning is lost in the sound. Like holding a spoon in front your face and saying "Spoon, spoon, spoon, spoon …", until what you have between your fingers is just a thing, cold and shiny, and What is that weird noise still coming from my mouth, anyway? The brain no longer gets in the way of the experience. This is the sensation of seeing Jay's paintings. Nearly all of them feature the word love over and over again, the letters broken apart and rearranged, inverted or backwards with eyes poking out, large and patterned, or tiny and plain, scattered like confetti in kaleidoscopic fashion amongst lattices of curves and lines and dots. He tells me many of his earlier drawings were of mazes, and today there is a labyrinthine quality to his work that brings to mind a swarm.
Jay does not sell anything for the time I am with him, a not unusual occurrence. "Sundays are good," he says. Today is Friday. Sometimes he is reluctant to sell a piece he likes but needs the money, so does. "There's never a day I come out here and feel like it's not worth it. Something always happens." A middle-aged gent almost breaks his neck stopping in stride to gaze, give Jay his card, and twice say, "Amazing." A girl in orange pants pulls out her phone and rapidly snaps a bunch of pictures before scuttling away—"At least ask me first," Jay says after her. One day, he ran into Pharrell Williams on his way to store his paintings. On catching a glimpse of the work, the Ambassador of All Things Cool shook Jay's hand. Jay says, "I didn't sell anything that day either, but I felt like I had a million bucks in my pocket."
There is room here to speak about the context in which art is encountered sometimes outweighing the merits of the work itself and to cite such examples as world-class violinist Joshua Bell posed as a busker in a DC subway and was largely ignored by the passing crowd. In the art world, anything is more likely to sell when pinned up on a clean white wall, as was the case when Jay's paintings were featured in the Dorian Grey Gallery a month ago—but all of this is secondary. For one thing, a gallery is a destination, one to which people arrive with the intent to view—if not buy—art. But the sidewalk? Not as much. For a second thing, Jay is not a world-class painter and doesn't pretend to be: much of our conversation veers to what he has not done yet, the types of paint and surfaces he hasn't figured out how to manage: silk-screening, sculptures, jewelry, metalwork. He mentions all of this with a happy resignation—he has no choice but to follow through. From his bag he pulls out a wooden block, about an inch thick, whittled into a fleur-de-lis on one end. The shape of a heart has been carved out of its center, around this, the letters L-O-V-E. He places it to the center of his chest. It's a bit like an x-ray.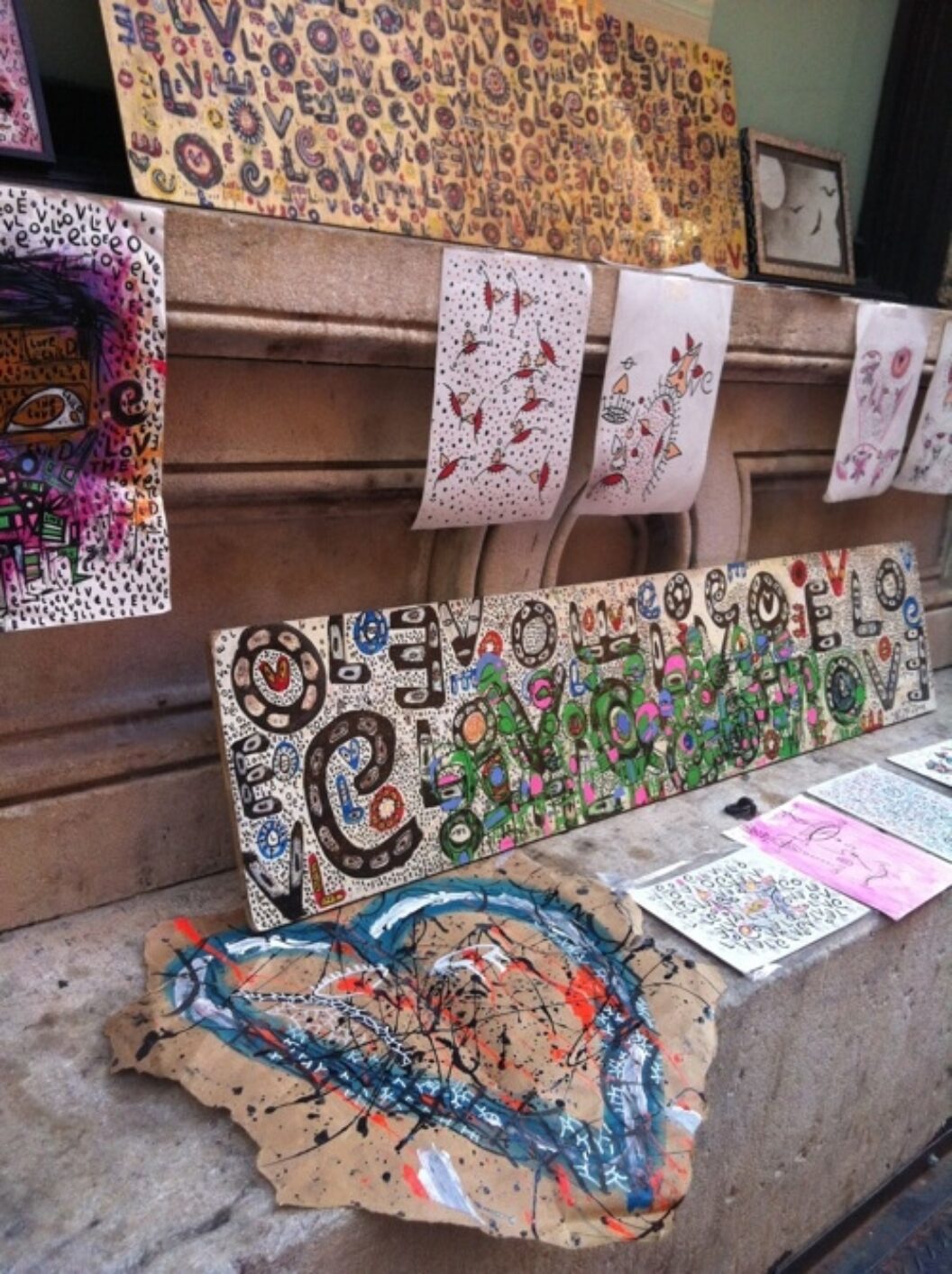 A Sequence of Happenings Through Following the Love Child In Which The Time Stamps Should Not Necessarily Be Trusted
6:40 PM—Jay starts packing up and since I am there to help carry everything, does not have to make the usual two trips. Natalie is gone by now.
6:53 PM—We arrive at the warehouse storage facility near the corner of Varick and Spring Street. Standing on his tip-toes, Jay stores his pieces on top rather than inside the lockers. One of the building managers tries to sell him two frames left behind from another storage unit. Jay promises to return tomorrow to leave a down payment. The frames are square and almost as wide as his outstretched arms, paintings still hugged within them. These paintings he plans to paint over.
7:25—Return to Prince Street. Return-route is different from departure-route and allows for some minor stops including a window peek at DTR Modern Galleries to see what is up; a stroll past the Ralph Lauren store to see if a girl Jay has a crush on is working at the moment (she's not); and the phone booth on which there is indeed a wooden frame hiding in plain sight.
7:30 PM—Arrival at the Apple Store Jay normally visits in order to check his email and make whatever phone calls he needs to since he does not own a phone. He is a fan of the iPhone and is willing to trade a painting for one if anyone has an extra. Jay calls his mom, an ex-girlfriend, longtime friend and artist Sidi, and short-time friend and artist Gazo while I talk to Siri. After, Jay joins the conversation: "Siri, did you know Steve Jobs"—a pause—"is dead?" Siri does not understand.
8:21 PM–2:03 AM—Closing Reception at Pips in Brooklyn for the LINEJAMS exhibition by art group dacops, followed by general shenanigans. Pips is a cool discovery featuring ping-pong and a pay-what's-fair policy for the beer. Tonight the organizers are blowing up grey man-shaped dolls and letting whoever wants to to decorate them with black electrical tape. Jay wants to. He goes about taping up one of the dolls as if applying Band-Aids; little else exists until he is finished. The final product is adorned with an X and over-sized T for eyes, horizontal stripes along its limbs, a huge heart on its chest on either side of which are L and V and, on the back, a huge E. His newfound partner-in-crime becomes the inanimate life of the party after Jay leans it against one of the tables with a paddle propped against its arm. He laughs: Kee-hee-hee-hee-hee-hee.
2:03 AM—Jay and doll head out for the night. At some point along the way he further outfits it with a torn-out centerfold from a Playboy magazine and asks passersby if they are "Looking for a good time tonight?" By half past five we are hungry. There's a burger cart on Bedford between 2nd and 5th. They're mad good.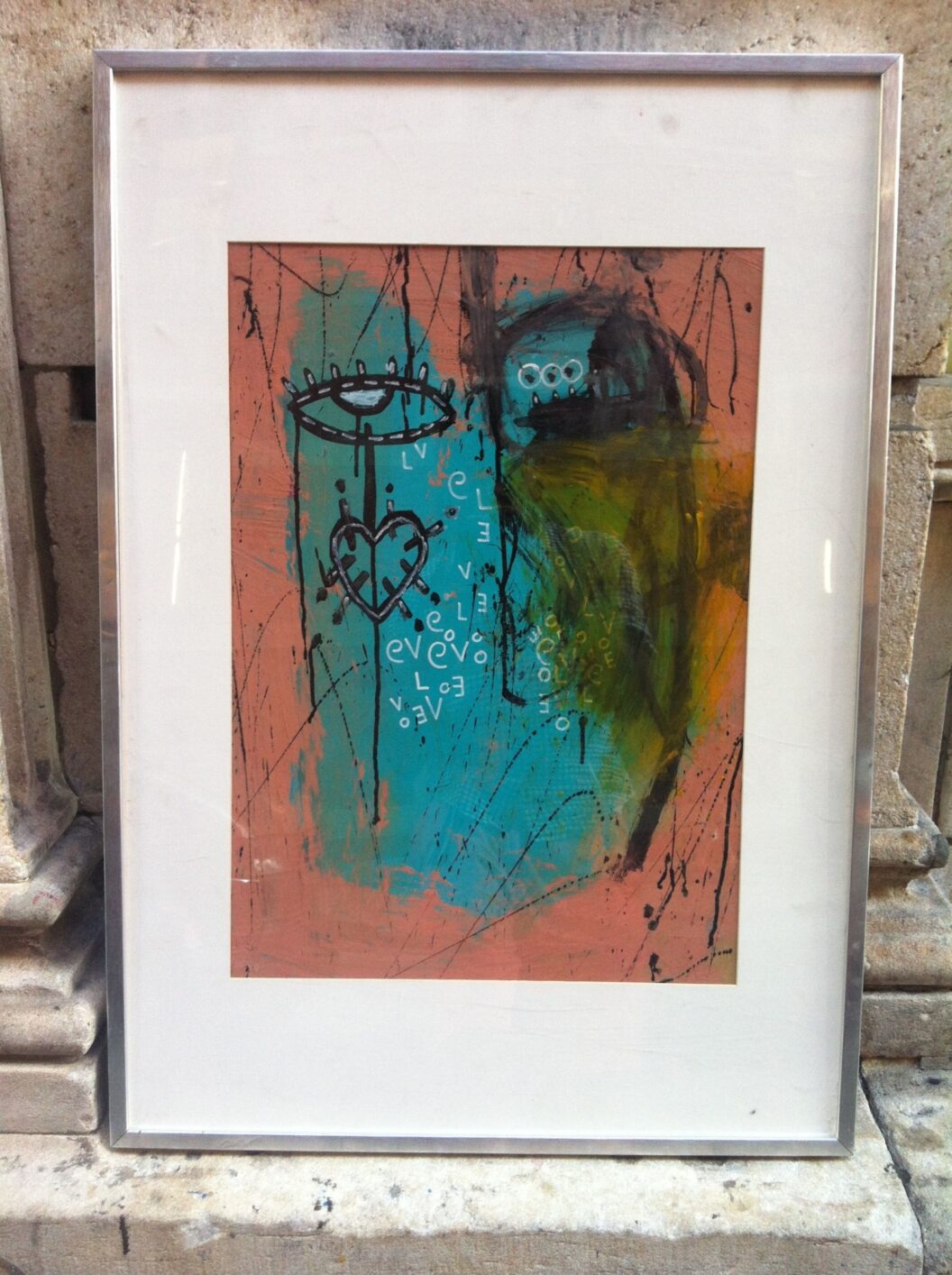 Darwin Needed Hugs Too
When I meet up with Jay the next morning in Harlem it is to browse the Studio Museum, where the Caribbean—Crossroads of the World exhibit elicits lots of nods of approval. Then, just after 4 o'clock, he splits. His way of parting ways is through a firm clap of hand and a shy turning away of gaze.
The Love Child was so dubbed by a friend, artist The Me Nobody Knows, aka TMNK, aka Nobody. "The letters spell words my family never said to me," he says about the word "love" in his work. He doesn't want to be scared to say them to his own children one day.
The pleasure found in repetition is also the danger. Unlike a spoon, an abstraction like love has no existence beyond the word, or at least that existence becomes more and more insubstantial without a way of sharing it. It can be uncomfortable to read the word Love, but it is important that it retains its meaning, and there is the risk in Jay's work, because of repetition, of that being undone. It is hard not to like him, but if you did that could be the reason why. Yet something else happens when you see his paintings gathered en masse, or you stare at one for a while, or you watch Jay start a conversation with a stranger on the subway, which is that the meaning comes back again and this time it's stronger, like how a relapse of the flu is always more terrible than its first incarnation. There is a change that you remember to take it seriously.
When I point out another word the scattering of his letters could also spell, The Love Child nods in agreement; he's noticed it before.
"If you hate something you're going backwards," Jay says. "When you love is when you evolve."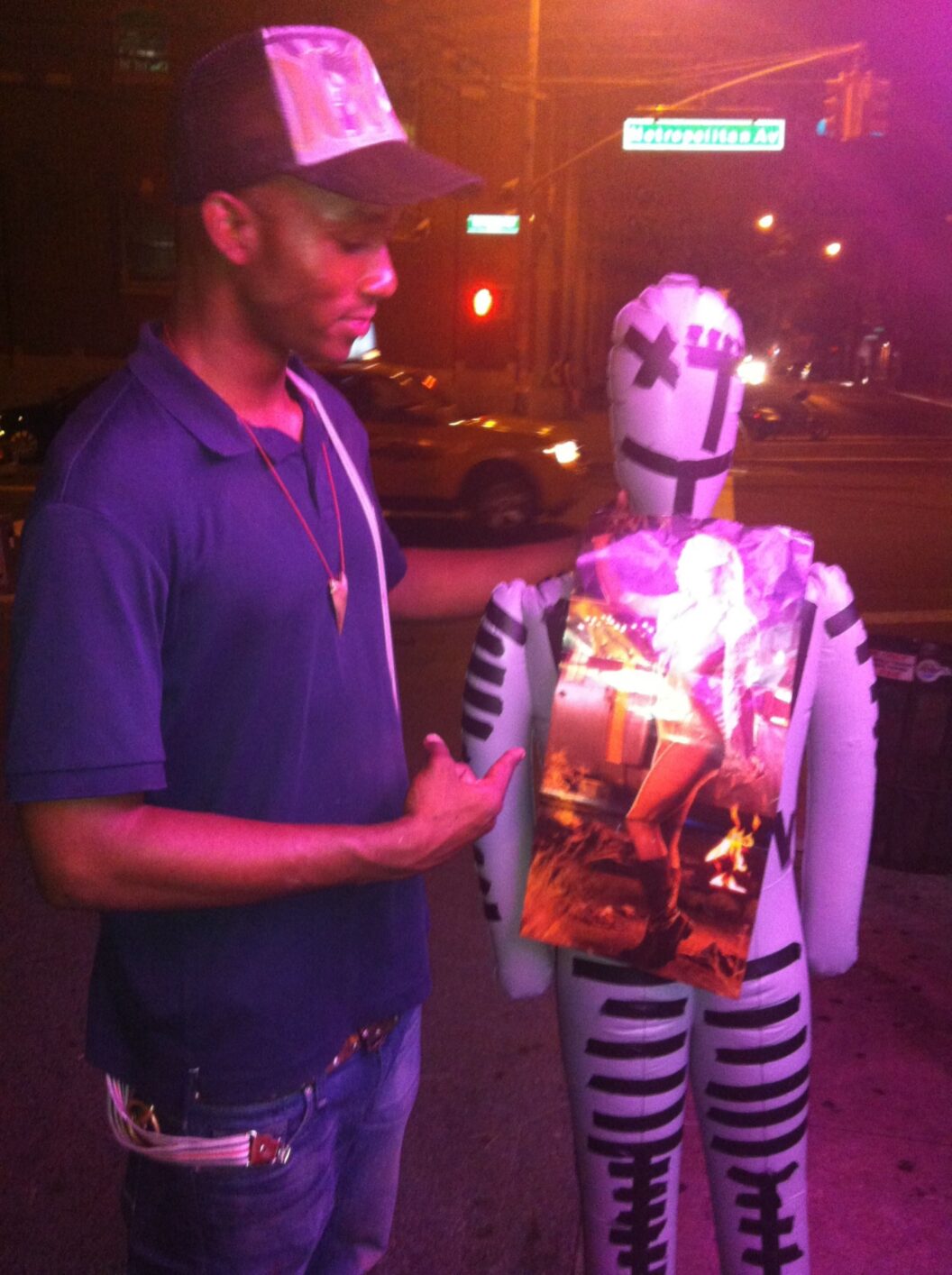 Eskor David Johnson is a writer and artist from the twin island Republic of Trinidad and Tobago. He is left-handed and talks in his sleep, according to others who are awake when he is not.