Simultaneities: Beatriz Cortez Interviewed by Rafa Esparza
Sculpture inside and outside the institution.


Discover MFA Programs in Art and Writing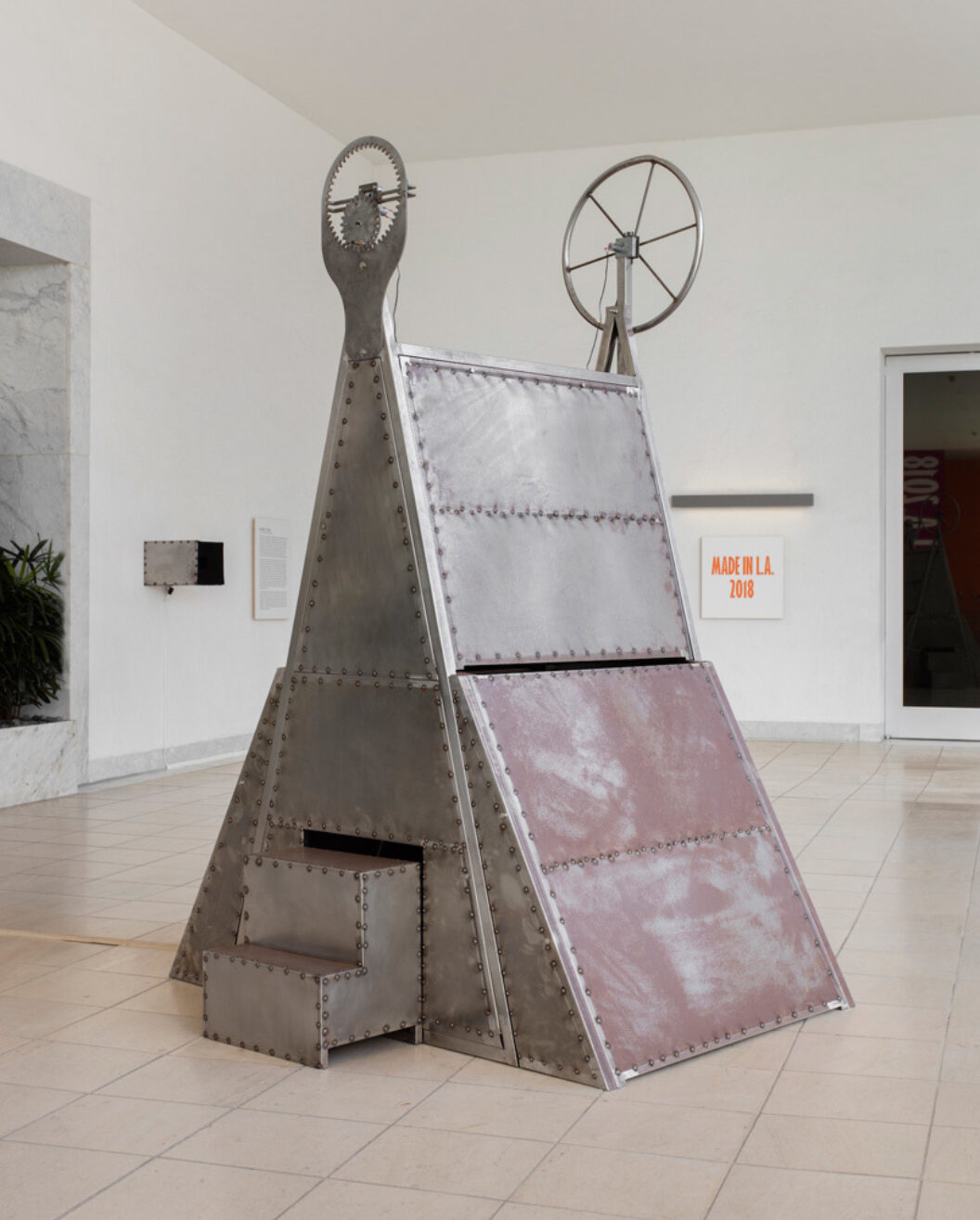 Beatriz Cortez is a Los Angeles-based artist and scholar. She was born in El Salvador and has lived in the United States since 1989. Her work explores simultaneity, life in different temporalities, and different versions of modernity, particularly in relation to memory and loss in the aftermath of war and the experience of migration, as well as in relation to imagining possible futures. Cortez and I have collaborated on several projects over the last year. I talked with her about her participation in the Made in L.A. 2018 biennial at the Hammer Museum in Los Angeles; her simultaneous installation at the Bowtie Project, commissioned by Clockshop; and other musings about her work.
—Rafa Esparza
Rafa Esparza Hi, Beatriz. I'm very happy to get to talk to you about your latest projects for Made in L.A. 2018 and for Clockshop's Bowtie Project. Many people are anticipating the biennial for various reasons, an important one being that it coincides with the first term of 45's presidency. Can you tell me what it was like to receive the invitation to participate in Made in L.A.?
Beatriz Cortez Hi, Rafa! Thank you for taking the time for this conversation. You know I love talking and thinking together with you.
At first, when I received curator Erin Christovale's call, I was happy; but I did not realize what it meant until a bit later when it dawned on me that I was the first Salvadoran artist invited to the biennial, in spite of the large number of Salvadoran people living in Los Angeles today. This made me feel a sense of responsibility. At the same time, as you know, my work takes a critical stance on nationalism, and so I felt it would be important to make art about my own experience as a Salvadoran immigrant living in Los Angeles, but abstracted and open so that people from all over the world can relate to the work. 
At the same time, I felt calm because you had done this before me. You had participated in the previous Made in L.A. with courage, intelligence, truth, and grace; you had talked about being a brown artist, about the organic matter that makes up our bodies and our environment, about queerness and undefined identities, about love and generosity. And in spite of all the difficulties of making work like this within art institutions, you did it. I carry your experience in my pocket, like a talisman.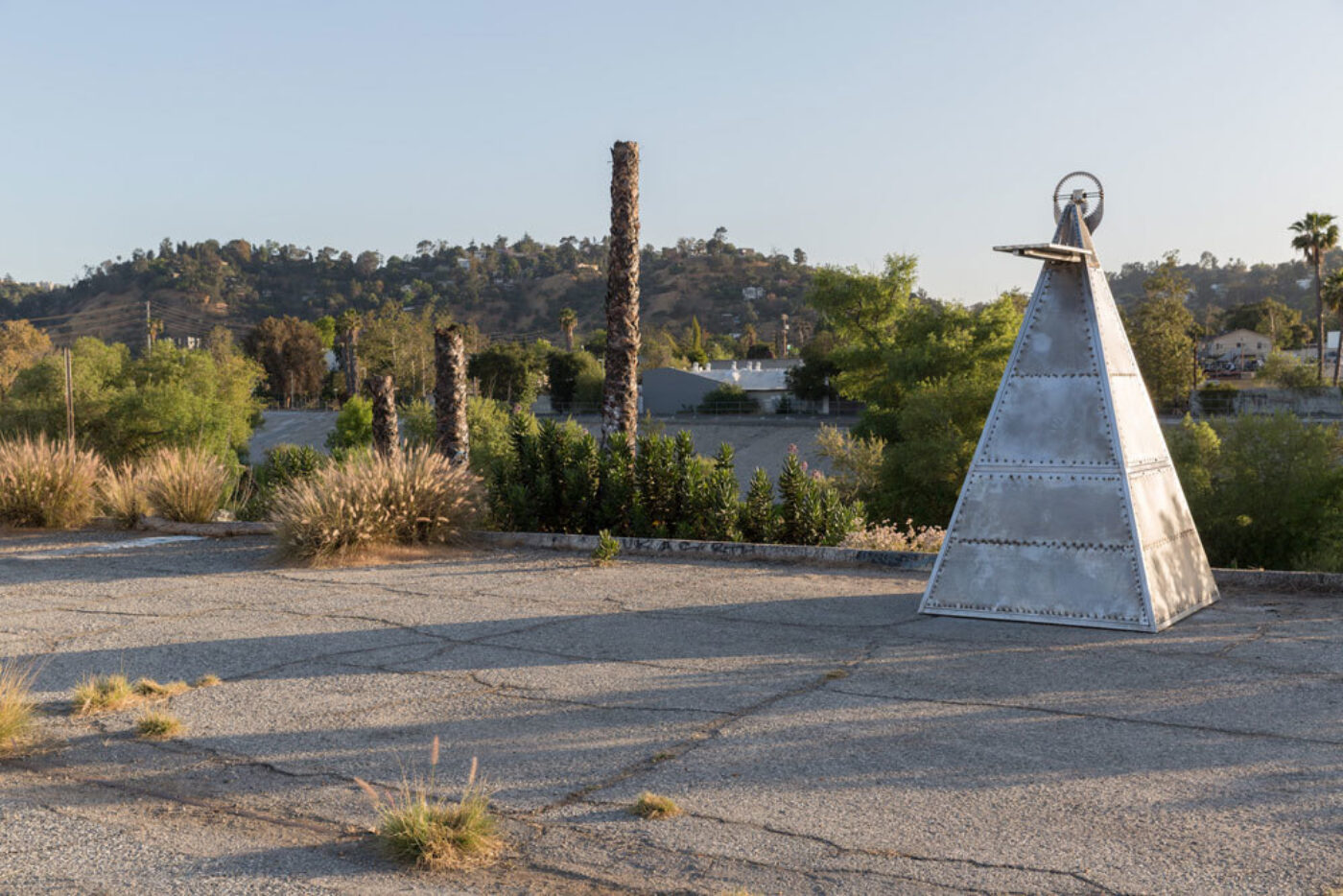 RE Your words are humbling—thank you! You too, Beatriz, aside from being a great friend, continue to teach me so much about dreaming, imagining, and making. I cherish our memories of collaborating. I'm curious to learn more about the ideas and your process behind this new work. I know that time, speculative spaces, memory, and the non-human become important factors in the synthesizing of thoughts and ideas. Can you describe what is inspiring your contribution to Made in L.A.?
BC I am very excited because my work is divided between two locations, the Hammer Museum and the Bowtie Project, which is a raw industrial site adjacent to the Los Angeles River and a partnership between Clockshop and California State Parks. It's also a place where you have made work. Working with both teams, in these very different spaces in Los Angeles, has been truly wonderful. 
The work at both the Hammer and Bowtie is called Tzolk'in (at the Hammer it is also accompanied by Piercing Garden [2018]). It is about simultaneity, an experience that is one of the gifts of immigration, about being in different places at once, moving back and forth through space and time, through different types of modernities. Tzolk'in is also based on the 260-day agricultural calendar created by the ancient Maya, and on hypocycloidal motion, which is at once circular and linear. It is about the very different experiences that people in this city have, some of them protected by institutional space, some of them pretty much surviving on their own. It is about families that are divided by borders, and their efforts to establish real and imaginary communication systems sustained by love.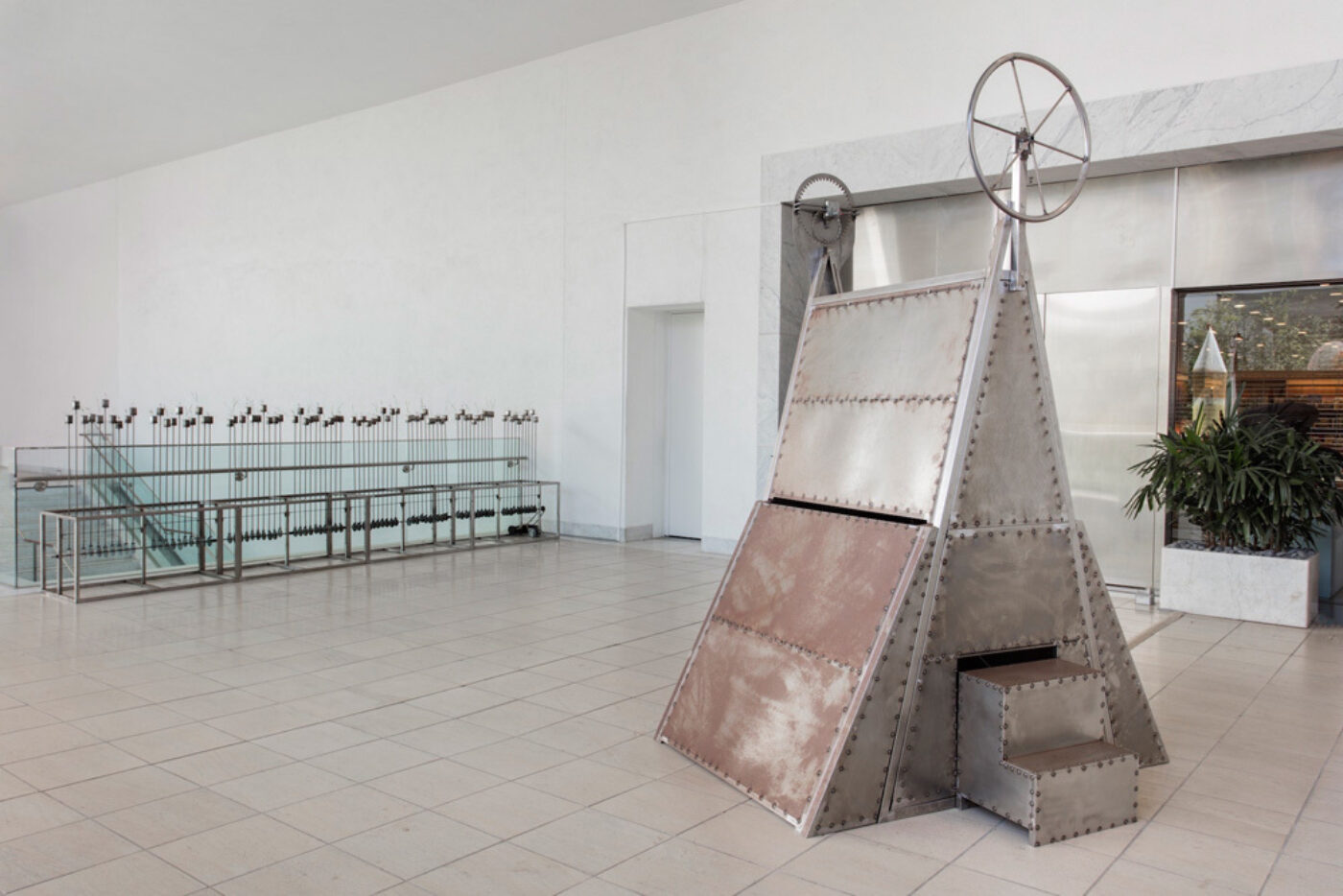 RE The manner in which you immerse yourself in a project is amazing. It is conceptually rigorous and deeply researched, as you learn the mechanics of building things, whether a space capsule, a garden, a time machine, or a kinetic body of sorts. What about this kind of leap into an unknown is important to you? I see evidence of it in the way you've taught yourself to weld—for instance, in your sculptures—where holes for screws don't meet up, and we find zip-ties in their place instead. It's fitting that you're working at Bowtie Project as you're thinking about institutional space—how it is governed and maintained as well as more open, public space, less tethered to an institution, and with its own system of survival, its own ecosystem … dare I say a freer space, a wilder space? I just learned recently that a lizard at the Bowtie Project parcel has been observed to be genetically isolated to exist only there. That's pretty wild, que no? It's beautiful. It's incredible to imagine how the lizard has evolved and survived alongside a vastly man-made industrialized zone. How do you think this kind of simultaneity in terms of keeping time and space transforms the different sites you're working in?
BC I think that my work in many ways is about the resourcefulness of immigrants, our ability to say, I can do this, mostly in order to get a job, and then improvising and figuring out how to overcome each challenge. Although I have never made performance art, my work puts my body through the experience of training myself how to do different types of labor, how to build with rocks, how to weld, how to make a pinball machine, how to program an Arduino, how to make machines. It requires a huge commitment and dedication, but this labor is not about capitalism; it is about the workers that enable capitalism, and it is about joy and pleasure. 
Do you feel the same way about your own process making adobe bricks and later improvising new ways to work with adobe and with dirt?
RE Absolutely! I think that building with adobe is working intuitively and intelligently with land, much like the way you build your structures. It brings a whole set of issues for institutions to consider when one is not building a structure to code. Like fastening steel hexagon ceiling tiles with zip-ties. But it works, because you've tested it and engineered a way to properly secure the tiles, just the way you were building your black lava-rock cairn at the Whitney Biennial. You figured out where each rock should be placed so that the cairn could remain standing throughout the duration of the exhibition. People have been building this way for centuries, and introducing them to these coded Eurocentric architectures creates a friction; but their presence is something larger than this single interaction. Can you talk about what employing these aesthetics in museums means to you?
BC It has been a beautiful experience to try to understand the logic of other modernities through labor. Our building codes in our modernity are not always about safety. As we know, our version of modernity has endangered working-class people, queer people, people of color, women, and all of those who are exploited. Behind our building codes are ideas about efficiency and profit. But there are other ways of building, and I want to listen to the clues left all around us that allow us to continue conversations with other modernities in different temporalities and with different cultural perspectives.
Institutions are less open to these worlds. They are limited by codes and contracts, liabilities and other concerns. But within those institutions there are humans who speak our language, who are time travelers, and who enable the difficult negotiation that makes it possible to open a portal to other worlds within that space.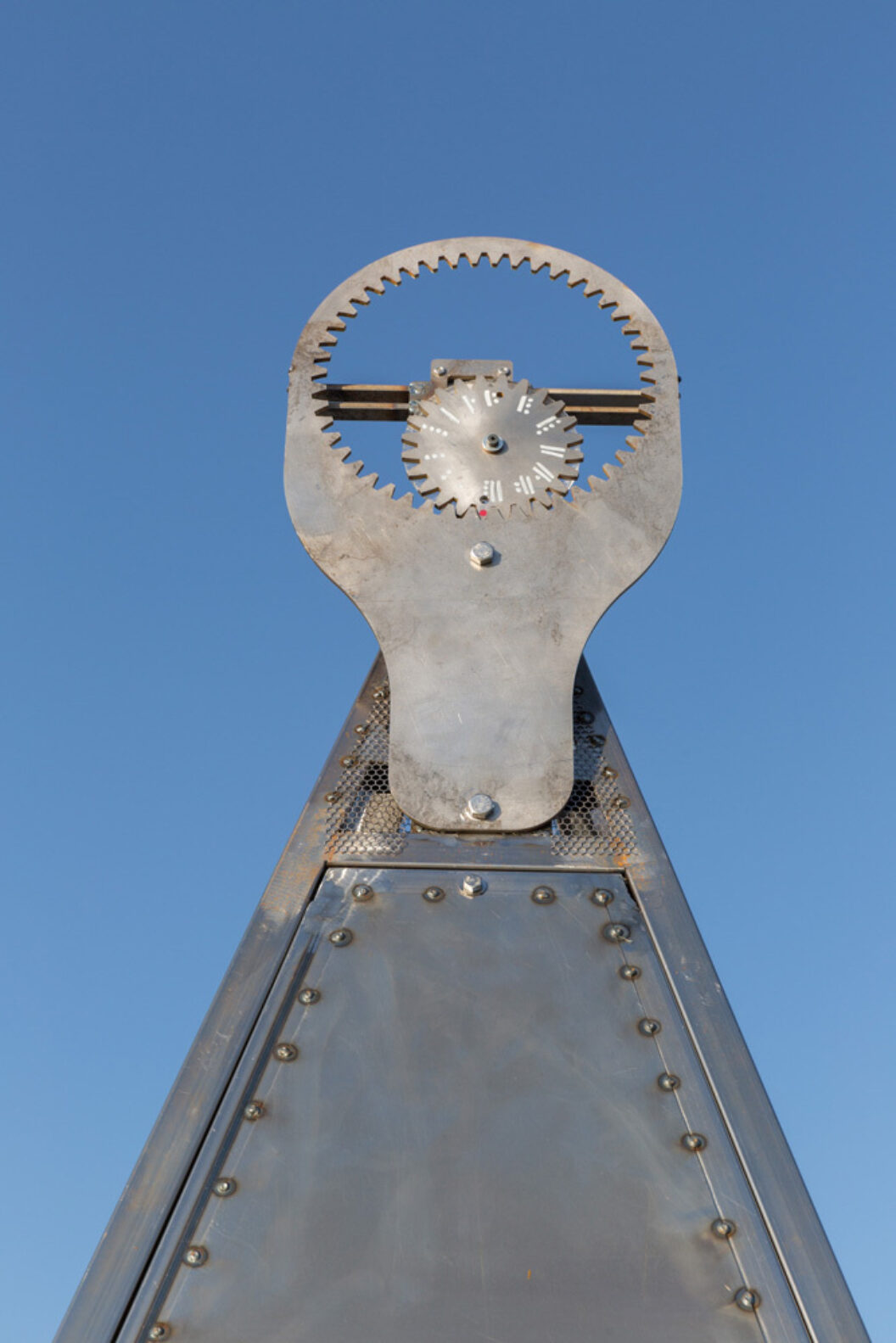 RE I love it! I've been thinking a lot about how you use steel to time travel. Shiny metal and reflective materials along with sharp, curvy objects fill our imaginations of the future. You work with some of those materials, but you complicate them by making them susceptible to moisture—fingerprints will rust them. Because it is raw it can and will all eventually rust. In a future or in a space where no humans exist, what is the hope for these imprints on heavy metal?
BC Like the rock, I imagine steel will become an archive documenting the passing of humans through this planet where we extracted this material from the earth, produced it in industrial quantities, but where someone returned it to the earth in the shape of homes, shelters, and spaceships—machines that are at once of the future and of the past, and that carry the markings of the humans who touched them and the environment. 
Beatriz Cortez's Tzolk'in is on view at Made in L.A. 2018 and at the Bowtie Project until September 2.
Beatriz Cortez is a Los Angeles-based artist and scholar. She has exhibited her work nationally in Los Angeles, San Francisco, Texas, New York, Minneapolis, and Miami, and internationally in El Salvador, Costa Rica, Guatemala, Ecuador, and China. She has received the 2018 Rema Hort Mann Foundation Fellowship for Emerging Artists, the 2017 Artist Community Engagement Grant, and the 2016 California Community Foundation Fellowship for Visual Artists. She holds an MFA in art from the California Institute of the Arts, and PhD in Latin American literature from Arizona State University. She teaches in the Department of Central American Studies at California State University, Northridge.
Rafa Esparza is a multidisciplinary artist who was born, raised, and is currently living in Los Angeles. Woven into Esparza's bodies of work are his interests in history, personal narratives, and kinship. He is inspired by his own relationship to colonization and the disrupted genealogies that come forth as a result. Using live performance as his main form of inquiry, Esparza employs site-specificity, materiality, memory, and (non)documentation as primary tools to interrogate and critique ideologies, power structures, and binaries that problematize the "survival" process of historicized narratives and the environments wherein people are left to navigate and socialize. Esparza has performed in a variety of spaces including AIDS Project Los Angeles, Highways Performance Space, REDCAT, Human Resources, SOMArts, Vincent Price Art Museum, LACE, and various public sites throughout Los Angeles. He is the recipient of a 2014 California Community Foundation Fellowship for Visual Artists, a 2014 Art Matters Grant, and a 2015 Rema Hort Mann Foundation Emerging Artist Grant.