Simone Leigh's The Waiting Room by Terence Trouillot
For her residency at the New Museum, Leigh looks at the act of healing through the lens of black female caregivers, educators, and intellectuals.

Discover MFA Programs in Art and Writing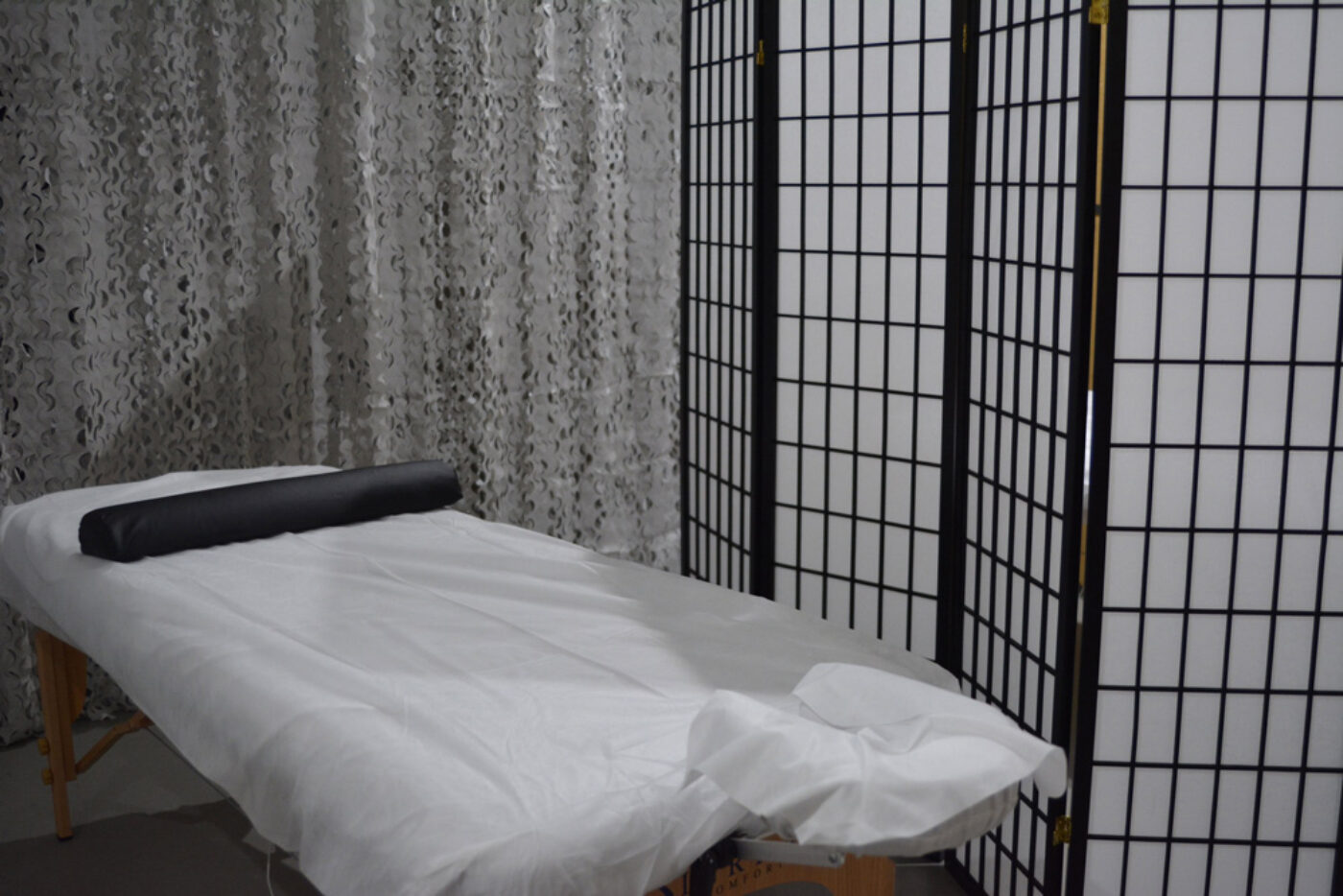 There were needles piercing my lower back, ankle, and wrist while a warming sensation spread all the way to my fingertips. This was just hours after the news of Philando Castile's fatal shooting by a police officer in Falcon Heights, Minnesota permeated the Internet, and only days after the killings of Alton Sterling in Baton Rouge and Delrawn Small in Brooklyn. Three black men in three days… gone, killed by cops. Crushing fear and anger weighed heavy on my mind, and perhaps even more so on my body. It was pure happenstance that I would find myself on a massage table (of all places) and in actual need of soothing and treating a pain that never seems to go away.
This was Julia Bennett's community acupuncture session, part of artist Simone Leigh's newest social-engagement project at the New Museum, The Waiting Room—a series of workshops and "care sessions" focused on homeopathy, massage, acupuncture, and herbalism. The exhibition also hosts a series of lectures and performances by artists and health practitioners on the theme of health care as a human right, the aesthetics of resistance and protest, and black female subjectivity. All these events are open to the public, and most are free.
For The Waiting Room, Leigh draws inspiration from the tragic death of Esmin Green, an African-American woman who waited twenty-four hours in the psychiatric emergency room at Kings County Hospital before she was found dead on the floor from blood clots in her lungs. Claiming that the number one cause of death for black women is obedience, Leigh endeavors to transform the waiting room from a space of compliance to a locus of self-reliance, retaliation, and resiliency. As a result, she sees the act of healing, both symbolic and real, as an act of civil disobedience—a necessity in order to overcome the ailments of systemic racism.
In addition to Leigh's scheduled events, there's an installation that showcases an apothecary inside the resource center of the museum. White sandbags line the back wall of the room and a friendly intern sits behind a desk greeting guests and offering information about the project. The space is surrounded by shelves filled with jars of dried chamomile, lavender, marigold, and other herbs, including an unknown substance the artist procured from an herbalist at the Muthi markets in Durban, South Africa. It's something she calls the "Black-Lives-Matter powder," a medicine Leigh purchased to protect herself from police brutality. When I asked if the potion works, she responded, "That's the problem. It would if I had faith that it would work, but I don't."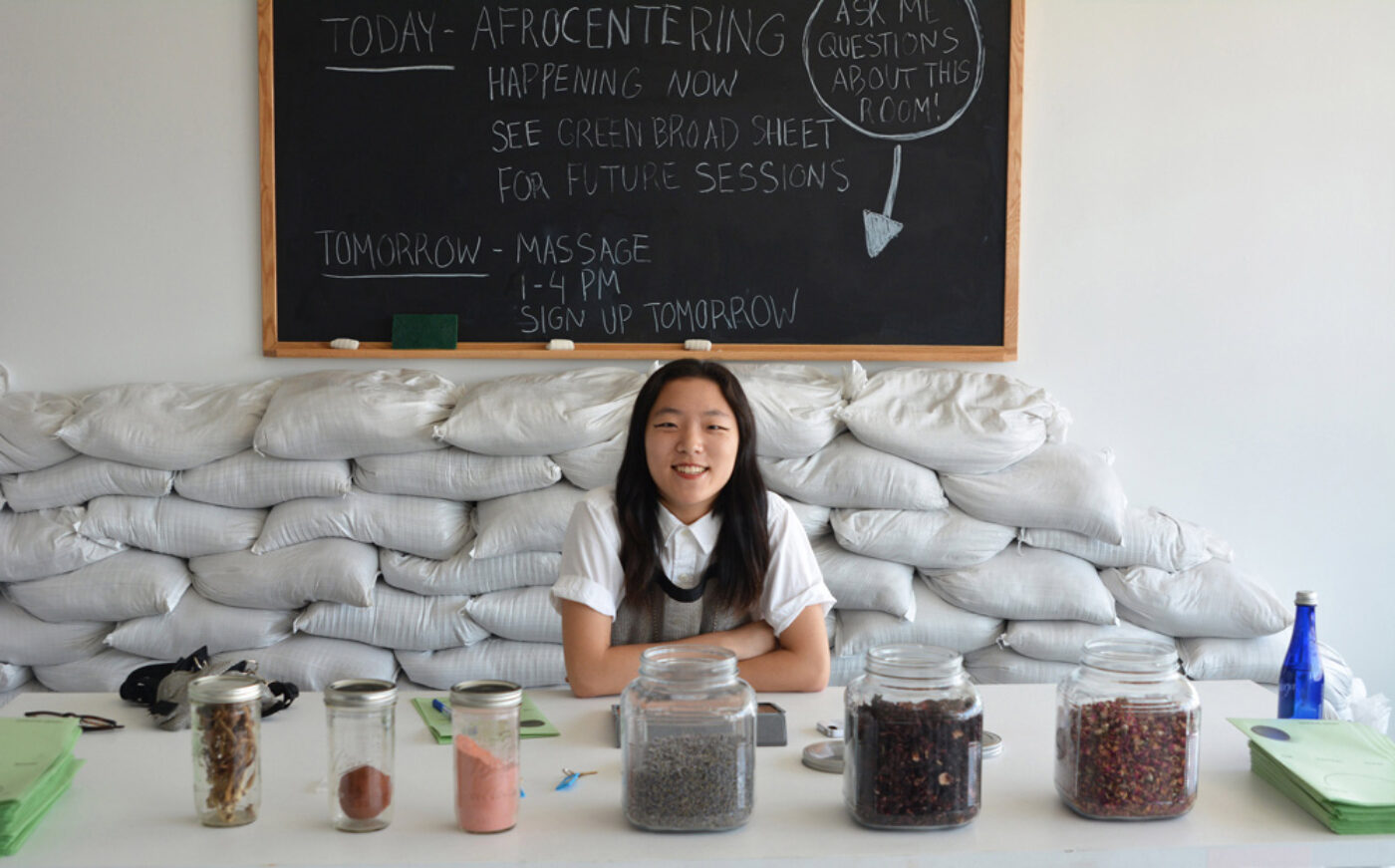 Many share this lack of faith, myself included, especially during a time fraught with uncertainty, violence, and racial discord. My skepticism of the therapeutic effects of the community acupuncture care session, in particular, was palpable. Set inside the gallery were three massage tables sequestered by Shōgi screen partitions and more of those same white sandbags. This New Age medical bunker went black as I closed my eyes and lay motionless for onlookers to see. I had no expectations, nor did I believe I would get anything from it. But here I was, freighted with another slew of tragic events, and getting some relief, at least temporarily. It's certain that each participant had different experiences, but, at the very least, the sessions became a symbolic act of resistance—a collective healing of a shared suffering.
Much like her sculptural work, Leigh's social interventions are wrought with symbolism, rely heavily on historical research, and focus primarily on the African diaspora. For example, the sandbags that line the walls inside and outside the apothecary harken back to the community-based medical efforts of the Black Panthers in the '60s, where black doctors used such materials to thwart police violence at the People's Free Medical Center in Brownsville, Brooklyn. "As an artist, I am interested in symbolic gestures," Leigh told me. This came as a surprise considering that this type of work (i.e. social practice art) is so often measured by its efficacy to make and sustain change in communities. This is not to say that Leigh's symbolism does not serve a social purpose, but perhaps the work gains more traction as performance for social and institutional critique.
As part of a continuation of her celebrated project Free People's Medical Clinic (2014)—a month-long free clinic at the Stuyvesant Mansion in Brooklyn, which is the former home of Dr. Josephine English, the first black female doctor in New York State—The Waiting Room occupies a space entirely different from its predecessor: the art museum. Not coincidentally, and unlike FPMC, this second iteration of her social engagement with health care challenges white privilege distilled within the white walls of an art institution. It calls into question the allyship of upper-class white liberals—meaning, an acknowledgment of their privilege when actively operating in solidarity with marginalized groups of people.
"Black women are the primary audience for my work," Leigh stated at the Creative Time Summit in 2015, and The Waiting Room follows suit. However, the artist makes clear that her intention behind the statement is to reassert the humanness of the black female subject—a cause, she believes, all people can rally behind.
Simone Leigh: The Waiting Room is on view at The New Museum, New York until September 18, 2016.
Terence Trouillot is an art writer, editor, and BOMB's Andrew W. Mellon Fellow for Oral Histories. He holds a MFA in Art Writing and Criticism from the School of Visual Arts and a BA in History from Wesleyan University.