Sight Mapping: Stephen Willats at Victoria Miro by John Beeson
Musician Carl Simmons recorded the album Honeysuckle Tendrals ten years ago, and it has just been released by Sacred Bones Records. Click through to read the interview and to hear three of Carl Simmons's songs.

Discover MFA Programs in Art and Writing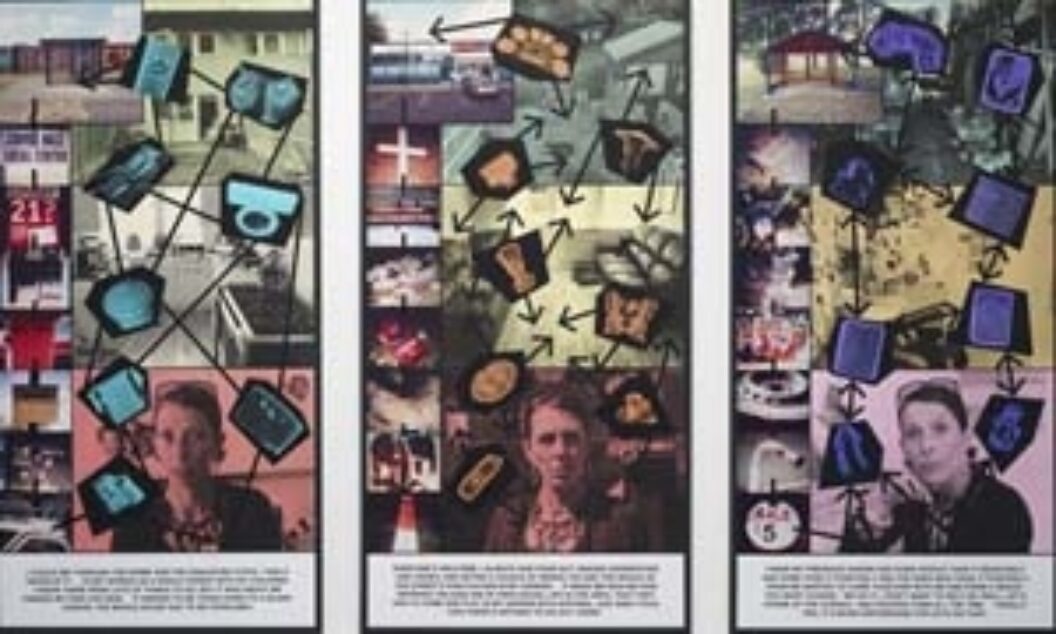 From the outset, this rigorously systematic set of works displays an emphasis on presentation. Image and text are used primarily as signifiers (à la Saussure), illustrations intended to exemplify subjects from real life – people, places, and things – which Willats then relates through the use of diagrammatic elements – arrows, fields, and numeration. These constellations of information lack concrete meanings and instead swell with a turbulent sea of signified meanings. However, the exhibition does appear to have an overarching theme: coupling, which is manifest both in the pairs of people regularly depicted in photographs and in the viewer's process of constructing meaning through interrelation.
THE WORLD AS IT IS AND THE WORLD AS IT COULD BE, an exhibition of new work by British conceptual artist Stephen Willats, now occupies the first-floor gallery of Victoria Miro in London. Integrating bold graphics with flares of text, Willats' mostly two-dimensional works address the world's harsh realities and utter banalities with an even, theoretical attention.
Willats' framed, two-dimensional works – which variously combine photographic printing, photographic dye, acrylic paint, ink, pencil, watercolor, and Letraset text on card – maintain a fresh relation to the practice of collage. Close inspection of their surfaces reveals that diagrammatic elements are hand-painted, a fact that, when taken as an expression of control, resonates with Willats' functional control over the works' meanings. Although representation and narrative exist in these works, collaged elements do not combine to represent the illusion of a space or an event. Willats instead employs the diagrammatic capacity of graphics in order to present an abstract visual groundwork.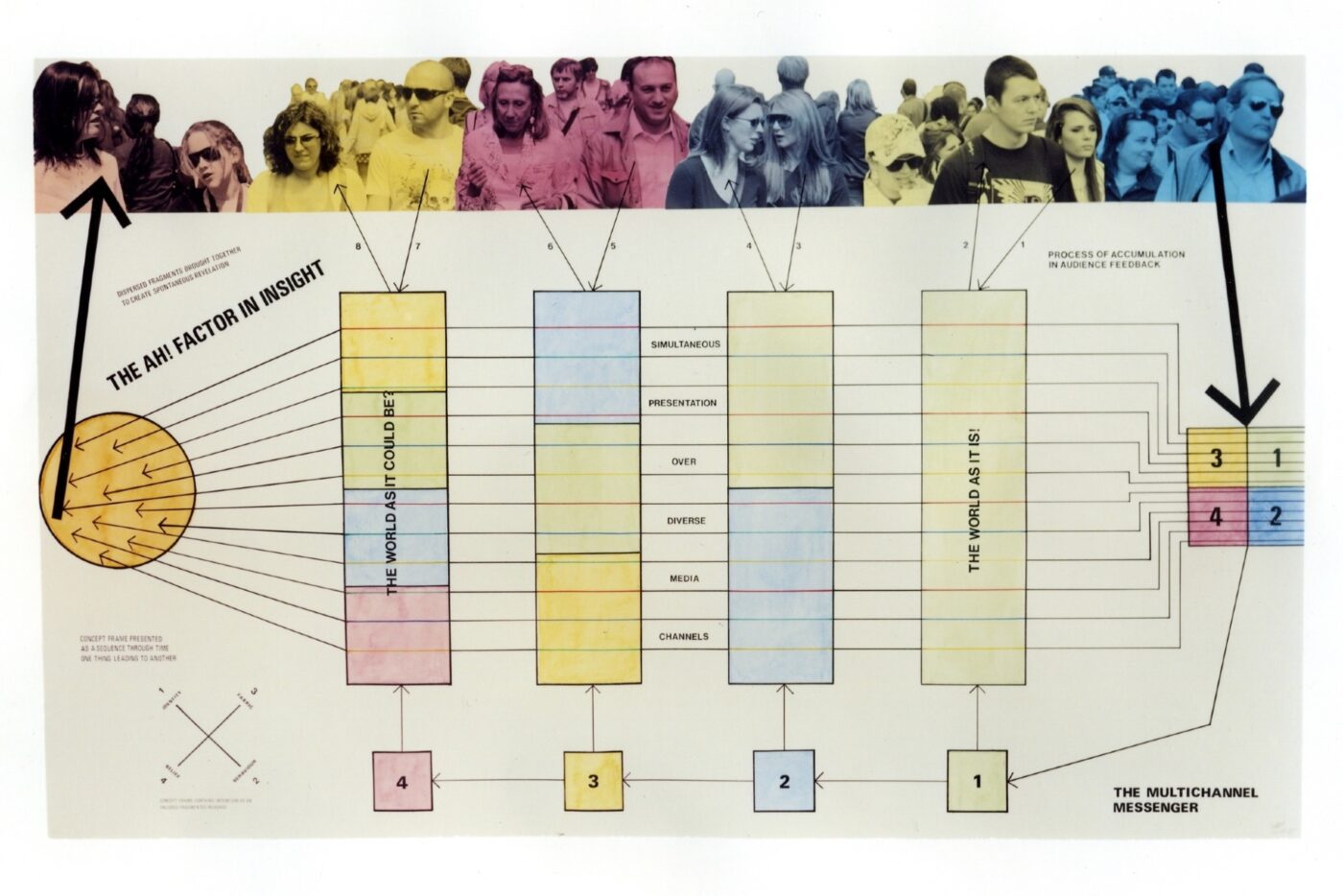 In rare instances, Willats uses forms within his multimedia collages to indicate the philosophy underlying the work. A cloud of text floating near the top left corner of The Multichannel Messenger seems to explicitly describe the artist's methodology: "DISPERSED FRAGMENTS BROUGHT TOGETHER TO CREATE SPONTANEOUS REVELATION." But, viewers may ask, what form do these revelations take, and how can we believe that any of our understandings coincide with what is true in reality or was intended by the artist? For example, to what extent does Willats' mode of proposing meanings – relating the word "newcomer" (or "boss" or "lover") to an individual through a straight black line or arrow (as in Cybernetic Still Life) – serve to characterize the individual depicted? Does this method use the subjects it purports to describe and individualize as anything more than stand-ins?

In a work such as Starting Afresh With A Blank Canvass, the fields of images and texts in combination with the artist's particular aesthetic results in the creation of what could well be called a "habitat." In all three panels of the triptych, the subject, a poor woman living in social housing, is shown within a photographic patchwork of the objects that populate her real life environment. To the right of the panels, a small monitor shows a series of close-up views of objects in a short video. Since the credits read, "Film by Lisa Banks," one can guess that the woman depicted in the panels actually created the film. In fact, collaboration is a regular part of Willats' working process: he is committed to involving in the production of his work both artists and non-artists from the communities on which he focuses. In this way, his projects represent inside and outside perspectives simultaneously – or, a constructed objectivity to counteract his own subjectivity.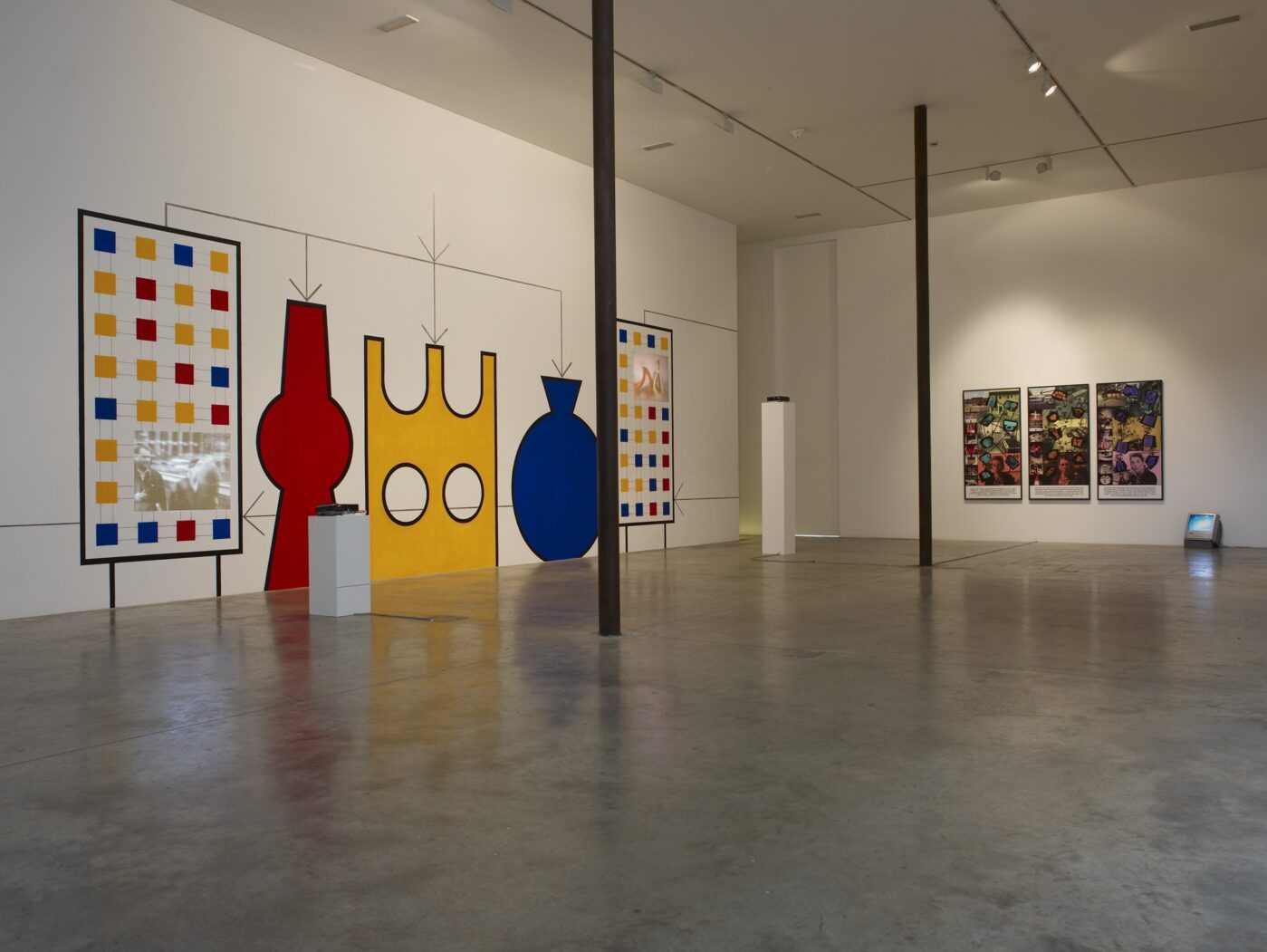 What is particularly inspired in this relatively simple and straightforward arrangement of works is the way in which Willats integrates video. For example, in the wall drawing Cybernetic Still Life No. 5, the projected videos literally fit into the wall drawing, acting as graphic elements—positive visual material filling negative space left in the composition. This is similar to the way in which he uses images, texts, and diagrammatic elements elsewhere in the exhibition. It is not immediately obvious what the central red, yellow, and blue forms that dominate the composition of the same work represent, but they relate abstractly to the modern apartment buildings and vases repeated in other works in the exhibition. Apartment buildings and vases both act as "containers" in one sense or another, and their potential subjects of containment resonate with the model of coupling and its ability to capture information systematically.
The works in THE WORLD AS IT IS AND THE WORLD AS IT COULD BE can be conceived as societal models – that is, artistic constructs that mimic societal systems, rather than traditional utopian visions. In the past, Willats has acknowledged that an interest in cybernetics and information theory underlies his substantial body of work. These recent works evince that, over the course of five decades, the artist has maintained the clear-headed ability to create work that conveys an air of the assorted logics and aesthetics characteristic the times in which he has worked. At Victoria Miro Gallery, viewers are invited to walk delicately along the tenuous webs of information that speak to a scene greater and more mysterious than its specific parts.
THE WORLD AS IT IS AND THE WORLD AS IT COULD BE is on view through June 12 at Victoria Miro Gallery, London.
John Beeson, a critic and curator from New York City, is currently living in Germany. His interests include art of the '70s, experimental printmaking, and contemporary art.