The Malian songwriter on the origins of his hypnotic desert blues.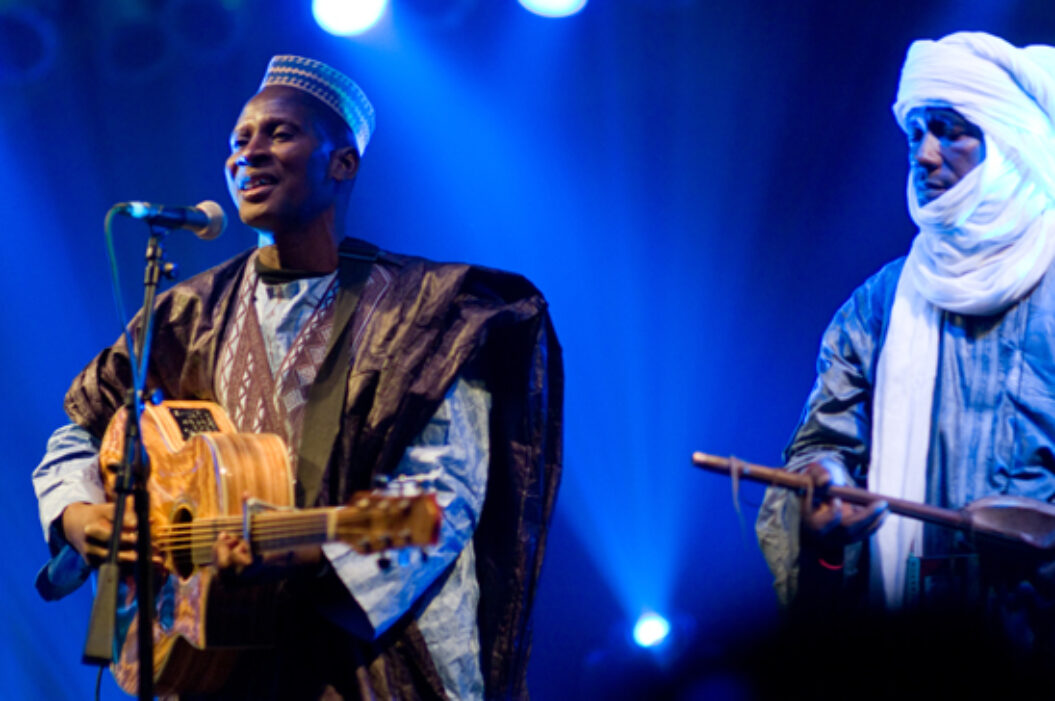 Through email correspondence and transcontinental translations, I was able to interview Sidi Touré about his new album, Koïma, as well as get some answers about his other musical endeavors and his personal life. Though I never got to meet or speak to the man himself, there was something about this virtual conversation that seemed appropriate; regardless of our locations, we were able to exchange thoughts and musings almost effortlessly, conquering distance in a way. To me, this is exactly what Sidi's music does: although his style and musical traditions are from a culture very distant to ours, his albums travel well, hinting at a lost familiarity.
In Koïma, out April 17, one can hear how much American music is subtlety influenced by Sidi's native style, and vice versa. In anticipation of this conversation, I listened to the album countless times, marveling at the intricacies and beauty of the Songhaï tradition that Sidi is so well-versed in. I wanted to know more about the man behind the music; I wanted to learn more about the genre and the legacy that he is building on with his contributions. Writing back, he delved into his history and roots, enlightening me as to what exactly I was hearing while listening to his record.
Ethan Harfenist Although you are experiencing a new spike in popularity, you have been very under the radar for most Western audiences for the bulk of your career. How has this new international interest in your music affected you?
Sidi Touré This is very satisfying, a great joy, especially when you see the amount of Malians artists who remain in the shadow. I'd like to take the opportunity to thank Covalesky, my producer, Thrill Jockey, my label, and Mel Puljic, my U.S. booking agent, for believing in me.
I'm very proud of the work I've done. People often think about money first. I think about the work first; only work ennobles you.
EH Can you tell me about the Songhaï folk tradition? How has your music expanded upon it?
ST The Songhaï folklore is a never-ending source of inspiration; I could talk about it for hours. There are so many things to say, so many styles of music.
The Takamba is one of the most famous amongst them. This is a music we share with Tuaregs. It is played with traditional guitar, the kurbbu, with a calabash and a singer. This is a music that is becoming more and more popular in Mali in recent years, with many playing it now.
Another famous Songhaï rhythm is Gao Gao. Only women play the violin in Gao Gao. Incidentally, I'm sad to say there is only one woman left who can truly play Gao Gao, a woman who does all she can to teach young girls, but was unsuccessful until recently. This is a gem that young girls are letting disappear. The violin is accompanied by a calabash immersed in a bowl full of water that we hit it with a wooden stick wrapped in a fabric. It's our Songhaï bass drum!
One of the greatest Songhaï musical styles is the Holley. It is usually played with a traditional violin with several calabashes that, this time, are struck by several sticks linked together, very similar to modern drum brushes (we often wonder if they originated in Gao … . ). This is a trance music, dancers can be possessed by a djinn and talk on its behalf.
I was one of the first who played Holley on a modern guitar; that was what interested me, to reinterpret tradition. For example, Tondi Karaa or Aïy Faadji are typically Songhaï, but the rhythm and the melody is a little bit different, perhaps what people choose to call the blues?
EH Can you tell me about your relationship with Ali Farka Touré? Did Ali have any profound impact on your career musically or otherwise? Did he help pave the way and condition international audiences to appreciate your brand of folk?
ST We had just celebrated his death a month ago during a party organized in front of his house by his son, Vieux. Someone asked me what my memories of him were. I said that I remember a humble man, who liked to share, who was attached to his culture. In spite of his success, he always talked about Mali and his native Niafunké.
When he came to Gao to play, before his success, he never came without asking for me to play with him. I pray for him. He was a great man who shined a spotlight on Mali and Africa in the whole world.
EH I've read about your royal lineage in Mali, how music was viewed in your family as a sort of "inferior" career choice for someone with your name. Does your music represent a kind of rebellion against your family? Or cultural expectations?
ST Indeed, my elder brother, who was a teacher, thought that being a musician was not a good job, but he understood, and my family too, that it was a job that can feed a man, that was a noble job.
It was not rebellion against my family or the society. I only followed my own way, even if I had to fight to do so.
EH Sahel Folk has a completely different vibe then Koïma. Not only did you drop the "and Friends," but the sound is much more polished and more focused. How drastically did the recording processes differ with these two projects?
ST Sahel Folk came together last minute. With my producer, we brought a small studio setup to the heart of the Songhaï culture in Gao. I invited artists who were friends of mine. We talked over tea, took our instruments, played one or two songs, and then recorded. Koïma is different. It is a more thought out work. I chose the musicians; we rehearsed, worked at the French Cultural Center and then recorded in a studio in Bamako.
Moreover, in Sahel Folk, there are only guitar and traditional instruments, kuntigui (one-stringed guitar) and kurbu (three-stringed traditional guitar), in Koïma, we have two guitars, rhythmic and solo, a calabash, a bass and backing vocals.
EH We always hear the term "blues" being tagged to your music, Ali's music and many other West African strummers, particularly out of Mali. I never understood this label. Can you explain why your music is classified as "blues?"
ST Folklore from Gao is neither blues nor jazz—this is an appellation from Westerners. Ali Farka Touré himself didn't agree with this appellation, nor do I.
But I take the opportunity to pay a tribute to Muddy Waters, B.B. King, John Lee Hooker, etc. If we talk about blues we talk about these people. Their ancestors left
Africa and, in order to not forget, they created this music and this music is an African music, we named it blues.
When I recorded Ir Kagay Alada, people told me about John Lee Hooker and Boom Boom, indeed I listened to his song and there was a strong resemblance, though I composed this song before listening to a note of his… When you listen to "Tondi Karaa" or "Kalay Mako," you hear the blues, it just means that this music comes from Africa.
EH Are there any other musical traditions that have influenced your music? I've noticed tiny little hints of Gnawa in some places …
ST It is totally normal! Originally Gnawas came from Nigeria; in Nigeria they do Holley, voodoo music. I play Holley. When I performed in France, I met Gnawa musicians, they proclaimed their African origin. They are my relatives, and, like me, they do "possession" (trance-inducing) music, as well.
We share a lot of things with Tuaregs, like the way we play music or the way we dress. It is hard not to meet a Tuareg that had not been breast-fed or brought up by a Songhaï woman, and the reverse is true. This is one of the strength of Mai, the multiculturalism.
EH Koima's title refers to a natural desert landmark in Mali, where a pink sand dune meets the banks of the Niger River, and the word literally means "go hear." What is the spiritual significance of this place for you?
ST "Go hear the sound of wizards;" that is what it means! Every great wizard of this world came every night on the Koïma dune and left in the late hours—this is reality. For Gao, this is an essential place; we can see it from everywhere. This is a mysterious place. I invite everyone to come to discover it! When you see a dune with its head in the sky and its feet in the water, water that cannot engulf it, it means that it is a great place.
EH Do you listen to much current American rock? (If yes) It's clear that some musicians nowadays (such as Dave Longstreth of Dirty Projectors fame) has incorporated aspects of Songhai finger picking into his music. What does the incorporations of these West African ingredients mean to musicians like you?
ST I listen to a little bit of American or English rock. I have cassettes of The Beatles, The Who, Dire Straits, Pink Floyd … This is a music that can inspire me to play differently.
It is fantastic if musicians love Songhaï music and use it in their music; it confirms the strength of African music. Incidentally, I hope one day I will play with an American or European artist on a future album. It would be a great pleasure.
EH What is the future looking like for Sidi Touré?
ST It is a promising future! Koïma will be released soon, and then we will tour North America this summer. It's very positive. We mustn't put the cart before the horse, we have to carry on working and time will tell.
Koïma by Sidi Touré, is out April 17.
Ethan Harfenist is host of the WCNI radio program A la Vodka.