Discover MFA Programs in Art and Writing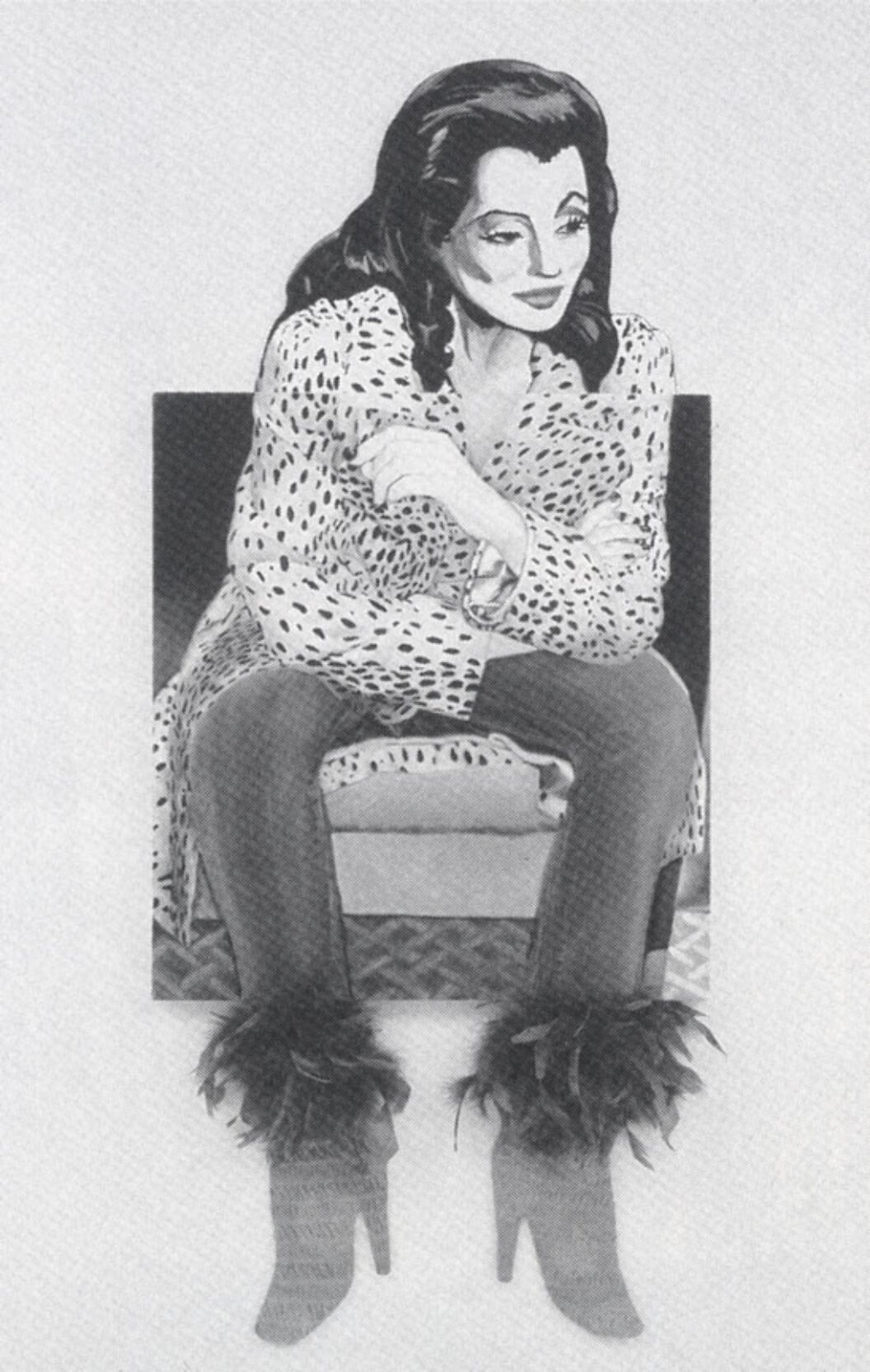 Here's a parlor game the surrealists liked: fold a paper several times and make a drawing on the top fold. Then fold the paper so that your drawing is hidden and pass it to the next player, who adds another drawing, fold again and pass to another person, and so on. Unfold the paper, et voila! You have un corps exquis, or exquisite corpse, a nonsensical image comprised of unrelated parts that the surrealists credited with revealing a collective unconscious.
Shonagh Adelman owes a debt to surrealism, though not simply the obvious stylistic one. True, her recent paintings resemble exquisite corpses, combining two or three different media in one image. Carefully rendered oil paintings are grafted to cartoon drawings above and fabric cutouts below. The subjects, however, are consistent: each an idealized woman created by the same skilled, dextrous hand. Adelman's women process divergent ideals of feminine sexuality, creating a unified image from appropriated fashion ads, hypersexual Japanese manga comics, vintage pinups, and—somewhere in the mix—personal experience. The results are as sexy as a cosmetics ad and as gruesome as Frankenstein's monster.
Adelman's sexy monsters are identified by name. Soft girl-next-door Gabrielle: a tenderly painted torso in sweater and silk panties between a black-and-white Betty Grable head and exaggerated Blondie Bumstead pumps. Tough girl Ines raises a quizzical eyebrow as she sits in a Cruella DeVil dalmatian-pattern coat and boots with tufts of real purple feathers. The black-and-white face of cover girl Saline focuses on the task of painting her nails, oblivious to the voyeuristic desire aroused by such private girlish moments—her pink skirt is suggestively bunched between her open legs in a vaginal fold so subliminal it could only have been planted by a Madison Avenue team.
The illusion of three-dimensionality is confounded by the two-dimensional elements appended above and below each painting. With this dimensional juxtaposition the paintings take on an almost sculptural presence. Last year, Adelman showed realistic paintings of dolls' faces with actual doll bodies dangling below. The artist's most subtle debt to surrealism lies in her disjuncture of the picture plane. Her style, sources, and subjects put Adelman on painting's cutting edge. It is her subtle conceptual play that reveals a critical mind at work.
—Grady T. Turner
Originally published in
Featuring interviews with James Hyde, Mary Heilmann, Alan Warner, Scott Spencer, Catherine Gund-Saalfield, Cassandra Wilson, Revenge Effect, Elevator Repair Service, Zoe Wanamaker, and A Day in Brasilia.