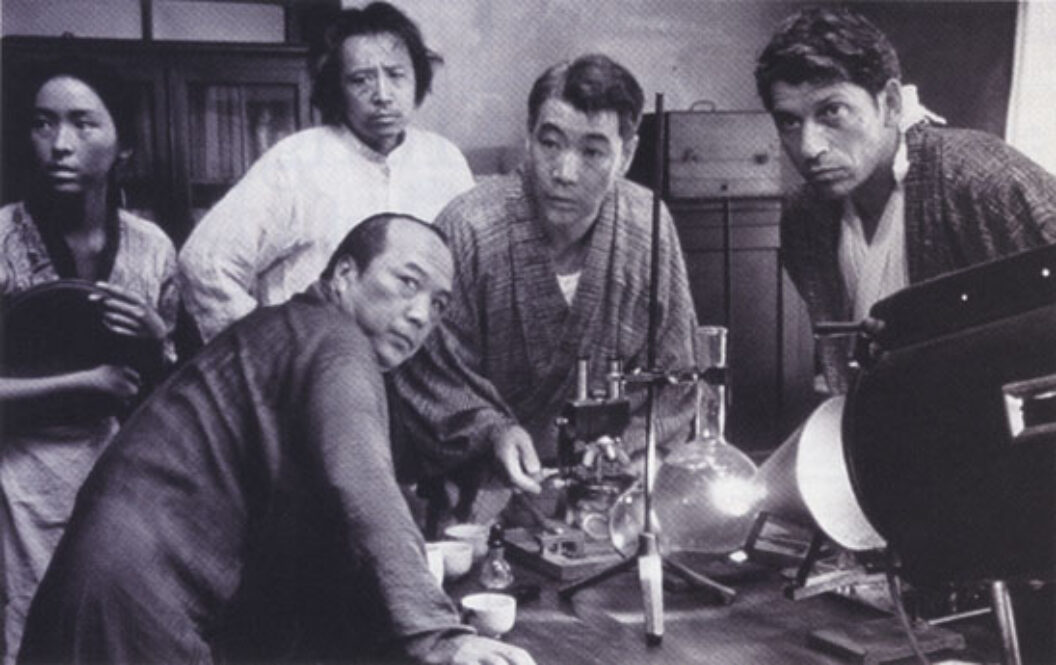 Shohei Imamura's 25th film, Dr. Akagi, is a lovely mess of jazzy comedy, kink, and apocalypse that he has declared to be his last movie. Probably best known in this country for the soberBlack Rain (not the Michael Douglas joint), Imamura is a director who has fabricated a trippy and deeply humanist cinema through masterful works like Pigs and Battleships and The Eel. Imamura began as an assistant to Yasujiro Ozu in 1951, and his apprenticeship continues to reveal itself in the loving attention he gives to the small moments of his characters' daily lives—small moments that give way to lyrical hallucinations. Adapted from the novel by the late Ango Sakaguchi, Dr. Akagi is the story of a passionate and obsessive doctor who races around his small Japanese coastal town, which is the subject of infrequent American air raids, to treat an outbreak of illnesses that all bear the symptoms of hepatitis. It is 1945, and Hiroshima and Nagasaki will soon wither under the atom bomb. A lecherous monk, a morphine-addicted surgeon, and a teenage sometime hooker named Sonoko (whose mother's lasting advice was to never give it away) join the doctor in his quixotic search for a microscope strong enough to discover the cause of the hepatitis virus. Each take seems to have the sudden brilliance of a jazz improvisation that Imamura connects in a narrative web of great formal beauty and delicacy. His characters try to cure a corpulent empire of its malaise and in the process we see that they are all faces of the same dying organism, a system, rather than a Cartesian body, afflicted by something greater than the symptoms of a particularly virulent strain of fascism. There is no magic cure in sight, but a different kind of sorcery suggested by a world of constant death and birth. The film's final sequence is mesmerizing: Sonoko, transformed into a fierce mermaid, surfaces from the sea and entwines herself around Dr. Akagi in time to see the magic mushroom cloud spread its perfume across not just Hiroshima but the world.
—Lawrence Chua
Dr. Akagi, was recently released by Kino International.
Originally published in
Featuring interviews with James Hyde, Mary Heilmann, Alan Warner, Scott Spencer, Catherine Gund-Saalfield, Cassandra Wilson, Revenge Effect, Elevator Repair Service, Zoe Wanamaker, and A Day in Brasilia.