Shifting Connections: the 54th Venice Biennale by Kathleen MacQueen
What we say and what we fail to say matters. Read what Kathleen MacQueen succeeds in saying about the 54th Venice Biennale in the latest installment of Shifting Connections.

Discover MFA Programs in Art and Writing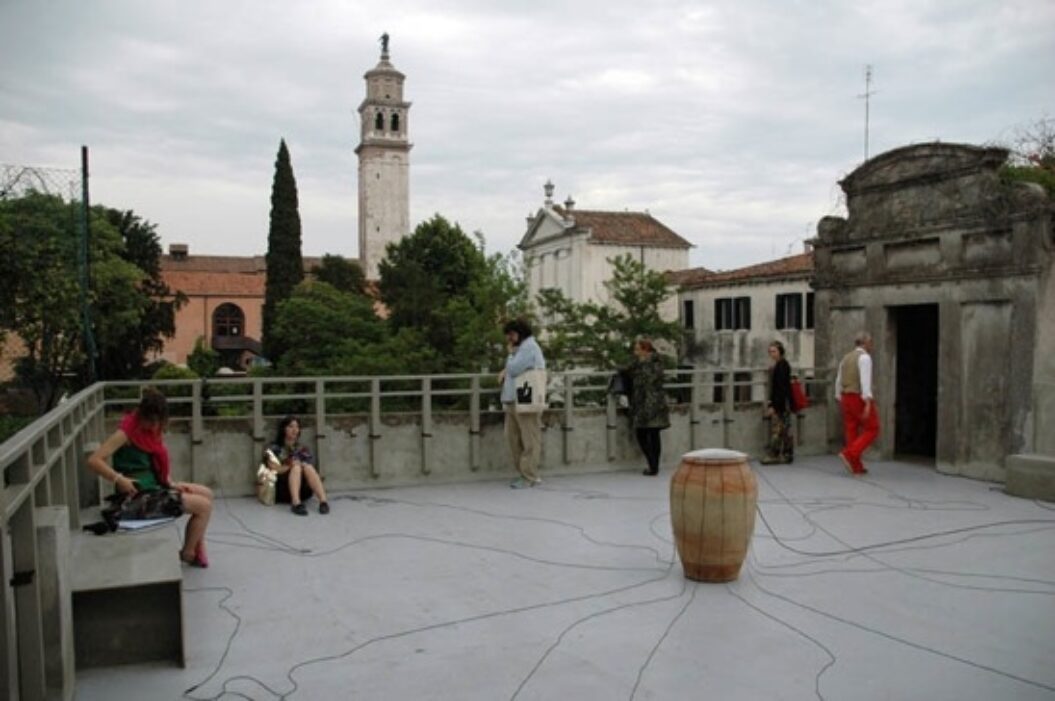 What we say and what we fail to say matters. How we are prevented from speaking matters as well. The innumerable implications of the expressed and unexpressed struck me dumb in facing the themes of war, violation, displacement, power, and isolation that course through this year's Venice Biennale. It is, according to New York Time's reviewer Roberta Smith, a biennial beefed up on steroids but, by looking beyond the spectacle to the smaller details, one can discern both subtle and complex exhortations to the subjects that matter in contemporary art's most prominent arena.

"Speech matters."
—Katarina Gregos, curator, Danish Pavilion.
For its second biennial in a row, the Danish committee has eschewed the tradition of national pavilions by selecting the Belgium-based Greek curator Katarina Gregos to construct an international dialogue on issues of free speech. Gregos has curated a group exhibition with only two Danes among eighteen artists or collectives from ten other countries, infusing both depth and breadth into a topic that is not simply a "thumbs up or down" decree but a complex discussion relevant to Danish society and of utmost urgency world-wide.
Of particular note are American Taryn Simon's photographs of hidden subjects—glowing radioactive capsules at a nuclear waste storage facility, deformed white tigers (the product of genetic breeding), gynecological surgery to restore the hymen of women before marriage—experimentations of ethically questionable social, economic, or scientific taboos.
The Dutch Han Hoogerbrugge, a pioneer of internet art, lightens the commentary with "Quatrosopus" (2011) an animated four-faced figure whose head spins as a turnstile, gesturing and declaring aphorisms of freedom as basic recipes for life: "A free man is he who does not fear to go to the end of his thoughts" or "A bird that you set free will return again but a word that escapes from your mouth will never return."
Palestinian Ayreen Anastas and Iranian Rene Gabri exchange languages to explore the disorientation of injurious speech creating a parable of language as a living system. In a marriage of Byzantine mosaics with urban street art, Greek Stelios Faitakis paints six chapters in the history of censorship for the exterior neoclassical façade, a glistening visual stimulus to this thought-provoking pavilion.
"A people does not carry its humiliation as an individual does."
—André Chamson, writer, 1900-1983.
Shame is one of the least understood responses in human and social psychology since the position where the individual leaves off and the collective bears weight serves the strategy of repression but also the tactics of resistance. The chants, hopes, struggles, and reprisals of the Arab Spring echo throughout the biennale but come fully to the fore in the Egyptian Pavilion in the work of Ahmed Basiony, who recently passed away. The artist's documentation of four days of protests in Tahrir Square until his death by sniper fire both memorialize this experimental digital artist's career and recognize revolution as a principal means of overturning persistent, collective humiliation of body, mind, and spirit.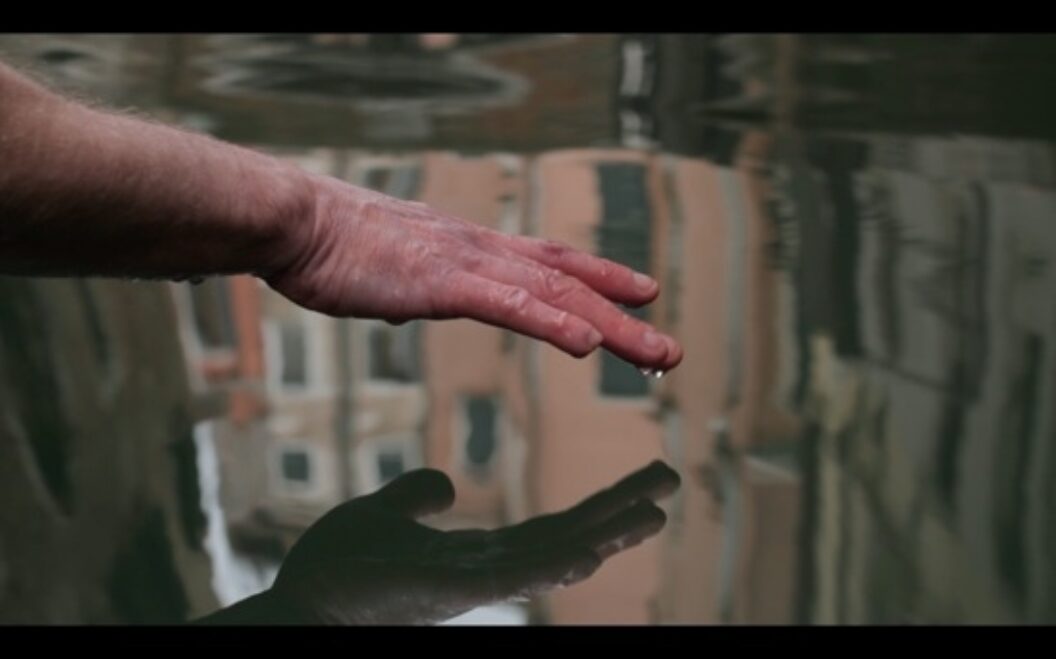 Martyrdom is just one theme in a perplexing layering of nostalgia, utopia, and propaganda in Israeli artist Yael Bartana's film trilogy: "… and Europe will be stunned" (2007, 2009, and 2011) for the Polish Pavilion. Viewers seem rapt in the plea for peace and harmony of a Jewish repatriation movement but less aware of the artist's critique of a people's inability to accept difference within the parlance and structures of nation-building. The artist questions the kinds of speech most easily assimilated.

This year's biennial is not easy going, as militarization, war, and disaster seem to be the dominant subjects and sources for much of the work. The stress of displacement is evidenced by the various testimonial videos shown in the UNESCO sponsored Roma Pavilion, "Call the Witness," where Constant's 1958 design for a "Gypsy Camp" is effectively adapted as a pavilion within a pavilion. Thomas Hirschhorn infiltrated his typical conflagration of excess into the Swiss Pavilion: his "Crystal of Resistance" (2011) is a maze-like construction of cardboard, aluminum foil, and assemblages of products and waste, punctuated with images of the worst horrors from the last ten years of torture, war, and insurrection in the Middle East. Fernando Prats' work in the Chilean Pavilion marks disaster through drawings; these are impressions of humanity's detritus made not as writing, calligraphy, or sketch but as rubbings, scrapings, and the energy of the artist's interactions with the land and the inhabitants near Chile's 2010 earthquake.
"I am concealing something from you."
—Alejandro Cesarco, artist, Uruguayan Pavilion.
Reportage, was not the only source for art in Venice, however. As I viewed "ILLUMInations," the Giardini pavilions, and the many satellite events around Venice, I found myself taking solace in the smaller, more intimate visual conversations: those half-hidden, quiet, but revealing gestures that allude to speech. As one of their contributions for "Your Country Doesn't Exist" (2011) the Spanish-Icelandic duo Libia Castro and Ólafur Ólafsson created a sound installation on the roof of the laundry house of the Palazzo Zenobio. In tune with the implications of intimacy in an open communal space, they recorded couples making love as they read ancient juridical texts determining the perimeters of relations between men, women, and foreigners—an incongruity that was as disconcerting as stimulating—rendering perverse the secrets of desire.
Furthering this theme, Estonian Liina Siib interviewed sex workers about their self-image in relation to their work filming the city streets where they ply their trade while France's Yto Barrada creates fantasies out of family stories and mundane environments and Lara Baladi collects images of the grounds from coffee cups as the basis for prophesy. The Iraqi Jananne Al-Ani revealed the silent abstractions of anonymous sites in the desert, human presence as clinical as aerial views of a drone missile target. Uruguayan Alejandro Cesarco, in his new film "Methodology," invokes subtle intonations of both the intimacy achieved and the distance acknowledged when the act of withholding alludes to the blind spots of perception between lovers and when private discourse crosses the boundaries of public disclosure.
"One must be very careful with one's silence."
—Runo Lagomarsino, artist, Danish Pavilion.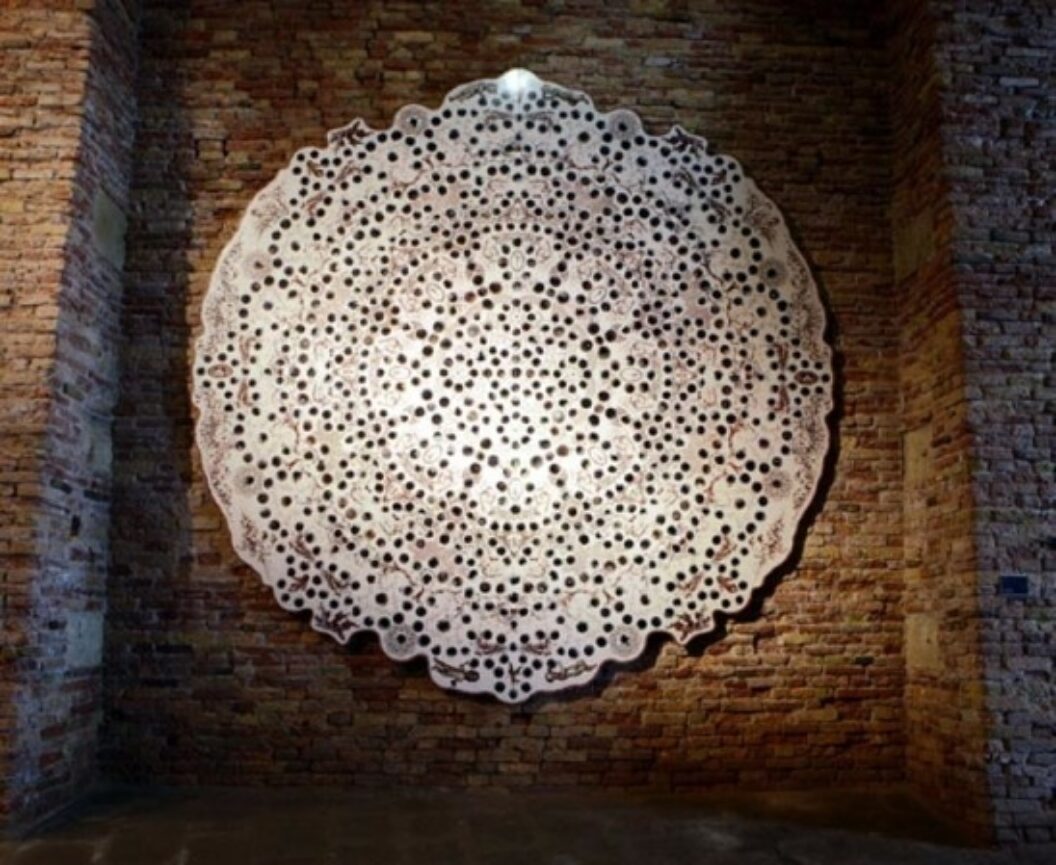 When speech and action are thwarted, the tendency is to resort to rage. Welsh artist Tim Davies' video installations in the Ludoteca Santa Maria Ausiliatrice contrast chaos with order as consequences of the same socio-political systems, a fitting analogy to the biennial as a whole. The single channel video "Drift" (2011), however, offers a meditative respite from the challenge: a close-up image of a hand caresses the surface of water, carried across time by a boat we cannot see in a space we cannot fathom. It is a wounded hand, damaged in birth or by accident to the loss of the first joint on the smallest finger. The image is autonomous yet as a gesture it assuages the discomfort and instability provoked by much of the art in this year's biennale.
Rather than the extraordinary or the confrontational, it is the ordinary at the 54th Venice Biennale that rewarded my attention—Baladi's coffee grounds, Cesarco's slow sinking of a lump of sugar in a dark espresso, Castro and Ólafsson's deep breaths and lingering sighs, a Roma child setting alight the poplar fluff that collects in Italian gutters each spring. These are images evocative of censorious taboos but also the courageous union of fear with desire—expressive speech that matters.
*Kathleen MacQueen writes on contemporary art and has published essays and reviews in The Art Book, Seachange Journal, Art Criticism, and the Journal of Multicultural and Cross-cultural Research.
We are encouraged as viewers of art to be critical, even judgmental, but what of flexibility and openness? Shifting Connections suggests that— rather than linear genealogies—time, place, and subject are crucial moments in art, that the intersections of thought are more vital than fixed opinion. With alternating reviews and interviews, the column begins from a position that art can speak with—rather than about—its subject, through shifting connections.*