Shifting Connections: Terence Koh by Kathleen MacQueen
Shifting Connections continues with writer and critic Kathleen MacQueen's take on Terence Koh's nothingtoodoo at Mary Boone Gallery, on view through March 19th.

Discover MFA Programs in Art and Writing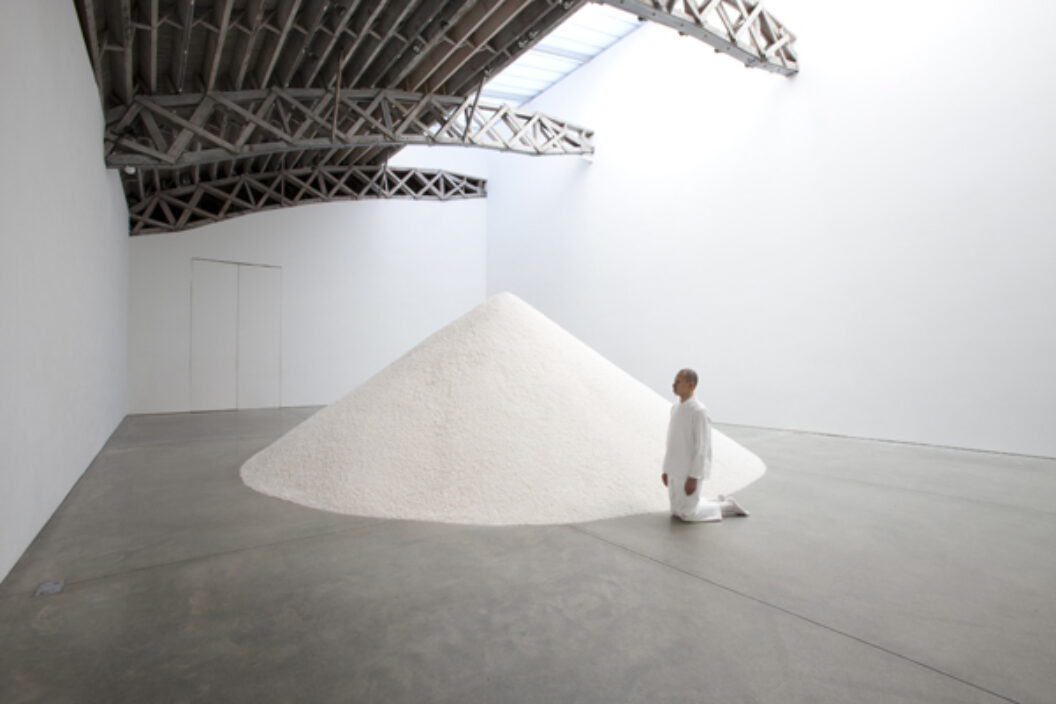 For eight hours a day, five days a week during the five-week exhibition nothingtoodoo, Terence Koh silently circles a great mound of rock salt on his knees, hands at his side. Is it possible to enter the Mary Boone Gallery and forget his two previous incarnations Asianpunkboy or Asia Song Society? Can one leave behind the intensely contrasted zones of black/white—set pieces for the bacchanalian fervor that this artist ejaculates as work? Koh's Zen sensibility has been blinding white, the destabilizing daze of a strobe flash burning pupils. In this incarnation of spirit not all suffering is glaringly dark; nothingtoodoo instead provides grey, muted gradations of tonality—both ambient sound and light—the soft tumbling of the values in the rock salt, the subtle shift of light across the wide sweep of the walls, the sheen of the circular path polished by the back and forth shuffle of his knees. Occasionally he lies face down on the concrete in a gentle pause for rest. Once, I noticed his toes lift off the ground suspended some moments in a stretch.
It is not "nothingtoodoo" as in nothing-better-to-do-with-my-time but as in nothing-to-do-to-right-a-wrong. This is an act of contrition performed when balance is upended, harm caused, pain resulted, and there is truly nothing on this earth to change the circumstances, create reconciliation, or ease the conscience. Concurrent to Krzysztof Wodiczko's …OUT OF HERE: A Veterans Project at Galerie Lelong Terence Koh's nothingtoodoo is yang to Wodiczko's yin, peace to his war, antidote to the enraged intensity of conflict. Koh meditates in penance.
To be breathless on the ocean floor—to be light in a window on the mental grid of a cityscape at night—to be code in your genome—to be a word, a most common word, twittering the globe, alighting on your palm—to circulate, to be the drawing of a circle, a continuous cycle—to be a crystal among three trillion drying in a heap in the sun on the shores of Gandhidham… Salt of the earth, like water, is essential to life but harmful in excess. The oldest known processing center is on the banks of the Xiechi Lake in Shanxi province, China. Population growth in ancient cultures has been linked to the use of salt to cure food. Salt functions in various purification rituals. Salt also corrodes.
In all the weeks of the performance, the installation never shifted, not one rock crystal slid down the mound, no corrosive stain ate into the floor. While the artist's energy clearly waned, his uniform increasingly disheveled, there were few other indications of time as the repetition was endured. This has been a crucial factor in Koh's work—the confluence of vitality and decay—giving himself over to time and in so doing eradicating time from the formation. The formality of Koh's vision, expressive of a constant struggle between excess and restraint, reveals his ability to establish consciousness through the loss of self. His lust for glamour, ecstasy, and material means that has garnered attention for this aesthete shows its own yang in the modest presence of an anonymous ascetic whose beauty is the basis for both experiences. To (for)give, to (re)deem, to (re)solve, to be(come) presence…
Terence Koh's nothingtoodoo is on view at Mary Boone Gallery, 541 West 24th Street, New York, NY 10001, from February 12 – March 19, 2011.
We are encouraged as viewers of art to be critical, even judgmental, but what of flexibility and openness? Shifting Connections suggests that— rather than linear genealogies—time, place, and subject are crucial moments in art, that the intersections of thought are more vital than fixed opinion. With alternating reviews and interviews, the column begins from a position that art can speak with—rather than about—its subject, through shifting connections.
Kathleen MacQueen writes on contemporary art and has published essays and reviews in The Art Book, Seachange Journal, Art Criticism, and the Journal of Multicultural and Cross-cultural Research.