Shifting Connections: Spring Shorts by Kathleen MacQueen
In her latest Shifting Connections, Kathleen MacQueen reflects on her favorite shows of the Spring of 2012.

Discover MFA Programs in Art and Writing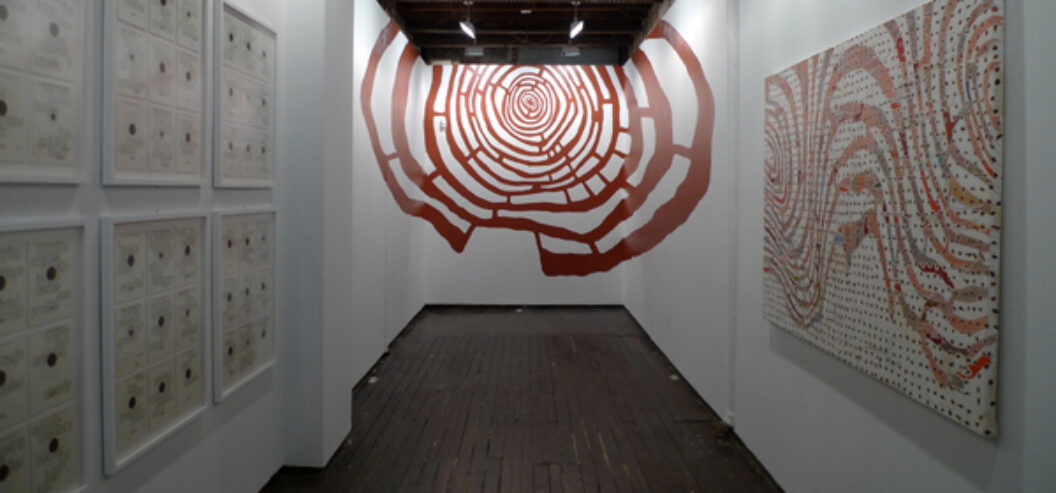 Themes of language and communication ricochet through this spring's exhibition season in New York City, from Jenny Holzer's restricted language abstractions at Skarstedt Gallery uptown, to Elaine Reichek's threads of betrayal and cries of complaint in her Ariadne tapestries at both the Whitney Biennial and downtown at Nicole Klagsbrun in Chelsea. The Biennial also features fragments of feminist Mary Wollstonecraft's correspondence as interpreted by photographer Moyra Davey. Davey's inclination to fold her own images as letter-envelopes sending them through the mail extends intimacy across time and space as a tactile flight of fancy and a restless search for communion. Even Nicole Eisenman's languidly empathic painting at the Biennial entitled Breakup exposes the vacuum look of despair induced by a smartphone text that divides existence into before and after.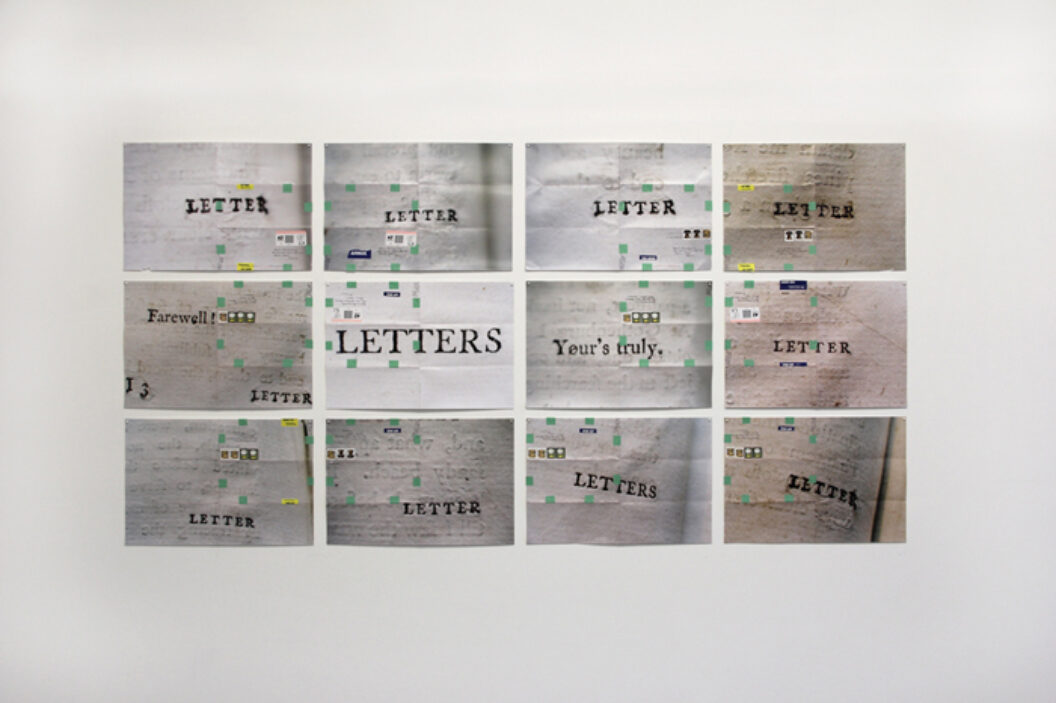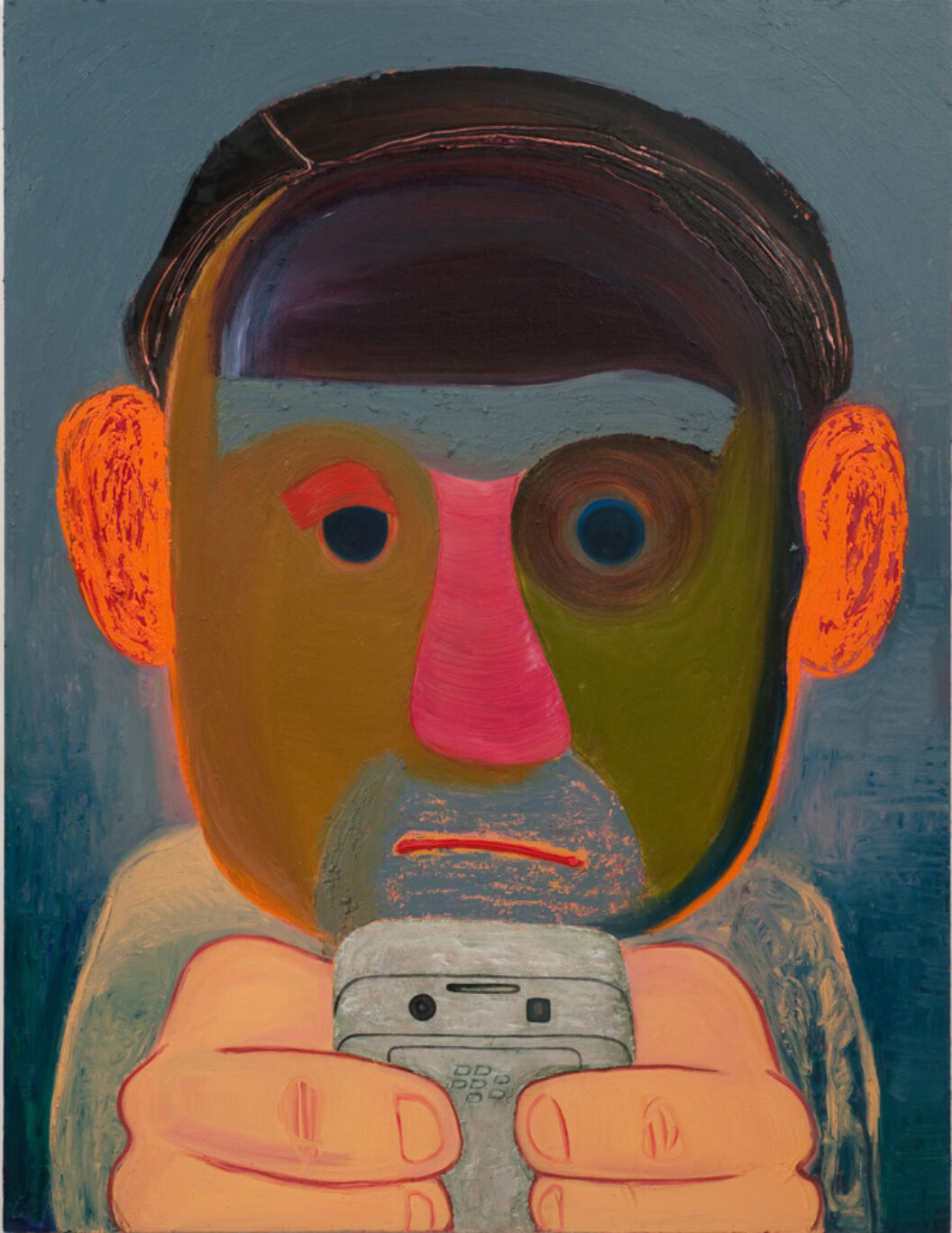 What interactions are triggered by the exchange of brief messages? We negotiate daily a profusion of missives of zealous brevity— texts, emails, chats, twitters, and tags. Yet these truncated messages can carry the potential to fuel insurrection, both political and emotional. Just a few words can open expansively and close decisively—a guillotine's severed connection—but are these detached communications the most efficient means of understanding one another? What has become of conversation? The Russian literary theorist Mikhail Bakhtin understands language as incomplete, layered with hidden meanings impossible to grasp fully. Contrary to the philosopher Ludwig Wittgenstein, whose understanding of human nature stops with the barrier of skin, Bakhtin trusts that unspoken and misspoken differences have the potential to bring us closer together through the desire to know otherwise. We fail only when we presume to understand the vast range of responses that any one question might elicit.
Echoes of such polyphonic voices reverberate in Nayda Collazo-Llorens's recent installation at LMAKprojects on the Lower East Side of New York. She has long been interested in how text has come to form its own global migratory pattern in abbreviated phrases across P.A. systems, message boxes that appear as warnings on our computers, oddly translated instructional panels, and clips of news, talk radio, and the conversations of passers-by heard peripherally as we direct our activities throughout each day. Her own practice of daily drawings—visual communication in a non-verbal accumulation of signs, symbols, marks, and traces of passing experience and awareness—now coalesces in paintings that pulse with a myriad of connotations, including webs, weather charts, echograms, geological topography, and mazes. Random splotches, contained by careful traces of variegated pigment circulating within the visual frame, build up linearly until they swarm into pools of soft, muted color.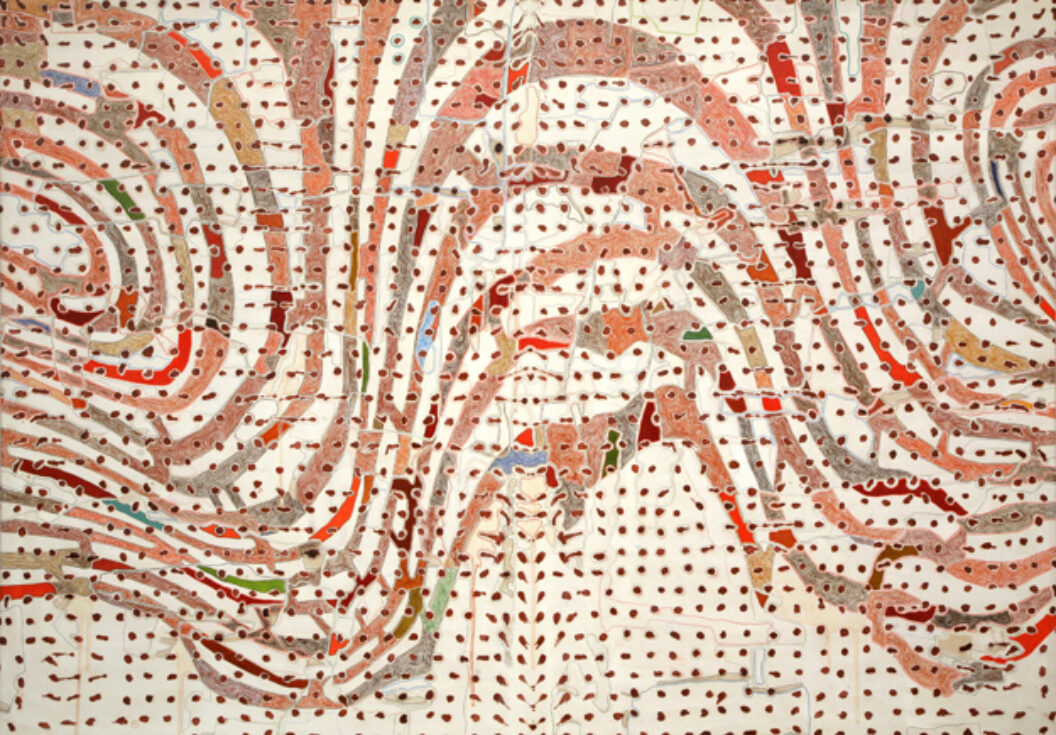 Previously, Collazo-Llorens's remarkable installations have verged on the edge of chaotic despair while always managing to retain a delightful play of materials and form, the creative process serving as a means to reconfigure emotional fervor. In the small space of LMAKprojects, however, she has deftly limited her visual vocabulary, uniting just a few works into an integrated conceptual experience. Chaos yields to arbitrariness in her targeted drawings, aptly named Random Triggers. Here she overlays mass-produced shooting range targets with poetic verses of computer-generated random text in a work that is both visually repetitive and linguistically disjunctive. This rendition of Duchamp's legacy of found ingredients is no wink-and-nod to culture's crass materialism but a distinct recognition that even incidental revelations are rooted in complex systems of communication, perception, and response. Across Doom Hopes the Guiding Fever, a line from one of the poems, doubles as title for the exhibition. It also underscores the creative process as a leap of faith.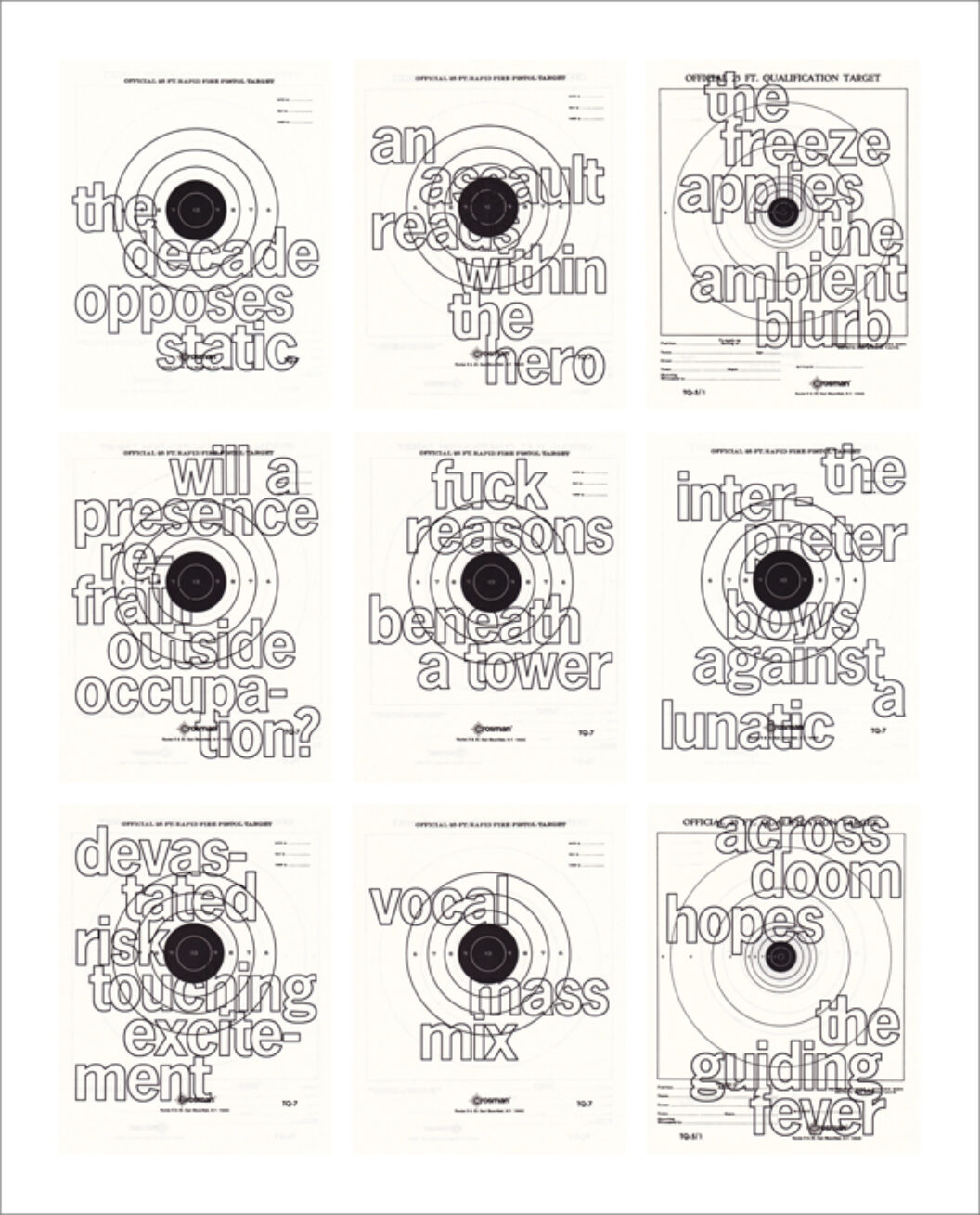 Faith often allows us to transcend fear as Beryl Korot reveals in her exhibition at bitforms gallery, Selected Video Works: 1977 to Present. Korot was part of the first generation of artists to claim the new technology of video as an art form rooted in the external world; yet by the mid-70s, she turned her creative practice inward to the contemplative repetition of weaving. Even so, she never lost her conceptual awareness that the roots of new media practices lay in the development of code as language. Punch card technology that led to computational coding was based on the Jacquard loom of 1801. Additionally, weaving notation bears an uncanny resemblance to musical notation, a significant association for an artist who also collaborates with her husband, musician Steve Reich. The correspondence between language, musical notation, and weaving intertwine throughout the exhibition where her digital video projection, Florence (2008) reveals a distinct continuity with her earlier five-channel installation, Text and Commentary (1976-77), but with the added nuance of a life fully lived.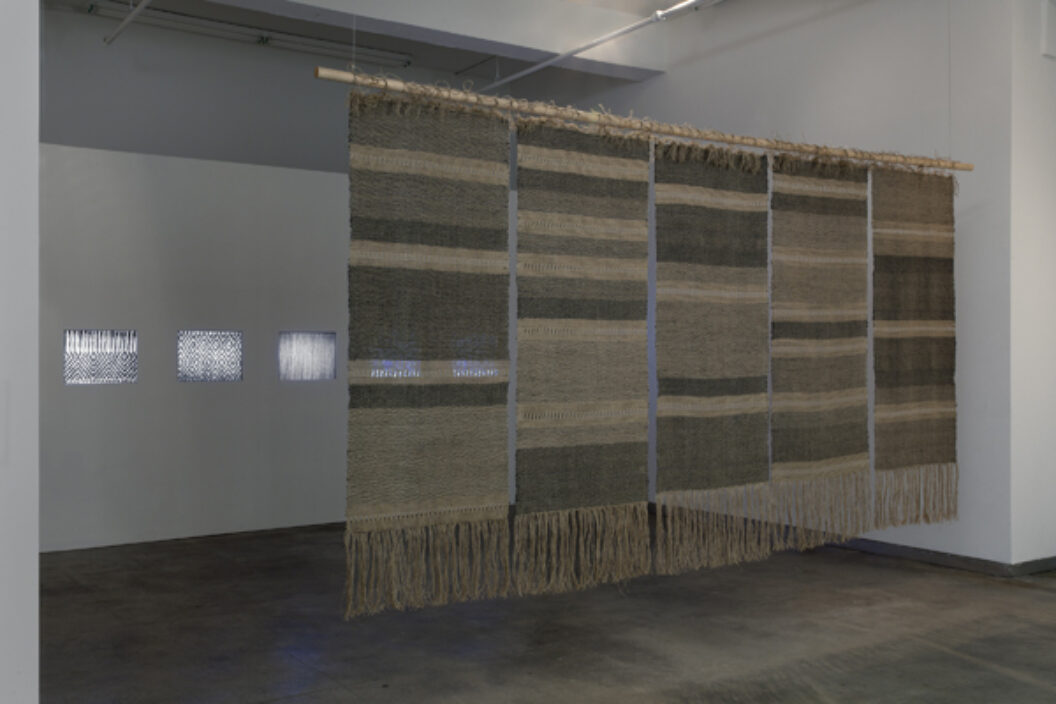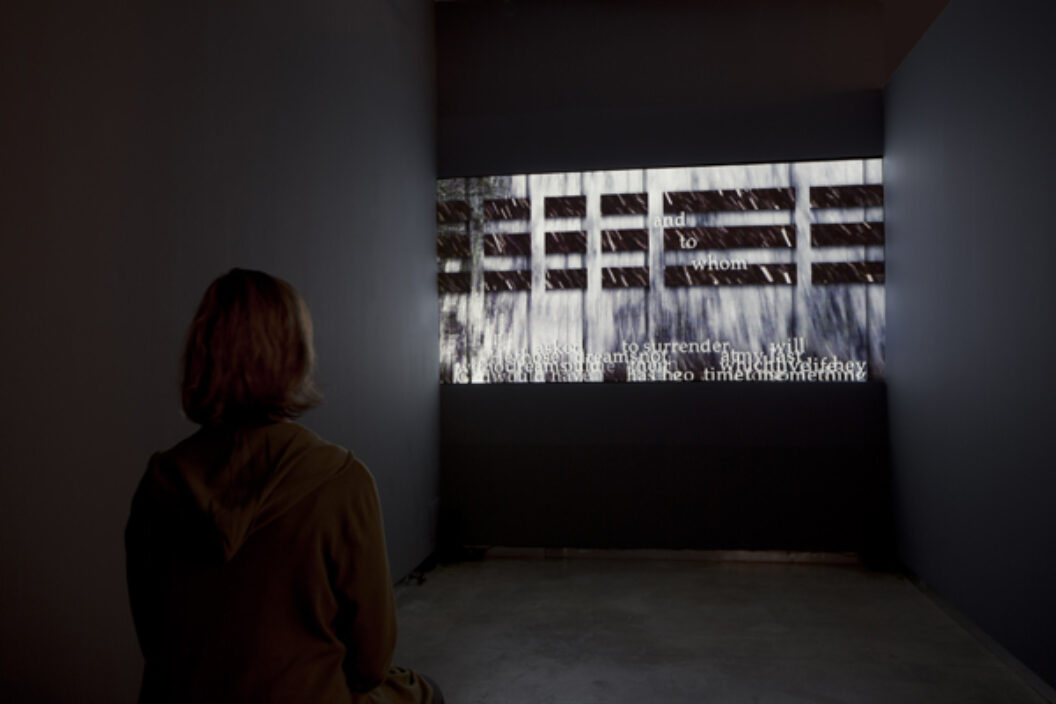 Virginia Woolf once wrote:
"Considering how common illness is, how tremendous the spiritual change that it brings, how astonishing, when the lights of health go down…that illness has not taken its place with love, battle, and jealousy among the prime themes of literature ("On Being Ill", first published in The Criterion, January 1926)."

Korot, after caring for aging parents, grasps the inspiration of Florence Nightingale to ask: what does it mean to overcome fear in order to participate purposely in life? Weaving footage of snowstorms, waterfalls, and boiling water into visual strips, she then selectively excerpts from Nightingale's memoirs, setting words rhythmically to cascade down and stream across the screen. While Text and Commentary has a structure based on the visual medium of a weaver's score, Florence has a structure based on both visual and narrative elements. "But, oh you gentlemen … IMAGINE"—words pile atop one another, tumbling, descending, collapsing like bodies on the field of battle. "WOMEN dream, dreams which are their life, without which they could not live"—in subdued tones of the earth, from welling sounds of water, with the cadence of breath, Korot echoes the recesses of souls whose refusal to abandon hope or relinquish their task is an act of defiance.
"If not for the story I have to tell I would never enter the world again." Korot finds her soul through the voice of another, a message that is as succinct as it is poignant.
Nayda Collazo-Llorens, Across Doom Hopes the Guiding Fever, LMAK Projects, March 16th through April 22nd 2012.
Beryl Korot, Selected Video Works: 1977 to Present, bitforms gallery, March 22nd through May 5th 2012.
Kathleen MacQueen writes on contemporary art and has published essays and reviews in The Art Book, Seachange Journal, Art Criticism, and the Journal of Multicultural and Cross-cultural Research.
We are encouraged as viewers of art to be critical, even judgmental, but what of flexibility and openness? Shifting Connections suggests that—rather than linear genealogies—time, place, and subject are crucial moments in art, that the intersections of thought are more vital than fixed opinion. With alternating reviews and interviews, the column begins from a position that art can speak with—rather than about—its subject, through shifting connections.