Shifting Connections: Krzysztof Wodiczko by Kathleen MacQueen
In the inaugural entry of her new column Shifting Connections, writer and critic Kathleen MacQueen discusses Krzysztof Wodiczko's show at Galerie Lelong, on display through March 19th.

Discover MFA Programs in Art and Writing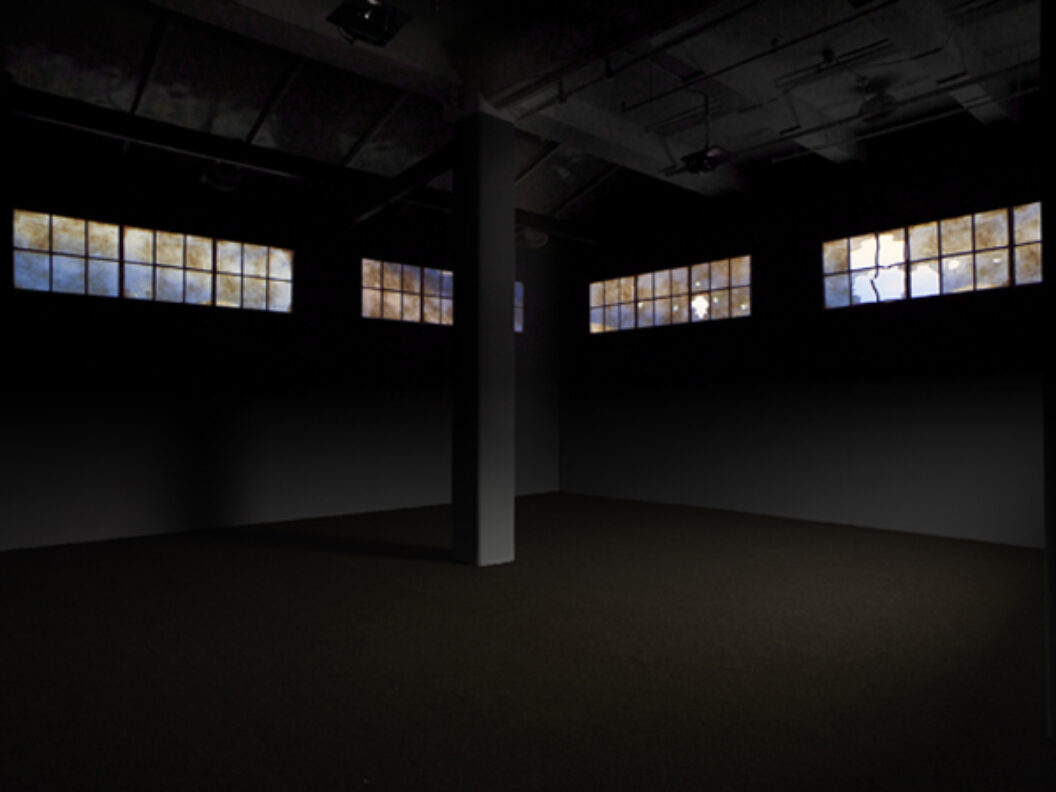 Galerie Lelong has temporarily lost a gallery and gained a space of meaning and significance. The entrance is austere: the walls a towering cold white, the floors a humorless gray. This introductory passage is silent, without images it yields little intent, only a name and a title—Krzysztof Wodiczko, …OUT OF HERE: The Veterans Project. The gallery to the right opens on vacant space; not until fully inside does one stand face-to-face with a memorial flame, an iconic gatekeeper to death, passing, sorrow, and recovery. Our expectation, however, is thwarted—in place of testimonials (that so memorably punctuated the Veterans' Flame (2009) in Wodiczko's installation for Creative Time's Plot09) we hear instead a short crackling walkie-talkie exchange between a soldier and a command center as he narrows in and takes out his target. This is war—instantaneity with long consequence! A dark, translucent monitor positioned vertically frames the flame—the video image a virtual, disjunctive medium of distant voices between life and death. There could be no more, no less in this space. It is starkly penetrating.
By bringing his latest interior projection to New York (on view in Chelsea at Galerie Lelong until March 19th and exhibited last year at ICA Boston) Wodiczko shows that art is infinitely mutable, that each and every venue and audience demands a different consideration and provides a unique opportunity. His multifaceted practice of teaching, public address, and engaging with survivors of trauma—immigrants, homeless, factory workers, women in shelters, and most recently, veterans—results in work that can be collective, cinematic, agitprop, and even cathartic. While ICA Boston presented a moving exposure of suffering by prefacing the installation with veteran testimonials from projects in Denver, Liverpool, and Poznan, Poland, this New York installation distills the artist's visual vocabulary to the barest minimum: an astutely measured architectural space altered specifically and adroitly for impression and impact.
Caught between simulation and realism, between video war games and cinematic recreation of a real event, the minimalist aesthetic of a projection keeps the experience both particular and complex. Through the audio-visual grid of eighteen windowpanes repeated seven times, we witness a traumatic event we cannot reach. The visual tactic is akin to Manet's realism (e.g., "A Bar at the Folies-Bergère", 1882) where picture space and architectural space meld into the psychological entrapment of subject and viewer. Manet painted a mental picture of alienation; Wodiczko builds one of isolation. In war, boundaries are transgressed and barriers established. These are physical, psychological, and emotional. They are facts, measurable and immeasurable, and in Wodiczko's vision they are cold, hard, and very real. …OUT OF HEREpresents a truth that compassion alone cannot amend.
Krzysztof Wodiczko has suggested, through his previous work If you see something… (2005), that the gallery becomes a metaphor for our own isolation from what is happening outside. It is both an architectural space and, in his configuration, a powerful psychological one. In the first weeks of this 10th anniversary year of the September 11th attacks and the subsequent invasions of Iraq and Afghanistan, with global economic and political policies fueling conflict and prompting revolt, there have been numerous programs, talks, and debates around the city about walls: metaphorical walls created by censorship, physical walls dividing Israeli and Palestinian territories or Mexican borders, but also boundaries that some artists insist are essential to maintaining the integrity of cultural expression and identity.
Few artists have mapped the actual and metaphorical spaces of facades and walls so persistently over the course of their career. While Wodiczko's exterior projections seek to destabilize architectural authority, his interior projections suggest that walls are protective. Outside the bunker, in the unprotected exposure of the street, soldiers shout, "OUT OF HERE! Let's get the fuck out of here!" – they can – with grave losses they move out but the women and children cannot. Configured as much by war as by the spaces of domesticity and culture and the confines of economics and global politics, they wail in mourning. Under what circumstances are these walls constructed and how do we act in solidarity with those individuals on the other side?
Krzysztof Wodiczko's ??…OUT OF HERE: The Veterans Project?? is on view at Galerie Lelong, 528 West 26th Street, New York, NY 10001, from February 12 – March 19, 2011.
We are encouraged as viewers of art to be critical, even judgmental, but what of flexibility and openness? Shifting Connections suggests that— rather than linear genealogies—time, place, and subject are crucial moments in art, that the intersections of thought are more vital than fixed opinion. With alternating reviews and interviews, the column begins from a position that art can speak with—rather than about—its subject, through shifting connections.
Kathleen MacQueen writes on contemporary art and has published essays and reviews in The Art Book, Seachange Journal, Art Criticism, and the Journal of Multicultural and Cross-cultural Research.