Shifting Connections: Fred Wilson (Part 2) by Kathleen MacQueen
Shifting Connections returns to the work of Fred Wilson, staring through the looking glass at a different facet of the artist's creative practice.

Discover MFA Programs in Art and Writing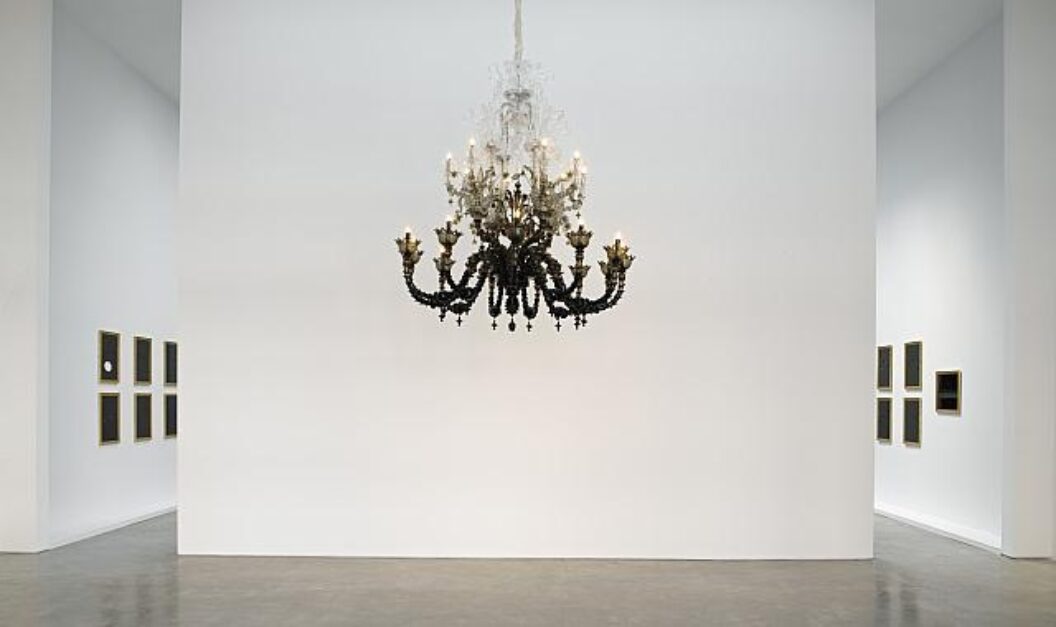 In his recent exhibition at the Pace Gallery in Chelsea, Sala Longhi & Related Works, Fred Wilson, a sculptor and conceptual artist, extended themes begun in Venice nearly a decade ago when the artist represented the United States at the 50th Venice Biennale with the exhibition Speak of Me as I Am. Returning to Venice in 2011, he created an installation inspired by Pietro Longhi's 18th-century painting cycle in the Sala Longhi of the Palazzo ca' Rezzonico in Venice. Wilson's Sala Longhi (2011) was first installed in Glasstress during the 54th Venice Biennale. In a salon-like setting of twenty-seven artworks framed in gold, Wilson replaces Longhi's genre scenes with sheets of black Murano glass graced with cutouts where Longhi had painted faces and masks. An additional central canvas is a cascade of glistening white leaves and flowers, an opulent sconce blossoming from the wall.
Fascinated with Western culture's primacy of vision as a means of measuring worth, Fred Wilson recognizes both the seductive power of visual objects and their subtle influence on our psyche. With Sala Longhi & Related Works, including Iago's Mirror (2009) and To Die Upon a Kiss (2011), Wilson intimates that splendor and magnificence are often matched by cruelty and intolerance.
Kathleen MacQueen When we last met we spoke of your exhibition Life's Links and your work as a form of intervention. Today I'd like to discuss your exhibition Venice Suite: Sala Longhi & Related Works and your studio practice. Can we see these as parallel creative practices and is it fair to consider the museum work in terms of context and the studio work in terms of concept?
Fred Wilson Normally, I would say yes; but Sala Longhi is actually an overlap in my two practices in that it is inspired by the Pietro Longhi room at the Ca' Rezzonico in Venice but it is no longer tied to that particular museum. This is new, to be inspired by a particular room in a museum, but beyond that I agree that the context of the museum propels those projects. Studio practice, on the other hand, has become a fluid concept as a process of thought rather than of making.
KMQ But are there differences in vocabulary, intent, or process?
FW Yes, all of it, in that sense, is different as the objects and installations have no effect on the institution and will never exist in the institution that inspired it. Sala Longhi, as an amalgam of the two practices, is inspired by—but not bound by—its situation. It is much more abstract in its presentation. There are no limitations, no boundaries; it can exist anywhere.
KMQ The large black Chandelier Mori hung in the rotunda foyer of the 2003 Venice Biennale exhibition Speak of Me as I Am. In your current exhibition at the Pace Gallery, the variegated chandelier To Die Upon a Kiss (2011) holds court in a lavish entrance display. Both of these glassworks are of human proportion, approximately five and a half feet tall and wide, yet as chandeliers they are monumental. I think of the ideal proportions of Leonardo's Vitruvian Man and also the irony of what I will call "conceptual Rococo". What is the relation between the sparse vocabulary that is the hallmark of conceptual art and the material excess that 18th century Venetian culture offers?
FW That is an unplanned but core aspect of this work because in Venice I become this other seer interested in objects that are just not for me … that are not my usual modernist aesthetics. I see these chandeliers in an ethnographic way as cultural objects that hold a set of shifting meanings. I am interested in beauty—an uncontrollable beauty—that seduces you before the mind tells you what you should be thinking. In this way I use beauty to help people arrive at other meanings.
For me the chandeliers follow a story line about human life. I have made two; I am planning a third.
KMQ Glass has offered you a remarkable set of metaphors but it also dances with the decorative. Is the danger of misinterpretation (conceptual versus decorative object) part of its appeal?
FW Perhaps an uncanny danger … although I have determined its size, coloration, and display, this is a found object. It is visually opposite to Duchamp's urinal but it is conceptually the same. It is a great challenge to interpret what one sees and it is the anthropologist in me that enjoys the many ways this work is viewed both ironically and aesthetically.
I wanted to clarify this in my statement: that it is not just a beautiful object and not just a chandelier. I was reticent about its reception. The danger is in its being seen as a market-driven scheme but, fortunately, people are viewing it as art and not as commerce.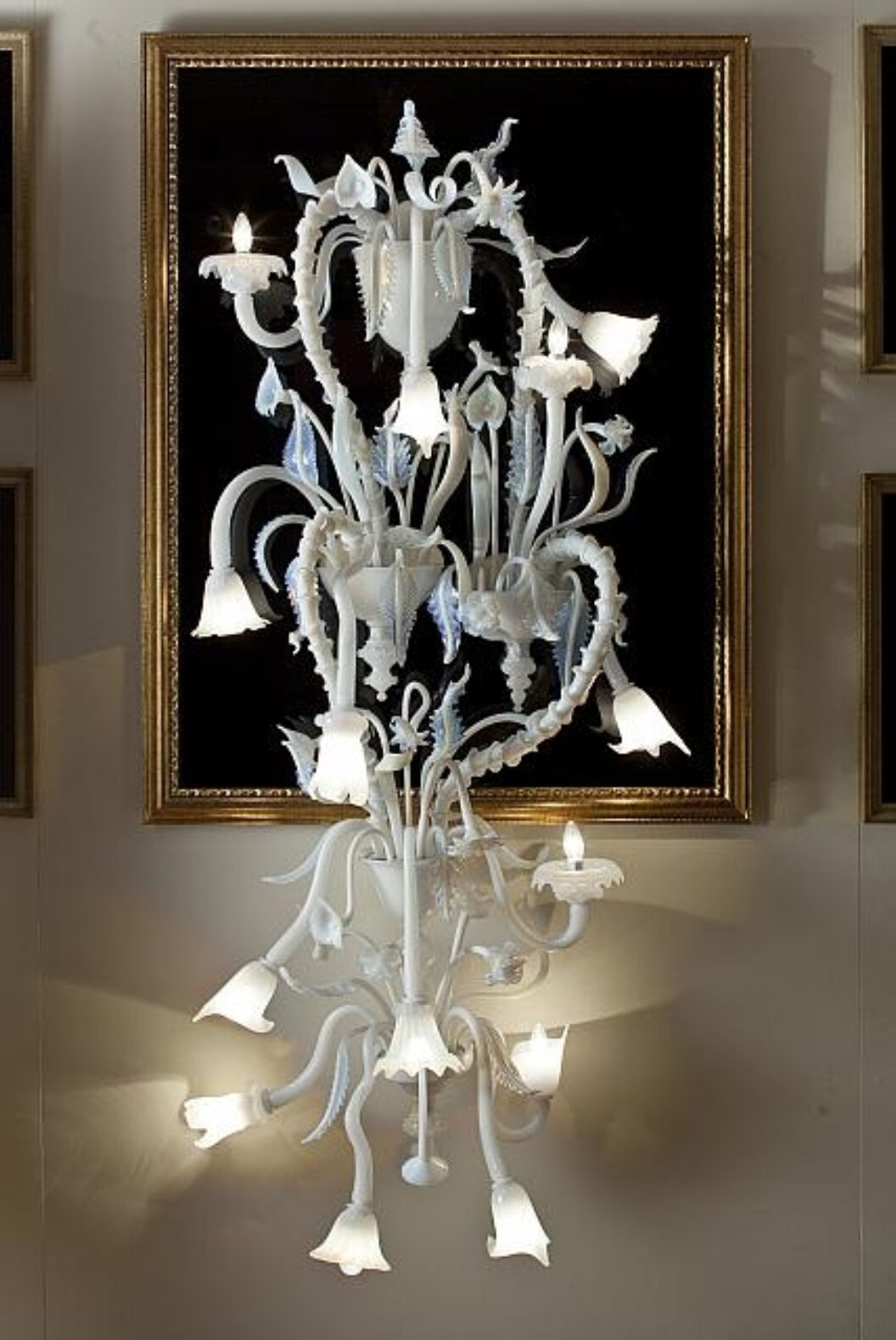 KMQ The beauty of these works contests the space they are in. In their splendor they contrast the stark, broad, open space of the gallery …
FW The modernist space of its setting heightens the incongruity suggesting another purpose and another context so the room does help it become a modern object.
KMQ Its own incongruity becomes a rupture …
FW Right, and that allows you to see it another way, which is also what I'm interested in.
KMQ Let's return to the idea of story line we touched on earlier. The chandelier's evocative title, To Die Upon a Kiss, brings us back to Othello and a literary imagination.
FW And the first piece, Speak of Me As I Am, also refers to Othello but it is not about murder or suicide and I hope it moves beyond black and white … I am trying to upend an overused idiom—both Othello and the chandelier. I want to show more than the obvious. In many ways, we just scratch the surface of an idea. I'd like to suggest there is much more to know of a human being and of an experience.
KMQ Is this a desire to open what we view reductively to a broader expansive view?
FW Yes.
KMQ Speak of Me as I Am (Venice, 2003), Black Like Me (The Aldrich Museum, 2005-06) and My Echo, My Shadow, and Me (Pace Gallery, 2006) are titles borrowed from other sources and yet they intimate a relation to the self—what it means to be "me"—a concept both internal and external to the self.
FW You've picked up on something very true: that it all comes back to me in the end. Because it is my studio work, it is my world, and I own up to it. Those who are outsiders are involved in explaining themselves while those who are or think they are in the mainstream do not feel this compulsion.
Who are we? How are we perceived? What are the preconceived notions? What is the reality of who we are? I have had to deal with this all my life. It comes into the work in many ways.
KMQ Your intervention work addresses relations in the external world …
FW … and there is a certain amount of collaboration involved … and a lot of listening and trying to be a sponge, then limiting what I do so that those who see it can absorb it rather than shut down. In my studio practice, I don't have those limitations—I have to deal with myself. That can be frightening …
KMQ … yes, these works consider your own internal, intimate world.
FW As an artist, you are not aware of what is coming out until it is there. That's the great thing about art and writing too I imagine: you just push it all out and then there it is and you have to say, "Oh, that has to be about me … there's no one else in the room … "
That's how the drips and drops emerged. I was shocked and dismayed when the eyes came out—this deep experience of childhood of the reductive image of African-Americans—this is the visual notion that came out of me but there it is and I had to deal with it. The eyes have gone away—I don't use them any more—but the self-reflection of any work must be confronted.
For Othello, largeness, beauty, and power together form a double-edged sword. People are afraid of power but Iago's jealousy was so huge that he got around his own fear and destroyed Othello from the inside out. That is what Iago's Mirror is about: this is Iago looking at himself as Othello; love and hate mixed with his own jealous ego.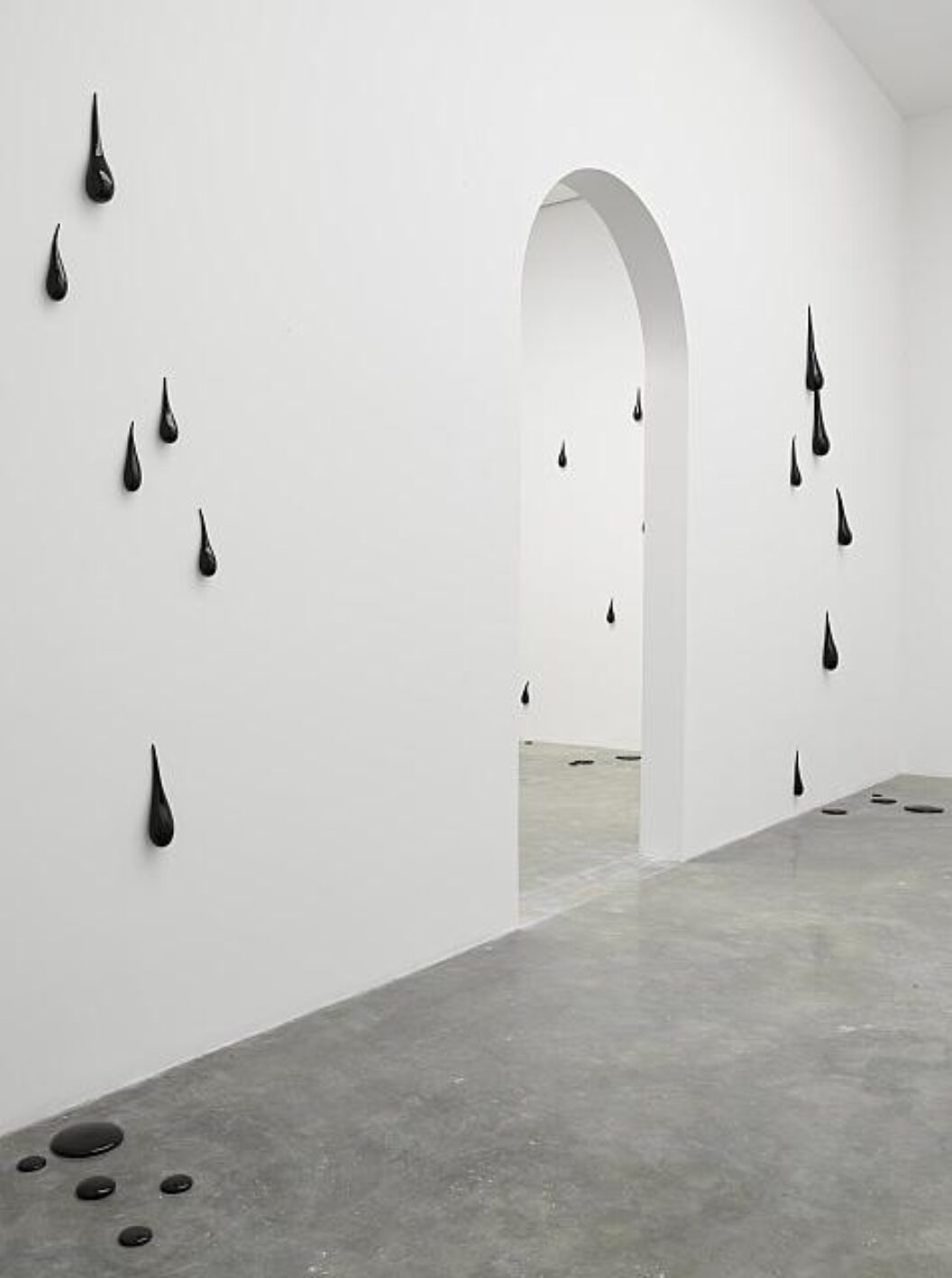 KMQ This new work moves beyond the notion that race is the only story of deception and betrayal in Othello; yes, it is there, but fear, envy, and jealousy are each a complete momentum in itself. Black/white, male/female, rich/poor: all binaries are excuses in the play of position, power, and betrayal. What I am suggesting is that if race didn't exist, we would invent its equivalent …
FW … it would become something else but, yes, certainly it would be invented …
KMQ These become mechanisms in how we work out fear …
FW Yes, exactly!
KMQ And our games of betrayal …
FW This harks back to the Western primacy of the visual that takes on a larger meaning when science created categories, through visual appearance.
KMQ Do you know that for the Greek philosopher Empedocles of the 5th century B.C.E., blackwas the symbolic color of water …
FW No! I didn't know that …
KMQ … and white of fire.
FW I love that! I had no idea.
KMQ … and both were combined in the eye to produce sight? The vagaries of vision and perception underscore much of your work.
FW In relation to that: mirrors were originally highly polished obsidian, a black volcanic rock. So there is another connection to the black mirror but also Sala Longhi has nothing to do with race; the black made sense because of the environment in these paintings and the foreshadowing of the end of the republic.
I am not discounting mourning as an interpretation of the color; this too is a major part of the west. Black has potent symbolism beyond race and I'm mixing it all up so no one can feel comfortable about any particular meaning.
KMQ Before I return to the topic of mirrors, I want to point out that the Sala Longhi has a strong visual parity with your thought-bubble gravures with the reduction of the human presence to the relation in space between anonymous ellipses. Yet here the dialogue is mute.
FW What I worked with specifically in translating Longhi's work within my own, was the light that falls on these white faces and the masks within the dark setting of the rooms. There is one person of African heritage in this selection of paintings—the postman in his red uniform—but he is treated visually as anyone else and so his face is cut out in my work with the others. I found Longhi's treatment of paint and the arrangement of his paintings collected together in one room pleasurable.
Who would anticipate that this is the selection I would make from this particular museum when it also holds a collection of meticulously carved wooden slaves in shackles? Who are these people if there was no slavery in the Venetian Republic? Is it a phantasm of the exotic world out there because the upper class wanted a connection to that world? This is not something that is talked about in Italy or in the literature.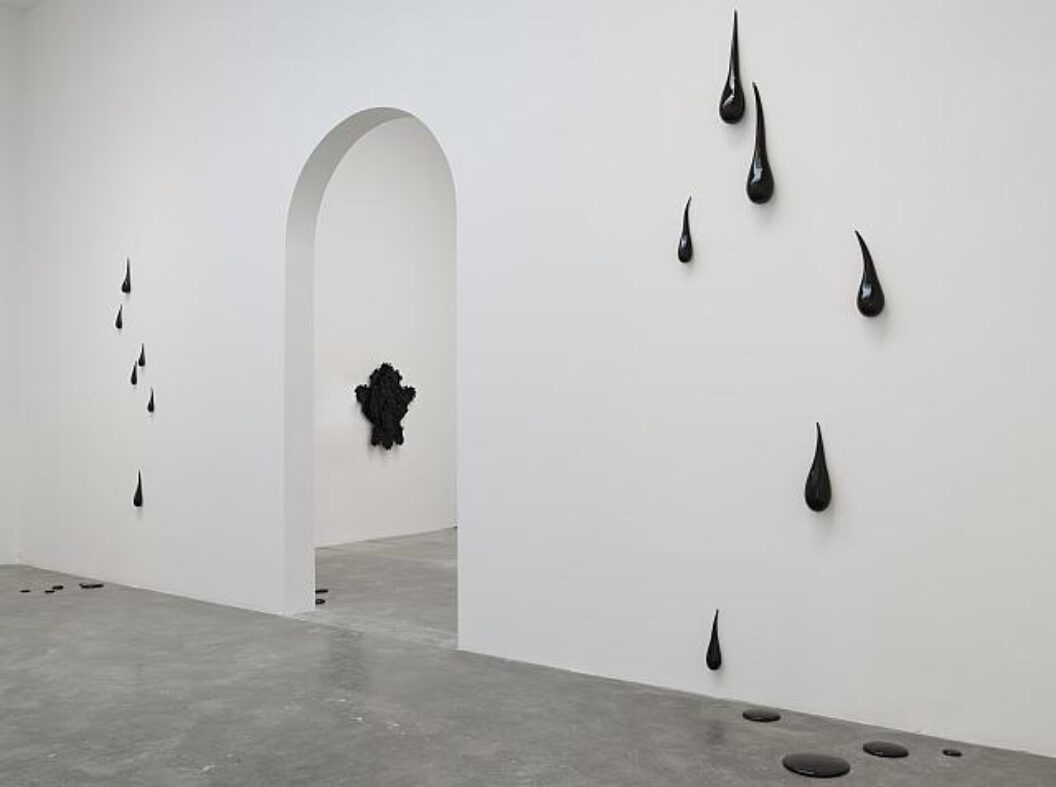 KMQ In this exhibition, you are also continuing the theme you began with Vanity from 2005—that of beauty, vanitas, and time. The mirrors are thick accretions of glass, like the profuse layers of lace in the mourning garb of 18th century Venetian or 19th century Victorian ladies. If we think of mirrors not only as vanity but also as reflection, we can consider a process of thought and absorption as much as a display of beauty! Interiority …
FW Interiority, yes, that's a good word…these mirrors are stacked three or four on top of each other. Iago's Mirror was a desire to take the materials of power and wealth and to reveal the overwhelming nature of excess. And you are absorbed into the mirror as matter rather than vision—you become part of this excess. One of the biggest problems in the West is the democracy of excess—you don't have to be wealthy to be responsible; we are all part of this experience in some way. We are drowning in excess.
KMQ To differentiate between excess and abundance: Venice has really given you a wealth of material for your art. Did you have any clue?
FW None! It's insane. Every time I go to Venice I get ideas; I never expected to do Sala Longhibut I had the opportunity to do it and I was compelled to do it.
KMQ You speak in your statement of being like a chameleon in your approach to artistic production. It is much like saying hybrid. These are terms often used in derogatory ways …
FW That's right.
KMQ … but you are going to turn that to your advantage …
FW … precisely what I had in mind.
KMQ Is it a refusal of categorization?
FW It is not refusing to be categorized. It's like fitting in. You want to fit in but, if you don't, you better own up to it. This is who I am, but, because this work looks so different, I felt the need to explain that it is also about place. In my museum work, I've used my outsider-ness to my advantage; this is now merging with my studio practice.
KMQ So along with trans-racial, trans-national, shall we add a new term trans-aesthetic?
FW Yes! Let's throw that in there! The myth of the master artist who is identifiable by medium or subject or some other exclusive feature persists in the art world. There is a fear of skipping around. What I am saying is that my work embodies both who I am and where I am. People may scratch their head but features of a particular place come through in my work just as much as the connecting themes that persist throughout my career. I'd much rather work expansively!
Fred Wilson's Venice Suite: Sala Longhi & Related Works was on view at the Pace Galleryfrom March 16 through April 14. Fred Wilson's Life's Links will be exhibited at the SCAD Museum of Art from February 21–June 3.i>
We are encouraged as viewers of art to be critical, even judgmental, but what of flexibility and openness? Shifting Connections suggests that— rather than linear genealogies—time, place, and subject are crucial moments in art, that the intersections of thought are more vital than fixed opinion. With alternating reviews and interviews, the column begins from a position that art can speak with—rather than about—its subject, through shifting connections.
Kathleen MacQueen writes on contemporary art and has published essays and reviews in The Art Book, Seachange Journal, Art Criticism, and the Journal of Multicultural and Cross-cultural Research.