Shifting Connections: Fred Wilson (PART 1) by Kathleen MacQueen
Fred Wilson makes history at the Savannah College of Art and Design Museum of Art.

Discover MFA Programs in Art and Writing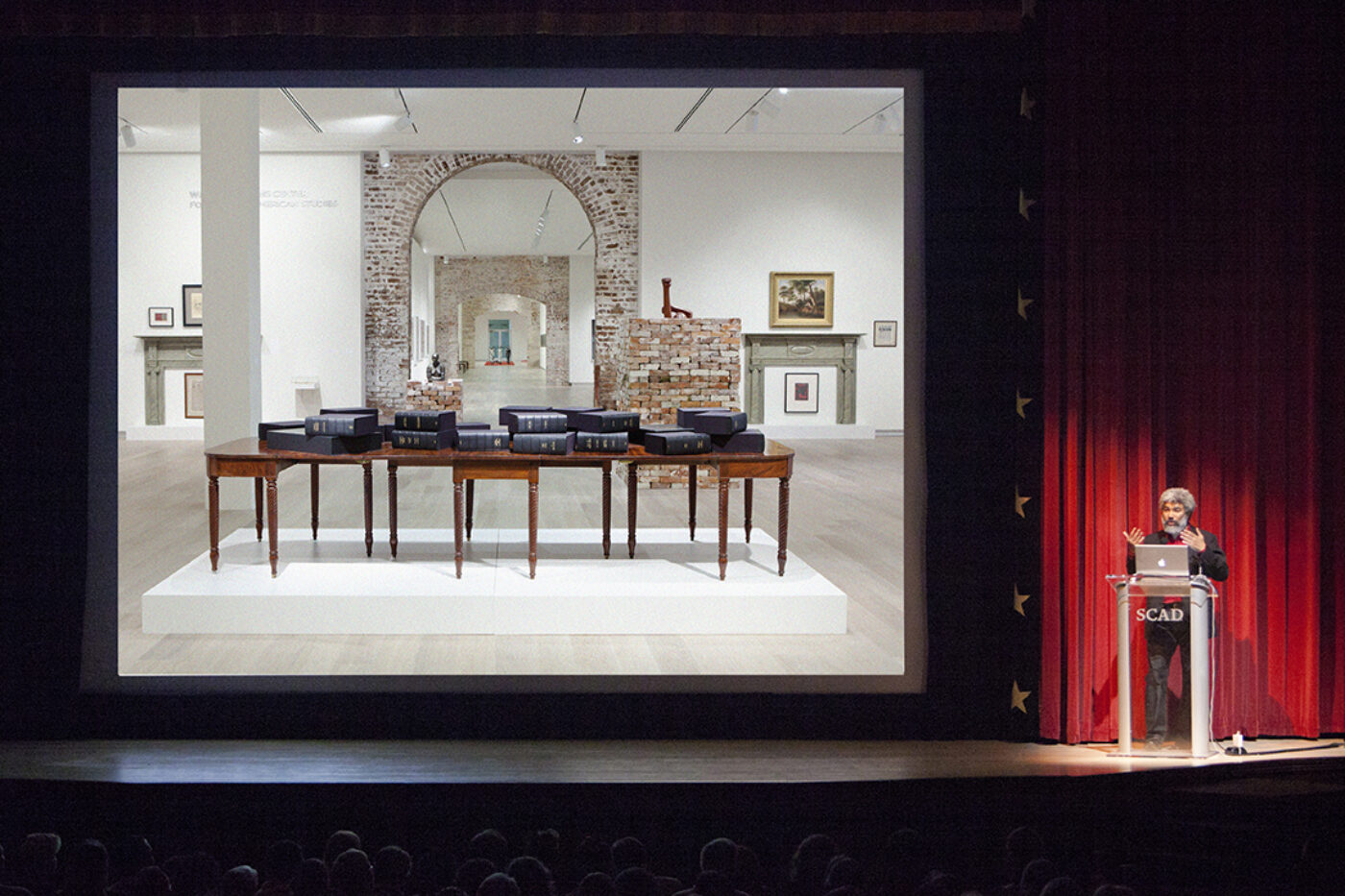 "Papa Legba, ouvri berriere pour moins!" ("Papa Legba, open the gate for me!"): a plea to the voodoo intermediary between the world as we know it and the spiritual realm beyond, inscribed on the wall at the entrance of Fred Wilson's recent intervention at the Savannah College of Art and Design Museum of Art entitled Life's Links. Papa Legba is guardian of the crossroads and it is movement across boundaries that the artist evokes as he selects from Walter O. Evans's rich collection of art, artifacts, and manuscripts of African-American history, a fraction of which has recently been gifted to the museum. Using the Savannah Grey bricks—a local hallmark—Wilson creates a resonant visual continuity that echoes the transition of the building from its former existence as the historic Central of Georgia Railway depot to its 2011 revitalization as a contemporary art museum. In doing so, he alludes to pavement and archives as well as barriers and slave quarters in an installation that opens chinks in the walls of historical blindness. Bricks—like the documents in the cases that guard Dr. Evans's notable manuscript collection—are units that cumulatively have the potential to build or destroy.
Through themes of breaking ground, breaking through, forging links, and building correspondences, the artist structures both physical poems, modeling strong visual assemblages from cultural objects, and literary ones, extracting fragments from correspondence, oratory, and other revelatory texts. As Wilson dismantles the archive in order to highlight poetry, refrains unite the correspondence of James Brown ("We all reached Detroit alive …") with Elizabeth Catlett's emphatic mahogany sculpture, Homage to Black Women Poets (1984), with Malcolm X's gentle musings ("Tis in the wee hours of the morn … the sky is yet gray … I was lying here thinking and remembering your wonderful letter …"). The exhibition title itself is a gift discovered in the autograph book of a daughter of abolitionists: the words "Life's Links" inscribed in 1871 by Robert Scott Duncanson beneath a small drawing of linked rings hovering above a plinth. The combination of artworks and historical literary text make this exhibition an open, vigorous exchange of voices that Fred Wilson, SCAD deFINE Art 2012 honoree, continued in this recent conversation.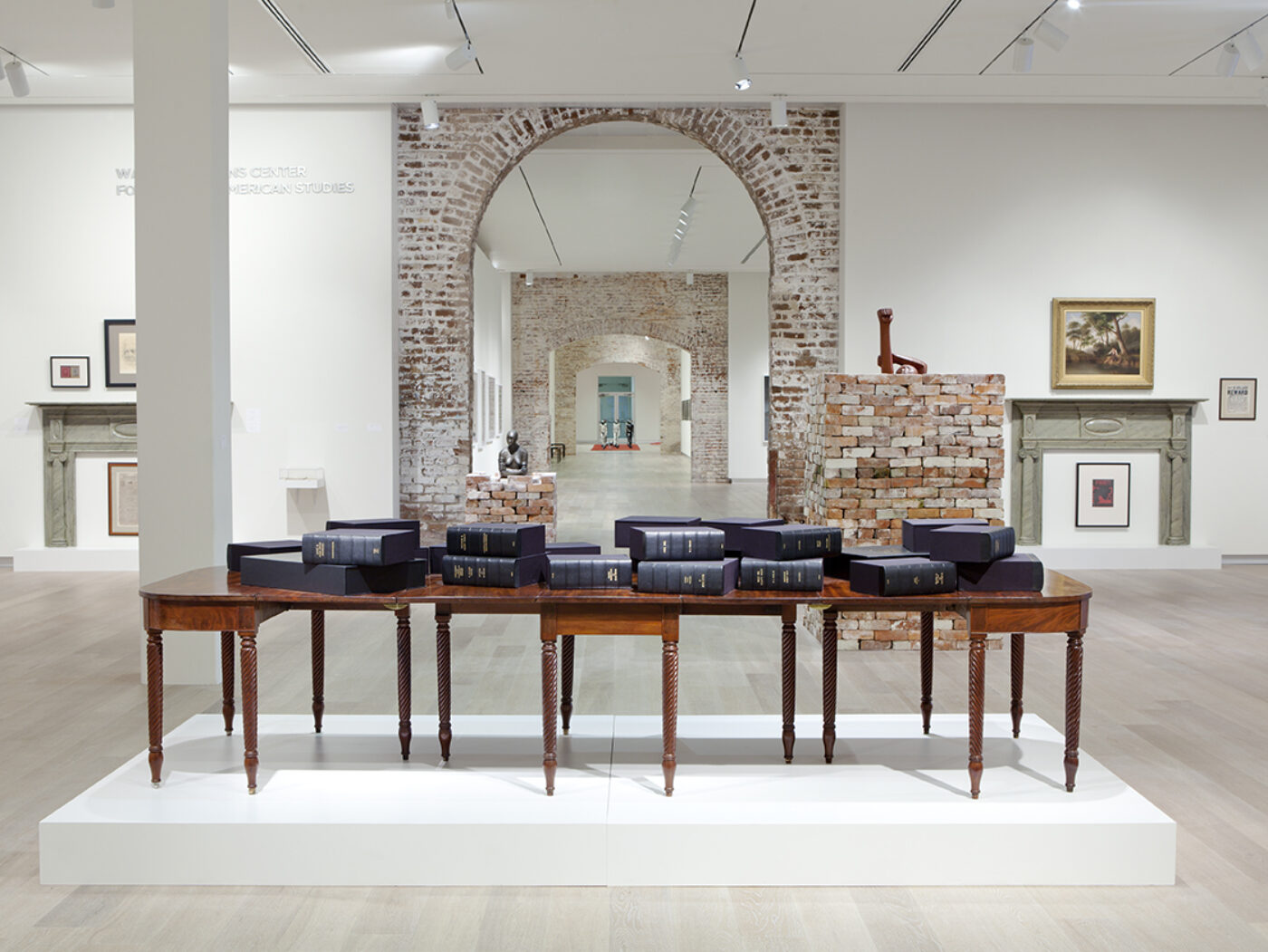 Kathleen MacQueen In viewing Life's Links, I experienced an overwhelming sense of inadequacy in face of the density of history. Do you see the artist's task as bridging a gap between history and awareness?
Fred Wilson In hindsight, this project has provided an interesting shift from what some might consider my usual paradigm of hard critique because of the content of the collection I had for my material. It was no longer a question of the inadequacy of the institution, or the presentation of the collection, but a matter of drawing out the language and finding interesting relations within the archive.
KMQ I'm interested in a story's indirect emergence through its own hiding. This is similar to what Maurice Berger has written of your work as rendering the invisible visible but isn't it also a matter of engaging what is right before our eyes but which we too often fail to understand?
FW Blind spots in fact are more about awareness or denial. When I'm going through things, I become aware of questions no one is answering … going back to my childhood and the idea of questions bubbling up from under the surface. I know how to use this now. I can answer these questions in my own way. All of us are blind to something. I like to think of it as a matter of awareness and self-questioning, and not a matter of shaming.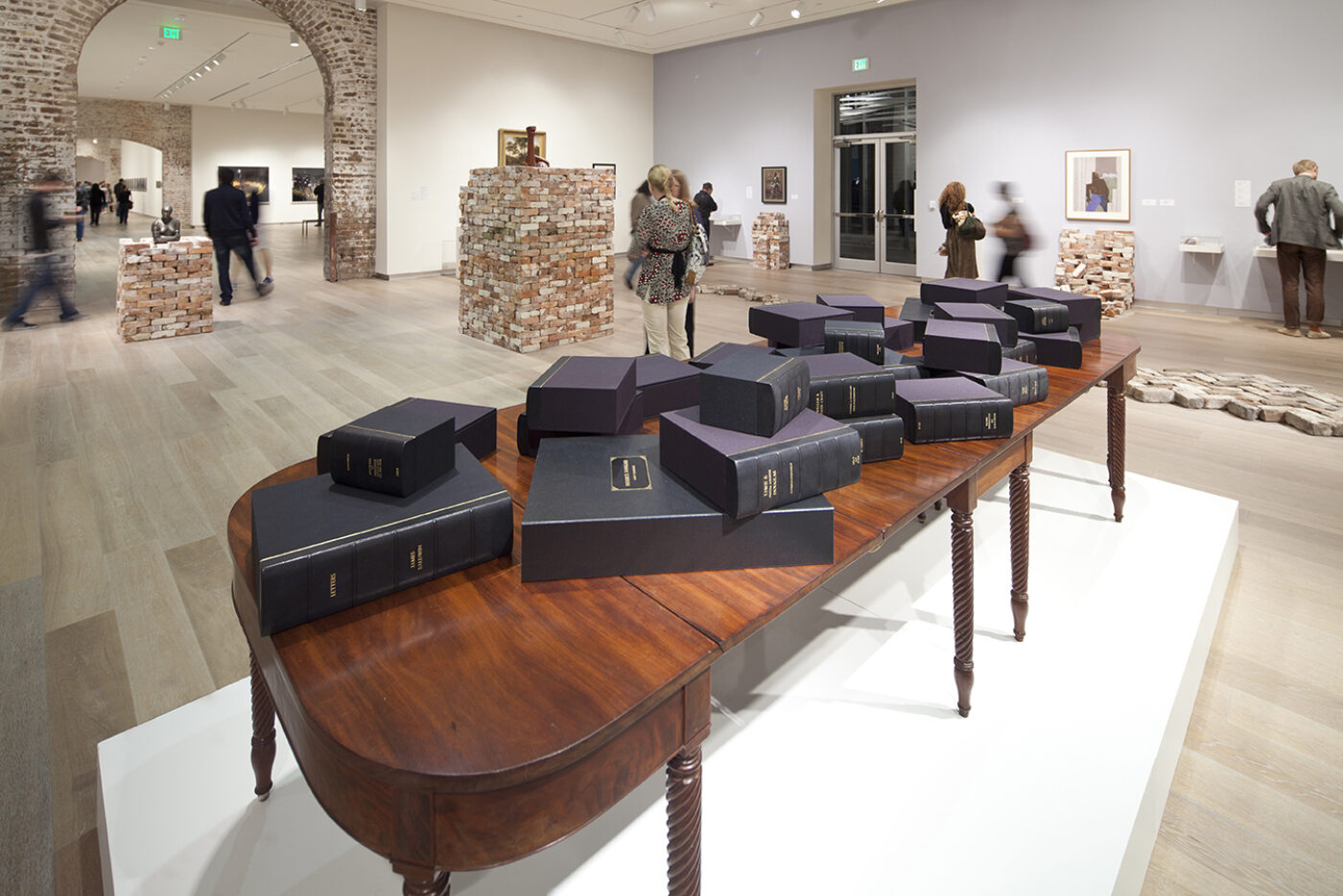 KMQ Perhaps instead you instigate further investigation? Ultimately you used only a small portion of what you researched and what you researched represented only a small portion of Dr. Evan's collection. I keep reflecting on the idea of proportion: that a percentage of one percent is a kind of mise en abîme. What were the difficulties in confronting such a massive amount of material?
FW It's much harder when there is too little material than when there is too much. I love cornucopia—it's like having a wealth of dishes to try and you keep sampling, then it becomes a matter of … what shall I say? I don't want to use the metaphor of regurgitation: it's not what the process becomes …
KMQ Keeping with the food analogy, are you perhaps the chef who can discern within an unfamiliar dish, each and every spice from cumin, to turmeric, to coriander while most of us just manage the gestalt of the overall flavor?
FW Yes, it's a remix of flavors …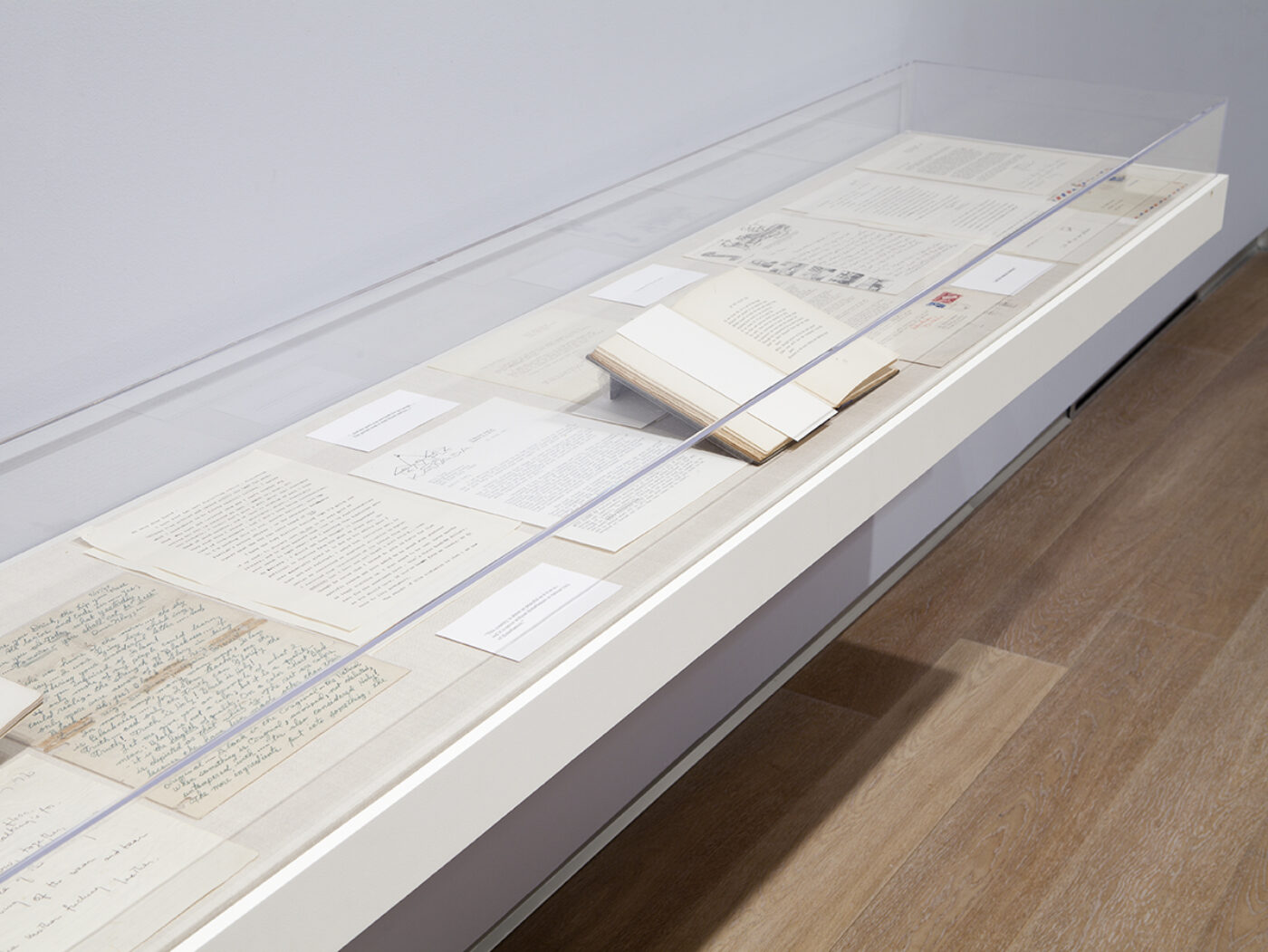 KMQ. . . almost playful?
FW It's purposeful play. Between collection and display, there is the relationship of materials.
Placing the Malcolm X quotation with the letters exchanged between Frederick Douglas and his grandson forms unexpected relationships. You get a very real sense of these historical personas as private individuals. The letters, the quotations, and the links are all gifts to me. And when I got to the historical society and found the brick man … well, that was perfect!
KMQ There are so many connecting threads or themes that emerge: sailing ships, smooth and turbulent seas, chaos, flames of fire and of rhetoric, bricks with associations of labor as well as the archive. Bricks, of course, are not dense like my analogy of history but porous …
FW Absolutely porous!
I am no longer interested in just making museum language visible; museum display is not the medium for this exhibition; instead, visceral material connects history to the immediacy of the hand or gesture. Let me give you an example.
These bricks, made by slaves, form the pavement and the walls of Savannah. If you take the trolley tour, they point out a brick that reveals the fingerprint of its maker. Now what is that? Did he leave this trace on purpose? As a unit, I could use the brick easily. First, it meant so much to this town. Second, it's so familiar that it is generally overlooked. I used many different bricks in the exhibition but the river or snake-like pattern on the floor and the bricks within the slipcover document cases are specifically Savannah Grey bricks, which have not been made since the end of slavery.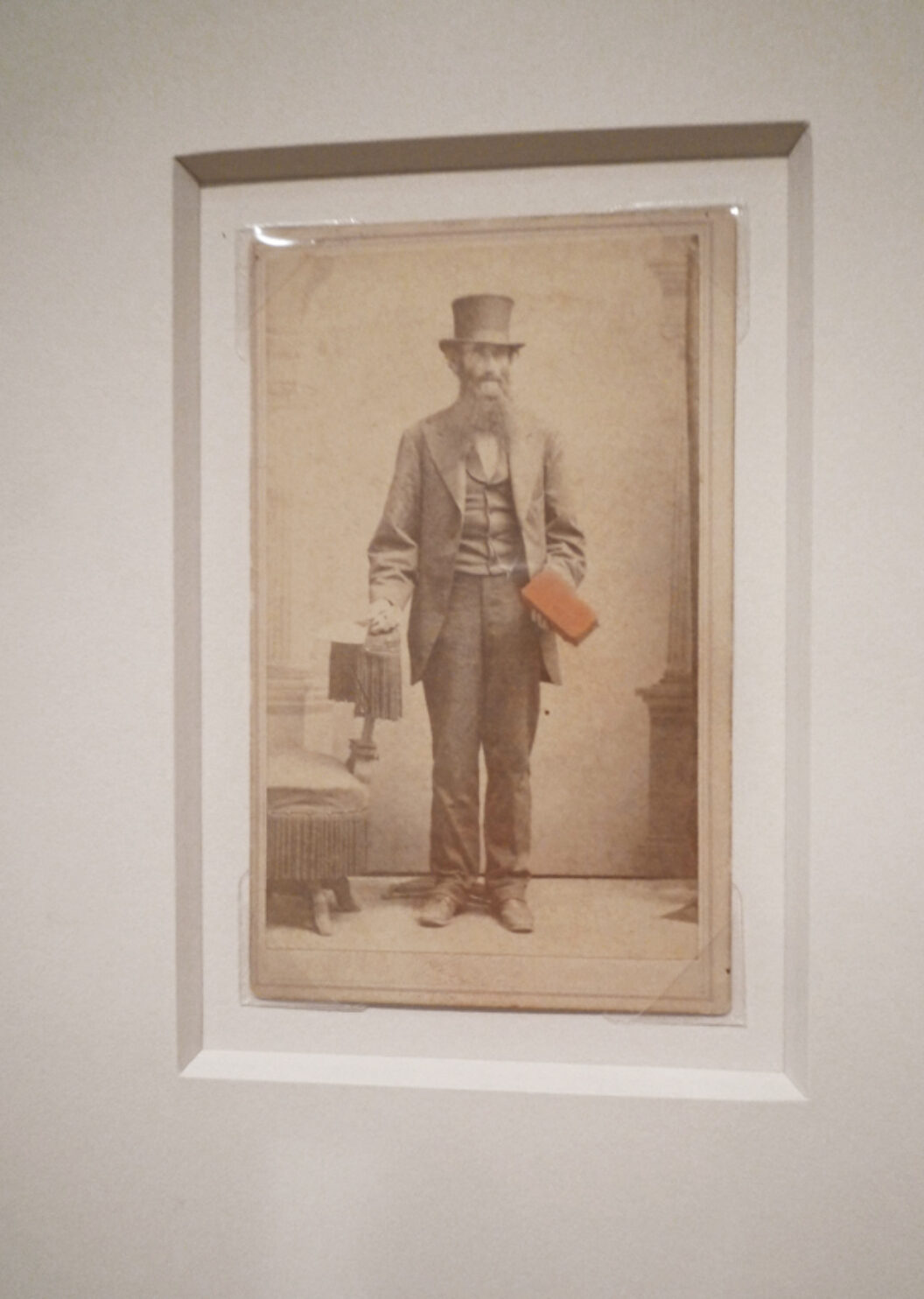 KMQ It is ironic that the recipe for the Savannah Grey—a brick made by slaves—has been lost while the recipe for oppression has not …
FW It exists in many subtle forms … but here at the Savannah College of Art and Design the conservation students set out to analyze the chemical consistency of the bricks. They discovered an intensely blue, almost turquoise, chemical but have no idea of its origins. Was it from the ground abalone shells that were once prevalent along the shores of Georgia and South Carolina? They don't know but I imagine they will eventually figure this out.
KMQ From Mining the Museum (1992) to Life's Links (2012) your goal has been to upset audience complacency; what upsets your own perception, or perhaps, expectations? What upends you, sets you on edge?
FW As far as complacency goes, I'm always on edge. Not a stressful edge, but in-the-moment awareness. What's most important for me is not to worry about what's coming out. There's a book by Alan Watts called The Wisdom of Insecurity. Insecurity keeps you real, honest, and pushing beyond your fears. This is why you are an artist: to work regardless of expectations. If I worried too much I would become stymied. It's a balance: not too complacent, not too worried. It's possible to use the weakness of insecurity to connect or to disconnect.
KMQ … to use an apparent weakness to advantage?
FW That's right.
KMQ That's a gift. Thank you.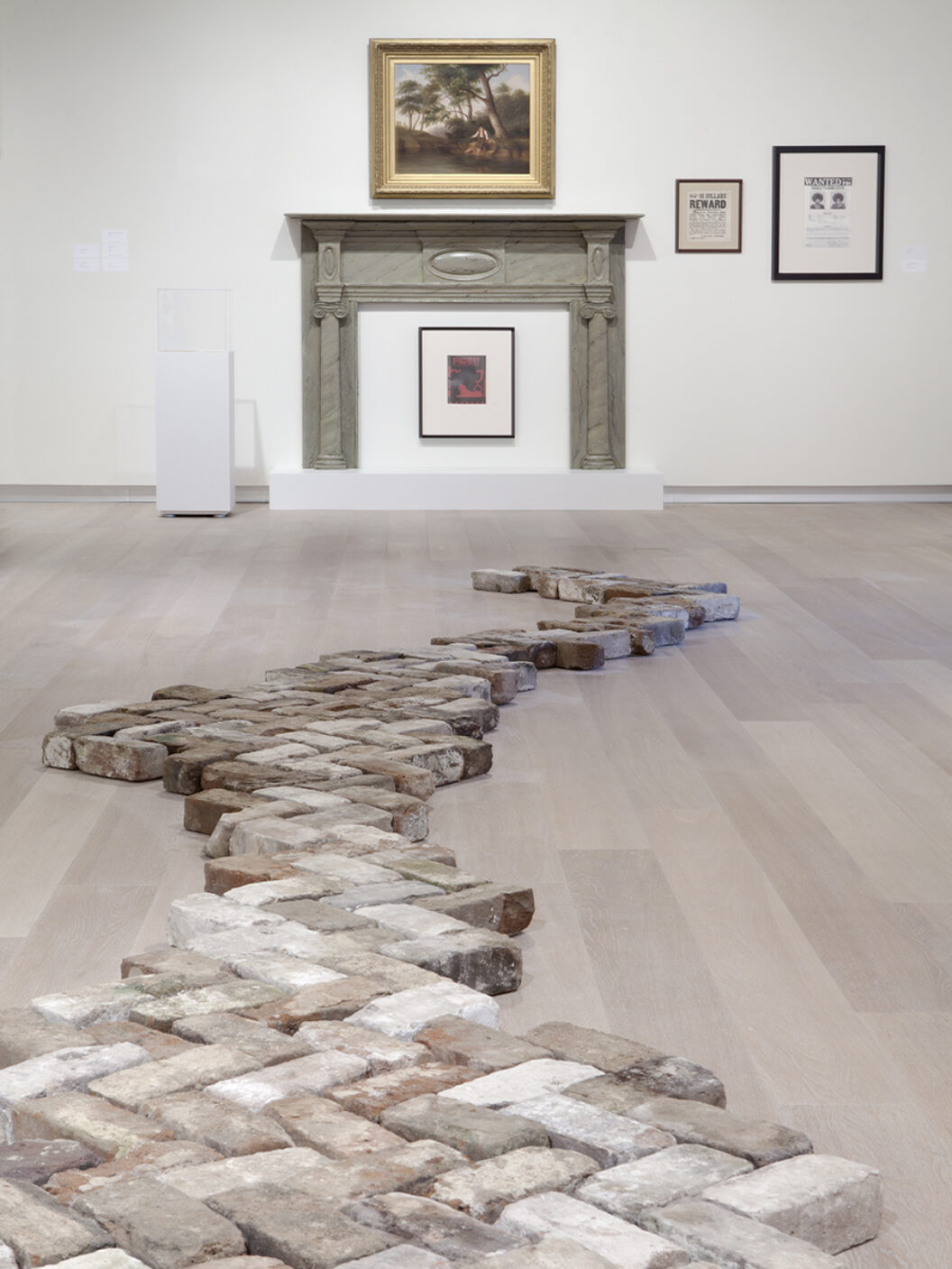 *Fred Wilson's Life's Links will be exhibited at the SCAD Museum of Art from February 21–June 3. He has a concurrent exhibition in Chelsea,
Venice Suite: Sala Longhi & Related Works, at the Pace Gallery, viewable from March 16–April 14.*
Kathleen MacQueen writes on contemporary art and has published essays and reviews in The Art Book, Seachange Journal, Art Criticism, and the Journal of Multicultural and Cross-cultural Research.
We are encouraged as viewers of art to be critical, even judgmental, but what of flexibility and openness? Shifting Connections suggests that— rather than linear genealogies—time, place, and subject are crucial moments in art, that the intersections of thought are more vital than fixed opinion. With alternating reviews and interviews, the column begins from a position that art can speak with—rather than about—its subject, through shifting connections.