Shifting Connections: Fall/Winter Shorts by Kathleen MacQueen
In her latest Shifting Connections, Kathleen MacQueen reflects on three of her favorites of the season.

Discover MFA Programs in Art and Writing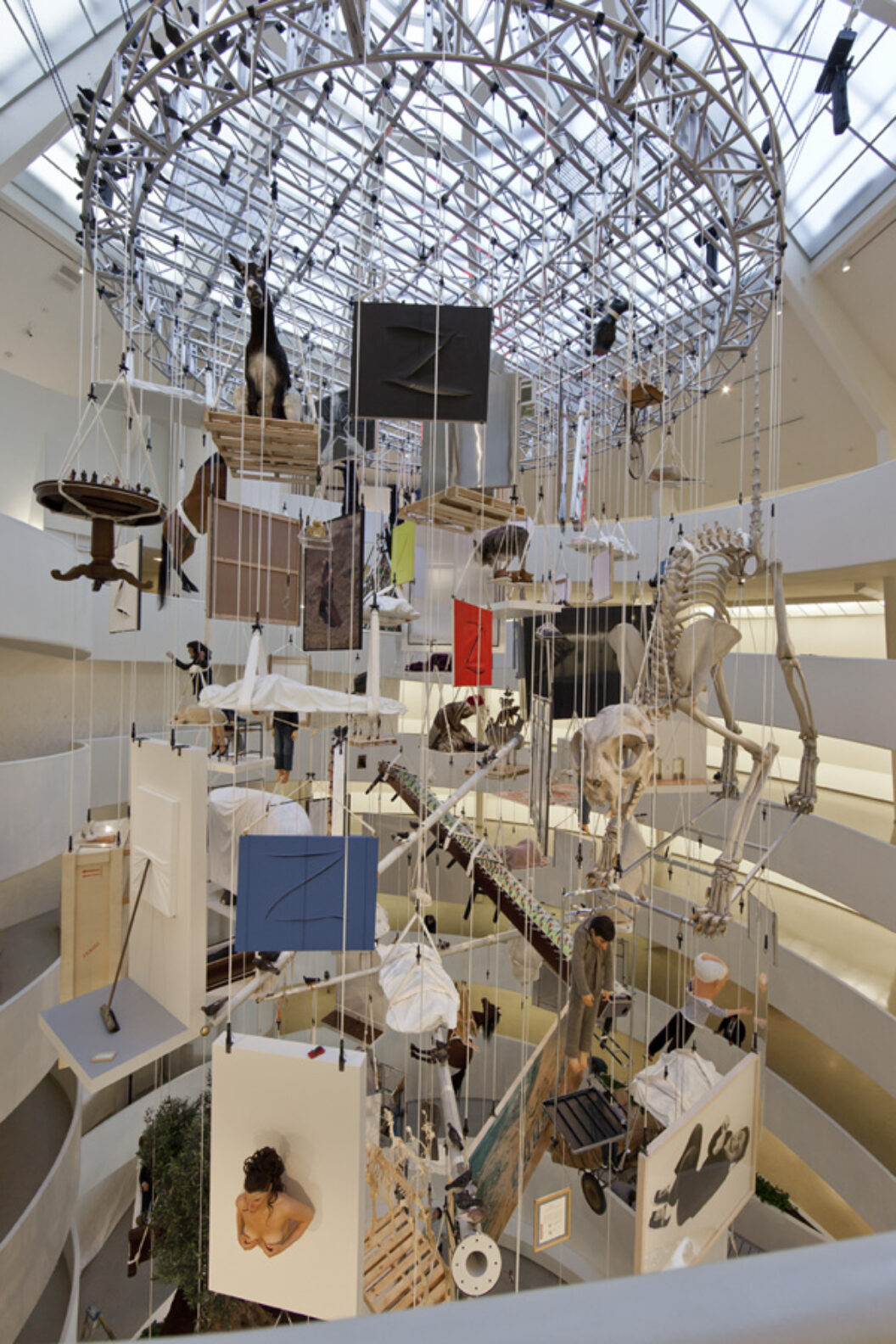 Maurizio Cattelan: All, The Guggenheim Museum
November 4, 2011 – January 22, 2012
"The art of the past no longer exists as it once did. Its authority is lost. In its place there is a language of images. What matters now is who uses that language for what purpose…"
— John Berger, Ways of Seeing (1972)

Maurizio Cattelan consistently refutes any comfortable positions we might accept in our relation as viewers to art and art's face-to-face with reality. In his retrospective currently on view at the Guggenheim Museum, he dangles some 130 works (most of his collective output since 1989) as a defunct carousel around which we spiral, circulating the rotunda. The artist has also hung his career up to dry, vowing to retire with the Guggenheim exhibition serving as his swan song. Four decades after John Berger cajoled his viewers to stop seeing works of art as holy relics, Cattelan insists that the chasm between art and history is our own making. Lifted from their original context, his sardonic interventions shift from the socio-political equation of their original impetus. Instead they refer back to themselves, the artist's career, the space of exhibition, and the act of viewing. The blur of a panoramic sweep, the suspension of an overlapping array, one artwork obscuring another, and the paradox of inversion—viewer on the periphery, art in the center—bewilders. But it also renders dynamic those objects that individually reflect the inertia of trophies and collectively speak of the relations between obsessions and fears and the refusal of any grounded authoritative position.
Andrea Geyer, Sharon Hayes, Ashley Hunt, Katya Sander, and David Thorne, Combatant Status Review Tribunals, pp. 002954-003064: A Public Reading, The Museum of Modern Art and Performa 11
November 12 and 13, 2011
"– Is there anything else you want to tell us? – What do you want me to tell you? – Do you have any evidence? – What kind of evidence? – Witnesses, for example. – Ask Saudi Arabia. The Saudi government is my witness…they know everything."
— Tribunal transcript (2004-05)

Samuel Beckett could not have scripted a more Kafka-esque text for nothing than the transcript pages of the Combatant Status Review Tribunals conducted by the US Department of Defense between July 2004 and March 2005 in Guantánamo Bay, Cuba. Artists Andrea Geyer, Sharon Hayes, Ashley Hunt, Katya Sander, and David Thorne recognized the ironic absence in plentitude, selecting for a performance text a small fraction of the thousands of pages made available through the Freedom of Information Act. pp. 002954-003064: A Public Reading premiered at documenta 12 in Kassel, Germany in 2007. This month notable writers, critics, and artists, including Anna Deavere Smith, Homi Bhabha, and Fred Moten, gave two four-hour readings as part of Performa 11. It was a mesmerizing study of erasure. The text, a literal pro forma protocol, continually circled back onto itself: questions without answers, witnesses and evidence that would never be procured, and vague references to a higher authority that hovered over the proceedings as an absent god holding all of life in limbo.
Tables were arranged in a square formation centered at the foot of MoMA's Bauhaus staircase, while labels indicated Detainee, Narrator, Tribunal Member 1, Tribunal Member 2, Tribunal President, Recorder, Representative, and Translator. Readers took their seats for the duration of the testimony of one detainee and then rotated positions, such that no one reader became identified as a character in a play. This emphasized the circuitous nature of contradiction: the gender of the reader and that of the text interchanged, and the seat of the translator remained empty to intimate the 50+ languages that could not be accommodated by the reading. This also negated any notion of seamlessness in a system that, as Fred Moten pointed out, constructs jurisprudence as a reasonable extension of war.
In this sequence of testimonies, we progress from perfunctory statements, to animosity and sarcasm, to the tragic shroud of opacity, as one detainee's efforts to reveal his position with the Taliban as that of pretty boy is simply not understood. These transcripts might well have been redacted, so thick is the obscurity of evidence against these men and boys hidden behind the veil of National Security and classified documents. I could not help but think of Gogol's Dead Souls, names bought and sold as commodities for the sake of appearances.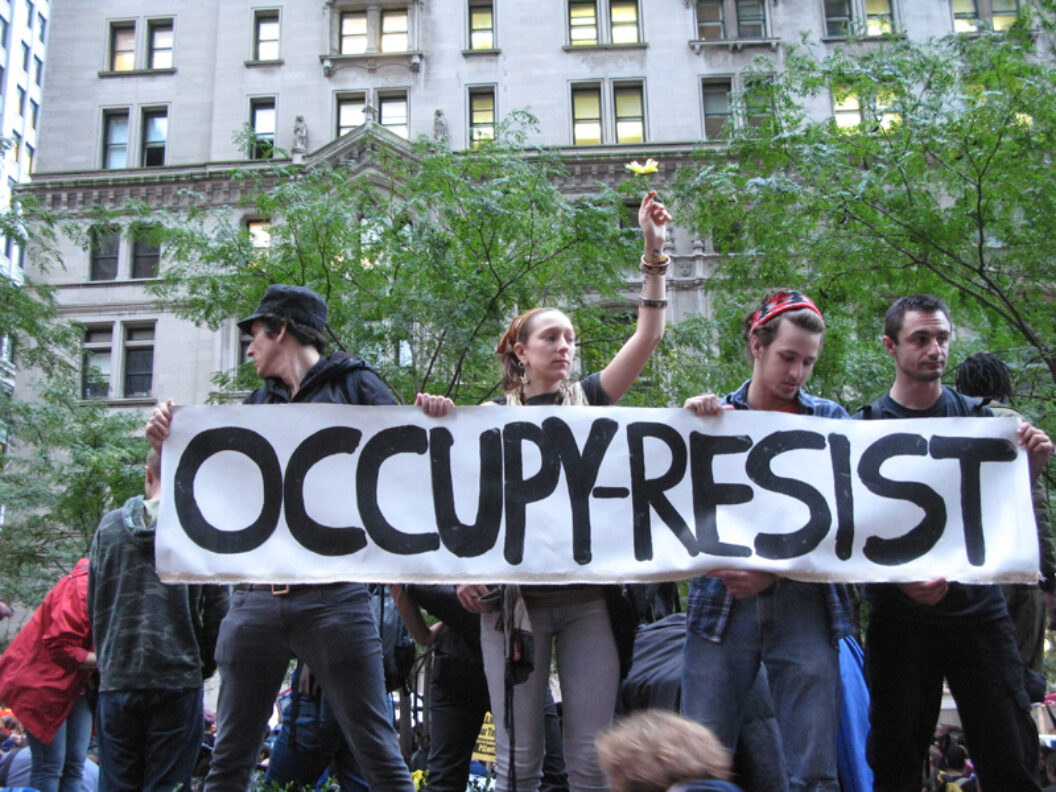 Alfredo Jaar, OWS opener on his website, alfredojaar.net
Ongoing
I hover, shift along the periphery, an outsider overwhelmed by crowds; if I write to remain sane then perhaps my involvement in the world is one of chronicler rather than participant. Alfredo Jaar, on the other hand, does not equivocate; he takes a position and lends clarity to confusion. For all the Horizontalism of the current OWS movements (plural as in peoples, a multitude of differences in a cresting wave) and my search for the zeitgeist of Occupy in its fluid series of momentum-building operations, Jaar's call to action pins the donkey's tail. The new opener on his web site is as forceful as any of his works of art for, like his art, the web is used as a weapon against injustice. Earlier in the year he affirmed through a series of portraits the presence, persistence, and perseverance of dissident artist Ai Weiwei who was apprehended by Chinese authorities and went missing for three months. Now he proclaims the legitimacy of the OWS movement. Sharp, white letters on a red background indict the current state of Democracy in the United States:
"There are no excuses left. Either you join the revolt taking place on Wall Street and in the financial districts of other cities across the country or you stand on the wrong side of history."
The full text of Chris Hedges's The Best Among Us (truthdig, 2011) stands as a passionate advance guard to Jaar's photographs from the Times Square demonstration followed by a list of relevant websites as potential means to get involved. Though it may be Jaar's rallying cry, it is our rally—a movement of both individual and collective language. What matters now is who uses that language, and for what purpose.
We are encouraged as viewers of art to be critical, even judgmental, but what of flexibility and openness? Shifting Connections suggests that— rather than linear genealogies—time, place, and subject are crucial moments in art, that the intersections of thought are more vital than fixed opinion. With alternating reviews and interviews, the column begins from a position that art can speak with—rather than about—its subject, through shifting connections.
Kathleen MacQueen writes on contemporary art and has published essays and reviews in The Art Book, Seachange Journal, Art Criticism, and the Journal of Multicultural and Cross-cultural Research.