Sheep in Woolf's Clothing: Elevator Repair Service's Everyone's Fine with Virginia Woolf by Helen Shaw
An experimental theater company takes on Edward Albee.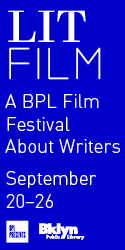 The lovable goofs at Elevator Repair Service sometimes seem like they never left college. Specifically, they seem like they never left a first-semester, late-night, freshmen-only party, all of them wobbling from futon, to dorm-fridge, to bar cart, getting zonked and making jokes about their Lions of American Literature class. The stuff we all thought was hilarious back then still tickles them—wigs, caftans, robots, people dressed up as vampires. But there's always academic intelligence loose in the room too, like the desire to comb over old texts looking for intent and a genuine delight in the act of analysis itself. 
Their postmodern embroideries often live or die based on how much they cared for the original. Sometimes they so worship a text they can't bear to cut a single word (the marathon performance Gatz, which reproduced The Great Gatsby); sometimes they love a source so much they can't bear to show you the boring bits (the hallucinatory Room Tone, based on A Turn of the Screw). And the reason Everyone's Fine With Virginia Woolf is such giddy fun is because everybody in it seems deliriously in love with the project. Longtime-performer-turned-playwright Kate Scelsa clearly adores the Edward Albee classic, quoting it, joshing it, trying to adjust its sexual politics as though it's a parent she's trying to "correct" over Thanksgiving dinner. And in an audience of die-hard ERS obsessives, she's also her own company's biggest fan, tailor-fitting each role for its actors. If you've been watching ERS for, say, around 15 years, you might have wondered if anyone would ever truly exploit Annie McNamara's gift for mayhem or Vin Knight's glass-shattering upper register. You and your eardrums need wonder no more.
Everyone's Fine starts as a lampoon of Albee's 1962 classic. The weird quartet from Who's Afraid of Virginia Woolf are back: sloshed and embittered Martha (McNamara), her emasculated husband George (Knight), on-the-prowl professor Nick (Mike Iveson), and his dim-bulb wife Honey (April Matthis). Just as before, George and Martha stumble home ("What a dump!") after a rollicking faculty party, with Nick and Honey following after for a night of drinks and humiliations and games of Get the Guest.
At first Scelsa's foursome stays relatively close to Albee's plot, though each character has been turned into a walking set of deconstructive comments. Nick now writes fan fiction and slash fiction—a pretty good description of the gleefully queer Everyone's Fine—and Honey gets quite tart on the subject of the Albee character's "hysterical pregnancy," which the ladies note is the kind of not-a-real thing a misogynist might make up for his own dramaturgical needs. The critique starts spiraling outward to contain other gay, white-male playwrights of the Golden Age: George, leaning so hard on his Southern accent that it squeaks, performs extended sections of Tennessee Williams's Cat on a Hot Tin Roof and A Streetcar Named Desire. These are so good they nearly derail the seventy-five-minute-long project, and director John Collins has to make him collapse behind the sofa just to stop him.
Eventually people are zooming around making jokes at such a pace that the thing starts tearing centrifugally apart. Louisa Thompson's living room set has been cracking its own jokes from the beginning: almost all the interior details (furniture, doorways, etc.) are just printed on fabric walls, which means that hanging up a coat means throwing it at a painted coatrack and putting on a record means tossing it against a wall. Kaye Voyce's costumes tread the line between "design" and "sabotage"—she puts poor Matthis in a '60s Pepto-Bismol pink dress of such transcendent ugliness that it's nearly an act of violence—and sound designer Ben Williams takes an obvious sadistic pleasure in certain cues, including a late-in-show cataclysm so loud I could feel the floor vibrating. 
Jim Henson once said that whenever he needed to end a Muppet sketch, he'd just have one puppet eat the other one or, alternatively, blow up his fellow Muppet. This gang of chaos-minded Ernies (no sober Berts anywhere in sight) have decided to go with both options. Barely an hour in, Scelsa has said what she wanted to say: Albee wrote a gorgeous stage monster in Martha, but he failed her by letting George defeat her. Now Scelsa and Collins and ERS give Martha the upper hand again, and she simultaneously blows up and eats the world. By the end, the stage is just smoking rubble. Weirdly, everyone's fine with it.
Everyone's Fine with Virginia Woolf continues at Abrons Arts Center until June 30.

Helen Shaw writes about theater and performance for 4Columns, Time Out New York, ArtForum, Art in America, the Village Voice, and American Theatre.