"They said, 'You'll be in charge of the children and the dogs.' And I said, 'Okay! But what does that even mean?'"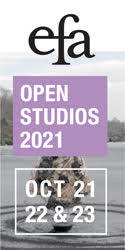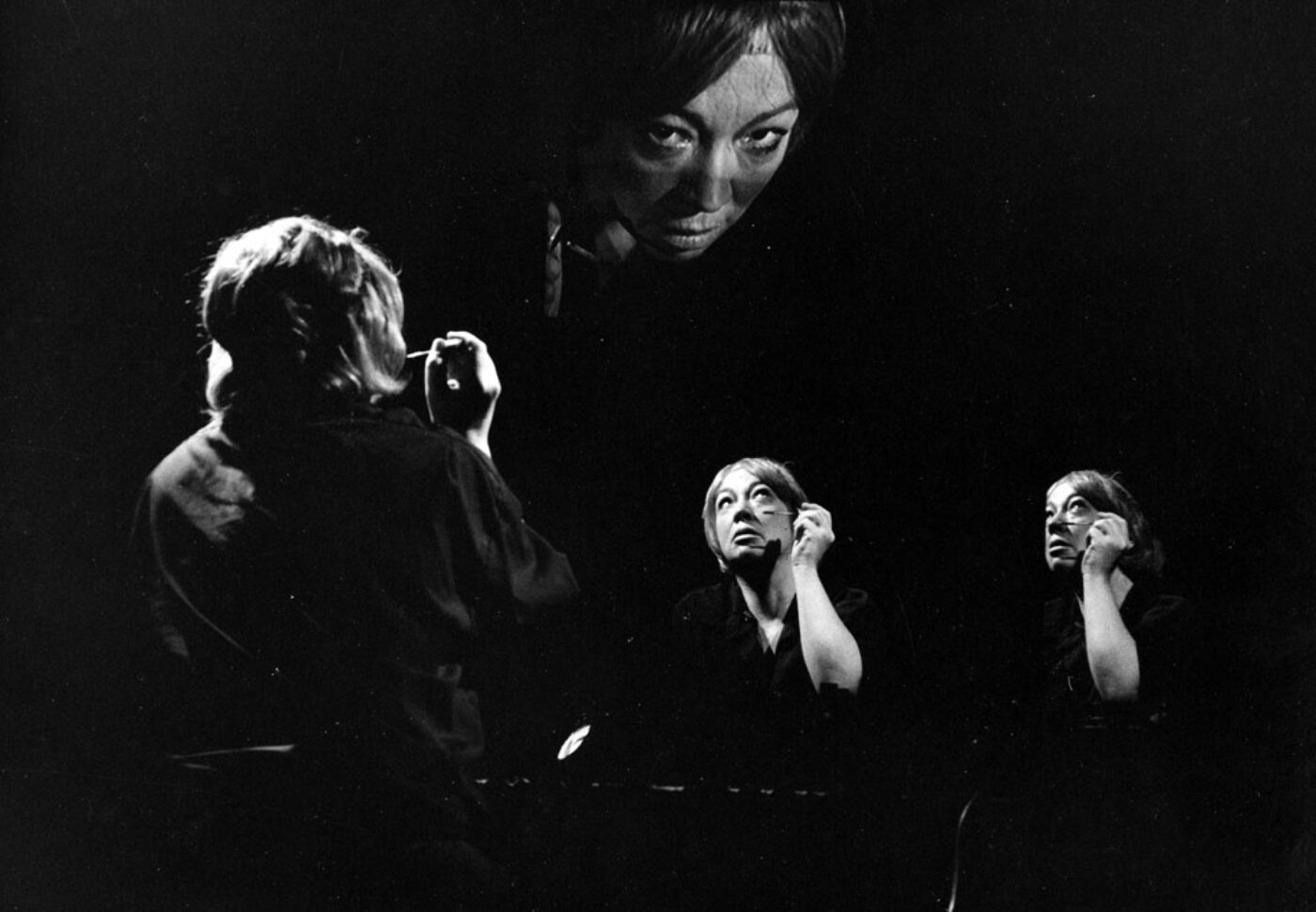 In a 1996 BOMB interview, Lee Breuer—the founder of Mabou Mines—proclaimed that the avant-garde theater company's days were numbered. "We don't have any money to keep the studio rent paid, or to keep the phones hooked up, or to pay the taxes." But Mabou Mines, founded in 1970, has certainly flourished for much longer than most radical ensembles. For nearly five decades, the collective has taught American theater artists how to engage with the conditions of postmodern flux through the embrace of medium multiplicity and other visual arts methodologies. The group represents the forefront of innovation both across and between the arts.

In early 2016, Mabou Mines will move into a newly renovated space at PS 122, replete with a theater, rehearsal space, and new artist residency. The organization's ongoing survival is due in large part to Sharon Fogarty, who became an artistic director in 1999 and helped guide the company's way toward financial stability.
My first encounter with Fogarty was in 2014, as an actor playing Mephistopheles in Faust 2.0—her techno-feminist adaptation of Goethe. I can say that Fogarty's work brazenly engages with the beautiful and impossible aspects of theater, pulling at the ruptures of the modernist aesthetic, but forever indulging in the humor and conceit of the theatrical form. During our callback, for example, she directed the actors in an impromptu choral work, converting an academic article's description of the erotic into music.
Zachary Small What were your first forays into acting?
Sharon Fogarty I was a theater kid growing up in Boston. I started acting professionally when I was seven or eight. When it came time for college I ended up at Emerson, and in my junior year I took a workshop on the techniques of Jerzy Grotowski, with Steven Wangh and Vinny Murphy. We created a piece based on the Allen Ginsberg poem "Kaddish." It was a complete breakthrough for me. I had taken many psychological acting classes, but through this workshop I realized that the most exciting work was physical. By venturing beyond the psychological approach I learned that more non-naturalistic options were possible.
After I graduated, a group of my classmates and I stuck together. I initially moved to California, but a lot of my friends ended up in New York City. One of them had transferred to NYU's Experimental Theater Wing. During the summer, when the studios were empty, we would get together there a few nights a week to practice the rigorous Grotowski method. We felt like renegades—sneaking around to create subversive theater. We eventually produced a large production that took place in a Chelsea loft. From that one performance I realized how important a director is to the theater-making process. (laughter) The more I worked as a performer, the more critical I became from a directorial perspective.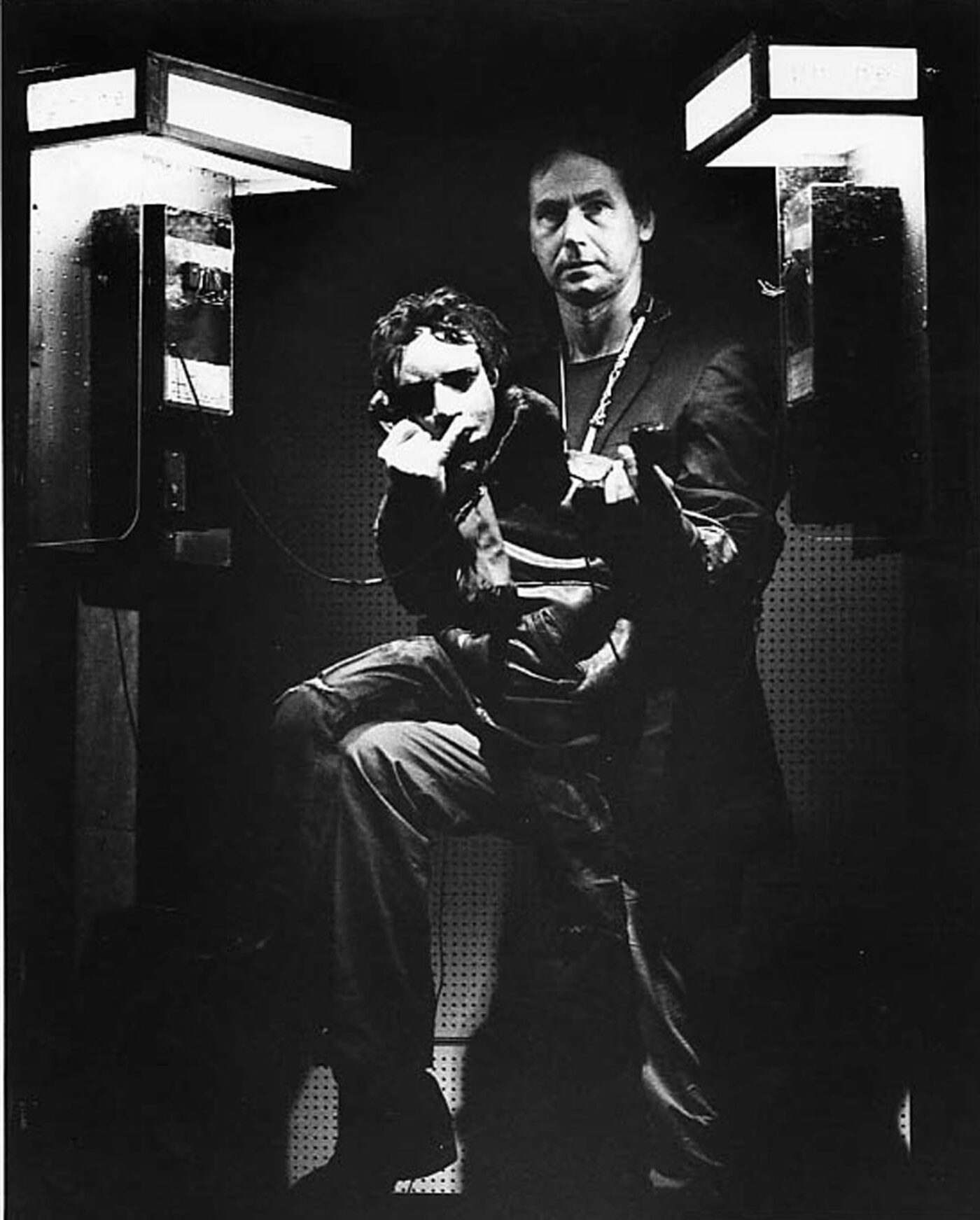 This was also when I started to learn more about Mabou Mines. Nuclear proliferation was a huge public fear at the time, and the company was working on a production called Dead End Kids, directed by JoAnne Akalaitis. I had previously seen an amazing Mabou Mines double bill at the Public Theater. It was a pairing of Sister Suzy Cinema with Prelude to a Death in Venice. I got to know the ensemble around the time of their gender-reversed version of Shakespeare'sKing Lear. They were so welcoming. I understudied for various parts during its many workshops. And then came the show in New York City.

ZS It sounds as if you were in an unofficial apprentice program.
SF Yes! And for the New York production, they said: "For this run, you'll play a henchman and a member of Lear's entourage. Also, you'll be in charge of the children and the dogs." And I said, "Okay, but what does that even mean?" So, every night before the show, I would drive a car around the Lower East Side, pick up the dogs and the children, and then, after the first act, pack them back into the car and drop them off at their respective homes… leaving enough time to get back to the theater for the third act, in which Gloucester, played by the fabulous Izzy Monk, had her eyes gouged out! It was kind of surreal.
ZS This was that great production that featured Ruth Maleczech as Lear, right? A lot of changes were happening for the  company at that time.
SF A bunch of the members left to pursue other projects, including JoAnne Akalaitis, who became artistic director of the Public Theater. After Lear there were just a few people: Lee Breuer, Ruth Maleczech, Terry O'Reilly, and L.B. Dallas, who left soon thereafter. Simultaneously, the support for not-for-profit theater was changing. The National Endowment for the Arts (NEA) began to cut back funding and change the way they gave organizations money.
ZS Was this the moment when you joined Mabou Mines as an artistic director?
SF Not quite yet. I came back to the city after getting my masters in Ireland. Oddly enough, I then met an Irish guy named John Lyons who ran a theater company called Daedalus. He was moving to California and told me, "I've talked to my board and told them you're the one I want as my replacement." I thought it was mad but, "Okay, cool!" I stayed with Daedalus as an artistic director for three years. At the same time, I knew I needed a money job. I lived around the corner from Mabou Mines and Ruth Maleczech knew I was looking, so she invited me to come over and talk. At the interview she said, "You know business, right?" And not wanting to disappoint, I said yes. So I became the company manager, entering the organization after so many had left—it felt like a revolution had passed through their offices.
ZS So you were there to clean up shop.
SF (laughter) You have no idea. When I arrived it turned out that nobody had been in the office for months. No one had opened the mail. There was a part-time bookkeeper, but somehow he hadn't been paying taxes. I was shocked on the first day; I was so unsure of myself. But I went back the next day, and we slowly began to rebuild the organization. As time went by we got new grants for new projects. One grant in particular allowed us to stage An Epidog. The show was a hit—the lead puppet won an Obie Award. It was the first and only time (I think) an Obie was awarded to a puppet.
ZS Puppets saved Mabou Mines.
SF Yes, puppets saved Mabou Mines! That's a great tagline.
ZS This is a tangent, but it seems like puppets have actually saved experimental theater itself. They're everywhere. At La MaMa, and BAM too.
SF St. Ann's has the Puppet Lab.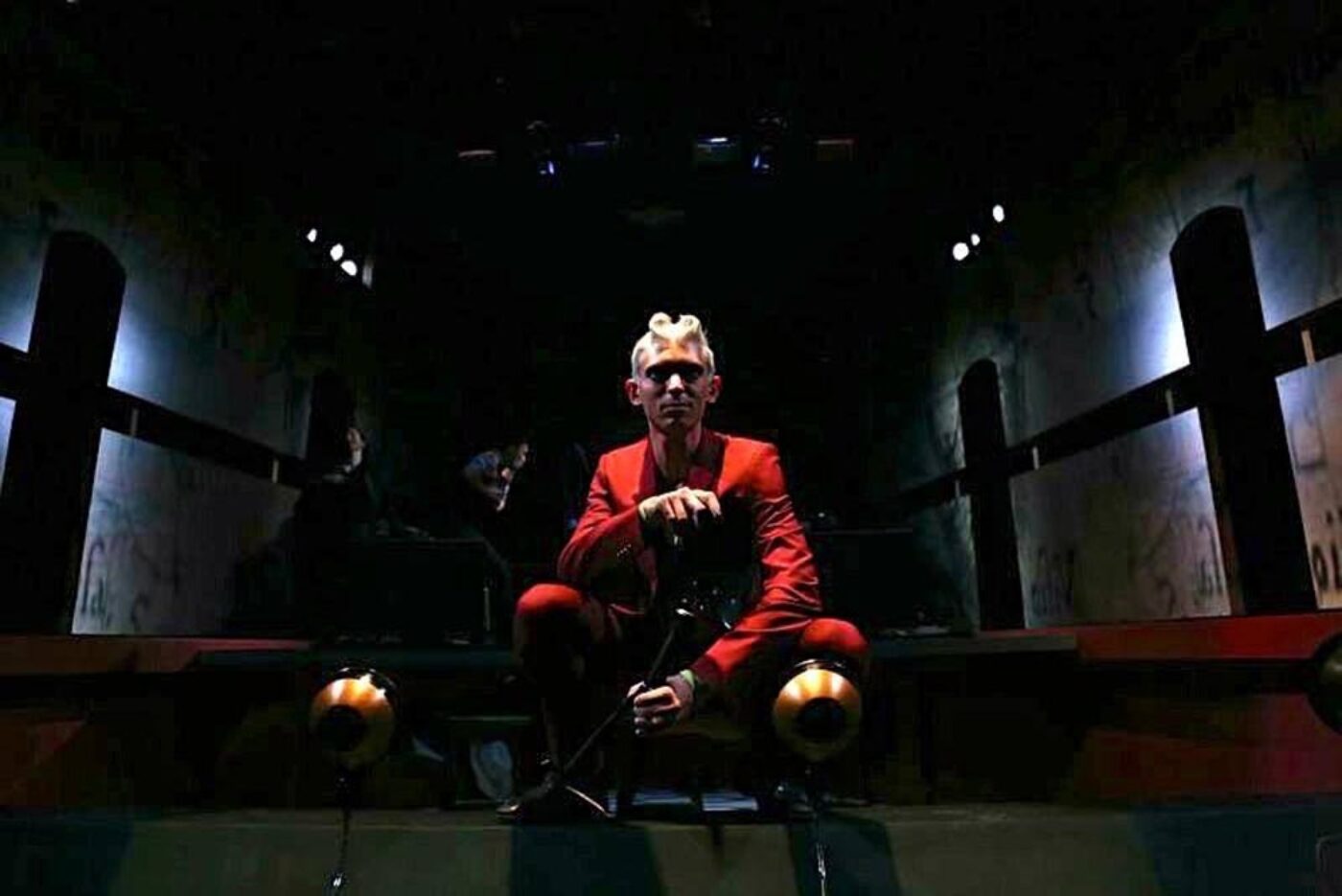 ZS Let's talk about your own directing style and history. What I found so interesting during the Faust 2.0 rehearsal process was your engagement with Brechtian theory. Instead of approaching theater in a naturalistic way, you tend to dissolve synthesis into thesis and antithesis, giving the audience a sense of tension and oppositional performance. What drew you to this style?
SF Well, that's really the Mabou Mines style. Ruth Maleczech put that principle into practice in all of her performances. In the '60s, JoAnne and Ruth traveled in Europe and attended a workshop with Grotowski. While in Germany, they crossed Checkpoint Charlie to East Berlin every day to observe the work of the Berliner Ensemble. Once back in the States, in the summer of 1970, the group convened at Philip Glass's house, near Mabou Mines, Nova Scotia, and the company was formed.
ZS I can't imagine a more dynamic space to start a theater company than Philip Glass's house. He really was a connector of artists, bringing visual people, like Richard Serra, into contact with theater people and composers. Do you think this impacted Mabou Mines?
SF The company aligned itself with the visual arts rather than traditional theater. They wanted to incorporate the conceptual ideas that visual artists and experimental writers were using—versus a straightforward, "realistic" narrative.
ZS You're talking about living-room plays. It's something that we've discussed before. The truth is, a majority of plays produced today, especially in commercial venues like Broadway, are living-room plays in which the characters convene, usually around a table, to reveal family secrets—and then fight. Drama is mined in a flat, suburban setting. Through their arguments, the characters somehow find a deeper meaning—a solution to all of society's problems. At the end of the play, they go out into the world, ready to proselytize all that they've learned. To me, it sends the wrong message to the audience. It says that society's problems lie in the individual's psyche, instead of showing that socio-political issues are a communal problem. It seems that Mabou Mines has a bone to pick with this kind of thinking. A lot of the company's work exists in friction with the optimism of commercial drama, which I think is couched in the antiquated idealism of suburban capitalist splendor.
SF We all have our own bones to pick. Every member of Mabou Mines has their own aesthetic, but we share an overall suspicion of the status quo. We tend to look at the things often taken for granted or accepted as the norm. We often look to expose the underlying forces that subconsciously drive us.
ZS In your work, specifically, I think there is an exploration of body politics and the rise of technology. What are you currently interested in investigating?
SF I'm working on Faust 2.0, which we will remount in Mabou Mines' new theater in 2017. But I've also just come back from Cuba, and I can't get the lessons I learned there out of my head. It was a powerful experience that caused me to rethink what I have learned about Marxism, Hegel, and the legacy of Soviet Communism. It made me think differently about our own culture and capitalist system. We blindly put so much focus on the neoliberal drive to attain material goods and financial wealth. The trip helped me contextualize my own life through a very different socio-political lens.
ZS Can you describe Mabou Mines' upcoming show, Imagining the Imaginary Invalid?
SF Each artistic director of Mabou Mines is a lead artist on a project. Each year we premiere one new work. Imagining was Ruth's last piece. She had been sick for about ten years. One day, she would have a medical crisis, and the next day she would be back on her feet, working. She kept her illness as guarded as a government secret. Theater sustained her while her illness threatened to end it all.
Her daughter, Clove Galilee, asked her: "Why don't you make something you can do in your apartment? Why not Molière's Imaginary Invalid?" Ruth, rather than doing the actual play, was more interested in using the material to comment on her own medical experiences. After ten years of battling with insurance companies and doctors, she was distrustful of the medical industry. Ruth was also devoted to the artistic community that is created when making work. The piece, as she structured it, is a backstage rehearsal of Imaginary Invalid that evokes that same sense of community.
ZS The show sounds like a great tribute to Ruth's work.
SF A week after she passed away, I got a call from the NEA asking if we would still produce the show. I called Clove and asked if she would take it on without Ruth. She agreed, and so we kept moving on. Ruth had mentioned that she might not be able to finish the work, but she wanted me to assure her that we would. Additionally, we had the tremendous support of La MaMa. Marylouise Burke is playing the Argan role now. She is not playing Ruth. But Ruth's presence is felt throughout the piece.
ZS It looks like the next generation of Mabou Mines is coming into their own.
SF (laughter) Yes. Clove is based in California, and has her own company called Trick Saddle, but she's still an associate artist with Mabou Mines. Fred Neumann and Honora Fergusson's son David also has his own company—Advanced Beginners Group. David is also an associate artist with Mabou Mines. Last spring, he made a piece at the Abrons Art Center called I Understand Everything Better. Largely, the piece is about the death of his parents. This January, David's show is remounting at the Chocolate Factory as part of the COIL festival. So, we have two shows from the adult children of Mabou Mines, and both are reflective of their parents' influence on their work.
ZS It really speaks to the legacy and future of the company.
SF We're excited about the future—and especially with the advent of our new theater at PS 122.
ZS What does the new Mabou Mines space look like?
SF It will be a 99-seat venue in the former PS122 second-floor theater—though configured a little differently. It is a window-to-window room, with its famous columns, plus dressing rooms, offices, and a second space for rehearsals.
Additionally, we are looking to provide a new opportunity for artists. We've had our Resident Artist Program for twenty-five years. Artists such as Adam Rapp, Carl Hancock, and Mallory Catlett have participated in the project. We're establishing a new program called SUITE/Space. It will be a curated process in which we invite midcareer artists to develop new work. We want to keep the art flowing through our space. The theater will come with "sprung" floors, cameras, projectors, lighting, and a kickass sound system. We've never had a big administrative structure—we call it "accordion economics"—where we expand and contract as needed. The new space will require some expansion.
ZS And, naturally, this will help Mabou Mines flourish.
SF We want Mabou Mines to live on into the future. The Comédie-Française came out of Molière's troupe, and it lives on today as an institution. While Mabou Mines isn't an institution—we essentially reject the idea—we still want the ethos to continue.
ZS It's very important to have your own space. Most companies have lost their spaces. And, worse, there are few experimental theaters that work on the same scale as Mabou Mines. Many have moved to Europe. In my mind, I envision the three stalwarts of New York experimental theater as Mabou Mines, the Wooster Group, and La MaMa. Of course, there are other groups doing experimental work, but those three stand out, and each has its own voice. For instance, the Wooster Group really investigates the architecture of theater: What is a stage? What is an audience? How do we reinterpret these mechanisms? It's almost a constructivist reaction. On the other hand, Mabou Mines is about the friction and ruptures of theater making. You reject institutionalism, but the company simultaneously has an ethos and engine to drive it.
SF There is a rebellious nature to the work. As we plan for our future we have thought about it a lot. How do we talk about ourselves? We can't pinpoint a certain aesthetic because we encourage artistic individuality. Generally, we play with the vocabulary of theater, combining such techniques as formalism and motivational acting with the mechanics of distancing and opposition.
ZS Mabou Mines is in close contact with the visual arts community—and its theory and criticism.
SF Yes, but we still love acting and theater craft. Mabou Mines has had incredible actors: Karen Kandel, Ruth Maleczech, Bill Raymond, Fred Neumann, Honora Fergusson, Maude Mitchell, Greg Mehrten, and countless others.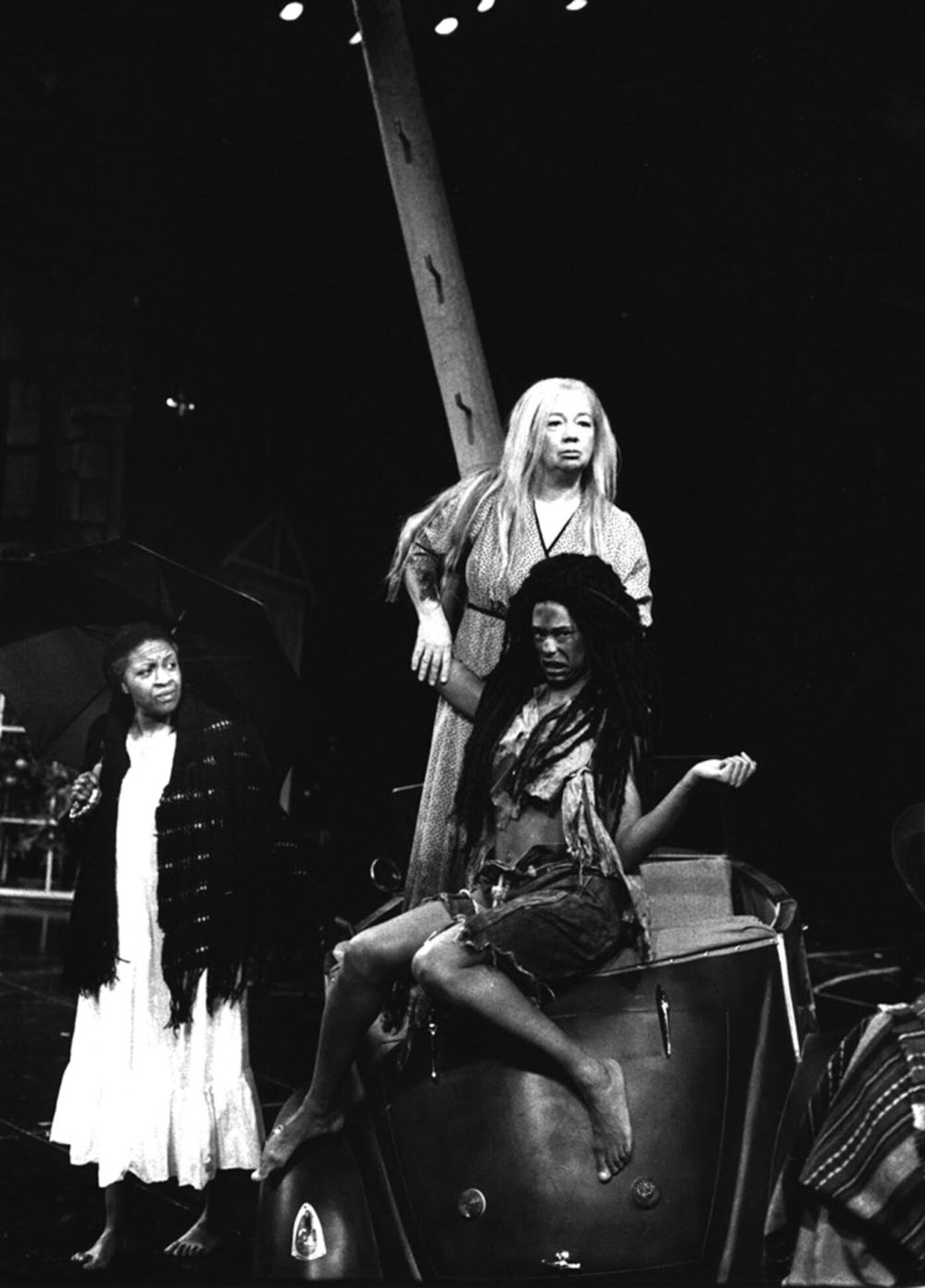 ZS When I consider the timing of the inception of Mabou Mines I see an amazing coincidence and confluence across the arts. Not only was the Vietnam War radicalizing culture and society against war, but activists were also incorporating elements of performance into their own acts of protest. Meanwhile, performance art had really come into its own. Previously, you had Dada and Constructivist performance, but what occurred in the '60s had an entirely new political voice. It was poignant commentary. I still hear that voice in Mabou Mines's work.
SF Yes, but our work is political in a non-political way. The company wasn't in the United States during the Vietnam War, so the work was a broader reaction to and protest against the systems that surrounded the war.
ZS Right, and meanwhile, you had the ossification of both the entertainment and advertising industries that changed the way we digest information.
SF Mabou Mines was a very early experimenter in media. Ruth had adapted a Becket piece called Imagination Dead Imagine. It was performed by a floating hologram. That's what Mabou Mines does best. We take theater tools and combine them with visual arts or media tools. Hajj was a seminal Mabou Mines work done with close-circuit cameras and monitors behind two-way mirrors. It was old school technology—but the result was gorgeous. I learned about the space between metaphor and meaning from watching Ruth's work. It isn't Aristotelian in the cause and effect way—but more of an accumulation of a perspective that builds into an idea. A gap emerges and then your imagination fills in the missing information.
ZS That sounds very postmodern—to investigate narrative and the illogical connections our minds try to make to rationalize it. That kind of experimentation seems critical to your work.
SF I would align Mabou Mines with a postmodern approach more often than a post-dramatic one. By taking on the expected forms of modern theater and using various theatrical techniques, we can question, comment, or rupture the narrative. Narrative is important—but it's not the main show.
Zachary Small is a Brooklyn-based actor and dramaturge. He is also a contributor at Hyperallergic and edits for Slant News. He tweets from @ZSmall93.