Sensitivity as a Superpower: Rajiv Mohabir Interviewed by Mathangi Subramanian
A memoir about growing up Indo-Caribbean and queer. The winner of the Restless Books Prize for New Immigrant Writing.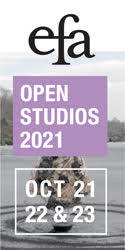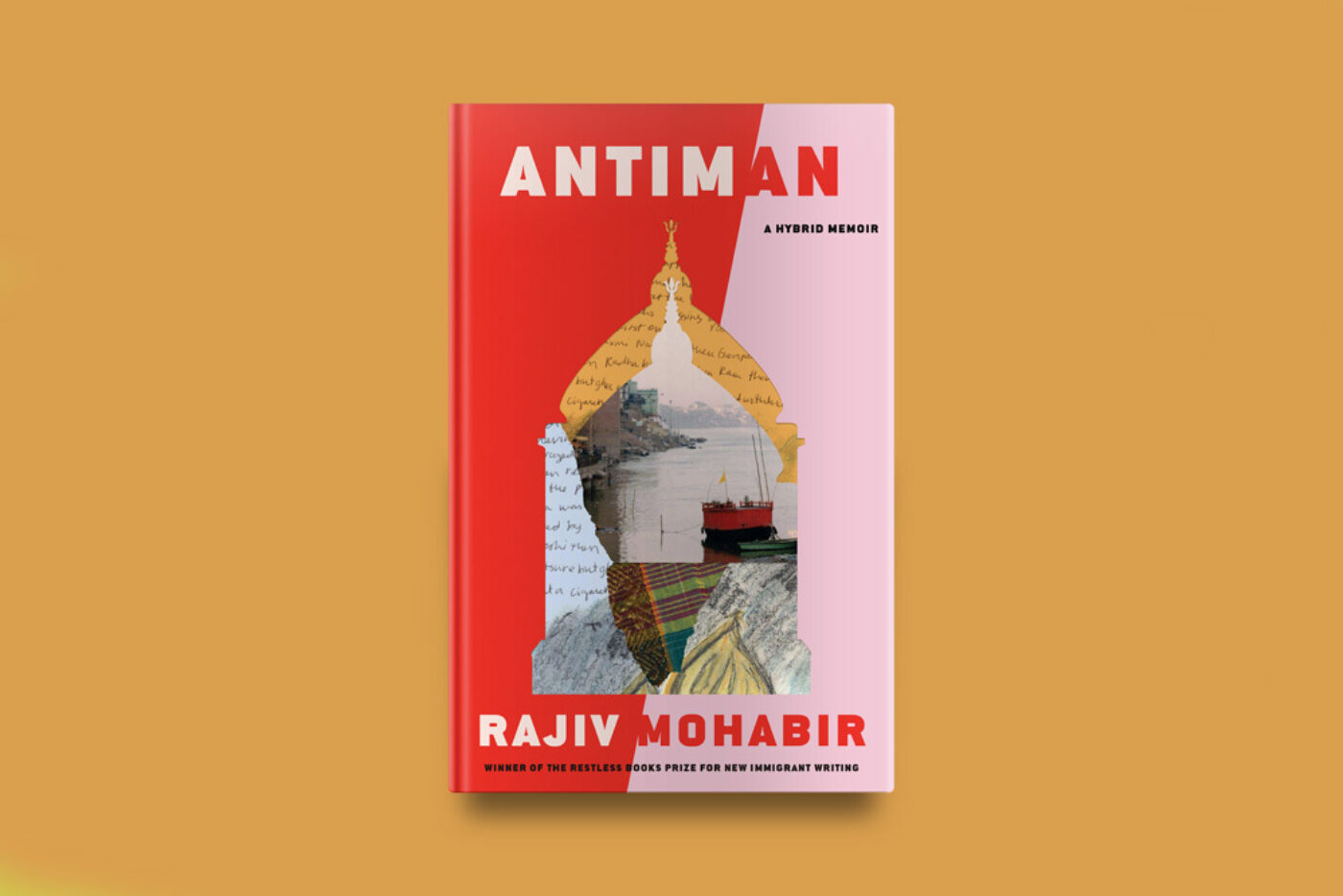 I met Rajiv at a BIPOC only, pre-AWP-conference writing workshop organized by our mutual friend, the brilliant poet Minal Hajratwala. I was a new writer, and I felt out of place among a group of people who were either widely published or enrolled in MFA programs. Rajiv and I met for the first time and chatted before the workshop started. Our first writing prompt was to write about a part of our body that held our grief. I wrote about my knee, and ended up uncovering a personal story about inherited trauma. When the exercise was over, the facilitator asked me to share. I was terrified. I read fast, my face hot, my stomach churning. When I finished, I felt completely dissociated from myself. Then Rajiv leaned over and whispered, "Don't worry. That was really good."
That day, Rajiv's words grounded me, returning me to the body I had left in panic and shame. I uncovered this memory because I experienced the same feeling of radical return while reading his new memoir, Antiman, winner of the 2019 Restless Books Prize. Anitman is a semi-linear narrative beginning with Rajiv's early years in Florida and ending with the death of his beloved grandmother while he is living in New York City. Whether utilizing poetry, prose, or translation, each chapter is both formally inventive and deeply personal. One section, for example, traces the course of an abusive relationship through the stops on the E train to Roosevelt Avenue in Queens. Two other chapters are dictionary entries, defining concepts like "Islamophobic Misreading" and "Brown Inclusion" using the author's own experiences of racism and homophobia. The story is anchored by Rajiv's grandmother's songs, which appear in Guyanese Bhojpuri, Guyanese English, and formal American English. The cumulative effect is a rewardingly original, profoundly personal bricolage which is highly literary and impossible to put down.
In addition to being a prize-winning poet and a great friend, Rajiv is a deeply empathetic writer with impressive moral clarity. I was thrilled to talk to him about his work in the context of decolonization, queerness, hybridity, and magic—specifically, the magic we each carry within ourselves, even when the world insists that we do not.
—Mathangi Subramanian
Mathangi Subramanian You've titled this book Antiman, which you explain is a homophobic slur that you are reclaiming as your own. This theme of reclamation recurs throughout the work, whether it's reclaiming your grandmother's ancestral language, Bhojpuri, or your Hindu faith. In choosing this title, what kind of reclamation were you seeking?
Rajiv Mohabir Thank you Mathu for this question—reclamation is a difficult thing. I am following in the footsteps of the Guyanese poet and writer Rajkumari Singh who wrote "I Am a Coolie" in 1973. She wrested control of the derogatory, racialized slur Coolie and imbued it with great love for her ancestors. I am from her poetry as I am from other poets who have come before me who either wrote down their poems or performed them as song. Similarly, I am kin to the queer folks who went both noticed and unnoticed in their voyages to the Caribbean and other plantations of indenture.
The word antiman was forced on me, but it's a term that I grew into. When I use it, the word frightens people who seek to erase or deny my humanity, rights, even life. People want to use it to destroy or tear down but I want to use it from beneath, sharpen it like an adze, use it to describe my entire philosophy of poetry and writing, if not survival. I reclaim this word so that others will see it as a light that they can use to navigate the seas again, but this time in a deep, hard-earned love for themselves.
MS I'm a straight, Indian American, Brahmin woman, but I related to so much of your queer, Indo-Caribbean, mixed caste journey. What was your intended audience for this book?
RM I struggle with the idea of audience. Maybe my audience was me—the Rajiv of 2002. Maybe there are others like me that could use a light to navigate the kalapani of diasporic disavowal and queer tides. I am always surprised and grateful when people find my writing or it finds them and sparks something—anything at all.
I also write for my community: and this is complicated. I write for people from my cultural background—there is a dearth of Indo-Caribbean literature out there and I want to help make as much of a platform for us as I can. I also write from my intellectual community: those writers who I love and who inspire me with their own words.
The question of caste is a large part of this book. The truth is that my caste identity, mixed in the pressure pot of the Caribbean, is complicated. It's hard for me to claim anything except the stories that I have been told. The castes that I'm told that I come from are agriculturalists, servants, priests, and Dalits. There is also a question of Muslim ancestry as well. This is not unusual in Guyanese families. Although caste does endure even in the Caribbean in its own ways, in India, I felt that I had to lie again and again in order to be treated as a human. Caste is a fiction that keeps Hindutva's chakra spinning.
MS I love how you include Bhojpuri and Hindi in this book. I so rarely see South Asian languages in print in American publications. Why was including these languages important to you?
RM Oh! I love this question because it reveals what a huge dork I am. This memoir really spins together all of the threads that I have been obsessed with my entire life! Poetry, prose, translation, hybridity, postcoloniality, Creole, and Hindu mythology all share space in this book like they do in my own body.
I grew up calling Guyanese Bhojpuri "broken Hindi" though its speakers called it Hindustani. As a child I didn't understand the complications of this Guyanese, Caribbean South Asian language until I started to pay attention to my grandmother's particular ways of saying things. In my family, her distinct, plantation-descended language died with her. It was an "American" language with South Asian roots: an actual Asian American language that held our unique, invisible history of indenture.
The inclusion of these languages in my book, though it feels radical, is necessary. It's my Aji's voice that I make sense of in my own life. It's music and epic poetry. It's how my Aji taught her children and her grandchildren to be human (to borrow from Joy Harjo's book title). I wanted my book to have the original language so that people who are interested in this history will have access to it on its own terms. I think about what it could have done for my grandmother's generation to have their songs and stories valued—how it might have changed my own parents' relationship to selfhood, literacy, and to economic access.
We've been told for far too long that we are broken—or imitations of real Indians. Our languages are not broken. We are not broken. Our history is not one of rupture and extinction. Our history is one of survival en route to flourishing. I wanted to claim these languages and hold them tightly. I'm grateful to Restless Books who also saw its importance to both the narrative as well as to me as a person.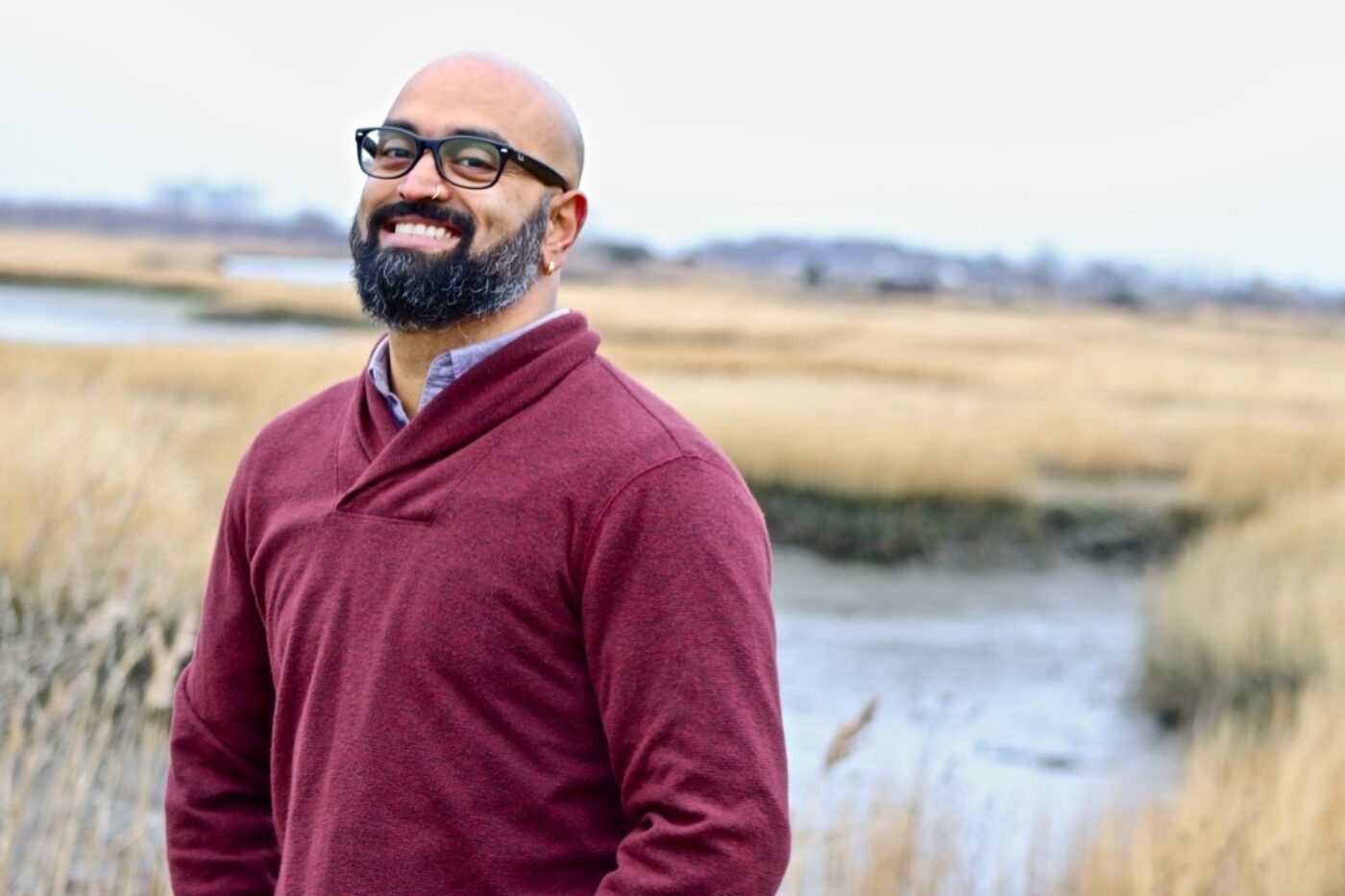 MSYou've won all the prizes for your poetry, but this is your first book of prose. How does this memoir fit into your body of work?
RMYou're too funny! I have read prose but writing it produced a lot of… let's call it genre anxiety. I had to sustain a poetic line longer than what is usual for me. I allowed myself to make all of the mistakes in the drafting process. My usual modus operandi is to overwrite and then pare back. I tell my students that overwriting gives you the raw material to carve the poem from. If I can follow my mind as far as I can, then what has the possibility of emerging is something exciting and unexpected.
Stories in my family are seldom narrated without drama, song, and speculation—so in this way my poems and prose intersect, each one bolstering the other. Another, punchier way I've thought about the memoir has been to think about the songs and poems as Bollywood song-interruptions. (Not today's Bollywood kinds of songs, but the Bollywood of Vijayanthimala and Dharmendra, that Bollywood of my parents and their parents.)
While they are complete and separate books, my poetry and memoir fill one another out in different affective registers. This memoir tells the story behind the poems—how I came to poetry and how poetry changed me. I have a friend (who actually appears in the memoir) who always asked me to tell the stories behind my poems. I finally began to write these stories because they offered a different look into the complications of my multiple belongings.
My third collection of poems is forthcoming from Four Way Books in September 2021. It "happens" while the memoir happens. It's a deep dive into the speaker's life in New York City as a queer Indo-Caribbean trying on American poetry that is inflected by a Caribbean sensibility and history. I am working on an essay that shows how I use the structure of Sundar Popo's song "Kaise Bani" to create a formal poem that does something in American poetry. My hope is that others who love these types of music will find joy in its lines and also that I will have demonstrated a form for people like me whose poetic traditions descend from the unwritten music that drums inside of us.
MS Throughout the book, you return to the fact that no work is apolitical. What political work would you like your book to do?
RMI firmly believe that nothing is apolitical. All of those who write towards the apolitical are siding with white supremacy. It's like saying nothing when cops kill Black people or body slam South Asian grandpas. Actually, it's worse than saying nothing. It's like saying, "I was just going for a walk and I didn't want to get involved because taking a walk means I'm only focusing on my feet on the pavement, not the actual place where I'm walking." Writing a book and reading from a book can be political but it is not direct, political action. Writers like the novelist and essayist Anjali Enjeti and the poet Cynthia Dewi Oka are activists working for change, as well as talented artists.
Using this language that was colonized out of my family, this denigrated, "backwards" (they called it that) tongue and publishing it in the United States—a new heart of Empire—is a deeply political move. I hope that my book reaches into my history (personal, familial, mythological) and pulls up others who have struggled with being "good enough" in the face of white systems that want our labor but not our lives. My life, or lives like mine, are not for white people to write, and this is political too. It's a political work to not let my Aji's songs and my own stories and poems be mined for their content and form by the people who see me as lesser than.
But mostly, I think the political work that this book can do is to reach people who have never seen themselves reflected in literature. It's an old story, but sadly it endures: the dearth of books by BIPOC queer writers. I want to sing the magic back into my own self. And it's this, my magic, that is political.
MS You write with such vulnerability and compassion. I felt like you were giving me—and every other reader—permission to be my full, authentic self. How did you experience the writing process emotionally?
RM Thank you for saying this. Writing the book was hard. I can't even count the times I felt crushed. I was told that there was no space for this story in the literary world, that brown queers don't belong in public. There were people who championed me, like Devi Laskar, author of An Atlas of Reds and Blues, Anjoli Roy, author of Enter the Navel, and Joseph Han, author of the forthcoming book Nuclear Family. I'm grateful to them.
Writing is such an action against ego—for this particular book especially. Part of this required radical honesty with what I was feeling. I'm a sensitive human being. When I was younger this caused me great anguish. No one respected a sensitive brown boy in Central Florida until I started to imagine my sensitivity as a superpower. This realization was a hard-won protection, an affirmation to insulate my heart against being told how wrong I was for all of the things I found joyful: sex with men, Bhojpuri language, anti-colonial politics, you name it, it was perverted coming from me. By writing these joys and griefs I wanted people to know that they are not alone. We don't have to spend our lives steeling ourselves against the bruising world in secret.
When I write, I do the best I can in the time I have. This is the best book that Rajiv could have written from 2015 to now. I love that past Rajiv and I wanted to give his intuition as much space as it needed to germinate.
MS If you could talk to past Rajiv now, what would you say?
RM I would tell him to remember his foremothers' tenacity. I'd say, Rajiv, Accroche-toi à ton rêve. The writing world is stacked against you, and you will face many people who will tell you you're not good enough. Sometimes they will be classmates, other times they will be agents and employees of prestigious poetry organizations—but they will never have what you have, which is the example before you. Keep speaking your Creole, keep learning Hindustani. They may make you feel lonely, but one day, they will lead you to yourself.
Antiman is available for purchase here.

Mathangi Subramanian, Ed.D., is an Indian American writer and educator. Her novel A People's History of Heaven was a finalist for the Lambda Literary Award, and was longlisted for the PEN/Faulkner Award and the Center for Fiction First Book Prize, among others. Her middle grades book Dear Mrs. Naidu won the South Asia Book Award. Her writing has appeared in the Washington Post, Ms., Harper's Bazaar, and Al Jazeera America. A Fulbright-Nehru senior scholar, she holds a doctorate in education from Columbia University Teachers College. She currently lives in Denver with her husband, daughter, and way too many picture books.