Sending Out the Signal: Swoon Interviewed by Katie Peyton
"I take myself, my drawings, and this little bundle of creative forces that is me, and I try to make a chemical reaction with the world."—Swoon


Discover MFA Programs in Art and Writing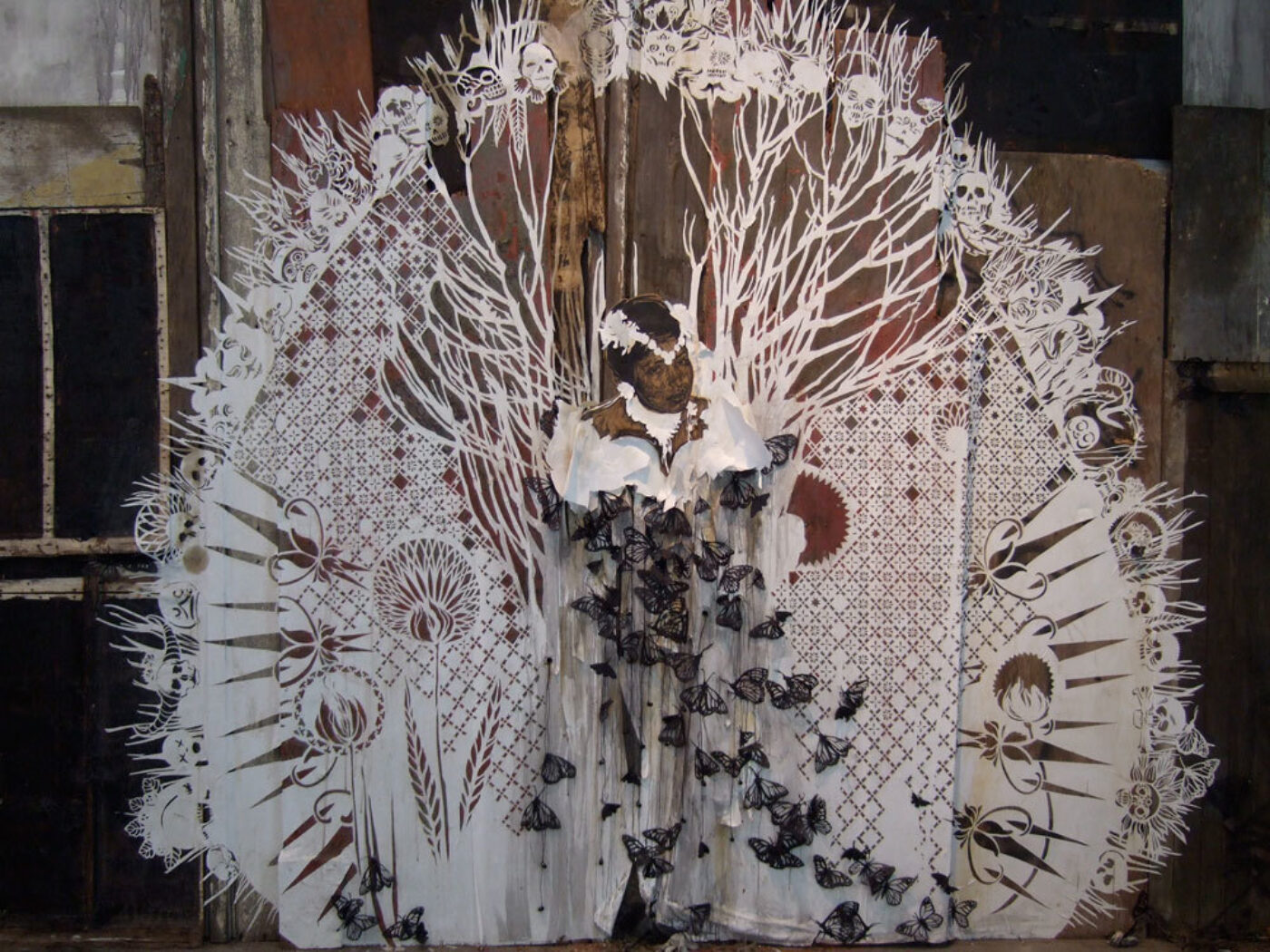 Theory + Practice is a series supported by The Andy Warhol Foundation for the Visual Arts.
The following interview with the artist Caledonia Curry, also known as Swoon, is the result of two dialogues. We began the conversation via Skype while she was at the Rauschenberg Residency in Florida. When she returned north, I took the train to meet her in the Kensington neighborhood of Philadelphia, where she has been conducting a three-week class at a harm-reduction center. The class is part of the first phase of her next project, and I offered to lend a hand. Afterward, we sat down to talk about art and hope. We also ended up discussing social healing, boat-punk culture, and the Trickster's belief in miracles.
She looks about twenty years too young to have inspired so many artists and misfits. Many of her mentors, I learn, are dead. She has the antennae of an artist, but also the enthusiasms of an anarchist, a healer, a utopian dreamer. She's determined to use public art to fight injustice directly and to bring up everyone around her along the way. This might sound naïve, except that she's done it before.
—Katie Peyton
Katie PeytonAs an artist, you're known as Swoon. But you don't like to be called that in person, right?
Caledonia Curry, known as Swoon Yeah
KPWho is Callie, and who is Swoon?
Swoon My full name is Caledonia Dance Curry. I decided to adopt a name a long time ago when I was working outside on the street.
KPAs a young artist at Pratt, new to the city, you decided you didn't want primarily to be a studio-based artist. You wanted to make work for the street.
SwoonI loved the city. There was power on the walls of the city, and I fell in love with every part of that. Things were emerging out of the walls, and layering over each other, and people were making the city their own.
I wanted to be involved in that declaration of public space as permeable by the people of the city. I slowly started doing little interventions. I'd change an ad here, make a sticker. Then I just got hooked. This little project that I thought would maybe last a month has lasted almost twenty years.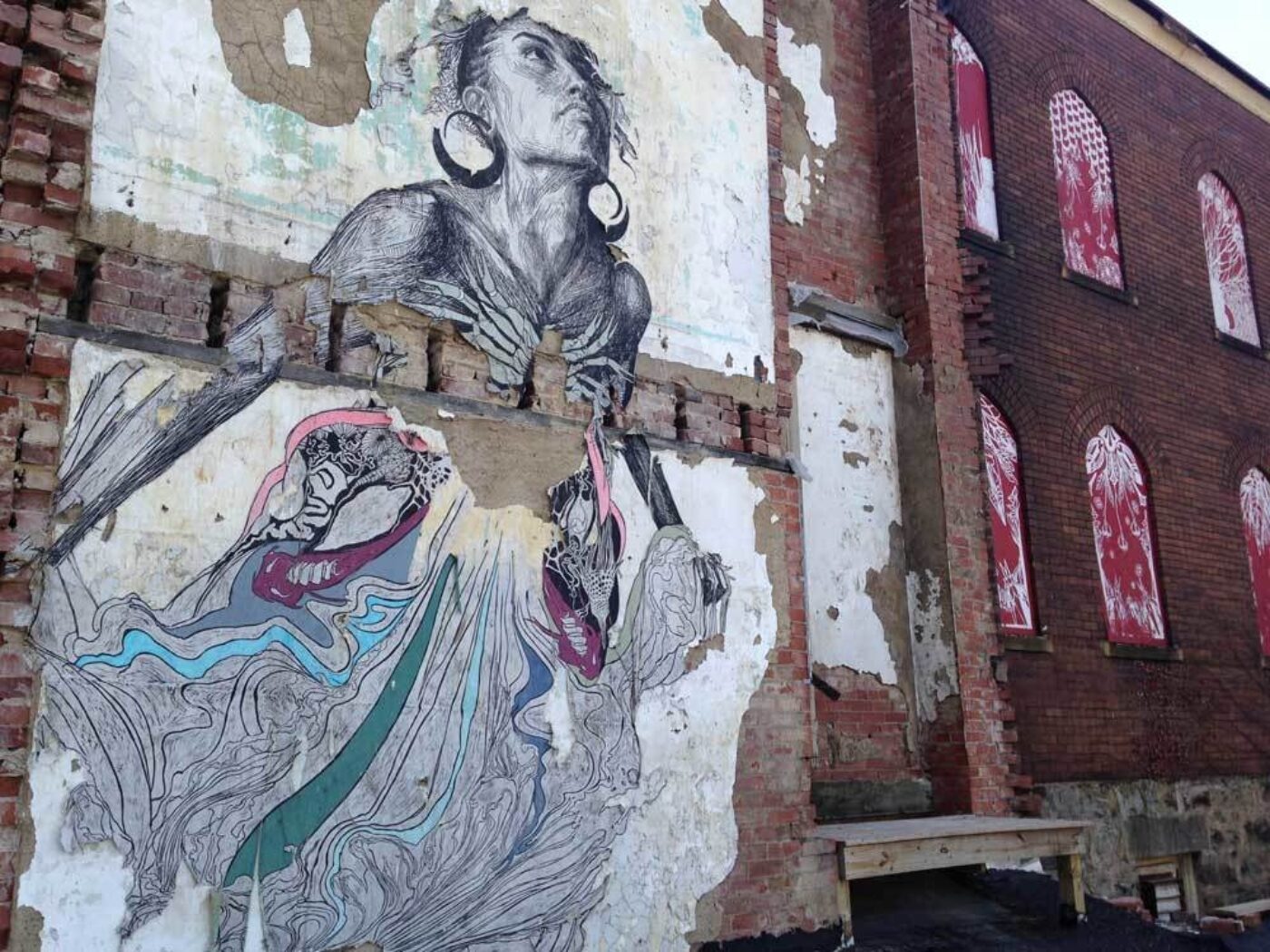 KPWhen you started, who did you think your audience was?
SwoonI was thinking about my audience as myself. I remember walking into galleries and museums and feeling that nothing about me felt welcome there. I thought to myself that this isn't how I want to experience art. I wanted to make something that was more alive. Once I started to put the work outside, the audience, which is a true audience, emerged.
There's this guy who hangs out on the block. The other day he told a friend of mine that he meditates next to my piece [a wheatpaste portrait called Sonia]. It's his spot. He's got a chair. He just sets up and talks to everyone. He says, "Sometimes I sit next to her, and I put my hands the way she holds her hands. I just try to feel what she's feeling." He says it calms him down. That's it. That's the heart of making work outside on the street.
KPHow are the portraits that you're making now different than the first wheatpaste portraits?
SwoonIn some ways, my work has become less stylized, more standardly realistic. When I first started working, I would add style to my line, and then, eventually, I didn't want to add anything anymore. I need to let go of all other considerations and just look for one thing: How does a drawing transmit a soul? How does this drawing hold understanding? How does a cup hold tea?
I remember the first time I did a portrait of a woman who had passed away. It was a very heavy portrait, and it was a very heavy subject.
KPSilvia Elena, who was murdered in Juarez.
SwoonYes. I had this feeling like I was running with a cup of water. I thought: I have to keep what I know in here, and I have to deliver it. It has to be delivered.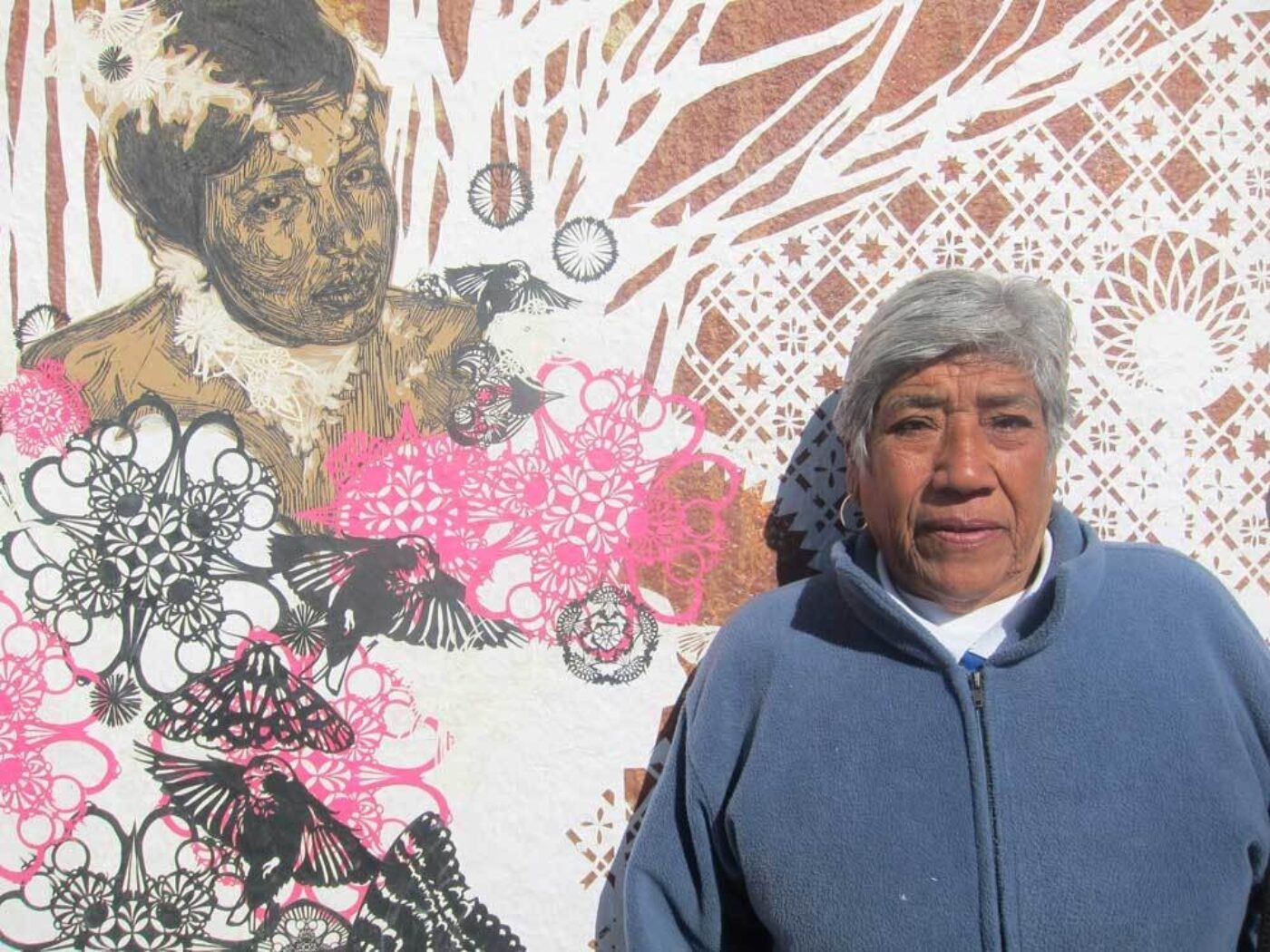 KPYou began to create more complicated installations, things that people actually want to get inside.
SwoonGoing from drawings to installations was a very natural leap because of the way that the drawings open out from narrative into abstraction. Do that again, but do it now in space.
I'm starting to do that with film. Now do it in time. Add another element, but keep the energy running through it the exact same.
I knew that I wanted to make installations, and I was already starting when Jeffrey Deitch first contacted me.
KPDo you want to talk about your time with Deitch Projects?
SwoonYeah. It was just such a turning point for me. I was twenty seven, and I had done some installations, but I was so green. I was making installations in my kitchen window. All of a sudden, Jeffrey Deitch comes along and asks, "Do you have an idea?" I was like, "Yeah." And he responded, "Do you need a giant space to make it in?" I was like, "Yeah."
It was one of those times when you see how the opportunity that you're given shapes who you are. It was this real revolution in what I was able to express, and it allowed what was in me already to come forth. Now it could blossom into its fullest expression.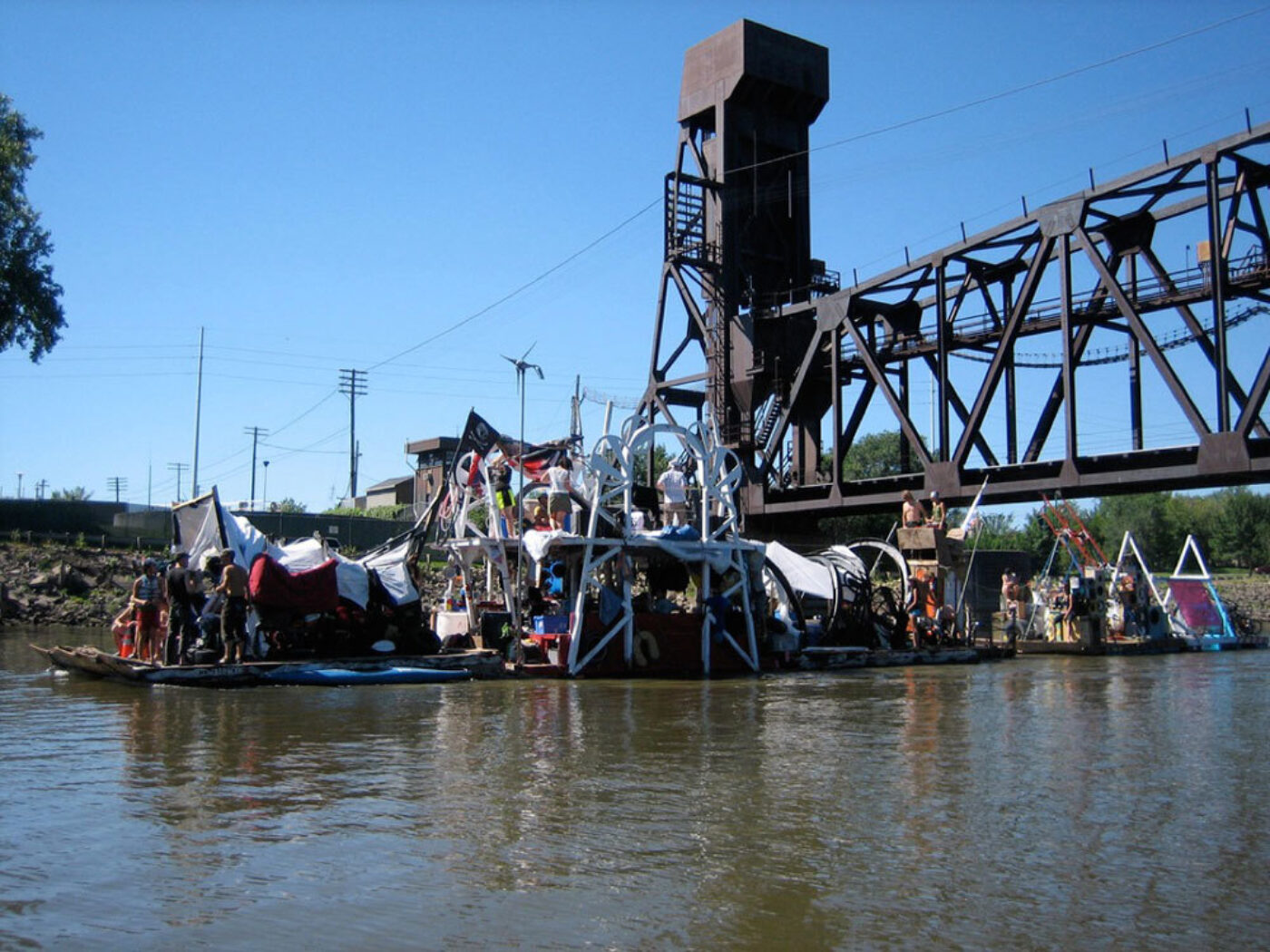 KPLet's talk about the rafts. What was going through your mind the summer of 2006?
SwoonIt started out as an impulse to build a little bit of the world that's your own, a little bit of world you can travel with. Have some freedom. There was a lawlessness, a resourcefulness, an ability to move around and be evasive. All of these things were embodied in the freedom of the water.
I'd been talking about the raft for a good four or five years, and a couple friends were interested, but most of my friends thought, Oh, that's cool, but you're going to drown. Then I called my friend Jeff Stark, who's this incredible tactician of everything. I said, How are you doing? He said, I'm kind of depressed, because I don't have anything really impossible to work on right now. I said, OH, okay, well, I want to ask you…
Once Jeff said yes, then all of a sudden my friends didn't think I would drown and decided to join in. He got our friend Chicken John, who's this guy out in San Francisco who used to run these huge punk circuses, so he knew how to move big numbers of people. He had done every impossible thing you can imagine, ridiculously huge art events with no budgets, just a scrappy, self-made human being. Once Chicken was onboard, it was really going to happen. My friend Harrison, this kind of wild dreamer, was also one of the original thought architects. We reached out together to friends and friends of friends, and started collecting a crew.
I had a lot of friends in the street art community, such as Shepard Fairey and Banksy, and all these people donated art to our auction. I was kind of like everybody's kid sister at that point, and people pulled together, we threw fundraisers, and everyone sent us off. I went knocking on construction sites and asked them to save us their old cement-forming plywood. We wrangled other material from the street, filled the pontoons with salvaged shipping styrofoam. Then we galumphed all this shit out to the Mississippi, stayed on somebody's land for like a month—God bless that guy—built it up, and set sail.
I've never felt more free or more alive. It's almost sad to say that, because I'm not doing that thing again, but when we talk about it, we know that that thing was the most beautiful, wild adventure we've ever done in our lives.
We all miss it so much. But it also took everything. It took the minerals out of your bones, just to live through every day. When I put that project down, I put it down, and I'm really serious about that.
KPCan you plot the course for me?
SwoonWe pushed off at White Sands and went down the Mississippi, following in the footsteps of the Floating Neutrinos and all of the boat punks that have come out of Minneapolis.
We spent one summer getting from Minneapolis to the Quad Cities, because we went about as fast as you can walk. Then, we drydocked for the winter at a place called Ducky's Lagoon. The next summer we went to Quad Cities, Saint Louis, and we docked the boat on Bob Cassilly's land. He's the guy that made the City Museum of Saint Louis, this radical, visionary human. He passed away a few years ago, but he adopted us that summer, and let us dock on his land. It was publicly accessible, though, and all of our boats were burned down or cut free from shore.
KPWhat happened to them?
SwoonWe lost them.
The deep, deep truth of the matter is that I don't regret it. I only regret that they were disposed of in an irresponsible way. The fact that no one died is basically a miracle, and if we had gone past Saint Louis where there are no locking dams with our boats, and our crew, and the culture we were building, it would've gotten really dangerous.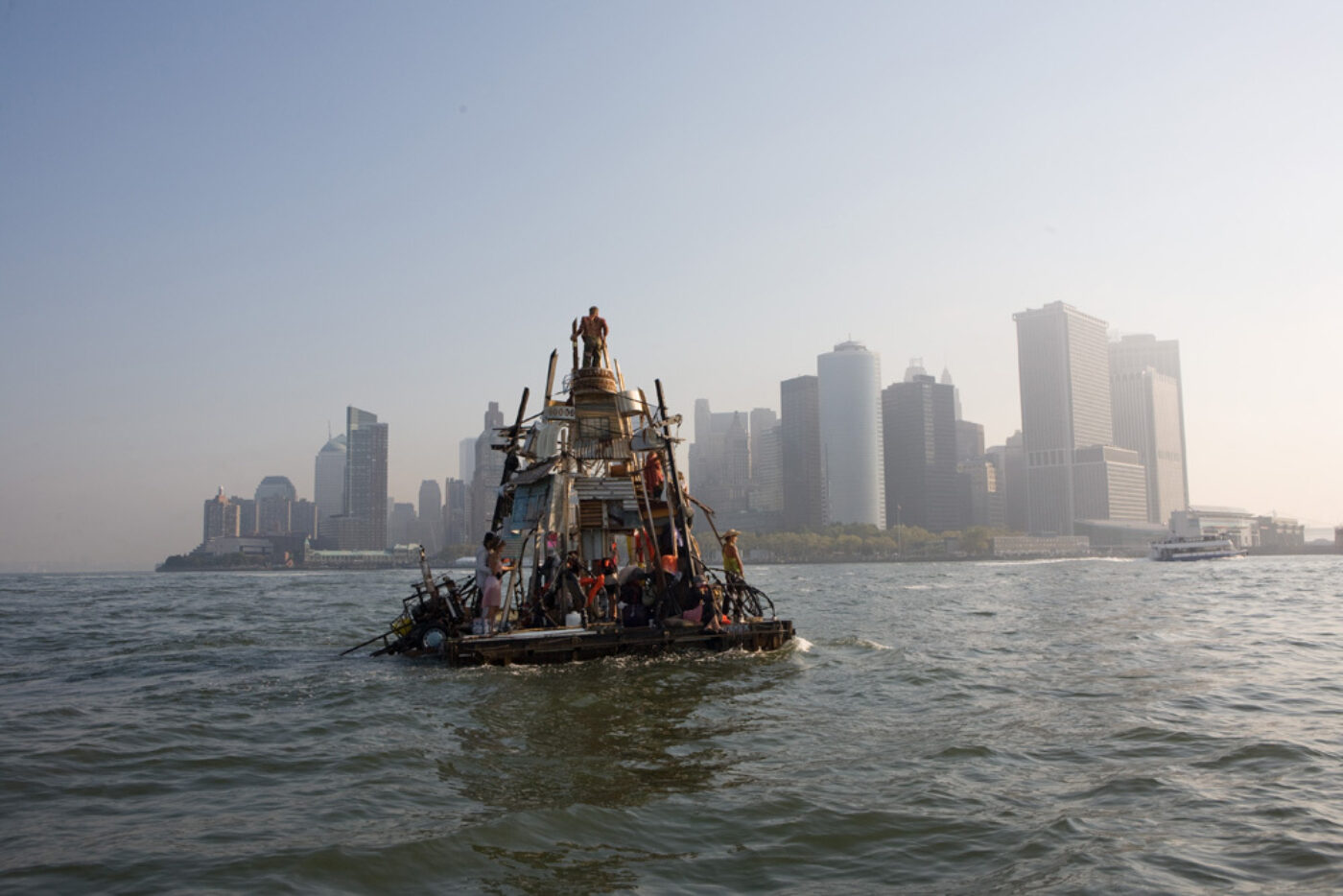 KPThen what?
SwoonThe next year I had a plan to come down the Hudson, and we ended up linking this project with Deitch. I said to him, Hey, you've seen me do these installations. You've watched me do these boats. Can we bring this together?
We started up in Troy, New York. We came down the Hudson River. We circumnavigated the tip of Manhattan into the bay, which was amazing, like being basically ocean-borne. Then we went up the East River and connected with this installation with a narrative about seeking shelter, seeking homeport.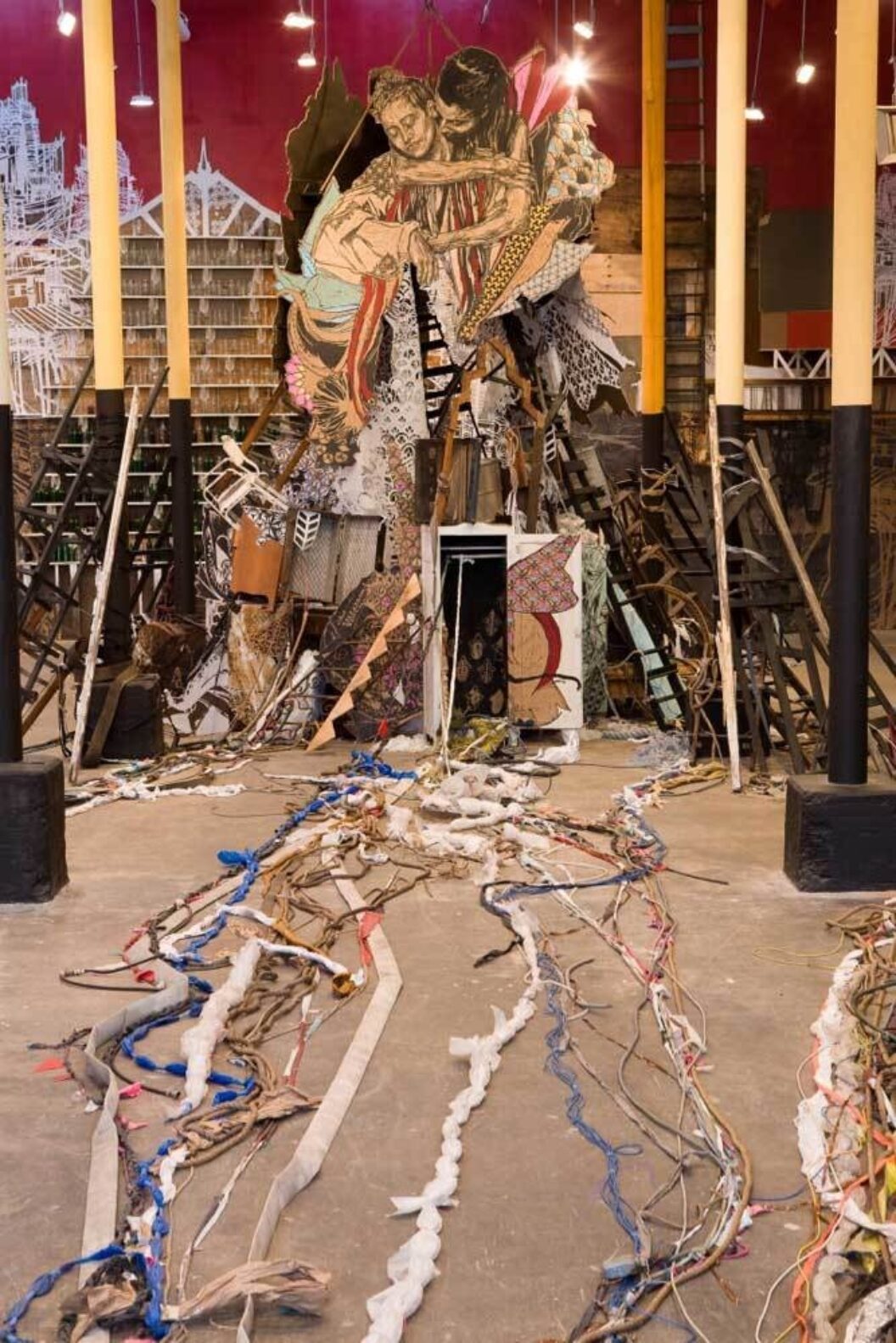 Then the next year we shipped some of the rafts in a shipping container. We rebuilt one of them, scrapped the same license plate from the other one, and built it anew out of found materials in Slovenia. We set off from Slovenia, skirted the Adriatic Sea. We went into the Adriatic Sea by day and camped at night, until we crashed the Venice Biennale.
We lived around Venice for a couple of weeks. We went up the Grand Canal and back again illegally in the middle of the night. Then we took the boats out of the water, and they've never been in the water again. One is up at Brooke's, at the Watershed Center [an art, ecology, and justice retreat center in midstate New York], and the others got turned into art objects or chucked.
KPI feel like we're always trying to imagine a different world. We want to live in a better world.
SwoonAbsolutely. Yes.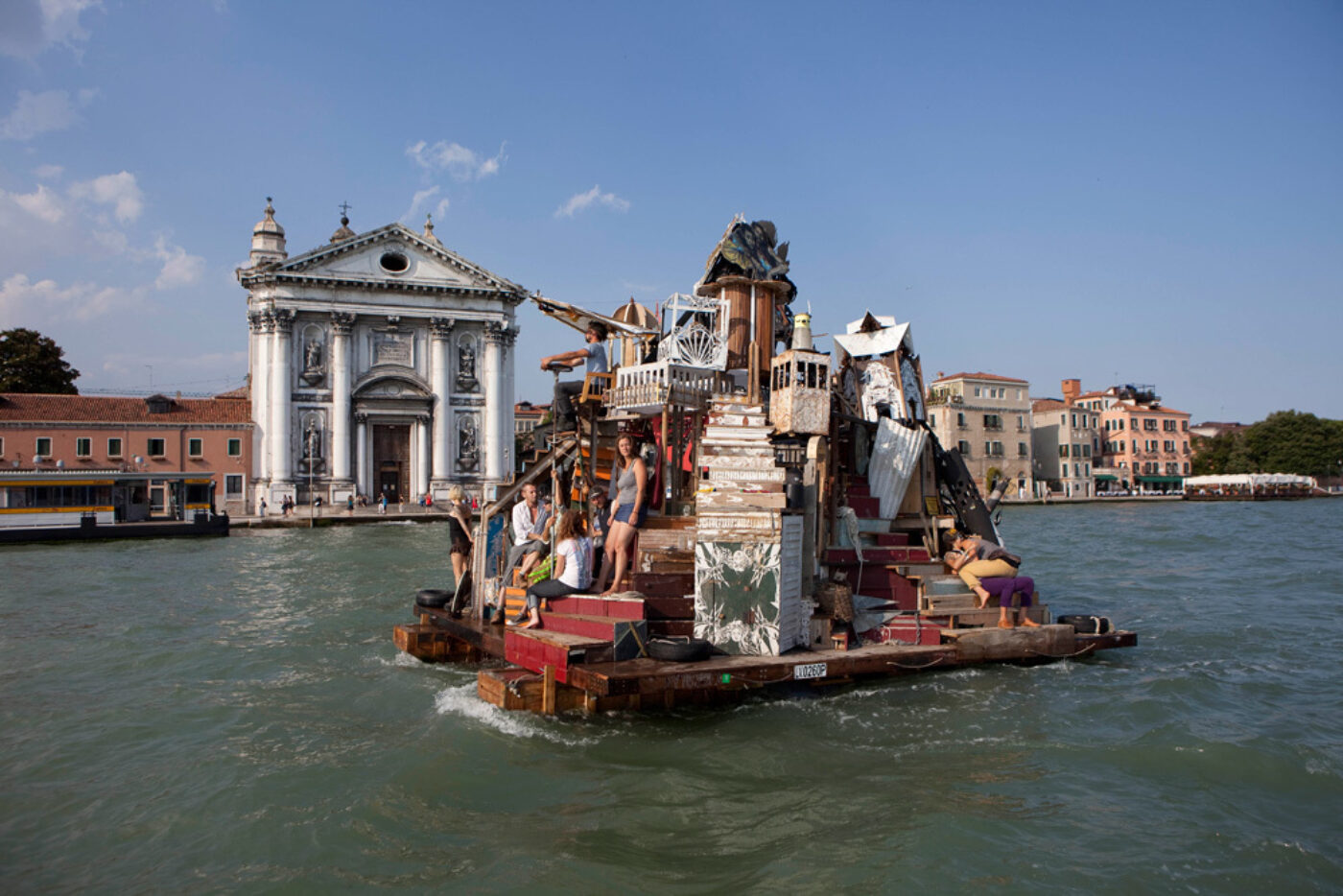 KPDo you consider your early work to be utopian?
SwoonI think utopianism strives for perfection, and all of my work has always been half disaster. AKA reality. My work is often about being able to envision and create a world in an immersive way. Sometimes it's so immersive that you're living in it. I guess in that way there maybe is a utopian quality to it, but there's never been a perfection to it.
KPYou operate as this sort of Trickster figure, the world-builder but also the world-breaker. Lewis Hyde says the Trickster is the character in the myth that takes the myth apart.
SwoonThe idea that some people are born bad is based upon stagnant myths. So much of what harms us comes from the stagnation of a story. The Trickster is that activating force, saying: Did you guys know that this is actually just a story? Here's what it's balanced on. It doesn't have to be this way.
I'm looking at the authoritarian culture that enforces racism, that enforces the types of trauma that lead to addiction. It is a certain kind of story that's being held down over each of us.
The Trickster's belief in miracles is the ability to believe that this problem is not inevitable.
KPWhat drew you to organizing collective work?
SwoonI was pasting outside in college. Then all these of billboards went up on my block. I wondered what would happen if I organized everyone in the painting studios to cover over one of these billboards in a single afternoon? How could we change the landscape? So I organized it, and we created a huge change in the neighborhood in like an hour. I thought, Wow. There's power in people coming together.
KPWhat does public space mean to you?
SwoonThe common needs of all of us. I love working in public space, because it's this cacophony of voices where I get to say something, and then anyone else gets to say anything that they want back. Public space is so necessary. So many people have experienced artwork in a public space who wouldn't have the time, energy, and resources to take the trip to Deitch Projects or MoMA. Who wouldn't feel welcome.
I do love institutions, and I've grown to treasure those experiences of working in protected spaces. But you're almost never going to make a more meaningful thing than when you make your work interact with the real world.
I haven't been doing as much wheatpasting lately, and that's one thing I'm a little sad about.
I'm excited to work on this mural in Kensington across from Prevention Point. You saw that block—the level of human suffering out there is fucking outrageous. Sometimes working in public spaces is really festive. But it can also communicate joy, comfort, and beauty to people who are struggling for physical and psychological survival. When I saw the wall I knew that all I want in the world is to make something that feels like a balm.
KPYour recent work centers on the link between trauma and addiction. It has a starkness and desolation that I haven't seen in your earlier work. The notion of shelter falls apart, because with addiction, the home can be a dangerous place. When we talked at your studio, you told me a story that absolutely broke my heart.
SwoonIt happened twice. I heard someone say that they think it's okay when addicts overdose because they should die. They should die. We should thin the herd and start over. It was just such a shocking feeling. The first time I heard it, I was sitting around a campfire. I just marched over and just fucking let that person have it. The second time I heard it, I was in the middle of a vow of silence at a meditation retreat. I said to myself that I'm just going to think about this for a few days. It actually let me clarify some of what my work is and to realize that there is a lot that people don't understand about the suffering at the center of addiction, and that I really want to be a part of helping people understand that.
One of the criticisms that I level against myself is this feeling that sometimes my work is too polite. The Medea piece is the first time that I feel as if I'm coming out now. I was completely terrified to make that piece, to share that piece. It was haunting in every way, but it was also really illuminating. I just did it. It really felt like a moment of growth for me, a moment when I went to the bottom of my deepest truth and shared it widely. That's maybe why you're seeing some things you hadn't seen before. I'm growing into an ability to be real.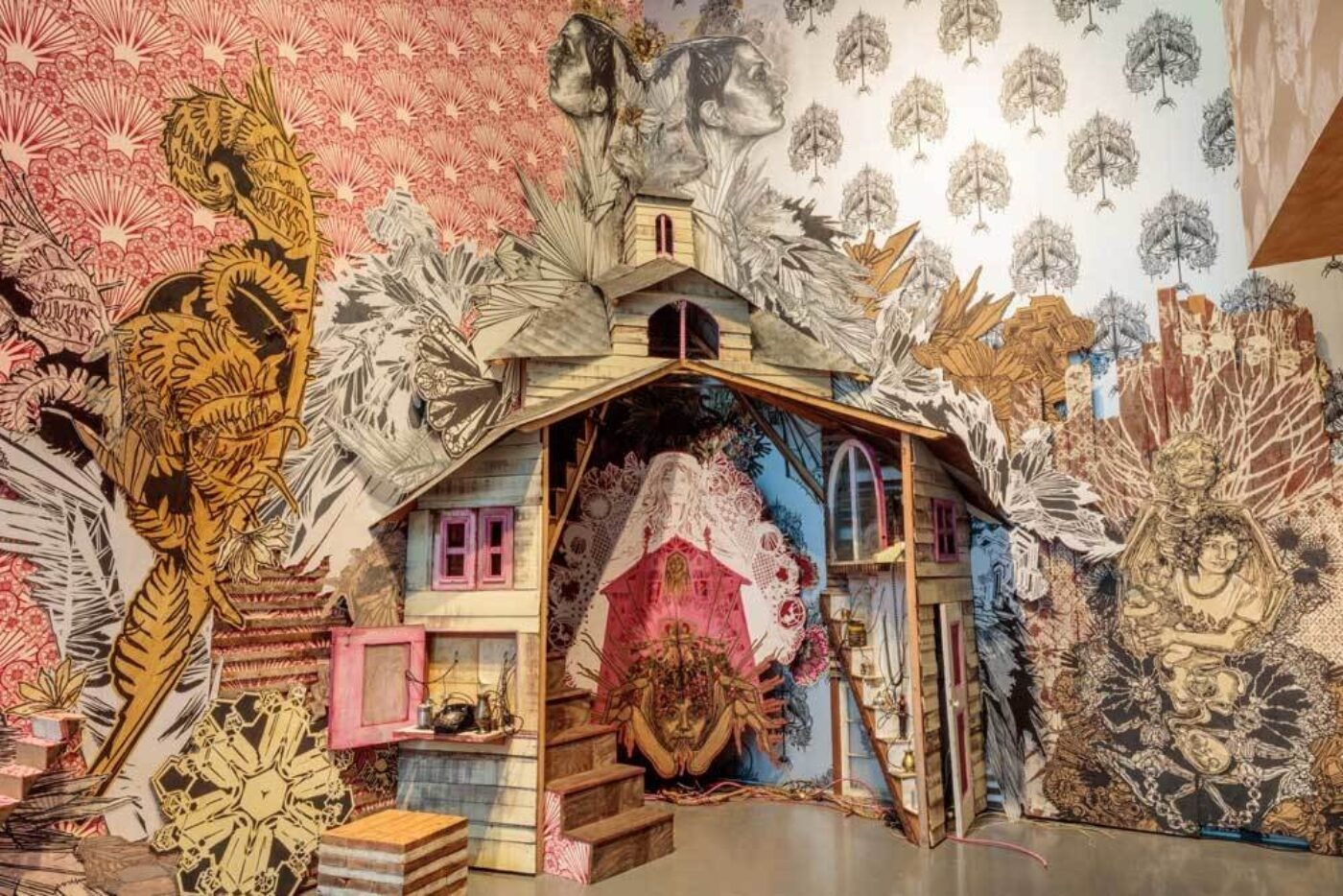 KPCan you describe that piece?
SwoonMedea is a large sculptural installation that visually centers around the portrait of a home that is splitting apart. The portraits look through time at the women in my family and an intergenerational history of trauma, of sexual abuse, of isolation, and of secrecy. The audio element is a switchboard, an image of dissociation.
A lot of surprises came out while I was drawing. The deeply psychosexual nature of that drawing was a surprise. The same with the audio. It was really able to teach me something. A meaning sort of accrued through the work as I was making it.
I had a vision of myself as a teenager as a switchboard that had crossed its channels. Mixed signal with signal. Mixed cause and reaction. I knew I had done this to hide something, something so terrifying that I went through a dissociative process to bury it. Years and a lot of therapy later, I uncovered a very deep and buried fear that my mom would kill me when she was suicidal or psychotic.
KPAbove the Medea portrait is the portrait of the Ice Queen. You dug into the roots of your mother's trauma. And you discovered her mother. You shared this entire story publicly on Facebook.
SwoonSocial media has become part of my art. When I heard what that person said about addiction, I wrote a response and put it out in the world. There was more sharing of that piece of writing than anything else I've ever done. It let me know how ready people are for this conversation. It also let me know that part of my work is this conversation.
KPThere are these silences in our culture, and addiction is one of them. Adrienne Rich says we don't talk about something and it becomes unspeakable. Ursula K. Le Guin says the artist's job is to go into the silences and come back with something to say.
SwoonYes. Can we change our own culture? Can we change our minds and our thinking with this kind of creative energy?
Once this personal phase of the work is done, the next phase becomes how we, as a culture, understand why people are addicted and how we can help them heal. Again, you're back to asking, Where is the hot point of this creative thinking?
KPCan you talk about the history of addiction in your own family?
SwoonMy mom and dad were both addicted to heroin when I was born. My dad got clean when I was four, and my mom switched addictions for the rest of my life. She had some really good years from when I was about ten to about twenty that I consider her harm-reduction years. She was just getting pills from doctors, and she was really able to be quite a good enough mom during those years.
The whole family was addicted. There was a lot of mental illness. There was suicidality. There was abuse, neglect, trauma. That culture is not a great place to have a baby, and they tried. Everyone had love in their hearts, but they were fuck-ups in a big way. I am learning to heal that.
Over the course of the last four years, my mom, my dad, and my stepdad were killed, or died, or committed suicide.
Each of those events has compelled me to go deeper, to look closer. In the last five, six, seven years I started to get super out of control. I was being really compulsive. I was being abusive. I was spiraling out in my behaviors and in my relationships, and I couldn't help myself. I couldn't do better, and I couldn't change my own behavior. So I went to therapy, and my therapist said: Your family was addicted and couldn't take care of you. Of course you're mad. That little baby is still mad too. Do you know what I mean? It opened up this whole direction.
Here in Philly I'm working with addicts, most of whom are homeless, utilizing art therapy and all different kinds of creative work. Working with people in addiction and in mental illness feels very much like a continuation of my own healing. I think that not everyone is built for it, and I think I can do this. This makes sense to me. It's hard for me, but I'm like: I can love you; I can see you; I can want to be in your presence; I can talk to you because I'm not scared of these stories.
KPDo you consider yourself a political artist?
SwoonNot solely. No. There are some people whose work is really explicitly political, who tackle political messaging and issues. I definitely work on social problems, but I'm usually working on exploring problems and creating hands-on or emotional solutions. Obviously, there's something that is political in those actions, but I don't necessarily identify as a political artist.
KPHow has the relationship between art and politics changed in your work over time?
SwoonIn the past five years or so, I've taken a really deep dive emotionally. My work in my twenties was way more thought and action, the kinds of thinking and action styles that were shared by my activist community.
It's not that activism and emotional exploration part ways completely. There's certainly something very political to figuring out your own emotional healing and then trying to help people engage their emotional healing. But the political headspace is more of an action space.
KPYou've said, "Money is a verb." I love that. It's an action, a way to keep going. I know you put money from your art sales back into your projects. But for many artists, money complicates their work and controls who has access. I talk to people who love your work, who are not interested in walking into a gallery, and who couldn't care less about the art world. If you got to choose, how would art happen in the world?
SwoonHowever the fuck it wants! I can be very earnest and sincere. I'm trying to address issues and change things. Then I'll see somebody that's just fucking insanely glamorous, completely depraved, and I think they're wonderful. We're so different, and I wouldn't even want to be in a world where somebody that different from me doesn't exist.
But me, if I was given unlimited means to make a lot of art happen, I would think about it the way that I think about Heliotrope.
KPLet's talk about Heliotrope. You created a nonprofit that seeks to catalyze real, specific change in the world.
SwoonThe name refers to this heliotropic tendency in plants to follow the sun. It's this feeling that you track the light, always turning toward this ability to grow and to change.
Let's take this same set of skills and will and apply it to beauty and creativity. There's been an earthquake. People are struggling to rebuild, to get resources in and out. Let's see what we can lift up out of this situation of destruction. For me, that's the sweet spot of what art can do.
KPYou're talking about Haiti in 2010, where you went after the earthquake. Over 200,000 people died, hundreds of thousands more were injured, millions displaced from their homes. People were saying this is a place for engineers, not artists. You went anyway. How did you make that decision?
SwoonIt actually started with the rafts. At every turn, people had been telling me it couldn't be done. Over and over again. You can't do that. That structure is not going to work. You can't live on that thing. That's not how that works. You really shouldn't be doing this. That's too dangerous. That's illegal. No one will say yes to you. No one will let you. Everyone will stop you. We said, No. We will find a way. We built our own vessels, and we went down the Mississippi, and we kept going.
We had this mentor, this guy Poppa Neutrino, a very wild character. He had this philosophy in life of finding space. He taught us that the United States boating law is that you have to float. You have to have a lifejacket. You have to have a fire extinguisher and a sign that says you won't dump your waste into the water.
He said, Go to the DMV, tell them that you have a twenty-foot, wooden boat, get a license-plate number, slap that license-plate number onto a piece of wood, and build in a public park. Of course, you may get forced out. But by law, you are allowed to be there, because a vessel in distress is allowed to make necessary repairs on public land. He was this person who was seeing the angles through the wall of impossibility that daily life puts up.
We had imbibed so many of those lessons, and we had lived that truth so fully. Then I heard this disaster had just happened, and I heard that all the resources are tied up in customs. I heard it again. It can't be done. No one can rebuild. All this money is getting wasted.
I knew that my friends and I have this ability to find a way through. We are resourceful people from the United States, which means we can marshal the resources of that creative community and use them to help folks who are in a really tough situation. I had just seen what could happen when you are a part of a targeted, deeply creative effort that finds a path through. I believed that we had something unique to add. We designed this project in a precise way. We connected with a very specific community and worked together on building. Within six months we were in full construction on this community center. Major NGOs would come by and ask, How are you already doing this? Our materials are hung up in customs. We're in all this bureaucratic red tape. I responded: Because we found a path. We connected with specific people on the ground. Together we all created this solution.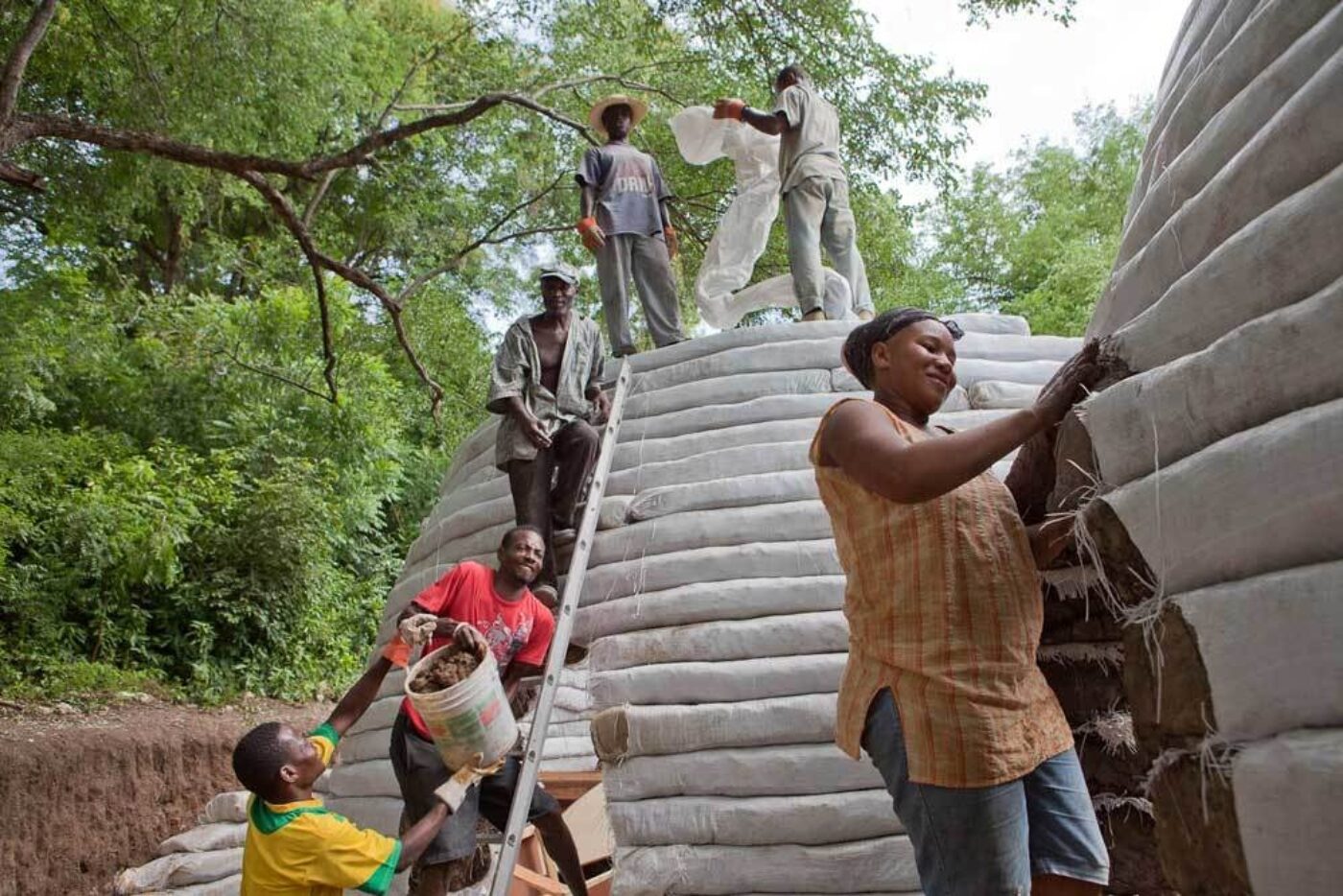 KPMultidisciplinary doesn't even begin to describe your art. You've told me that you take inspiration from your materials, often discarded materials. Could you talk about that?
SwoonJust this morning, as I was riding my bike to the center, I saw this cardboard box with a square cut out of it, and I thought, Oh, that's a dollhouse. I was remembering this point in my life when dollhouses were boxes, and my dolls were two-liter soda bottles. That was just what we did. I've been using discarded materials since I was a kid. Those were my toys.
When I'm drawing portraits, I'm pretty specific about what I want; but other times, like when I'm working on a house or boats, it's the dirt and the walls and the windowsills and the flotation and the water and the ropes and everything. I feel inspired by the limitations of all these materials.
KPTalk to me more about this process of wandering and getting lost. What do you find when you wander? Is there something you're looking for? Are there things you expect to find?
SwoonI don't know that I get lost enough anymore. But my sense of direction is so bad that I don't know that I differentiate getting lost from exploring.
The things that I'm looking for when I'm exploring are: How is this environment built? Who lives in it? What music are they playing? What's happening over here? What kind of doorways am I going to see? What's the paint texture like? Just kind of getting into the physicalness of the city.
Then there's process, the other kind of getting lost. Right now I'm learning film, and people ask me what's it about? I'm very purposeful that I have no idea. It's important not to know where I'm going, because I trust my subconscious mind. Sometimes you've just got to give it a really long leash, to say to the process: Look, I'm following you. I know if I give you orders about where we're going, you'll be following me. But if I get lost, then I get to follow you, and you're smarter than I am.
KPYour exhibitions are covered by art media, but also get mainstream coverage as well. Why do you think your exhibitions have gotten mainstream press?
SwoonI think there are two reasons my work gets mainstream press. One, I am a huge fan of accessibility. Since I was a teenager, I wanted to make work that almost anybody could find a way into. I really care about that.
Second, I think, is because of the global, youth-led street-art movement that had its roots in the graffiti culture of New York. It's grown and changed in so many different ways, but it is truly a global movement.
So much of the contemporary art world still doesn't accept or respect street art. The fact is, nothing has been picked up by so many people and creatively empowered so many people to change their cities, as the street-art movement. I think that's some of why my work has some mainstream appeal.
KPDuring your professional life as an artist, how has the relationship between art and politics changed in the art world around you?
SwoonWhat has changed, for me, is a growing desire to publicly examine the privilege afforded by my whiteness. To look at the complexity of these things, the ways in which my work might inadvertently play into racist stereotypes simply by me being a white woman who often finds herself working in communities of color.
When I started working, I had so little real understanding of systemic racism. I understood person-to-person, individual racism. I understood how to not be a racist as an individual level. It wasn't until the Black Lives Matter movement stirred this conversation, educating people constantly about systemic racism, that I realized how even the most well-intentioned white people can do things that play into all kinds of white savior complex and all kinds of things that can inadvertently reinforce the idea that white folks are always in the position of helping and communities of color are receiving.
I absolutely stand behind our work in Haiti. I would never not do that project. But while responding to a disaster, it's also important to talk about the ways that systemic racism played a role in why that earthquake had such a devastating impact on Haiti in particular. It's also important to talk about the ways in which white people showing up with resources can play into racial stereotypes and perpetuate all kinds of things that I don't necessarily want to be involved in perpetuating. That's something I'm starting to work on with one of my partners in the projects. We're going to develop a public dialogue around white privilege and what it means to be a white person working in communities of color. I want to be a little bit more explicit in examining those power relationships and engaging in a larger dialogue.
KPI want to end by asking about hope. Politically engaged art is often dystopian. When we're surrounded by artistic dystopias, a part of us starts getting used to it, and expecting it. Dystopian art reflects our madness and problematic narratives back to us; it draws attention to injustices we may be ignoring. But we need narratives of hope so we know what to ask for. We can only want what we can imagine.
Swoon"We can only want what we can imagine." That's so true.
KPYou could've easily begun your career from a place of cynicism. But your overall message is hopeful. We can do it better. This is better. As a socially engaged artist, how do you hang onto hope?
SwoonThe way that I personally maintain hope is to just keep fighting and keep working. I'm tackling this problem; I'm in this conversation; I'm building this thing. Early on, I knew that there were all these forces in the world, but I have picked one, and I'm on the team, and I'm just going to row. I know what my team is, and I just fucking row.
It becomes kind of a spiritual question. You said I believe we are better. I'm trying to contact that within people, because it's always there. In Buddhism, it's the part that becomes enlightened, and that leads you to enlightenment. I really believe in that. I feel it in myself, and I feel it in each person—that capacity to become enlightened.
Where is that capacity? I think glimmers of it gather around a few places inside us. One of those places is our ability to feel wonder, and another is our ability to feel compassion. Even in the face of the worst.
I know sometimes that a more cynical approach would be perhaps more acceptable in the art world (and that is how I make my living). But choosing hope allows me to be in touch with myself and to not take a posture.
The other thing is: then you find your team. There are a lot of people who also want to choose humanity, compassion, hope. You're sending out the signal.
KPLast question. There's a common criticism that artists don't get out into the world enough, or if they do, they stay locked in a sort of arts-focused circle. What is your advice to artists who may feel locked away in their studios?
SwoonMy secret. I take myself, my drawings, and this little bundle of creative forces that is me, and I try to make a chemical reaction with the world.
The people that I'm working with here have a catch phrase: art ignites change. When you bring art into contact with the world, you can shake up an environment, and you can break up circumstances, and you can push things forward.
There are a thousand ways that people can bring their art in contact with the world. Mine are putting a wheatpaste up on the street, building a raft and crashing the Venice Biennale, building a home post-earthquake, working with people in Kensington in the middle of a crisis. In some way these things are actually all the same. People could be doing macramé classes at nursing homes, or they could be making floats for the Mermaid Parade at Coney Island. My friend used to make books and discreetly stick them into the shelves at libraries and bookstores. Literally anything. Then that thing informs the next thing, and you listen back, always asking: Who's it reaching? What does it mean to people? You take the molten, hot center of creative energy, and you weave it into some aspect of the world that is calling to you.
Katie Peyton is a Brooklyn-based writer, curator, and artist. She currently teaches at Parsons the New School and Fashion Institute of Technology. Her projects examine the chaotic discourse of human relations through the lens of loneliness, empathy, and spectacle. Her work has been published in BOMB, Gargoyle, and The Shadow, and her artwork is represented by Pocket Utopia.