Semiotext(e): 28 Pamphlets for the 2014 Whitney Biennial by Corina Copp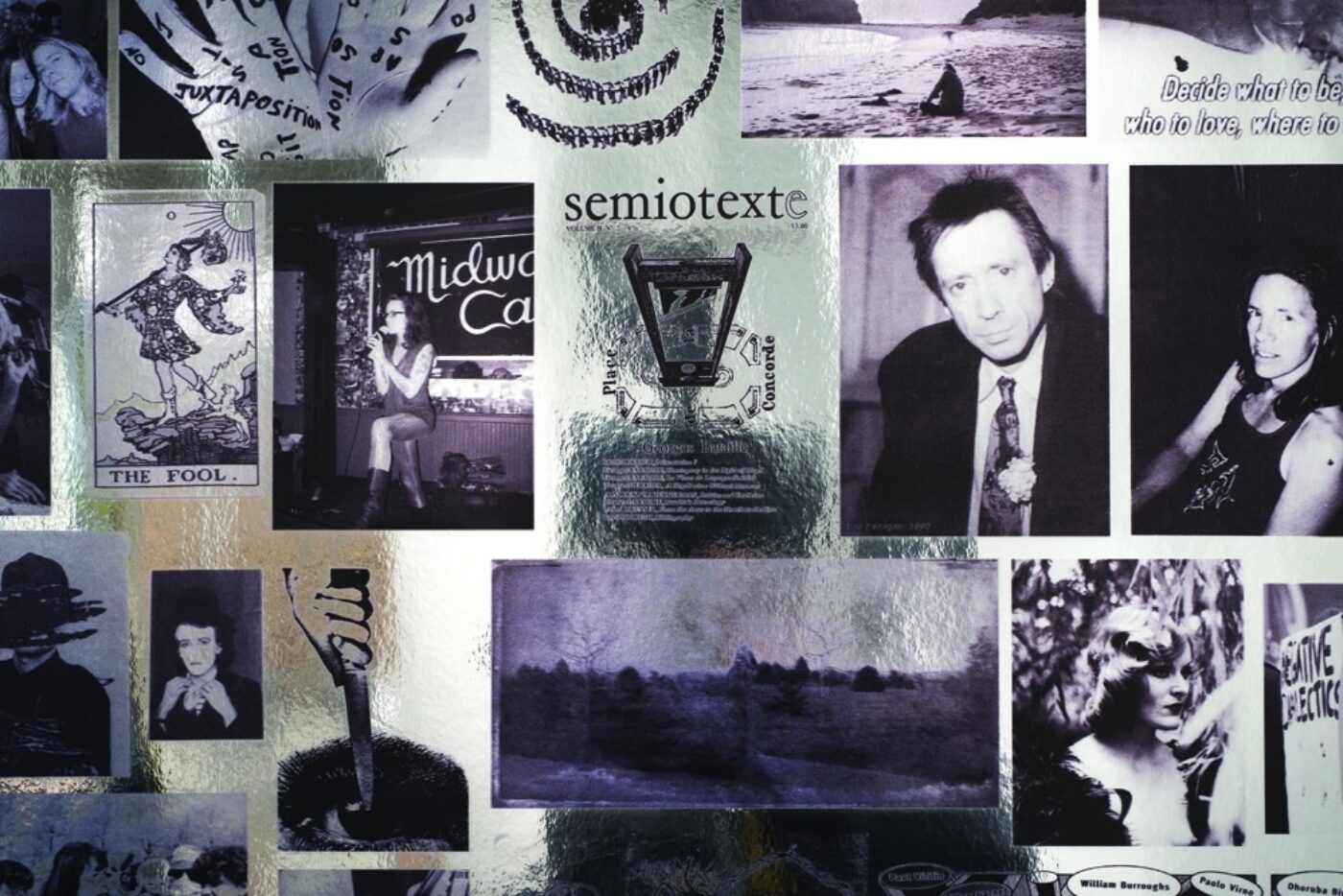 We are not all Pierre Guyotat, writing of our capture and interrogation in Algerian solitary in 1962, our words and acts subject to violent retaliation, but maybe we've seen our own soul's bifurcation.
I've just given rhetorical value to "us" as not being Pierre Guyotat, or so Christian Marazzi might note; yet I'd readily swap my ID for PG's, who, when questioning authority, does ask, unafraid and simply, "Which authority are we under now?"
Now replace "Pierre Guyotat" with "Sergio González Rodríguez," at the top, and "Algerian solitary in 1962" with "Mexico City in 1999." Not that these events are interchangeable as they occurred. What horror, that I subliminally take something from someone. Give me my memory back, your retelling is distorting. All distortion amounts to an oversight, hence the importance of [ … ] memory reflecting on violence and atrocities perpetrated in order to subdue and annihilate people. (González Rodríguez)
I've found the moments in common but am wary of my desire to move the names and places around like bricks—or further, to aestheticize an interrogation procedure (old-hat trick). "Bouvard and Pécuchet," unfinished novel; finished, it would have no ending because there is no end to the stupidity of human beings. (Henri Lefebvre)
González Rodríguez writes of Leontius coming home from work, observing a heap of corpses at a distance, and recognizing his deep need for a close-up. He forces his eyes open, gives them their morbid pleasure.
I want to tell you what I see
But I do not want to tell you what I see
And I don't want to tell you what I don't see
Also. But I will. I want to
Try.
(Ariana Reines)
It's not the origin of the world, or is it; but the "I" does split before the disastrous.
Days and nights of doubt — who am I myself to judge? — yet I rage against authority: My body is rebelling for me; but once alone, removed from the community and with my heart still fresh, how can I shoulder the tragedy, the destiny of the people I am beginning to love, and create a justified place for myself there? (Pierre Guyotat)
The operation of taking sides, of taking position for or against, has replaced the obligation to think. (Simone Weil) She did not see it coming, the depraved normalcy occasioned by our own self-disgust, in her hope for true reflection over easy affiliation.
And yet: This state of mutual and reciprocal suffering is truly communication, wrote Foucault on love and passion in response to filmmaker Werner Schroeter, as quoted by William E. Jones in his homage.
Displacement will touch on the lost, the liminal, the new speed. Slowed down, belligerent cops fill us with awe. (Dodie Bellamy)
Reading all of these texts from this place is reading from a roped-up Italian leather bench powered by linguistic labor, visited by cisibeo (Bruce Benderson), reupholstered in pleasurable, reflective, amoeba-like glitch[es] swimming in sickly lavender (John Kelsey) splashed on newsprint and edited into melody, located in the middle of the desert. I mean what I'm trying to do is really very simple: making clear that the reality is what's on the page, not elsewhere, and reminding people of this from time to time. (Jim Fletcher and Harry Mathews)
Or: How to consider in an elevated art context the twenty-eight pamphlets made for the occasion of the 2014 Whitney Biennial by the candid purveyor of theory, literature, and culture that is Semiotext(e)? Just pretend your eyes are a cylindrical mirror that will transform flat objects into 3D.
This is the enragingness of privilege, Eileen Myles chants. Look I'm walking for hours, I'm lifting things like the people in the camps. Is it possible to be in another time and lifting with them. Is it always only privileged vacationing.
Maurizio Lazzarato helps me place the books in a wandering hell in the eternal space, as Lord Byron would put it, instead of the museum. If art is a habit-forming drug, only in the refusal of "doing" is one capable of constituting and enhancing one's ability to act on the real. Marguerite Duras said this too: Refuse all of it, if any of it. Now here we are unsure whether we are talking aesthetics or existentialist pragmatics. (Lazzarato)
But aesthetics as derived from instances of actual violence is an intermediate state between amnesia and anesthesia (González Rodríguez). Of course Lynne Tillman's piece is a dystopic frame-fiction, like Julio Cortázar's: "It's a good thing Borges is retired," murmured the narrator. …
Chris Kraus, our hero, beckons this real: Can there be any truly socially-based art that doesn't acknowledge a relation to money?
On the great ambition of Maria Callas, Jones quotes Schroeter, and in so doing, helps play all twenty-eight publications for a seriousness that succeeds: This ambition was, however, not, as often assumed, directed towards one day settling down as a comfortable big capitalist with a mansion, but to live out the few basic moments of human expression to musical and gestural excess—to convey in their totality and without psychological analysis these few completely tenable emotions: life, love, happiness, jealousy, and mortal fear.
Self-negation in the entrepreneurial mode: it's information's parody of imagination, the part of 'the truth' that forces itself into writing as if to obscure—to protect?—the thing I'm really here to tell you about. (Reines)
"We're" ISO some unpoetic ideal flower to fold in. The sense is a pleasant, no-future punk, future-anterior for these scenes of disarray as they're voiced. An
"I will have told you." It hurts, and demands passion.
Corina Copp's books include The Green Ray, forthcoming from Ugly Duckling Presse, and ALL STOCK MUST GO (Shit Valley Verlag).
Originally published in
Featuring interviews with John Ashbery, Charlemagne Palestine, Juan Isle, Giuliana Bruno, Lola Arias, Roxane Gay, Tania Bruguera, and Joe Sola.