Discover MFA Programs in Art and Writing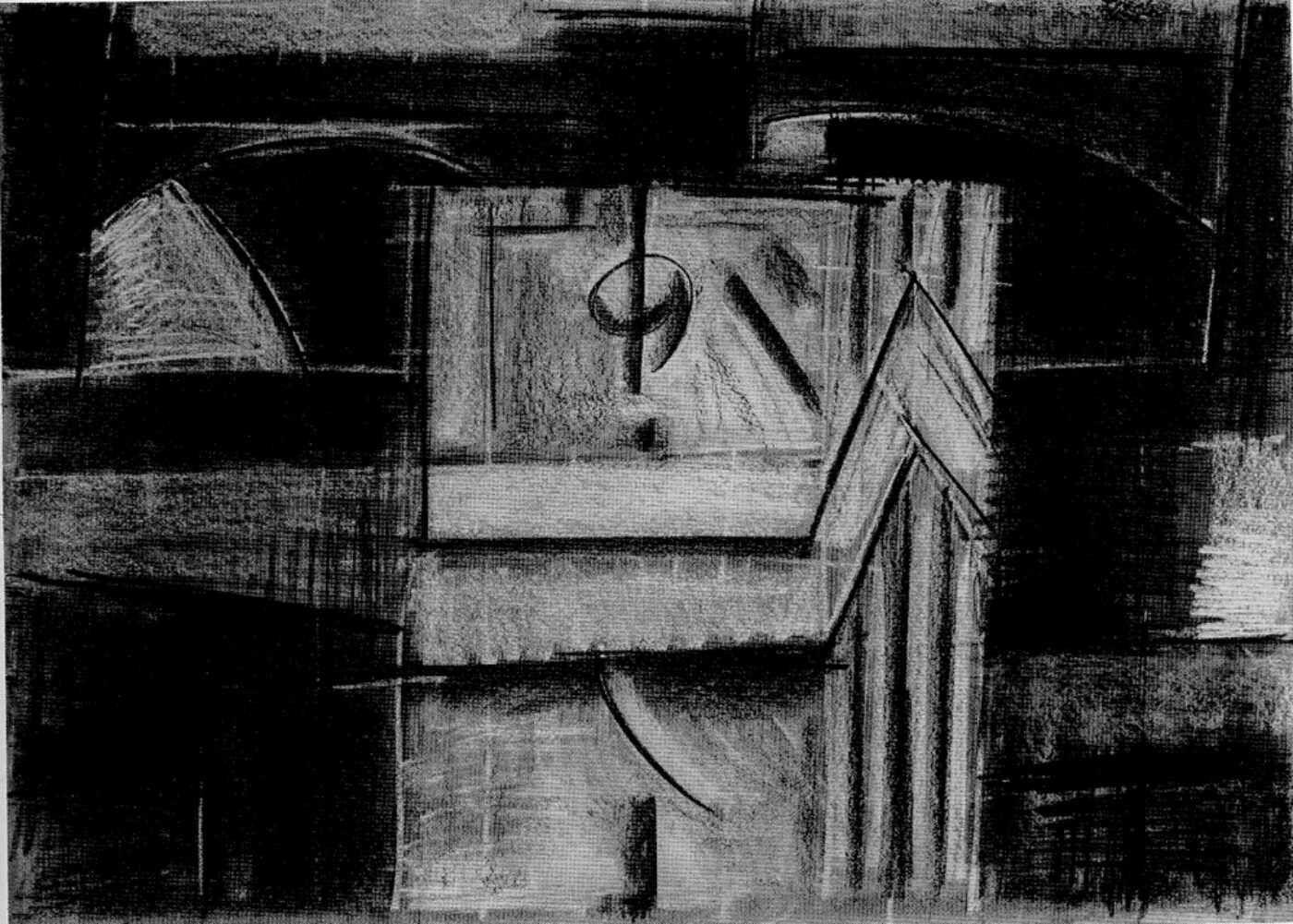 After spending the first five years of my artist "career" in New York City, I have learned a lot about what it is to be a "young artist." When you are a new face in town, your work, your art, is open to any and all comparisons. The most frequent one being, "your work looks so much like so and so's." So and so is most likely to be an established historical figure in contemporary art. So as the years pass you learn to have fun and enjoy 'stupid similarities.' Here I present the work of 12 artists, six established well-knowns and six new faces for your provocation and pleasure.
Notes on the artists:
Michael Hurson has made drawing the center of his art making activities: He has created drawings that are beautiful to look at for their nuances of line/forms and crisp edges. They are almost always funny and full of truth. A truth that is strange and simple. I often want to laugh even though they are meticulous and internal.
Robert Gober has made many drawings that on the surface, resemble Michael's because they are neat-looking with internal humor which is quick and deep. Bob Gober's drawings are not an end in themselves. They are plans for the sculptures which have occupied his exhibitions in New York City. The drawing of the little bed was a plan for a bed to be made full size for one person.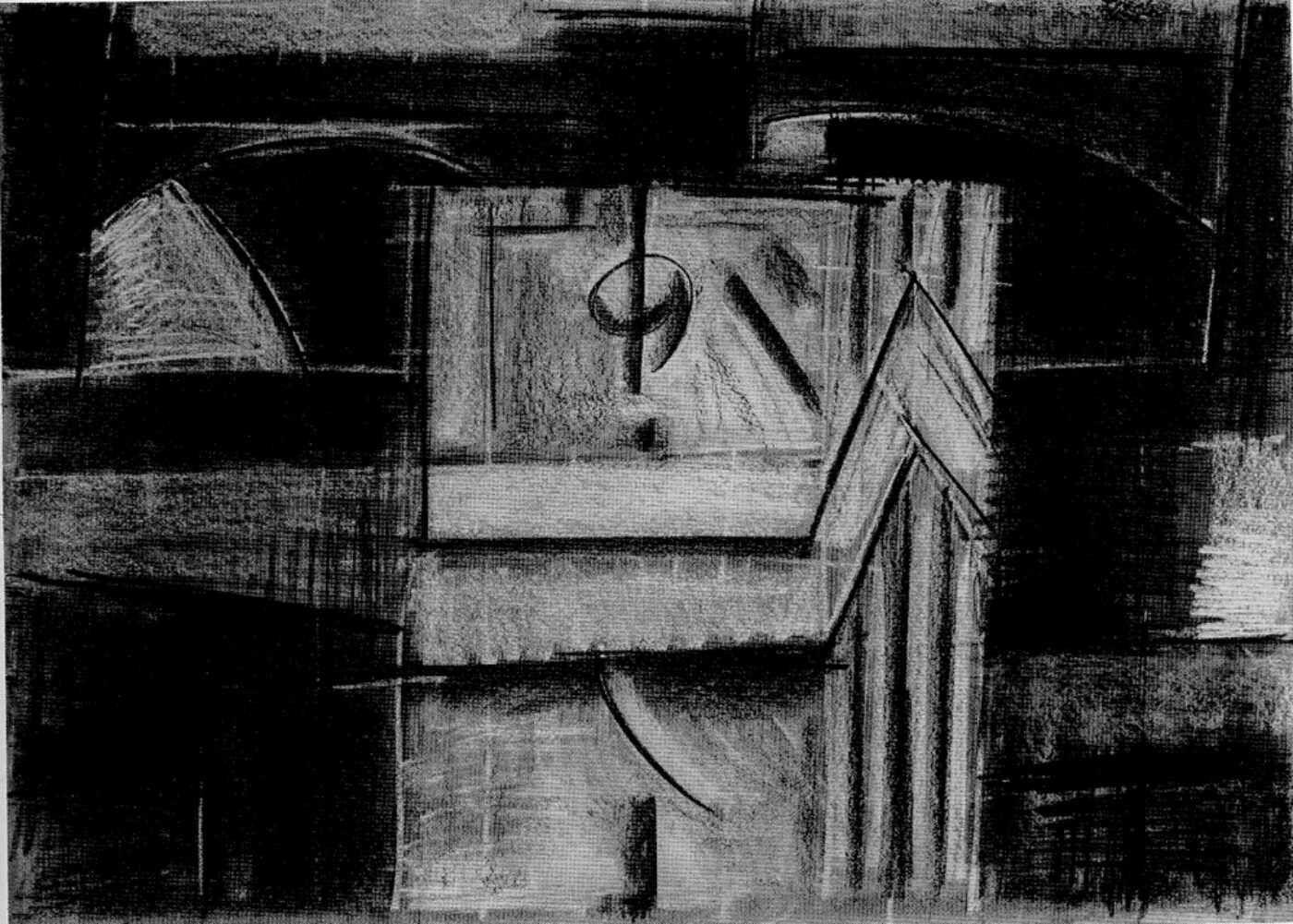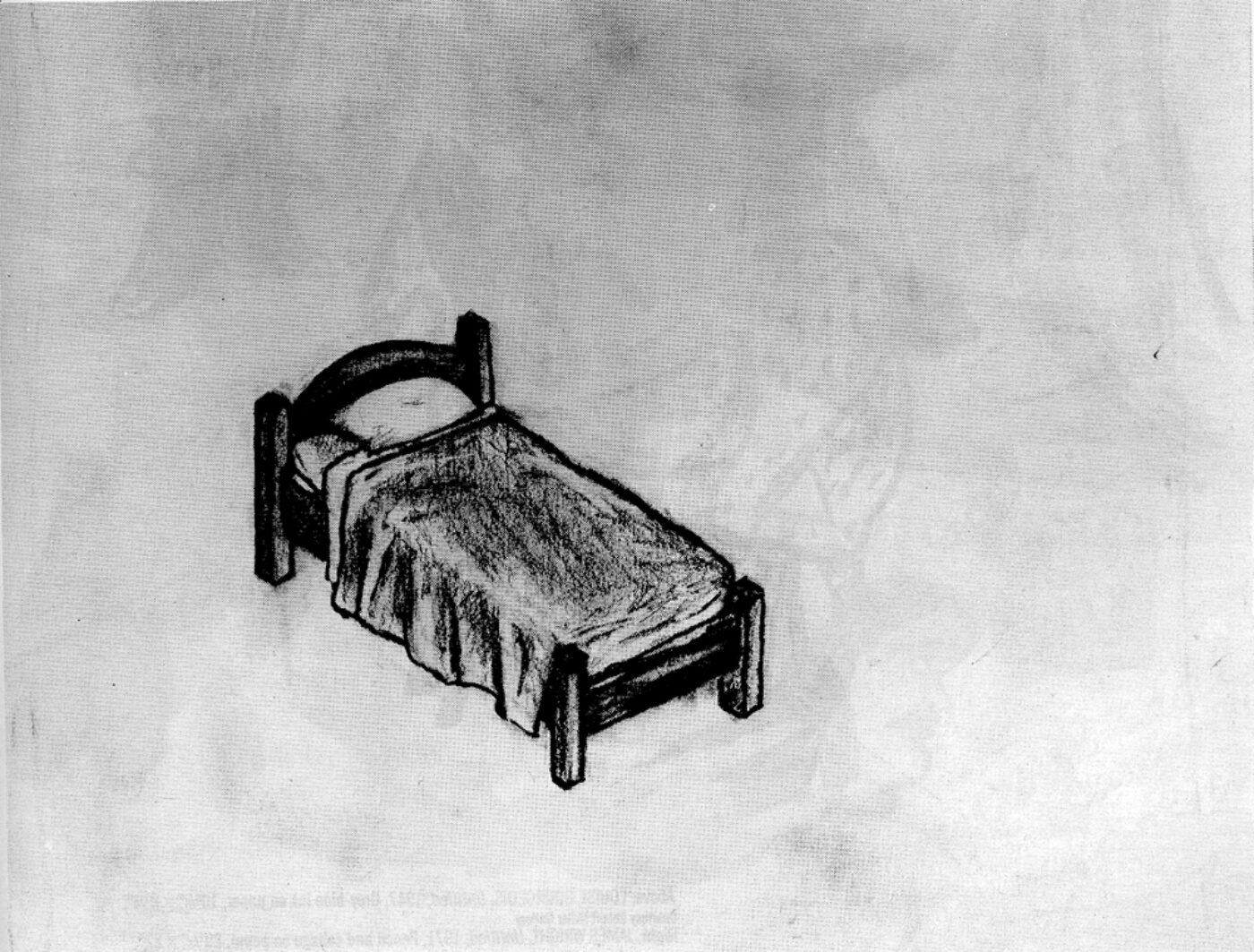 Louise Bourgeois has made many different kinds of drawings. Drawings that are purely abstract with poetic illusions, drawings of landscapes of surreal dimensions, drawings of structures, sculptures, figures, and houses. She has what I would call material awareness. The paper, the ink, the pencil, all play an equal part in the configuration that are her drawings.
Jimmy Wright was educated at the Chicago Art Institute at a time in which the Hairy Who were wild. He traveled in India and North Africa absorbing the mythologies and sculpture of these cultures. His constant qualities are a lightness of touch with mythic dimensions (connotations). These are not psychological drawings but rather they reveal a sensuous knowledge of the icons he has created.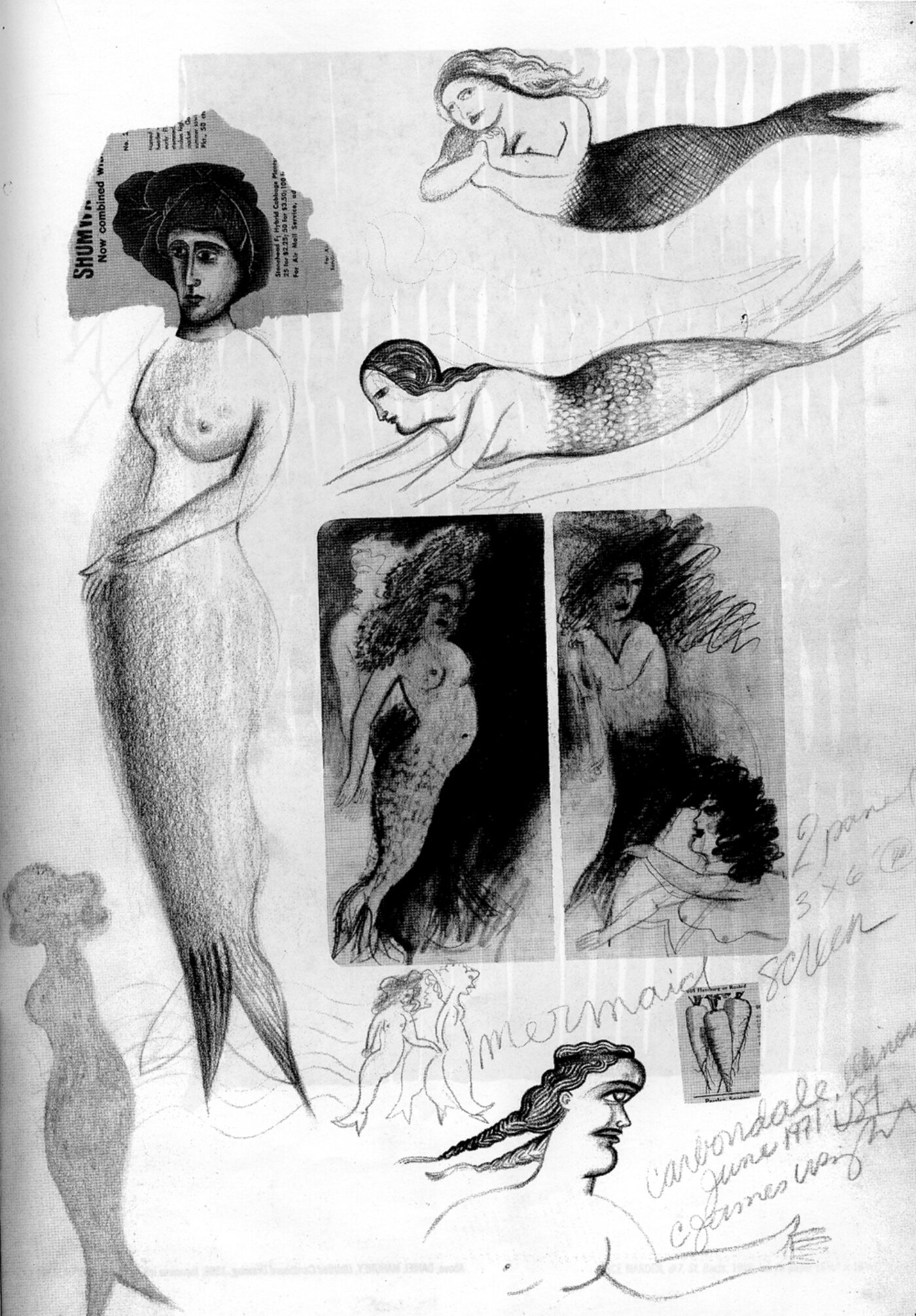 Brice Marden's drawings were done on the Island of St. Barts. As the artist explained to me, they were drawn from nature—from looking at a palm grove. The strokes look oriental. They were made with twigs and black ink. He is left handed and out of logistic necessity, he works right to left, top to bottom, much in the tradition of oriental calligraphy.
Daniel Mahoney makes elaborate, encaustic paintings usually of two colors at a modest scale. His drawings are like Marden's in that they are made with untraditional drawing tools. In the drawing that follows, he uses the rough edge of a piece of cardboard with black ink. Unlike Marden, he is making paintings and drawings about his own internal nature, not looking out but in. His drawings are records of quiet articulations.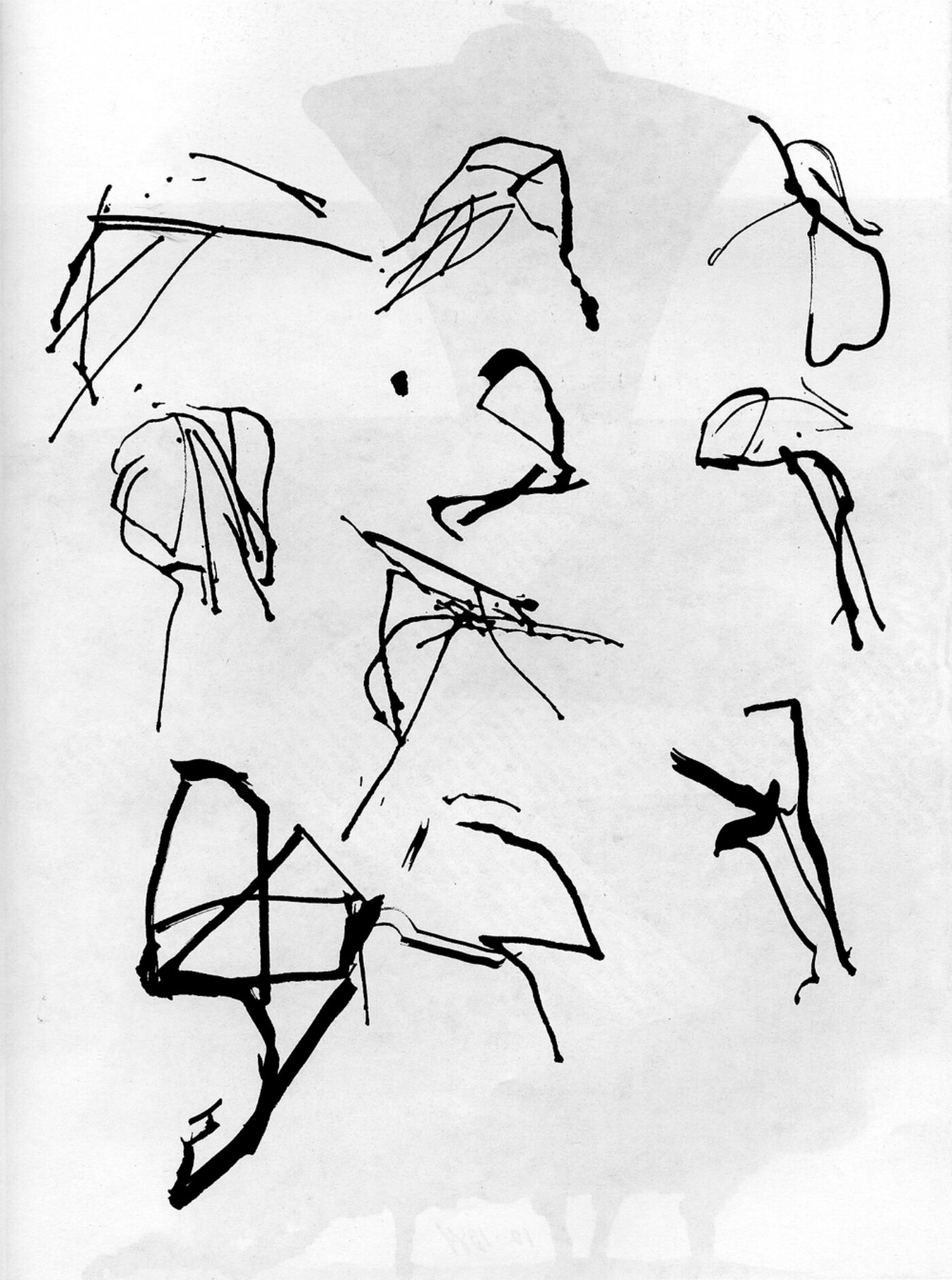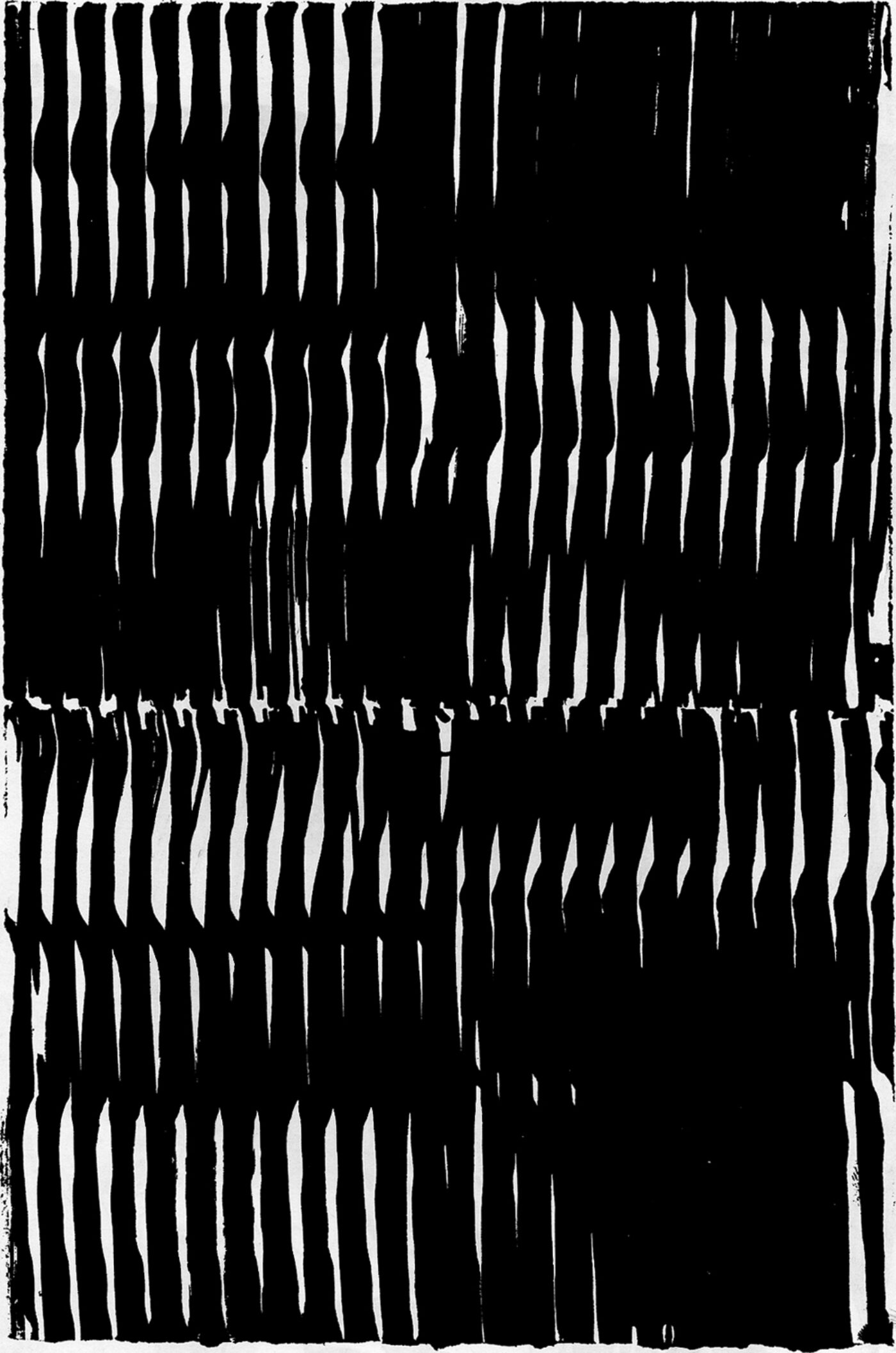 Arch Connelly is best known for three-dimensional floor pieces and wall reliefs of embellished surfaces. As a friend mentioned, from Connelly's spiderwebs to Smithson's Spiral Jetty is a big jump. The jump is internal—to a universe inside a decorated living room. Connelly's imagination is as immense in a different direction. Plastic as all natural—product reality.
Robert Smithson's drawings are often projects, descriptions of ecological situations created by him. The materials of these projects are natural. There is no limit in a project drawing. His imagination is immense.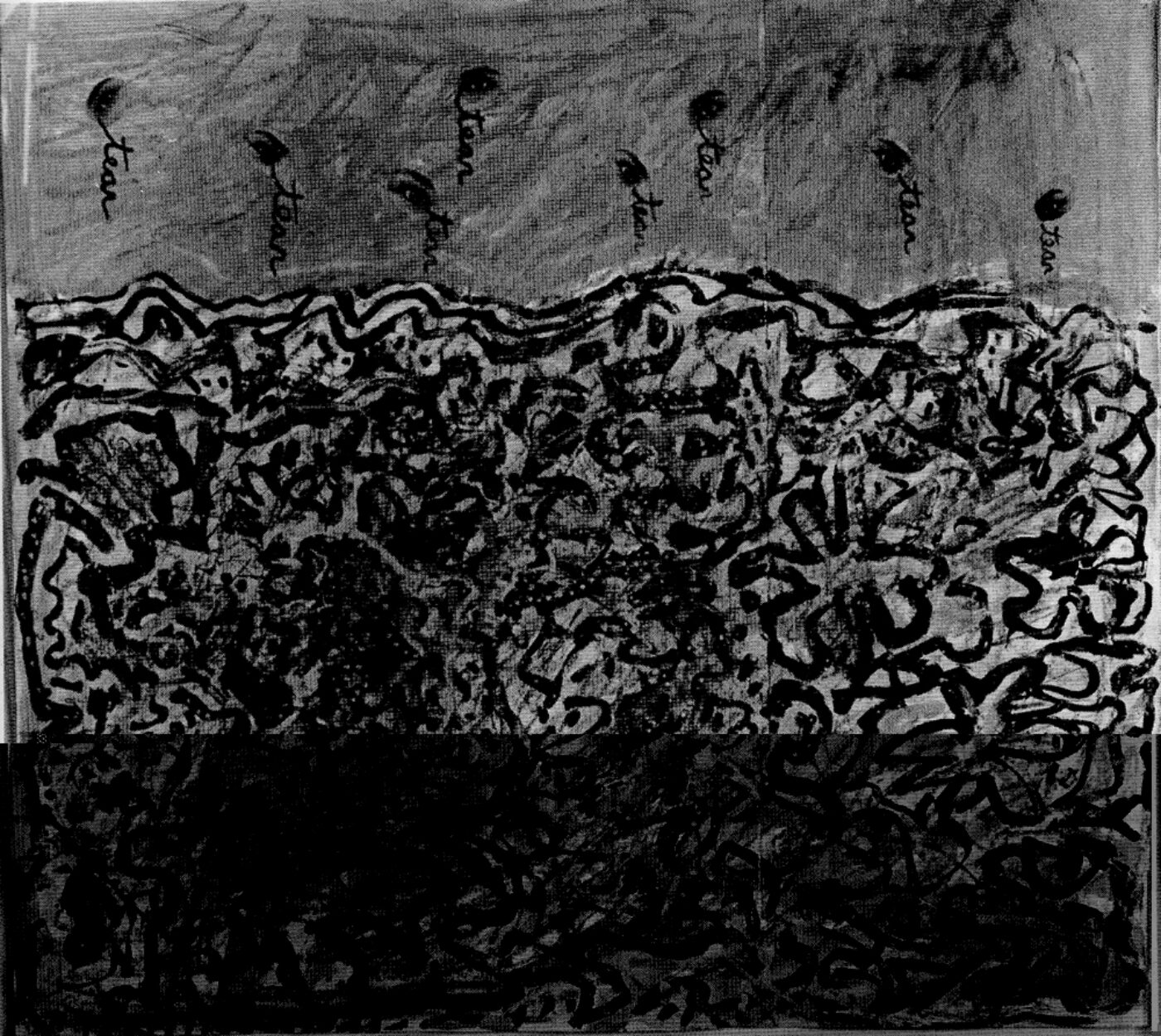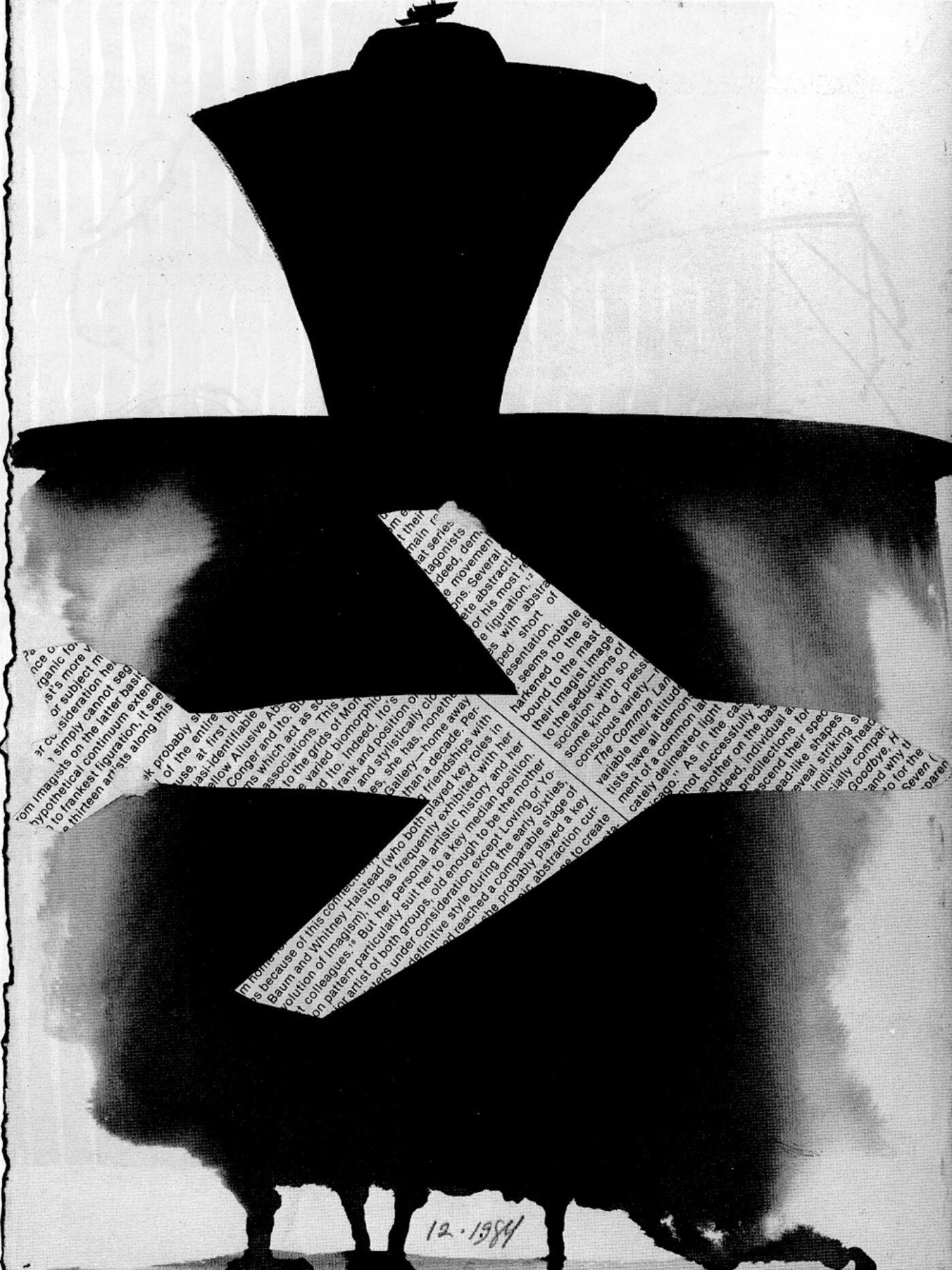 Alice Neel was not afraid to tell it like it was and is. Certain human qualities are so fine and high or so low and disgusting that they remain on the parameters of human life. In Alice Neel's drawings I am often touched by the stark reality that overshadows her masterful drawing (the thing that is there in black and white).
Rhonda Wall has created a circus of paintings and drawings that are truthful in their courage to illustrate social and private relations. Never as specific as Alice Neel's, they are more current because a lot of the damage and degradation in society now has no other face than that of a smiling clown with deadly power.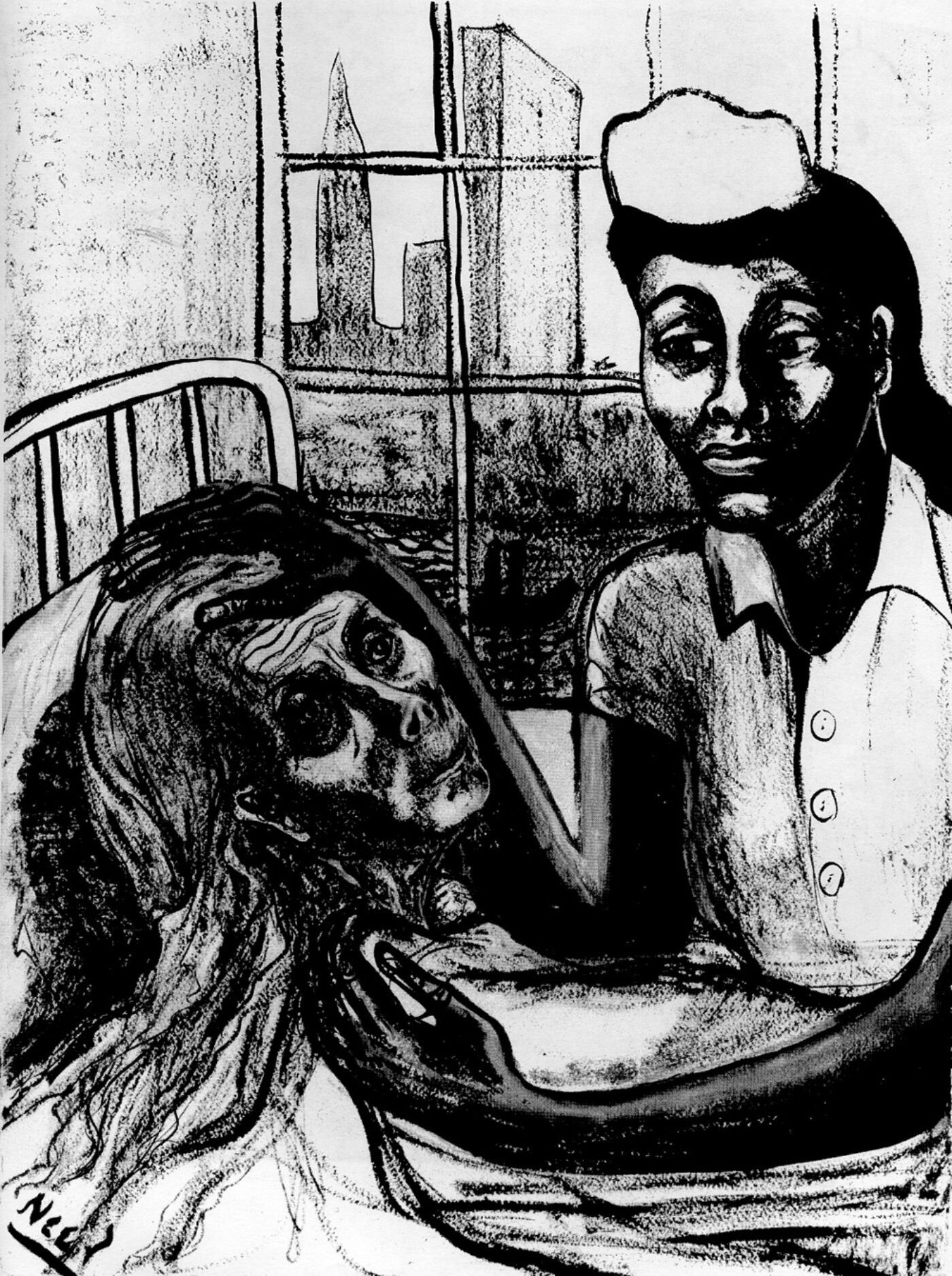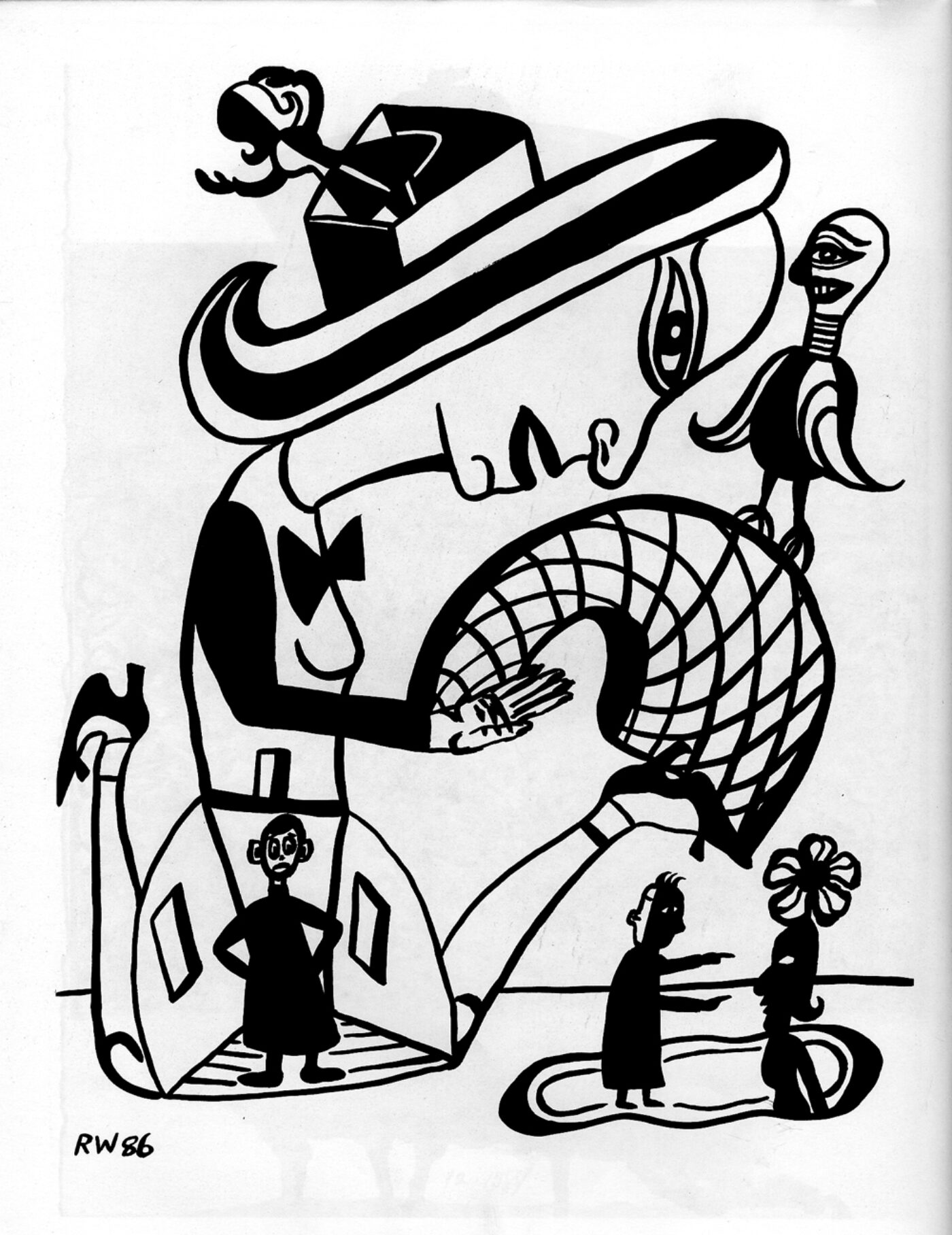 Roberto Juarez has made outsider art, primitive art his model for truth and beauty. In his drawing is a search for simple forms that are organic and poetic. This makes them vegetables, flowers, rocks, and seascapes. Charcoal is burnt wood and scratches, Japanese paper to make a sound and feel that is part of the rhythm of the drawing.
Curtis Lee Fairley draws on cars in front of Roberto Juarez's studio. He has no studio or home but when it is sunny and he is drawing, there is nothing wrong in the world. This is not to say he makes all happy drawings. Some are very serious and filled with his knowledge of the sea. His birds and boats and lists are about the pleasures of life, menus for wonderful lunches and dinners with gravy, sweetpeas, and many desserts.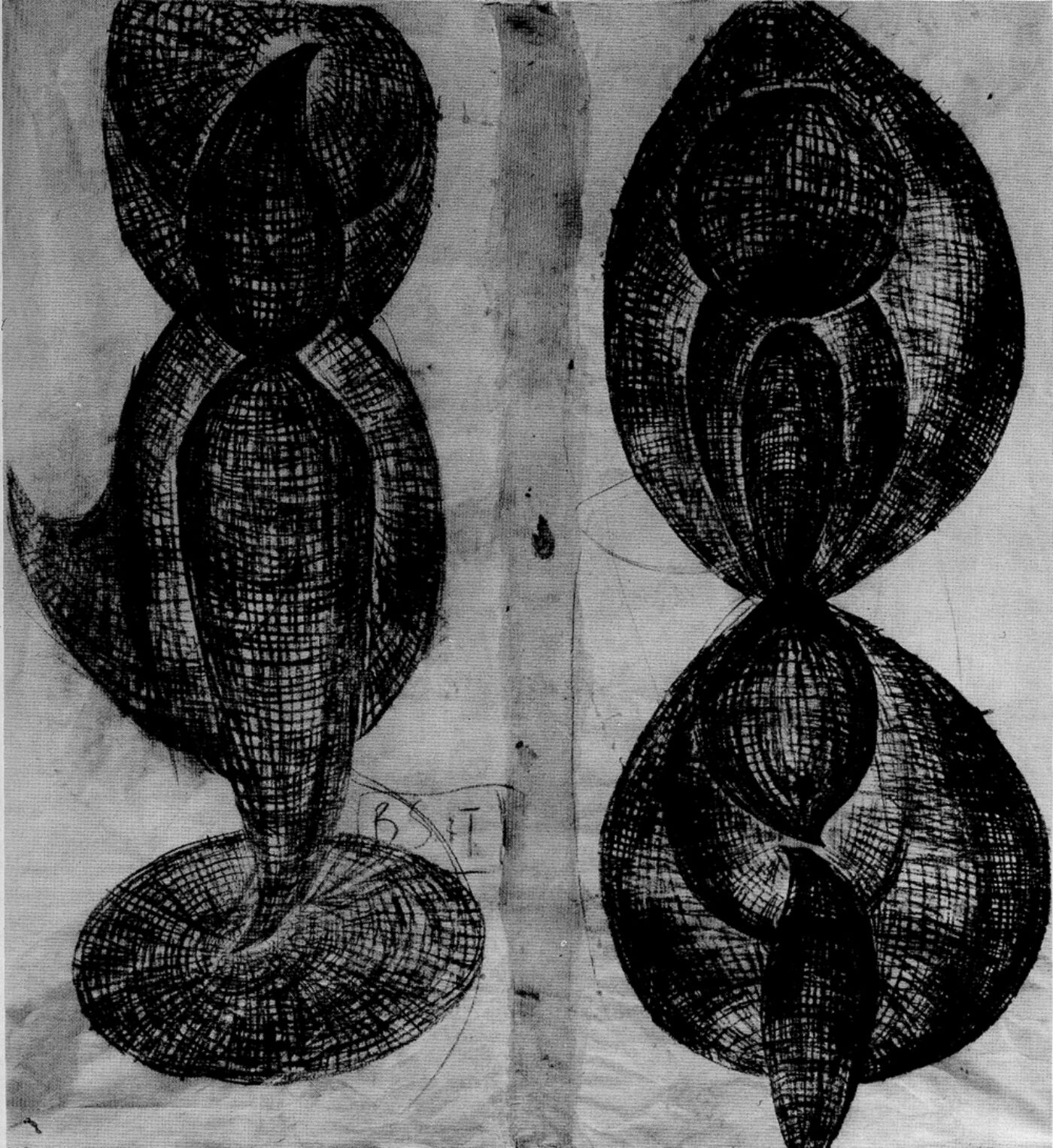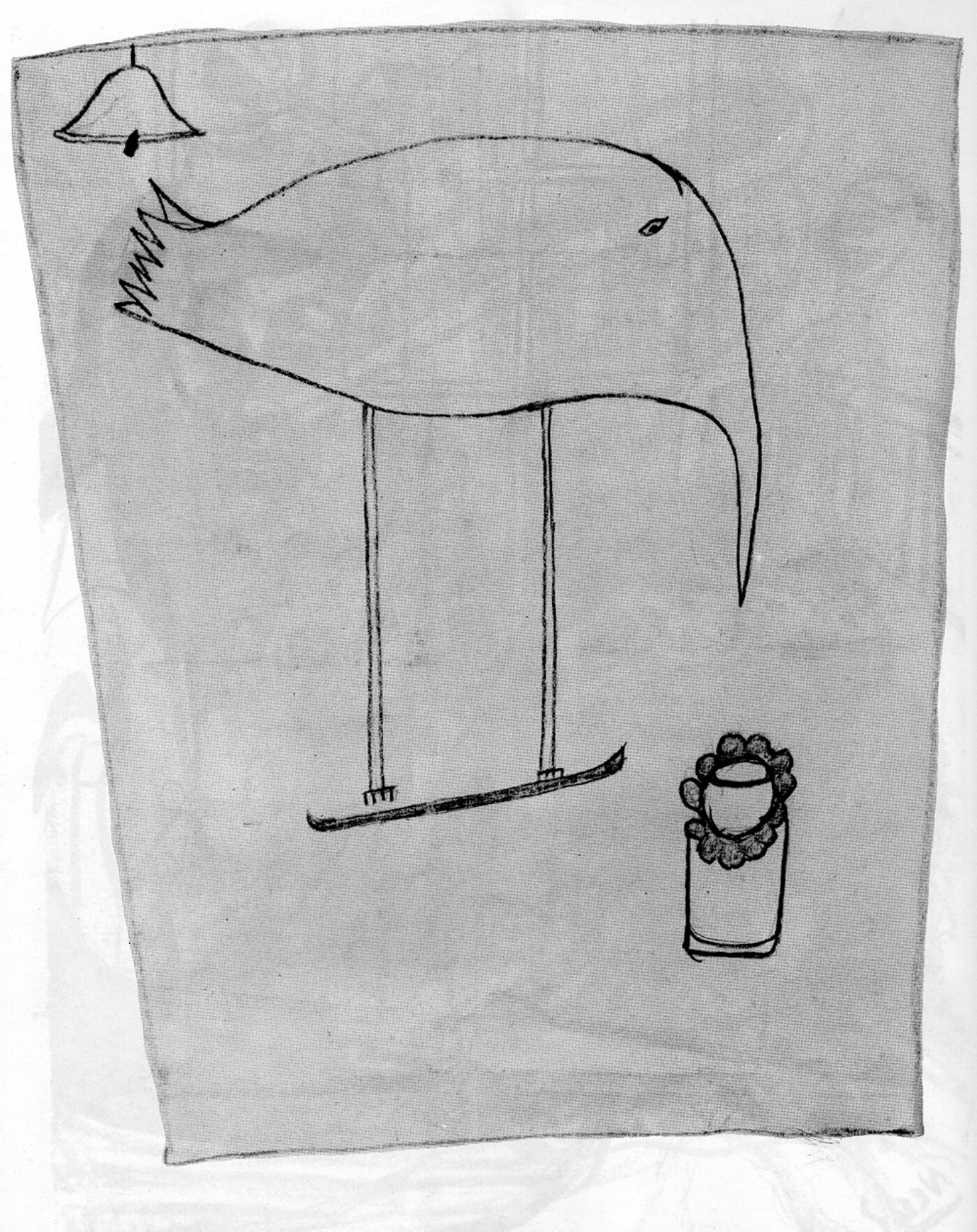 —Roberto Juarez is a painter living and working in New York City.
Originally published in
Martin Amis, Gretchen Bender by Cindy Sherman, Charles Henri Ford, and Roland Joffé.