Discover MFA Programs in Art and Writing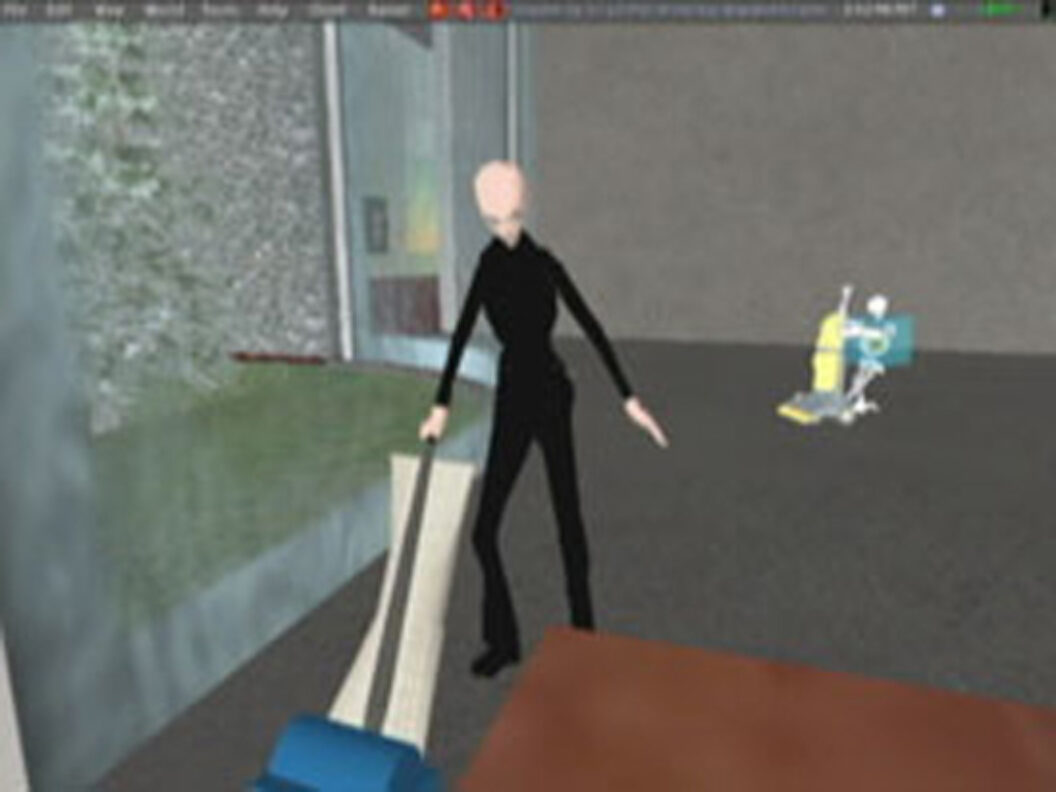 Joining the online virtual world Second Life requires choosing an avatar, which can be customized if you know what you're doing. I didn't, so my choice of the default "girl next door" was more a choice not to be "cybergoth" or "Harajuku." I wanted to get on with my purpose—visiting the nonprofit new media center Ars Virtua, whose call for artists' proposals on Second Life I'd seen posted on Rhizome.org. What I was expecting: clichéd digital graphics of phantasmagorical dragons, waterfalls, scantily clad women, orcs. What I found: the work of Cory Arcangel, David Crawford, Nicolas Clauss, and Jean-Jacques Birgé, in a smart group exhibition, Honesty Is Our Policy, curated by the directors of the pioneering net-art organization Turbulence.org. Encouraging.
Another Ars Virtua project, Looks Very Tidy, an artist performance of John Bruneau and Ars Virtua Director James Morgan virtually vacuuming their dustless galleries, sets up an ironic comment on the general nature of tidy Second Life. Navigating around the regenerated kitsch (yes, dragons and waterfalls) that predominates most Second Life spaces induces a profound sense of incorporeality—a curious feeling of disembodiment and temporary amnesia from the weight and materiality of messy "real life."
This relationship between Second Life and real life is a theme for many projects at Ars Virtua. Their artist-in-residence program utilizes the non-physical virtual space of Second Life for an actual artist residency. The exhibit "13 Most Beautiful Avatars" (a tribute to Warhol's "13 Most Beautiful Women"), by Eva and Franco Mattes (aka, 0100101110101101), had a simultaneous public showing in the real world at the Italian Academy at Columbia University. The Ars Virtua exhibition was an exact 3D replica of that installation.
At Ars Virtua's opening of "13 Most Beautiful Avatars," the presence of art-worldy avatars dressed in black underscored this Second Life/real-life symmetry. I tried to engage, hoping to meet the artists, the gallery director, but got nowhere. With astonishment I realized I was beginning to feel a virtual identity crisis—nothing about my girl-next-door appearance expressed my actual interests. But by now I knew where to access the proper tools, and my quick make-over resulted, remarkably, in feeling like … myself.
Penelope Umbrico is an artist living in New York.
"Looks Very Tidy" will be screened in the Streaming Museum, a real-time exhibition in cyberspace and public space on seven continents.
Originally published in
Featuring interviews with Joseph Bartscherer, Steve DiBenedetto, Jonathan Lethem and Lydia Millet, Zachary Lazar, Harmony Korine, Tav Falco, and Philip Seymour Hoffman.