Chess, eggs, and dessert.

Discover MFA Programs in Art and Writing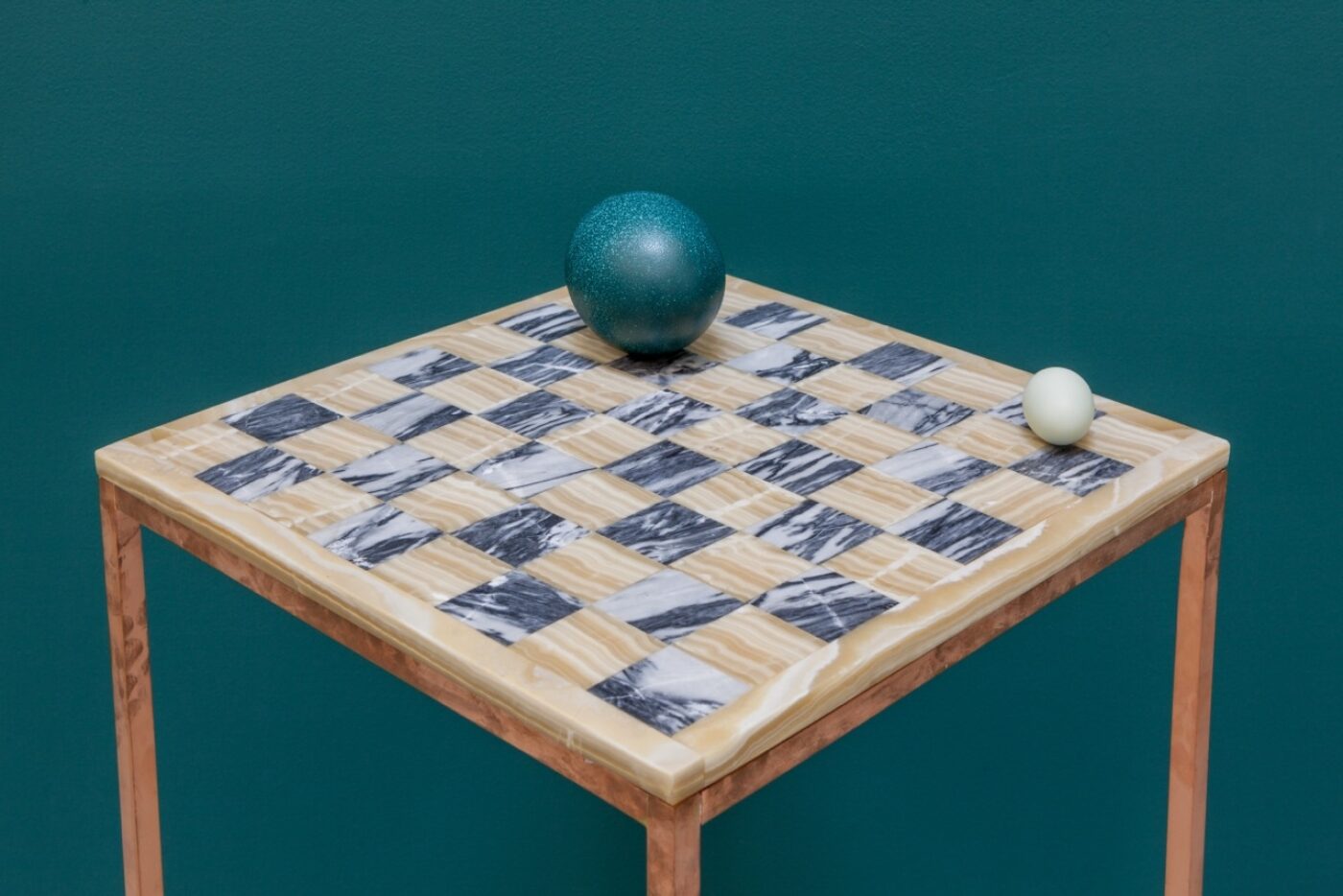 I scream for when you are happy, I scream for when you are heartbroken. This is how I misread Vienna-based artist Sarah Ortmeyer's responses to a question on the concept of ritualized happiness that I had asked her during one of our many email exchanges. Of course, the words she wrote were Ice cream not I scream, though the idiomatic childhood rhyme was inescapable in my mind, and my eyes replaced the text with its sound instead—a happy malapropism. We had just discussed the concept of youth, and the mistake seemed fitting. It seemed not unlike something she would write; emotive, oppositional—in that it reflected the same action in two polarizing ways—within the realm of popular reference, and a touch melancholic.
My introduction to Ortmeyer's work was through her exhibition KISH KUSH at Dvir Gallery, in Tel Aviv, in early 2014. After seeing the documentation online, I began a steady digital communication with Ortmeyer that has continued ever since. The show took on chess as performance—think Duchamp—in an over-the-top installation of life-size photos of female chess champions scattered throughout the gallery in a floor-to-ceiling array resembling centerfolds and pinups. The knights, queens, rooks, and pawns pictured in many of the images of these hottie grandmasters were tossed, strewn, held as props, and staged suggestively. Oversized marble pieces occupied the floor in clusters, sometimes in proximity to the images plastered on the wall, other times in independent huddles in the center of the space. Undermining the idea of strategy was at the center of Ortmeyer's tactic. The best way to feature the absence of these female chess champions from the history of chess was, in this case, to attack the gendered intellectualism of the game in a way that was so sexualized, so explicitly objectified, that it posed an affront to the myth of male genius so readily performed by modernism.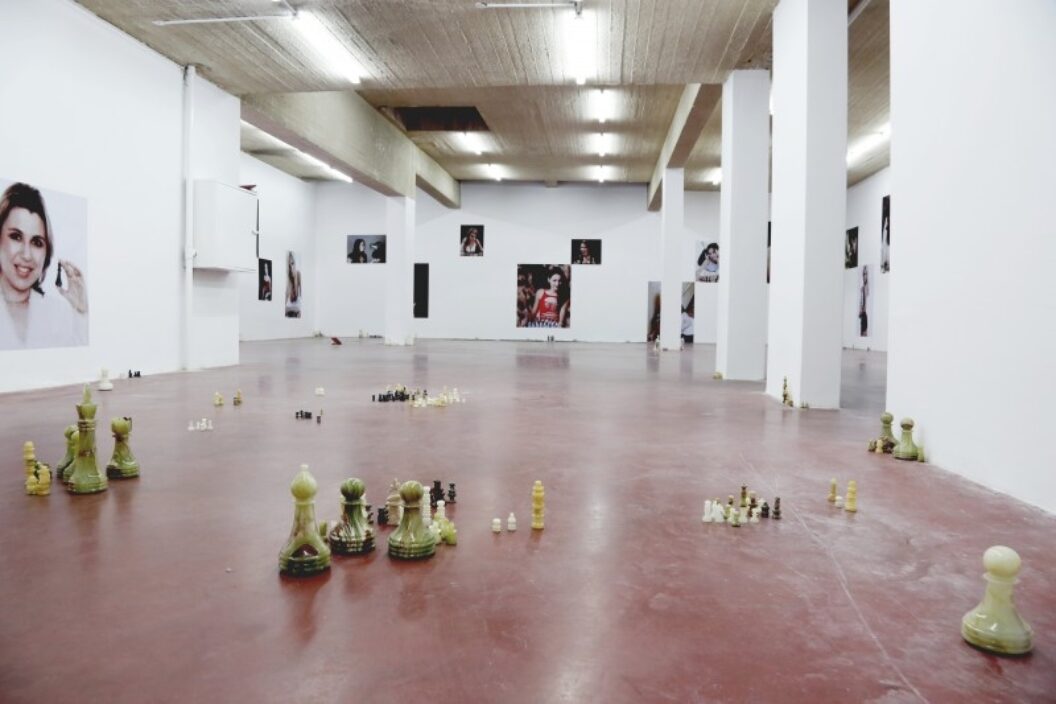 What happens when you don't play by the rules? Looking into Ortmeyer's older work confirmed my suspicions: her pieces were largely installation based, dramatic, grandiose, and—in almost all instances—funny. In SAD EIS, at Meessen de Clercq in 2012, huge ice cream cones filled the gallery in three-scoop servings of differently hued grays. You could almost imagine their taste: concrete, cinder block, gravel dust. A gallery filled with empty wedding cake stands in a similarly monochrome palette, titled MARRY ME ME (2012), filled the space adjacent to the dessert props.
Ortmeyer's humor does not imply levity, but in fact a certain self-effacing contemptuousness to the idea of a right form—displaying instead a sort of right wrongness to common objects. A parody of victory. Since first writing about her work, I have looked at Ortmeyer's output through this lens, thinking through excess as a form of critique. Below is a collection of texts resulting from our many rapports, which among other topics, spans our shared interests in the respective attitudes of youth, frivolity, and danger.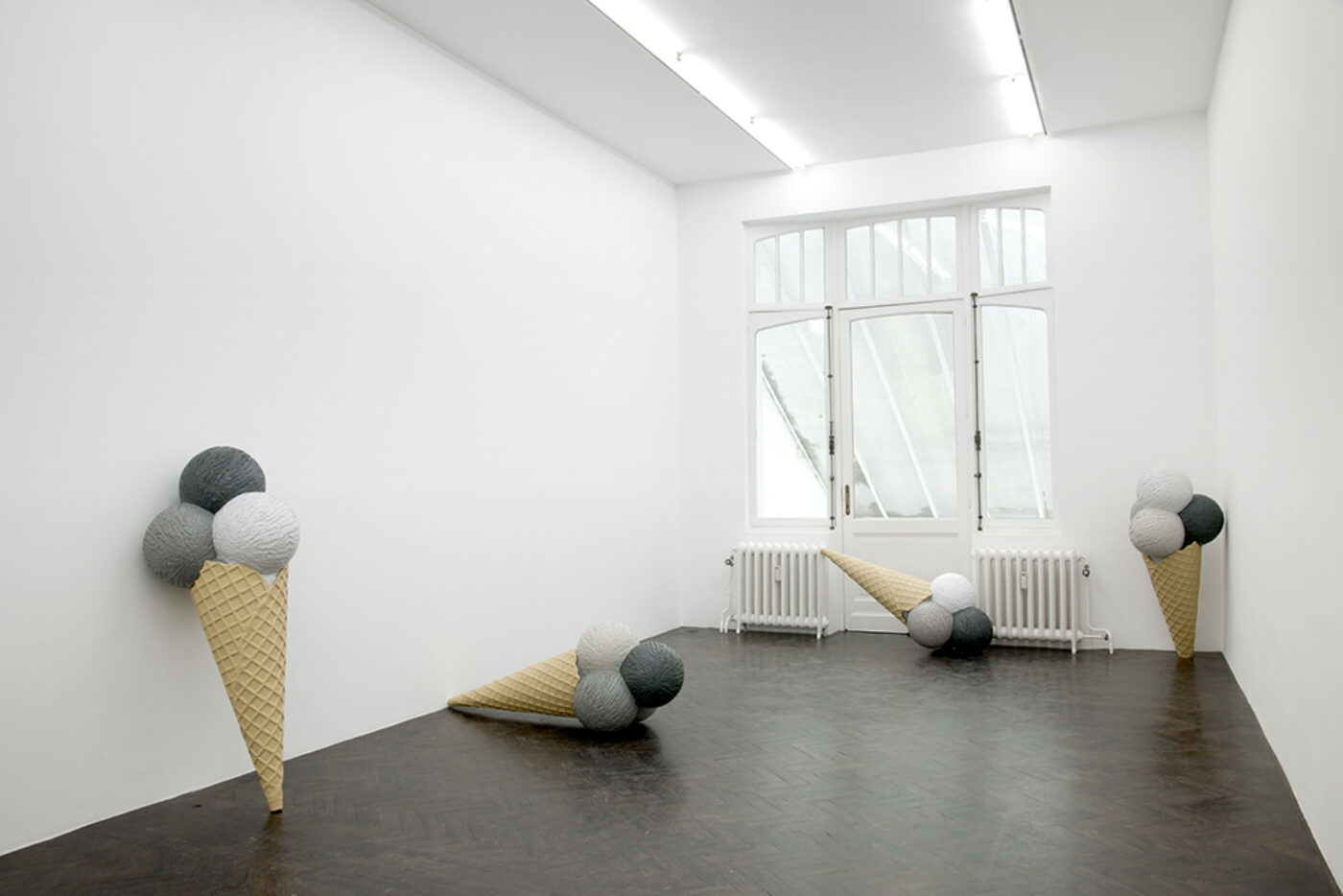 Stephanie Cristello I have written about your work quite a bit over last year, but I also feel like the way you write has a lot to do with the work. Specifically, the form of your words in our correspondences—always in all caps—seems like such an important part of your practice, and you title your work the same way. I would not go so far as to call it a persona, as it feels more sincere than that, but the text within your work has a life of its own. What is your relationship between the pieces you create and the way you write?
Sarah Ortmeyer HOW KIND TO NOTE OUR EMAILS, ESPECIALLY SINCE I WRITE THEM VERY FAST AND NEVER REREAD THEM. I ALWAYS TRY TO PAY ATTENTION TO THE SUBJECT LINE AND THE TYPESETTING. I ALSO ALWAYS TRY TO FIND A CAPTION FOR AN EMAIL THAT IS ONLY ONE OR TWO WORDS, AND THERE ARE INDEED SIMILARITIES TO HOW I FIND TITLES FOR MY WORK.
IN A RECENT SHOW I DID IN BRUSSELS ABOUT RITUALIZED HAPPINESS I USED MILLI VANILLI AND KISS KUSHAS TITLES. AN EXHIBITION IN MILAN THAT DEALT WITH MASCULINITY IN SPORTS WAS CALLED MACHO AMORE. ANOTHER ONE ABOUT THE SAME SUBJECT IN VIENNA WAS CALLED BALLS. TWO GARMENT-RELATED SHOWS I DID IN NEW YORK AND LA WERE NAMED KANT ELEGANT AND KANT ELEGANT KALIFORNIA. THE WORK CAN BE COMPLICATED, BUT THE TITLE ALWAYS HAS TO BE LUSCIOUS AND SINGULAR TO ME, OTHERWISE I CAN'T STAND IT.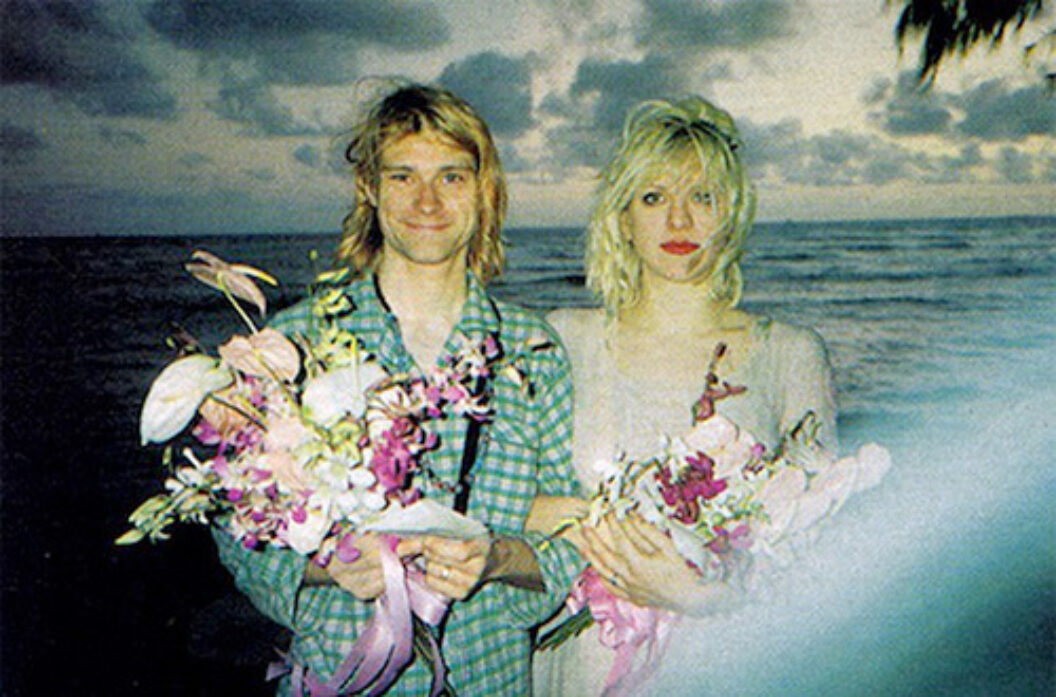 SC What is ritualized happiness? I like that as a title even. As a pairing of words, it seems like it would not work. A paradox.
SO YES, A PARADOX. I AM PRO HAPPINESS, AND I AM PRO RITUAL. TO TALK ABOUT RITUALIZED HAPPINESS AS A CONCEPT IS AN INTIMIDATING PHENOMENON, BUT IT CAN ALSO BE ICE CREAM. ICE CREAM FOR WHEN YOU'RE HAPPY, ICE CREAM WHEN YOU'RE HEARTBROKEN. OR IN LIEU: BIG WEDDINGS, A VISIT TO THE CIRCUS, OR A BACHELOR PARTY.  RITUALIZED HAPPINESS IS EVERYTHING THAT IS PLANNED IN A WAY THAT IS SUPPOSED TO MAKE YOU FEEL FORTUNATE. SAD EIS, THE EXHIBITION I DID ON THIS TOPIC, WAS ACTUALLY AN AESTHETICALLY SAD SHOW—I WENT FOR ALL GRAY. BUT IN BETWEEN THE DIFFERENT FLOORS AND ROOMS STOOD A COLORFUL BOUQUET MADE OUT OF REAL ICE CREAM CONES. THE OFFICIAL PRODUCT NAMES OF THE CONES WERE VERY SIMILAR TO THE NAMES OF RACE HORSES (OR PORN STARS): CONO FIORE, CONO PRALINEX COCCO, CONO PRALINEX BIANCO GRANDE, CONO PRALINEX NERO GRANDE, BIG FUN, MAXI CONE, OR TROTTOLE.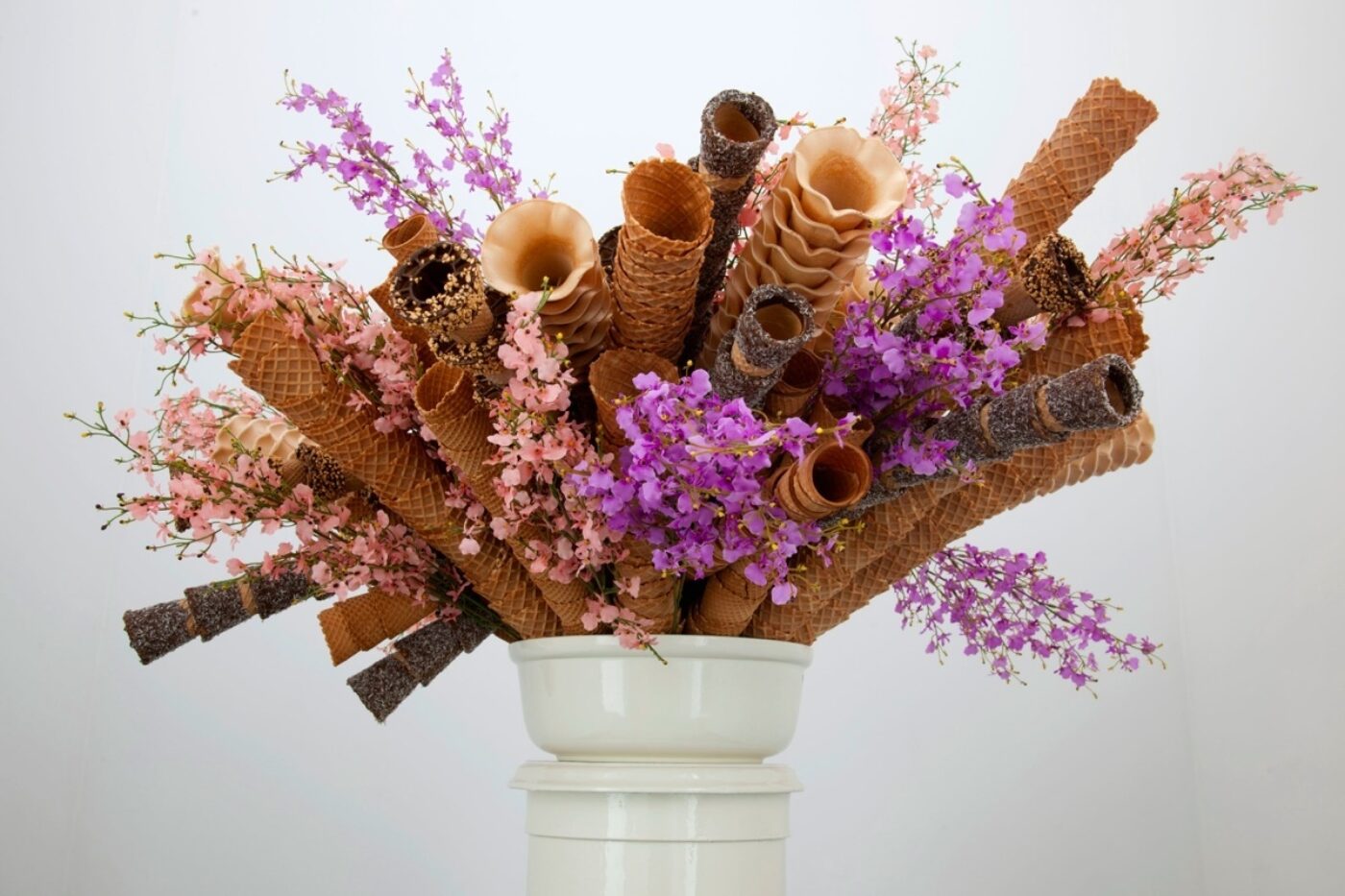 SC It seems that you mine both your humor and your subject matter from a self-devised archive, a secret catalogue of language and ideas.
SO I HAVE A WILD SYSTEM THAT WORKS WITH CODES AND MATERIAL THAT I COLLECT FOR FUTURE WORKS, OR THE CONTINUATION OF EXISTING WORKS. A KIND OF SYSTEMATIC PUNK ARCHIVE THAT IS PROBABLY HARD TO COMPREHEND. IT'S FUN. I SUFFER FROM MELANCHOLIA, BUT STILL. NEW THOUGHTS AND WORK COME EASY TO ME. SOMETIMES I'M SUSPICIOUS ABOUT THAT. I HAVE NEVER HAD TROUBLE WORKING, NOT EVEN IN CRISES. VERY SCARY. LUCKY, BUT CREEPY.
SC You have worked with chess on numerous occasions before. When we met at Frieze New York after I reviewed the KISH KUSH exhibition, with attention specifically to the GRANDMASTER series, we had talked peripherally about your relationship to the chess: Can you expand on that? I know that you were speaking about a text.
SO I WROTE A NON-FICTION BOOK ON CHESS AND POLITICS, WHICH I FINISHED LAST YEAR. THANKS TO THAT WORK I NOW OWN A VAST ARCHIVE OF CHESS MATERIAL. I HAVE BEEN IN DISCUSSION WITH THE CURRENT WORLD CHAMPION, MAGNUS CARLSEN, TO BECOME THE VISUAL MANAGER OF HIS INSTAGRAM ACCOUNT. VERY SUBLIME. THE RESEARCH TOOK YEARS, BUT WAS HEARTBREAKINGLY INTERESTING. IT'S OVER. I HAVE A CHESS OVERDOSE AT THE MOMENT. NEVERTHELESS I'M STILL PLANNING A CHESS-RELATED EXHIBITION IN ITALY THIS YEAR WITH AN ARTIST I ADMIRE VERY MUCH. THE SUBJECT IS SHIFTING. IT WILL BE MORE OF A MARBLE DELIRIUM SHOW. OLD ITALIAN FLOORS OFTEN HAVE A VERY ORGANIC LOOKING AESTHETIC. ALMOST VISCERAL. IT'S GOING TO BE TOO BEAUTIFUL. NAUSEA BY MARBLE. PALAZZO FLOOR PUKE.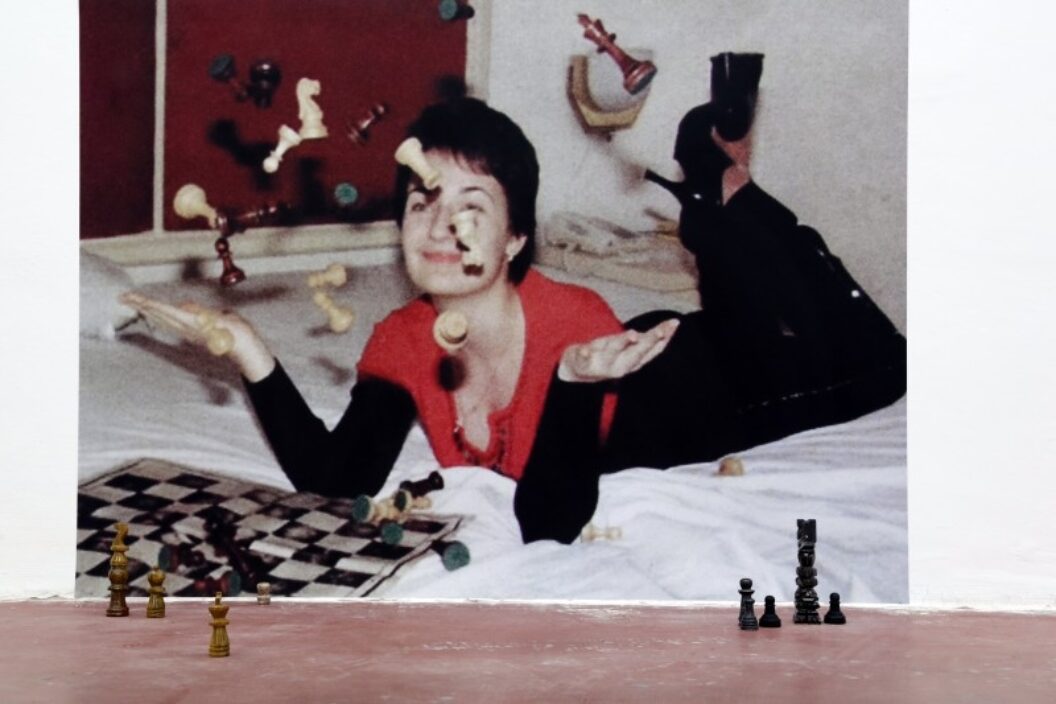 SC I think this goes back to the allegorical, or the romantic, potentials of the material you work with. Chess, as a concept, is one example of this—there is a sort of totality to your installations. By this, I mean that your exhibitions often focus on a single subject, and use it as a stage for other things to occur. Almost theatrical?
SO TOTALITY! IN GENERAL, I OFTEN DO NOT HAVE A FLAIR FOR THE THEATRICAL, THOUGH I RELATE MUCH MORE TO CONTEMPORARY US TV SHOWS LIKE GREY'S ANATOMY, NASHVILLE, OR FRIDAY NIGHT LIGHTS. IT CAN BE REALLY BAD, BUT THERE IS ALSO A BRILLIANCE TO GETTING PEOPLE FROM TOTALLY DIFFERENT BACKGROUNDS SO EMOTIONALLY INVOLVED. FRIDAY NIGHT LIGHTS, BASED ON HIGH SCHOOL FOOTBALL IN TEXAS, SOUNDS VERY BORING, BUT THIS PLOT LINE IS ONLY A STARTING POINT FOR SOMETHING MUCH BIGGER. SPORTS ARE THE LEAST IMPORTANT SUBJECT OF THIS SHOW IN THE END. IF "THEATRICAL" MEANS A WAY OF LOOKING CLOSELY ON A SEEMINGLY SMALL SUBJECT IN ORDER TO FIND OUT SOMETHING MUCH BIGGER, THEN I LOVE THE THEATRICAL, AND IT'S A MAJOR INTEREST OF MINE! IN FACT, IT'S THE REASON WHY I'M MAKING EXHIBITIONS.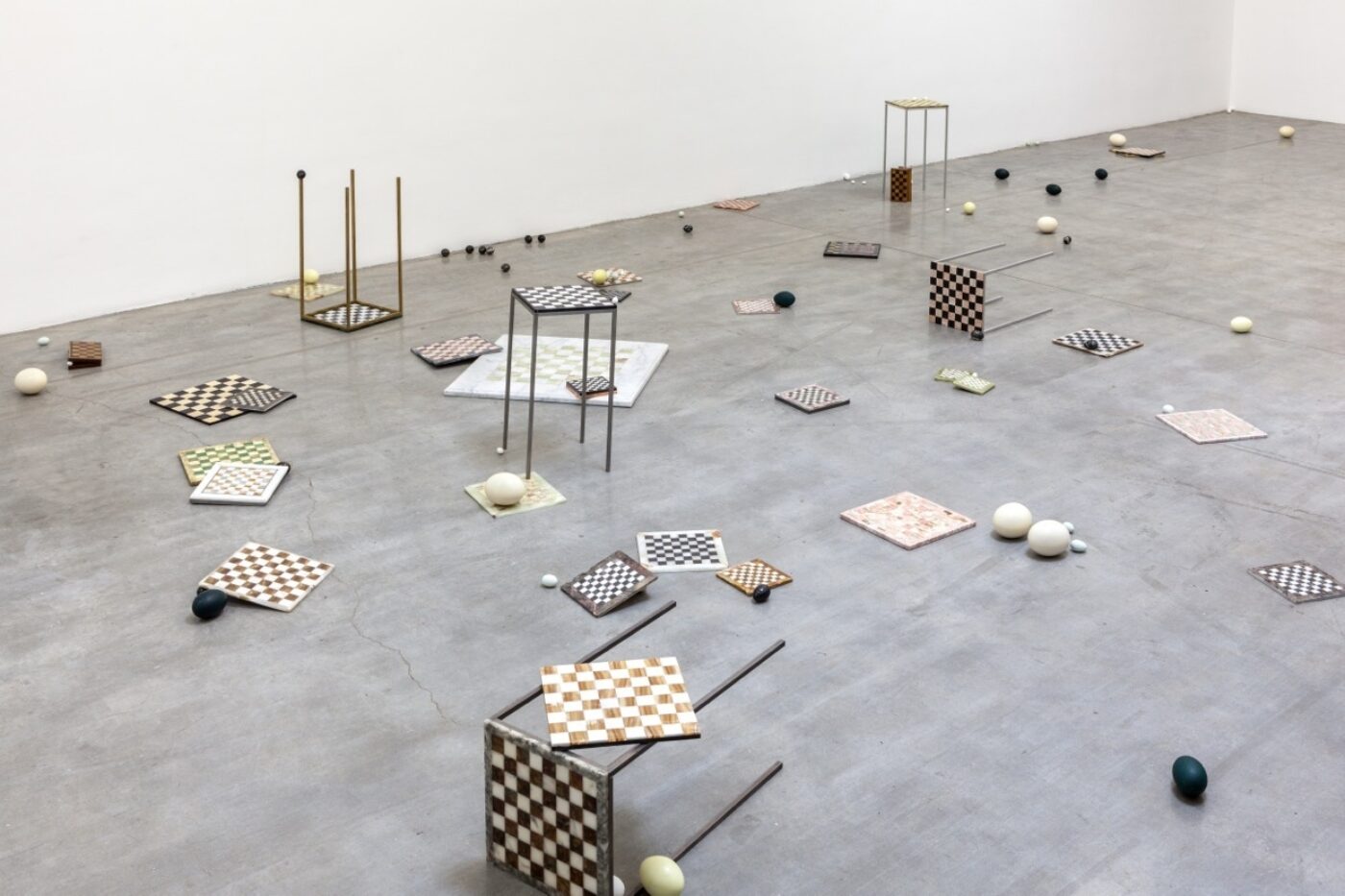 SC In your piece for the Swiss Institute The St. Petersburg Paradox, your works were shown alongside pieces by Marcel Duchamp. I've written about what I think your relationship to Duchamp is—his use of chess as conceptual art, but also in a practical capacity, in that he gained a "master" title and was a chess journalist himself, very much involved in writing on the game—but I am more curious to hear about that connection in your words. The exhibition was about the power of gambling, yes?
SO YES, SO FUNNY. MY WORK WAS JUXTAPOSED WITH DUCHAMP'S MONTE CARLO BOND (1924–38), ONE OF HIS FEW WORKS ON CHANCE AND GAMBLING. A VERY BEAUTIFUL PIECE.
GAMBLING IS MUCH UNDERRATED IN CHESS. IN ADDITION TO AN OVERSIZED MARBLE CHESSBOARD SPREAD, THE SCULPTURE SERIES I HAD PUT IN THAT EXHIBITION CONSISTED OF REAL EGGS (EMU, GOOSE, OSTRICH, RHEA, DUCK, QUAIL). INSTALLING WAS THE BEST OF THE BEST. HAPPY DELICATE EGG TIMES. SIMON CASTETS, THE CURATOR OF THE SHOW, CHOSE MARCEL DUCHAMP AND HANS ARP, AMONG OTHERS, TO BE IN PROXIMITY ON THE SAME FLOOR. THE EXHIBITION WALL WAS PAINTED DOLLAR-BILL GREEN. IT WAS A BRAVE GROUP SHOW.
SC Risk is an interesting concept to think about, especially in relation the dollar-bill green walls. I thought about trade—not stocks, but the forbidden allure of precious and rare materials—when I saw your choice to pair the eggs with the chessboards. They are exotic while also fragile.
SO THE OBJECTS THEMSELVES ARE ONLY MILDLY EXOTIC. A NEW YORK TIMES CRITIC LIKENED THE EGGS TO A GENETIC COUNTERPART OF THE CHESSBOARDS. THE COMPARISON MAKES A LOT SENSE, BUT I HAD SOMETHING ELSE IN MIND. AT THE OPENING, I TALKED TO ONE OF THE SECURITY GUYS. HE TOLD ME THAT HIS SON LOVED BOTH—EGGS AND CHESS—AND THAT HE COULD NOT WAIT TO BRING HIM TO THE GALLERY TO SEE THE ARRANGEMENT. I THINK, TO HIM, IT WAS ALL A BIT WEIRD, BUT IN A WAY ALSO VERY FAMILIAR. I FELL FOR HIS APPROACH.
SCBeyond "exotic" and "theatrical," "youthful" is another term I would apply to the general attitude of your work: frivolous youth, dangerous youth, spirited youth. I think the youthfulness you channel has an element of rebellion to it, in what you make and how you present it. Do you agree?
SO WOW. I NEVER THOUGHT OF IT LIKE THAT. BUT HOW GREAT. I AM NOT PARTICULARLY AWARE OF IT, AND WOULD ALMOST ALWAYS CHOOSE OLD AGE OVER ETERNAL YOUTH. BUT THE ATTITUDE OF PUBERTY IS FASCINATING TO ME: INTUITION, URGENCY, AND BOLDNESS. I WILL HAVE TO START HANGING OUT MORE WITH TEENAGERS FROM NOW ON!