In episode #17 of Phoned-In, poet Sarah Gorham reads from her book Bad Daughter.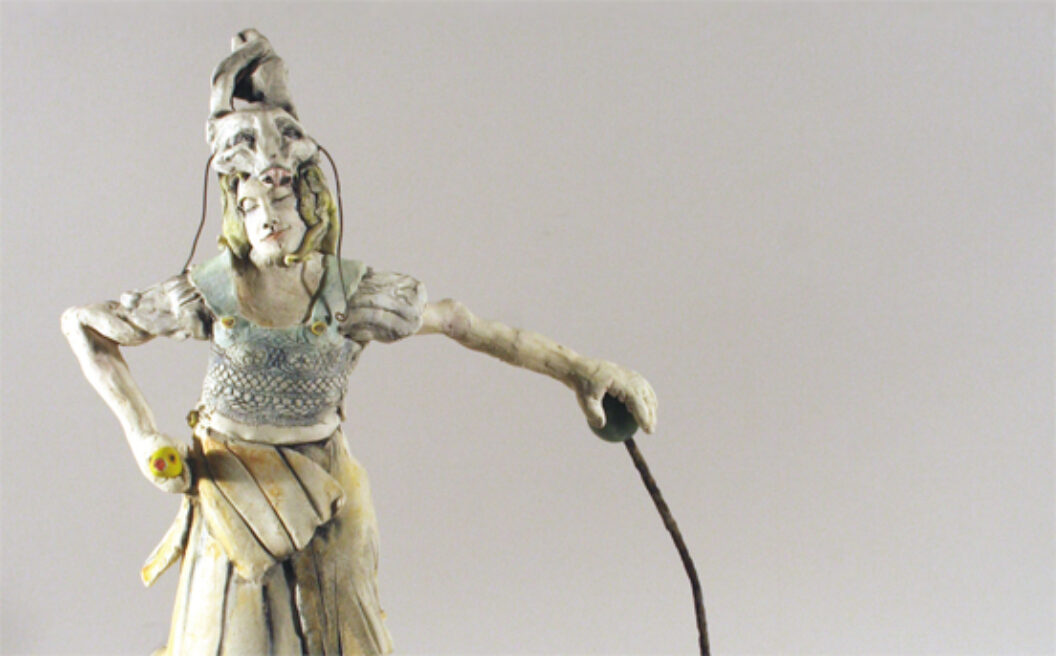 Perhaps Sarah Gorham's most important contribution is the literary press she created with her husband: Sarabande Books. Gorham writes that, "Our focus is on poetry and short fiction, genres that in the recent past have received less than generous attention from the mainstream publishing industry." In an interview with Nin Andrews from Best American Poetry, Gorham speaks about the two-sided nature of Sarabande Books, but her comments speak are especially apt regarding Bad Daughter:
The word sarabande has such an interesting history. A "sex dance" originating in the New World, imported to Spain, where it was banned in 1583 under penalty of death. Later, civilized by the English, German, French. The word suggested the kind of literature we look for: accomplished and elegant on the surface, with a wild underside.

Many of Gorham's poems (e.g. "Scaffold for a Sonnet" and "Barbecue") aren't experimental with form, but what lies beneath is a certain untenable wildness.
If one were to say one thing about Bad Daughter, it wouldn't be about daughters at all, but the way in which humans interact with their imaginations as well as their memories. For instance, Gorham imagines a well that "seeps rather than contains," drawing people in with its mystery and foreboding. She ends with a further re-imagining of the "well" with, "Imagine a sunset, lavender and red / as battered morals, the underworld, / eager to drink." While imagination can lead us to fanciful and foreboding places, it can also lead to incomplete and faulty attempts at memory and perception, as in "Doppleganger,," "Bust of a Young Girl in Winter," and "Barbecue." In each of these a daughter is remembered in an almost perverse way—perverse in the sense of so far against the reality of the situation—by those around her. She is consistently the subject—not the creator. In the end, daughters seem to be a lens through which Gorham examines the art of writing (e.g. "Scaffold for a Sonnet") and memories, the stories which we write ourselves.
Gigi Augsbach "Bust of a Young Girl in the Snow" is a great rumination on the role of memory in our lives. The idea that, "How often resurrection's / a slight miscalculation / of past, present, and future … A little girl's eyes / in winter, opened rigid and wide" is jarring and haunting in its evocation of how inexact memories are. In light of that, could you tell me how the oddity of memory plays out in Bad Daughter? Is a "bad daughter" a "bad daughter" or is that simply a function of memory and perception?
Sarah Gorham Here's a secret: the "bust" is actually male. James Merrill as a little boy, actually, and it's nailed down to a porch rail on his Water Street balcony in Stonington, CT. Jeffrey and I were poets-in-residence there in 2002. In winter, the bust looks rather horrifying—a boy/girl left in the cold, her face tarnished green and half-covered with snow. Hence the idea of a terrible mistake. Someone abandoned the child. The time machine was on the fritz, and now the child is imprisoned in this awful form. Memory offers a huge array of misperceptions, but none as permanent as this. Somewhere along the line, the child got the impression that she was "bad," and it stuck.
GA I love when you talk about Sarabande Books's mission in Best American Poetry to, "distinguish between literature that had to be written, or was written under an inescapable pressure to redeem a life." I was wondering if you could tell me what drives to you this "pressure to redeem life?"
SG The pressure begins with guilt, or dissatisfaction, or a feeling of imperfection, or great grief, or homesickness, wherever home may be. It's any kind of urgency that serves as fuel for a real poem. Make it right. Of course, for the poem to communicate, it has to have more than feeling. Language, music, image—all the aesthetics have to be in place too, but I've never written anything remotely interesting that didn't have that pressure to start with.
GA Your poem "Passeggiata" refers to the Italian practice of walking after dinner or work. In the poem, we watch as a mother and daughter travel through the world and away from each other and as a result have a superficial relationship. However, I like that we arrive at the core of their relationship not being distance but that, "It's in the genes— / travelers can get away with anything, / and never die." Could you tell me what you mean by that last line? Is a poet a traveler of sorts, like a bard, where the language he leaves behind "never dies"?
SG In the poem I'm referring to genetically linked women who try to avoid emotional engagement by traveling. I read somewhere that we travel to stay young. Not only do we leave behind our entanglements, but also everything around us is new: food, landscape, people. We're immortal in a way; we start over in every place we visit. I know people who actually believe this. But the poem is saying: the daughter who flies away from her mother takes her mother along, whether she's aware of it or not.
GA Many of your poems that I find intriguing are those on the practice of writing, like "Scaffold for a Sonnet" and the prayers that you re-interpret. Specifically you write, "It is not true / a poem / must police; / but a rose / fastened to a lattice / arrests / the sun." How does this idea guide you in the process of composing? While most of your poetry is free-form, do you still seek that "lattice"? Or is it a "scaffold"?
SG A lattice and scaffold are similar: one supports the growth of vegetation, the other a building. I love to write with some kind of structure in the background. Raised on free-verse in the seventies, I didn't write my first formal poems till I was in my thirties (an acrostic, then a sonnet). I loved them. My hand was forced away from its usual patterns. Now, some kind of music almost always dictates what I write. It might be some internal rhythm or an actual sonnet (there are several in the book). The prayers were just plain fun. The music was already there; I just inserted my own, rather rebellious lyrics.
GA In "Doppleganger" you write about the difference of a girl being seen as "Sky Violet" while acting like "Sky Violence." When you were a child, a daughter, which role did you enjoy playing the most, "Sky Violet" or "Sky Violence?"
SG There are two girls in this poem, Shy Violet and Sky Violence, but yes, they could be seen as flip sides of the same coin. As a child I was definitely the latter, the eldest of five girls who refused to be the grown-up one. My sisters and I had a number of tear-down, hair-pulling, witchy fights, most of which I initiated. I don't do that anymore, except in my dreams. But I would have to say I wasn't happy in either role.
GA Since you have such a great connection to Kentucky and the Kentucky State Arts Council, do you ever feel the inclination or even pressure to write about Appalachia, like Jim Wayne Miller or Frank X Walker? Do you feel inclined to join that political realm?
SG My husband and I have lived in Kentucky for 23 years and still feel like true-blooded East-coasters. Folks here see us as "Yankees" too, though I'm from D.C. and Jeffrey's from Connecticut. Louisville's a great town, now ranked by Zagat as the third greatest city for eating. Kentucky has been good to us: jobs, grants, beautiful houses that we could never afford in the East. But I wouldn't say it enters my poetry or my prose. My subjects are more interior, less tied to any particular landscape. Perhaps this is because I moved a lot (California, Nebraska, Iowa, Ohio, New Jersey, Maryland, Delaware, New York, Connecticut). And I'm not inclined to be overtly political in my work.
GA Returning full circle to "Bust of a Young Woman," I was wondering what your view was on not memory, but memorializing—the attempt to breathe life into inanimate objects. The disconcerting feeling of the poem seems to be stemming from the memorializing of youth—this feeling of death when something should be so alive. It seems like John Fowles's The Collector where a man, in an attempt to memorialize the woman he's obsessed with, kills her. Do memorials, in trying place a "soul" in inanimate objects, kill their subject?
SG Creepy thought. And I have the same reaction to all sculptures of young people. Why this frozen form when the real life continues on (or not).
Sarah Gorham is the author of four collections of poetry: Bad Daughter (2011), The Cure (2003), The Tension Zone (1996), and Don't Go Back to Sleep (1989). Individual poems have appeared in Best American Poetry, American Poetry Review, Pool, The Nation, Kenyon Review, Paris Review, Open City, Georgia Review, and elsewhere. She also writes essays, which have been published in Iowa Review, AGNI, Creative Nonfiction, Gulf Coast, Pleiades, Arts & Letters, and Quarterly West, among other places. Gorham serves as editor-in-chief of Sarabande Books, which she co-founded in 1994. She lives in Prospect, Kentucky with her husband, the poet Jeffrey Skinner.
Luke Degnan is an audio engineer, a poet, and a musician. He has received countless accolades from highly respected institutions.
Gigi Augsbach is a lover of flat whites, explorer of new worlds, and a permissions assistant at BOMB magazine.