Samba Gadjigo and Jason Silverman by Pamela Cohn
A new documentary celebrates the great filmmaker Ousmane Sembène.
"It is good to be at Cannes, but I wish Africa would create something of its own. We should not be eternal guests. It is up to us to create our own values, to recognize them and to carry them throughout the world. We are not alone in the world, but we are our own sun. I do not define myself relative to Europe. In the darkest of darkness if the other does not see me, I do see myself. And surely do I shine!" – Ousmane Sembène
As a seventeen-year-old in Senegal, Samba Gadjigo didn't really know what it was to be African. He only knew that he wanted to be as French as possible, to emulate everything French that was around him so accurately that he would, eventually, be able to bury everything about himself that was African.
Then he discovered a book called God's Bits of Wood by a fellow Senegalese writer called Ousmane Sembène. Sembène would go on to become one of the most important film directors to come out of the African continent. And with the help of the young and star-struck Gadjigo—who was then a professor in the French department at Mount Holyoke College in South Hadley, Massachusetts where he still teaches today—Sembène's legacy continues to live on.
Sembène was born in 1923 in Casamance in southern Senegal and worked as a laborer since the age of fourteen. In 1944, he was drafted into the French army, an experience that deepened his understanding of colonization. It served as the basis for his feature films, Emitaiand Camp de Thiaroye. After World War II, Sembène moved to Marseilles where he worked on the docks, taught himself to read and write, and dove into studying the writings and teachings of Karl Marx, Pablo Neruda, Jack London, Birago Diop, Richard Wright, and Ernest Hemingway. He became a writer as well, in French but also in his native dialect of Wolof. But the majority of the people he wanted to reach through his writing were illiterate in any language, so he turned to cinema and proceeded to tell magnificent stories over the course of the next fifty years of his life. First-time filmmakers Jason Silverman and Samba Gadjigo have spent the last seven years ensconced in a very delicate, and ultimately, finely balanced co-directing partnership to make the documentary film, SEMBÈNE!
Sembène completed his last film, Moolaadé, in 2004, working against every adversity, just like all his other films. Moolaadé is about female genital mutilation practices, and it made a star of its lead actress, Fatoumata Coulibaly, a woman who was herself circumcised as a little girl. Sembène made the film when he was eighty-two years old, almost entirely blind, and very frail. He died in 2007, just a few years later. The film was shot on 35mm in the middle of tropical Africa, and Samba Gadjigo was there to document it all.
Premiering as an official selection at this year's Sundance Film Festival, the film is told through Gadjigo's experiences and memories of his hero, mentor, and "uncle." Gadjigo became colleague, biographer, and the fiery-tempered director's most trusted confidant. The film offers an epic story of the master told through the very particular and intimate lens of his protégé.
On the day we spoke in March, Samba was at home packing for a short trip to Senegal and was to leave within the hour. Jason had just arrived in Berkeley, California where he spoke to me from the offices of the Telluride Film Festival, preparing to show the film there that night.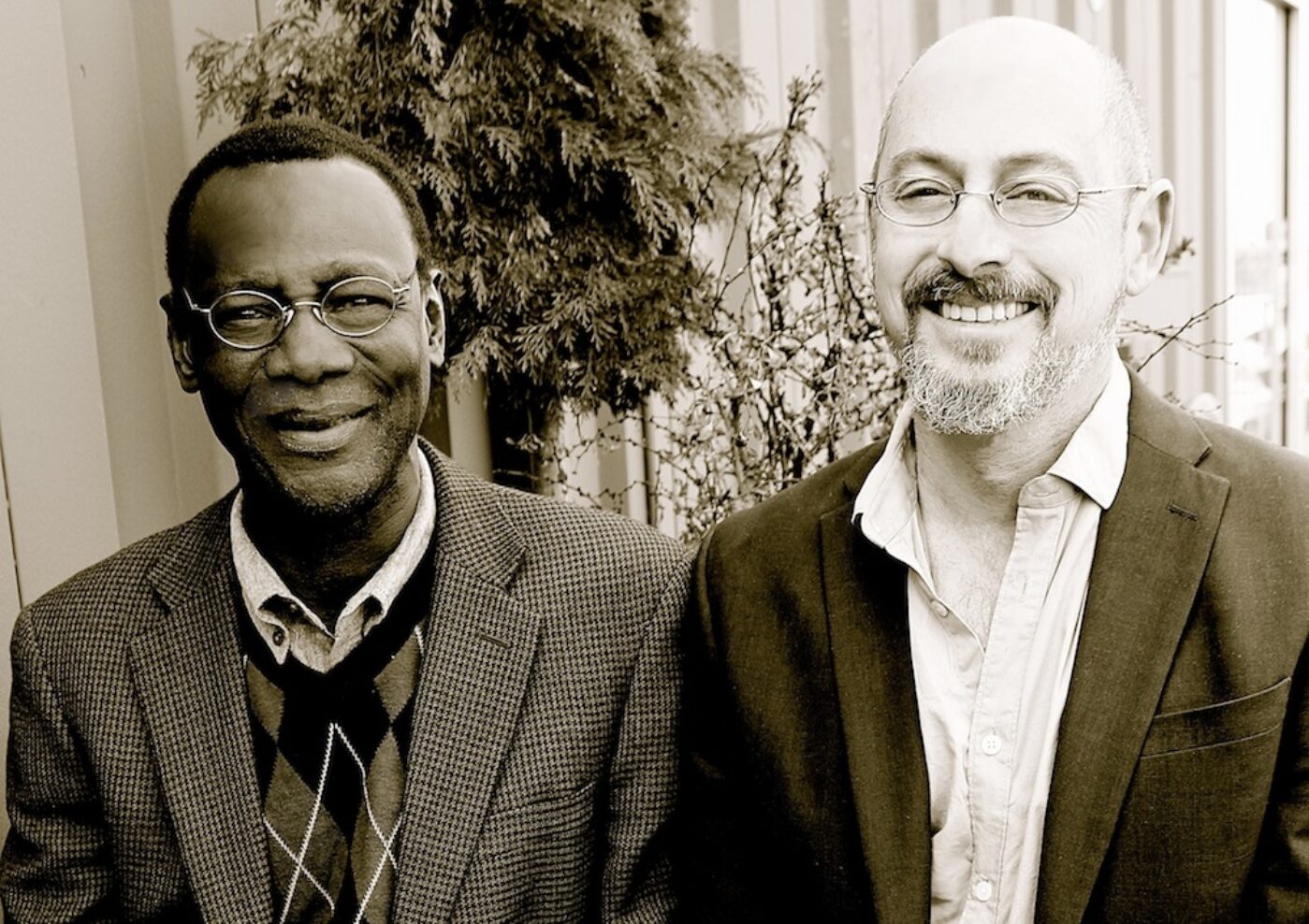 SAMBA GADJIGO
Pamela Cohn I've known about this film ever since Jason started to consider making it, but what I don't know is how the two of you came together and decided to form this co-directing partnership. Were you actively looking for a filmmaker to make a film out of the Sembène archive you were managing?
Samba Gadjigo Actually, it was more random than that. Jason is the director of the cinemathèque at the Center of Contemporary Arts in Santa Fe, New Mexico, and ten years ago he wanted to diversify his program to include African film. As he was doing his research, Sembène's name came up, of course. He didn't know much about his work and wanted to commission an article. So, he went back into research mode to find a scholar who might be able to help him, and that's how he found me. He invited me to come to Santa Fe to introduce all the African films, and, in particular, Sembène's films, and also to run the Q&As after the screenings.
Sembène passed in 2007, and I had twenty years of research gathered about him, boxes and boxes of documents. I knew Jason was so knowledgeable about the cinema world, so I told him that I had all this material and wanted him to help me organize it. A film really wasn't the idea so much as building a website to share all this material with the world. He looked at me and said, "No. We should make a movie!" It just started in that kind of casual way, but the idea kept building up. The first idea was to honor "the old man," as we all called Sembène, then the project became more and more ambitious over the years.
PC Even for those who think they might know about Sembène and his work there is this deep and abiding emotionality that this film communciates directly. It gives us a more robust portrait of the complex man Sembène was. Through these interviews with his son Alain, and other people with whom he had very intimate but quite complicated relationships, we learn a lot that might not ever have been known.
SG I think the structure of the film itself, to a certain extent, reflects the complexity of my relationship with him and how that has evolved. Up until the time I read God's Bits of Wood, at seventeen, the school curriculum reflected a colonial relationship with the French to the extent that, yes, we were Black Africans, but in our training and in our minds, we were yearning to become French, to emulate the characters we saw in our textbooks.
Then there was this rupture, so to speak, when I stumbled upon this book. A life-changing experience—there's no other way to say it. Here I was, for the first time, after wanting to be French and to look French as much as I could, and I see an African writer whose work not only gave agency to Africans, but taught them that the best way to be dignified is to just be who you are. From then on, really, I went on a quest. I started reading about this man, his work, everything I could find.
In 1982, I came to the United States as a grad student and was amazed to see how much of Sembène's work was treasured here. When I became a scholar I discovered what I refer to as a calling. I had not only to meet this man one day, but had to come to understand his work. When I returned to Senegal in 1989 to finally meet him I would say the first day of our meeting was rather disappointing, to say the least. When I say disappointing I'm being somewhat facetious, because I had put Sembène on a pedestal. I thought the man walked on water. This was a man who called for solidarity to all Africans to build up Africa and so on, and there I was, a young African scholar in the US calling on him. He practically kicked me out of his office. I'm not trying to justify his behavior, but in retrospect, I understand it because he was in very, very high demand. Everybody wanted to have a piece of him. So, he really gauged people, weighed them, tested them. He came down hard on me and was completely dismissive.
But I soon learned he always behaved like that with people in general: African, Senegalese, American, didn't matter. It's complex, but that was his personality; he was very difficult. He was for solidarity, but he was also always completely alone. He said once an artist becomes "celebrated," he or she will no longer be himself or herself. They will be the image people have built about them. He wanted people to concentrate on the work he made and leave him alone. He said that if you wanted to know about him, and what he thought, you should read and see his work. That was his attitude. Another aspect of Sembène was that he was so fascinated, so taken, with what he saw as the possibilities of himself as an artist, that any other kind of consideration had to be sidelined, even when it came to the love of his own children, his own wife, friends, et cetera. So a friendship with him, for him to show you esteem, was a great witness.
He came back with me to the US in '89. Up until the day he died, June 9, 2007, we had this companionship. He was my teacher, my uncle, my tutor, my friend—and my inspiration. Before he died, I very plainly understood what his work was about, what his mission was about, and I picked up this baton, and I'm trying to continue that work today.
PC Toward the end of the film, there's a scene from his 1992 film, Guelwaar, where this young man is exhorting the crowd before him in a long, impassioned speech. At one point he says, "Our ancestor Kocc Barman said: 'If you want to kill a proud man, supply all his everyday needs, and you'll make him a slave.'" In the current African cinema scene, do you see any kind of legacy at all that could be perceived as being informed by this statement?
SG Historically, Sembène is not the first African to pick up a camera. It was Paulin Soumanou Vieyra, a fellow Senegalese and a student at the film school in Paris, who first made a film in 1957. But it was in Paris. This distinction is very, very important. In 1957, it was prohibited that an African filmmaker could go to Africa to make a film. The colonizers used cinema the same way they used everything, as colonial propaganda. The potential of cinema to be a subversive force was clearly understood. But, he is the first African to make a film about Africa in Africa and for Africans. That started in 1962. He made all of his films on a shoestring. There was no film industry, no training of any kind. He genuinely thought there could never be a true liberation of Africa if that liberation did not include culture. Culture had been used to justify our colonization; culture must be used, also, to consolidate our liberation. He understood the best way to educate is to entertain, certainly. But, for him, the educational value of cinema was the most important thing.
Now, when you ask me what his legacy is and how that might be treated in Africa, it's very, very complex because it all comes down to the structures of distribution. Up until this very moment, it's controlled from the West. We cannot compete with Hollywood; we cannot compete with Bollywood. Nor can we compete with French cinema. Our leaders have never been in a position to create the objective conditions to make African cinema flourish. In France today, there is a law called the "cultural exception," a demand that every cinema shows a certain number of French films. We don't have that because we don't have economic independence, nor do we have political independence. Anything having to do with cinema—meaning liberation—is feared by the former colonizer, as well as the new elite in power now.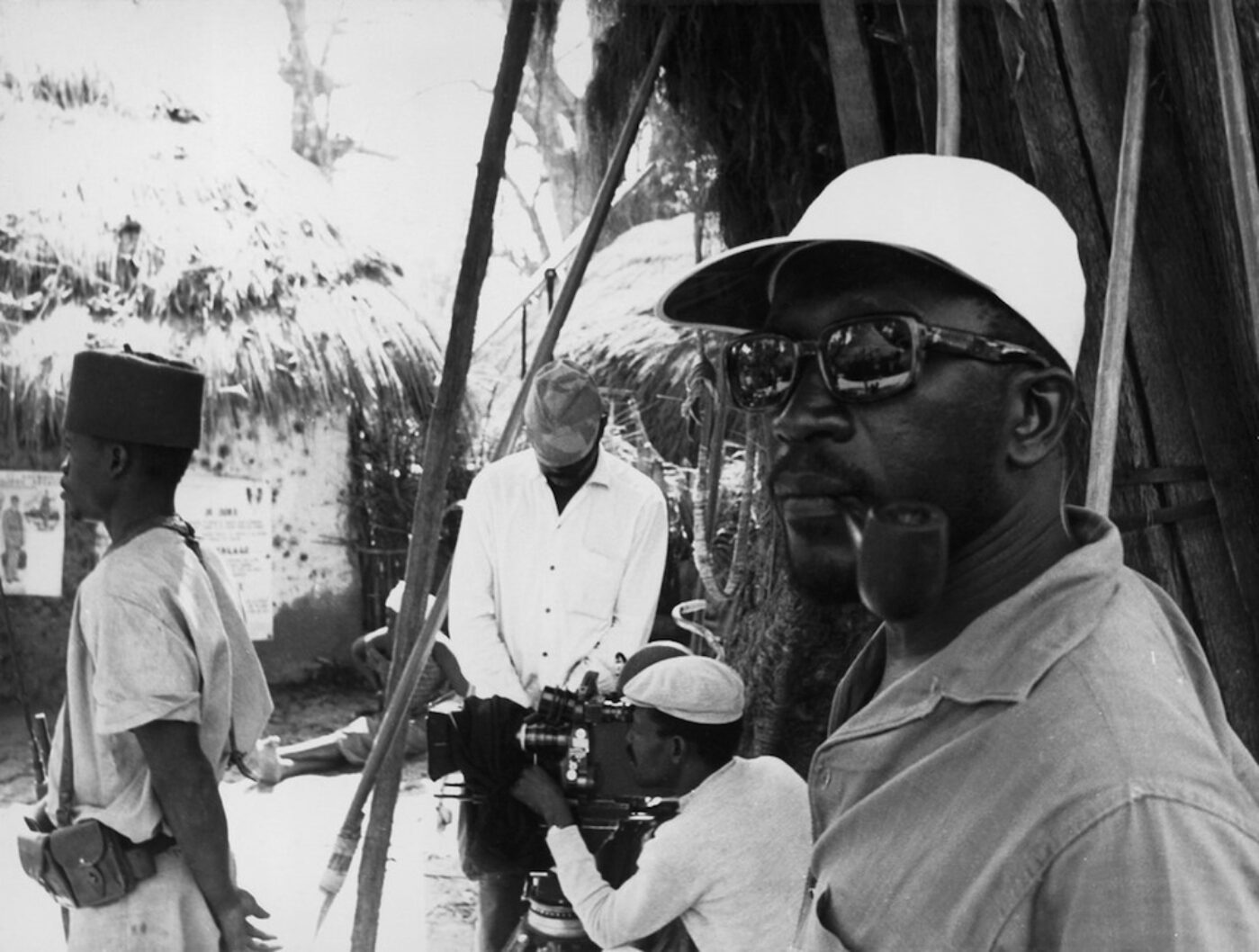 PC Why is the current leadership frightened by it? Who are the "new elite"?
SG Sembène was very critical of what he called "our new colonial status." The French flag doesn't fly over Senegal anymore. The British flag does not fly over Nigeria anymore. But the fact is that we are more colonized now than we were before, only it's much more subtle. It's not the missionary and the Bible, nor the soldier and the sword. Now it is the VIP in a three-piece suit with the attaché case and laptop. For Sembène, this was even more dangerous. He felt it is not the role of the artist to make the revolution, but his role is definitely to incite. Cinema should be like a mirror that reflects people's daily condition. The rest is up to them. So, a cinema of change is certainly feared by whatever leadership is there. That being said, today in the cinema landscape in Africa, as one critic put it, whether you love Sembène or hate him, you can never ignore him. He is the one who set up this paradigm of African cinema. So, today, either people are doing something imitative of Sembène, or you see the younger generation trying to "kill the father." But regardless, he is at the center.
Here in the United States, there is a whole school in academia that is trying to bury political African cinema, to squeeze us into a strictly theoretical cinema that sanitizes it from its political content. Of course, the towering figure that is attacked is always Sembène. Right now, I am leading a whole seminar at Amherst College, and it's all about Sembène's literary and cinematic work—a whole semester has been dedicated to this.
Listen, I don't shy away from theory when theory helps to understand the work. But I refuse to do theory for theory's sake. In the current situation in Africa, we cannot afford to do that, in the same way that we cannot afford a cinema of just pure entertainment. The filmmaking community has a collective responsibility in the liberation of Africa and in the building of democratic Africa. We all have that. But, unfortunately, those that control the academic discourse are not in Africa, nor are they African patriots. These are American scholars at African-American universities, Western universities. They are trying to hijack our political discourse. Doing theory for theory's sake has become a way of academic survival in America. And these are also the people who evaluate the younger generation of African filmmakers. It's a bit of a catch-22. How can you survive academically, and at the same time, not betray the African cause?
Like Abderrahmane Sissako, the most successful African filmmakers are those who are political. But all you have to do is look at the conditions of production. Even the funders are outside our countries, so you can understand the dilemma of the African filmmaker. You can also understand why Sembène remained in this realm of cinéma d'auteur—he wrote his own scripts, he directed and produced all on his own. He did everything so he could control the content of his films.
There is a saying: When the hand is weak, the mind is at great risk. Since we don't control our economies, how do we control our cultural production? African economies are controlled by the West. The flow of images, of cultural production, is one way, from the West to African countries, or from the North to the South. In that dynamic, certainly one can understand why African cinema has remained in a state of infancy. It takes a lot of determination, a lot of stubbornness, I would say, to keep on making films in Africa. And then, when you do make films, it's as dangerous sometimes as not making them because you see a lot of African filmmakers who buy into the Hollywood paradigm—the cinema of stardom, a cinema of bling-bling, pure entertainment, to be consumed for the exotic pleasure of the West. That's just how it is.
Today, in downtown Dakar, where you once had very luxurious movie theaters, there are none. All have been closed and converted into shopping malls. This is a problem globally, of course, but in the same way that the economic problems of Africa are a global problem. This film Jason and I made is going to go on the Internet to address this access problem. However, there is the issue of connectivity. In the global world, Africa has less than five percent of connection to the Internet. So, whether we like it or not, our films get consumed more in the West just by this reality. Part of the mission of our film is to undo that. First, to educate Americans about the true meaning of Sembène's cinema and also to break this wall in Africa itself; these goals are the same.
PC As a teacher, what is your overriding goal in terms of addressing these issues? You teach in the French department, but in the brief classroom scene in the film, your lesson is quite pointed in terms of its content. Holyoke has a certain student body and is quite small. But the understanding is that they're there because they mean to make some kind of impact, or at least that is their intention. Otherwise, they wouldn't be attending a school like that.
SG That's a very, very interesting question, and yes, this is a four-year liberal arts college, which means before students come to us, they have gone through a high school curriculum. But, many of them come to college never having heard of Africa. Maybe they have had Things Fall Apart by Chinua Achebe on a reading list of some sort, which is great! But by and large, Africa is not in the American curriculum. So, to be a professor of Francophone literature, you have to be everything—you have to teach history, geography, as well as language. You are really a band, an orchestra, playing many instruments.
In my seminar right now on Sembène at Amherst, we have a total of fifteen students. The interest is very high on the side of the students, but the administration has been resistant. At the same time, we are trying to diversify our student body, and so we spent a lot of effort bringing African students. These schools want to admit mostly students who are able to pay, and at the moment, this means there are a lot of Chinese students because they are in a position to pay, and less and less African students because most of the time they need financial aid. So, even an educational mission has to acquiesce to the world market forces. Africa is marginalized in schools and also in academia. Diversification in student body and faculty is spoken about, but in reality, we are virtually nonexistent. You can bring 500 African students into an American institution, and if all they are studying are the American narratives, forget it.
I think what is happening now is self-defeating for the United States. Closing yourself to certain countries is diminishing your own power. It's a global world. You cannot avoid a continent that contains eight hundred million people! This is very stupid politics. But many administrators are very short sighted since they react to the moment. The moment is not in favor of Africa. We represent less than two percent in the world's economy, and less than ten percent of the population has access to the Internet. But this is the richest continent on earth in terms of raw materials and human resources. It is Africans who are poor, but the continent of Africa is rich.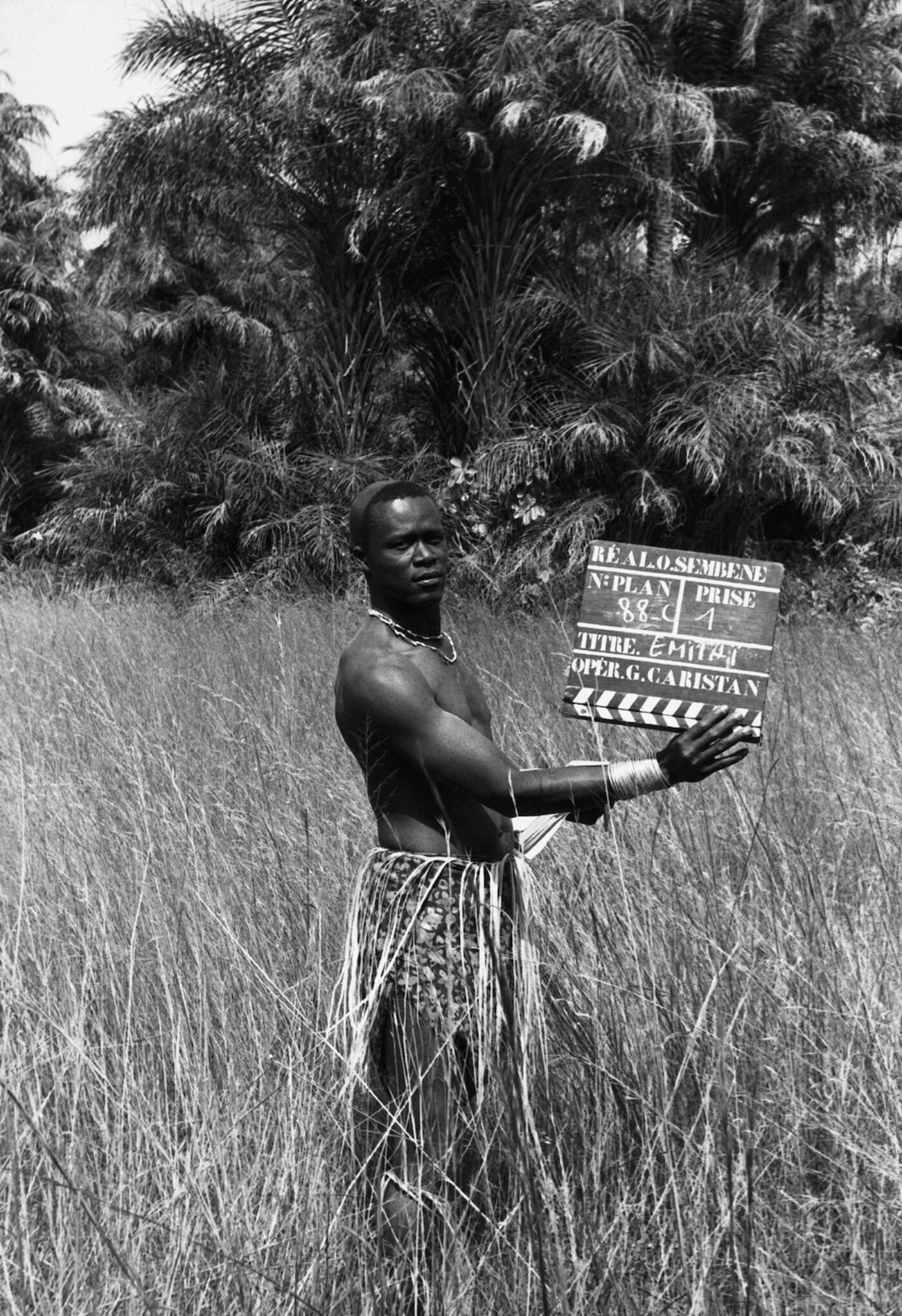 JASON SILVERMAN
Pamela Cohn Why was it so important for you to make a film about Sembène instead of Samba's original idea of building a website as a repository for this extensive archive that had been left in his care?
Jason Silverman I thought the story between Samba and Sembène was really powerful, interesting, and had enough flesh to sustain a feature-length documentary. I thought it deserved to be told with some storytelling craft. It's a story that, in essence, tells about the power of storytelling. Initially, it was meant to be a pretty straightforward history of Sembène's life, but we realized he deserved better. What we learned eventually was that, to do it right, Samba had to tell the story, beginning when he returns to the house after Sembène's passing. His legacy needs to be protected, and this involves a lot of commitment and love. There's a lot of documentary portraiture out there that just feels really earnest, work that "needs" to be done. For us, this wasn't about that at all. It was about sharing something that was precious to Samba and eventually became so for me, too. It took a long time to find the space, time, money, and the right team to capture all these nuances.
PC Co-directing something of this nature is very tricky, particularly when both directors don't have much experience, but then on top of that, one of you is also the main protagonist.
JS There were definitely moments when we felt it was impossible. In terms of the difficulty to make it and the commitment to make it, we had our various inspirations, one of which—and this didn't make the final cut of the film—was that Sembène spent more than thirty years trying to make a film called Samory. It's the story of a West African rebel who starts his own empire in the midst of the French Colonial system and becomes France's most wanted man outside of France. There were manhunts for years. They finally assassinated him, but he drew people from around West Africa who basically became his army. He built a kingdom out in the desert. Sembène never gave up on the idea of making this film. Samba described it to me as the Roots of West Africa. It's something like an 800-page script. He even built sets and went as far as casting, but he never quite got the funding together. The point of this story is that every time we felt frustrated, or discouraged, or defeated, the subject of our film would shame us into working a little bit harder. No one compares to Sembène in terms of dedication and degree of difficulty in filmmaking. So, returning to his story again and again kept us going. Here was a man with a fifth-grade education in the middle of an impoverished region with no resources whatsoever—surely the two of us could figure out a way to tell this relatively modest story. Any adversity made me and Samba that much closer.
It's through Samba that we understand why Sembène matters in a very organic way. He wanted to tell stories to empower Africans—that was his life. Samba received one of those stories and was empowered. By telling this story, he's carrying on that legacy in a very specific way and empowering the people who see it. It's a very elegant Moebius strip of influence. This was a huge leap of faith for Samba, but we both agreed that a very powerful way to tell the story of an artist is to trace the impact of their art.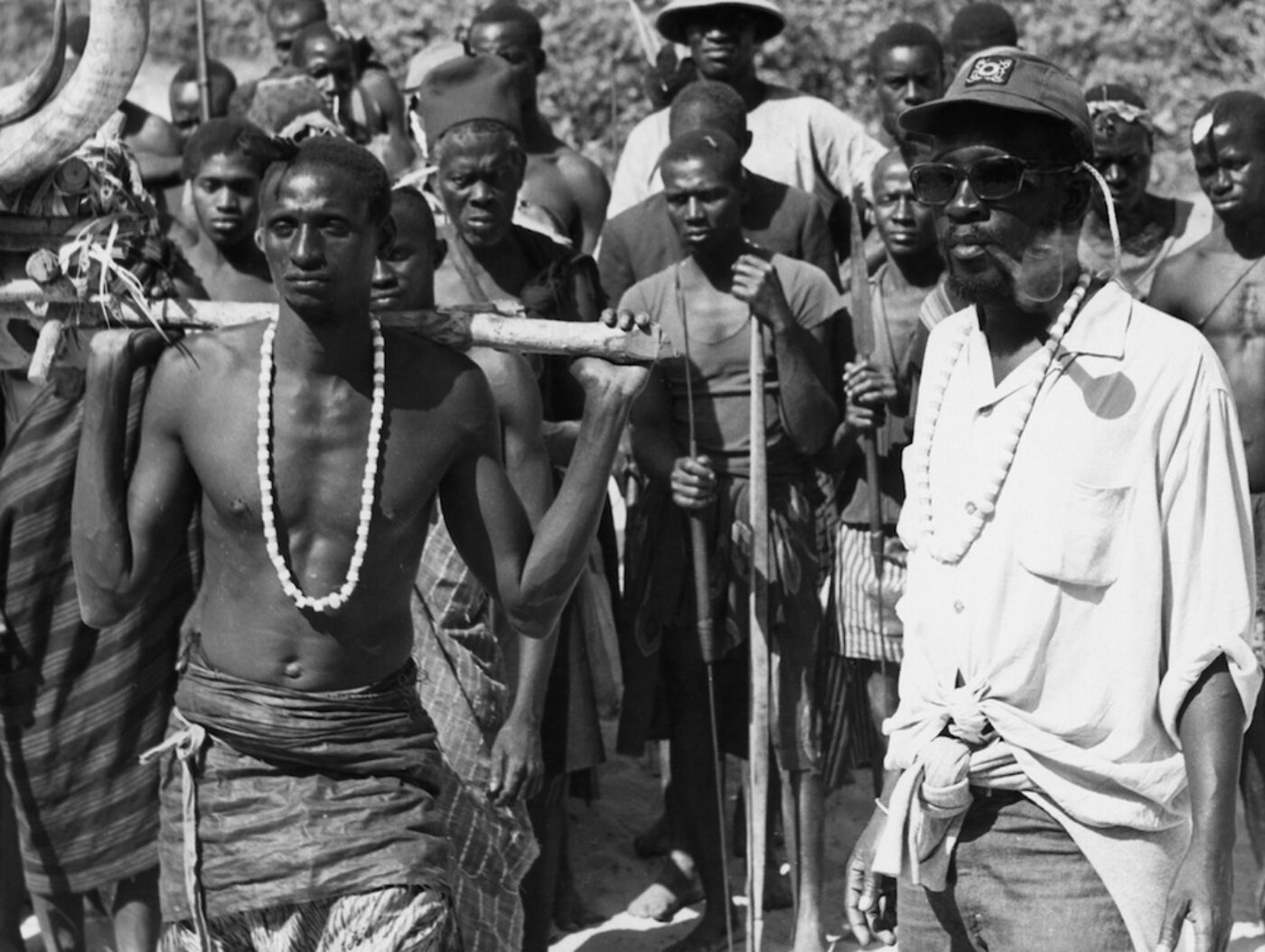 PC Sembène cast his net rather modestly if you think about it; right in his own backyard, so to speak. But the people who were drawn into his sphere, as you show in the film, are also responsible for sending out ripples of influence on their own, due to their encounters with Sembène—no matter how antagonistic those encounters were at the time.
JS There were a number of people who crossed Sembène's path and who worked with him whose lives were radically altered by that encounter. Fatoumata Coulibaly, the star of Moolaadé, came to the village with us when we returned there to show them the films. We have seven or eight hours of interviews with her. She is a Sembène protégée just like Samba. Their encounter with him changed their lives, and they are carrying forth that legacy. And then there are the people, including me, who saw his films and were changed in no insignificant way by them. Seeing his films opened up a new channel of thinking in my brain, and I was an accomplished film watcher by that time.
One of the miracles of Sembène, among many, is that he was self-taught. He was always curious and obviously brilliant. After studying in Russia and living in France, he returned to Africa where there was no template of what African storytelling looked like in the media. He'd never seen an African film, nor was there any African cinematic aesthetic. Now he told his stories from a Marxist perspective, of course—but his question was, what would it mean to tell an African story using the camera, one that had socio-political intention in that moment in time in Africa? That's a complicated question. But it was all about using the camera as a weapon for social change. No one told him to do that. The roots of what he did can be found in Russia, but no one said to go out and tell these stories this way, nor helped him shape his vision.
The first poem Sembène wrote was, in essence, a statement of purpose called "Liberté." Written in 1956, it imagines Africa after independence, four years before this widespread independence movement, including in Senegal. It says something along the lines of, "I see the monuments and poets from around the world, and I admire them. Africa needs its own monuments; it needs its own poets, to exploit its own land." He writes that in '56, and he dies in 2007, and on his deathbed one of the last things he says is that he found the ending for his new script. Fifty years after this "mission statement," he tirelessly goes out and tries to achieve it. It's hard to think of an artist of any stature, let alone a great artist like Sembène, who, as a young person said, "I'm going to restore Africa's stories to Africans." And then he does that tirelessly with that amount of focus for fifty years.
PC That kind of relationship is very hard to portray successfully in film since it can easily become something sentimental or overly derivative of the mentor/mentee relationship. It can be incredibly inspirational, but there's also much room for failure.
JS But it did fail! It failed and it failed and it failed. We tried this forty different ways. The challenge is that Samba's voice had to be right and that the story really still needed to focus on Sembène. There's a lot of historical, political context that really needs to be there if you're going to understand why this man was who he was. And then you have the films, which provide their own voice. They're needed to provide context for those to understand things at a glance, so to speak. It was an extremely challenging thing to work out. You have this epic story of an artist, alongside this very intimate story of a mentor and his student.
Our overriding ambition was to try to do what Sembène did, which was to use the camera to tell a great story. The film is hopefully reflective of the urgency, commitment, and passion that Samba has for this subject, his deep desire to share this story, and that it reflects strongly enough so the film's awkwardness in places can be forgiven. It's his perspective, and that was, ultimately, the most important way to tell it. For instance, there was the way the set in Moolaadé looked to him when he was carrying around the S-VHS camera he had checked out from the Mount Holyoke audio-visual center (laughter). These are the home movies that Samba made because he wanted to make sure that Sembène was recognized and memorialized.
So you have this rough home-movie footage interspersed with the brilliant 35mm cinematography of Dominic Gentile, who shot for Chris Marker and who shot Guelwaar, Moolaadé, and Faat Kiné for Sembène. It's the whole experience. Ricardo Acosta is our brilliant editor whom we met at the Sundance editing lab. He really made this project as coherent and as poetic as it is, and he deserves a ton of credit. There's a scene we always had a laugh over where Samba first meets Sembène, and he's taking him on a university tour in the US. Samba says, "I always took my video camera with me." We joked about it because it's almost a mandatory line in these first-person documentaries now. It's such a cliché to have this line. But we thought we needed to have that line as a reminder that what we're seeing is Samba's point of view. It's how he saw his hero at certain moments.
I find that footage so poignant because I can imagine what it felt like to be Samba at that moment, a seventeen year old boy who discovered a book that changed his life, that shook him up enough to change the way he saw his entire world. It's not an uncommon experience. We're all guided along on our paths by whatever cultural, familial, educational influences we have, and then, suddenly, this little bomb drops into our lives, and we realize there's another way to see the world. So many of us have had that experience. Seventeen years later that teenage energy is in that footage when he's standing by Sembène's side, displaying his excitement at meeting his hero and wanting to capture that for posterity. I mean, back then, it wasn't a matter of whipping out your phone. Filming those moments was an act of commitment and passion.
This is why we made the movie: to pay homage to that moment when that young man was sitting beside his hero and realized he had a role to play in helping him achieve his mission. That, to me, is an incredibly beautiful thing.
Pamela Cohn is a producer, writer, programmer, and documentary consultant currently based in Berlin.