"If this is what this material does now, just treat it as a positive thing."

Discover MFA Programs in Art and Writing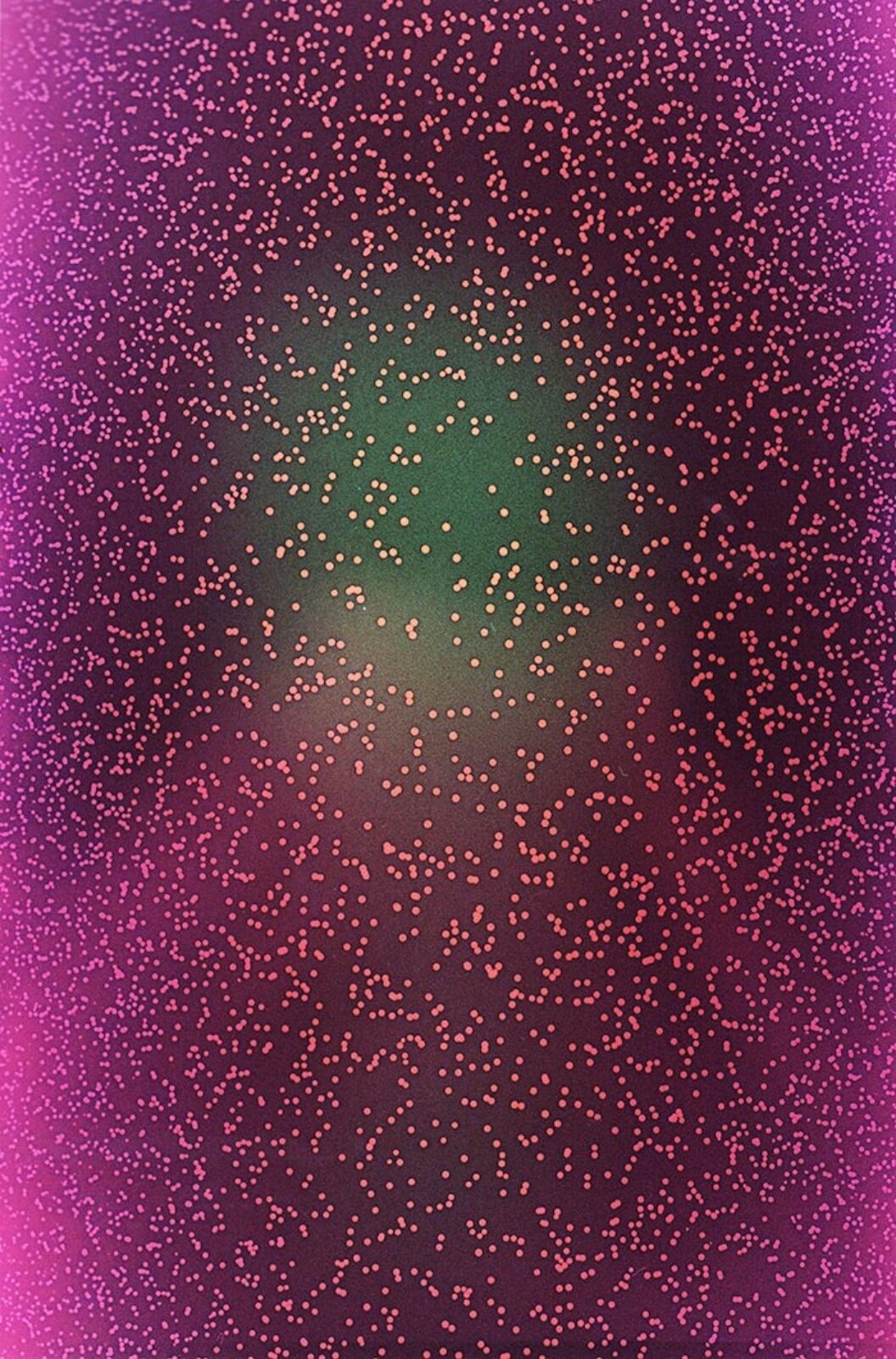 Since his teenage punk years in his hometown of Newmarket, Ontario, Ryan Foerster has circumnavigated the traditional path that artists generally follow to success. He is a dropout of the International Center of Photography and the Ontario College of Art & Design, and (while his studio is in Tribeca) he is based in Brighton Beach. Since approximately 2007, Foerster has used elements of alt process photography, found objects, and the effects of nature to make his work. His method is nostalgic but also fresh and irreverent. His preference for working outside of the mainstream extends to his installation style as well. The Shoot the Lobster installation (organized in collaboration with Bob Nickas and Jose Martos) in Miami in 2012 involved leaving photographs, printing plates, and found objects exposed to the elements where they were installed in a grassy roadside lot. 
Foerster is more than just a prolific photographer. He has published dozens of zines of his photographs and several books. Currently, he is compiling every photograph he has ever made for a retrospective-inspired archival book project. In the past, he has integrated sculpture into his photography-based practice and is now expanding his approach to include experimental poetry and filmmaking. He has exhibited with CLEARING, Martos Gallery, and others. Recently, he curated an exhibition of Silvianna Goldsmith's work at White Columns and a group show, LOCUM, at Ribordy Contemporary in Geneva.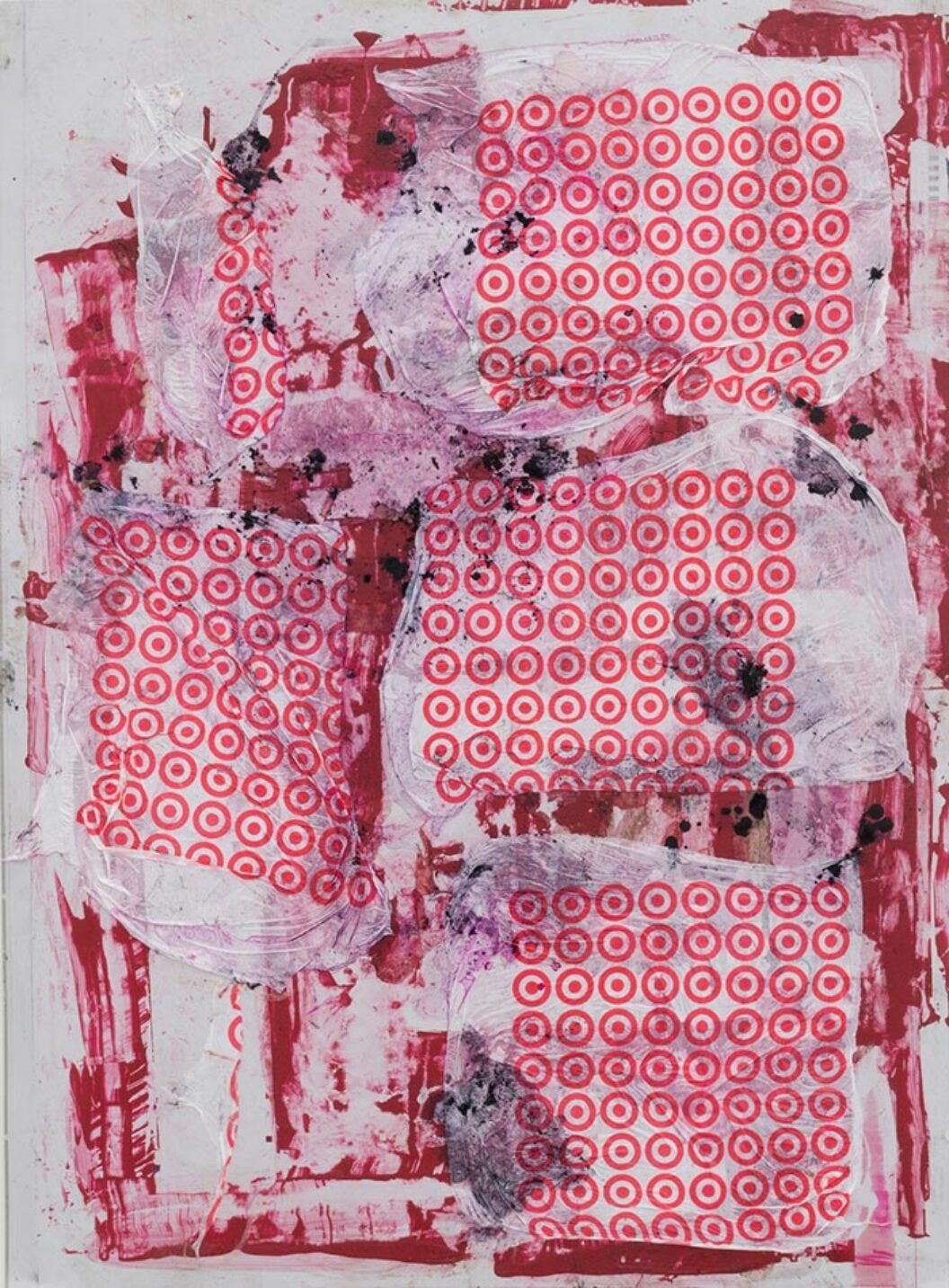 Ashley McNelis Can you speak to the significance of zines to your practice?
Ryan Foerster Making zines was one of the first ways I started to put my work out into the world. When I was a teenager, I had a zine with a few friends called Dear Henry Wang. It was random writing, stuff we found in dumpsters, photos, jokes, and interviews with punk bands from around Toronto. We first put it in a cooperative-run store in Toronto called Who's Emma? which introduced me to a lot of ideas. I met my first girlfriend there. Bands played in the basement. Everyone in that scene contributed in some way, so having the zine seemed like a necessary way to get involved, voice ideas, and meet people.
From there, I started going to zine fairs in Toronto and really liked that a lot of it was based on trades. We copied our zine at my dad's office so we had no expenses and could give it away. We started getting into bigger shows for free as press with the zine. The highlight was interviewing Green Day in 1999. Everyone was very welcoming. I think the ethics of everyone being on the same level in the punk scene was driven into me early on. It's been really important in how I continue to think. I did that zine for about two years. Then we all got in a fight over including some nude polaroids we had found in a dump. We got suspended from high school for that.
I was getting into photography at this point—mostly of bands. This slowly led to taking photos of my friends at the shows and partying for a few years. I then made zines of those photos and gave them out people to get my work out there.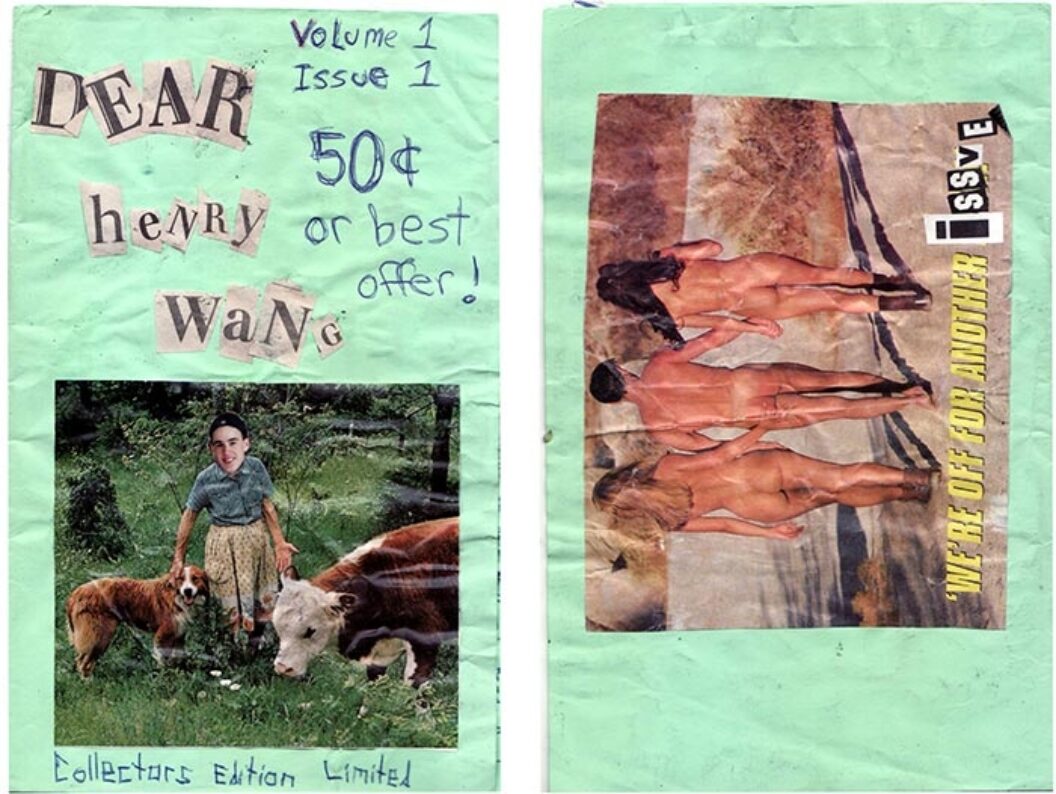 AM How does your connection to zines translate to bookmaking?
RF I have always been attracted to the physical quality of books and handling something. There's also something really great about the way zines and books travel. It's really interesting how they survive by getting passed from like-minded people or found at a certain shop or fair. I like that you have to be out doing something to find them.
The archival book started a few years ago as way for me to go through all my photos and trace what I'd done. It was really therapeutic for me. Seeing connections or repetitions over a ten year span was great. I like knowing the history behind how someone got somewhere and started making things. The book is also supposed to be very democratic, where everything is equal. Even though some if it is embarrassing or stupid, it was all valid and necessary.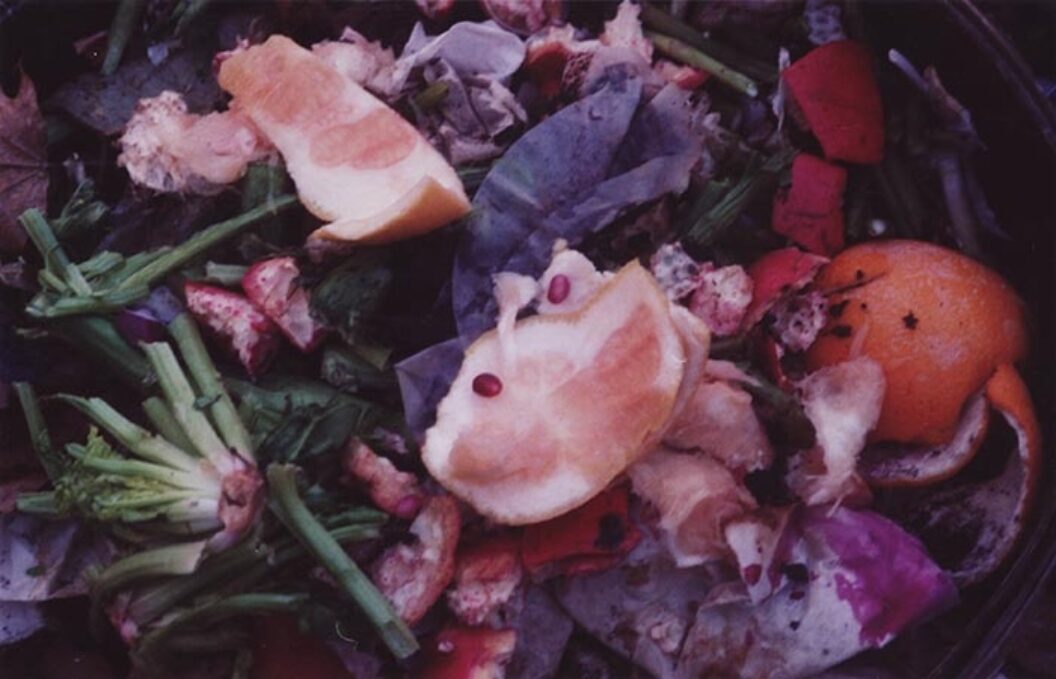 AM You relocated from Toronto to New York to study at the International Center of Photography, correct?  
RF Yes. In 2005 when I first moved to New York, I was really set on being a photographer. I was taking lots of photos and making books of them every month then, but school I found frustrating. At ICP I felt trapped because I didn't really feel connected to the students, and I just wanted to make things and be in New York. So I dropped out.
I did take a class at ICP about photography and sculpture with Sam Samore that was influential though. I was trying to mix the mediums at the time with found-object books and sculptures. It didn't really work, but it was fun. The first shows I did in my apartment in Brooklyn were a mix of photos I took and sculptures I'd made from shit on the street. It's funny that I'm basically doing the same thing ten years later.
AM Where did you get the materials you used for the sculptures and other works?
RF I was working for a few different artists and art handling at the time. It was hard to see all the waste that went into production. It really grossed me out. I thought, I should be able to find a way to use these leftover materials; I don't need to get new stuff. So I started using discarded material. 
I was working at the Camera Club of New York at the time; Allen Frame, a teacher of mine, had introduced me to it when I dropped out of ICP. The Camera Club was an amazing recourse for me. I worked there cleaning the color processor in exchange for access to the darkroom. I started being given expired film and paper that members had left behind. When I first used and developed the expired materials, I only saw fucked up colors and corroded film. I was bummed out. It really began to feel like I was scraping the bottom of the barrel with materials. Then I thought: If this is what this material does now, just treat it as a positive thing.
Eventually I had a stack of ruined, blank test sheets at home in my studio. When I left a cup on top of them, the condensation built up, and after a few weeks there was a circle where the emulsion on the paper had corroded. It exposed layers of color that made up the black of the sheet. I made a bunch of these, for a while, with different amounts of time and water, until I thought I had exhausted it. It added a whole new layer to the photos I was taking.
AM How did the printing plates become part of your practice?
RF In 2007, I made my first commercially printed zine on newsprint with photos of friends I had taken that summer. I found out that Linco Printing in Queens basically cost as much as making zines myself. When I went to Linco to see the printing, I couldn't believe how big the presses were. I was really excited to see my photos on newsprint; I had always wanted to do that since I was a teenager and saw older zines on newsprint. When they started printing, all the pages came out over-inked and with psychedelic colors. I took the messed up ones out of the garbage. After they were done, I asked them for the printing plates. They just laughed, then said yes.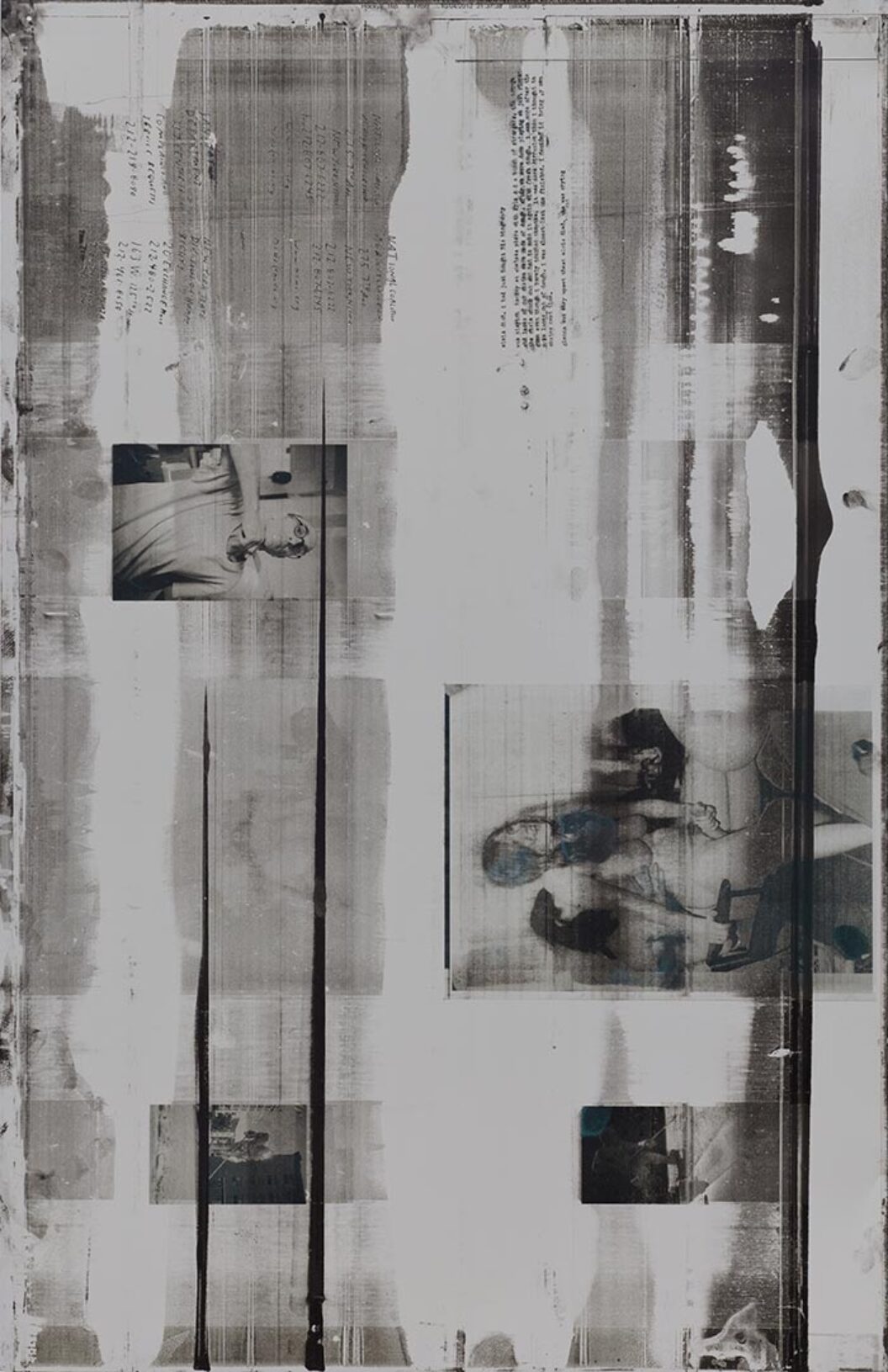 AM Were there any other factors in your decision to pursue avenues outside straight photography?
RF Being broke really forced me to introduce these other elements. I was at a breaking point in 2009; I had nothing left to lose, and that's all there was at one point. I was assisting a few artists on and off for the first few years I lived here, but after the financial crash, there were no more jobs like that for a while. I ended up finding a job delivering cookies at night on my bike that barely covered my expenses, but it was a good job for a while. I was able to start trading cookies for food, and one time I even traded 500 cookies for an old Leica and a bunch of old film.
During the day I would walk around a lot since I was in a weird transitional period, not photographing and feeling depressed. I would find stuff on these walks that I thought was interesting enough to bring home. I mostly picked up scrap metal and wood. I played with seeing these objects on my walls and adding the photos I had at home. It seemed right. It was closer to my actual train of thought and how I interacted with things. The printing plates started to make more sense with everything then too. It all added different layers to how I understood seeing and remembering things.
AM How did Robert Frank's fiftieth anniversary exhibition of The Americans at the Metropolitan Museum of Art in 2009 influence your work?
RF It was really inspiring for me. At the end of the exhibition there was a photograph, Mabou, Nova Scotia (1977), of a few prints from The Americans hanging on his clothesline. I remember thinking that, even though he made a crazy iconic body of photography, he continued to explore and push his work. I saw his collaged photo text pieces and films around this time too. I was totally happy with the straight photos I had made up until that point but his work definitely made me want to push my work further.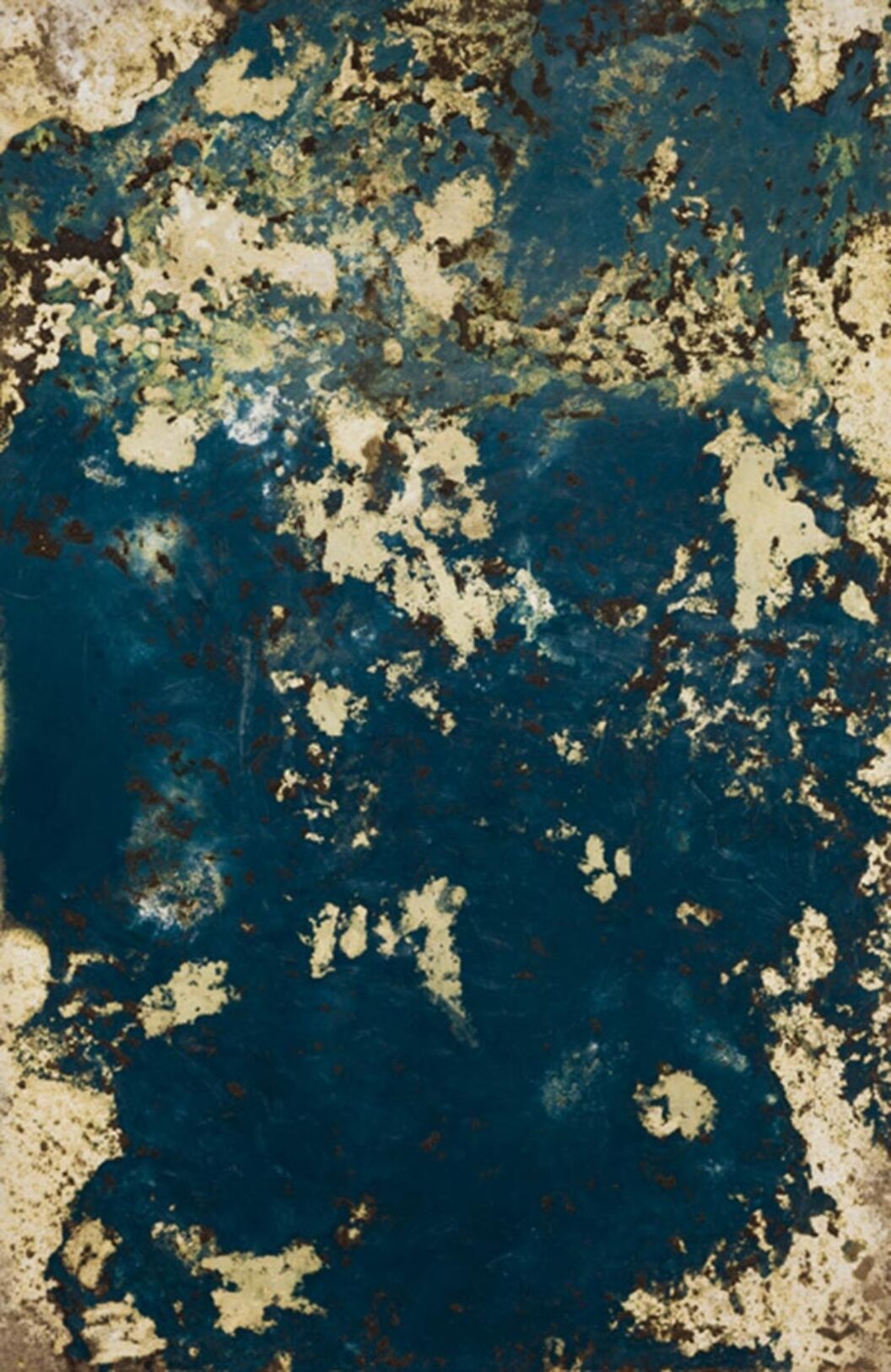 AM How has your move to Brighton Beach effected your practice?
RF Brighton Beach has been good for me. It opened up my work a lot. Since it is so cheap to live here, my time has been freed up, and I can take my time working. Even though it feels slower out there, feeling like I have all the time in world has made me try more ideas.
Having the yard and space around the house to work in helped ground me. Plus, being close to the ocean changes everything. I like that the neighborhood itself is weird and different. Not everything is marketed to me or distracting like in other neighborhoods I've lived in. I like it here, where you really feel like the minority in the scene.
When Hurricane Sandy flooded the house, it really ramped up my production. I had tons of boxes of old photos which all got soaked. When I started throwing stuff out, I opened these boxes and saw that the emulsion on the prints had totally shifted and transferred to other photos. I hadn't thought of using my actual photos to mess with and corrode, but this was interesting because it brought past memories to the present.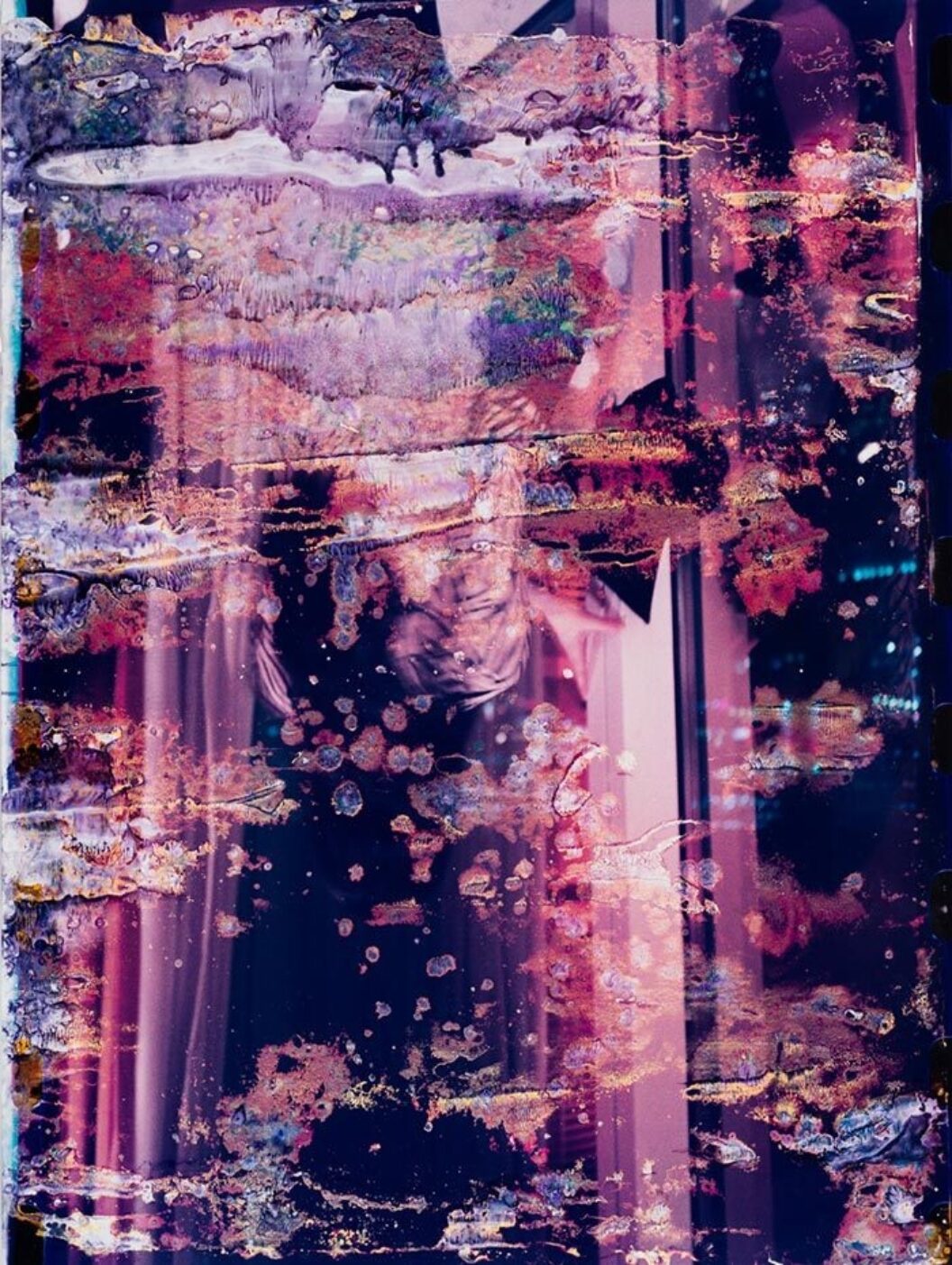 AM It's fascinating that entropy was actually a positive influence for you. Can you tell me more about how else natural elements have effected your work?
RF I began working more organically. It felt more natural to just go with things and take advantage of the best parts of each situation. The hurricane was a huge blast of encouragement for working that way. Beforehand I had experimented with discarded material and printing plates in parts of my work, but not as a whole.
This also came out of my concerns for the environment and wanting to recycle more. There was a photo of mine  that got irreparably damaged in a group show in 2009. I couldn't really imagine just throwing it out, so I wanted to figure out a way to re-use it. It ended up being the first photo I left outside on my roof. I thought the rain might strip it down to the aluminum backing, but it stripped away some of the emulsion on the print, leaving white dots all over it. The photo was already very dark to begin with, so it started to look like an image of the universe. I ended up re-showing it at the same gallery that damaged it.
The idea of being powerless to the universe and letting things happen naturally was liberating. The garden prints came from this accidental working method when I was in the yard trying to make frames and backs for printing plates. I left all of it outside when I went the beach and never cleaned up the yard. A week or so later, I saw that the materials were changing with the exposure to the sun. I ended up leaving the plates covered in more dirt and rocks to get long-term exposures of the sky. It was really satisfying to use leftover materials and natural elements to make new work.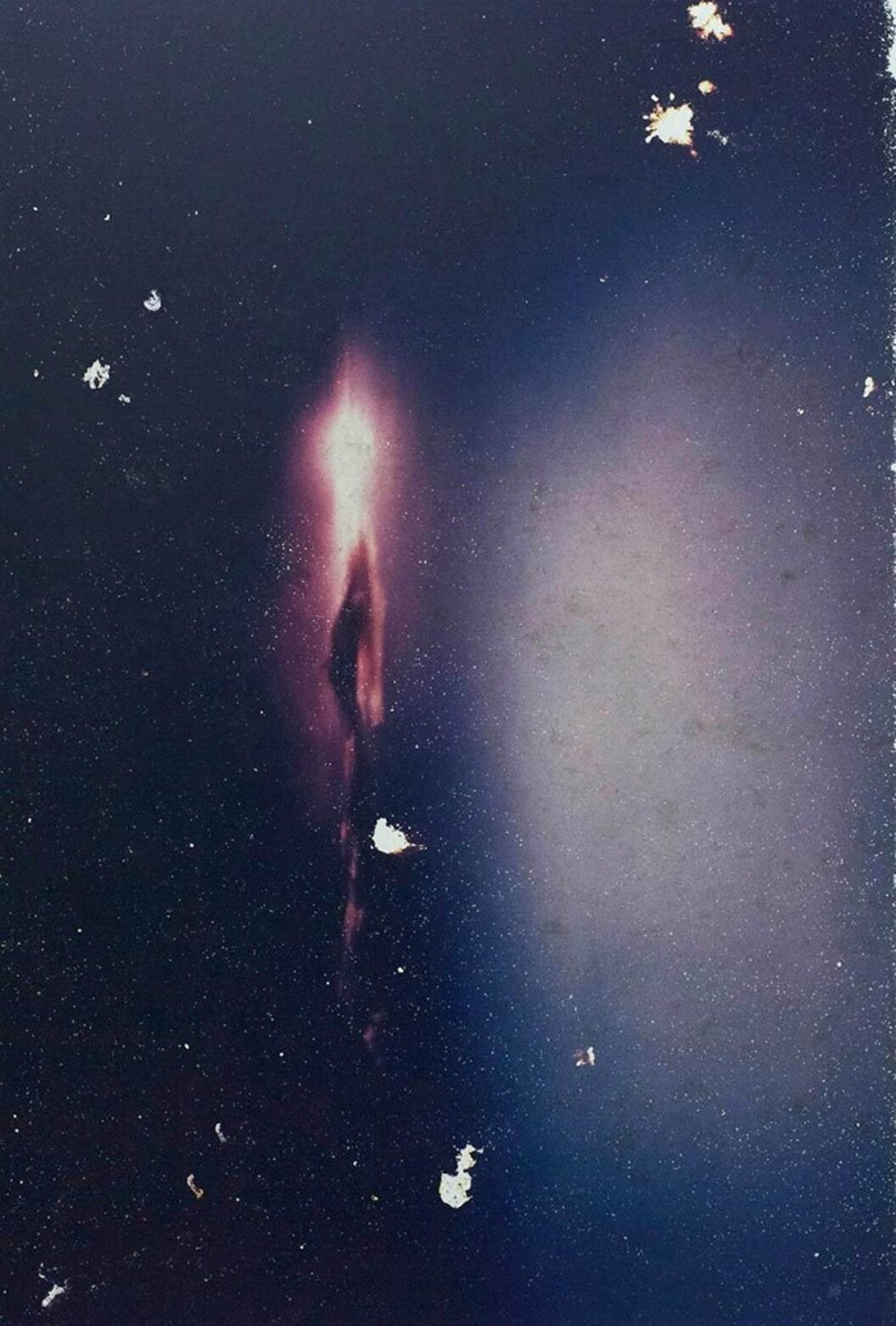 AM Would you agree that the Shoot the Lobster installation project in Miami is an extension of your use of the outdoors?
RF The Miami show was special because, being in an empty lot, it was completely open to the environment and general public. This show happened soon after I had begun making more work outside, so it felt good to return it to the elements. But I had to figure out the reality of having paper blowing away or people just taking things. My first thought was, I'd better not only bring my best shit.
I ended up using different objects and sculptures to weigh the photos down. I even ended up wedging some in the fence. There was so much interesting stuff to play off of when displaying the work in the empty lot: old foundations from the buildings, the grass, the rocks, the huge tree in the middle. There was a great feeling of the work being equal with its environment. It felt really epic, like nature prevailing in a fucked-up, post-apocalyptic scene. It was such a great setting for an exhibit.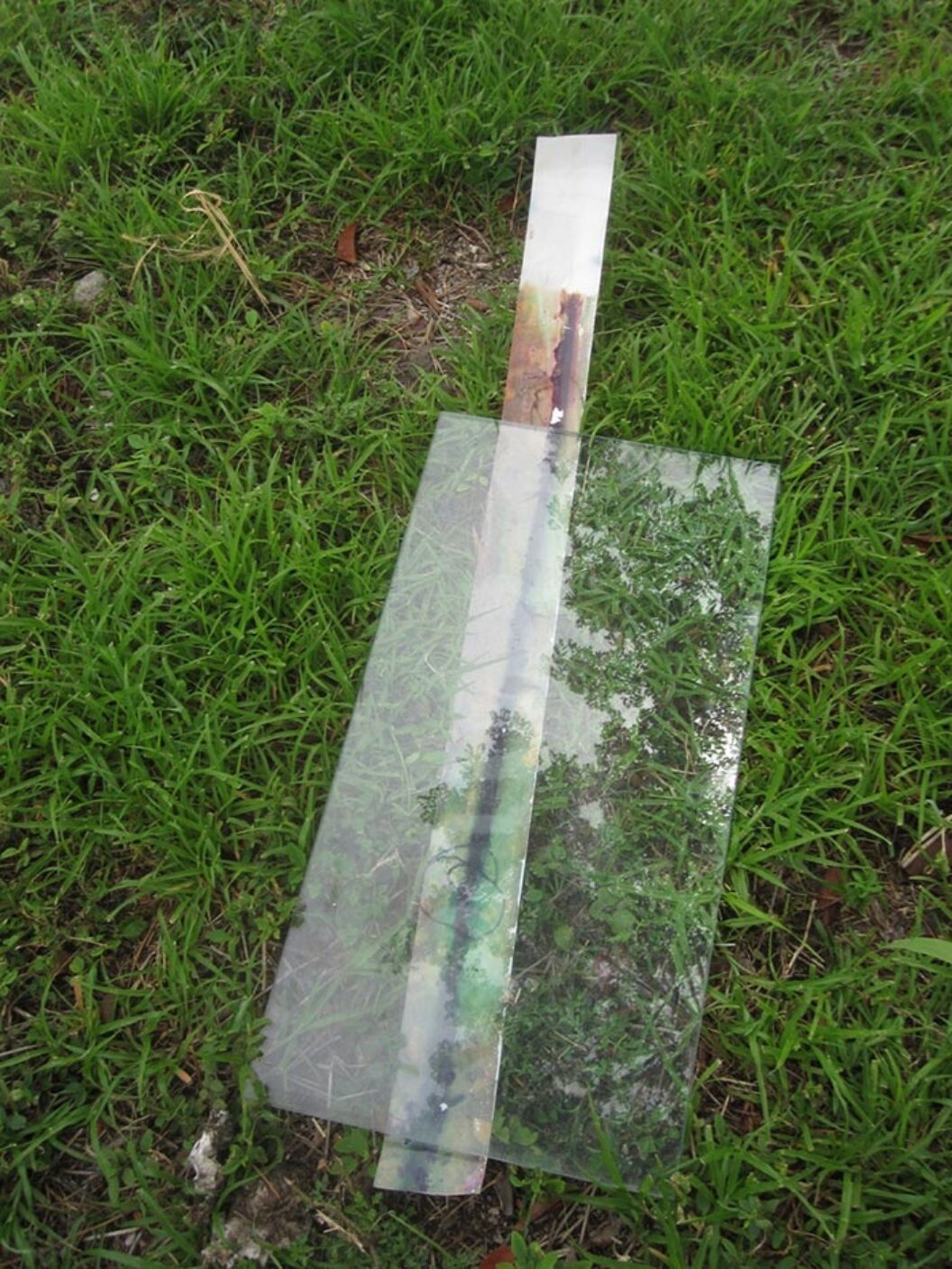 AM Can you tell me more about the interaction between the works, objects, and elements in the show?
RF There was one piece that I had been working with for a while that successfully came together there. It started with a sheet of blank photo paper I had corroded in my yard beforehand. I installed slag that I'd been collecting for years and incorporating into shows on top of it. That was the first time I had installed slag on a print that was already corroded. I also included some coral and rocks from the lot on top. All this helped to keep the paper from blowing away and made this mixture of photography and sculpture that looked like a model for a universe.
AM What is slag, exactly?
RF It's the waste from metal smelting. The slag was originally from Sudbury, the mining town in Ontario where my grandparents live. There, slag is everywhere, but it's mostly used for lining hiking trails and train tracks now. When I was kid I loved it because it looked like lava. I started collecting it when I went to Sudbury in 2010 to make benches with my grandpa. I liked that it was a throw-away byproduct that was used in new ways.  
With the slag, the found objects, the printing plates, and even the expired photo supplies, I was exploring the in-between stage when something still exists but it no longer functions the way it was intended to. The process lifts these materials back up. I think composting is a really good metaphor for my work—the entire cycle where old work generates new work—it's the in-between stage where discarded food gets turned into a rich soil again to grow more food.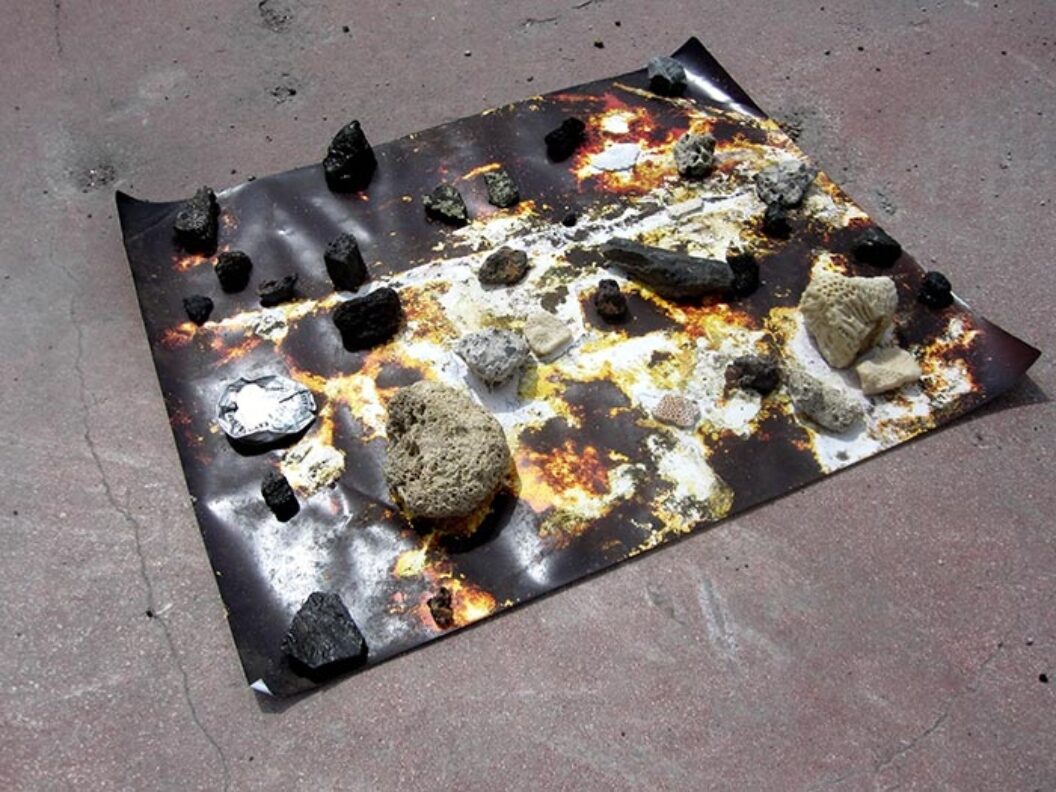 AM Your indoor exhibitions have included sculpture, found objects, and other "scraps." How do you usually approach creating an installation?
RF Sometimes I have a rough idea of what I'm going to do for an exhibition, but it usually comes together when I'm installing. I'm constantly making work and exhibitions just come out of the best stuff I have at that time. I usually start with more than would fit in the show and edit from there. It's difficult and exhausting actually.
I always want to see more and try as many possibilities as I can. I'm always installing till the last minute. When it works it's amazing seeing how things connect. I feel like I learn more about what I'm doing when I install and see new relationships form between objects that I hadn't seen before.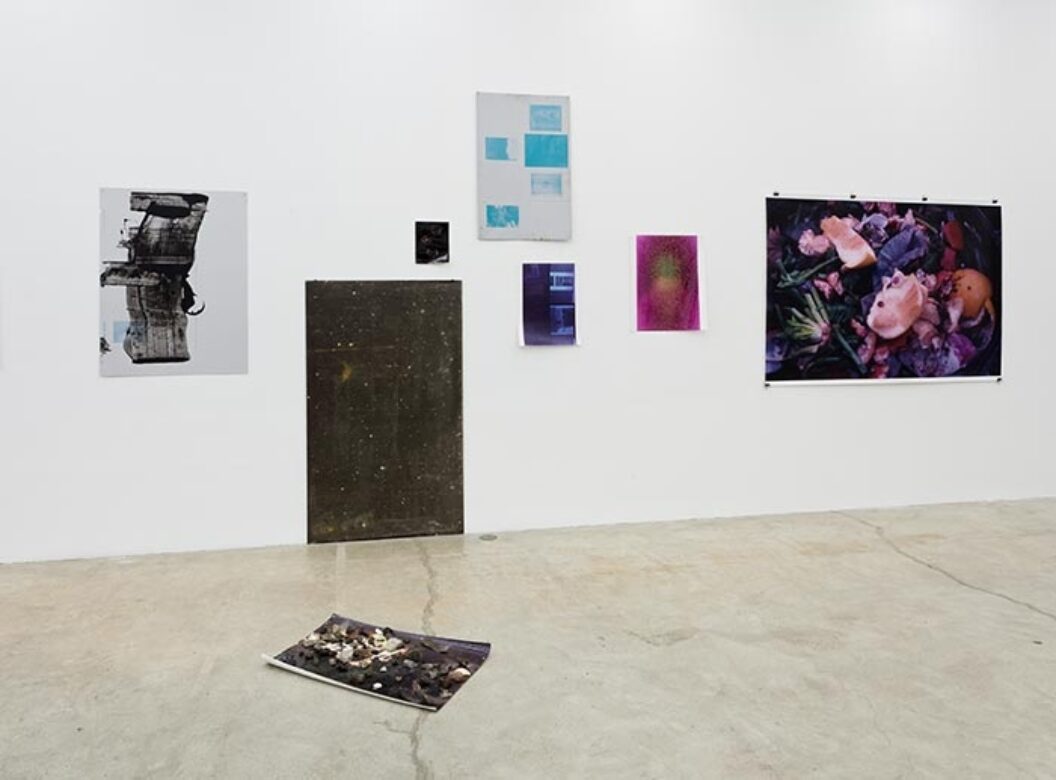 AM What are you working on now? 
RF I've been working more on editing together a bunch of video and audio I shot over the past year. It's similar to the video in my last show at CLEARING, which summed up a lot of ideas I had surrounding my experience in New York. My new footage is post-apocalyptic, fucked up, end of the world footage. I have also been using random apps that make the films funnier with animation or sounds.
I've curated a few shows too. The last one was Silvianna Goldsmith at White Columns this fall. I've known her since 2007. She owns the house in Brighton Beach that I live in. The show consisted of paintings she made at a senior center a few years ago; she has a long history of filmmaking and doing political actions in the 1960s. It was really inspiring to work with her on the show since she's done so much. We made a zine for it as well, which traces her history of art making.
I've also been working on my press RATSTAR, where I've been publishing the work of friends and others for the past two years. The press seemed like a natural extension of my zine making. I wanted to help make stuff that I thought should be out in the world. The last book was Undead, a poem by Paul Buonaguro from the '70s, and a book of Hannah Buonaguro's poetry. I'll be doing a another joke book with my neighbor, Ira Wolfe. The first one was all the jokes he emailed me over three years. It's almost been that long since the first book, and we have enough material for a second one.
Ashley McNelis is a curator, writer and art historian based in New York City. She holds a master's degree in the History of Art, Theory & Criticism from the Institute of Fine Arts, New York University. See her other contributions to BOMB.