The puzzling pathos of sport, apparel, and the everyday.

Discover MFA Programs in Art and Writing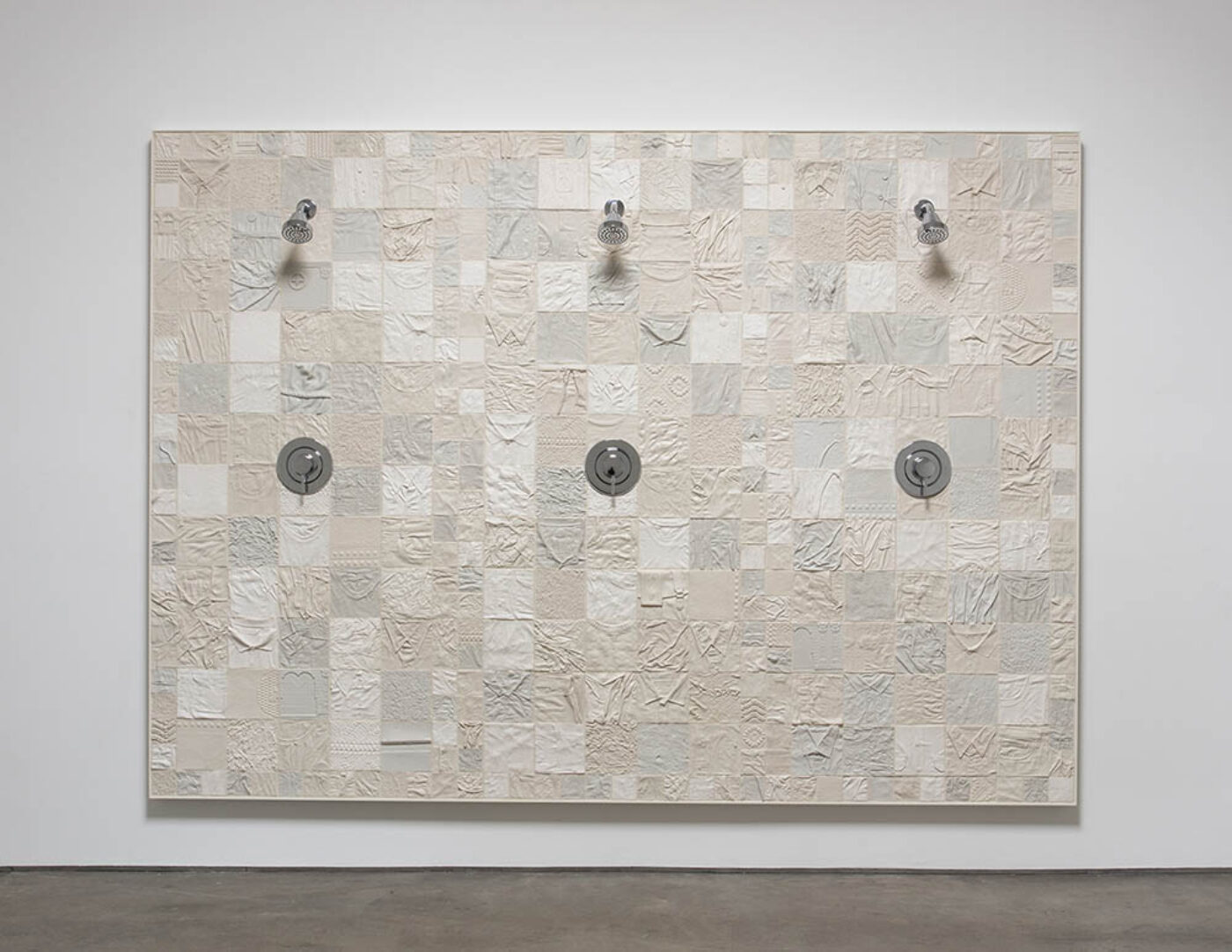 Since we were pretty freaked by our own adolescent bods, the locker-room showers at my school went un-splashed after PE class. Empty, they reeked of sadness—the cement floor and clanging locker doors coated with stale sweat, the shower stalls forever moist and mildewy, nozzles and knobs poking out from the uniform grid of tiles on the wall.
But look closely, though, at the tiles in Ry Rocklen's exhibition L.A. Relics. They don't have that smooth, unblemished ceramic veneer, but instead the wrinkly relief of shirt collars, squared out one-by-one and forming a nine-foot wall from which emerge a trio of shower heads [Body of Work (Textylz Display Panel), all works 2016 unless noted]. And that bank of lockers over there in Ricky, looking like Swiss cheese, reveals a reflective, copper-plated interior. Then the sneering, comic football of Head Planter is in actuality made of terracotta. Here the pathos of sports finds force as a theatre of humble, inert objects. None of these things are quite what they seem.
With his exhibitions like animal shelters for orphaned objects, Rocklen has been accentuating and cultivating the gentle aura of common things for years now. He gilds found phonebooks and crumpled newspapers, breathing a different life into the bedraggled, useless, and discarded objects of the street or the memory of the 1984 Los Angeles Olympics, echoed here in this coterie of sculptures. His penchant for the sportive has been long-running, last iterated in a series of furniture assembled from trophies. But now these previous practices feel like building blocks for the current, odd incarnation of his locker-room shower composed of scores of folded t-shirts cast in porcelain.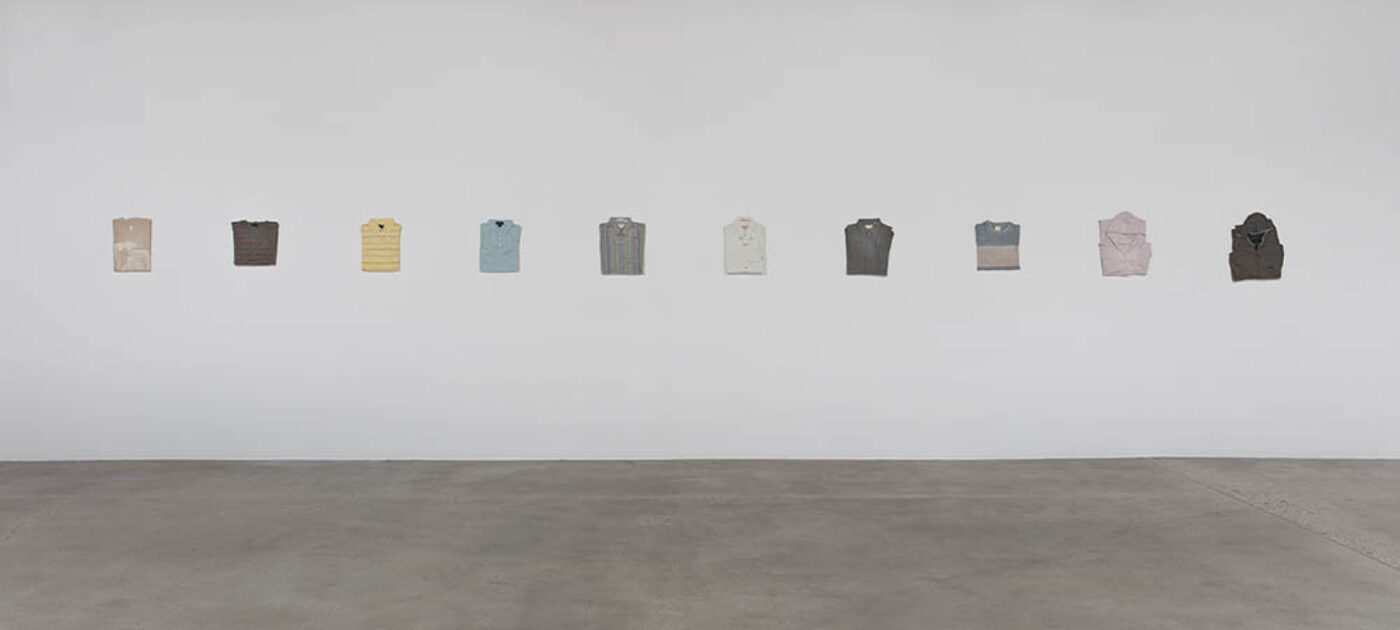 A room away, in the installation The Rocklen Suite (2014-2016), ten shirts hang folded on the wall: striped polos and a tan t-shirt, collared button-ups near a mauve hoodie, and a rumpled all-weather coat. Each is neatly contained, stoneware cast, and carefully painted with faded colors and speckled stains. It's like a thrift store display and a curious portrait of the artist who's disembodied but totally present. With The Rocklen Suite, the contents of a wardrobe are imbued with the fragile semi-permanence of art, altogether serene in their even line-up. Though neatly folded, they still bear rumples, as if however clean these clothes might become, they will never be unbroken from the chance movement of bodies and the ripple of fabric.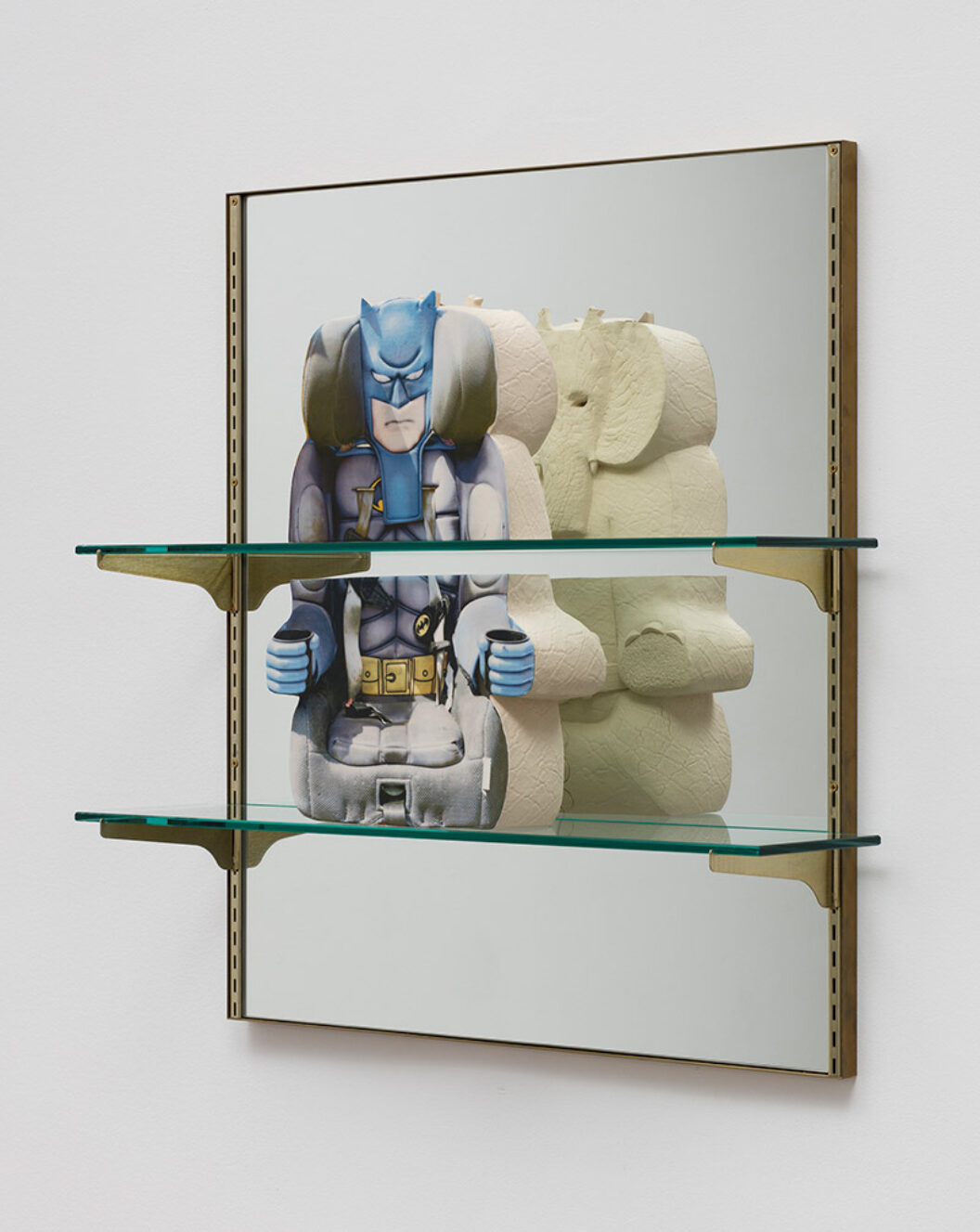 The material magic of the quotidian finds an odder pairing in yet another room, where two-sided sculptures are displayed on mirrored shelves. A flat color snapshot of a tabby looking our way, Whiskers, has in its reflected image an ancient regal feline, cast in clay. Facing out, Bruce gives us an image of a Batman kiddie car seat, but its other side is a rather severe elephant. Almost literally smoke and mirrors, these works joke with what's heartbreakingly human elsewhere in the exhibition, though doing so with a sweet spirit and quiet acknowledgement of sculpture's idolatrous lineage.
Enshrining the common and abandoned, Rocklen elevates these disparate objects by recasting and combining them in the most unlikely of ways, and such that L.A. Relic's whole assembly is inflected with a tender aura. With his glamours, even the blunt utility of a locker room can be subtlety transformed.

Ry Rocklen's L.A. Relics is on display at Honor Fraser Gallery, Los Angeles, until October 29, 2016.

Andrew Berardini is a regular writer and irregular curator in Los Angeles. His latest book Danh Vo: Relics is available through Mousse and DAP.