Hive Mind: Rugilė Barzdžiukaitė, Vaiva Grainytė, and Lina Lapelytė Interviewed by Ivan Talijancic
On the US debut of their theatrical installation Sun & Sea, an operatic beach scene exploring the relationship between people and our planet.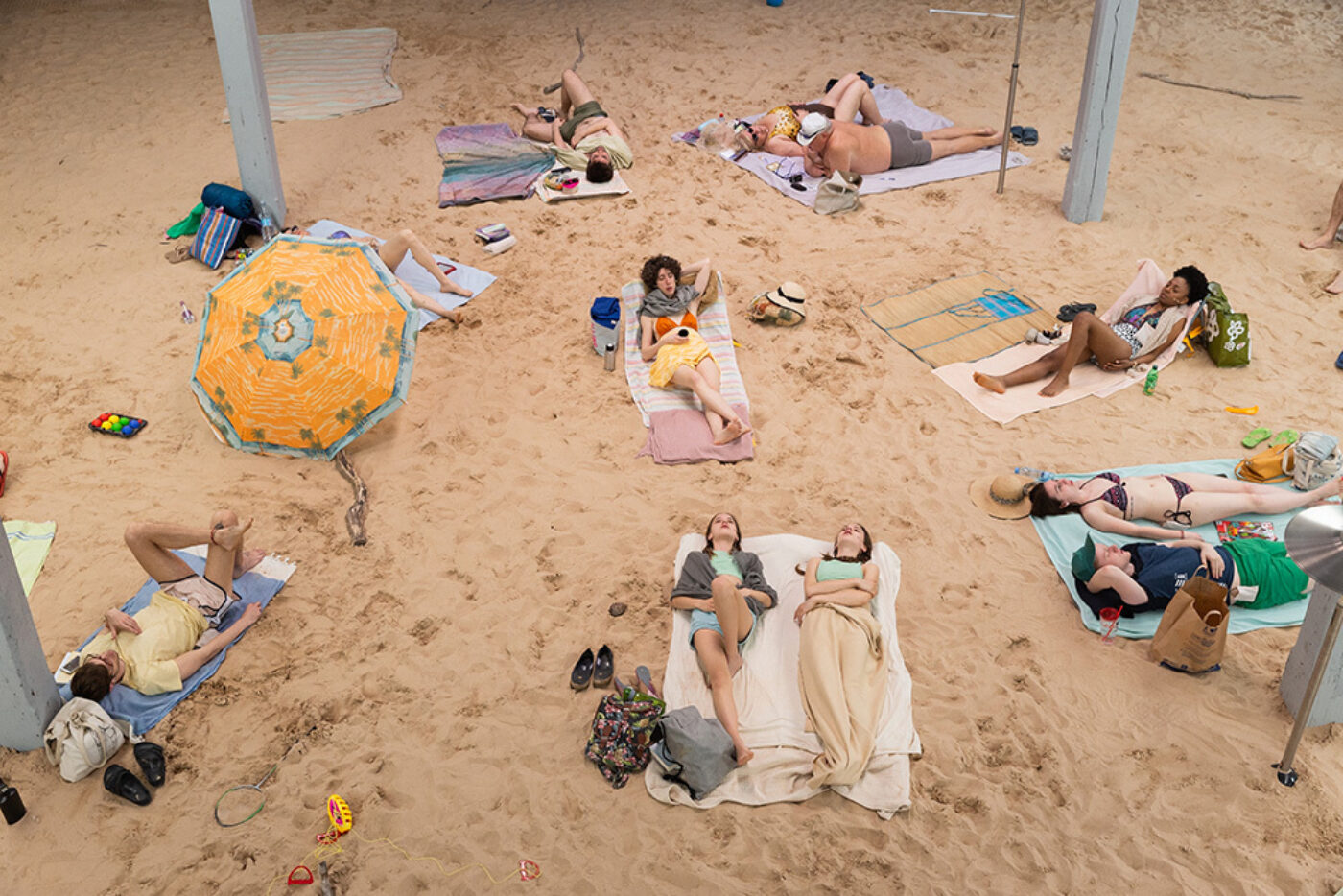 When the all-female Lithuanian power triad Rugilė Barzdžiukaitė, Vaiva Grainytė, and Lina Lapelytė presented their theatrical installation Sun & Sea at the 2019 Venice Biennale, the work was met with universal critical and public acclaim, indeed earning the team the fair's coveted top prize, the Golden Lion. Approaching the project with an inextricably collaborative ethos, the three artists effortlessly combine enigmatic characters, melodic interludes, and a fractious narrative that boldly delves into a probing exposé of humans' fraught relationship with the natural world and the climate emergency—all presented atop twenty-five tons of sand. I spoke with the creative team behind this compelling project as they gear up for the show's US premiere at the Brooklyn Academy of Music before touring to Philadelphia (Arcadia Exhibitions/Arcadia University as part of Philadelphia Fringe Festival); Bentonville, Arkansas (The Momentary); and Los Angeles (Hammer Museum, MOCA, and CAP UCLA).
—Ivan Talijancic
Ivan Talijancic You have developed a highly collaborative practice; I have heard of your team being referred to as a "hive mind." How did you begin working together, and how has your creative approached evolved over time?
Vaiva Grainytė"Hive mind" is indeed a nice metaphor. Until now we were labeled as a "three-headed dragon," which defines our collaborative practice as one body, while operated by three individual minds and artistic competencies (director, composer, writer). Each of the heads nurtures the body as a soloist, although when it comes to making creative decisions they argue and brainstorm in nonhierarchical mode. This kind of model was artistically developed and established while making our first contemporary opera, Have a Good Day! (2013), for ten singing cashiers, supermarket sounds, and piano, presented in 2014 at PROTOTYPE Festival in New York City. We discovered each other as colleagues and collaborators twelve years ago.
Lina LapelytėI have known Vaiva since we were teenagers. We would occasionally meet at experimental music festivals, alternative teenage gatherings, or hitchhiking trips. Her poetry and musical work also made a strong impact on me.
Vaiva knew Rugilė before I did, but her conceptual sensitivities, architectural calculations, and documenting eye was a real discovery to me. Perhaps all three of us have different angles to this beginning, but somehow the constellation of three happened to work.
The differences between us, in our education and experiences, are what make our collaborative works the way they are. Our personal works often have different perspectives, sharp personal angles, but when we come together we give ourselves time to find that delicate balance where each of our thoughts can resonate and be in tune with the other. And we're still learning how to be in this relationship; it's getting easier in some ways, but harder as well, as the pressure grows together with success and as one needs to maintain a healthy relationship with one's own egocentric shades.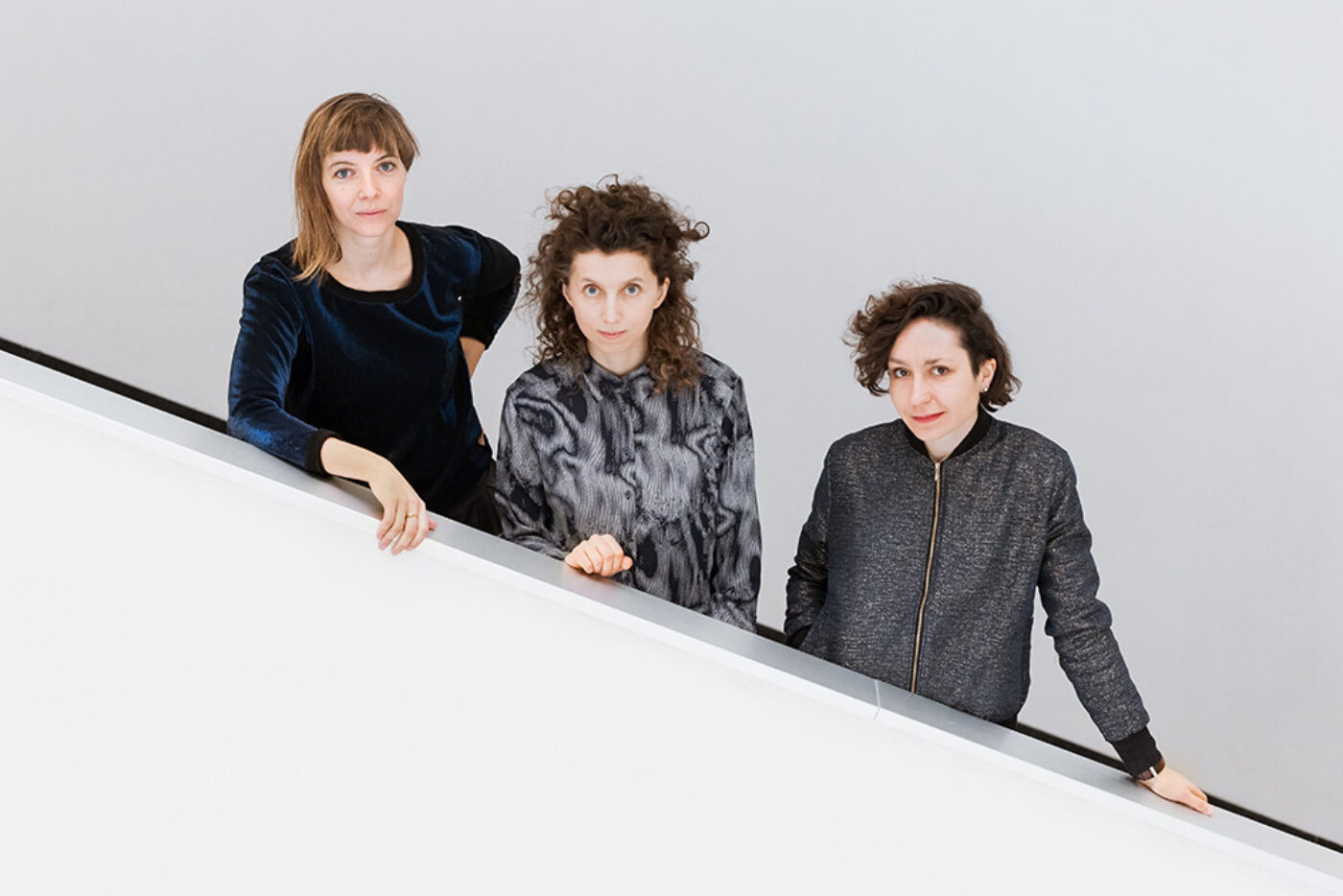 IT You have created a highly unique experience with Sun & Sea. What was your impetus for developing this project, and how did the idea for creating such an environment emerge?
Rugilė Barzdžiukaitė The first impetus was a wish to continue with our trio collaboration, so we knew in advance that the new piece should again involve musical, textual, and visual aspects. We started with the visual part, imagining people watched from above like insects gathering in their natural environment. This natural environment becomes very unnatural when it is placed within the architecture, and we wanted to play around with that. Another unnatural aspect is the singing, which makes the beach sound surreal rather than real. This was the format we knew in advance, and there was an intuition leading us to the topic of climate change; the beach is the place where these human bodies are more exposed and fragile than anywhere else due to the cosmic body, the sun, and because it is becoming hotter and hotter every year.
LL The very real reason for making a new work was actually to see if we were able to make something together again after Have a Good Day! We were looking for a social situation that would allow for a large group of individuals to gather; the sandy beach became the perfect place for this, and the further narratives kept building under the bright sun.
ITWhen you presented the work at the Venice Biennale, the work was met with great enthusiasm, eventually earning you the coveted Golden Lion award. What was your initial reaction to such an overwhelmingly positive public and critical response?
VGIt was a mishmash of tiredness, euphoria, dopamine, and cortisol—quite a heavy cocktail for a nervous system to handle. But there was simply no time for big emotions as the pavilion began generating long queues and public attention went viral. The team just had to do its best to keep the beach going, and that meant constantly being in alert mode (which is now the case again as the piece is intensively touring).
LL It was extremely overwhelming for us—three independent artists not represented by any gallery, from a very small country, working collaboratively on the offsite pavilion. There were many reasons why this award was impossible for us in our mind. However, when we received it, we understood that the queues outside the pavilion would never stop and that we would need to work like mad to accommodate the demands of the audiences, maintain the quality of the work, and keep our performers happy.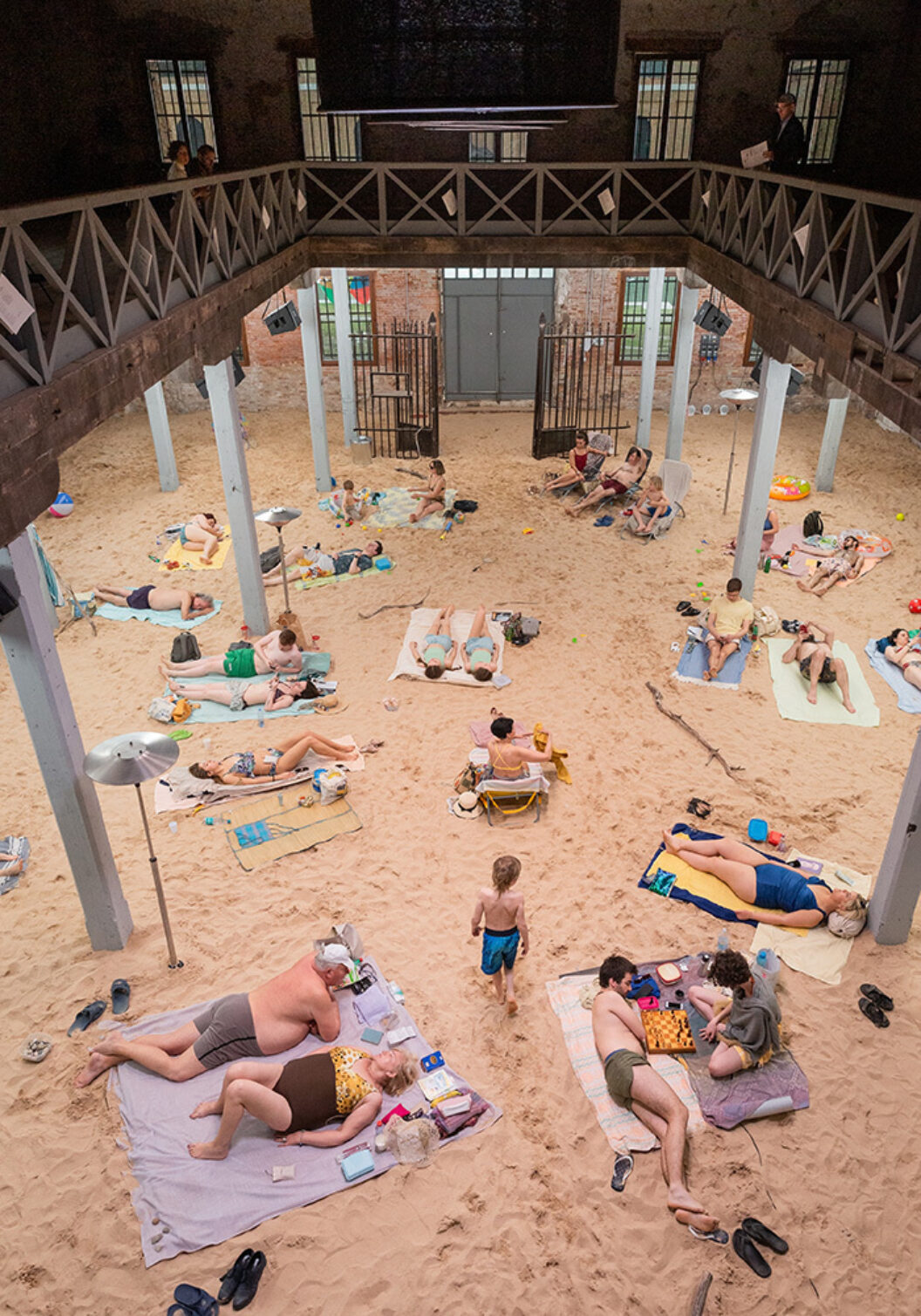 IT As a team, can you share what your next collaborative endeavor might be?
LL The future trio work projections are suspended now as we keep learning and relearning how to live with Sun & Sea, which is as demanding as a growing child, as well as how to maintain our own individual work. But hopefully in the near future there will be good ground for another creative trio journey.
RB We are waiting for the right idea and for now working on our solo practices.
VG That's a realm of the unknown that we're excited for and looking forward to revealing!
Sun & Sea is on view at the Brooklyn Academy of Music until September 26.
Ivan Talijancic is an artist, educator, journalist, and co-founder of the WaxFactory. He is the Artistic Director of the Contemporary Performance Practices program in Croatia and a 2021 artist-in-residence at the Emily Harvey Foundation in Venice, Italy. His first feature-length film, 416 MINUTES, recently had its avant-premiere at the Films Like No Other festival in Croatia. He is faculty of the John Wells Directing Program at the Carnegie Mellon University in Pittsburgh.