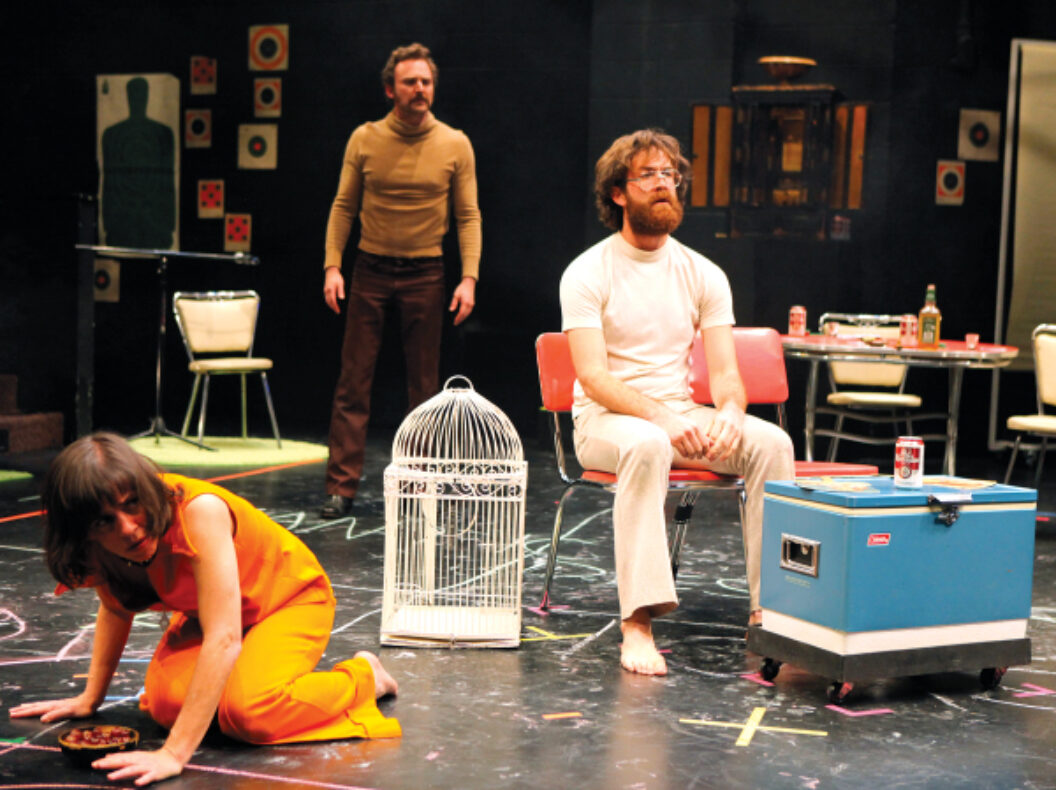 The first meeting between the Austin-based company Rude Mechanicals and NYC's Radiohole was at the Orchard Project in Hunter, New York, in the summer of 2007. Both companies were in residency, developing new projects—the Rude Mechs (their common moniker) were beginning The Method Gun , which went on to premiere at Humana Festival in Louisville, Kentucky, in 2010, and Radiohole were beginningANGER/NATION , which opened at The Kitchen in 2008. It was a beautiful summer romance.
That summer at Orchard Project was the first and, to date, only collaboration between Radiohole and Rude Mechs. It was a spontaneous single-evening performance witnessed by few, if any, outside the two companies, and it will never happen again. Thomas Graves, Kirk Lynn, and I performed naked Tai Chi in the dark of night on the rocks in the middle of the Schoharie Creek, illuminated by Scott Halvorsen Gillette standing in the river with an old fluorescent work light and occasional flashes of lightning. With Lana Lesley, Shawn Sides, Madge Darlington, and the other Rudes on the riverbank chanting, Kirk, Thomas, and I swayed gently back and forth until Radiohole's Maggie Hoffman appeared on the rocks out of the darkness in her long black Carrie A. Nation dress. We hoisted Maggie over our heads and slowly carried her over the rocks. We reached the edge of a large, deep pool and, with a collective exhaling, dropped her into it—we had made our sacrifice. There was a splash and Maggie drifted downriver into the darkness while Kirk, Thomas, and I resumed our swaying.
I relate this story because I cherish the memory—this was a performance in itself, and the vast majority of our work as theater/performance artists takes place in this way, hidden from view, outside the social-aesthetic frame of our regularly scheduled performances. Both the Rude Mechs and Radiohole explore the idea of theater as ritual, as a form of communal religious experience, though in distinct ways. This is manifest in the Rude Mechs' work on the Performance Group's 1968 production of Dionysus in 69 , directed by Richard Schechner—the first in a series of reenactments of significant experimental performances from the 1960s, '70s, and '80s.
Our companies share a creative ethos that is reflected in some basic structural similarities. Each is collectively run: the Rude Mechanicals by six artistic directors (five of whom founded the company in 1995) and Radiohole by its four founding members. Each creates original works from scratch, and each founded and runs its own venue. Radiohole's venue is Collapsable Hole in Brooklyn; the Rude Mechs' performance warehouse, the Off Center, has become home to many of Austin's visual, film, theater, and music artists.
The following conversation happened on the eve of the Rude Mechs' New York tour. It is pieced together from many fragments: emails, poorly recorded phone calls, and letters exchanged through the mail (remember that?). The conversation is not linear and reflects the compositional process more or less characteristic of Radiohole and the Rude Mechanicals. By the time you read this, the Rude Mechs will have brought their re-construction of the Performance Group's Dionysus in 69 to New York Live Arts . We hope you will have experienced it and that this conversation might retrospectively bring new insight into that experience.
Good Morning Eric,
I hope this letter finds you well, it's a nice morning in Austin. I just fed the chickens, watered and weeded the garden. The signs of seeds planted last week are just starting to show. The lima bean sprouts and provider bean sprouts are curling up out of the soil. I'm sitting, looking out the window drinking a hot cup of coffee and eating a big bowl of granola and yogurt…
Love,Rude Mechs
PS This letter isn't real. I'm not sitting at a window. I don't even have chickens. The handwriting changes so much because several people, I won't say who, have been passing around this paper, adding to a fiction.
Shawn Sides Making Dionysus in 69 was completely different from our other processes. Well, none of them are alike, actually. We don't really have a process (unfortunately, I say quietly to myself sometimes). We would like to have one, but we can't agree or figure out what it should be. We gather up in a room and hope. Or maybe we do have a process, but it's innate and automatic and invisible. We don't see it as a process but as just living, going along, minding our own business.
Eric Dyer What was your impulse at this time in your lives to take on Dionysus in 69 in this particular way, as a recreation?
Lana Lesley We had had this desire for a long time. Around 2005, Shawn came up with this idea for spaghetti dinners with our audience in Austin. We're making work here in Austin, and for a long time had felt somewhat isolated from the field. From the outside, we weren't quite a blip on the radar; for example, one of the review headlines for Lipstick Traces, the first show we ever toured, in 2002, was "Texas Troupe Does Play." From the inside, we were the only people we knew at that time trying to create the kind of work we were making. We felt a need to contextualize our work for our audience. While it is not particularly experimental—to us it is very accessible—people tend to approach it as if they were not going to understand it and, therefore, they don't. (laughter) We felt the need to contest this notion. So Shawn came up with this idea to have a spaghetti dinner once a month; we could show people videos of works that influenced us and talk about why we do what we do the way we do it. We wanted to pursue that idea wholeheartedly, but it became quickly apparent that actually there was not a lot of documentation of the work that has influenced us.
Madge Darlington Even when the documentation does exist, watching live performance on film or video is not ideal. With our "Contemporary Classics" series—where we reperform seminal works—we are archiving theater in a different way, more like it's traditionally done in dance. We're embodying a repertoire of experimental theater.
LL We also were interested in a stronger engagement with our company, as we started to slow down the pace at which we were making the work. For many years we made two or three plays a year. Right around 2007 we got a Creative Capital grant—at the same time as Radiohole. It sort of broke our company a little bit by suggesting that a collective seriously consider individual artistic careers and satisfaction, but it also changed it for the better and gave us the means to extend the development process and put more care into it. We were slowing down the rate at which we made work, and our company members were getting to do less and less, since we were making fewer and fewer plays.
ED And that's by choice, by people doing other things in their lives?
LL Just because we were making one play a year instead of three. Whoever was in that one play was working all year and whoever wasn't wasn't doing anything artistic with the company. We were trying to address all these ideas at the same time: we needed to give our company members more things to do throughout the year, we needed to contextualize our work, and we also needed to educate ourselves a little bit. So by conceiving the "Contemporary Classics" series and presenting these radical works that deeply influenced our work, these three things were addressed. It was mostly about the audience, though. What if we actually did a production instead of showing videos and having dinner? What if we mounted these productions as authentically as possible? Knowing that context changes things, we'd say, "This isn't available on video and you can't actually experience the play because no one is mounting it. It's not in rep at your local regional theater." So we first did Dionysus in 69 in 2009 and then we re-created The B. Beaver Animation by Mabou Mines last year. Both are important works, and they're not available. People don't have access to them in the way that they do to other kinds of work that we don't necessarily draw inspiration from as artists.
MD The original performance of Dionysus in 69 is well documented in both the eponymous De Palma film and Richard Schechner's book from 1970. Many of us had experienced them both. It's an iconic play, when you think of experimental theater in the period we're exploring. Richard was one of Shawn's professors in grad school, so we had a connection to him. When Shawn had the idea to reenact the performance as closely as possible to the original, I became really excited—we've always been into subcultures, and historical reenactors are an interesting subculture. Reenacting became our way of working from the outside in, from the physical appearance, gestures, and vocalizations of the original cast to what the experience or happening might have felt like 40 years ago.
ED So what is the experience of being inside Dionysus in 69?
LL Well, we don't have Thomas Graves here, who's actually in the cast. Kirk and I experienced it as audience.
SS Madge and I codirected the piece but weren't in the cast.
LL And Kirk hasn't talked yet, so I'm going to make Kirk talk.
Kirk Lynn I didn't direct the play or have anything to do with it besides being an artistic director who has always loved the idea of Dionysus in 69. I read the Farrar, Strauss and Giroux document of the original performances, and I once taught from William Shephard's history of it, The Dionysus Group. Seeing it live taught me so much about certain tropes we use, like presenting ourselves as both characters and using our own names on stage. Also, I'm interested in the notion of divine possession and being possessed, and the idea of violent transformation, which is in a lot of our plays in different ways. We have documented the transformation of werewolves in Cherrywood. Also, our adaptation of Greil Marcus's Lipstick Traces focused on the damage caused by and contained in Cabaret Voltaire—many of the Dadaists never were able to adjust to life without the banging of a drum, the wearing of a death mask, and the liberal application of wine and singing. (And the Cabaret itself came in part from a reaction to the butchery of World War I.) So seeing our actors turn into those actors from the '60s turning into gods and Bacchae from antiquity made me ecstatic. Being allowed, as a member of the audience, to dance was great too; it implicated me in the violence of that story, the violence of the '60s, and the violence of the world today.
One of the things I love about theater is that it remakes itself. So I go see a Radiohole show, and then the people I talk to who have never seen a Radiohole show see me perform it as I describe it to them—I am just another performer in a bar or a classroom. I'll tell people stories about, say, the way Eric drinks beer and eats chicken and green-bean casserole for five minutes on stage and it turns out I am performing my own version of a Radiohole play.
With the Rude Mechs' performance of Dionysus in 69 another version of that happens. Here's this epic, mythic production that people went through together—it sort of scared them and transformed them. I told a lot of people about that dance and the way I got caught out on the dance floor when Dionysus started dispensing justice. Others left our theater in Austin and told people about what happened: "People were fucking and they were naked and it was crazy!" It's all reperforming what I believe Dionysus actually did the last time he came to earth.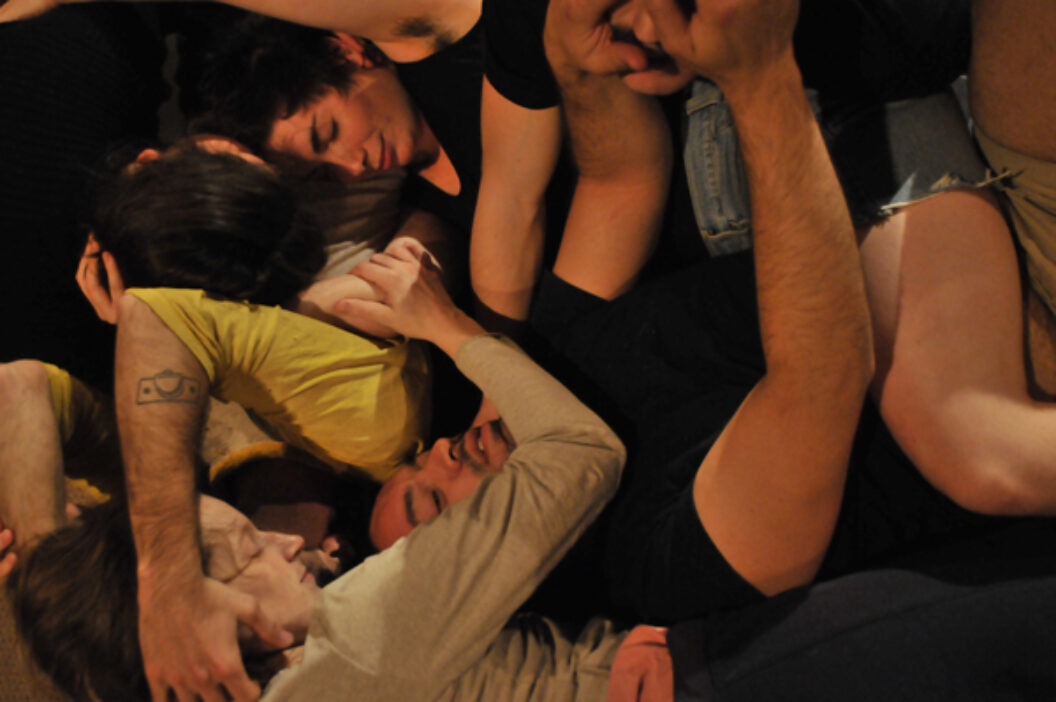 SS People had sex at our show. I can't stress enough how proud I am of this fact.
ED People what?
LL They had sex. They were just fucking in the corner! There was another couple that dry humped their way through about 45 minutes of the show.
SS They wouldn't get off the stage. They just dry humped each other, and rolled around, and groaned and panted while the play kept going on around them. The actors had to sort of shove them out of the way so they could finish the play.
ED They just kept with it?
LL Yeah, they did. And they didn't even come with each other. They came with other dates. They're still a couple, we hear.
SS And it wasn't just the one couple. Like in the original production, it was dark around the outside corners of the room and people slipped off into the dark and fucked pretty often. One of Madge's nightly shutdown chores was to knock on "the pit" and clear the people fucking out of there.
ED Was it because they assumed something about the show? They thought they knew what it was and so it gave them a kind of permission?
SS Well, they did have permission. The show gives you permission. Early on in the play there's a kind of introduction that tells you, "All bets are off and we're here to be nuisance free and Dionysian. Do what you want! It's a safe place for you. Although this is also dangerous. Anything can happen, so watch out!" People found out that there was some nudity, so the nudist society in Austin came to the show. People also heard that it was a little Dionysian and witchy, so Wiccans started coming to the show. We started drawing in communities and factions that may have not been around in 1968. There were people who may have seen the Performance Group's original production in '68, or at least knew about it and wished they had seen it.
ED Do you get Wiccans and nudists on a regular basis?
LL Wiccans were new.
ED Were the Wiccans nude?
SS They're not always nude, but sometimes.
LL Shawn will send you the Hill Country Nudists' newsletter. (laughter)
ED Please put me on their mailing list. Does anyone remember Bob Ross, the guy who taught painting on PBS? Do you think there should be a show like that, where a nice guy with an Afro and a beard teaches you how to make theater?
SS Yes! Please can we make that project together? We have the wig already! He was so calm and soothing, though. Art wasn't anything to get all twisted up about, just some happy trees. This would be a stretch for you, Eric Dyer.
KL Please come make a play with us.
ED We've started. It's the one with the records; we still haven't wrestled in Tennessee or wherever it's supposed to be. (It's a "figment show"—the one that is always in your imagination and maybe never happens outside your head, or maybe it only happens in the naked–Tai-Chi way, outside the frame of art making.)
KL Yeah, wrestling in Tennessee to a Joni Mitchell record. It's the genius of Dionysus in 69—the idea of who cares who gets implicated? Whoever gets implicated, it's like, "Oh, it could be love! Let's take off our shirts and dance together!" But the total caress in Dionysus in 69 is a slaughter. The actors lure the audience out onto the stage with love and then Dionysus commands them to kill Pentheus and you're there. It's a murder. I mean, you're there dancing and suddenly you're caught with your pants off, literally. And it's not like, "Oh, that's funny, what those characters did to each other." You are a part of it. You feel weird about it. Guilty. I feel guilty. I never tried to save Pentheus. Some people did.
ED Do you think those very basic notions about Euripides's The Bacchae, demonic possession, and theater as a religious experience in Dionysus in 69 get obscured in clichéd preconceptions about the '60s?
KL As somebody who loves the story and got to see the Rude Mechs' version of it, Dionysus in 69 made me think about the way that I'm demonically possessed. I participate in the world. I voted for the president who has ordered the most drone strikes. I'm like those people in the '60s who were so fucking stupid—they thought they were hippies but ended up as baby boomers giving us the '80s. I'm one of those; my daughter is going to totally hate the world I am leaving her.
SS Trying to answer your question, Eric—I don't think the "sacredness" got swallowed up by the distance of reenactment or people's self-consciousness. People are looking for the opportunity to give themselves over to ecstatic experience, but short of falling into a real trance or taking some really good drugs (both awesome options), there's always a little self-consciousness. No one fell into an actual trance that I know of, but there was such eagerness and apparent earnestness among the audience in the room in Austin that I only know how to describe it as ecstatic. Not for everyone, of course. Many people didn't participate at all or—the worst—did participate, but with a sort of resigned acquiescence about it. But by and large, they would give in.
The dance, for instance, might start out a little awkwardly but then it keeps going and keeps going and keeps going and one by one people start letting go and giving over to their right brain and the tiny inner hippie that we all have no matter how we try to quash it. Eventually everybody, even the nondancers, start having an ecstatic time.
Richard [Schechner] kept saying we were going to risk having the production be a museum piece. He meant that in a derogatory way—as if a museum piece were automatically a terrible thing. We wanted to use audio from the Brian De Palma film of the original performance to re-create the original actors' vocal and gestural patterns (especially in certain key moments) so that those could become a kind of mask of the original actors' that we would put on. But Richard was worried that that score would keep the audience too distant and fuck up the improvisatory feel of the show. For us it was okay for our reperformance to be received as a museum piece, if that's how a person felt about it or wanted to see it. Ultimately part of the audience's ability to let go, I think, had to do with their ability to tell themselves, I'm not me right now. I'm a 1968 audience member. They could get a little bit outside of themselves.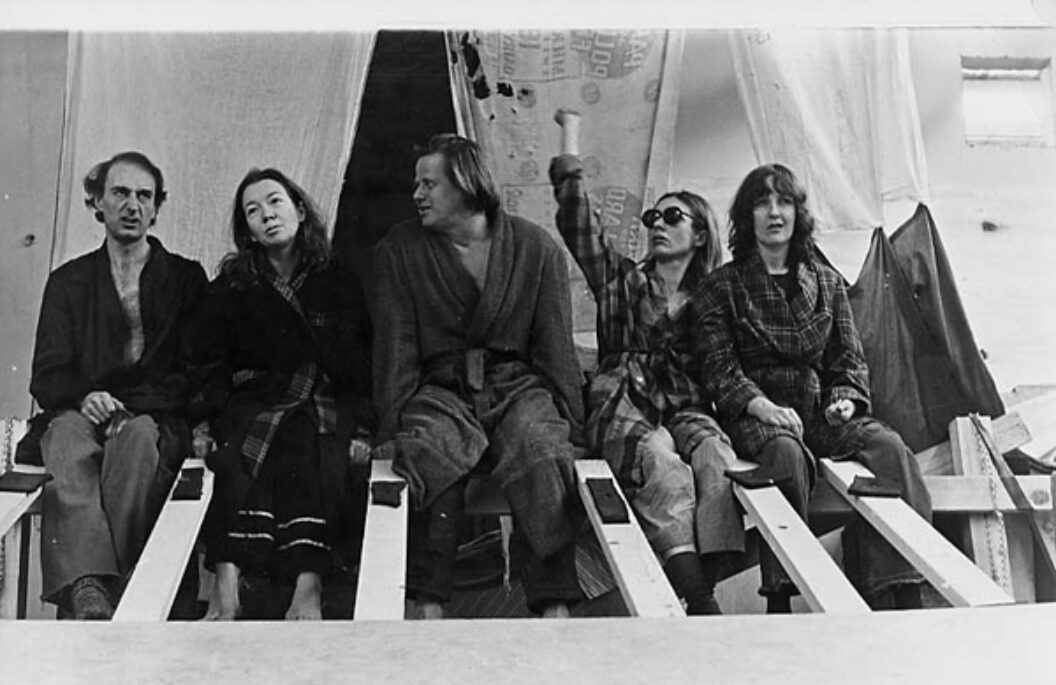 MD For the same reason it was pretty freeing for us to work on it. The responsibility for the sexism and the homophobia in the piece—we could put it firmly on the original production and not own that ourselves.
ED Right. But it occurs to me that, in a way, the very act of doing this piece is already probably the most radical gesture, right? My impulse is to turn my back on all that history. There was a certain point where I needed to run away from that.
LL Why, Eric?
ED It's a good question, I'm not sure I know precisely. It probably has to do with working for Richard Foreman and later the Wooster Group during and right after undergrad. Those experiences were definitely educational, and formative, but also ridden with anxiety. I'm sure I would learn from re-creating a Richard Foreman play, for example, but maybe it would just put me back into the part of my experience that was traumatic. Besides, being such an excitable boy I don't think I could resist the temptation to start turning it into my take on a Richard Foreman, and I don't think me or the world needs that.
SS He's one of the people on our list.
ED Which show?
KL Rhoda in Potatoland. [The title was mistranscribed as "Road to Potato Land"—simply too good to leave out.]
ED Speaking of shows on your "Contemporary Classics" list, how many are you planning on doing?
SS We don't know.
KL Well, we're going to do Ragtime next. (laughter) And then I think we're going to do "Road to Potato Land" and Follies, and then I think we're going to be done. These pieces will complete the conversation that the American theater has been trying to have with itself for a long time. As soon as a single theater completes all these pieces, the theater itself will fold up its tent and remove itself from human culture. All further theater will be performed by trees for trees—a lot of it we may not even recognize as theater!
ED Why not do Radiohole's Bender?
KL We should do My Name Is Still Radiohole.
ED Sure, do that one. You can have any of them. In fact, if you could come up here and do the piece we're doing now, that would be really good.
KL I at one point traded page 39 from Cherrywood, I think, for the same page in whatever play Lisa D'Amour was working on so that we could have some help randomly from one another, some inspiration. It was a gesture of desperation for both of us, I think.
LL A member of SITI Company actually offered to trade at one point. They wanted to do Get Your War On in New York and they offered a trade for one of their shows. We could pick whichever one we wanted if we would just get them Get Your War On. As tempting as that was, the offer wasn't sanctioned by the company. We also really wanted to take that show to NYC ourselves. However, I do think we should all stop making new work and just trade shows for the next three years.
ED It might be a good idea. Although I think I'm probably going to spend the next three years making inflatables.
MD I am so into inflatables!
ED Yeah, I don't know that I want to put them in a stage show, but oh my God! I really love making them.
LL What are they if they're not in a stage show?
ED Big, beautiful objects that just do what they do.
SS An installation.
ED Radiohole had an amazing rehearsal at The Kitchen in which we had fixed in our minds an idea of how this 20-something-foot-tall thing would get inflated and created. It was a methodical process consisting of when to turn the air on, when to pull this string, and this, that, and the other thing. We'd written a list and it just was not working. We kept trying, and then, long story short, we turned on all the fans and walked away and it did it on its own. (laughter) It was automatic.
SS Did you see the last Tenacious D tour? There's a giant inflatable phoenix/penis onstage that, at the end of the show, cums dollar bills into the audience.
KL Real dollar bills?
SS Fake dollar bills.
KL That's so shit.
ED Yeah, we wanted the dollar-bill thing but we didn't get the grant. I'm going to try to lift my penny collection and dump that on the audience.
SS That would really hurt.
ED I'll do that when I'm feeling mean. Pennies from heaven. So, when we started this conversation, I wanted to ask you—and I don't want to lose this—you guys kind of jumped in with a lot of apprehension about doing Dionysus in 69 in New York. Do you want to talk a little bit about that?
LL No.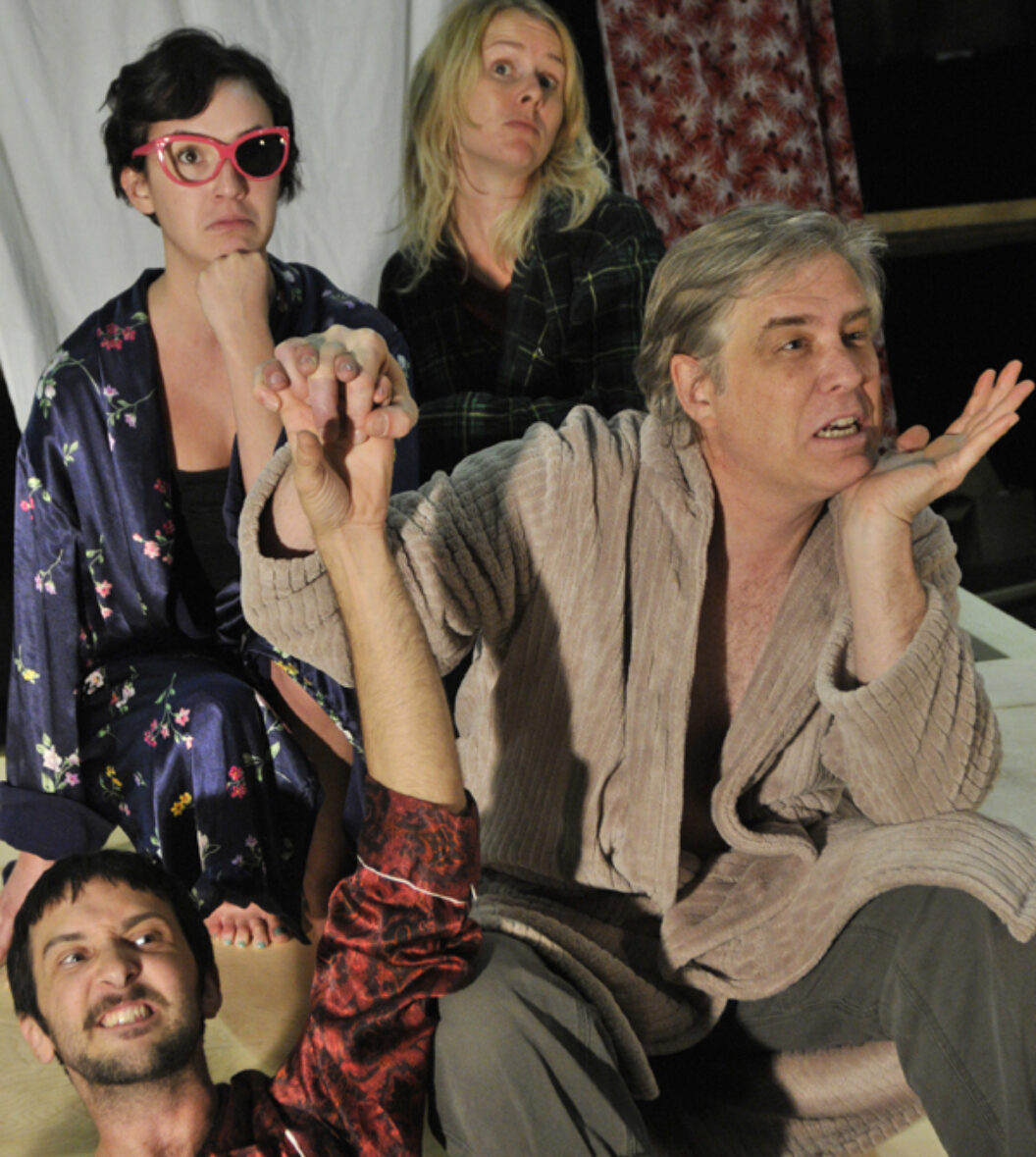 ED You didn't have this apprehension for Get Your War On, or The Method Gun.
KL We have apprehension for everything we do.
LL Right. Get Your War On in its early days (before it became popular to bash Bush) felt a little dangerous.
ED There was a time when it wasn't popular to bash Bush?
LL Remember we're based in Texas. By the time it got picked up for touring, it felt a little easy, so I think we were apprehensive about that, but also still felt like saying those words out loud. The Method Gun—well—it's a little autobiographical, and it makes us nervous to show our panties like that. We were interested in Stella Burden's company because they were forced to become a collective (like us) when she abandoned them. And when we were re-creating their rehearsal-room struggles, we were calling upon our own to bring them to life.
But I think Dionysus in 69 in particular has an extraordinary amount of potential to be taken out of context. If the press is not exactly right, or if the press doesn't read the press releases, critics and audience members will approach the show as if it's Rude Mechs' interpretation of Dionysus in 69. It's a personal program for this company based in Austin that wanted to share germinal works with our local home-based audience. We are super thrilled to take it out on the road to people whose own programs support the idea of re-creating this piece. It's dangerous, though—it has this extraordinary reliance on audience participation. If people are walking in with a "prove it to me" attitude, or wondering what we are doing with this show, then it can't be fun. It's critical for us that we have fun, whatever we're doing.
SS It's this incredibly exuberant show. It has so much to do with what the audience does that it's scary not to know the audience. We knew our Austin audience, and we were trepidatious here when we started it. But it really surpassed all our expectations, even in terms of attendance and, beyond that, participation. It was exciting and fun here.
KL When it's our own work that we're working with, we can just be happy with it speaking for itself. Even if people misunderstand it, we still speak through it. Dionysus in 69 is a work that has spoken to us but, in the end, it's not our work. We're in conversation with it, but it's not our statement. That's the apprehension. If people hate this, I don't know what to say. We're in conversation with it but we're not speaking its words; we're quoting, sort of. We're possessed by it. Blame the ghost!
Originally published in
Featuring interviews with David Lang, Oscar Murillo, Rude Mechanicals, Cristian Mungiu, Mark Z. Danielewski, Fanny Howe, Alix Pearlstein, and Tony Feher.