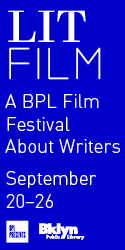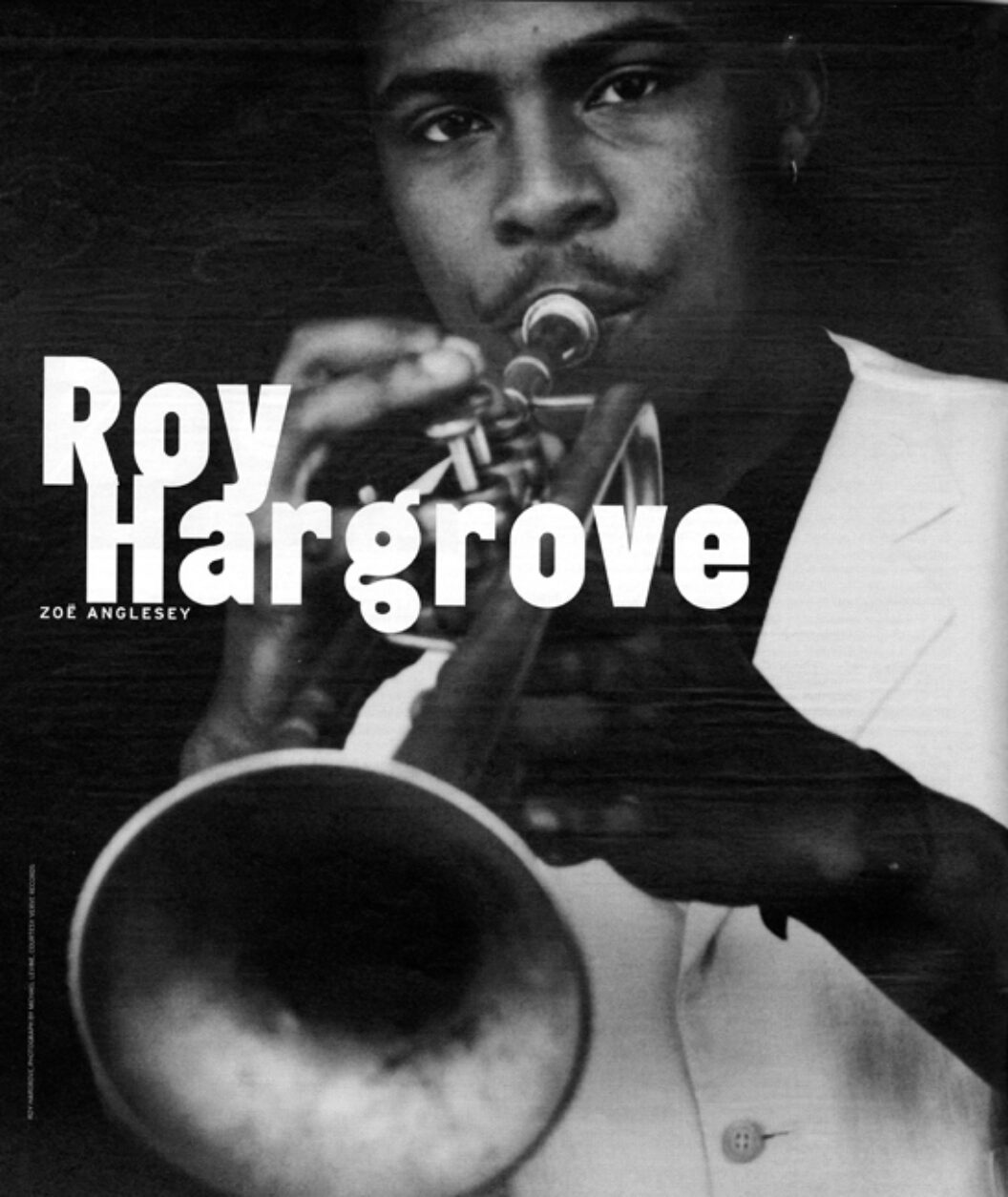 1989, wee hours into the last set at Bradley's; leading a trio, John Hicks trills the high end of the ivories; they chime buoyant over a capacious roll of chords. In the low light, acoustic colors funnel front to back. It's the traditional moment for a rookie to make an entrance under Billie Holiday's decoupaged gaze. Sure enough, a young cat rolls in. Born in Waco, Texas, October 16, 1969; a musical kid, on a trumpet since 11, noteworthy at 16 when Wynton Marsalis heard him at a Dallas high school workshop. This night his instrument's pocked by a few dimples and stripped of its lacquer, which darkens its porous sound. Doorman Terry shoos him in, then Hicks gives that look. The trumpeter steps into the curve of the grand, closes his eyes and begins playing the horn held straight out recital style. Slowly at first, the lines ascend to a crystalline state, then pop into rapid-fire quarter notes that accelerate to full amplitude. The sonic transport—"unmediated, unmitigated, and immediate" as in Bell's Theorem—undeniably moves the house. As soon as his bopped notes pop like bubbles, John Hicks kicks into his solo and the trio takes it out. In his short brim and jacket-too-big, the young trumpeter saddles up to his spot to set off a finale of fireworks. Roy Hargrove just down from the Berklee School of Music, just up from Texas, just on his way.
Reminiscing as if it'd been 50 instead of five years ago, Roy Hargrove muses, "Yeah, that was my style back then. I used to love wearing jackets with the sleeves coming down right to here." The edge of his hand hacks at an imaginary demarcation just above his knuckles. Now an all-pro and usually on the road, Hargrove and his lyric silver tone add up to gold for The Roy Hargrove Quintet with the Tenors of Our Time. On the Billboard charts find Family. With co-Verve mates pianist Stephen Scott and bassman Christian McBride (whose own hit doesn't let on he can recite Muhammad Ali and do James Brown), Roy leads the threesome in a true test of their chops on Parker's Mood—a re-vision of tunes once re-rhythmed by Bird, the great altoist Charlie Parker.
Roy also appears as most favored guest on a host of CD's for the cats he digs. As Dave Brubeck discovered, and quotes in the liner notes to the all-star TELARC CD, Young Lions & Old Tigers, Roy's trumpet "sings the ballad like a human voice."
Under a Sonny Rollins poster in Roy Hargrove's Greenwich Village digs, cool with a view and correct with health club and roof pool up the elevator, we touch upon the recent passing of his father, the past, present and futures.
Zoë Anglesey Sorry to be intervening on your private space right now. Before we start, I want to say that lots of people send their condolences…
Roy Hargrove That's alright. There's a lot of people intervening on my space as a result of this album.
ZA I hear Tenors of Our Time was doing well.
RH It's doing pretty good.
ZA It sold a hundred thousand copies?
RH I think it went over that.
ZA So what about Family?
RH It just came out. But all the reports that I've gotten have been really positive.
ZA The first part of your trilogy is dedicated to your father. When did you write that?
RH While I was on tour with the band this spring. I had been putting it together for months, I didn't really decide it was going to be a trilogy until after I wrote the part for my dad. I wrote the blues in D- flat for my little brother. After that I just added the tune for my mother, making the trilogy.
ZA But what made you write "Roy Allan"?
RH Well, I remember sitting at the piano one day, and just messing around with some chords… It was very simple, nothing complicated, just something you could remember. The bass line was the strongest part of the tune. My father had a really good ear for music, most of the parts that he sang were bass parts. Back in high school he was playing sousaphone and he sang baritone or bass in the choir.
ZA What was his response when he heard it?
RH I never got a chance to talk to him about it or hear his feedback. By the time he got the album, I was away. When I found out that he had passed, I was in Finland. But from everything my relatives told me, he liked it.
ZA And your brother, Brian?
RH Brian is eleven…he's a scholar, nothing like what I was. (laughter) I hated homework and all that stuff but he just loves it.
ZA So do you talk to him about what you're doing?
RH Yeah, we have some interesting conversations. He's young, but he's awfully intelligent for his age, very ahead of himself. He surprises me with some of the things he says, I'm like, what? When we were at my father's funeral, he was so calm…everyone was crying, and he just sat there—he knew my father was in a better place. I played a little bit from "Roy Allan" and later he says, "You know, man, you were playing good." I was like, wow. Thanks!
ZA What's important to you, as a professional musician?
RH That I'm respected by my peers, but also by my elders, because for me, it's very important to establish a rapport with musicians who have been out here for a long time. Those are the cats that I can learn the most from. That's why on every recording that I make, I have had a guest artist who is a veteran in jazz. We can all learn something from that exchange. And I want people to know that my music has a lot to do with emotion. I want people to really feel the expression when we perform or record because we are giving a lot of that.
ZA Could you talk a little about the Brubeck session?
RH Dave wrote a tune for me and it's called "Roy Hargrove." It ended up being the first cut on the album. It's kind of a ballad thing, you know with a rubato intro. I had a good time doing that… He seemed to be in very good spirits.
ZA Do you look at this date as being an honor or another gig?
RH Well, I don't look at it as being another gig. Whenever I get an opportunity to record with veterans like that, with that caliber of musicianship, it's always an honor.
ZA Do you mind guesting or the role of sideman?
RH No, I don't. Playing as a sideman is much different from when you're a leader. If it's a date where the leader has his own compositions, you have to understand what he really meant in the writing. You have to immerse yourself in being a follower. In my case, I always humble myself and try to do the best I can.
ZA I remember, in '89 being in Bradley's when I first heard you.
RH I was probably still going to Berklee at that time.
ZA When did you finally get here?
RH '90. I came in the winter. It was snowing when we drove up here. I stayed at this little apartment on Charlton Street.
ZA Is that when you hooked up with John Hicks?
RH Yeah. I was doing a lot of work with John, I played a bunch of times with him at Bradley's, and I actually went into the Vanguard with his quintet, that was four or five years ago.
ZA You seem to pay him his due on your CDs by playing his tunes.
RH Yeah, I think we're related in a way! (laughter) He taught me so much about composition… The way he writes tunes is so beautiful and melodic.
ZA Did you meet your manager, Larry Clothier, when Wynton showed up at your high school in Texas?
RH Yeah, he was there.
ZA Has Larry ever filled you in on stories about Sarah Vaughan that make you more endeared to her?
RH I don't know if it's possible to be any more endeared to her than I already am—I mean, I love Sarah Vaughan. I've always loved her music, ever since the first time I heard the EmArcy recordings with Clifford Brown. That was my first experience with Sarah. Larry's always telling stories about musicians, and when he talks about Sarah, he's always praising her. Larry is a closet singer himself. I don't know if you knew that. He knows all the lyrics to just about any tune you can name. If I want to learn a tune, I say, "Hey, man, what's the words to this?" Yeah. He worked with Sarah, and Carmen, he was Carmen's manager until she cut out.
ZA You've been fortunate because the people you've hooked up with are still with you. What are the advantages to that?
RH Larry knows quite a few jazz promoters in Europe and Japan; they've had long relationships with him over the years because he's worked with people like Dizzy, Sarah and Carmen. It's true, that gives me a foot in the door. Larry hooked me up with my very first tour of Europe five years ago this summer.
ZA And from then on…
RH It's been non-stop. (laughter)
ZA I think that's been an advantage. You've been on the road, led a working band—many musicians only dream about that. It's partly due to your talent and the way you stage your music but it's also who's behind you.
RH Well, my career's been put together very strategically…. I went out for a little while as a sideman playing with the older cats. This built up a reputation for me, in Europe mostly, so when it came time for me to put together my own band, they knew who I was. "Okay, fine, bring him." We put together that group three years ago. It was me, Antonio Hart, Rodney Whitaker, Greg Hutchinson and Marc Cary. Since then I've gone through many changes.
ZA Word is out that you really work bands and your tour schedule causes burn out.
RH Me?
ZA I don't know… (laughter)
RH Me, personally?
ZA Maybe not you personally, but I've heard some of your band members were looking for more time off.
RH Yeah, well, we were out there hittin' it. I don't know what to tell you. When we were out there, we were goin' from one performance to another. I'm still goin'. Those cats.., like Rodney [Whitaker], he's got a family at home, Greg [Hutchinson] is starting a family. They really wanted to be home a little bit more than I was able to afford. I just got a new band, Ruben Rogers on bass and Karriem Riggins on drums, and they're both really young. Ruben's still a student at Berklee and Karriem is like 19. He's still living at home in Detroit with his folks. They're a lot more eager to work, because they're just getting started.
ZA And burnout with you, you're not tired?
RH (laughter) Nooo.
ZA It seems as though you're singing more often when you perform.
RH I used to like to sing a lot in high school, I had a little funk band, and we played mostly top 40 but we had some of our own stuff. I never took singing seriously, I just did it for fun, or as a novelty. Even now, I might sing one tune to break the monotony. People are very surprised to hear that. But I'm inspired by cats like Dizzy Gillespie, Roy Eldridge, and Louie Armstrong—all the trumpet players who sang. Sometimes people make fun of me for singing. In the end, people wouldn't be making fun if they didn't like it. I sing for fun, because I like to have a good time on the bandstand. If we're enjoying ourselves, then the people have to be enjoying themselves too.
ZA Is that important to you? To enjoy yourself?
RH Yeah. I don't like negative vibes. A lot of times I go to see cats play, and they're so serious: "I am a jazz musician. I am super-cool and super-hip." I mean, that's cool, but it's boring. You know what I mean? I try to enjoy myself on the bandstand because if I'm not, the people aren't. One of the main things about music is to uplift the people.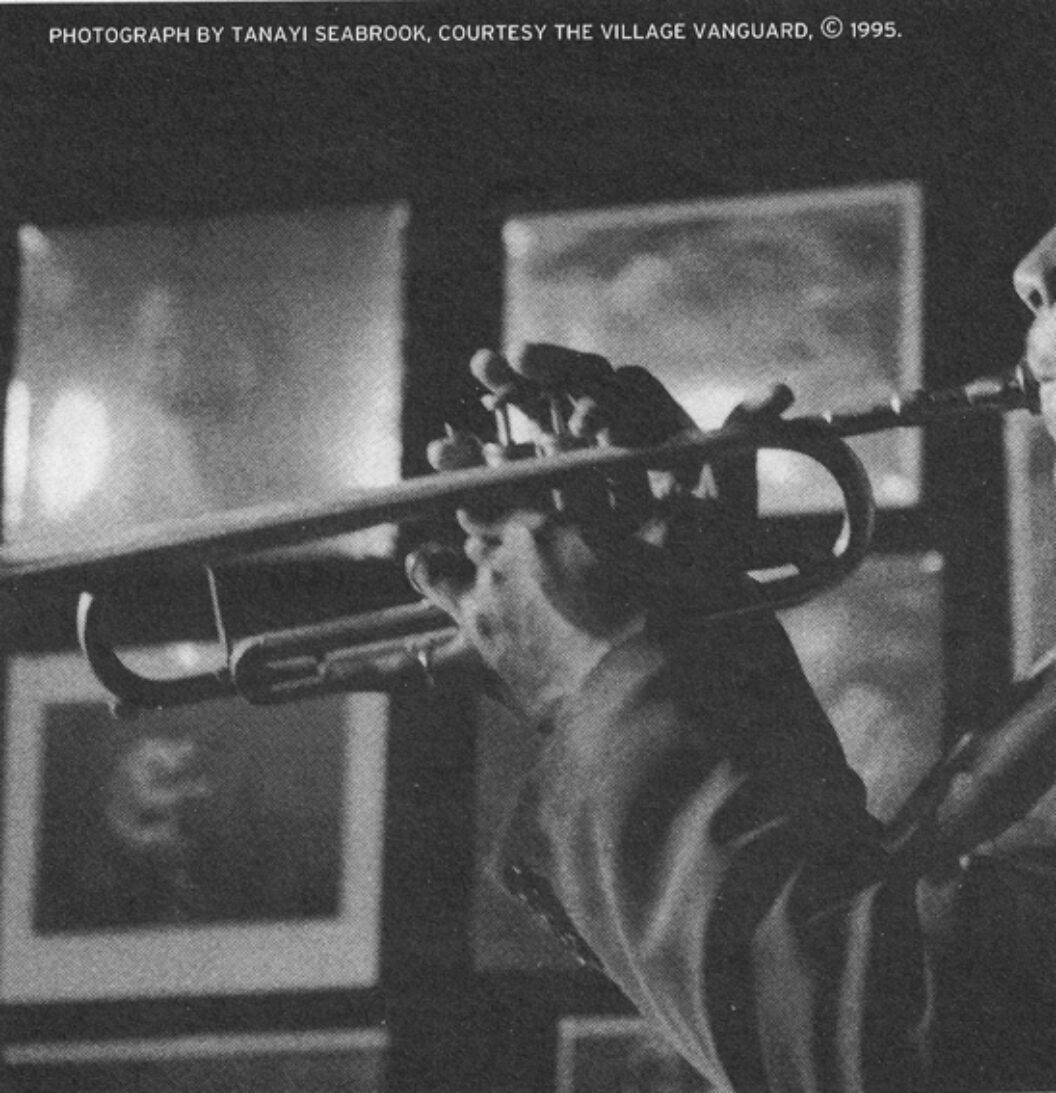 ZA Do you know the story of Duke Ellington and how he started out—selling concert posters, booking bands, and then he'd do gigs at fancy supper clubs. He had a whole sideline of businesses while he was launching his own career as a bandleader. Later he copyrighted his music, which paid off because that money kept his band on the road even in the hard times. I was wondering, how much are you into the business?
RH I'm very involved. Just last year I became incorporated, and now I have a business called Hardgroove Enterprises. We've opened a gallery in my rehearsal space. One of the things that we're trying to cultivate is something that's a little bit outside the music and that's with jazz art and photography. Currently there's a show going on. Hopefully, in the future we'll get some more of that along with some recitals and small concerts.
ZA Roy, why are you supporting a gallery?
RH I'm very intrigued by art and photography. Eventually, it's going to make a profit for the business. That definitely makes me supportive of it. My vision involves more of the musical side the space—maybe doing some recording.
ZA You say you're intrigued with art and photography. How did that develop?
RH I've always liked to look at jazz photographs, at pictures of the musicians from the past. When I look at paintings, what I really enjoy the most is the detail. Sometimes they can really be abstract but you can get a message.
ZA Do you have any ideas that you want to see come to fruition at the jazz Gallery?
RH Eventually I hope to have a production company so that we can send other artists out on the road in their own groups, but they'll be affiliated with Hardgroove Enterprises. It's very important to be aware of what is going on in the world of the business of music because there's so many people out there who will take you for a ride, and you have to keep your eyes open.
ZA There's a lot of people who live off music, and a lot of musicians who don't benefit from the music they've created. I can't figure it out.
RH It's pretty sad. Once, I went into an in-store in Detroit, and the cat from my former label didn't even know who I was. He came up to me and asked me if I knew where Roy was, and I was like, "You're looking at him!" That was the kind of thing I was going through. Now I'm with PolyGram Verve, which is probably one of the best jazz labels in the country. The people who are on staff are very knowledgeable about the music. My product manager, and a lot of the people in the publicity department were at the Vanguard every night that I was there. And that really shows support.
ZA Also respect. What videos have you done?
RH When we were at the Vanguard, that became a video, it's been sold to BET [Black Entertainment Television].
ZA Why don't we see more jazz videos?
RH I couldn't tell you. Financially, there aren't a lot of people who will get behind a jazz artist to make a video. There's a new artist, a cat by the name of D'Angelo, you ever run into him? Well anyway, he's bad, really bad. You never heard of him? You got to. If he comes out with a record and makes trillions of dollars, now that record company is going to get their money back, so they're willing to finance a video. They're really taking a chance on a jazz artist. The world of jazz is so small…
ZA Parker's Mood came out just in time for Charlie Parker's birthday. It's beautiful. He's really admired for what he did with those tunes. I like what you did with them.
RH The conditions in which we recorded that CD were really nice. It felt like we were playing in a living room with a couch and a piano only it was soundproof. We were very comfortable. We had to learn those tunes, which was pretty hard.
ZA Everyone says that about Charlie Parker. Roy, are you interested in writing film scores?
RH Oh yeah, I'm really into doing that. I write a lot, I like writing. I think that to know yourself, you have to write. I watch movies all the time—that's my other hobby, going to the movies. I could sit up and watch HBO all day. So I'm ready to do that.
ZA Do you have any complaints, gripes…something you wish you could change about the music industry, about the jazz life, or do you accept it pretty much?
RH Well, you have to accept it, but sometimes I wish that promoters and club owners would respect artists just a little more and stop treating us like second class citizens. Not everyone is like that, but in some cases it's true and it's not right, you know? We deserve better than that because we're out here working hard to get from one gig to the next, and when you get there people treat you shabbily, it's not really cool. That hasn't happened to me a lot, but it has happened a couple of times and when it does, it's very frustrating. The only thing that you can do is deal with it and go on.
ZA When you go onstage to face the public, whoever's acting foul, stays behind the scenes.
RH Yeah, they're behind alright. I'm like, what instrument do you play? (laughter) That's one of the things that I would change. Just that. The other thing is that here in the United States, I think there should be more jazz venues. There are lots of musicians coming onto the scene, and yet there aren't that many places for us to work. Overall, I don't have many complaints. I think that it's a blessing to he able to do what we're doing now—for us to be playing music we love and get paid doing it.
ZA When you're on the road, you're always meeting great musicians. Have there been any memorable encounters lately?
RH One that comes to mind right this very moment was being on stage with Doc Cheatham and Harry "Sweets" Edison at Wolf Trap for a tribute to Louis Armstrong. That had a great effect on me because Doc Cheatham is 90 years old, and he's still playing strong, stronger than some young guys I know who are playing trumpet. He has such a centered sound, a big sound. And he's playing all this authentic music from the Louis Armstrong era. And you hear that, and it makes you think, I want to be like that. I want to be playing when I'm 90-something years old—strong like that. And even Sweets, he's still got all that fire and energy that he's had for years. So that's inspiring. Another thing that comes to mind is the Sonny Rollins concert a couple of years ago at Carnegie Hall. That was one of the highlights of my career. I'll always remember it. Sonny, he's so unpredictable. When he stumps off a tune, you don't know what you're going to do from there. I just watched him. We started trading and got into some really exciting exchanges there.
ZA He's 65, but from what you're saying his age is a blessing too.
RH Music is like wine—it gets better as you get older,
ZA Are you getting better?
RH Yeah!
ZA So what's in the can? I heard you recorded for days last trip to the studio.
RH We recorded 45 tunes. There's nothing that's not usable.
ZA How much writing did you do?
RH Umm, I wrote about seven or eight tunes. Most of my tunes went on Family, but there are a couple of others.
ZA When we hear Louis Armstrong or see a film of him performing, he was such a strong performer, a virtuoso. What does Louis Armstrong mean to you?
RH Louis Armstrong's spirit is within me, within all of us. If you play the trumpet, you had to have dealt with Louis Armstrong at some point. When I listen to him or see him in film, it's always inspiring to me because he has such a beautiful spirit. For me, Louis Armstrong is an example of what I was talking about. When you're having a good time playing music, people can feel it and that's the reason why I think his music was accepted so widely—because it's happy music. People gave him a hard time because he was always smiling, but that's just part of the musician's world. Some people carry that whole cynical thing too far, people are just negative sometimes. They don't have anything better to do than talk bad about some musicians. That's part of that world. It reminds me of how I hear people talk about Wynton. A few musicians always have something wrong to say about him. Maybe they resent his success. As a musician, he's very good.
ZA What about Clifford Brown?
RH Clifford was the first cat I heard in high school. My principal was a trumpeter and he was listening to Clifford Brown. One day he pulled me out of my algebra class and I just knew I had done something wrong, that I was in trouble. He said, man, sit down, and played me three of Clifford's recordings. One was an EmArcy recording. The other was Sonny Rollins — Sonny Rollins Plus 4 which included Clifford Brown and Max Roach. After we heard them, he said, Here, these are yours. And that was the beginning of my experience listening to acoustic jazz. After Clifford, I checked out Freddie Hubbard and then I listened to Lee Morgan and Kenny Dorham and Roy Eldridge and all these other cats I didn't even know were around. As a result of hearing Clifford Brown, my interest sparked to the point that I wanted to hear more.
ZA Who among the contemporary trumpeters are you fond of?
RH Freddie has always been my biggest influence. Freddie Hubbard! When I heard him it really just opened me up. He has a sound that reaches back to people like Clifford Brown, Bird and Coltrane, but he can still turn around and play contemporary… The first recording I heard of his was a thing called The Hub of Hubbard. There was one side where he plays one song for 20 minutes and then he plays this beautiful ballad called "The Things we Did Last Summer." When I heard that I said, "Oh man, that's the way I wanted to play." I started learning all of his licks and stuff. (laughter)
He's got a thing called "Topsy," and a couple of recordings I really like, Double Take and Eternal Triangle with Woody Shaw. Those are really good. He was playing at his peak. As far as contemporary trumpet players now, Terence Blanchard is one of my favorites. And Wallace Roney. I just heard him at the end of my summer tour. We were in Malta and he was the first act that night. I listened to his whole set and I was like, wow, where has this cat been? He's really playing beautifully. I think he gets a lot of flack from people because he's very much into Miles Davis. He is, but he's extending Miles Davis's music. It's not like he's just copying it… He has a tremendous amount of virtuosity, plus he plays with feeling. He's probably one of my favorites now, along with Terence. And Graham Hayes.
ZA What do you think your role is at your age?
RH Oh, wow. I feel that I have a responsibility to celebrate the history of this music and to also educate others who don't really know about it… I noticed that when we were doing clinics in high schools and junior high schools, there were quite a few young people who were inspired just by the energy that was flowing between us—you know, in our unit.
ZA Do you enjoy and welcome the chance to go into schools?
RH Yes, I do. Although the government is cutting money to the arts. People think they can do without it, that it's not important. You can see how this affects things in the reflection of violence, the clashes in society. Part of it is due to people's lack of respect for things like the arts. You know what I mean?
ZA Definitely. I remember when you played upstairs at the Village Gate on your own gig and ran downstairs to play with a hip-hop band for Giant Steps.
RH Yeah, I used to do that. Actually, I went over to Nell's the other night. It was very interesting. I like to crash gigs. Naaah. I'm just kidding.
ZA Is this "My Love is You?" (Abbey Lincoln's "A Turtle Dream")
RH Yeah. You got it?
ZA For sure.
RH I love Abbey. She's a perfectionist.
Originally published in
Featuring interviews with Jo Baer, June Jordan, Kelly Reichardt, Abel Ferrara, Catherine Murphy, Mac Wellman, Lucie Brock-Broido, Wayne Wang, and Roy Hargrove.