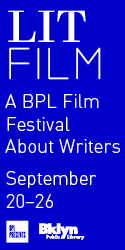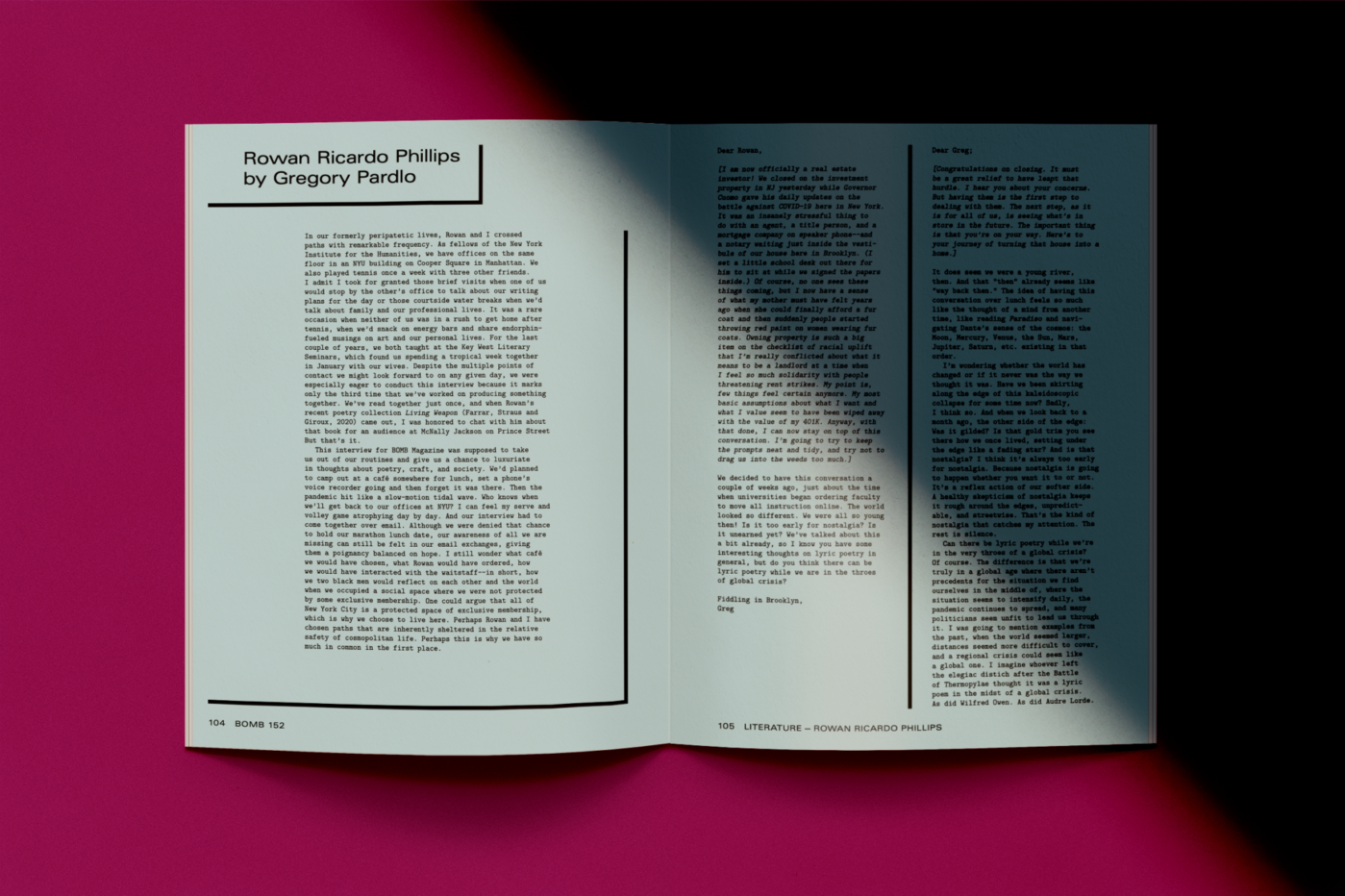 In our formerly peripatetic lives, Rowan and I crossed paths with remarkable frequency. As fellows of the New York Institute for the Humanities, we have offices on the same floor in an NYU building on Cooper Square in Manhattan. We also played tennis once a week with three other friends.
I admit I took for granted those brief visits when one of us would stop by the other's office to talk about our writing plans for the day or those courtside water breaks when we'd talk about family and our professional lives. It was a rare occasion when neither of us was in a rush to get home after tennis, when we'd snack on energy bars and share endorphin-fueled musings on art and our personal lives. For the last couple of years, we both taught at the Key West Literary Seminars, which found us spending a tropical week together in January with our wives. Despite the multiple points of contact we might look forward to on any given day, we were especially eager to conduct this interview because it marks only the third time that we've worked on producing something together. We've read together just once, and when Rowan's recent poetry collection Living Weapon (Farrar, Straus and Giroux, 2020) came out, I was honored to chat with him about that book for an audience at McNally Jackson on Prince Street But that's it.
This interview for BOMB Magazine was supposed to take us out of our routines and give us a chance to luxuriate in thoughts about poetry, craft, and society. We'd planned to camp out at a café somewhere for lunch, set a phone's voice recorder going and then forget it was there. Then the pandemic hit like a slow-motion tidal wave. Who knows when we'll get back to our offices at NYU? I can feel my serve and volley game atrophying day by day. And our interview had to come together over email. Although we were denied that chance to hold our marathon lunch date, our awareness of all we are missing can still be felt in our email exchanges, giving them a poignancy balanced on hope. I still wonder what café we would have chosen, what Rowan would have ordered, how we would have interacted with the waitstaff—in short, how we two black men would reflect on each other and the world when we occupied a social space where we were not protected by some exclusive membership. One could argue that all of New York City is a protected space of exclusive membership, which is why we choose to live here. Perhaps Rowan and I have chosen paths that are inherently sheltered in the relative safety of cosmopolitan life. Perhaps this is why we have so much in common in the first place.
—Gregory Pardlo
____
Dear Rowan,
[I am now officially a real estate investor! We closed on the investment property in NJ yesterday while Governor Cuomo gave his daily updates on the battle against COVID-19 here in New York. It was an insanely stressful thing to do with an agent, a title person, and a mortgage company on speaker phone—and a notary waiting just inside the vestibule of our house here in Brooklyn. (I set a little school desk out there for him to sit at while we signed the papers inside.) Of course, no one sees these things coming, but I now have a sense of what my mother must have felt years ago when she could finally afford a fur coat and then suddenly people started throwing red paint on women wearing fur coats. Owning property is such a big item on the checklist of racial uplift that I'm really conflicted about what it means to be a landlord at a time when I feel so much solidarity with people threatening rent strikes. My point is, few things feel certain anymore. My most basic assumptions about what I want and what I value seem to have been wiped away with the value of my 401K. Anyway, with that done, I can now stay on top of this conversation. I'm going to try to keep the prompts neat and tidy, and try not to drag us into the weeds too much.]
We decided to have this conversation a couple of weeks ago, just about the time when universities began ordering faculty to move all instruction online. The world looked so different. We were all so young then! Is it too early for nostalgia? Is it unearned yet? We've talked about this a bit already, so I know you have some interesting thoughts on lyric poetry in general, but do you think there can be lyric poetry while we are in the throes of global crisis?
Fiddling in Brooklyn,
Greg
____
Dear Greg;
[Congratulations on closing. It must be a great relief to have leapt that hurdle. I hear you about your concerns. But having them is the first step to dealing with them. The next step, as it is for all of us, is seeing what's in store in the future. The important thing is that you're on your way. Here's to your journey of turning that house into a home.]
It does seem we were a young river, then. And that "then" already seems like "way back then." The idea of having this conversation over lunch feels so much like the thought of a mind from another time, like reading Paradiso and navigating Dante's sense of the cosmos: the Moon, Mercury, Venus, the Sun, Mars, Jupiter, Saturn, etc. existing in that order.
I'm wondering whether the world has changed or if it never was the way we thought it was. Have we been skirting along the edge of this kaleidoscopic collapse for some time now? Sadly, I think so. And when we look back to a month ago, the other side of the edge: Was it gilded? Is that gold trim you see there how we once lived, setting under the edge like a fading star? And is that nostalgia? I think it's always too early for nostalgia. Because nostalgia is going to happen whether you want it to or not. It's a reflex action of our softer side. A healthy skepticism of nostalgia keeps it rough around the edges, unpredictable, and streetwise. That's the kind of nostalgia that catches my attention. The rest is silence.
Can there be lyric poetry while we're in the very throes of a global crisis? Of course. The difference is that we're truly in a global age where there aren't precedents for the situation we find ourselves in the middle of, where the situation seems to intensify daily, the pandemic continues to spread, and many politicians seem unfit to lead us through it. I was going to mention examples from the past, when the world seemed larger, distances seemed more difficult to cover, and a regional crisis could seem like a global one. I imagine whoever left the elegiac distich after the Battle of Thermopylae thought it was a lyric poem in the midst of a global crisis.
As did Wilfred Owen. As did Audre Lorde. Lyric poetry is always possible. That's different from saying, "Now we need poetry more than ever" or something like that. Sometimes we don't need poetry and that's fine too.
For the last three weeks my mind's felt unbelievably sedimentary. Like concentrate pouting at the bottom of a glass of liquid. I've been reading at a sloth-like pace, unable to string together many thoughts, and I haven't written a word. My grandmother passed away on March 13 (Friday the 13th no less). We were extremely close. That happened to be the day the pandemic surged to its next level, and we left Manhattan and headed to Williamstown with Núria and the girls where we've been since. I only realized a few days ago that I hadn't quite processed the conflation of events: losing my beloved grandmother, finding my hometown in a State of Emergency, and leaving for the foreseeable future. One of the first things you're taught about lyric poetry is the way it attempts to negotiate its private and public lives. So I guess what I've been going through is a lyric impulse. With realization comes steps forward. So here I am at my desk again. Onward.
Your question reminds me of a moment in Daniel Defoe's incomparable Journal of the Plague Year where, at home and racked by what he's been seeing during his walks through London, the protagonist, H.F., talks ever so briefly about "private Meditations I reserve for private Use, and desire it may not be made publick on any Account whatever." The prose writer is talking about his poetry there, of that I have no doubt. And he never speaks of it again.
By the way, it hasn't gone unnoticed that you asked specifically about lyric poetry. I wonder why that is. I wouldn't be surprised if we were to see the return of epic poetry. After all, it's epic poetry that was powered by, and exists in, a global scale.
____
Dear Rowan,
Because of all of the "sheltering" we're doing now and for the foreseeable future, I was thinking of Adorno and his enigmatic comments on lyric poetry in the wake of global tragedy. Various translations have him making wildly various claims about the nature of poetry "after Auschwitz," that it is impossible, or unthinkable, or barbaric, or that he was referring only to lyric poetry. By whatever translation we accept, Adorno was questioning the lyric impulse in the aftermath of moral collapse. We, on the other hand, are in the grips of something we can't yet put into perspective. Lyric poetry about this crisis may yet prove distasteful or "barbaric" in Adorno's words, in the same way I'm hearing you say nostalgia can be distasteful if it isn't tempered by a streetwise skepticism, and in the way we might imagine a COVID-19 joke being distasteful ("too soon").
The lyric draws the mind inward for its chthonic retrieval. Many of us are, naturally, distracted these days. Which is to say we feel pulled out of our private selves and called to perform our public accountability. In that distraction, the lyric poem dissipates unless we take it tightly in hand. Last night, I stood on the stoop with Ginger and the girls at 7 PM. What began in awkward silence, with the mere echo of our clapping, hoots, and whoops as our only company, soon met with an upswell we could hear up and down the block and throughout the neighborhood, and it felt good—in that slow-clap way—to surrender our individual selves to this new bonding ritual, "Clap Because We Care." Skeptical as I am, however, I could easily see that ritual slipping into jingoistic enthusiasm. I think that's what cautions me against the epic. I'm suspicious of anything purporting to represent a collective ethos or to celebrate that ethos in a representative hero. Maybe I'm thinking of the epic in too narrow a way?
I sense an epic impulse in your work, although I'm hard-pressed to say how it shows up. One of the things that made me reach out to you back in—I can't remember when it was, at least a decade ago—was your verse essay "When Blackness Rhymes with Blackness" (2010). That essay (in terza rima, no less!) is such a staggering feat of imagination that I can only call it epic, but in the vernacular sense. Do you sense an epic undertow in your work? How might the epic be useful in our current context?
____
Dear Greg;
Likewise before we actually got to know each other I was teaching your poetry for years. And I think "Written by Himself" (2010), a poem I've come back to countless times and taught countless times more, has an epic sensibility to it: myth of origin is its root; it choruses through generations of linked communal identities represented by a single, streetwise protagonist whose skepticism comes across not in content but context; it's ambitious; and it's highly aware of the high-wire act it's undertaking, syllable by syllable. Make no mistake, it's a lyric poem (and one of the great ones); but its mood and matter are rooted in the still unwritten epic poem of black existence on these shores. We're different poets, but I think this is where we meet, maybe even unconsciously.
There's certainly an epic torque to my work. I like to take big swings; I'm not going to lie. But I'd say what's epic about my work thus far has been fragmentary and temperamental. There are epic fragments via translation in The Ground (2012) and Heaven (2015), and even those titles in and of themselves are calling out to Dante. I use the Spenserian stanza form quite often in The Ground, and Heaven has a good deal of Milton and Wordsworth bubbling around in it. And Living Weapon is pure civic poetry: it's the most public book of poems I've written yet. Then, there's the matter of the Diaspora, which is at the heart of "Written by Himself" and my work writ large.
Regarding how the epic might be useful in our current context…well, an epic is more of an after-the-fact thing, no? It's a form of heightened analepsis. This pandemic is affecting just about everyone in the world. Here in the US what we're living through now has been exponentially worsened by our delusion that we're inherently separate, self-sustaining, and self-reliant individuals; meanwhile American states are left to fend for themselves by a—to put it mildly—problematic federal government. These issues date back to the Civil War and the poor job of handling Reconstruction in its aftermath, which means these issues really date back to stealing people from Africa. Coincidentally, this is when the novel caught up with poetry in America, and the sense of narrative national storytelling became the province of prose. Sure, we have works we force into the epic category—Leaves of Grass, Song of the Hiawatha, and later John Brown's Body—but these are poems as worthy of skepticism as of praise (and I say that absolutely loving Whitman)…and John Brown's Body is the one true epic poem in the trio, and it's been all but forgotten. So be it. That was then and this is now. If we don't end up with an epic about this time, whether written while we're alive or by some gifted poet well into our wake, then we'll have let poetry down. I don't think we're skeptical of epics now because of the heroic aspect of them, though I hear what you're saying. I think we're skeptical of epics because they don't fit the poetic model of our age, which is to publish lyric poems. That fits our current capitalist model: we teach lyric poems, we teach students to write lyric poems, lyric poems fit in magazines, poets get teaching jobs and maintain them by producing these lyric poems in wholesale packages (aka books of poetry) etc. etc.: they're easy to make and easy to distribute. We're all victims of capitalism.
____
Dear Rowan,
The still unwritten epic of black existence is not unwritten for lack of trying, right? Brooks, Tolson, Hayden, Walcott, Brathwaite all have carved their names in that stone. I'm thinking too about M. NourbeSe Philip's Zong, Kevin Young's Ardency, Tyehimba Jess's Olio, Elizabeth Alexander's "Amistad," etc. Perhaps what we're talking about is a thing that answers to the name Epic, a thing that turns around when we call that name from down the block. Perhaps what we're talking about too is that awkward balance between the individual and the collective. More than any other art form, this is the mission of poetry: to fight for its particular life in the sea between the shores of I and we. So many of these books, I realize as I run through my list of nominees for the Epic of Black Existence, center on an element of the Middle Passage. The poet looks back (there's that image of Orpheus again) to the kidnapping and enslavement of millions of people from Africa. The Door of No Return, that portal through which individuals passed to be transformed into a collective category of people so designated to rationalize the exploitation of their labor—that "door" was the threshold of modernity. Perhaps the modern epic hero, then, is the commodified African, the commodified American whose quest is to regain full possession of their labor? In that sense, maybe the epic is not so much unwritten as it is unfinished business?
I should say, When Blackness Rhymes with Blackness was on my mind because I believe your publisher, FSG, will be reissuing the full monograph. I think you're addressing some unfinished business there. And if Living Weapon is your most public book yet, why do you think that is? Is that due to any sense of unfinished business?
____
Dear Greg;
True, but except for Gwendolyn Brooks's "The Anniad" and Derek Walcott's Omeros (assuming you had those in mind), I consider all of those long lyric projects and not epics. And there's nothing wrong with that; it's not a qualitative observation. I love most of those poems. But I think calling those epics is basically having your cake and eating it too. Particularly for the reason you laid out so beautifully. The epic brings the black poet faithfully, reliably to slavery. It's understandable, as the slave trade was our expulsion from Eden and into modernity. Not as actors in an emergent capitalism but rather as capital. Jamaica Kincaid put it so well it's worth, like most of her writing, putting to memory: "Do you know why people like me are shy about being capitalists? Well, it's because we, for as long as we have known you, were capital, like bales of cotton and sacks of sugar, and you were the commanding, cruel capitalists, and the memory of this is so strong, the experience so recent, that we can't quite bring ourselves to embrace this idea that you think so much of. As for what we were like before we met you, I no longer care. No periods of time over which my ancestors held sway, no documentation of complex civilizations, is any comfort to me." And that unelaborated "you" dangling like a dagger. I suppose a reason why I find myself thinking about the epic is that it returns me constantly to this inheritance of this problem of subjectivity. What a coincidence that the slave trade flourished when the sonnet landed on the English tongue and The Faerie Queene, Paradise Lost, and (to a lesser extent) The Prelude came onto the scene.
Chasing down these thoughts is largely what led to writing When Blackness Rhymes with Blackness in the first place. And yes, FSG is going to publish a new version of it. Dalkey Archive first published it in 2010 as part of their scholarly series, and it's been like a canary sent down the mine. The responses I've received over the years from the book have been incredible. Rereading it now as I prepare it for publication has been eye-opening. I'm glad that it's going to have a second life.
Living Weapon is my most public book yet because all the poems presume they're being heard by what's outside of them. It's civic poetry. And by that I'm speaking of poetry, no matter how private it may seem, that's addressed to a public you. With hopes that there's an us somewhere in there as well.
How has living in the midst of this pandemic made you think about those gorgeous new poems you're writing now? And about your prior work? Not just Totem and Digest, but I'm wondering as well whether you've thought back to the themes of Air Traffic under this atmosphere?
And by atmosphere I mean history. Because we've all now stepped into history together, have we not? No matter how much dizzying spin the world leaders have been putting on the news, day after day now, the fact of the matter is that we have entered into a crisis together and therefore into the crux of history. In light of this we are creating something; some of us consciously, some of us unconsciously. But we are also being compelled to reflect on what came before we walked through this door.
____
Dear Rowan,
You know, it's funny because the poems I've been working on for the new collection began with a prayerful tone. I started laying out the idea for the book back in the halcyon days before 2016. The poems were metaphysical and morally searching—at least my notes and rehearsals for them were, but that posture was borne out of a sense of security and repose. Now, with the cascade of calamity and moral failure that has followed that year's election, the prayerful posture I'd crafted for the poems became suddenly necessary. The poems are no longer playfully theistic; it's no longer just a conceit. I suppose it doesn't help that I've been reading Mariani's biography of Hopkins before bed.
Like most of us, my relationship to each book changes as soon as it's published. I produce the work in a spirit of "this is where I'm at right now." If and when I return to it much later, I remind myself that it is work done by a prior self. If anything, the pandemic makes that dissociation easier by reminding me how anchored each book of mine is to its original time and context. I have a more fluid relationship to my scholarly work, however, which feels more speculative. I read that stuff as an extended conversation with myself where I'm working out the ideas I want to bring to my poems. I look to theory for help conceptualizing the door of history and what lies on either side of it. I wonder what role, if any, theory plays in your work.
____
Dear Greg;
I studied for my doctorate in English. In the late '90s and early '00s. At Brown. So, yeah, tons and tons of theory was bound to be a part of my training. I was getting Benjamin, Lyotard, Barthes, Gilroy, and Jameson from one corner of campus; the New Critics and Post-Structuralists from another corner (I loved Geoffrey Hartman and Kimberly Benston's work); pretty intense directions from Michael S. Harper on the craft of poetry and the lives of the poets from another; and an in-depth exploration of existential philosophy and Africana philosophy from Lewis Gordon from another corner. It was nonstop. Seriously, an all-hours-of-the-day type of training. It was an experience that's impossible to replicate today, and I'm forever grateful for it. And all that time, I was also writing poems outside of my official graduate studies. In fact, many of my cohorts didn't even know I wrote poems. And now I still teach a History of Poetic Theory grad seminar on occasion. I take it all as writing: poetry, theory, criticism. And it's all been a great influence on my work. Read everything and see what bubbles to the surface in a given moment, I say.
It doesn't have to be tautological, though. You know, you read some poems and they're so invested in seeming theoretical. I love that the same poet who wrote "The Rime of the Ancient Mariner" wrote Biographia Literaria. And Édouard Glissant, like Coleridge, is certainly an example for me. I lifted the title from a work of criticism for one of the poems in The Ground: "Proper Names in the Lyrics of Troubadours." I love swiping titles. That's a theoretical act in and of itself. It's also just theft. Tomato, tomahto.
When is an idea an idea and when is it a theory? Poems deal with ideas more than they do theories, and theories bring together various ideas about poems.
____
Dear Rowan,
[Sorry for the long delay. The university handed down a sweeping spending and hiring freeze this week that sent everyone scrambling to cut budgets. Grad students, the first to get pinched, are in some dire circumstances that I feel I have an obligation—if only moral—to help mitigate.]
You've opened the door here to some serious theory-gearhead shoptalk, but I wonder why you think a graduate school experience like the one you had is impossible to replicate today. Is it just the economic realities of academic life that don't allow for the kind of mentorship that you benefited from or has something changed in the curriculum?
____
Dear Greg;
[Happy Easter. Nothing to be sorry about. That sounds like a dire situation, and I hope people emerge from it unscathed.]
I think most of it has to do with the economic realities and the understandable embrace of evermore practical paths toward graduate degrees (even the degrees themselves are getting more and more practical, and by that I mean particular). Graduate study in the humanities is inherently impractical. So making practical choices about and within an impractical vocation leads to a series of crises we see playing themselves out today in academic life. I was very fortunate. But I also don't mean to say that what I did should be replicated.
What's important, far more important, is that graduate students have a part to play in the future of poetry in particular and the study of literature in general. What I hope for them more than anything is a fruitful journey through that study. Unfortunately, it's the things that sound so simple that often end up being the most difficult to procure.
____
Dear Rowan,
I was lucky (there's quite a bit of male privilege involved too) to have had the luxury to get two MFAs, which is entirely redundant, and only after having received tenure am I finishing a PhD, which is professionally unnecessary at this point. I would not encourage anyone I was mentoring to be so promiscuous with their studies and pursuits, and yet I think our shared regard for this kind of intellectual prodigality is another thing that bonds us as friends.
It's tough to be a generalist these days. You have to have a brand. If you don't have a brand, it's difficult to market yourself to and within institutions and publishing houses. There was a time in the bluster of my youth when I would have scoffed at this idea and insisted that I would never contribute to this way of thinking, let alone hold these views myself. Then I had kids. So I have a lot of sympathy for folks who feel constrained to the tiny dance that is the academic hustle.
In addition to being a world-class poet and scholar, you're a sportswriter, biographer, and translator. I believe you now have it in mind to try your hand at fiction, if you haven't already. You are a multilingual cosmopolitan who lives several months of the year abroad. It may be a less known and celebrated fact that you have an impressively eclectic catalog of music in your head. (I didn't tell you that I follow your music recommendations on social media.) I'm inclined to think we're dinosaurs, poets of a different era, but it's just as possible that we are unwittingly setting new examples for how writers, perhaps especially writers of color, might imagine building a literary life. What are the prospects for being a Renaissance person today?
____
Dear Greg;
I didn't know you were checking out the music. I have an infinite playlist in my head and sometimes I just feel like sharing what I'm listening to. The songs lead to poems; the poems lead to songs. I'm proud that the poet who wrote "ZoSo" checks out the tunes. Speaking of which, we have to play guitar together some day…some day.
Anyway, poets should inherently be generalists of a sort. The study of the history of the lyric obliges it. The problem, of course, is that the history of the lyric has often been weaponized to shut outsiders out. But if you know your stuff and push back, it's often the case that those people weaponizing the history of the lyric don't know much about it and are only mumbling about what their teacher taught them oh so many years ago. That said, poetry is a type of archeology, and archeology without history is blindness to what's before you. But you're right that there's lots of "If you don't eat your meat, you can't have any pudding; how can you have any pudding if you don't eat your meat" out there.
Still, one of the things that heartens me is the number of young people who reach out to me via whatever channels they use (even letters, imagine!) about my poetry. And I've been sent some wonderful work about my work from graduate students. I've received unbelievable "fan mail" (his words) from Harold Bloom (whom I didn't know), and DMs on Instagram from high school students. My writing isn't pre-packaged and prepared for applause from the Twittersphere or the Guardians of the Zeitgeist. It's long-game writing that the future will make sense of. So when I hear from the future it moves me. And hopefully, in turn, those readers think of possibilities for their journeys as writers that are multifoliate—one of those wonderful words that brings me back to Robert Hayden.
Literary tradition anticipates a certain kind of writer: it didn't anticipate us. Just as we didn't anticipate this tragic rupture we're living through today. The sutures of these elements are where and how we grow into whatever comes next: "that moment when the bird sings very close / to the music of what happens." That music often happens at 7 PM in New York these days. I have the Green River outside my window, the sound of it rushing past the bend is all day 7 PM. How are you holding up? What's been on your mind?
____
Dear Rowan,
I've been thinking more about that 7 PM yawp as well. I've decided it is as much a cri de coeur as it is a celebration of our heroic healthcare workers, a celebration of life. The most recent time Ginger and I joined in the yawp from our stoop, I felt a little conflicted, caught between elation—it made me feel so buoyed and connected—and outrage at our country's attitudes toward public health in particular, but also toward public education. I slipped in some praise for the educators who now bring the city's children into their homes everyday via webconferencing. Lyric poetry and democracy alike, as you've said, demand a well-stocked mind. This is not to say that a lyric poet or even a competent voter has to be formally educated or trained, but that she should be curious about herself and the world. It makes me worry about the future of cosmopolitanism and the public spaces where I am not made to demonstrate or prove my belonging.
____
Dear Greg;
A little more "meaning" and a lot less "me" would do us all a world of good. "Mean mean mean to be free." Across these vast distances, my friend, I hear you. Keep on with it. I hear you. And I see you. And I'm grateful to share this long journey with you.
Gregory Pardlo is the author of Totem, winner of the APR/Honickman First Book Prize; Digest, winner of the Pulitzer Prize for Poetry; and Air Traffic: A Memoir of Ambition and Manhood in America (Knopf, 2018). In 2017, Pardlo was awarded a Guggenheim Fellowship. He is the poetry editor for the Virginia Quarterly Review and teaches in the MFA program at Rutgers University, Camden. He lives in Brooklyn.
Originally published in
Our summer issue includes interviews with Amoako Boafo, Jibz Cameron, Brenda Goodman, Odili Donald Odita, Jenny Offill, Nicolas Party, Rowan Ricardo Phillips, and Craig Taborn; poetry by Safia Elhillo and Nathaniel Mackey; prose by Lydia Davis, Marie-Helene Bertino, and Saidiya Hartman; and more.