Routine Spectacles of Andy Kaufman and Stuart Sherman by Michael Smith

Discover MFA Programs in Art and Writing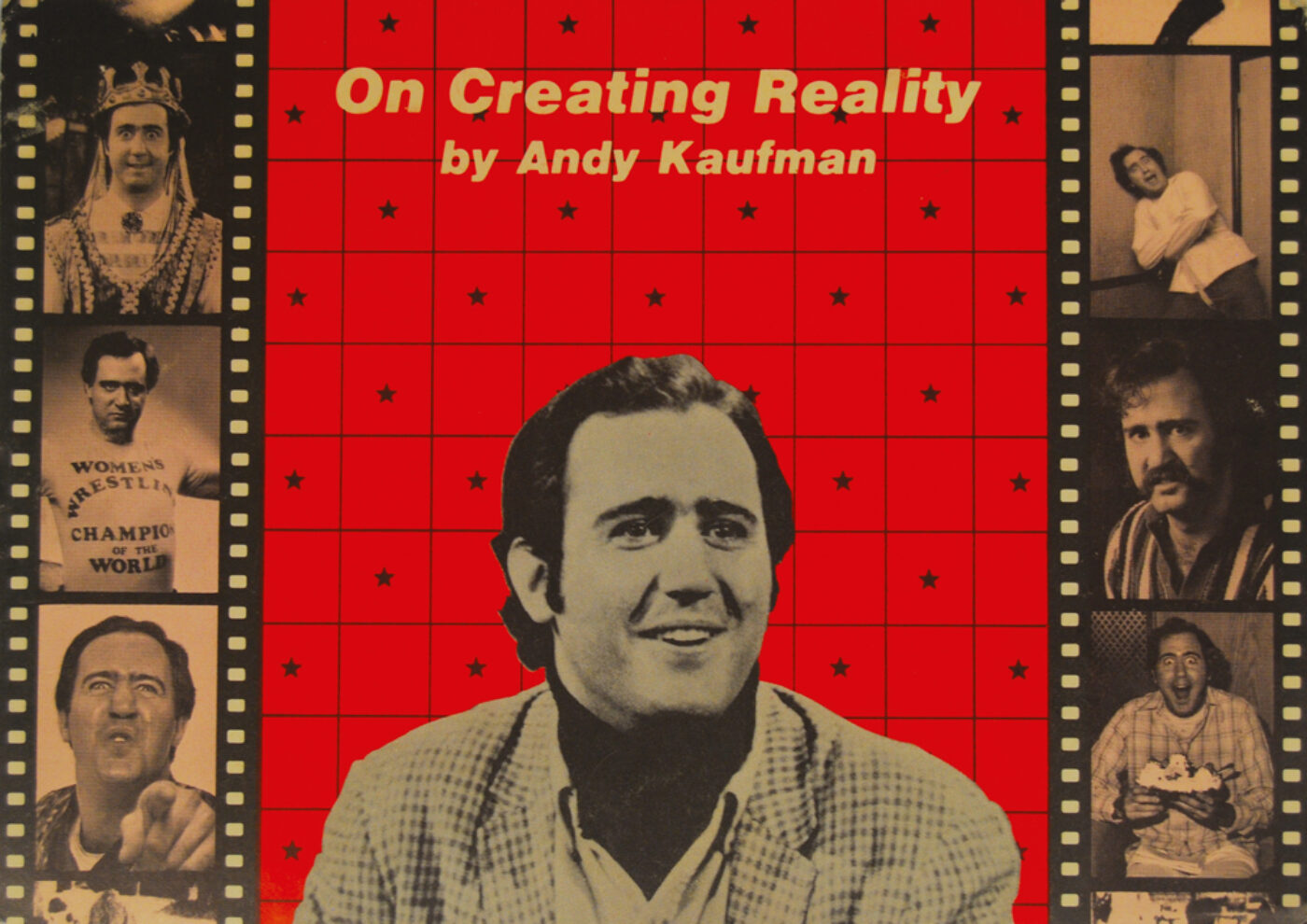 When asked to write about Stuart Sherman and Andy Kaufman, two performers whose careers I followed, lost track of, and was recently reintroduced to through a slew of exhibitions and screenings at various art venues around New York City—On Creating Reality, by Andy Kaufman at Maccarone, Andy Kaufman's 99cent Tour at Participant Inc., and Spectacles: Stuart Sherman Preserved! at Anthology Film Archives—I could not help but think how different yet similar these two middle-class Jewish boys were. Working at opposite ends of the performing-arts spectrum, both carefully constructed public personae to adapt to and assimilate the culture that formed them. Kaufman, a comedian with a huge fan base from appearances on network television, became notorious for the seemingly innocent yet unpredictable behavior that continually caught people off guard. Sherman, an artist known to devoted avant-garde art and theater audiences for his hermetic, small-scale spectacles, performed with no affect whatsoever. With Kaufman, it was unclear if he was playing you or just playing. Sherman, on the other hand, kept up the neutral, poker-faced demeanor both on and off the stage. He was an incredibly private person; it was not until I heard he died from AIDS in 2001 that I found out he was gay.
The first time I saw Stuart Sherman perform was in late 1975 at his apartment in Chelsea in New York. After being buzzed up in the elevator, a friend and I were met at the landing by a woman with heavily made-up black eyes. She led us to Stuart's apartment and directly into the living room where three chairs were facing an empty TV tray. Stuart, a short, dark, and somewhat serious man, appeared almost immediately and introduced himself and the woman, Black-Eyed Susan, to us. After some conversation, Susan, my friend, and I sat in the three chairs facing Stuart, who was standing behind the TV tray a few feet away. He set up another tray, placed a black suitcase on top, opened it, took a white index card from his shirt pocket, and looked at it as if he were reviewing a performance punch list. He then proceeded to take objects out of his suitcase and place them on top of the TV tray in various configurations, creating a kind of rebus that shifted meaning with each move. Stuart performed several different routines, each starting with the index card and followed by a new drill of objects and actions. His demeanor was always matter-of-fact as he made processions of flashcards, trinkets, dime-store novelty items, string, and scraps appear and disappear from the table. I was mesmerized—he animated these objects like some kind of tabletop magician with nothing up his sleeve.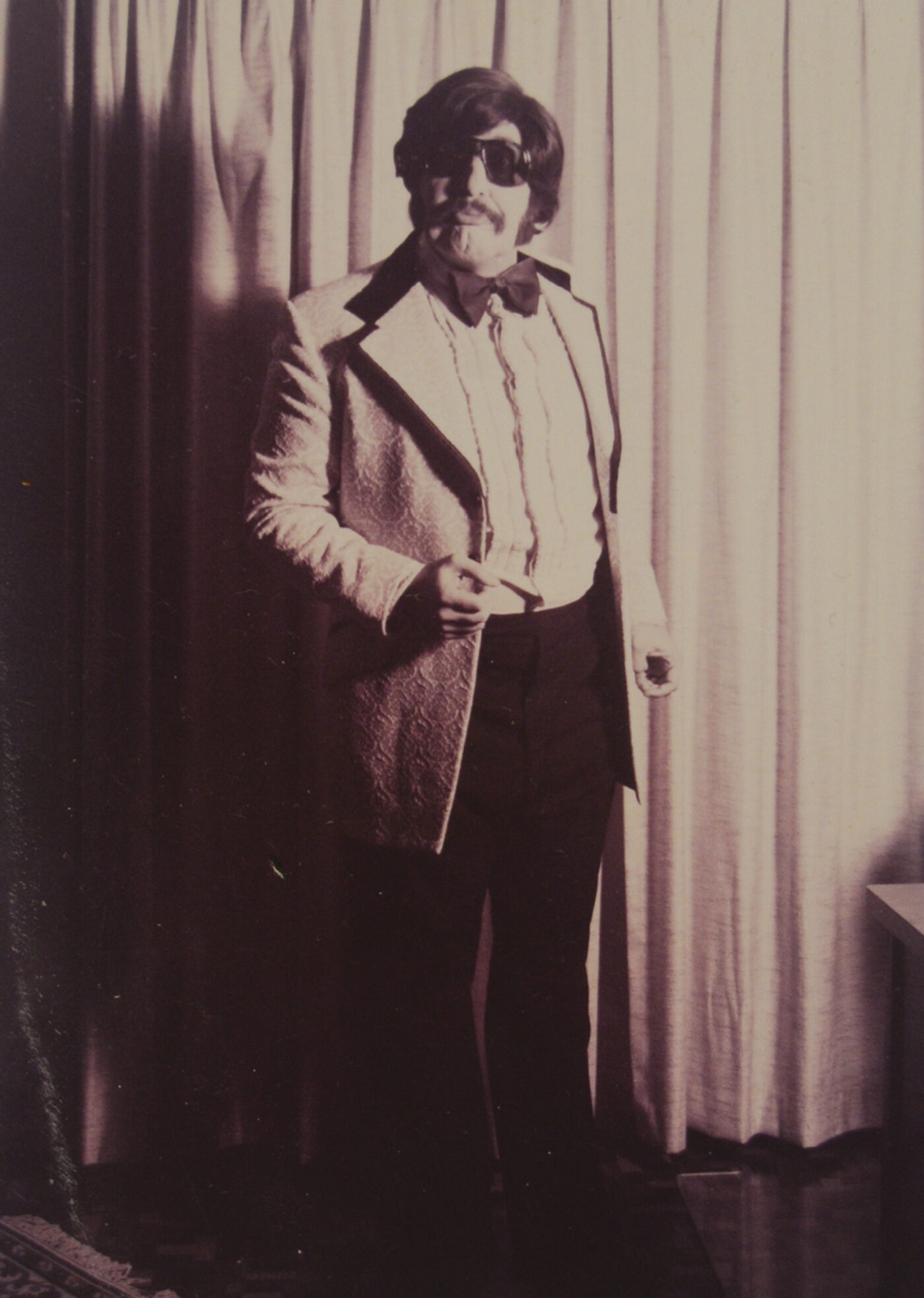 At the time, I was doing performances with a lot of props, and to see someone else treat a bunch of crap and discarded detritus with careful attention was encouraging. I also felt an immediate affinity with his deadpan expression, even though in comparison I felt like I was chewing the scenery with my attempts at humor. The work's hidden messages, puns, gags, and visual jokes engaged, amused, and kept me guessing. If I looked to him for guidance or help, I was on my own. He had his objects to look after.
Sometime in the early '80s, Stuart and I went to see Henny Youngman, king of the one-liner, at the Bitter End in Greenwich Village. Youngman was in his seventies and still holding firmly to his crown. Though perhaps not as rapid-fire as I remembered from his appearances on The Ed Sullivan Show, he put on a great performance. Signature violin in hand, he delivered his shtick, occasionally breaking up the stream of one-liners with a quick pull of the bow across the strings. Many of his zingers I had heard over the years, but the famous, well-worn "Take my wife—please!" was crowd rousing. Told live, the dated joke became fresher than ever. Youngman was a recycler, as a little time spent on YouTube confirms. Neither Stuart nor I minded as we studied his moves and reveled in watching the seasoned pro give the Eveready Bunny a run for his money.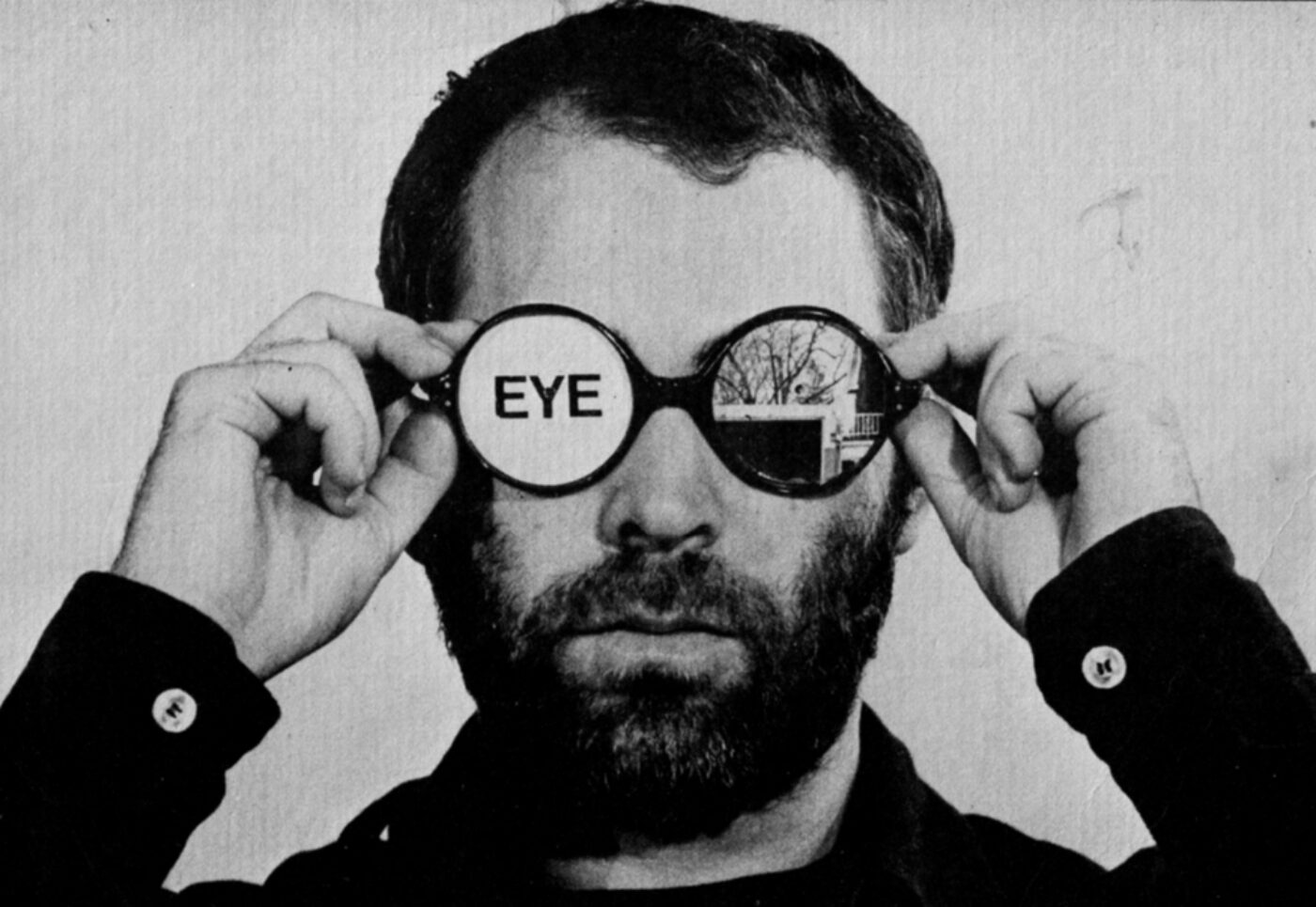 It was only recently, while watching Kaufman's 1977 ABC special, Andy's Funhouse, with my students in Austin, that I remembered my outing with Stuart. Hearing Kaufman's Foreign Man character butcher for the umpteenth time that famous line and twist it into "Take my wife, please take her!" I finally made the connection between Kaufman and Youngman. The reference got me thinking about comedy on network television back when the boob tube was the only game in town for baby boomers. For Kaufman, me, and almost every other boomer, it set the standard for just about everything. It was our generation's exciting portal to the world, if not quite the Internet. For Youngman and many other entertainers who got their start in vaudeville, burlesque, and radio—if they were able to literally clean up their acts—opportunities to transition to variety TV were in the offing, which meant a steady paycheck. Live TV for programmers, however, meant danger, a breeding ground for the unexpected, a potential offense to desired demographics, and the inevitable loss of future sales. Risk-averse executives quickly paved the way for canned, middle-of-the-road programming that pushed variety TV, with its oddballs and outsiders, out to pasture.
Fortunately for posterity, Kaufman was one of few TV performers able to mine the fine line between stability and chaos, forbidden zones accessed in seconds, while networks added up their losses and audiences struggled to comprehend the unpredictable, trying to distinguish ideas from mistakes, the fake from the real. Kaufman used this strategy brilliantly with his on-air shenanigans, whether provoking a fight with another panelist, refusing to cooperate with fellow performers in the middle of a sketch, deliberately reading aloud from a book, or professing his love to his parents in front of millions of viewers. Kaufman played in front of and with his public so much that even up until his death in 1984, people couldn't quite tell if he was kidding about having cancer.
Stuart Sherman's work is another story. Nothing in his universe seems uncontrolled or out of place. Although a direct connection to television may not be apparent, I find it difficult to imagine him, growing up when he did, escaping the medium's ubiquity, the overriding programming format, and the daily broadcasts broken into segments to accommodate advertising. Funny enough, this structure is not totally unlike Stuart's Spectacles made up of individual, thematically connected routines identified by pauses and personal cue cards. Like Kaufman, who borrowed freely from both variety and children's TV shows featuring a host, guests, skits, and cartoons, Stuart's Spectacles hinted at a combination of genres including variety, documentary, and representational TV, with pieces that resembled miniature object circuses, magic shows with no illusion, three-card monte demos, highly allegorical plays, and straightforward demonstrations of household objects. Over the years, I saw a lot of Stuart's work, but the routine that stuck with me the most consisted of Stuart cutting one tiny piece of Entenmann's chocolate cake after another, as if searching for the square root of zero or trying to make something disappear without leaving any evidence. He made a series of cuts, removed and wrapped up a few pieces, set them aside, and then, later in the routine, dumped the entire dessert in the garbage. I couldn't believe it. He threw away an entire Entenmann's chocolate cake for one routine. A week later, I saw him do the same performance. I was broke at the time, so two cakes in the garbage was beyond my comprehension and eventually became, for me, evidence of Stuart's unwavering dedication and commitment to his vision and craft.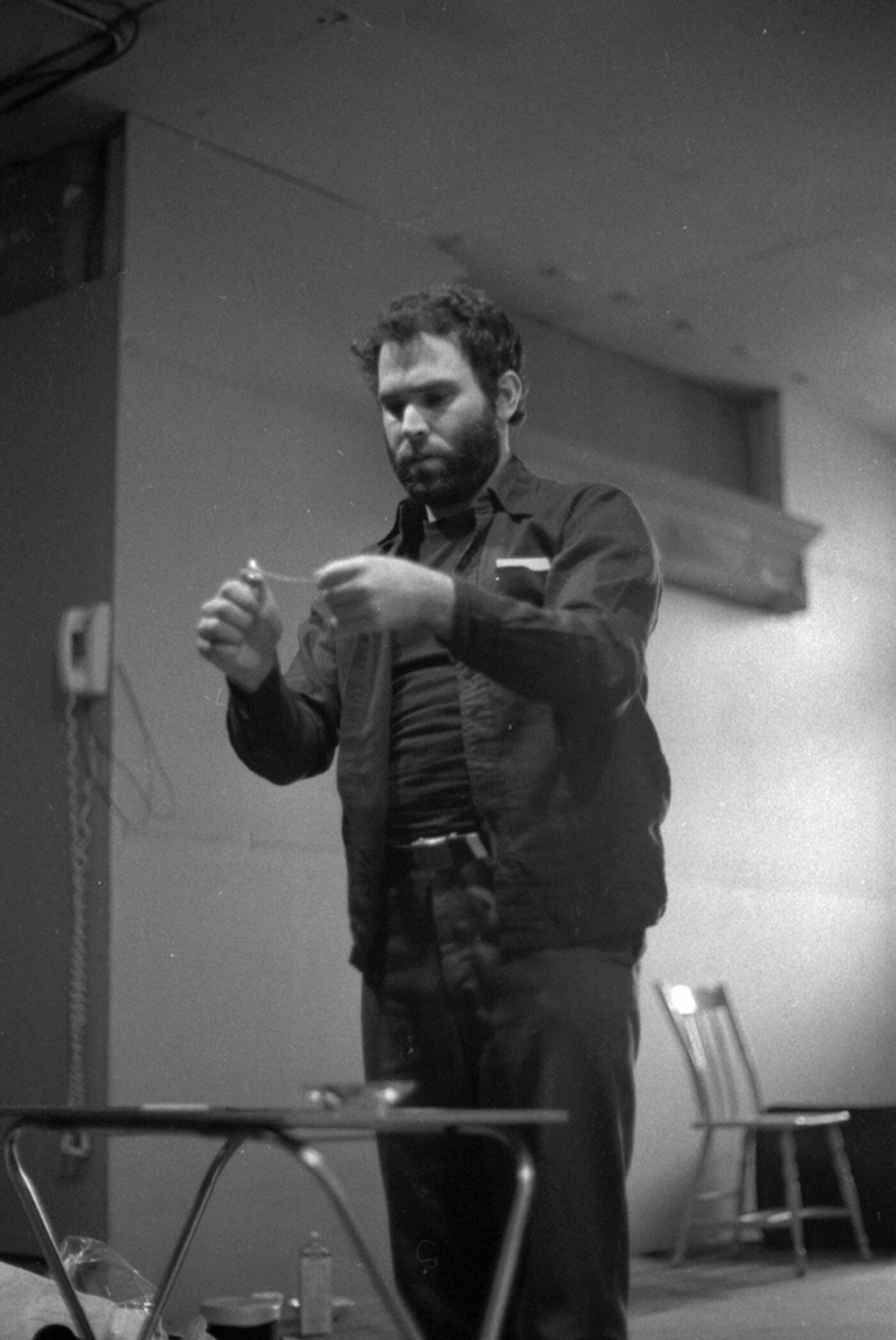 In late 1986, I saw Liberace perform his last concert at Radio City Music Hall. Dancing fountains of water, elaborate splashes of light, fancy cars, furs, diamonds, sequin-encrusted costumes, pianos, and Lee with his signature candelabra added up to a glamorous extravaganza. It was truly amazing to be among an audience of thousands of blue-haired ladies and their husbands, sharing their excitement for Mr. Showmanship, the flamboyant family man with a heart of gold. The most powerful moment was a simple presentation: Liberace stood in front of a huge screen showing a live projection of his hands, each wearing a different jeweled ring, and carefully explained the story behind each one. It was an intimate moment for me and 6,000 other adoring fans, a little like watching a movie at 35,000 feet, being pulled into an emotional scene, and, before you know it, getting a little teary eyed. A couple of months later Liberace died of AIDS-related complications.
Before seeing Liberace's Radio City extravaganza, the most effective large-scale production I had ever experienced was Andy Kaufman's Tony Clifton singing the national anthem at Carnegie Hall in front of a projection of the American flag while holding a martini glass and smoking a cigarette. Like others in the audience that night, I lived through the '60s and understood the flag's significance—it had become a media image representing everything good and bad about our country. Kaufman's pitch-perfect performance as the Las Vegas lounge lizard Clifton captured an irreverence and hypocrisy about patriotism that still resonates today. The rest of the show oddly enough seemed very familiar, as if I had experienced it earlier sometime, somewhere. It was like being on the set of a children's TV show; Kaufman talked to the audience as if we were all eight-year-olds. We were caught between accepting his seemingly sympathetic tone and dismissing it as condescending and infantilizing. As he tempted an audience well versed in irony with milk and cookies in exchange for our cooperation, I was reminded that the evening's activities followed the arc of a '60s peace protest—initially filled with love and play, sometimes devolving into chaos and violence. If you waited it out to see what was going to happen, you might be rewarded. It wasn't chocolate cake, but by getting on the bus and going for a ride, you got what was promised: milk and cookies and the possibility of lots of fun.
Michael Smith is an artist who lives in Brooklyn, New York, and Austin, Texas. He teaches in the Department of Art and Art History at the University of Texas at Austin.
Originally published in
Featuring interviews with Verne Dawson and Genesis Breyer P-Orridge, Stanley Whitney, Katrín Sigurdardóttir, Federico León, Stan Allen, Rachel Kushner, Enrique Vila-Matas, and Coleen Fitzgibbon.