A.I. Storytelling: On Ross Goodwin's 1 the Road by Connor Goodwin
A car wrote a book worth reading.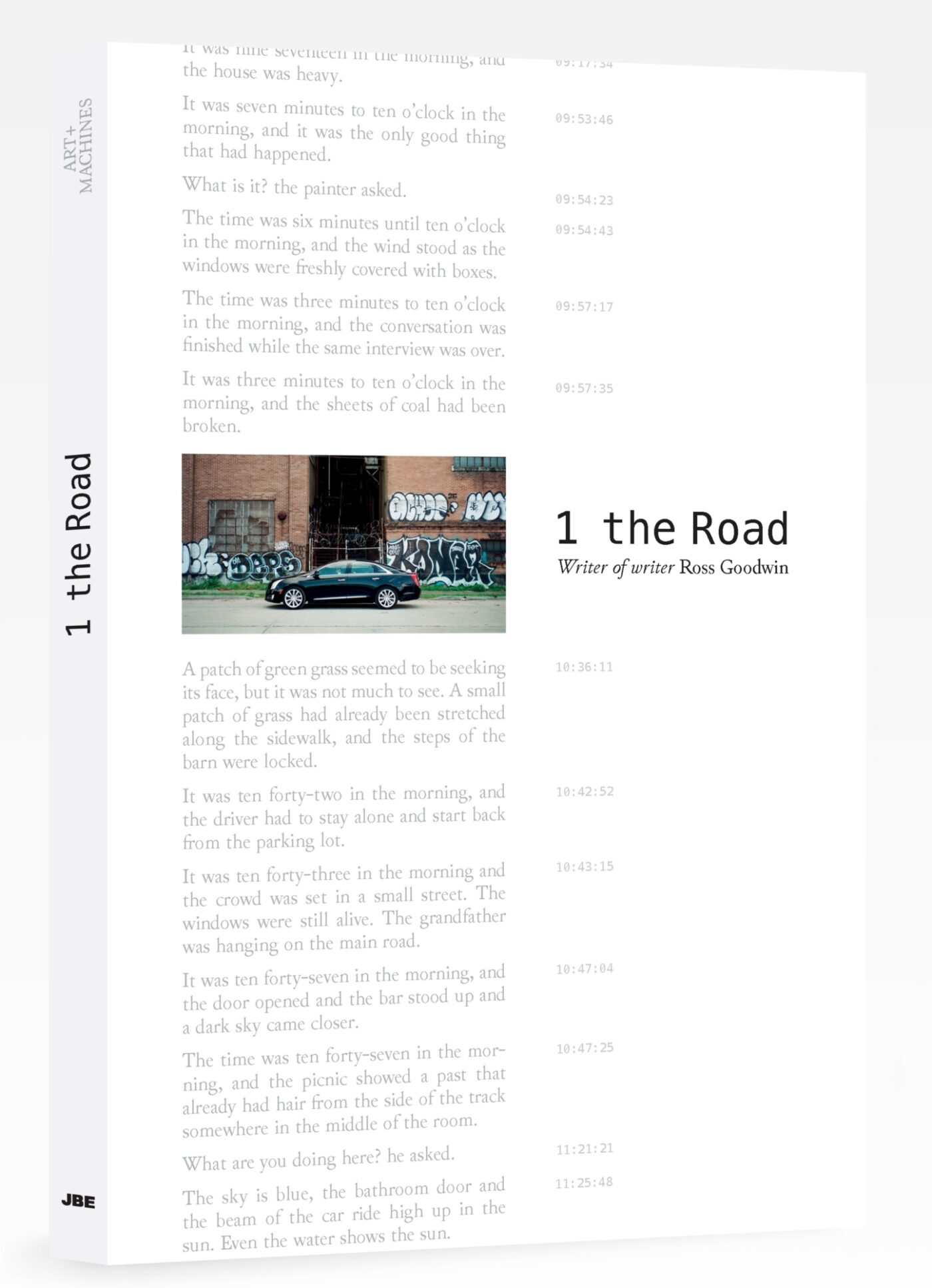 In 2007, cars with cameras and tripods hitched on their roofs began roaming the streets of several American cities. Each tripod supported as many as fifteen cameras that captured footage of pedestrians, businesses, and street signs, stitching these images together into an immersive, panoramic image. This was the first fleet of Google Street View cars. They have since expanded throughout the world and to other means of transportation—from tricycles to snowmobiles. Ten years later, a Cadillac was outfitted similarly to a Google Street View car, but with the addition of an A.I. writing machine that converted images into words. It drove from Brooklyn, New York, to New Orleans, Louisiana, and produced 1 the Road (Jean Boîte Éditions), "the first novel written by a machine." This gives new meaning to the concept of the road novel.
In many ways, the road novel could be considered the fullest expression of American freedom—cutting loose from the responsibilities and humdrum of daily life and escaping out into the vastness of America, so full of the unexpected. For much of the genre's history, it has been a man in the driver's seat. But as of late, its been imbued with fresh perspectives that are challenging the genre's form and values, including The Golden State by Lydia Kiesling, which features a mother who has a "checklist" before she can take flight, and now, 1 the Road.
1 the Road, which won the IDFA DocLab Award for Storytelling, was created, not authored, by Ross Goodwin, a "gonzo data scientist" and former ghostwriter for Barack Obama, who, with the help of Google, rigged the Cadillac with a GPS unit, microphone, clock, and roof-top camera that fed information to the portable A.I. writing machine. As Goodwin drove from New York to New Orleans, the A.I. wrote "captions" to these images that were then printed on rolls of receipt paper 127-feet long, undoubtedly an homage to Jack Kerouac's legendary first draft of On the Road, which he typed out on a single scroll 120-feet long.
The car itself is the pen. But, then, who is the author? Goodwin calls himself a "writer of writers" and "not a poet." Others might call him a programmer or "creative technologist." Though Goodwin has surrendered creative license to the writing machine, he nevertheless created the machine and the rules by which it operates. Not insignificantly, he selected the sources of input, including "nearly 200 hand-picked books" that, in composite, form the linguistic matrix that informs the A.I.'s literary sensibilities, from word choice to sentence structure.
This novel, which unfolds over the course of three days, reads more like a long poem than a narrative with a conventional arc. It begins, "It was nine seventeen in the morning, and the house was heavy," a surprisingly apt beginning to a road novel, for a machine. Alongside the writing is a column of timestamps that log when each entry was written, as if it were an observational journal a scientist might keep when conducting an experiment. The entries are brief, no more than a few sentences long, and, unless it cites the same place, are rarely connected to the previous entry. The first day concludes with a brilliant coda, "It was seven minutes after ten o'clock in the evening. The station was deserted. The path was already in the sun."
As evidenced by these two excerpts, the A.I. relies on certain formulas when constructing a sentence, one of which is citing the time. In the beginning, it relies on this construction with Homeric frequency to the point that this road novel seems more like a journey through time than space. In addition to the column of timestamps, the book's sections are organized around the time of day rather than place or destination. However, as the novel progresses, other sentence structures do appear (thankfully), as if the A.I. is learning (uncannily).
Though the A.I. is programmed for English, it speaks a foreign dialect. "It's not quite human level," says Goodwin, "more like an insect brain that's learned to write." The odd poetic idiom produces unexpected turns of phrase that are sometimes funny, sometimes profound, and often nonsensical. There is an inescapable, and perhaps unhelpful, urge to find a pattern in its loose grasp of grammar and lottery word choice.
Because of this linguistic tic, sentences that read more or less as normal, like the opener, are applauded, as one would do with a toddler. At other times, these sensible words carry a degree of gravitas: "It was nine twenty-five in the morning. He lifted his head and said, You know, I was not looking for you, you know. Its a mistake. I wouldnt [sic] want to be with you." The clarity of the statement cuts through the jungle of words and commands special attention. It is like listening to an elder suffering from Alzheimer's who, for a brief moment, is lucid and strains to voice a last request.
The experience of reading 1 the Road is not unlike being on a road trip. If the car is the pen, then, in a funny way, reading 1 the Road is almost like riding shotgun. Once the reader gets a handle of the writing patterns and the poetic idiom, it is easy to go on cruise control. By that I mean it is not necessary, nor enjoyable, to read this novel closely. It is best skimmed, page after page, like stripes on a highway. Luckily, there is a steady stream of poetic breadcrumbs to keep the reader nourished and motivated. 1 the Road is equal parts profound ("Car on the road had been looking into each others [sic] faces, which had to be descended to the police station behind them"), poetic ("A patch of water was still looking for some organization, and his lips were falling in vain, a distant silence. The water is dark and seems to be a container, and the stars are still breaking out"), and always unexpected (open to any page).
The time is thirteen minutes after five in the evening, and I write this from a train, wondering, what would this train write as it catapults down the Hudson River and shores up in the dark tunnels of Grand Central? I do not know, but I would like to find out.
Connor Goodwin is a writer and critic living in Brooklyn, New York. His art and literary criticism has appeared or is forthcoming in The Washington Post, The Los Angeles Review of Books, Modern Painters, and Blouin Artinfo, where he is a regular contributor. His fiction and poetry have appeared in X-R-A-Y, Entropy, and Minor Literature[s]. He is working on his first novel.