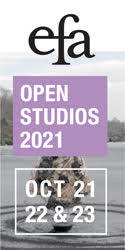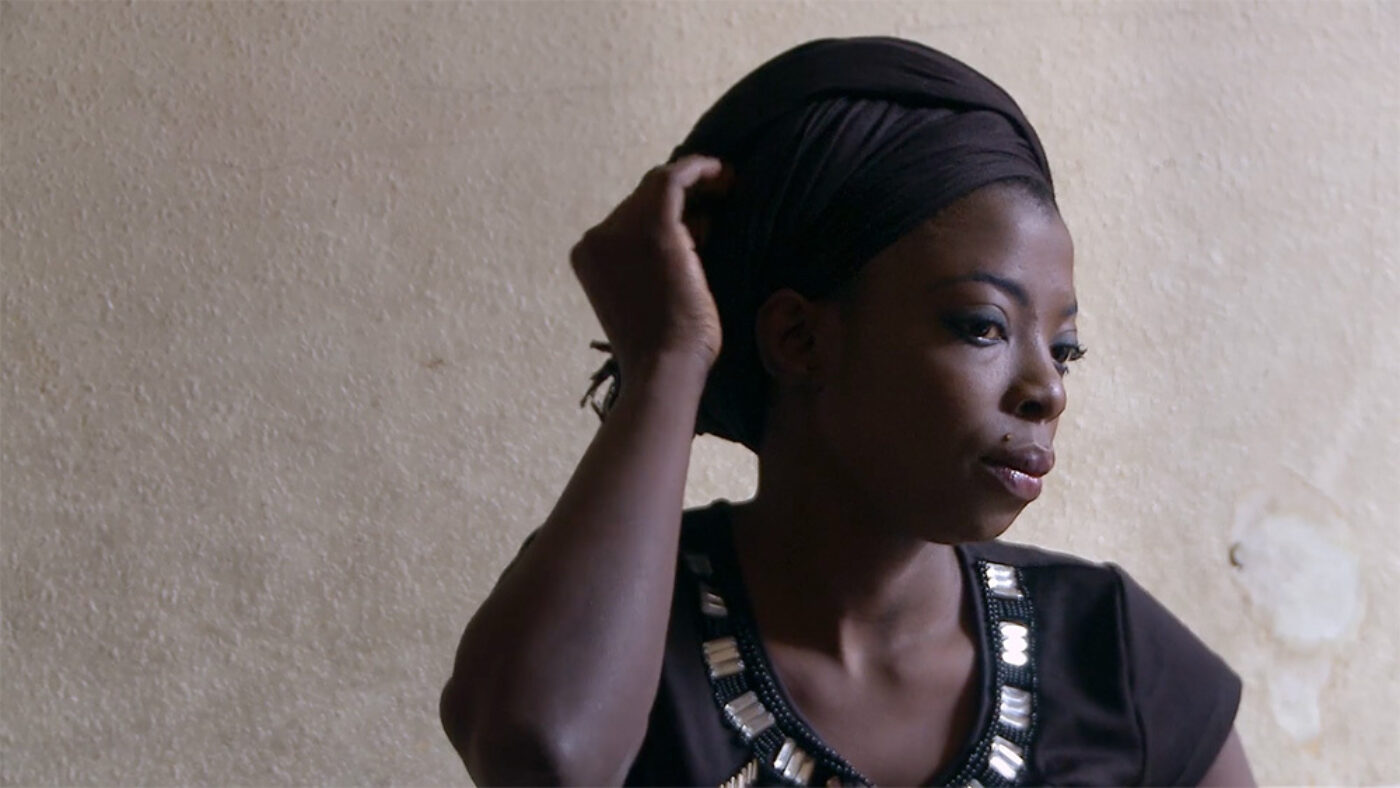 (Tândor Films, 2021)

Rosine Mbakam's new documentary Delphine's Prayers takes the form of an intimate feature-length interview with her friend Delphine, a fellow Cameroonian immigrant to Brussels. Delphine has been sexually exploited from a young age and, at the time of the interview, is living with an elderly white man she married in order to get to Europe. The film is shot in Delphine's home. The camera is sometimes left on a cluttered desk. Considering the heaviness of the subject matter, the tender casualness of the director's formal choices is disarming. In the opening scene, Delphine asks Mbakam to take a seat across from her so she can relax. At one point Delphine braids Mbakam's hair. In this way, Mbakam slips out of her role as filmmaker into the role of confidante.

The gesture gets at the heart of Mbakam's open, consensual approach, which puts Delphine at ease and in turn allows us to see, not just look at, a person working through trauma. Talking with Mbakam, I learned that it was Delphine who first approached her, over a decade ago, to make a film about her story. "But, you're my friend," was Mbakam's initial response. However, when she learned of how Delphine was raped at fourteen, and how upon telling her father, he blamed it on her, Mbakam felt that making the film would help her question the stories she herself had been told: in Cameroon, her parents had warned her about associating with women like Delphine, a sex worker from a different social class. Both labeled "Black women" in Europe, Mbakam and Delphine found a connection that surpassed their differences back home.
Mbakam gives the subjects of her films the choice: "Do you want to make a film with me? We can do it together." She makes no assumptions of what a person—or continent—is like. She went into Delphine's Prayers, which was shot over ten days, "discovering the story" as she went. This process stood in contrast to her film school training, which emphasized knowing ahead of time exactly what you want to say. Mbakam would ask Delphine "How are you today?" and position the camera to best capture the story—everything else was in Delphine's hands.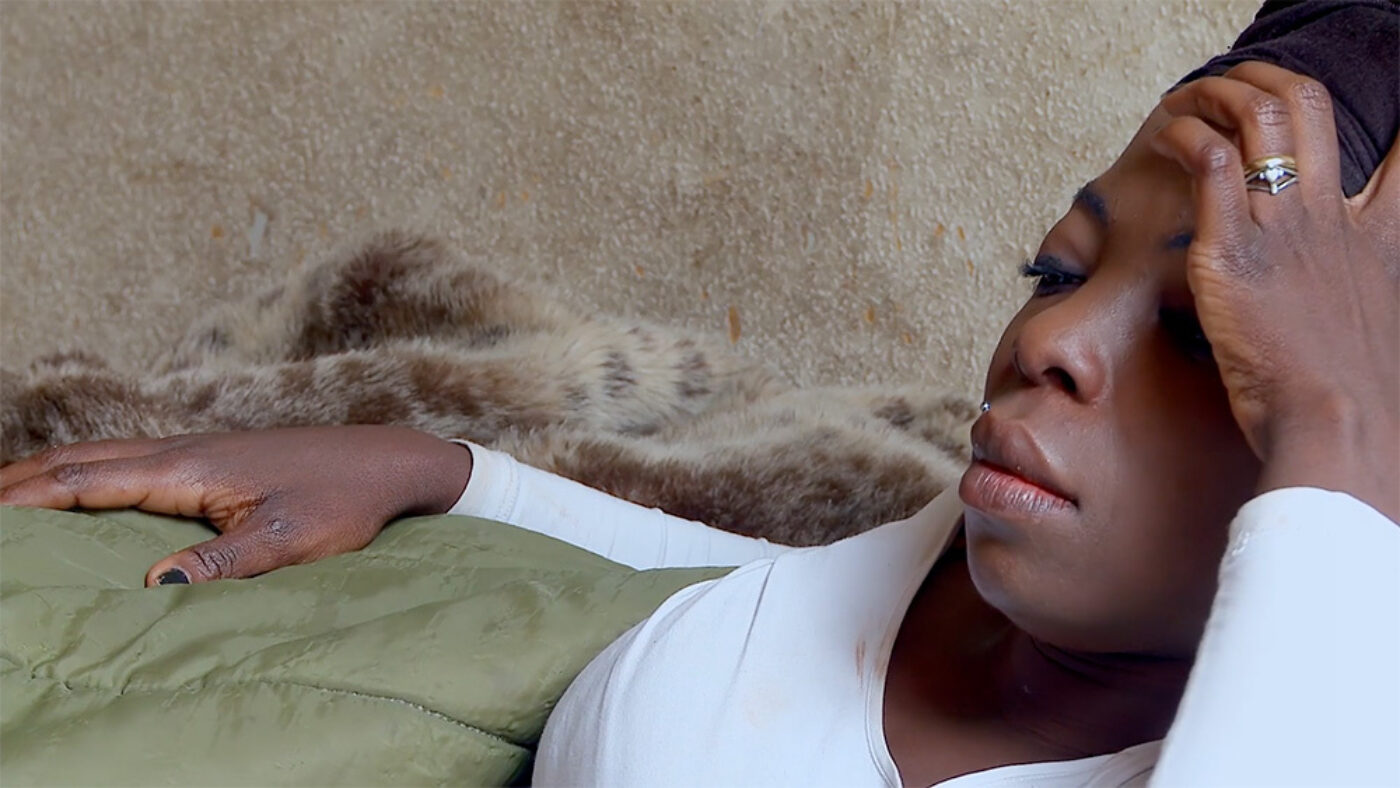 At one point, Delphine, reclining on a narrow bed, transmutes anguish into a surreal freedom, when she asks the viewer: "Is something written on my forehead? 'Will suffer forever'?" Delphine's father had foreseen she'd be dead by now, but she asserts that not only is she still here, she envisions a life for herself beyond externally imposed constraints. "Nobody will stop this story from being told. Not as long as I'm the pilot of this plane, it will not crash… If it is struck by lightning, hands and feet will grow on it, and wings…"
Toward the film's end, Delphine's hair is in slight disarray and her lips are chapped. "Don't leave me like this," she urges God in a distraught voice. Tears run down her face as she begs for forgiveness, ruminates over past decisions, asks for work. For Mbakam, this film was like a process of purification; as Delphine talks, she is unburdening herself. When we speak the unspeakable, it's like retching poison. We fear we might not make it to the other side, but the corrosive effects of repression are an isolating alternative. By elucidating trauma as a potential source of solidarity, Mbakam's approach to filmmaking offers an antidote.
Priscilla Posada is a writer and literary translator living in New York. Her work can be found in the Brooklyn Rail, the FANZINE, and STILL Magazine.
Originally published in
Our summer issue features interviews with Mel Kendrick, Azareen Van der Vliet Oloomi, Kader Attia, Arthur Jafa and Dana Hoey, Quntos Kunquest, Katiana Rangel, and Anne Anlin Cheng; fiction by Jenzo DuQue, Dylan Landis, Anthony Veasna So, and Sophie Hoss; nonfiction by A.V. Marraccini; a comic by Ronald Wimberly; poetry by Arthur Solway, Rickey Laurentiis, and Alina Stefanescu; an essay and portfolio by Kalup Linzy; an archival interview with Suzan-Lori Parks; and more.