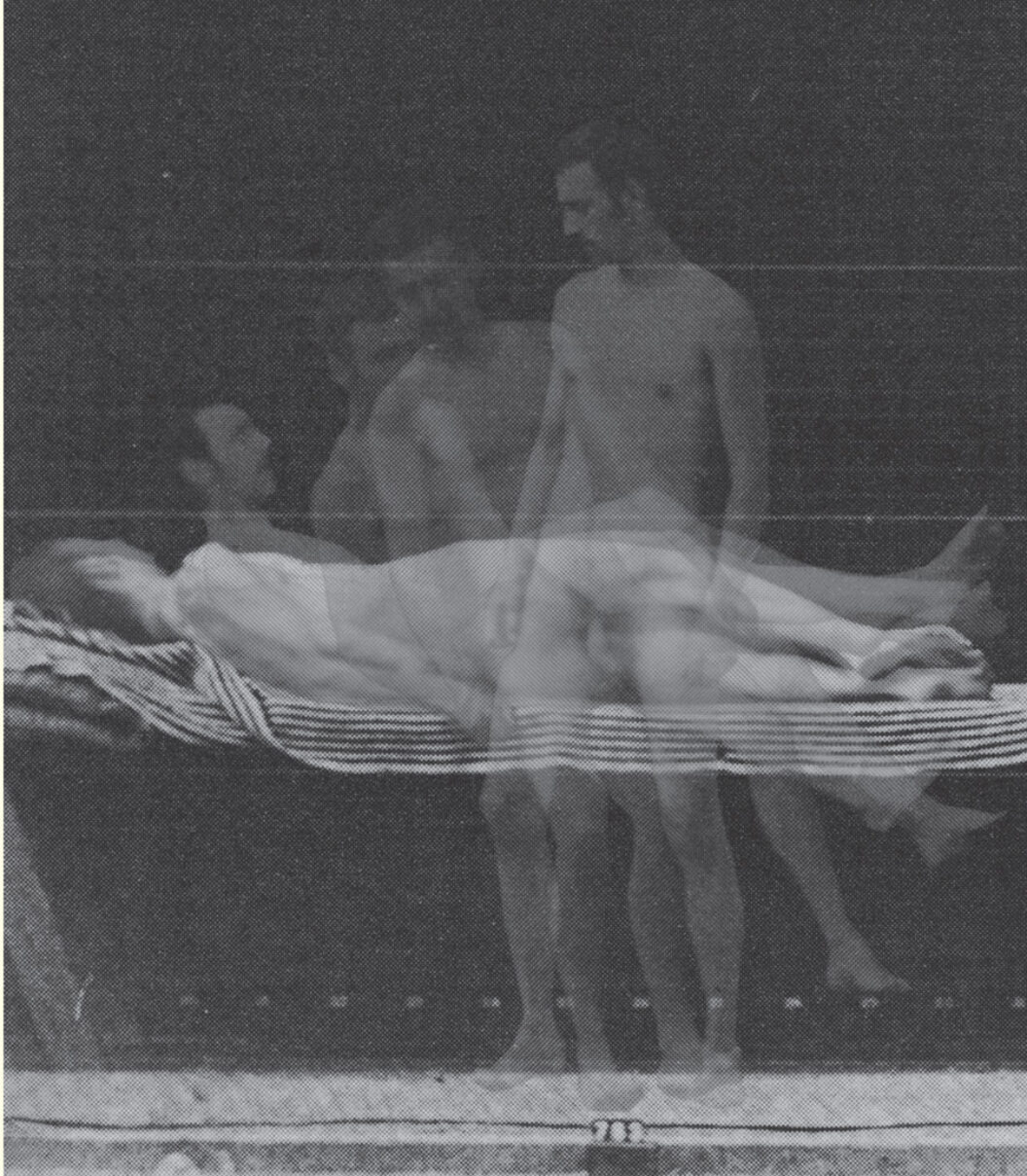 Our taxi driver produced a little tent from his trunk and carried it all the way up to the roof. It featured a built-in mattress that we all tried, one at a time. But first we splashed off the day's dust under a bucket that watered the roof's geraniums, all five of us hot and nude and tar-footed, the summer stars sizzling and exploding two minutes after downing the last of our too-large bottle of wine with little adieu, joked Marcy. Our taxi driver knew where to find the spigot and had stripped down first.
He also found the roof and the pensione and the village but that was partly our doing. Take us somewhere no one ever goes, we girls had commanded, with only one day left of our French immersion. The taxi driver bowed to our gaggle of minis all girl-fleshed and anxious, the carnation he'd taped to his jacket flopping. Why not? he'd agreed in pretend English as sexy as the way his black jeans hugged him, his curls touched his jacket, his t-shirt tightened across his chest, and his thick lips pronounced even "not" with sibilance. You girls, he said, you come with me. The village he chose lay in a crease marked in impossibly small print. As he flourished the map, the other drivers at the stand hooted. Did we deserve to set foot in this perfect village of all of France, any of us? he asked. Oui, oui, we cried, one louder than the other. Sternly, he demanded a scissors. Marcy fished out the penknife she had hidden deep in her pack for keeping off rapists, and he cut the village right out of that crease.
Of course we insisted, said we'd pay double to go. The mustache that hung over his lips haloed an attractive sullenness. A ride to the real France? he asked. He gave the finger to the other drivers as he squeezed the last girl inside his Citroen. Leaving town, we all sang La Marseillaise so badly a villager tossed a can down at us, and one of the Arab kids sleeping in a doorway shouted Te toit! He drove us the long, long way, past any number of decent-sized roads, through villages so small grown children waved at the car. Each of us took hour-long turns sitting beside his gear-shifting hand, each of us silently nauseous from being in the middle but so happy to be so close to that hand that did wander, yes it did. The village, when we at last arrived, looked like any other. Granted, our judgment was somewhat impaired—it was dark by then and we had drunk most of our wine lolling an hour at the adjacent beach. Trailing sand, we staggered up the stairs to the rooftop.
A day later Marcy was the one who wouldn't leave the taxi for the plane. She was suffering from severe sunburn from skinny dipping—sans, he kept telling her every time she took something off, sands she said, yes, the lovely sand gets everywhere—and she said she couldn't bear sitting nine hours on the plane. She actually convinced the airline to reissue her ticket for medical reasons. The taxi driver—Jean-Philippe was his name—said he had a mother who lived not far from the airport who would take her in for a few days.
Few of us had money for travel after marriage set in, not to mention the responsibilities of work. I kept children in their seats in a public school setting. Occasionally I smoked Galouise in the bathroom in honor of our trip, especially that night on the roof. I'd heard from the others that Marcy carried a baby on her hip back to college, a toy truck-clutching boy with sallow Gallic cheeks.
I saw her when her success as a puppeteer allowed her to tour my town. I recognized the stars her queen puppet sang about, So many and so pretty, roof-close and so sticky, and the map she rattled with a heart-shaped hole that led to nowhere. I asked Marcy about the map afterwards. She was removing her son from his puppet costume that other puppeteers "controlled" in postmodern whimsy. She said she had kept the cut-out piece, that Azpth was how you pronounced the town, and that Jean-Philippe was really a circus fire-eater and drove a cab between jobs. Billings, she called them.
It was summer theater, the other puppeteers blew smoke into the dark or shook hands with the lingering crowd. Her son whined for crackers she kept in a tin under the stage.
She hadn't believed the fire-bit either but they were soon enough without the cab and a pied, and after a few months of him eating fire in various piazzas, he antagonized a fellow circus person who then threw a cup of gasoline on him too early. She spent the rest of her pregnancy with Jean-Philippe covered in burns and confined to bed.
Funny, I stayed behind because of a burn too, she said.
Incroiable, I said.
We need some privacy, she told her son who had eaten all the crackers and turned the tin upside down. Play over there, she said. Go on. She collected the tin and his costume.
He thinks his father is Roquet, our carpenter, she said. Where was I? Since Jean-Philippe wouldn't take antibiotics because he wouldn't take charity and that's all we had, all I could do was weep into his wounds.
I'm sure all the salt cured him, I said.
She laughed too loudly, the way she had from behind her puppet screen. You are your old self, she said with her new-to-me French diction. And he did have a mother, she said. But not living so near the airport.
I offered her the Galouise I had brought along for the occasion. The irony was, she said, pocketing the cigarette, that he died of a drug overdose a year later. Drugs! No antibiotics for him, petit choux. In the night, she said. He just stopped breathing. Cold as the absinthe we couldn't afford either, she said.
He was violent, she said. On those drugs.
The crew was applauding her son. He was doing a sort of Russian squat dance on top of the ticket taker's table. At his age—four, five?—there was no hiding the wildness.
She turned away to sort the wooden legs of a limp king. The theater was perfect for me, she went on. No one could see how pregnant I was in a puppet show. Once I even nursed and pulled the strings, although that's real acrobatics.
She made the king bow.
We weren't much good at anything then, I said.
I don't know, she said, watching me watch the king dance. He did all of us that night, she said. Didn't he?
I had been so sophisticated, plugging my ears with the others, standing in the stairwell smoking, waiting for my turn, waiting for Marcy to come down off the roof. Maybe I was sophisticated then and it's now that I'm not. Next, tout de suite, he'd whispered.
It could have been any one of us, she said. That's what it felt like.
On my way out, I patted her boy on the head, feeling his thick curls. Solemn and sisterly, she gave me a kiss on both my cheeks and turned back to her packing of props.
The king lay on his back, his gaze caught in some crack of the dark sky she left him under.
For me, he was still a French cabbie, a roue who commandeered our trip, stopped at a hotel that would let us sleep on the roof, unfolded a pup tent from his trunk, the man who had found me sacred, inviolable.
She had merely missed her flight.
I applauded the child she had produced, the puppets who never would get it right. I had my own version.
Terese Svoboda is the author of four novels, four books of poetry, a book of translations from the Nuer, a Sudanese language, and the forthcoming Black Glasses Like Clark Kent, a memoir about her uncle, an MP in a US stockade in postwar Japan, and its gallows. Svoboda will be the McGhee Professor at Davidson College in the spring of 2008.
Originally published in
Featuring interviews with Marine Hugonnier and Manon De Boer, Peter Doig and Chris Ofili, Richard Pare, David Malouf, Junot Diaz, Isaac Julien, R. Stevie Moore, Annie-B Parson and Paul Lazar, and Winter Miller.