Discover MFA Programs in Art and Writing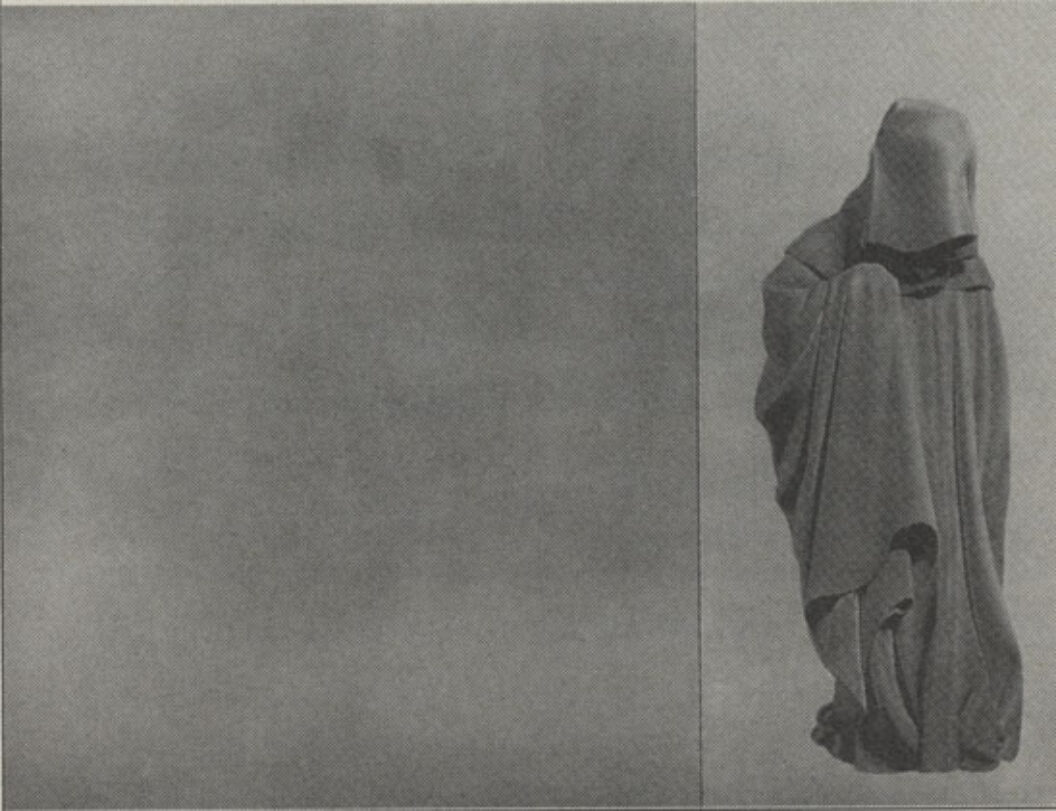 The 19th-century traditional skills of the "fine artist" and the nomadic intellect of the postmodern would seemingly be at odds with one another, as if object and subject were intent on maintaining total disregard or being completely dissolved by each other. Such a paradox is at the core of Roland Flexner's work.
Taste and arrogance would have denied us access to such work a few short years ago. We had not yet learned to reread the body's image in semiotic rather than literary terms. Flexner's paintings and drawings separate technique from style, representing and resubmitting their subject's appearance symbolically and self-referentially. He not only equates the substance of art with the presentation of absence, but also with the frailty, perversity, and sexuality of the human body.
Flexner plays a cat and mouse game. The impeccably painted, stark simplicity of his large monochrome diptychs is deceptive. A nearly life-sized draped "mourner," derived from the medieval sculptures of the tombs of the Dukes of Burgundy, floats weightlessly and translucently on one canvas, which is butted against a figureless canvas of the same color. In these works, complex relationships of seeing and thinking through multi-levels of meaning, metaphor, and analogy are evoked. Abstraction and representation form a cross-dialogue in which absence and presence create a bridge between the thing in itself and the references that it explicates, producing not just an aesthetic, but an intellectual activity. Through subtle allusions to the meaning of color and tone, weight and mass, the emptiness and fullness of his images begin to be decipherable as the representations of the imperfections and vanity of memory and the reconciliation of art and life.
—Shirley Kaneda
Originally published in
Featuring interviews with Jasper Johns, Tobias Wolff, Laurie Simmons, Sapphire, Scott Elliott, Brenda Blethyn, Craig Lucas, Suzannah Lessard & Honor Moore, Peter Dreher, and Richard Einhorn.