Rocks and Gravel: Ivan Vartanian by Alex Zafiris
In her new column Rocks and Gravel, Alex Zafiris investigates creative relationships. In her inaugural entry, she talks to author Ivan Vartanian about his new book Art Work: Seeing Inside the Creative Process.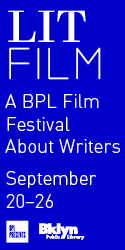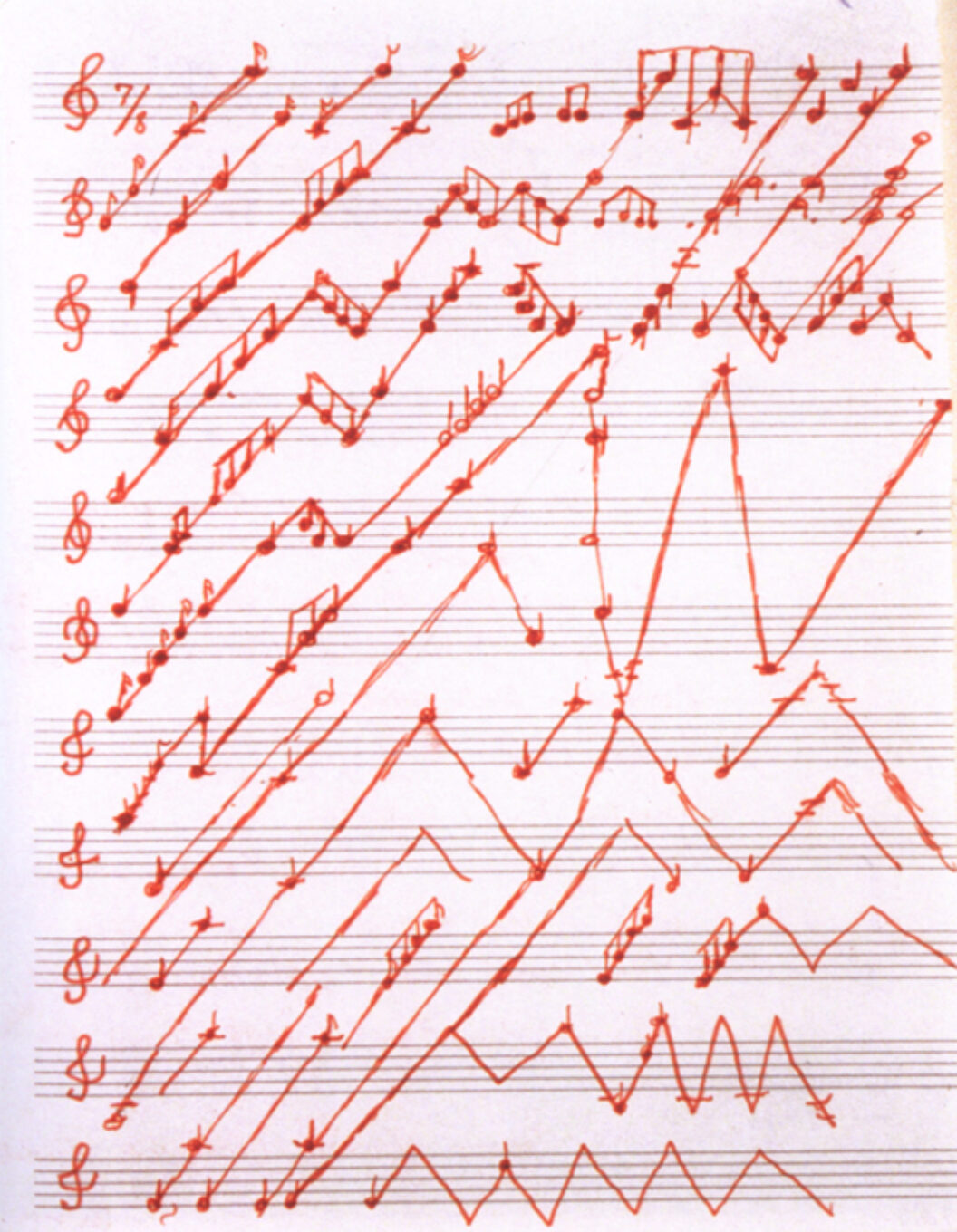 Ivan Vartanian's new book, Art Work: Seeing Inside the Creative Process (Chronicle) is an in-depth study of the process by which artists arrive at original thought, and the means by which they make it reality. Vartanian has collected and photographed the notes, scribbles, post-its, chalkboards, sketches, trinkets, journals, spaces and studios of 25 different artists. Analytical text, with interviews—occasionally written by the subject themselves—accompanies each section. Where the artist was not present, a relevant critic, or friend, stepped in to write a second-hand experience.
The result is a handbook of sorts. As we're accustomed to seeing only the finished product, the evidence of creative machination is intriguing and deeply personal. The walls of Will Self's writing room are covered with hundreds of strategically placed yellow Post-it notes. Louise Bourgeois's insomnia drawings are static and angry. Shahzia Sikander's ink gestures are contained dreamscapes. Yohji Yamamoto writes, "To single out the moment of waking something that was asleep: All creation is a repetition of that moment. A repetition of fragments." Merce Cunningham's notebooks disclose the choreographer's system of stick-figure notations to set down his dances. Carsten Nicolai's preparatory drawings for his sculpture Anti-Reflex look at the exchange between form and sound. Richard Hell presents his journals, complete with an early 1970s Blimpie wrapper, a sketch of Jean-Luc Godard and a list of song titles, and declares that the entries "are meditations and manifestos rejecting the concept of rigid identity."
While gratifying and logical, glimpsing these processes doesn't dilute the mystique, but serves to deepen it. Each artist he approached engaged him thoroughly, although it was Richard Serra who pushed the book into a new realm. Vartanian's job, as editor, is to bring forward and organize information. Serra proposed a more abstract solution: photographing the room in which he composed the drawings and notebooks. In doing so, he collaborated with Vartanian to generate new content, in the form of self-reflection. The text in that section, written by David Frankel (editor of the Publications Department at the MoMA), is about the photographs—not Serra's work. And so the process of gathering and transmitting the information shifted, further confirming the multiple streams an idea can take.
Examining process is a trend that has accelerated over the past few years. The act defines and blurs lines simultaneously, and reflects how the game is changing. Old forms are becoming staid, and new systems are appearing. All of them overlap. It's a search for proof in a world of flat noise. A real idea can exist through all forms. Process verifies the existence of creativity not yet on display for public scrutiny. It is the moment of inspiration. As Sasha Frere-Jones writes in his introduction to the book, "We can say the most when we forget about trying to say it."
Ivan Vartanian produces books on art and photography, including Egon Schiele: Drawings and Watercolors and Drop Dead Cute: The New Generation of Female Artists in Japan. In 2005, he anthologized and translated Setting Sun: Writings by Japanese Photographers (Aperture), and Japanese Photobooks of the 1960s & '70s (Aperture), recipient of the 2010 Historical Photobook Award from Les Rencontres d'Arles Festival and See Saw: Influences in Japanese Art Then + Now (Chronicle Books). Under his imprint, Goliga, he produced and published ACCIDENT, a photobook by Daido Moriyama. He is based in Japan. He will be in New York on November 4th and 5th for the Printing Show—TKY event at the Aperture Foundation (part of Performa 11) where he and Daido Moriyama will collaborate with visitors to create personalized photobooks.
Alex Zafiris You had certain ideas about how to format the book. And then, Richard Serra upped your game.
Ivan Vartanian It was a great moment. As we were talking about it, I told him that we had done a shoot at Doug and Mike Starn's studio at Beacon. I had commissioned a photographer to capture the work as it was being developed. He took that as a launch pad. That room in his studio became a metaphor for his larger artistic process. He brought his nephew, Ivory Serra, to do the photography. Ivory shoots a lot of Serra's sculptures for catalogues and stuff, so it was this organic coming-together of ideas.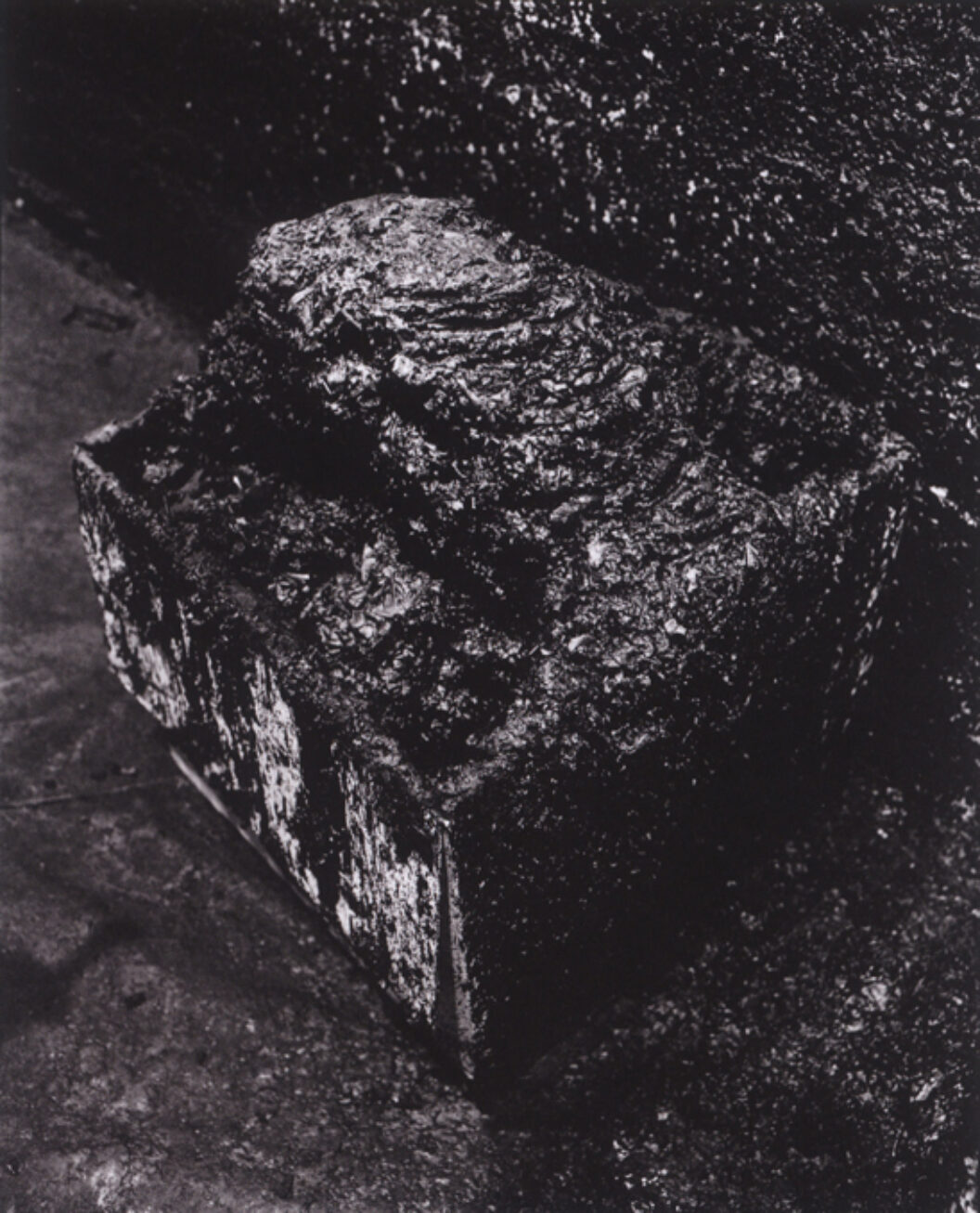 AZ It's all original material on top of original material. And you generated that. Would you call yourself a curator? You're an editor, obviously, but there can exist a fine line between the two.
IV It's something that I have been thinking about for a long time. Up until now, first and foremost, I had been an editor. Now I'm also an author, a curator, a publisher. I produce events. I do art direction for my own projects. It depends on who I talk to. I'm a shapeshifter. Just this last year I started curating exhibitions—the first was in Paris, at Le Bal, about Japanese photo books. Next year I have another exhibition at the Photographer's Gallery in London. Curating has a lot of overlaps with editing. With an exhibition, you're limited to a certain number of ideas that you have to make very clear. The experience of the visitor is organized in a certain way, and that also involves architecture, lighting, paneling and interaction with objects, or not. Curating also involves working with the artist, to figure out the best way to present their material. I'm interested in ideas that change their shape, depending on the medium that you involve. So: an exhibition presents an idea in a certain way, the book presents it in another way. Then you have the internet, and then you have things that we're doing right now, like the interview. The ideas change and take on a different meaning. Playing with that, in each iteration, is something that I'm really interested in.
AZ The book shows a real understanding and connection to artists and art. The way that the book is organized and written, and that the subjects are selected, is very astute. Would you say this is your art?
IV In some ways, yes. I'm manipulating different media to create a range of ideas that are orchestrated to present some larger story. Instead of presenting fixed points or fixed ideas, I'm using different formats of exhibition—the book, the event, the interview, the internet, or whatever—ideas, in their multiplicity and in different formats, allow the viewer to flip back and forth between different things that are all somehow interrelated on a deeper level. And hopefully, open up each individual idea. Ultimately I think of myself more as an extender. What really excites me at this stage in my career is working with artists, to figure out ways to look for ideas that are embedded in their work that I can extrapolate and expand on. I'm interested to see what I can bring to the conversation. I'm looking to manifest ideas that are already in the work. In collaborating with the artists, something new comes out. Whether you want to call that art or not is up to the viewer.
AZ The product of this thinking, which is your book, just shows how important art is as a vehicle for new ideas. In the essay on Joseph Beuys's university lectures, he is quoted: "All I do is inform people of their own possibilities."
IV The artists that I'm most drawn to are those that have qualities of boldness and intense creativity in whatever projects they undertake. I think it's an artist's responsibility to present a really strong and bold vision. It is what allows us to temporarily unhook ourselves from whatever reality we think we're plugged into, and be jolted into a different understanding, vision, or moment. It really takes a very strong and powerful piece of art to do that. It's at that moment where the viewer can really engage with a work. It has to have this space in the room to allow the viewer to do that and also give the viewer some hooks and some strong walls to be able to scale in the process. Joseph Beuys, Louise Bourgeois and Richard Serra are heavy hitters! Power hitters.
AZ You have one of the scariest and one of the most fantastic people, Louise Bourgeois, who can't sleep. And so she does these sketches. All at once, she's so incredibly human. These artists have a god-like presence because they make all these huge, impactful works. But just like anybody else, she couldn't sleep at night, and so she made some sketches.
IV The insomnia drawings are amazing. Louise Bourgeois is an artist who has been really important to me since I was a teenager. In fact, almost all these artists have some personal connection to me and my personal story. I don't necessarily reveal that, or what that's about, in the book. But in some way, each person links back to my personal history. With Louise Bourgeois, one of the things that she said, years ago, that stayed with me, is that she calls herself a long distance runner. She is alone, running the long marathon. That is what being an artist is about. It can be a lonely, daunting and very brutal process on the body. But that's what it needs to be, in order to produce what she produces.
AZ Everyone is so amazingly different. Obviously. But not obviously, at the same time. No process is invaluable. Whatever works. A budding artist can look at a book like this and feel new forms of freedom.
IV Unearthing your own art within yourself is a technique, in and of itself. There's a method to the means in which these artists allow their creativity to take shape outside of themselves. That is what fascinates me, this firing of a synapse that is barely perceptible in the eyes of chemistry, or biology. How it can manifest itself through sheer force of will, or through process or technique, into an actual three-dimensionality that has weight and volume and engagement with other people and becomes reality. In the minds of other people, as well. That's something Lucy Lippard talks about, when writing about Eva Hesse. How other folks see ideas in her work, and appropriate them in theirs. Each artist has spent a lot of time just finding their own methodology. The artist must also serve as their own editor, their own producer, and curator.
AZ Did anybody refuse? I feel like there are a lot of artists who would never talk about these things.
IV We asked a number of folks. I can't name names. It all really came down to schedule issues. Some didn't feel comfortable engaging in that process with someone new. In those cases, it revealed that they're quite intimate in how they work. Or maybe they're more interested in publishing their memoirs one day and didn't want to give out any materials in advance!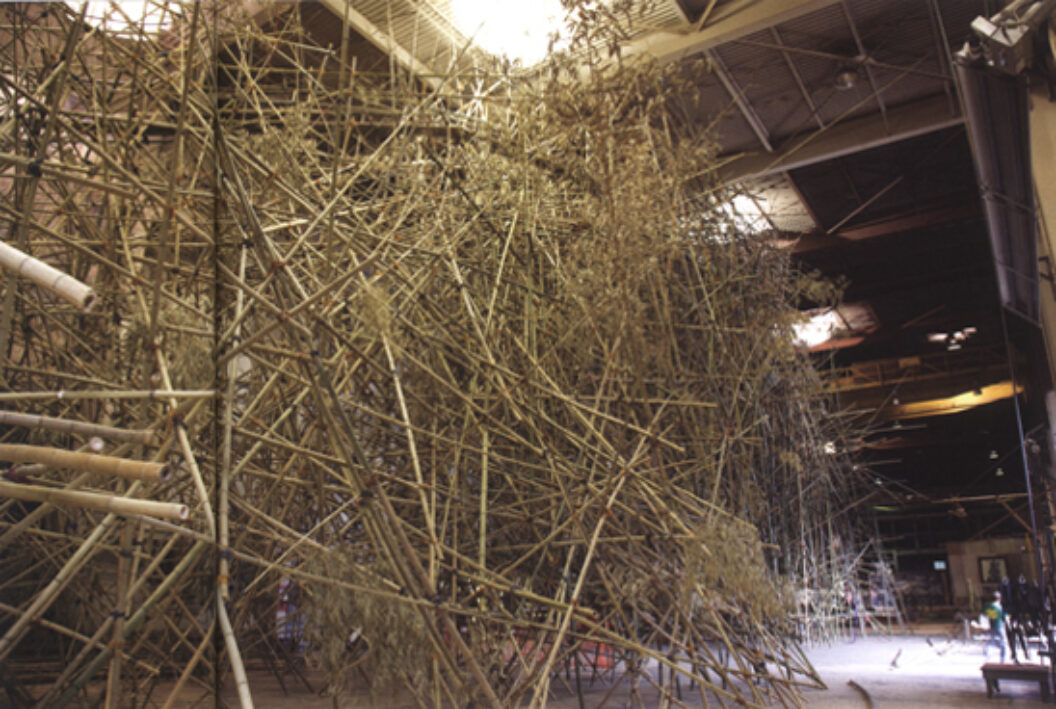 AZ In your text is a quote by Doug and Mike Starn, describing their piece, Big Bambú: "Each piece of bamboo may have fifteen connections to other pieces of bamboo. And that chaos is what becomes the source of stability. It is like a porous solid. It is not like a typical wall or scaffolding. If you did an electron microscope photograph of bones, it is just like that. It is a very solid unit but it has a lot of open space in it. Besides the concept of what it is to be alive, the concept of the building method is a very intuitive idea that we found to be true in nature as with bone or sponge. It is sort of a solid but if you look closely under magnification you find out that that solid is very porous and open and that the deeper you get the more open it becomes." That's your book.
IV Yes!
IV There's another one: "Scale lets a person be a part of it and exist within. It makes you part of the flow and continuity. Then that makes you quite large, by being a part of something."
IV Yes! And that really relates to the influences of Tibetan Buddhism in their work. You know, working with each of these artists was really an amazing opportunity for me. I learned so much, and it really has changed how I approach art, and how I work with artists. It was really, really eye-opening. In the course of making this book, which took about 18 months, I kind of went through a re-evaluation of what I do. I started to think of myself differently. I shifted away from being solely an editor to being someone who thinks of themselves as a producer, publisher, researcher, and exhibition curator. And that's what I'm doing now. The fundamental ideas took shape while I was making this book. All the ideas, all the concepts behind what I'm doing now, took their shape at the same time that I was making the book. It was immensely, immensely influential in my career.
For more on these artists' creative processes, check out Ivan Vartanian's ArtWork: Inside The Creative Process, available from Chronicle Books.
Alex Zafiris is a writer based in New York. Her bi-monthly column for BOMBlog, Rocks and Gravel, looks at creative relationships. For more information, visit www.alexzafiris.com.